Easy, Instant Pot BBQ Pulled Chicken is a quick, healthy pressure cooker recipe that can be used to make shredded chicken sandwiches. This recipe produces juicy chicken that is drizzled with BBQ sauce. If you are looking for a keto version, use sugar-free, unsweetened BBQ sauce.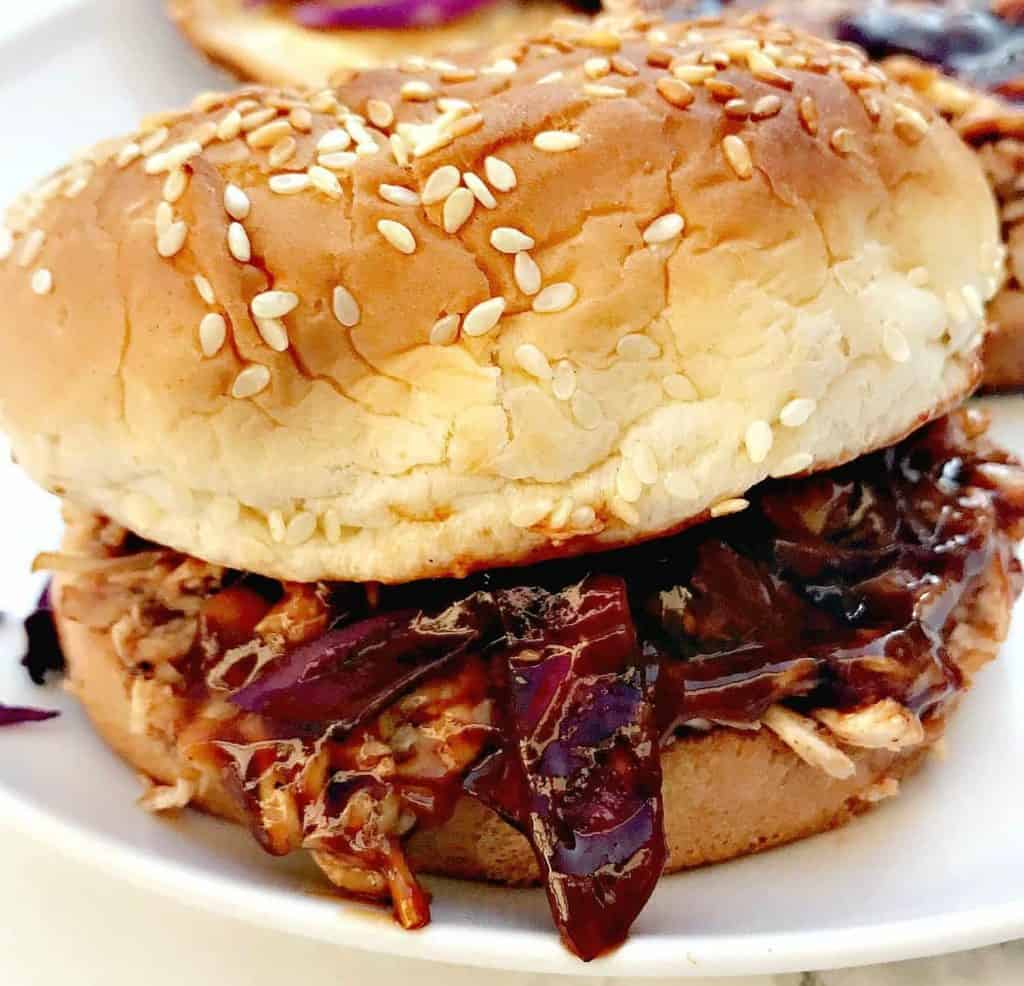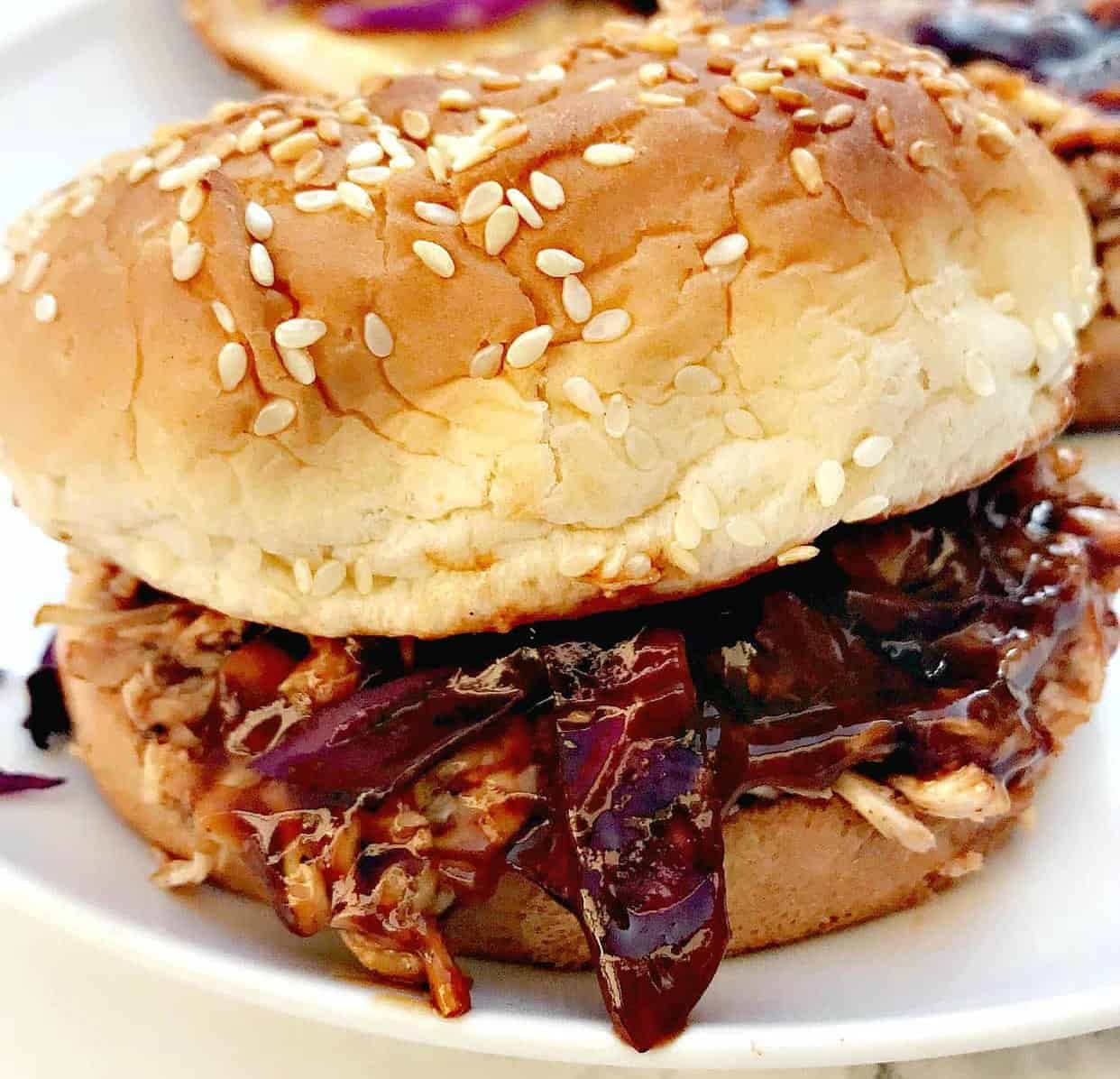 This post may contain affiliate links. Please read my full disclosure here.
This post was originally posted in July 2017 and has been since updated.
Calories: 351 Fat: 6G Net Carbs: 36G Protein: 41G
This recipe for Instant Pot BBQ Pulled Chicken Sandwiches provides a quick and easy way to eat home-cooked BBQ without using a grill. I have gotten a lot of feedback from subscribers of my blog that they would like to see ways to prepare grilled dishes without using a grill.
Many people have apartments that do not allow grills. Some people simply do not know how to use a grill. (I can actually help with that! I should probably put together a tutorial).
I recommend grilled meats for meal prep purposes because the grill locks in so much flavor and produces really juicy meat. Flavor and juicy are key to meal prep dishes.
When reheated, juicy meat that is packed with tons of flavor does not feel like leftovers. Though I recommend using a grill for a lot of recipes, I have found the Instant Pot can yield very similar results!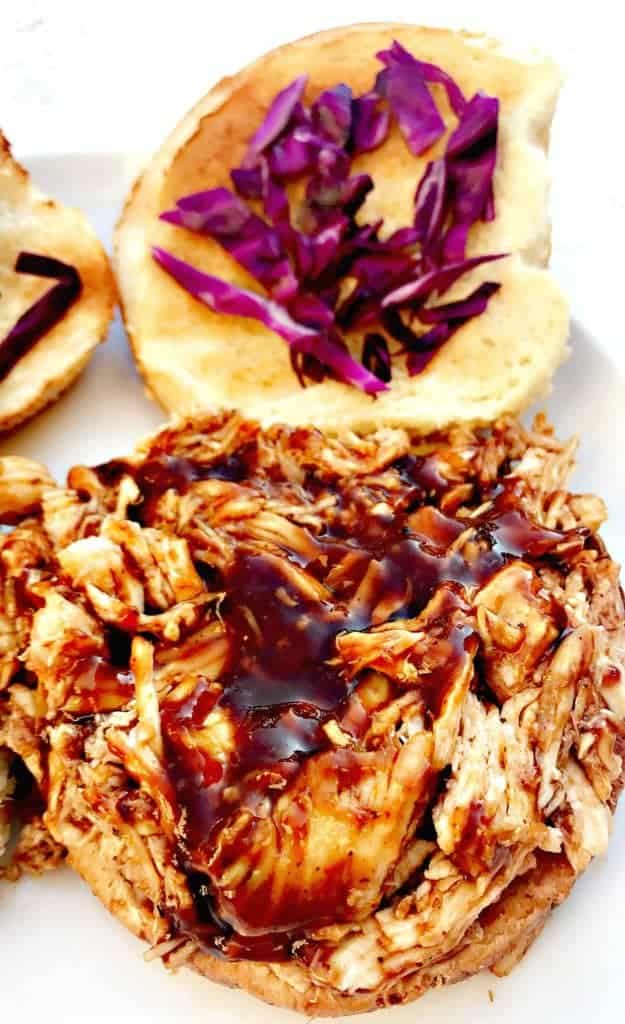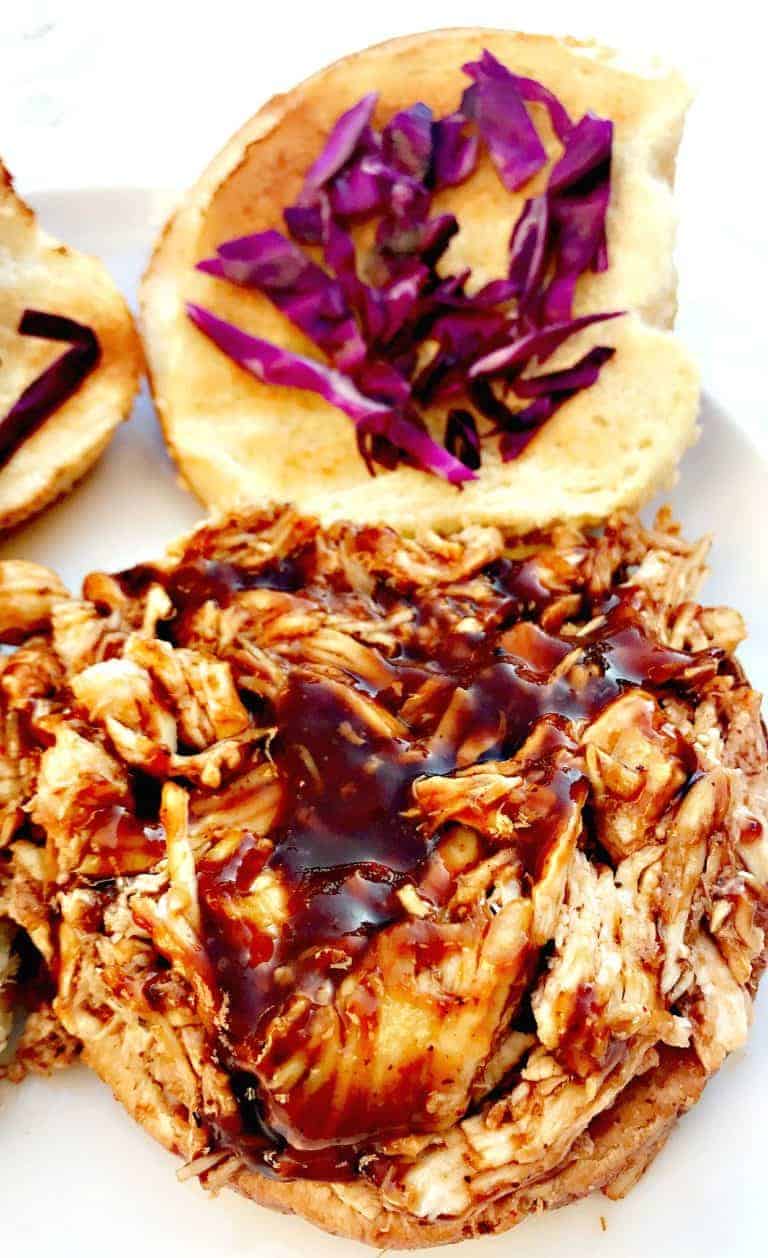 How to Make BBQ Pulled Chicken in Instant Pot Pressure Cooker
Add chicken breasts, BBQ sauce, and chicken broth to the Instant Pot.

Cook in the Instant Pot using the Meat Setting.

Allow steam to release naturally.

Open the pot and shred the chicken.
How Long to Cook Pulled Chicken in Instant Pot
I use 10 minutes of cook time, with an additional 10 minutes of natural release of steam.
How to Reheat Pulled Chicken in Instant Pot
If you want to reheat using the Instant Pot use the Saute function and add additional liquid such as BBQ sauce.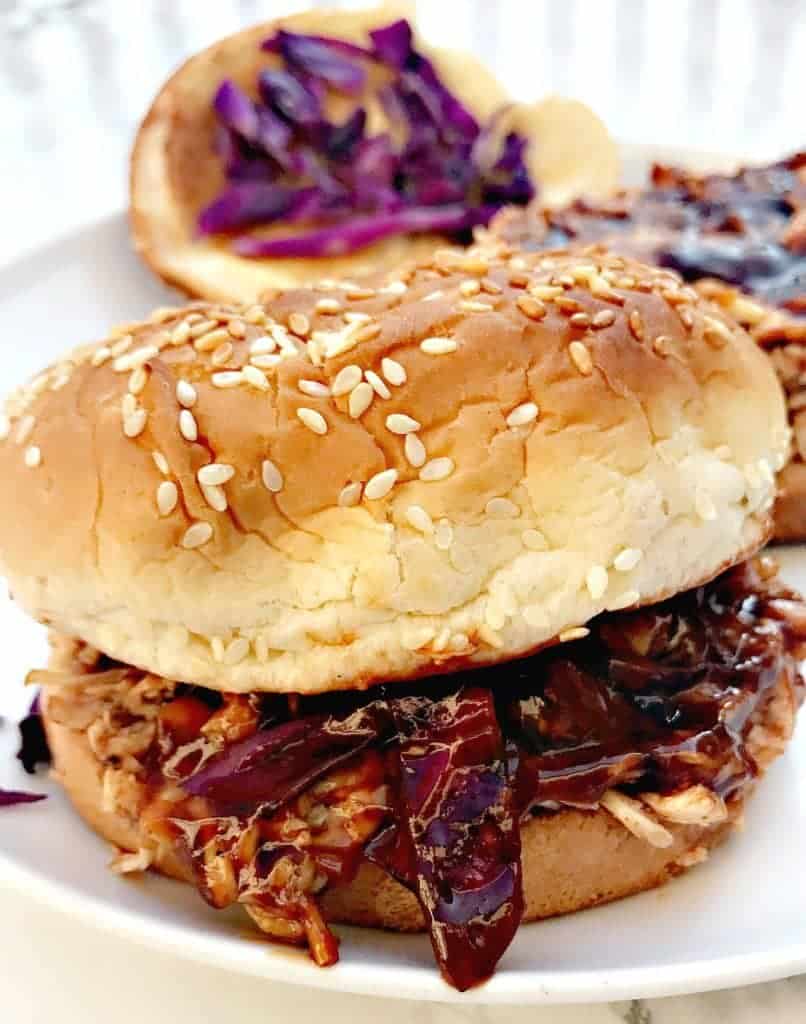 How to Make Buffalo Pulled Chicken in Instant Pot
Check out my Instant Pot Buffalo Chicken recipe here.
Can You Use Frozen Chicken for BBQ Pulled Chicken in the Instant Pot?
Cook the chicken for 20 minutes if using frozen.
What Does Natural Release on Instant Pot Mean?
Natural release means that you allow the steam from the pot to release naturally instead of performing a quick release and releasing the steam immediately when the food has stopped cooking.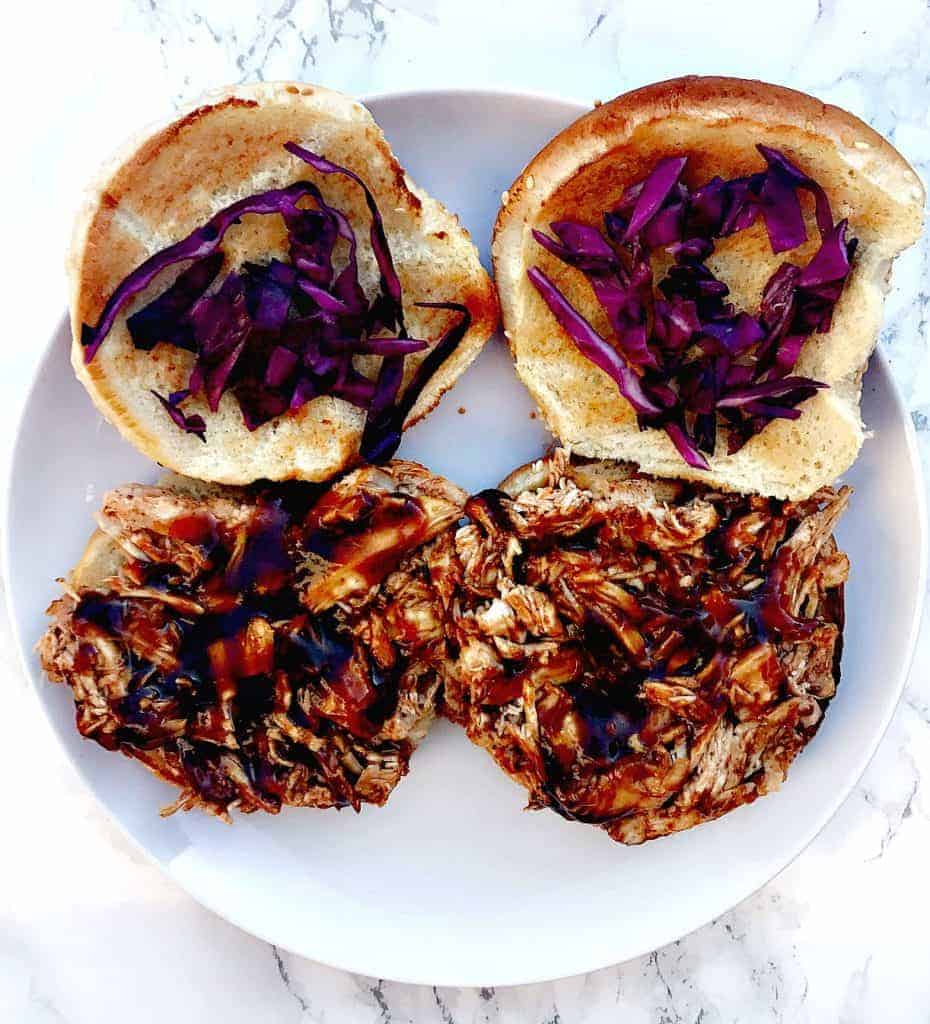 For meat, I always do a natural release because it always results in juicier meat.
Why Does My Instant Pot Say Burn?
The Instant Pot will register the burn signal if the pot has overheated or if food has stuck to the bottom of the pot. This usually occurs when there isn't enough liquid in the pot to accommodate the ingredients in the recipe. You can read more about What Instant Pot Burn Message Means here.
What Goes Well With Pulled Chicken?
Pair this Pulled Chicken with Instant Pot Potato Salad, Instant Pot Southern Green Beans, Keto Coleslaw, and Zucchini Noodle Pasta Salad.
I live in Kansas City. We are known for our BBQ here. The pressure is on to make sure I put together a recipe that is true to my KC roots. I used our infamous, local Gates BBQ Sauce for this recipe. Gates BBQ sauce is tomato based with some vinegar and is not overly sweet.
You can keep this dish keto-friendly by using my Homemade Keto BBQ Sauce.
To assist with making the chicken feel and taste like homestyle BBQ I added Liquid Smoke. This gives the chicken a smokey taste, similar to that from a grill.
If you are cooking this dish and want to enjoy leftovers or for meal prep, store the chicken in Tupperware. Pack the buns in Ziploc bags and toast immediately before eating.
More Instant Pot Recipes:

Be sure to check out step by step video instructions here!

Instant Pot BBQ Pulled Chicken Sandwiches
Instant Pot BBQ Pulled Chicken Sandwiches is a quick and easy recipe that allows you to prepare home-cooked BBQ without a grill!
Instructions
Season the chicken breasts with the seasonings (including the cocoa powder).

Add the seasoned chicken to the pot. Next, add the chicken broth, 1/4 cup of BBQ sauce, and liquid smoke.

Put the lid on the pot and adjust the settings to the Meat Setting. 10 minutes should be the default. Leave it at 10 minutes.

Allow the Instant Pot to release steam on its own without quick release.

Remove the chicken from the Instant Pot. Using a knife and fork, shred the chicken.

Remove the chicken broth and BBQ sauce mixture from the Instant Pot with a ladle. Drizzle the sauce over the pulled chicken.

Toast the buns (optional)

Add the chicken to the buns.

Drizzle the remaining sauce throughout. Top with sliced red cabbage.
Recipe Tools Used in this Recipe
As an Amazon Associate I earn from qualifying purchases.
Nutrition (displayed with net carbs)
Tried this recipe?
Mention @Stay_Snatched or tag #StaySnatched! The recipe instructions noted here are the property of Stay Snatched and subject to copyright. Please do not screenshot and share this recipe on social.
Nutrition Data
Macros are provided as a courtesy and should not be construed as a guarantee. This information is calculated using MyFitnessPal.com. To obtain the most accurate nutritional information in a given recipe, you should calculate the nutritional information with the actual ingredients used in your recipe, using your preferred nutrition calculator. You are solely responsible for ensuring that any nutritional information provided is accurate, complete, and useful.