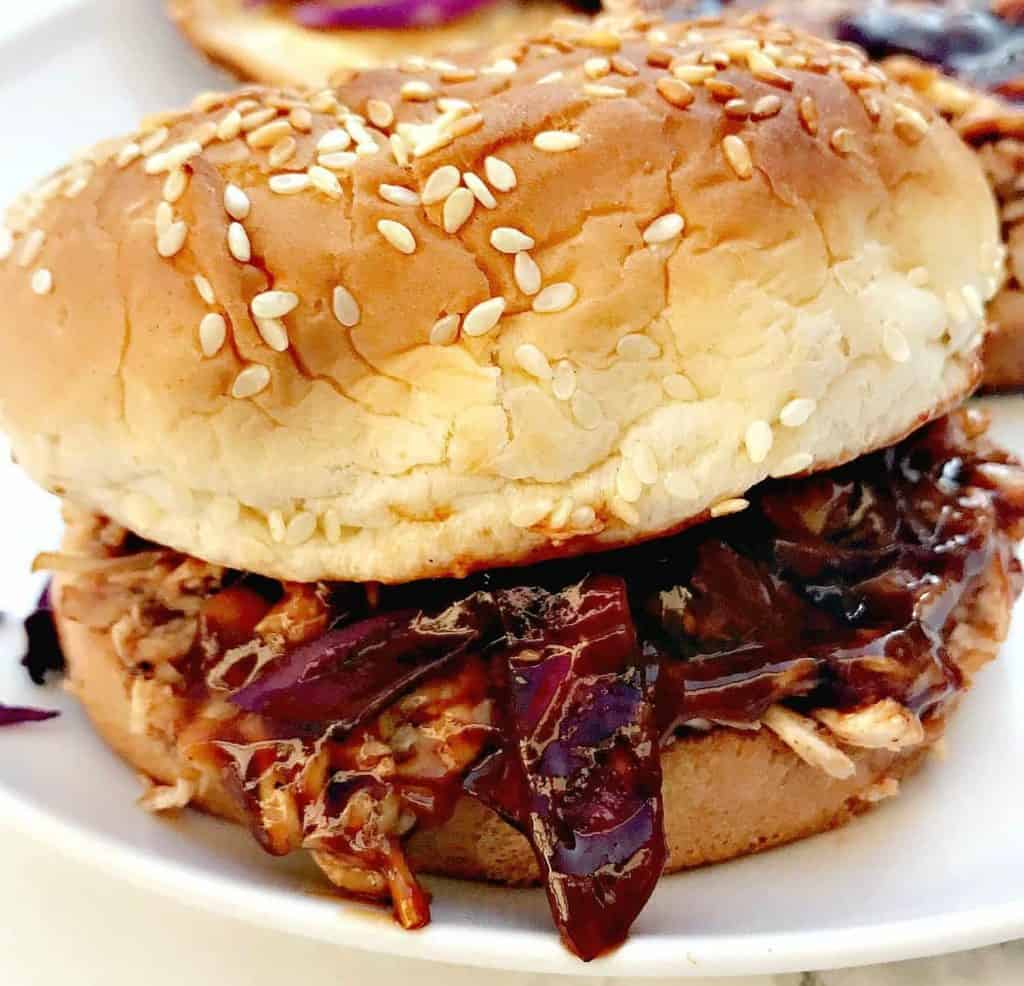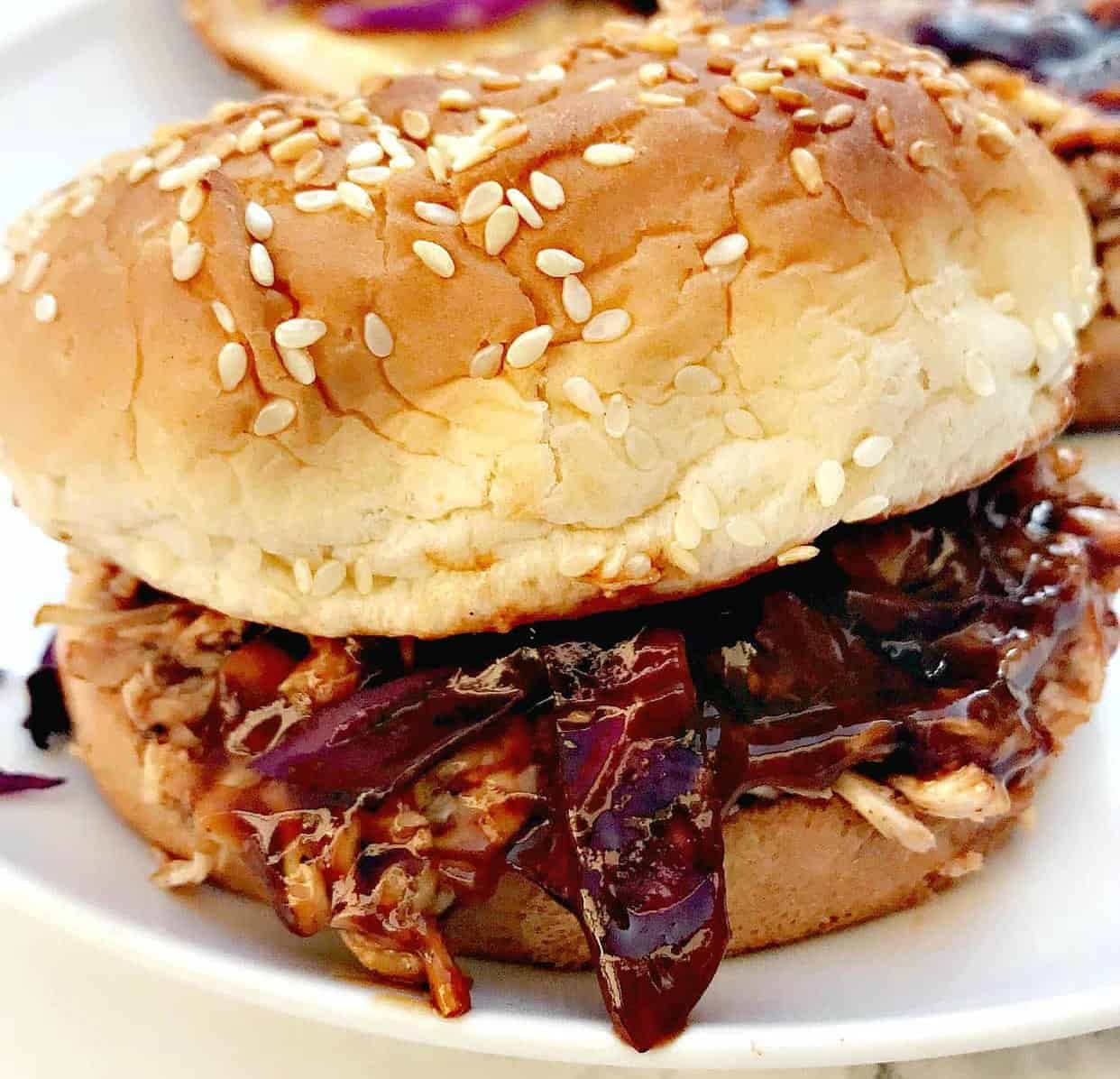 This post may contain affiliate links. Please read my full disclosure here.
Easy, Instant Pot BBQ Pulled Chicken Sandwiches is a quick and easy pressure cooker recipe that allows you to prepare home-cooked, BBQ without a grill and in 10 minutes! This recipe produces juicy shredded chicken that is drizzled with BBQ sauce.
This recipe for Instant Pot BBQ Pulled Chicken Sandwiches provides a quick and easy way to eat home-cooked BBQ without using a grill. I have gotten a lot of feedback from subscribers of my blog that they would like to see ways to prepare grilled dishes without using a grill.
Many people have apartments that do not allow grills. Some people simply do not know how to use a grill. (I can actually help with that! I should probably put together a tutorial).
I recommend grilled meats for meal prep purposes because the grill locks in so much flavor and produces really juicy meat. Flavor and juicy are key to meal prep dishes. When reheated, juicy meat that is packed with tons of flavor does not feel like leftovers. Though I recommend using a grill for a lot of recipes, I have found the Instant Pot can yield very similar results!
Calories: 351 Fat: 6G Net Carbs: 36G Protein: 41G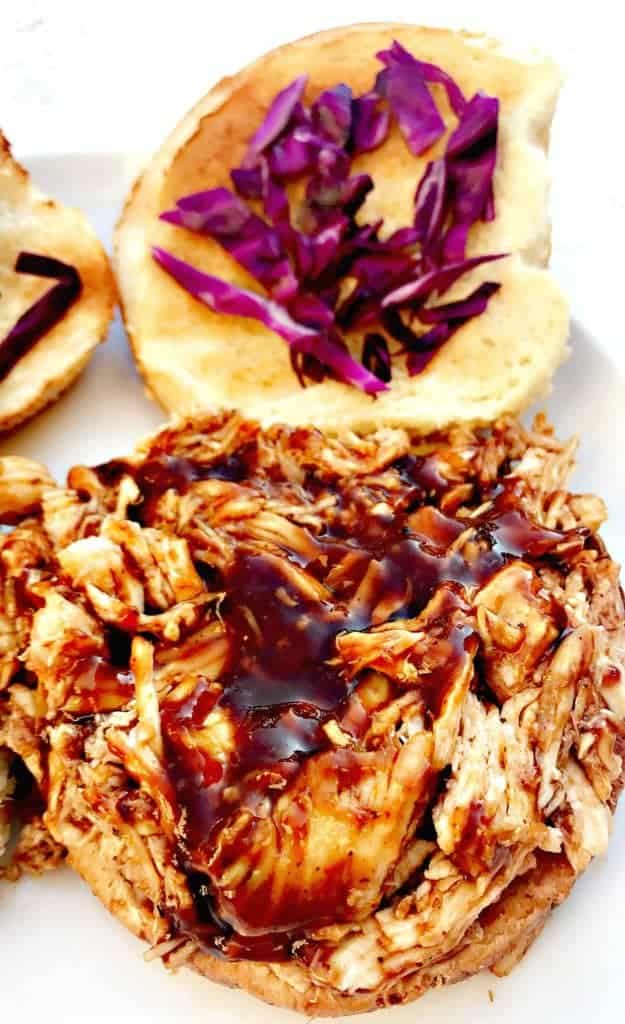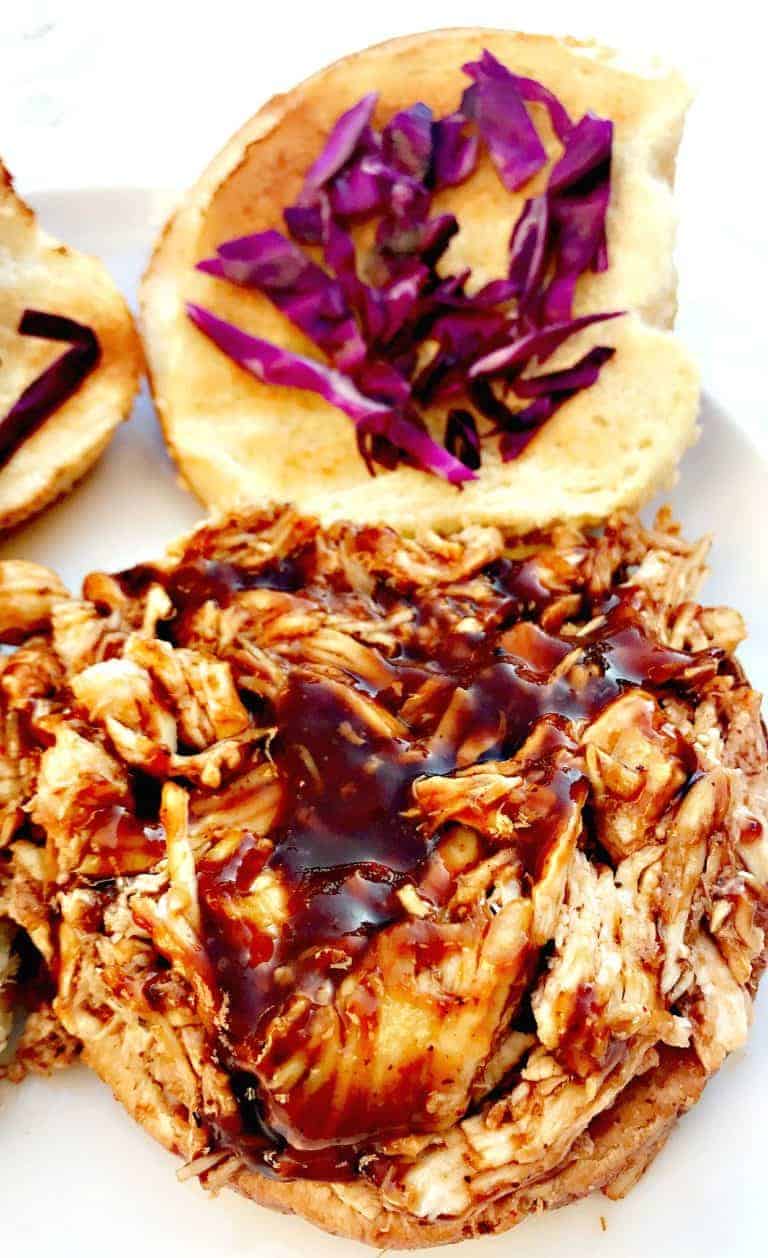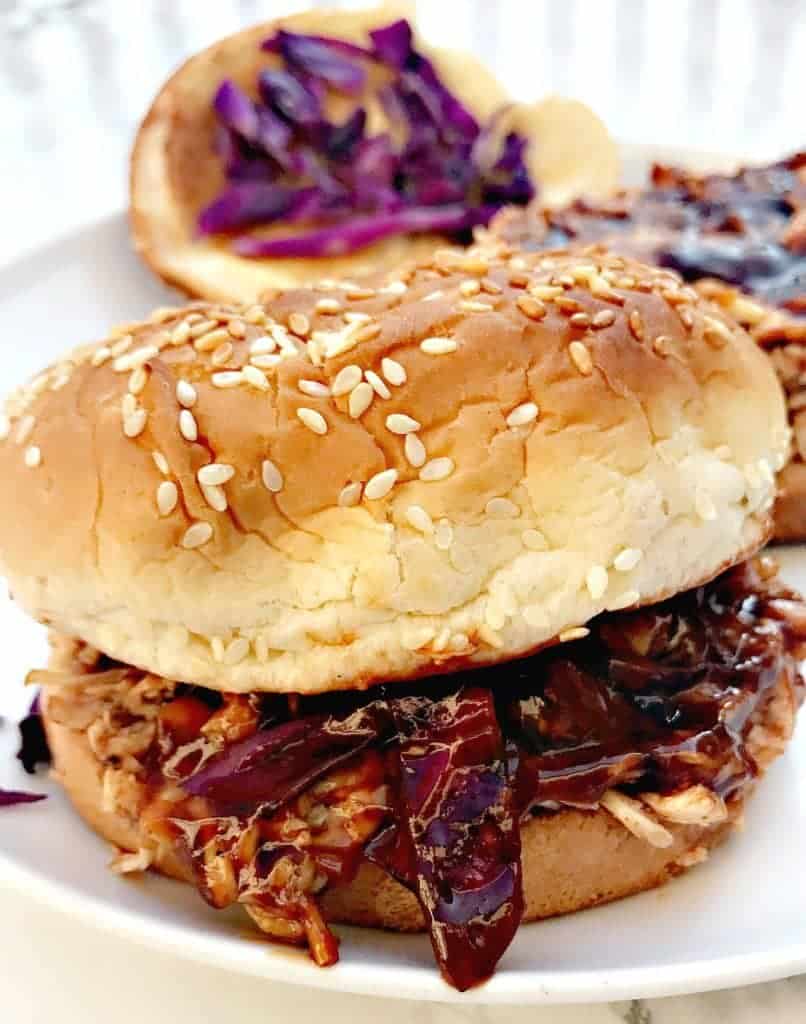 I live in Kansas City. We are known for our BBQ here. The pressure is on to make sure I put together a recipe that is true to my KC roots. I used our infamous, local Gates BBQ for this recipe. Gates BBQ sauce is tomato based with some vinegar and is not overly sweet.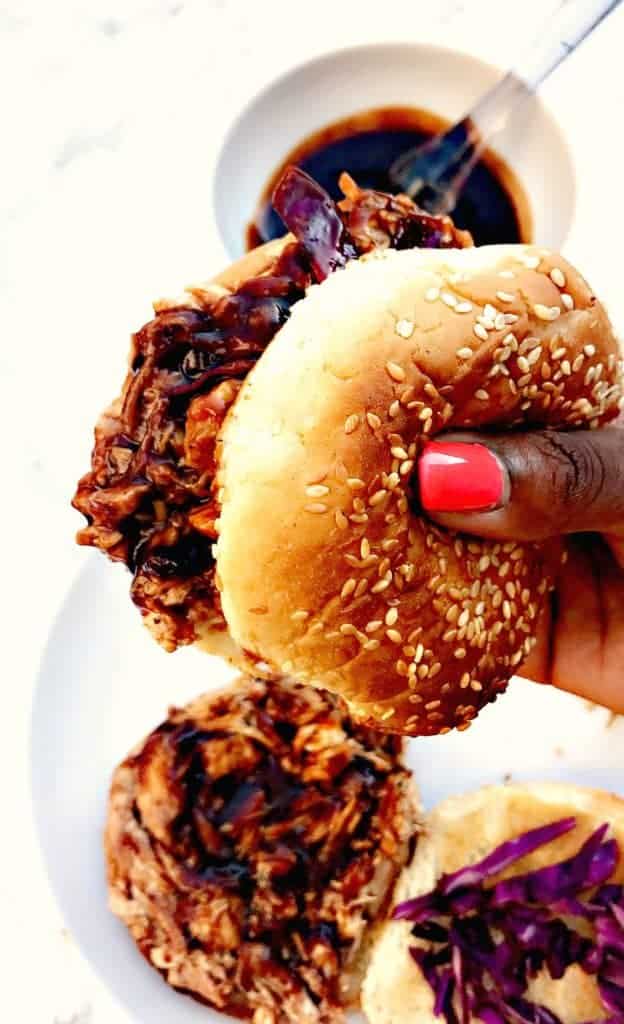 To assist with making the chicken feel and taste like homestyle BBQ I added Liquid Smoke. This gives the chicken a smokey taste, similar to that from a grill.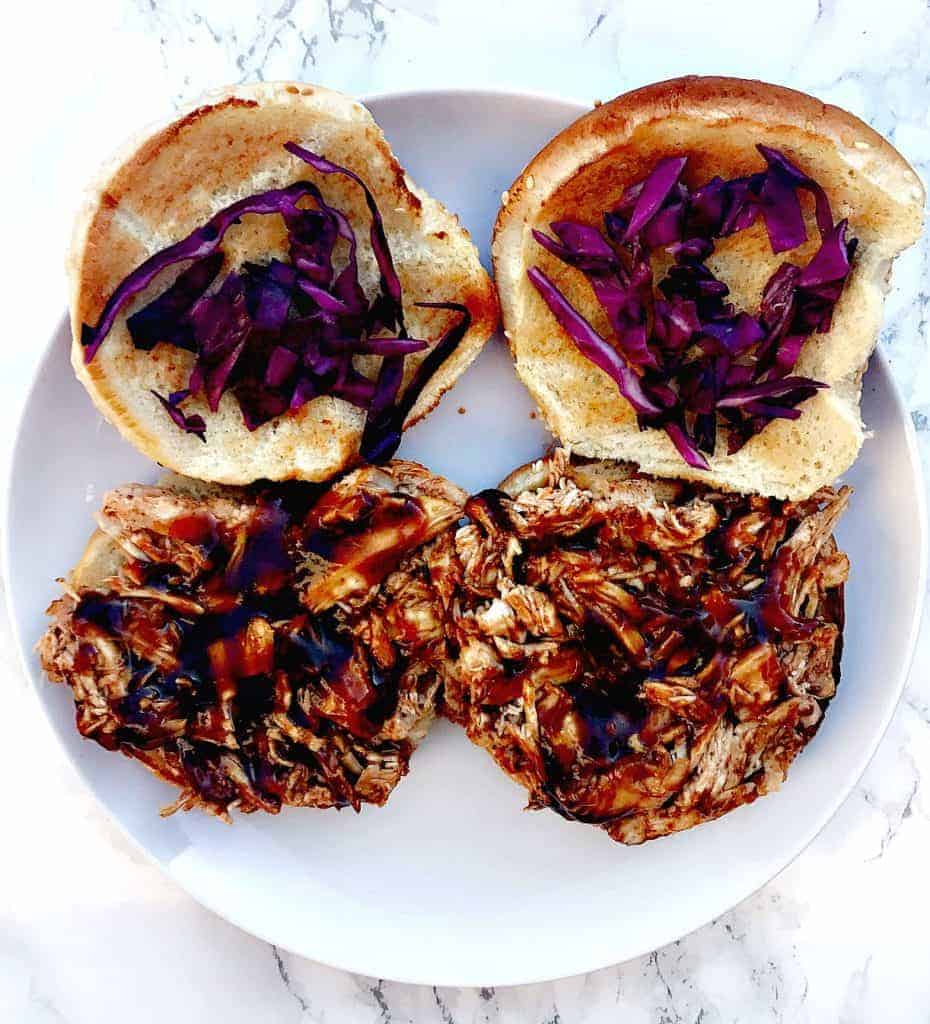 If you are cooking this dish and want to enjoy leftovers or for meal prep, store the chicken in Tupperware. Pack the buns in Ziploc bags and toast immediately before eating.
More Instant Pot Recipes:

Be sure to check out step by step video instructions here!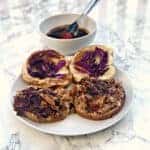 Instant Pot BBQ Pulled Chicken Sandwiches
Instant Pot BBQ Pulled Chicken Sandwiches is a quick and easy recipe that allows you to prepare home-cooked BBQ without a grill!
Ingredients
1

pound

skinless chicken breasts

1/2

cup

BBQ sauce

1

cup

low-sodium chicken broth

1

tsp

unsweetened cocoa powder

4

sesame buns

1

tbsp

red cabbage

thinly sliced

1

tsp

liquid smoke

McCormicks Grill Mates BBQ Seasoning to taste

McCormicks Grill Mates Montreal Chicken Seasoning to taste

salt and pepper to taste
Instructions
Season the chicken breasts with the seasonings (including the cocoa powder).

Add the seasoned chicken to the pot. Next, add the chicken broth, 1/4 cup of BBQ sauce, and liquid smoke.

Put the lid on the pot and adjust the settings to the Meat Setting. 10 minutes should be the default. Leave it at 10 minutes.

Allow the Instant Pot to release steam on its own without quick release.

Remove the chicken from the Instant Pot. Using a knife and fork, shred the chicken.

Remove the chicken broth and BBQ sauce mixture from the Instant Pot with a ladle. Drizzle the sauce over the pulled chicken.

Toast the buns (optional)

Add the chicken to the buns.

Drizzle the remaining sauce throughout. Top with sliced red cabbage.