This Instant Pot chicken drumsticks and rice (arroz con pollo) recipe was the perfect Instant Pot experiment. Cinco de Mayo was this past weekend. I spent all last week posting my favorite recipes perfect for Cinco de Mayo to my Instagram account. I got so caught up in the hype that I started to crave more similar dishes. I have also been doing a bunch of experimenting with my Instant Pot lately. I am so fascinated with this kitchen gadget! I decided to make arroz con pollo because I wanted to give drumsticks a try in the pot. I am not usually a fan of drumsticks. I am more of a white meat kind of girl. I love breasts and wings. However, I felt like white meat chicken would be too dry for a dish like this.
Calories: 499 Fat: 16G Net Carbs: 41G Protein: 42G
This is a great sazon brand that is MSG free. Sazon means seasoning in Spanish. I used my own ingredients for flavor below. This seasoning could also be used.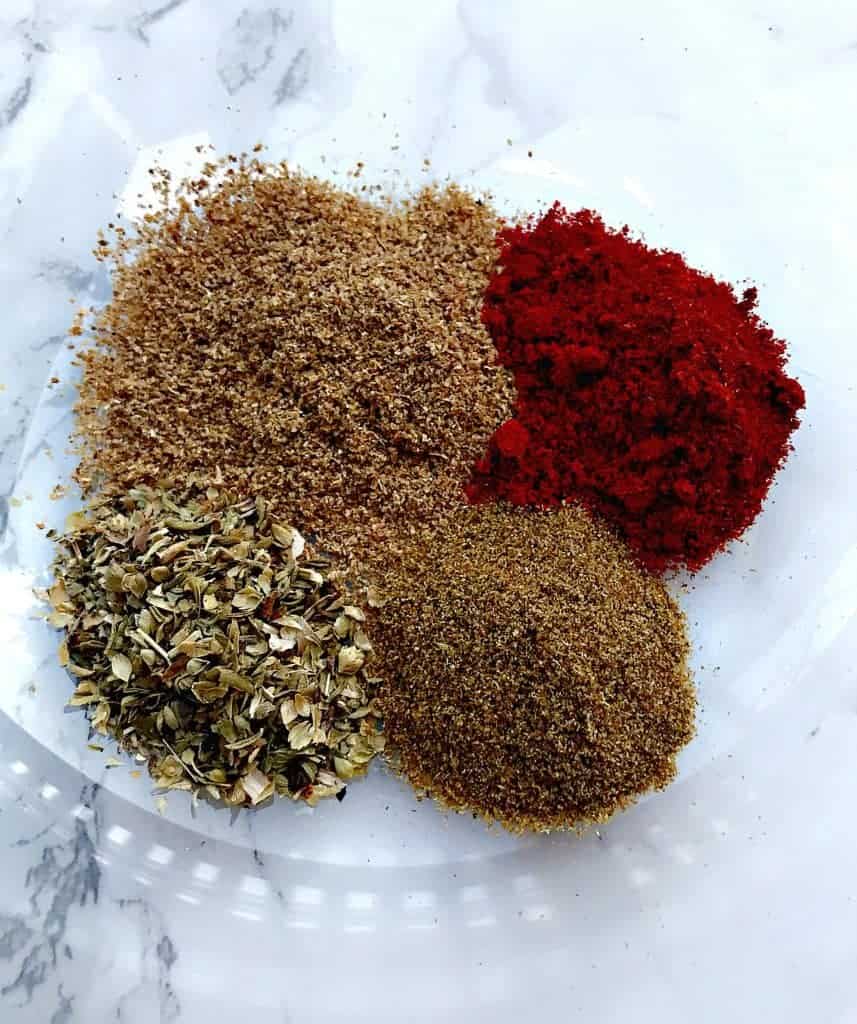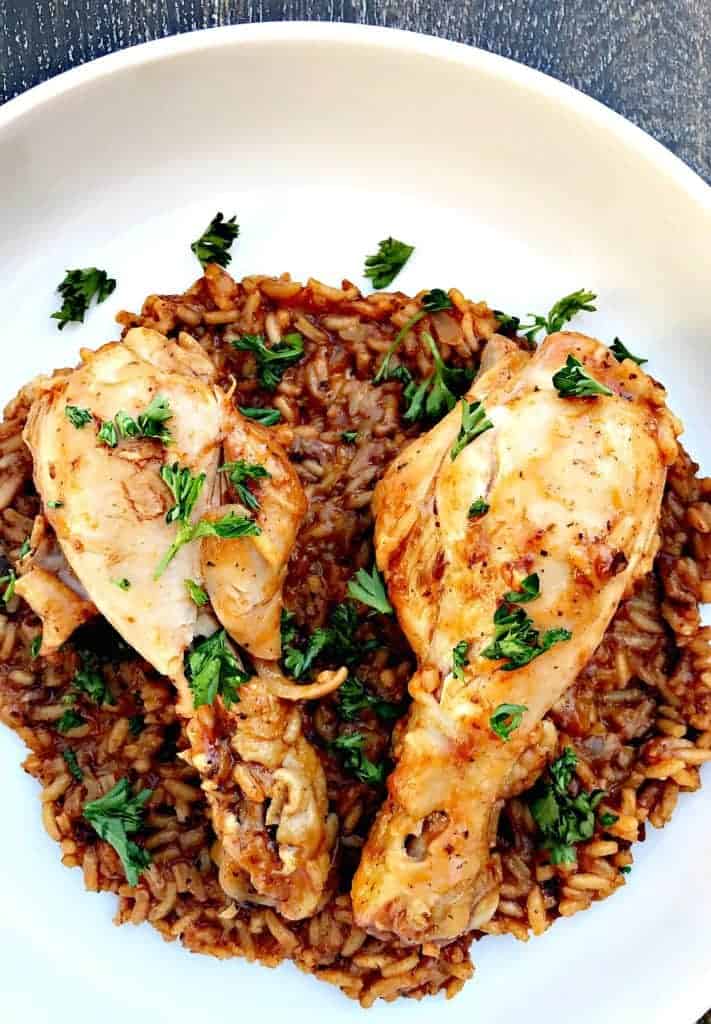 I chose to use extra long grain enriched rice for a couple of reasons.
Time:
I love brown rice. A lot of my other posts rave about brown rice and the associated nutritional benefits. Brown rice takes a long time to cook…..even using the Instant Pot! Brown rice prepared in the Instant Pot takes 25-30 minutes. My Instant Pot experiments are focused on time-saving. My goal is to prep meals with the Instant Pot in less than 45 minutes, ideally, less than 30 minutes. Long-grain enriched rice can be prepared in the Instant Pot in less than 10 minutes. ULTIMATE WIN!
Nutritional Benefits:
Enriched white long grain rice is enriched to replenish nutrients that are removed during the milling process. Enriched white rice has been mixed with vitamins and nutrients to boost nutritional value. When rice is processed into white rice, the majority of its nutritional value is lost. The fiber and bran are removed. This is one of the main reasons why I flock to brown rice. Brown rice is rich in fiber. Even after enriching white rice with the nutrients mentioned, it is not as nutritious as brown rice. Brown rice still beats white rice in my opinion. However, in this instance, enriched white long grain rice makes a great alternative.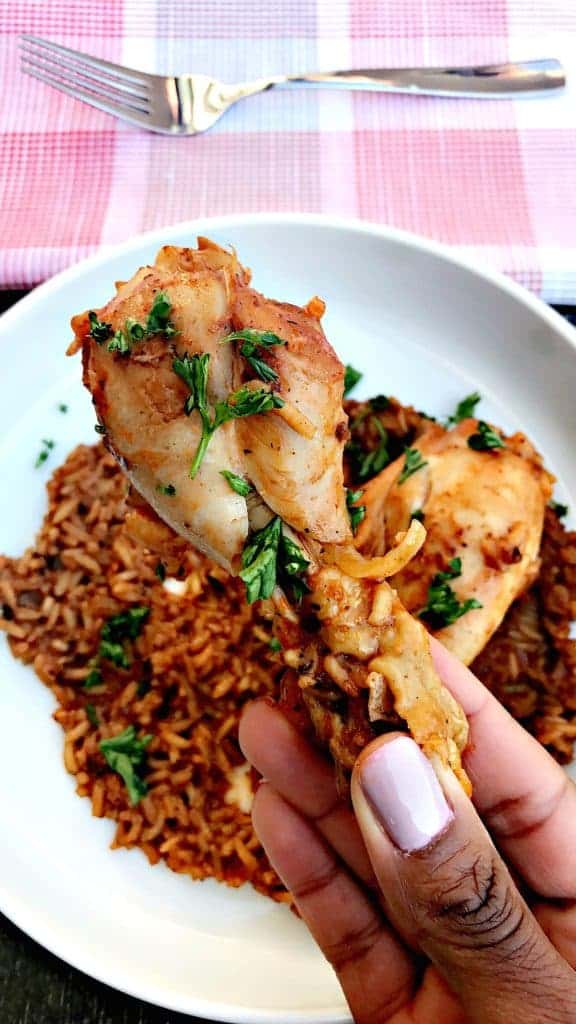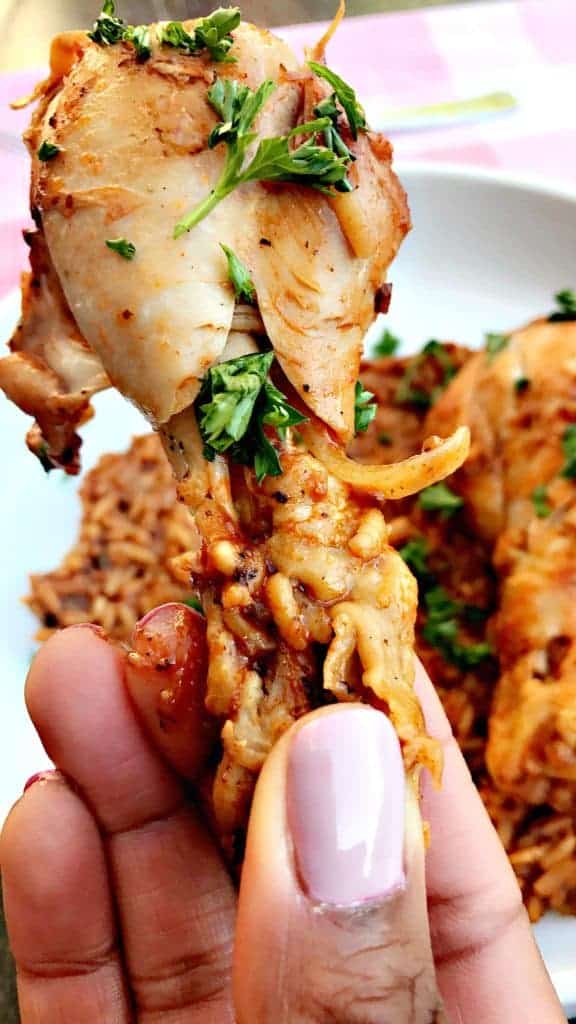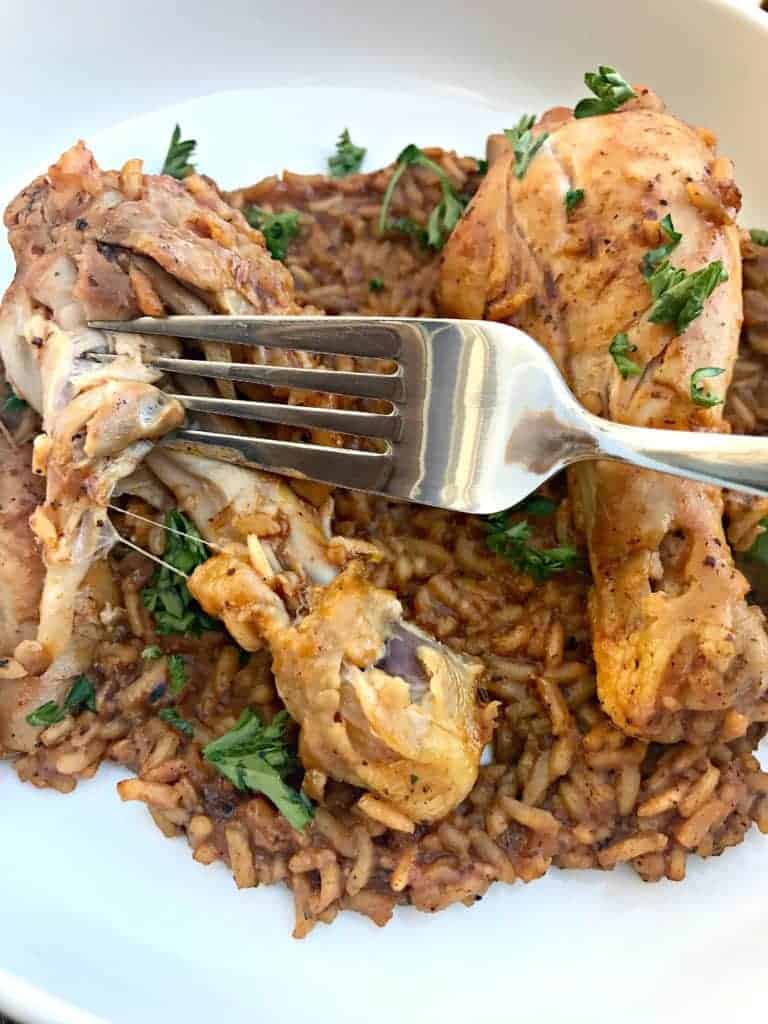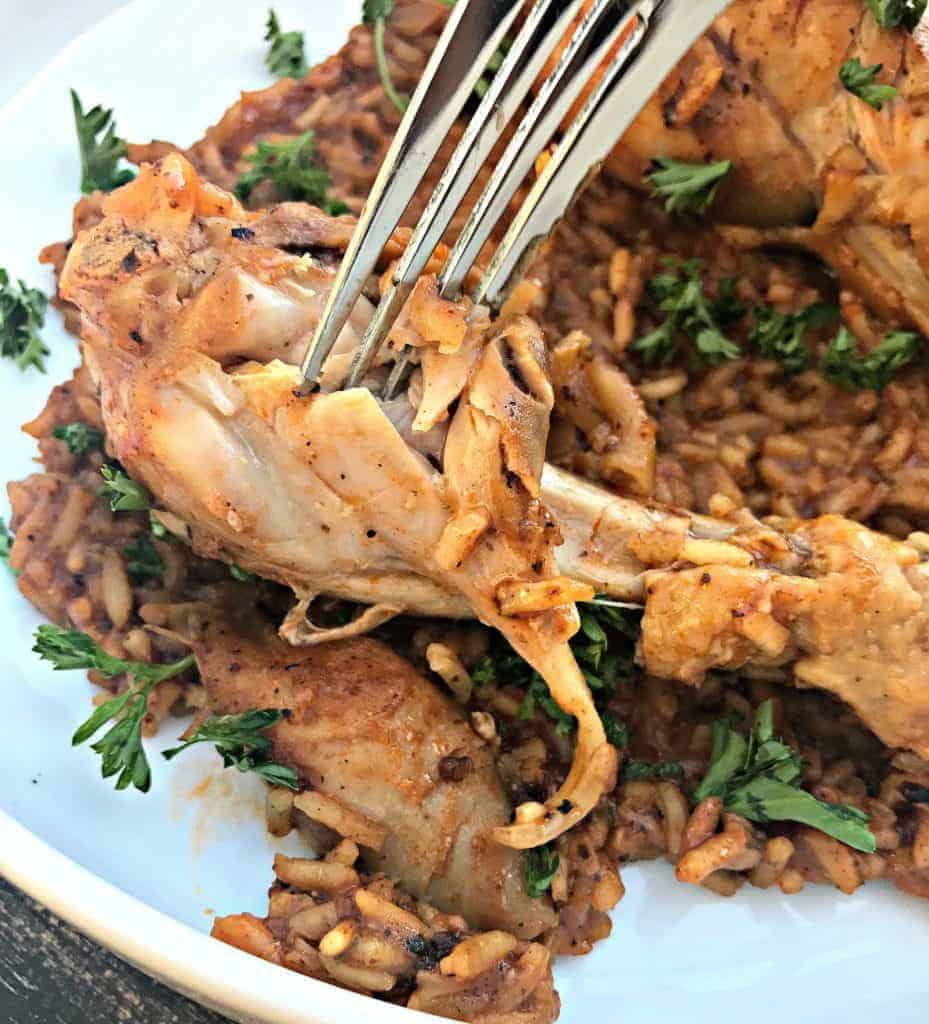 This chicken is so tender the meat is falling off the bone….just the way I like it!

Make your meal prep process easy with these trays!
Follow Stay Snatched on Instagram
Like Stay Snatched on Facebook
Follow Stay Snatched on Pinterest
Be sure to check out step by step video instructions here!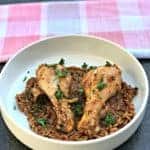 Instant Pot Chicken Drumsticks with Spanish Rice (Arroz Con Pollo)
Healthy, skinny, lightened-up Instant Pot chicken drumsticks (arroz con pollo) is a quick and easy 30-minute dish perfect for weeknight dinners with juicy chicken and savory rice.
Ingredients
8

drumsticks

1

cup

enriched long grain white rice

1

tbsp

olive oil

1

cup

tomato sauce

1

cup

low-sodium chicken broth

1

cup

water

1/2

cup

cilantro or parsley

chopped

1

cup

onion

chopped

2-3

garlic cloves

McCormick's Grill Mates BBQ seasoning to taste

McCormick's Grill Mates Montreal Chicken Seasoning to taste

salt and pepper to taste

1

tsp

coriander

1

tsp

cumin

2

tsp

oregano

1

tsp

paprika
Instructions
Turn the Instant Pot on to the sautee function. Allow it to register as hot. Add the olive oil, onion and garlic. Allow to cook for 1-2 minutes until fragrant.

Season the drumsticks with the chicken seasoning, BBQ seasoning, salt and pepper. Using tongs add the drumsticks to the pot. Allow the chicken to glaze for a couple of minutes on each side. Remove the chicken from the pot.

Deglaze the pot by scraping the brown bits from the chicken from the bottom of the pot. Add the water, chicken broth, and tomato paste, coriander, cumin, paprika, and oregano. Stir well.

Add the rice and the drumsticks back to the pot. Place the lid on tip and ensure the release is set to seal.

Cook for 12 minutes on high.

Allow the pot to steam on it's own without quick release. This will take a few minutes. The Instant Pot will alert you when it is safe to open the pot.

Allow the pot to sit for an additional 3 -4 minutes so that the rice can become fluffy. Open the lid carefully. Stir the rice.

Sprinkle with cilantro or parsley. Allow to cool. Serve!