This post may contain affiliate links. Please read my full disclosure here.
Quick and easy 10-minute Instant Pot pressure cooker steak tacos (carne asada) are a healthy and skinny meal loaded with salsa, cilantro, and juicy steak. This recipe can also be used for beef fajitas.

Click here to pre-order now!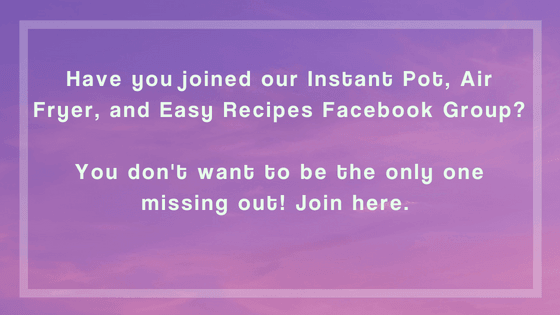 Instant Pot/pressure cooker 10-minute steak tacos were the perfect cure for my busy weekend. This past weekend was soooooo hectic for me. I spent a large chunk of my Sunday out to brunch with friends. Bottomless mimosas were involved. We had such a great time! This left me with very little time to prep my meals for the week. I had leftover steak on hand from my Instant Pot Mongolian Beef and Quinoa recipe. I decided to whip up steak tacos.
Calories: 146 Fat: 5G Net Carbs: 11G Protein: 12G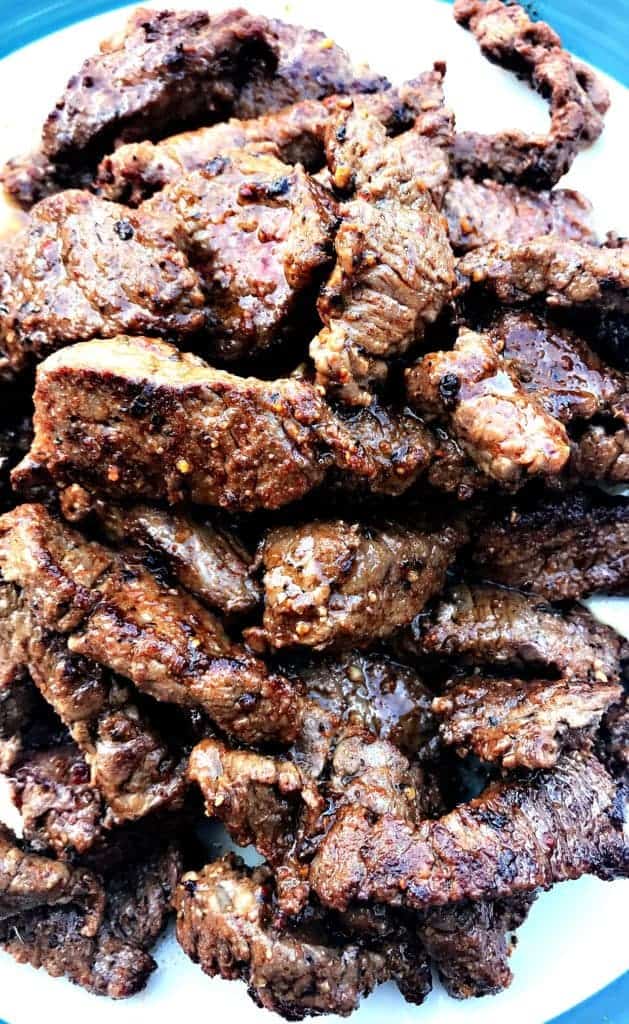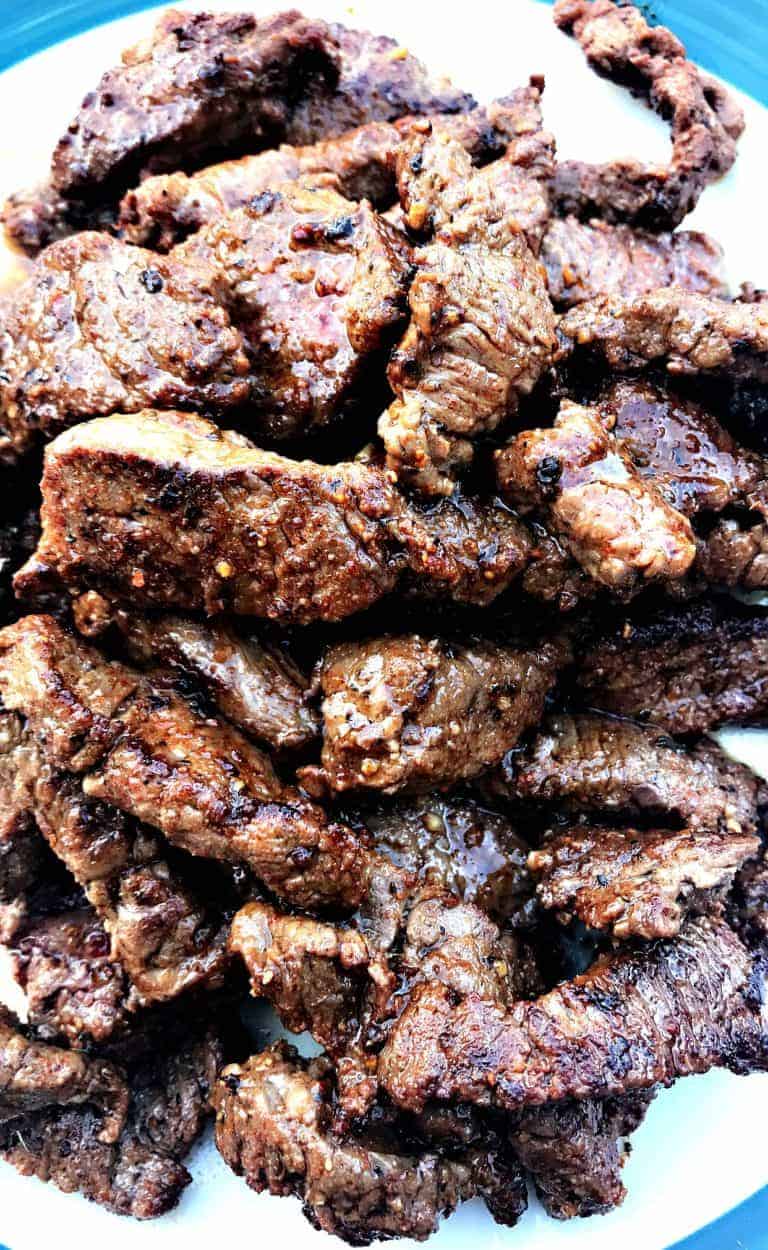 I used the Instant Pot because I am obsessed with the saute' function. I used a small amount of olive oil and the steak always comes out tender and juicy! For shredded tacos use the pressure cooker setting after sauteeing the meat.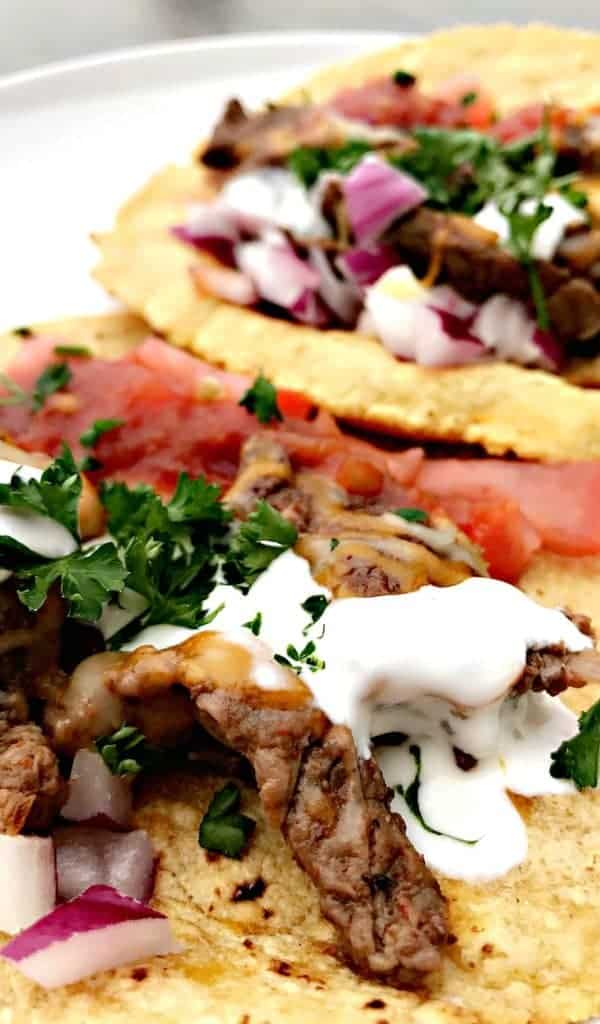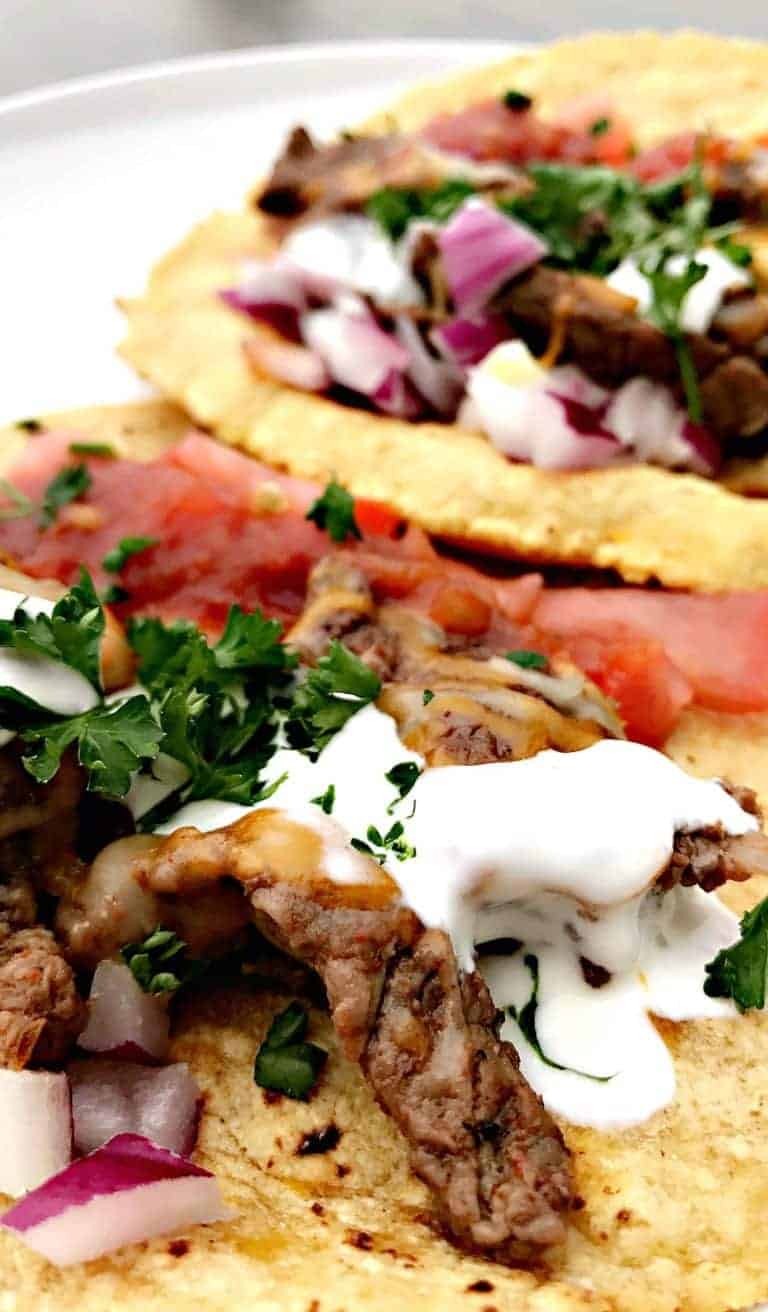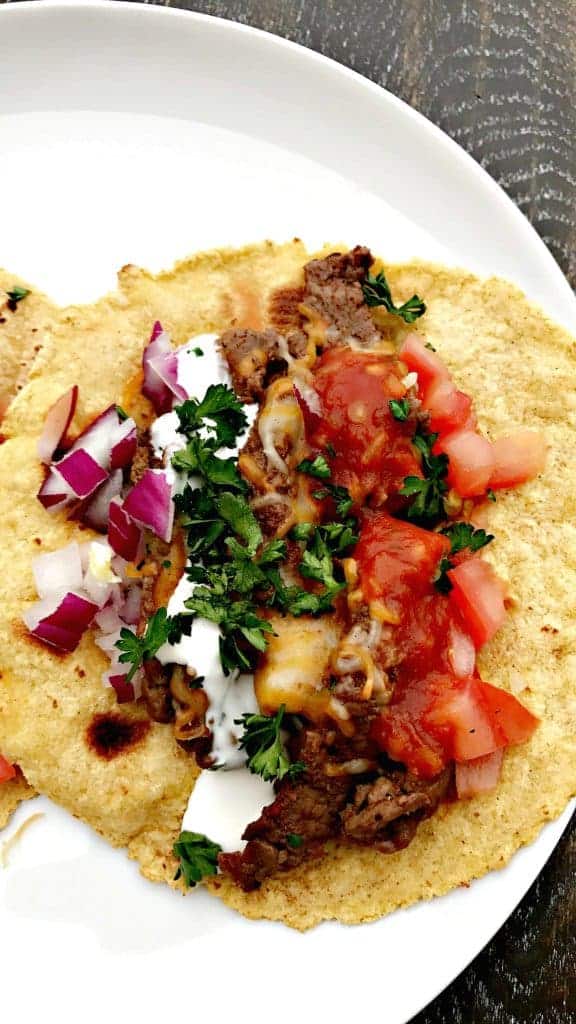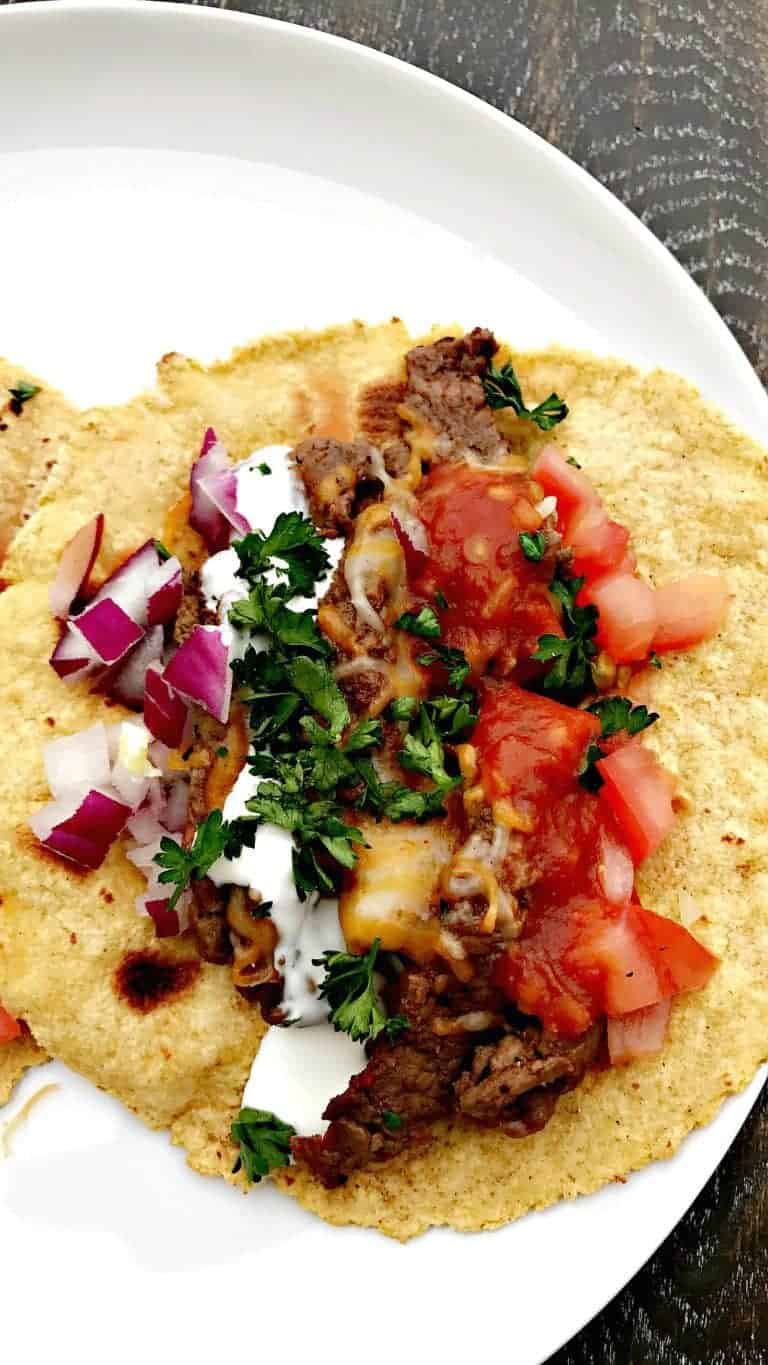 You could also opt to pan sear the steak instead of using the Instant Pot. I prefer the Instant Pot because it does saute' somewhat faster and yields really juicy steak.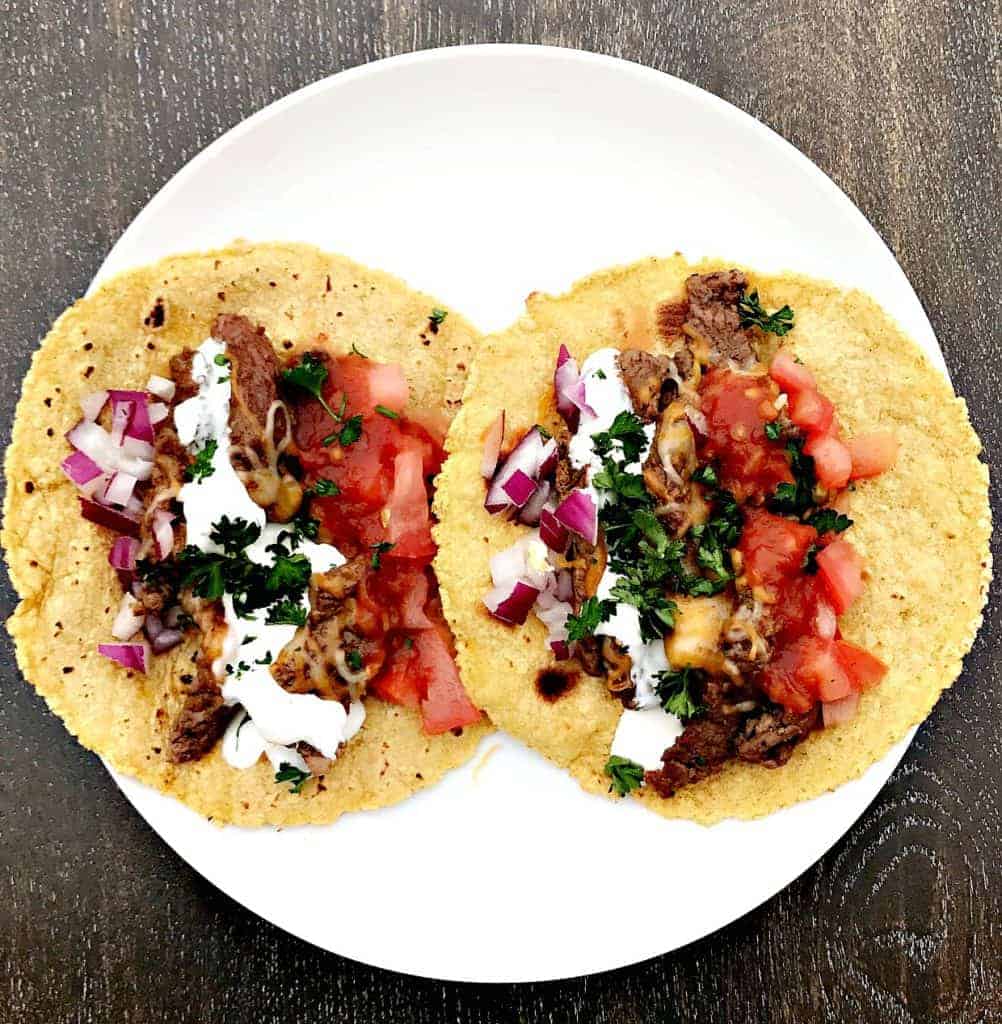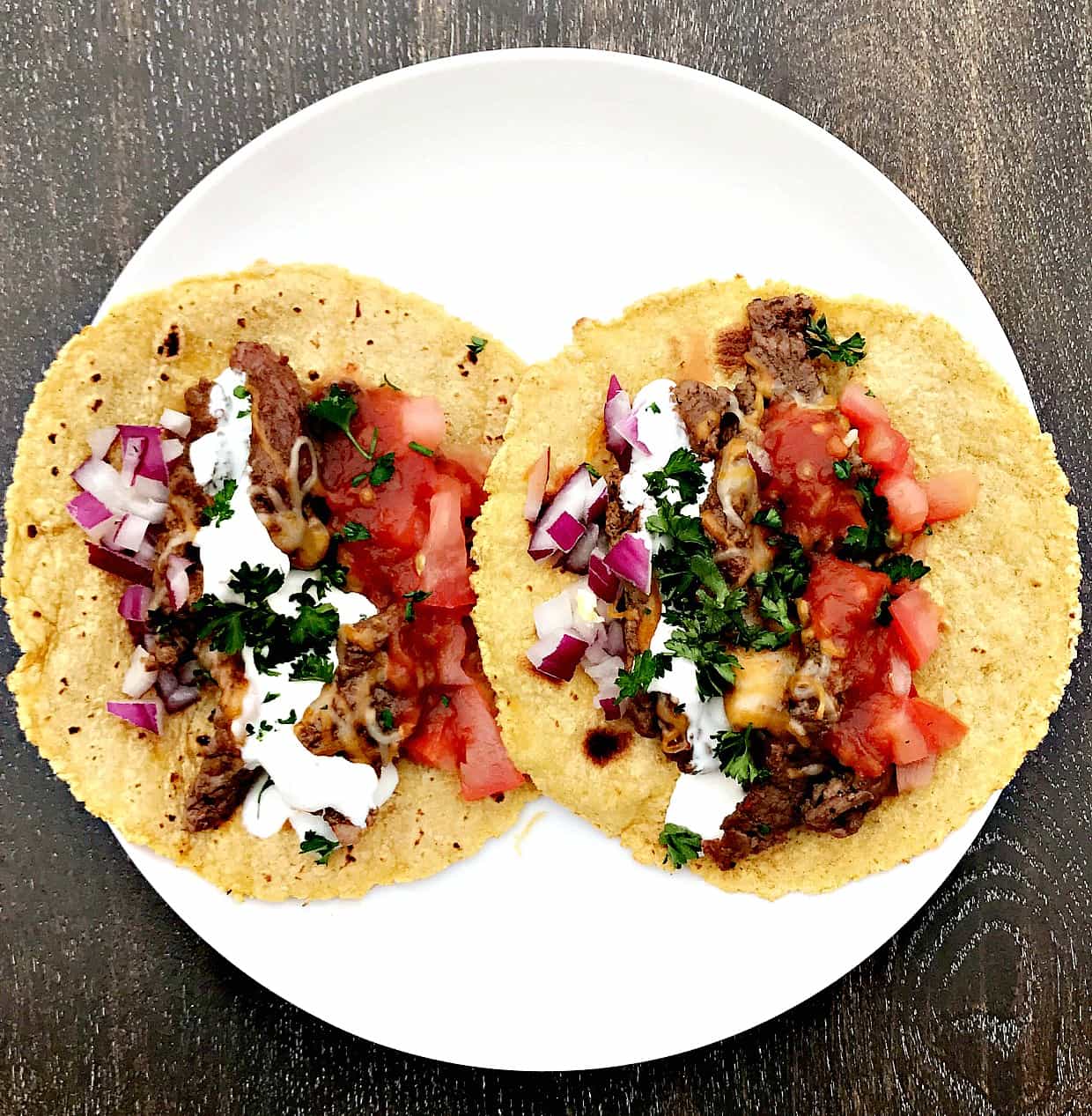 I used corn tortillas with these steak tacos. I have also enjoyed them with corn street tacos tortillas. Street tacos are so good, too!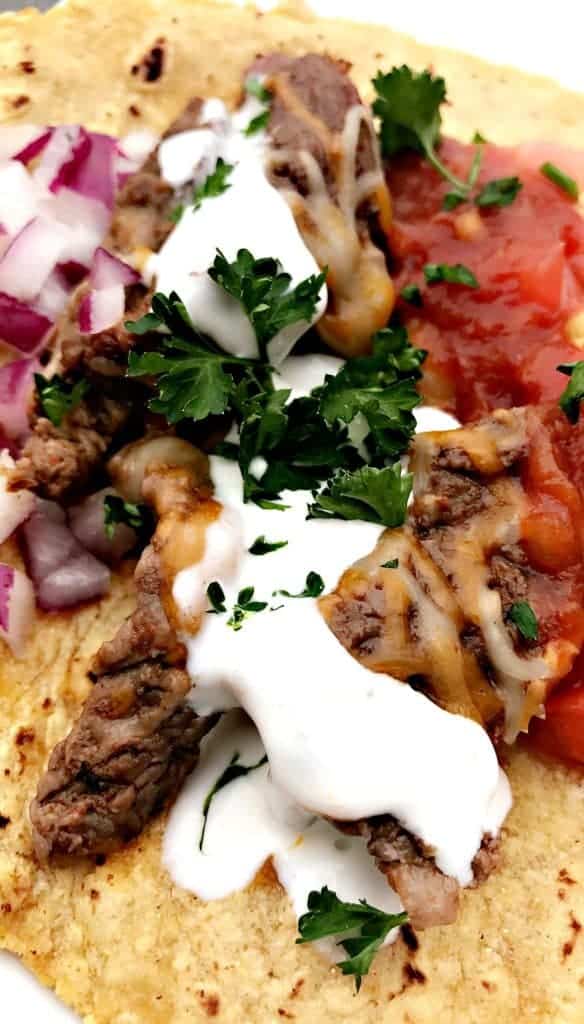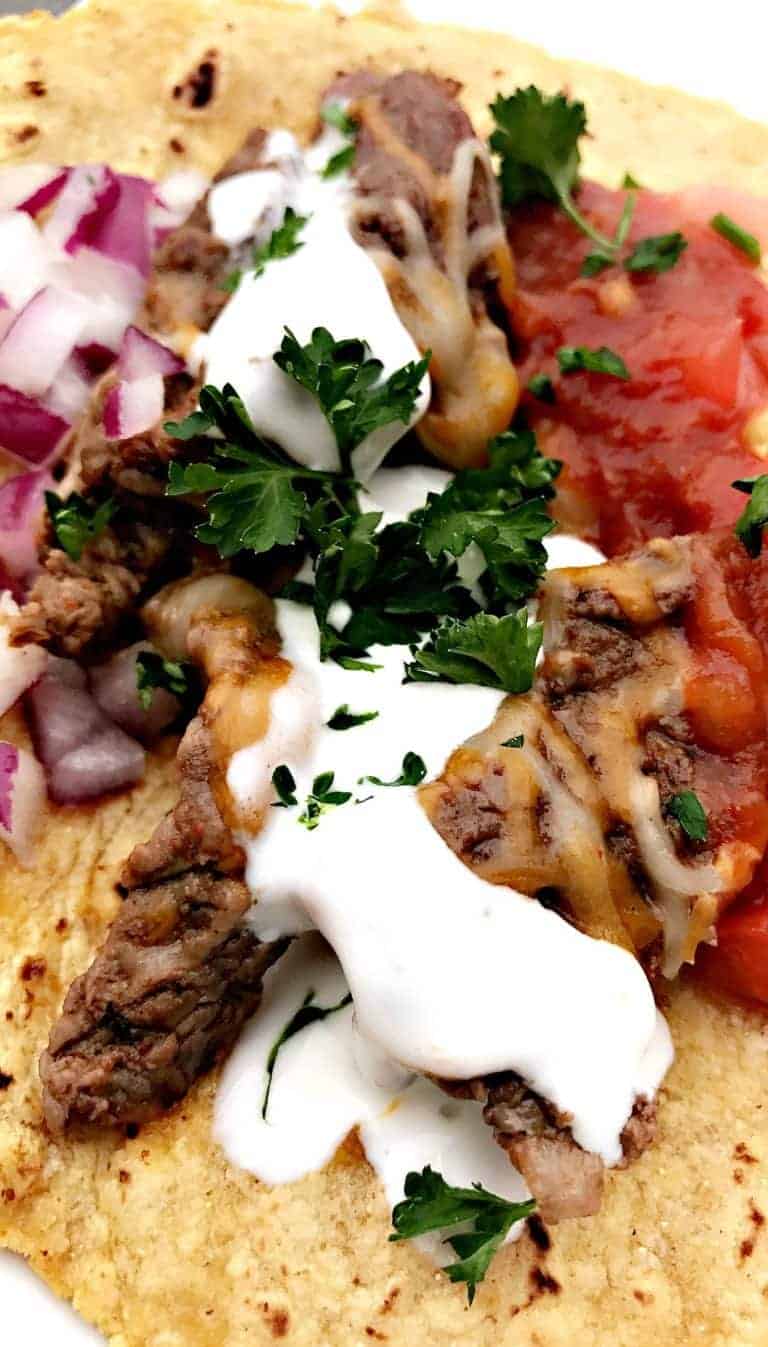 Street tacos are smaller and usually fit in the comfort of one hand. Fresh lime usually accompanies the tacos. I LOVE to squeeze fresh lime juice throughout. They are also extra soft. There is a huge difference between street and hard shell tacos, in my opinion.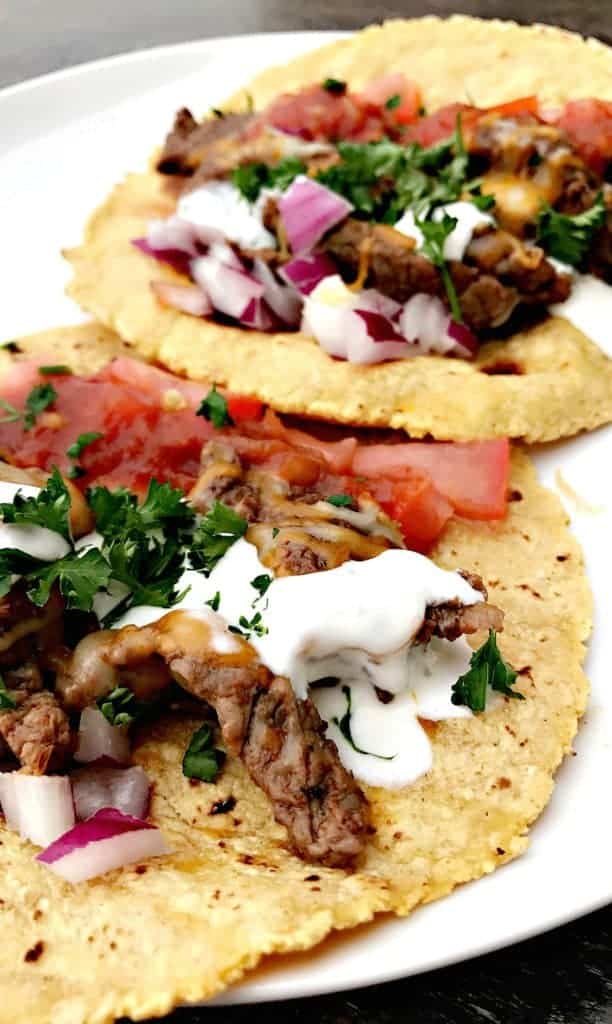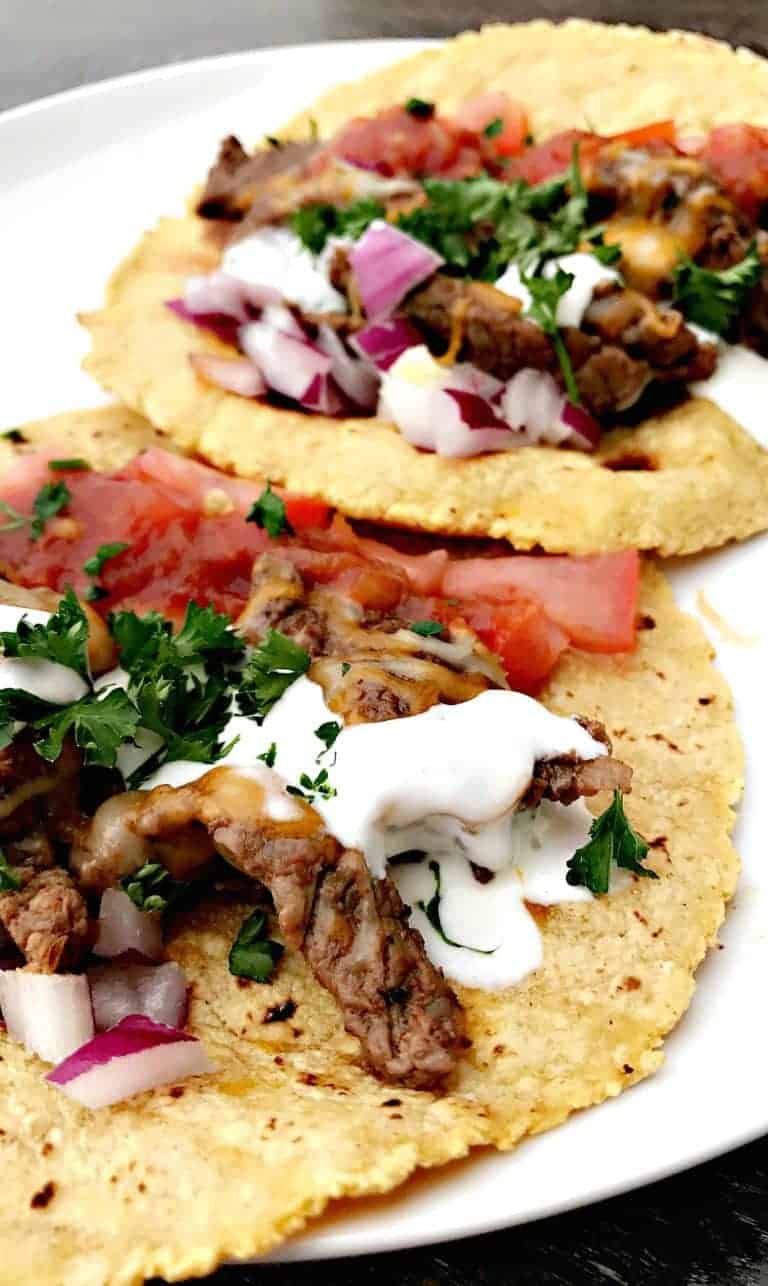 There are so many ways to include steak in a healthy eating regime. Be sure to trim the excess fat from the steak before seasoning.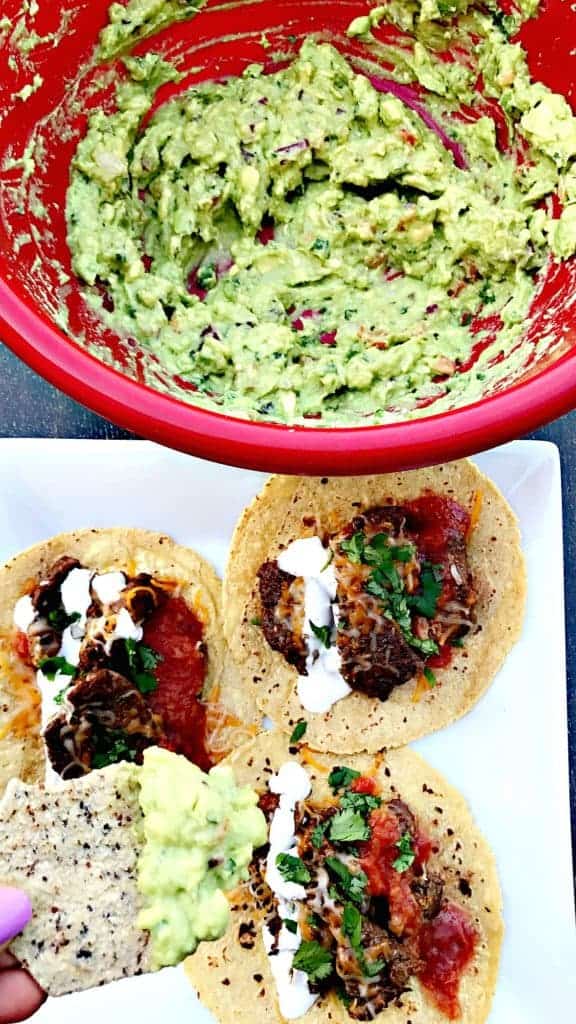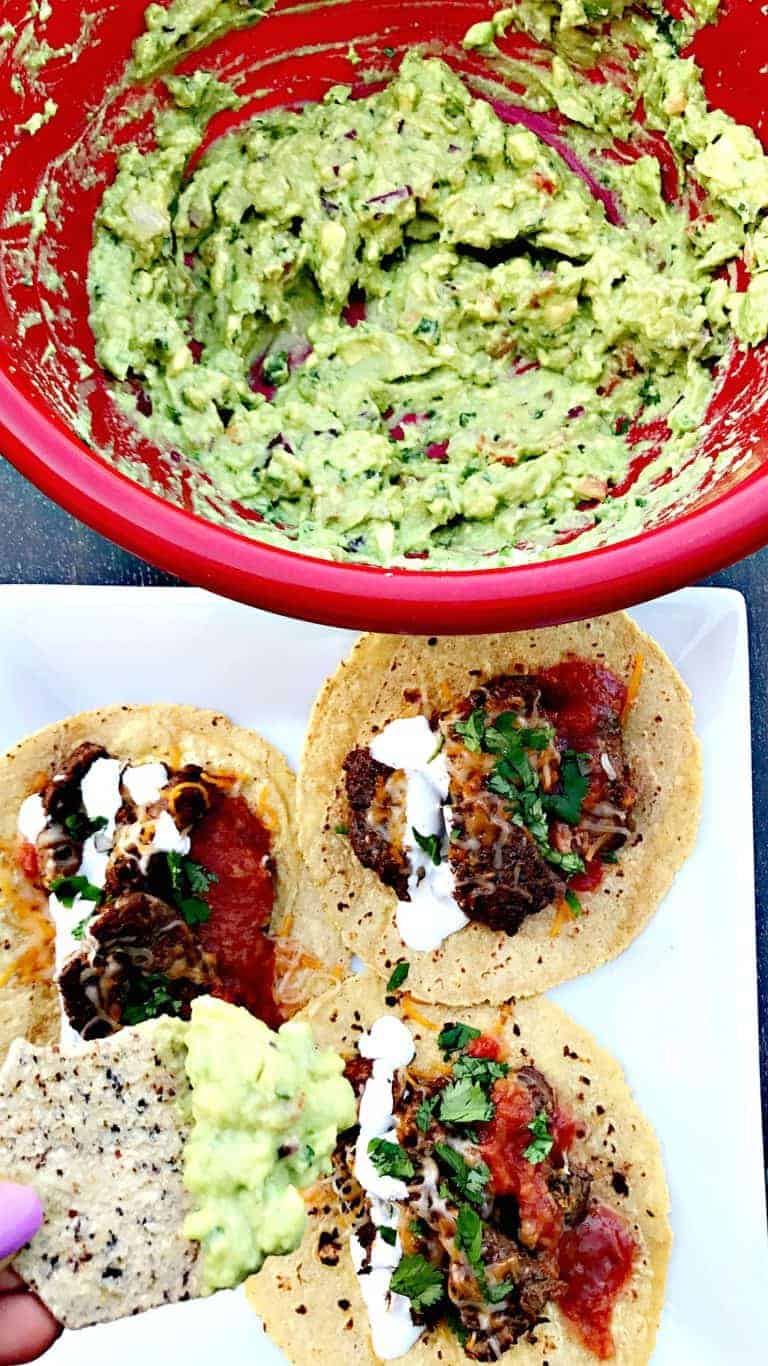 These tacos pair perfectly with my homemade guacamole recipe. These are the quinoa and black bean chip from Trader Joe's. These chips are my favorite!
Pin me! 🙂


Make your meal prep process easy with these trays!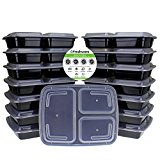 More Instant Pot Recipes:
Instant Pot Pumpkin Spice Sweet Potato Soup
Instant Pot Homemade Cranberry Sauce
Instant Pot Low-Carb Pumpkin Spice Bread
Instant Pot Lasagna
Instant Pot Shrimp Risotto with Vegetables and Parmesan
Instant Pot BBQ Pulled Chicken Sandwiches
How to Make Hard Boiled Eggs Using the Instant Pot
Instant Pot Chicken and Spanish Rice (Arroz Con Pollo)
Instant Pot Cheesecake
Instant Pot Chicken Alfredo Spaghetti Squash
Instant Pot Mongolian Beef
Instant Pot Steak Tacos
Instant Pot Chicken Taco Bowl with Quinoa
Instant Pot Buffalo Chicken Pastas.

Have you tried to make hard boiled eggs using your Instant Pot? This steamer from Amazon comes in HANDY!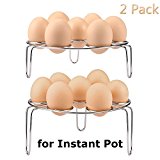 What about cheesecakes and bread? This pan is my favorite!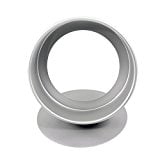 Check out this deal for heritage breed bacon and pork, free-range organic chicken, and 100% grass-fed beef! I have partnered with Butcher Box to deliver exclusive deals for my audience. All of the meat from Butcher Box is certified-free from antibiotics and hormones. It's also uncured and free of added sugar and nitrates (nitrates are linked to cancer and a huge NO, NO) most importantly it has been taste tested by me, and passes with flying colors!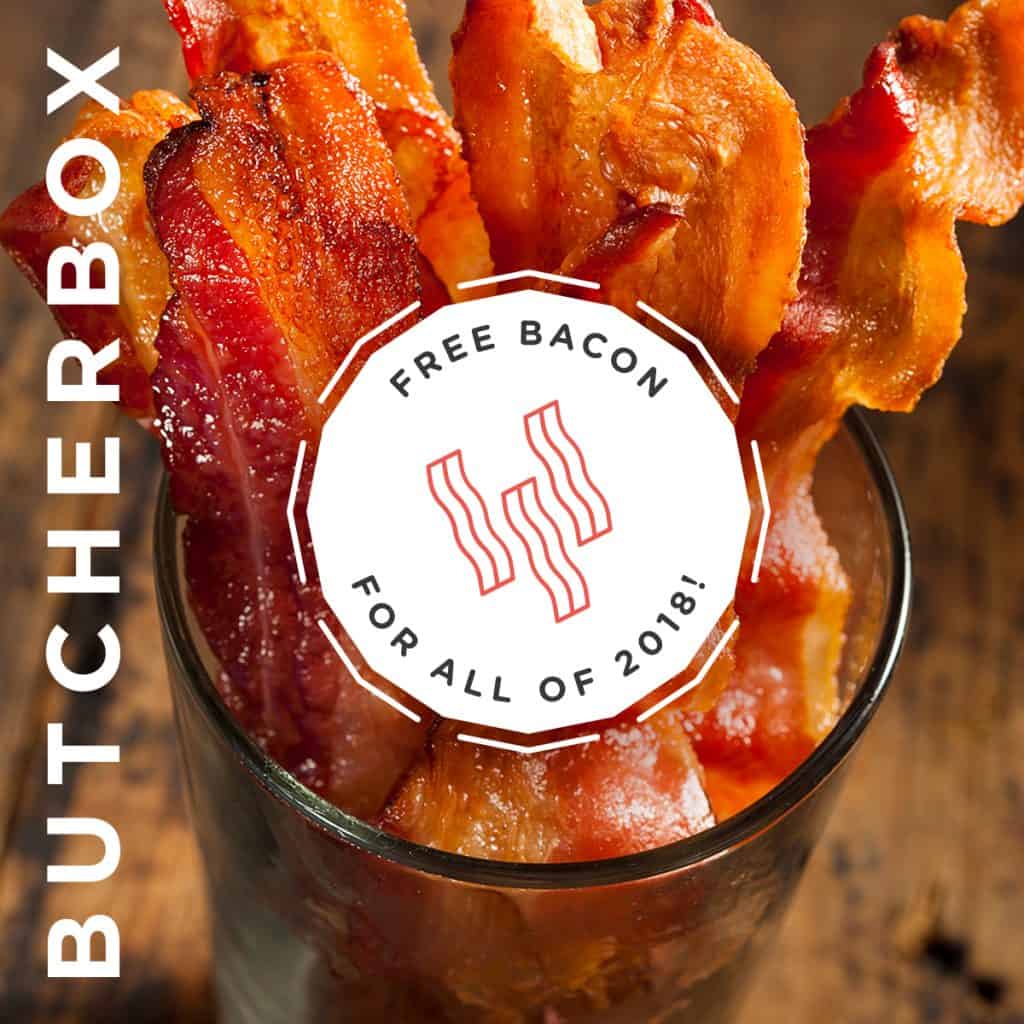 Here is the kicker, you will receive FREE bacon with every Butcher Box delivery. Yup, that's right, get FREE bacon, $10 off, and free shipping for all of 2018 when you order your first ButcherBox today! Click here to sign up and get hormone free meat delivered right to your doorstep!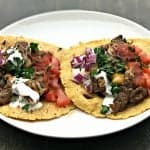 Instant Pot 10-Minute Steak Tacos (Carne Asada)
Quick and easy 10-minute Instant Pot steak tacos are a healthy and skinny meal. Tacos are loaded with fresh salsa, cilantro, and juicy steak.
Ingredients
8

oz

sirloin steak

fat trimmed and sliced into thin pieces

1/2

cup

red onion

chopped

1/4

cup

tomatoes

chopped

3/4

cup

reduced-fat Mexican cheese

shredded

2

tbsp

crema or sour cream

6

tbsp

authentic salsa

one tablespoon per taco

1

tbsp

olive oil

2

tbsp

cilantro

chopped

Trader Joe's Taco Seasoning to taste

McCormick's Grill Mates Steak Rub and pepper to taste
Instructions
Turn the Instant Pot on the saute' function. When the pot displays "Hot" add the olive oil to the pot.

Season the steak with the seasonings. Add the steak to the pot.

Cook both sides of the steak for 2-3 minutes until the steak turns brown.

Remove the steak from the pot. Top the steak with cheese immediately if you prefer melted cheese on your tacos.

Turn the oven on Broil. When heated, add the corn tortillas to the oven. Place the tortillas directly on an oven rack. Allow the tortillas to warm for a couple of minutes.

Remove the tortillas and add the steak, crema, salsa, and tomatoes. Sprinkle the cilantro throughout.
Recipe Notes
For shredded tacos use the Stew Meat pressure cooker setting after sauteeing the meat.