This post may contain affiliate links. Please read my full disclosure here.
Never miss an Air Fryer recipe! Follow Stay Snatched on Instagram

here

.
Like Stay Snatched on Facebook

here

.
Air Fryer Parmesan Truffle Oil Fries were the perfect compliment to my Truffle Oil Burger recipe. I am not ashamed to admit that I am thrilled to have an Air Fryer. The success of my kitchen experimenting has me even more thrilled. I have been able to share a few great recipes thus far.
Calories: 233 Fat: 10G Net Carbs: 29G Protein: 5G
Here is a link to the truffle oil used in this recipe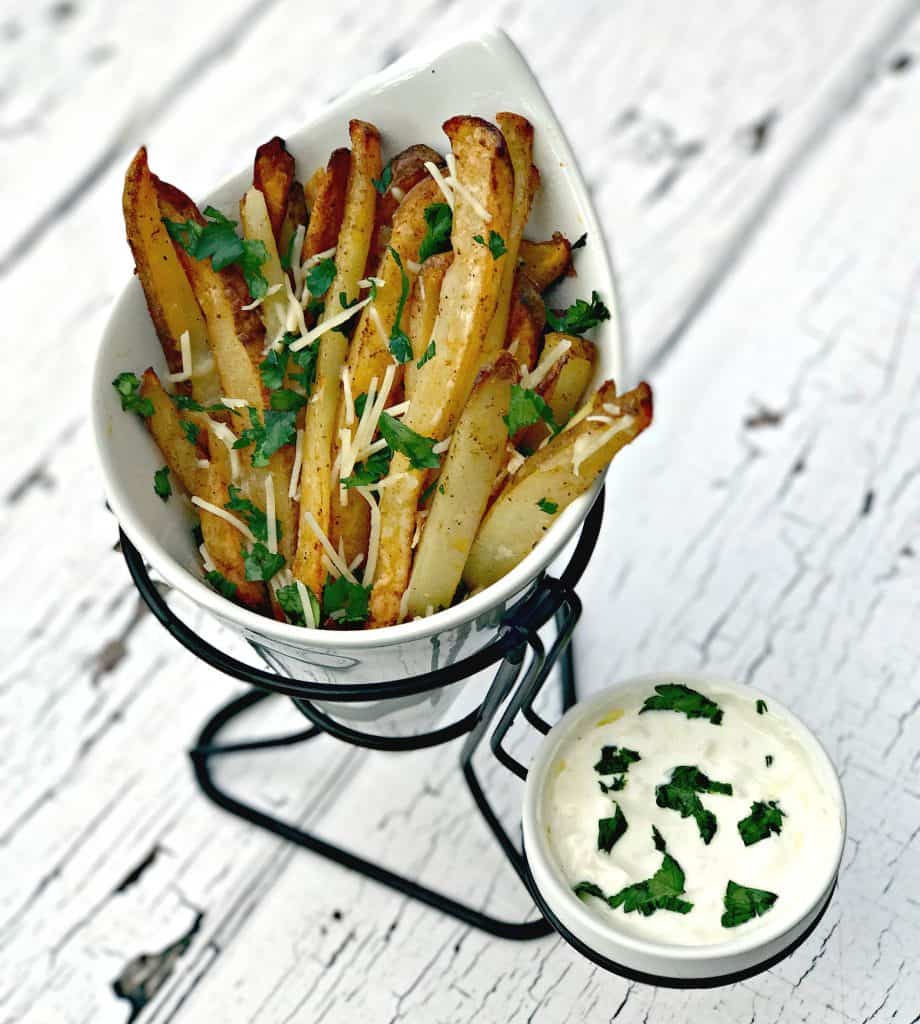 I paired these fries with my Low-Carb Truffle Oil Aioli for a dipping sauce. Be sure to check out the recipe!
I love that I can set the timer on my Air Fryer and "forget" about what I am cooking for a small amount of time. I am huge on multitasking. While the fries were cooking I put things away and washed dishes. Cleaning up behind yourself is seriously the largest and perhaps, only, pitfall of cooking your own meals.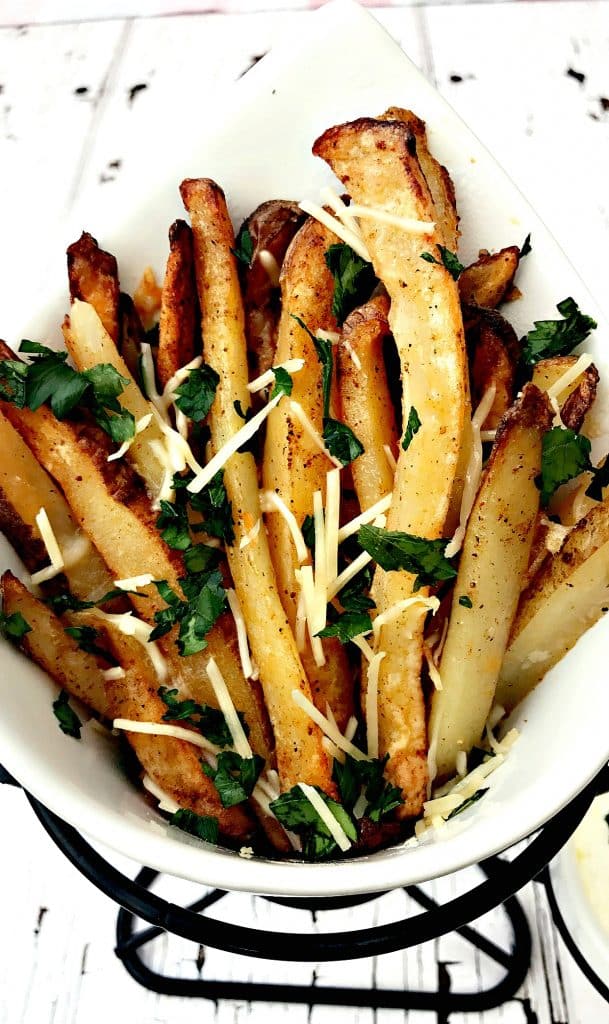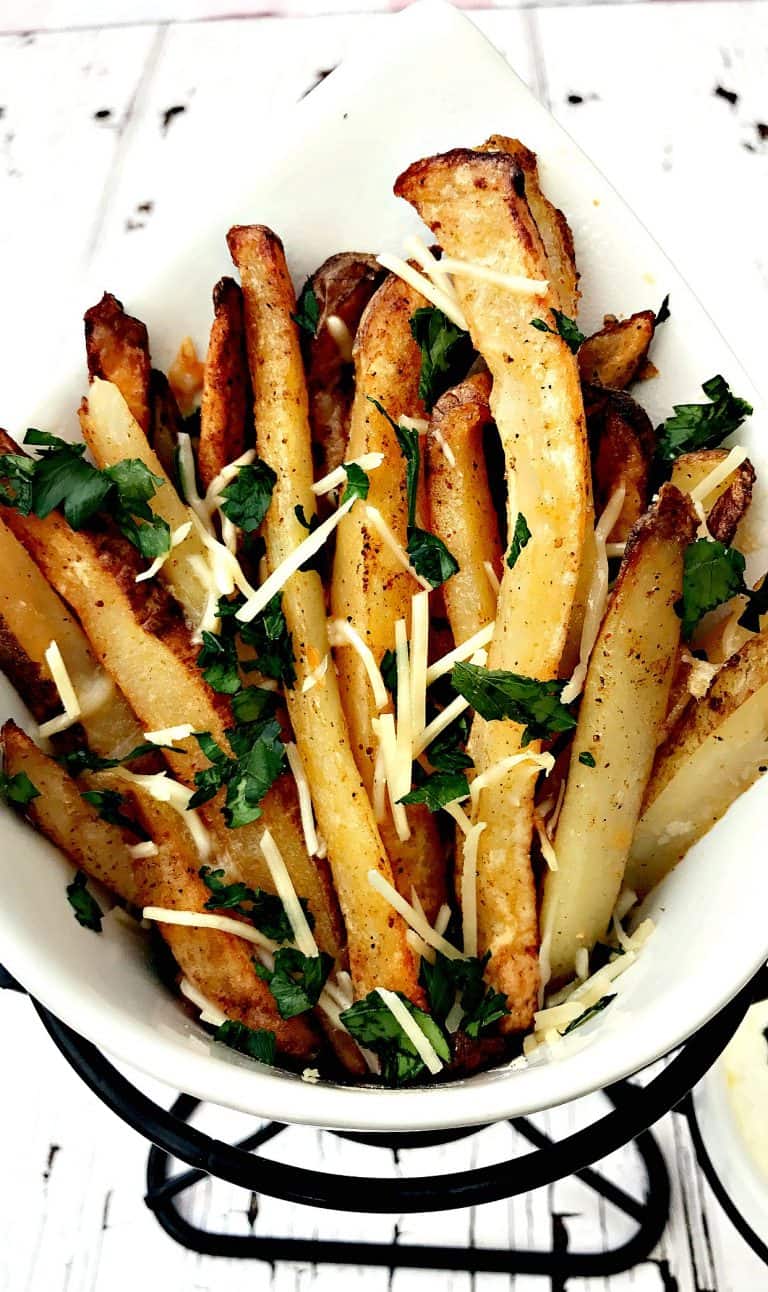 These fries were everything I wanted them to be and more. I often order truffle fries while dining out. I am ecstatic that I can make them at home on my own, and save a ton of fat in the process by using an Air Fryer instead of a deep fryer.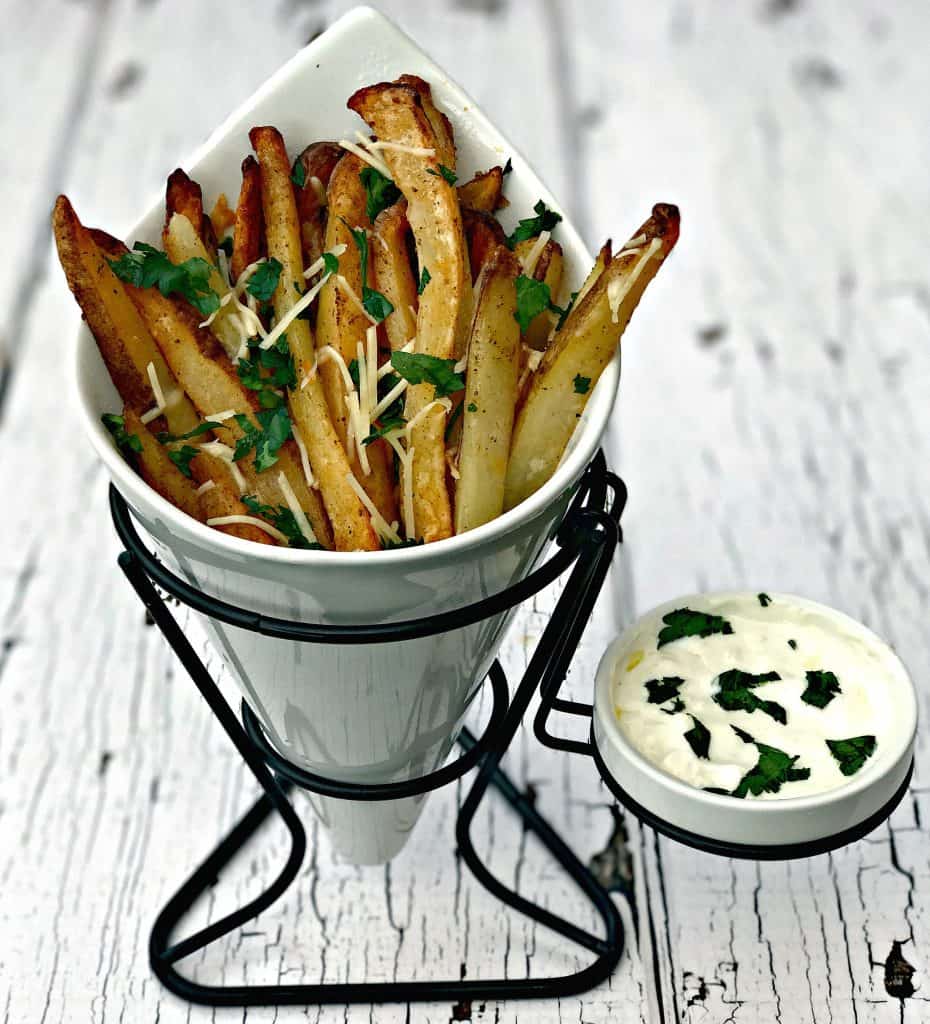 Pin Me 🙂

Follow Stay Snatched on Instagram
Like Stay Snatched on Facebook
Follow Stay Snatched on Pinterest
Air Fryer Parmesan Truffle Oil Fries
Air Fryer Parmesan Truffle Oil Fries are a low-fat, quick and easy recipe for crispy, crunchy french fries with parmesan cheese.
Ingredients
3

large russet potatoes

peeled and cut lengthwise

1

tbsp

canola oil

1

tbsp

olive oil

2

tbsp

white truffle oil

2

tbsp

parmesan

shredded

1

tsp

paprika

salt and pepper to taste

1

tbsp

parsley

choppped
Instructions
Place the sliced potatoes in a large bowl with cold water.


Allow the potatoes to soak in the water for at least 30 minutes, preferably an hour.


Spread the fries onto a flat surface and coat them with the canola oil, olive oil, 1 tbsp of the white truffle oil, and seasonings.


Add half of the fries to the Air Fryer basket. Adjust the temperature to 380 degrees and cook for 15-20 minutes. Set a timer for 10 minutes and stop and shake the basket at the 10-minute mark (once).

Use your judgment. If the fries need to be crisper, allow to cook for additional time. If the fries look crisp prior to 15 minutes, remove them. I cooked both of my batches for almost 20 minutes.

When the first half finishes, cook the remaining half.

Add the remaining truffle oil and parmesan to the fries immediately upon removing them from the Air Fryer.

Top with shredded parsley. Serve!