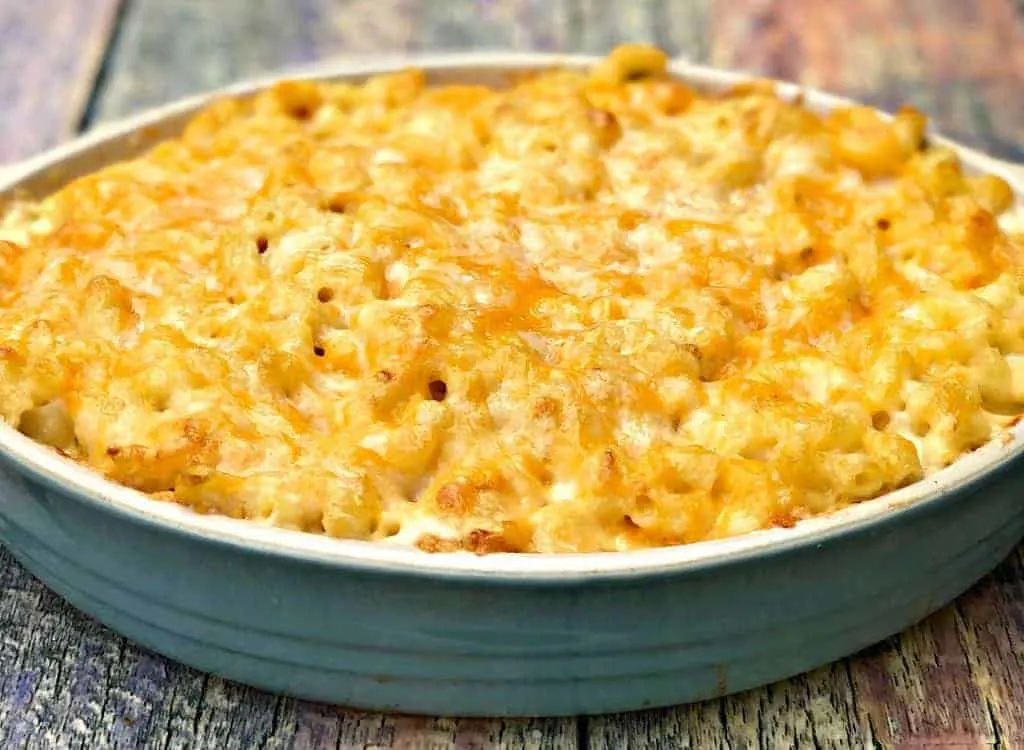 Pin this recipe for later here.
Southern-style baked macaroni and cheese is probably my favorite side dish. I have always loved it. I also love the various mac and cheese preparations with lobster, breadcrumbs, and more. I have been to several catered events with a mac and cheese bar and I absolutely love this idea. This is a holiday recipe favorite, so it is loaded with tons of cheese and other goodness. Thus, this dish deviates from the typical guilt-free Stay Snatched recipes. Be sure to check out my Mac and Cheese Bites recipe for a lightened-up, guilt-free version of this dish.
If you are a fan of mac and cheese, you will probably love my Bacon Gouda Mac and Cheese recipe as well.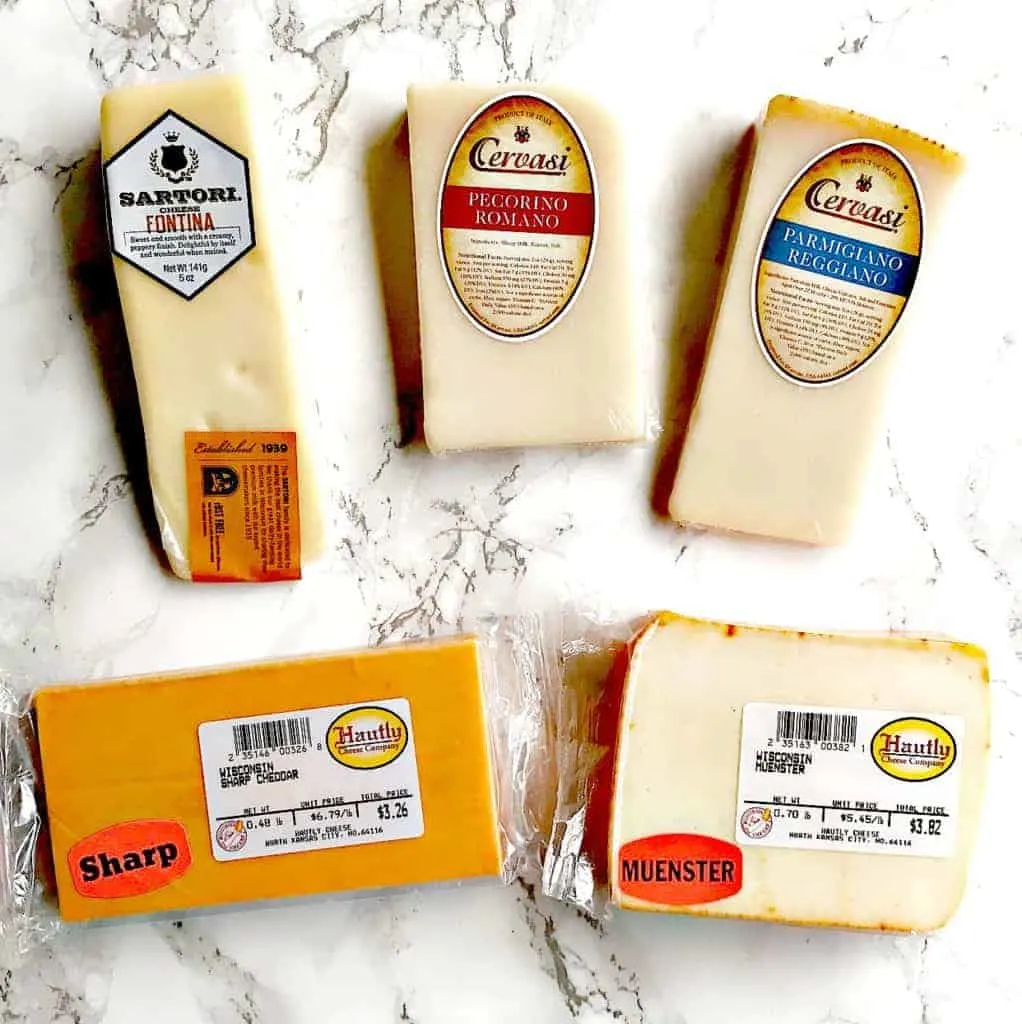 What Cheese Makes the Best Mac and Cheese?
This recipe was prepared for Christmas dinner with my family. I typically use 4-5 different types of cheese. I often use gouda and go back and forth between using gouda and pecorino romano, for no particular reason. I love gouda. I love pretty much any cheese. Feel free to use your favorite types of cheese.
Parmigiano Reggiano is my favorite cheese to use while cooking. I have used it often in other recipes such Shrimp Scampi Dip, Shrimp Scampi with Zucchini Noodles, and Warm Spinach Dip with Parmesan. It adds an amazing bold flavor to the dish.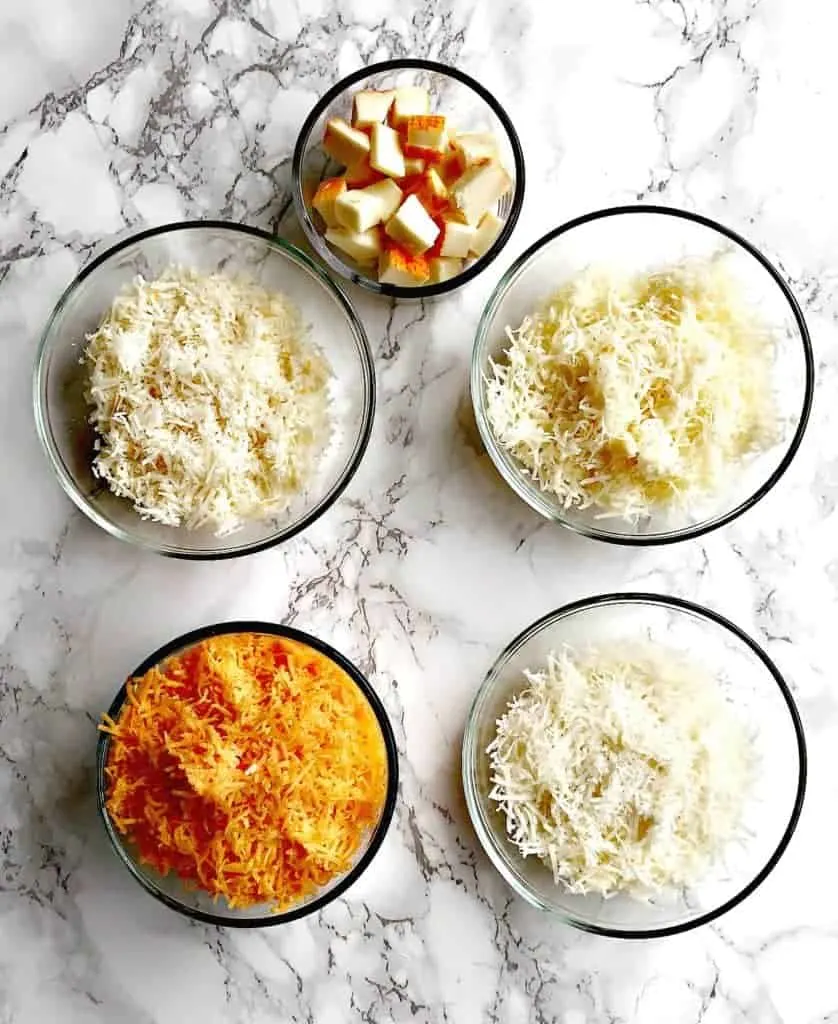 How Do You Make Southern Mac and Cheese?
There are so many ways to prepare traditional, homestyle, baked, soul food mac and cheese (however you want to describe baked mac and cheese). I am not a fan of mac and cheese that is watery and has too much liquid. I do not like mac and cheese that is dry and does not have a cheesy texture. My preferred dish has a crunchy crust on top, with cheesy goodness within.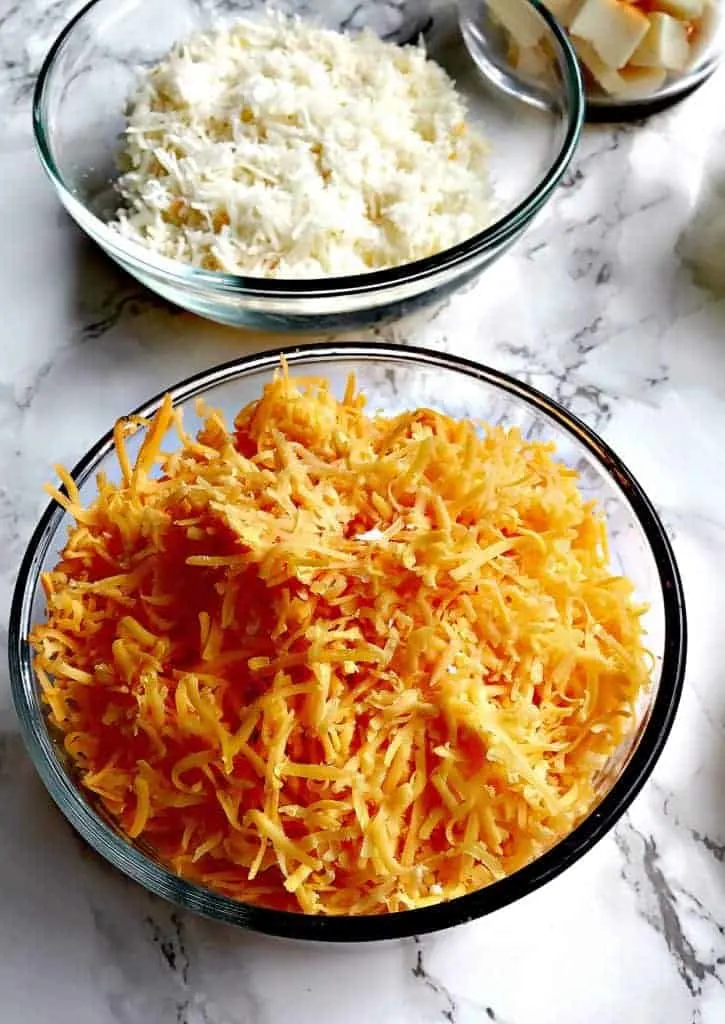 Grate all of the cheese. This is actually my favorite step! Cut the muenster into small chunks. I do this because it does not grate as easy.
If you need tips on How to Cook Pasta for Macaroni and Cheese, check out this post.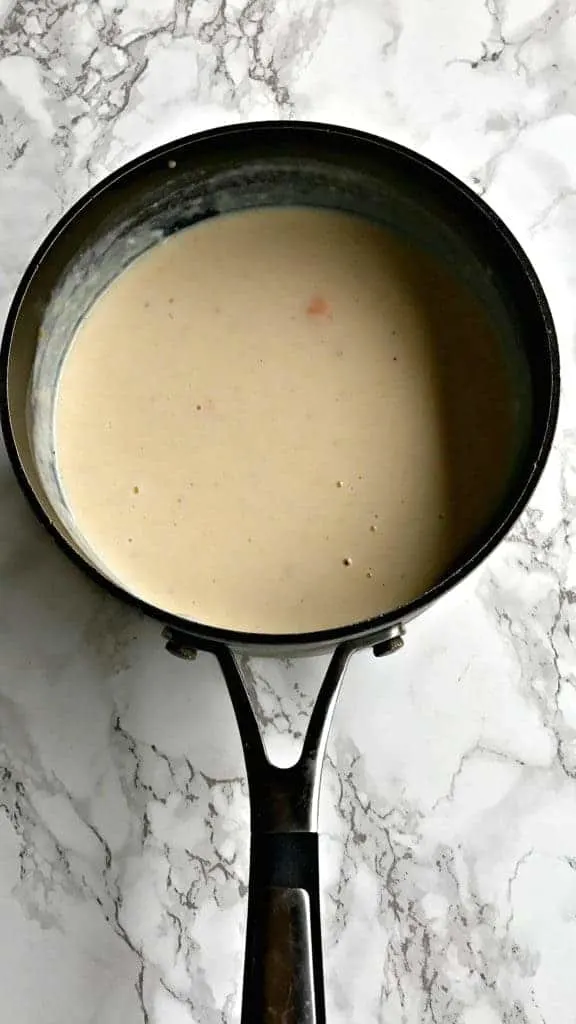 How Do You Make Baked Mac and Cheese Creamy?
First, melt the butter in the saucepan. Add the flour and whisk to create a slurry. After the flour has been fully mixed, add the milk and half of all of the cheeses. Stir until the cheese has melted.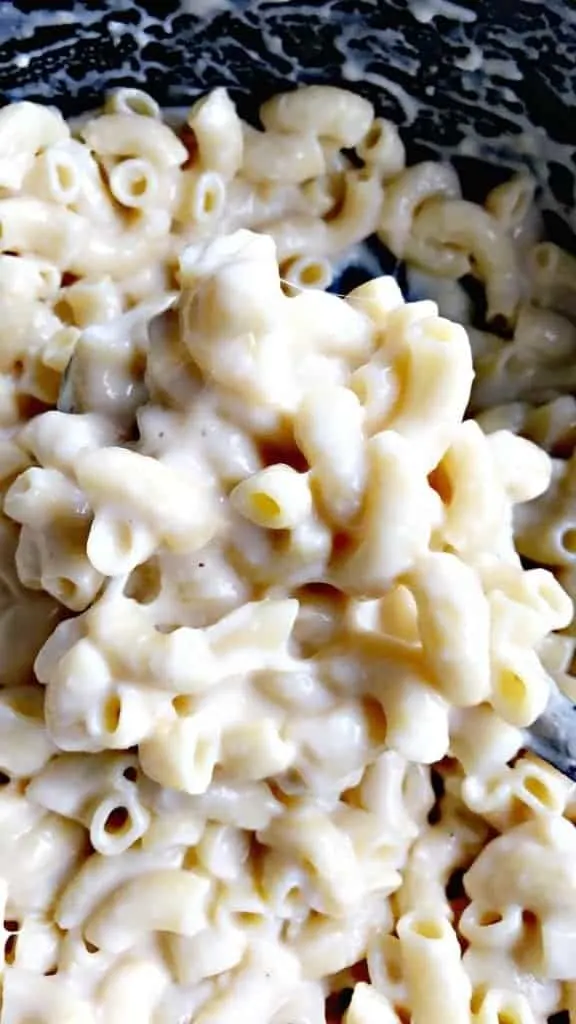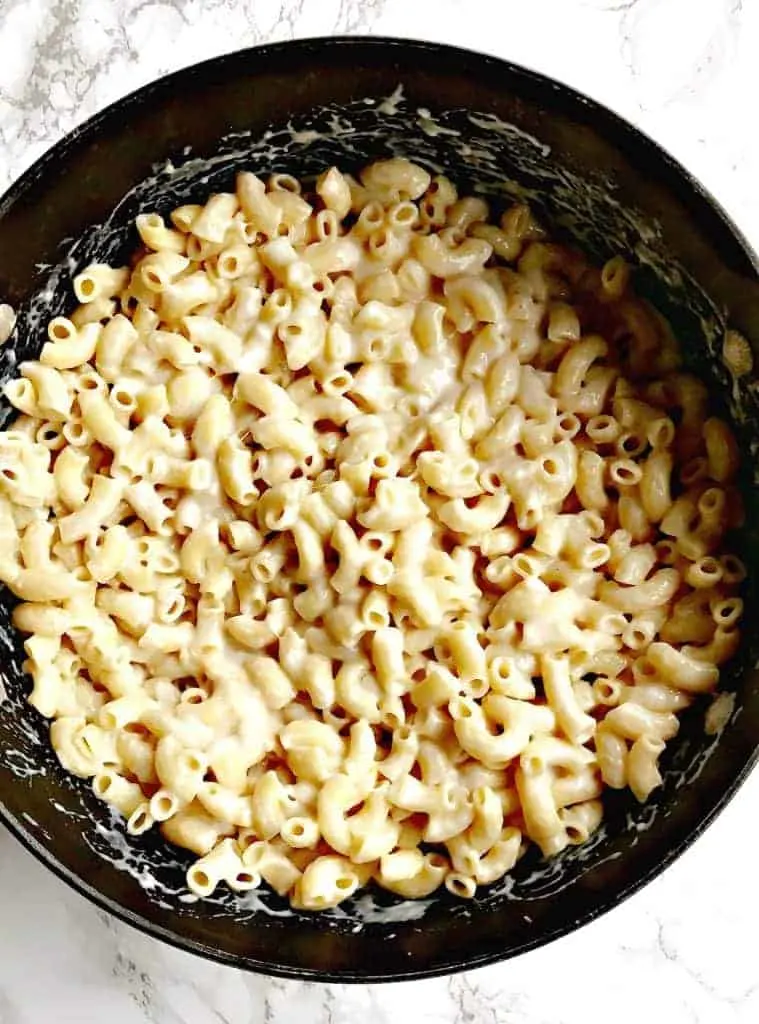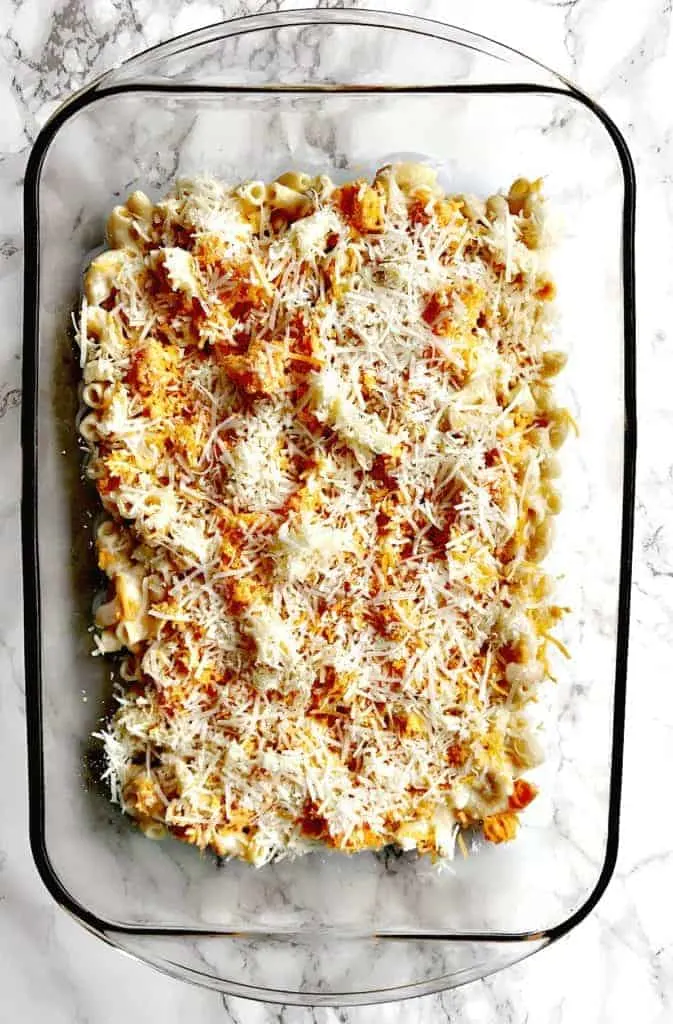 Layer, layer, layer! Layers are the key here. In order to get a great burst of cheese in every bite, you will add the macaroni, and then shredded cheese. This is similar to preparing a lasagna.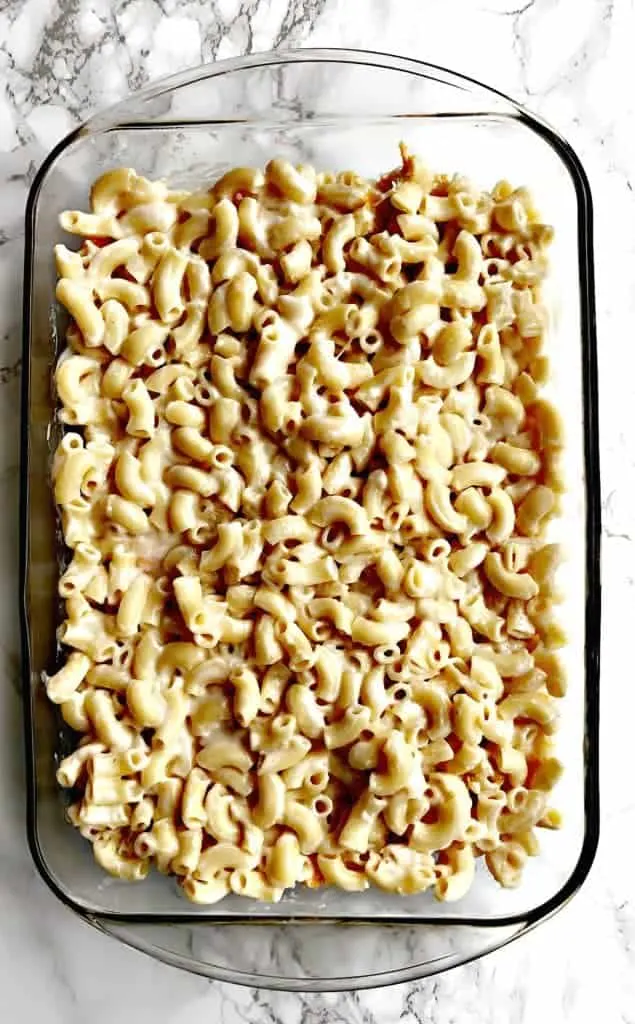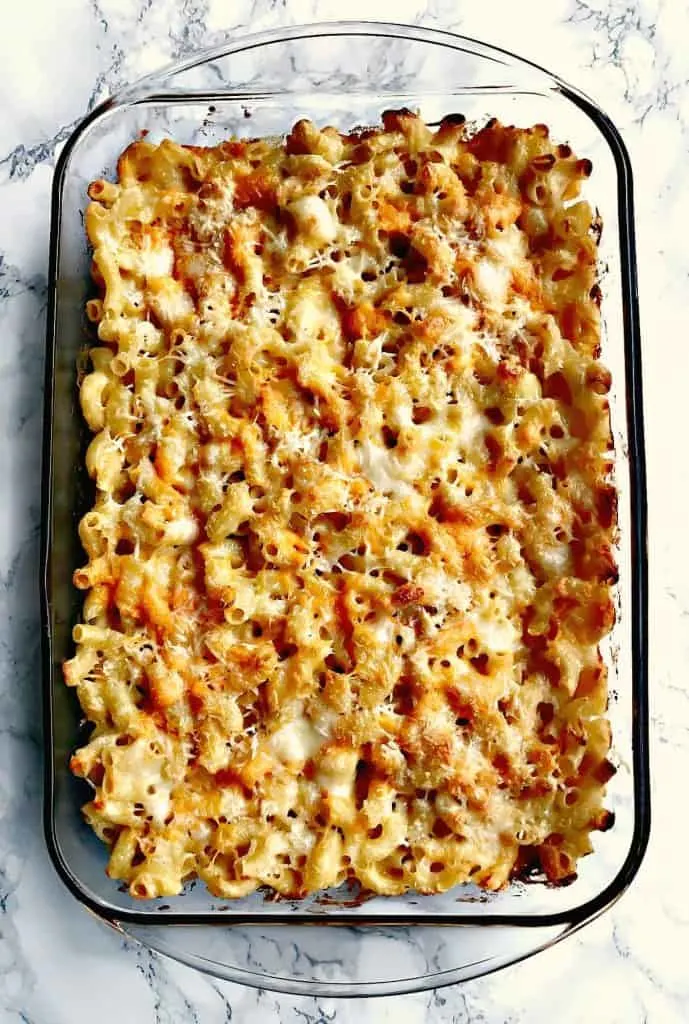 I usually prepare this dish for very large groups of family and around the holidays. I decided to test if my recipe could be divided in half to serve a smaller group and still hold up. It does! The photos below show the results of using 1/2 of the ingredients noted below. I still followed the exact same steps.
Do You Put Eggs in Macaroni and Cheese?
I don't. An egg will make the mac and cheese less creamy on the inside. Eggs are used to bind. If you want mac and cheese that is more like a casserole, and less creamy, then use eggs.
You can check out John Legend's Macaroni and Cheese recipe here.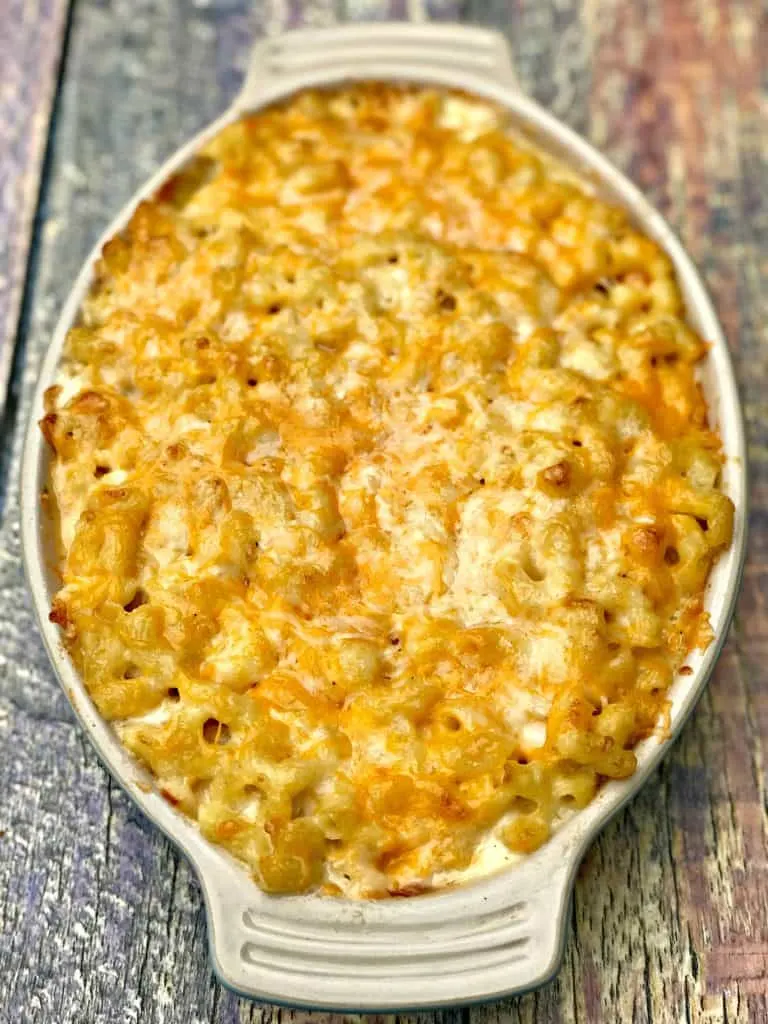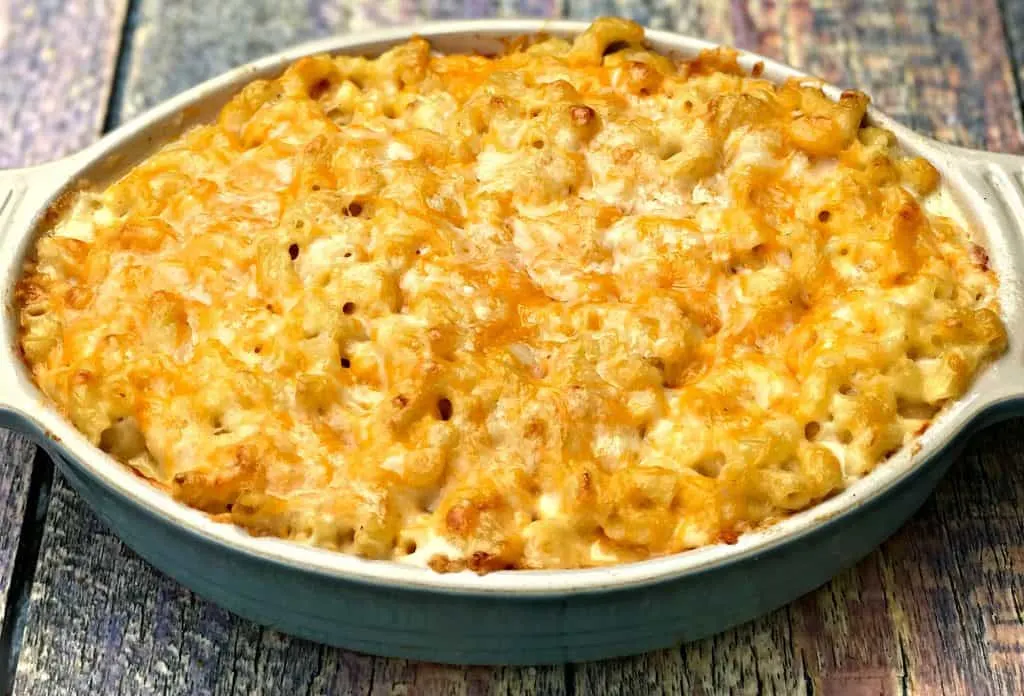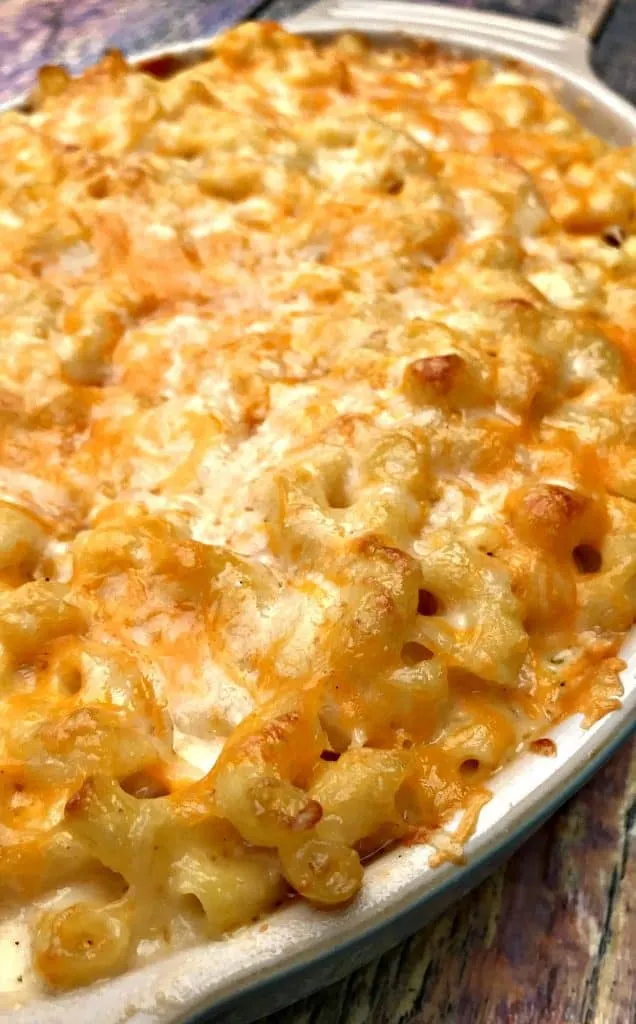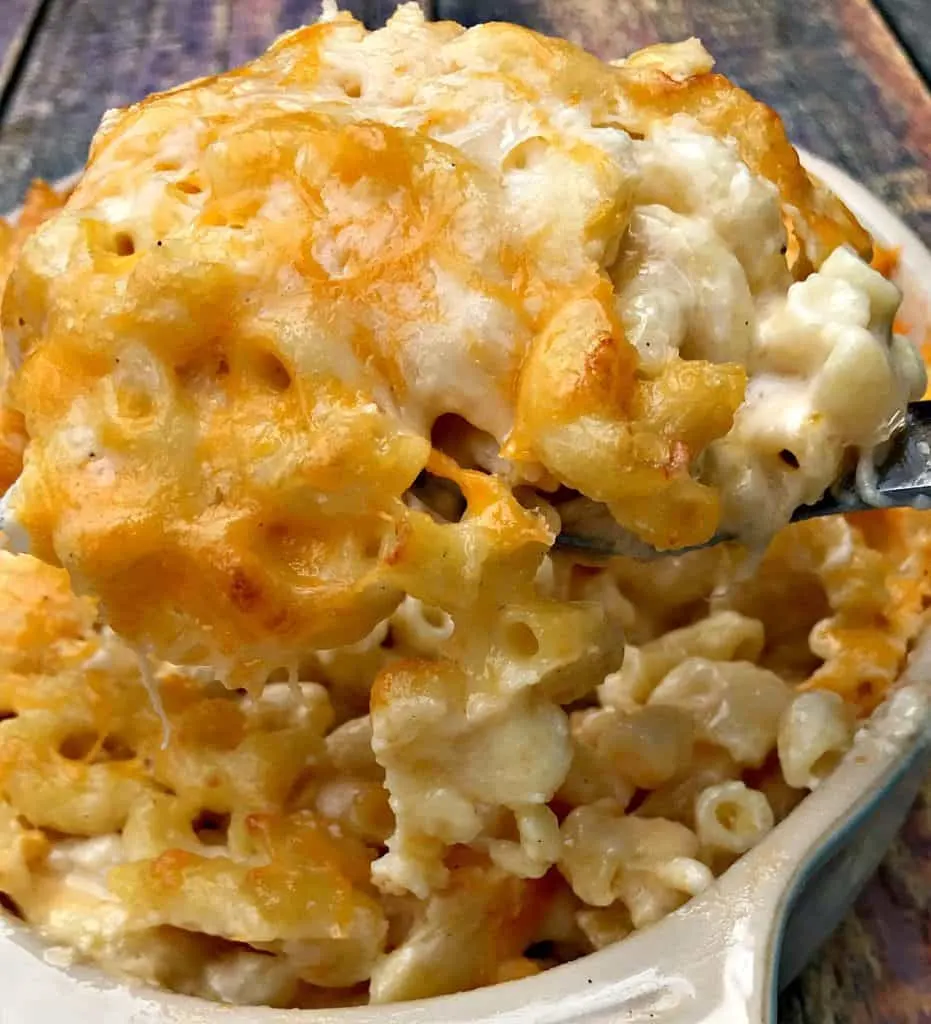 Pin Me 🙂

Pin this recipe for later here.
More Southern Style Recipes:
Southern Style Homemade Cornbread
Smoked Mac and Cheese
Southern Cornbread Dressing
Southern Mustard Greens
Southern Candied Sweet Potatoes
Instant Pot Collard Greens
Instant Pot Southern Green Beans
Instant Pot Louisiana Gumbo
Instant Pot Red Beans and Rice
Lobster Mac and Cheese
Southern-Style Soul Food Baked Macaroni and Cheese
Southern-Style Soul Food Baked Macaroni and Cheese is a homemade, recipe with 5 creamy types of cheese. Perfect for Thanksgiving, Christmas, and holidays.

Save this recipe here.
Saved!
Ingredients
1

pound

elbow macaroni

or cellentani pasta

4

tablespoons

butter

3

tablespoons

flour

2-3

cups

milk

I often use 2 cups. Use your judgement. Start with 2 and add more if needed.

1

cup

heavy whipping cream

salt and pepper to taste

onion powder to taste

Start with 1/2 teaspoon. Taste and adjust.

2

cups

shredded sharp cheddar cheese

1

cup

shredded parmigiano reggiano

1

cup

shredded fontina cheese

1

cup

shredded pecorino romano cheese

1/2

cup

muenster cheese

cut into small chunks
Instructions
Preheat oven to 375 degrees.

Cook the pasta in accordance with the instructions on the package.

Drain the macaroni and rinse with cold water. This is important. You want the pasta to cool so that it does not continue to cook. The pasta will cook again while baking in the oven. Over-cooked pasta results in a terrible texture.

Heat a sauce pan on medium heat. Add the butter and allow it to melt.

Once melted, add the flour and whisk.

This will create a roux. Continue to whisk until the four is fully combined.

Add the milk and heavy whipping cream and stir.

Add half of the shredded cheese and stir until the cheese is melted.

Add the seasonings and taste repeatedly. This step is important because you don't want bland mac and cheese.

Return the pasta to the large pot. Drizzle the liquid mixture over the pasta and stir until fully combined.

Spray a 9 x 13 inch baking pan with cooking spray.

Begin to layer in the pasta. Start with the pasta, then add a layer of all of the shredded cheese and muenster chunks.

Add another layer of pasta, and then another layer of cheese.

Ensure there is adequate liquid throughout these steps (additional milk works well). This can be tricky. You do not want the dish to appear like soup, but you do not want it to be dry.

This step is important because without adequate liquid the dish will dry out while baking.

Bake for 25-45 minutes until the cheese has melted and is bubbly. I like for the crust on top to turn a deep golden brown, which takes more time. Use your judgment based on what works for you.

Cool before serving.
Notes
You can substitute any cheese in this recipe for whatever cheese you like.
If you're making this for a crowd, I wouldn't make it ahead. This is a dish that's best served fresh while the cheese is still soft and gooey. After making it, I leave it in the oven on warm and covered in foil.
I also wouldn't prep it in advance. This will ruin the texture of the cheese.
Recipe Tools Used in this Recipe
As an Amazon Associate I earn from qualifying purchases.
Nutrition (displayed with net carbs)
Tried this recipe?
Mention @Stay_Snatched or tag #StaySnatched! The recipe instructions noted here are the property of Stay Snatched and subject to copyright. Please do not screenshot and share this recipe on social.
Nutrition Data
Macros are provided as a courtesy and should not be construed as a guarantee. This information is calculated using MyFitnessPal.com. To obtain the most accurate nutritional information in a given recipe, you should calculate the nutritional information with the actual ingredients used in your recipe, using your preferred nutrition calculator. You are solely responsible for ensuring that any nutritional information provided is accurate, complete, and useful.