Regular mac and cheese is awesome. Bacon gouda mac and cheese is EPIC! I am still on holiday break from work. I have probably spent 50% of my time off in the kitchen. I can't help myself! I love to cook. My Christmas Homestyle Mac and Cheese has become one of my most popular posts. The recipe has been posted for one week. Major win for me! I had leftover bacon from another Christmas dish, Dutch Oven Skin-On Mashed Potatoes with Bacon. I decided to throw the bacon in this recipe. I also LOVE gouda in my mac and cheese. I go back and forth with using it because I like to switch up the cheese I use. This recipe was perfect! It made an amazing side dish for New Years Day dinner.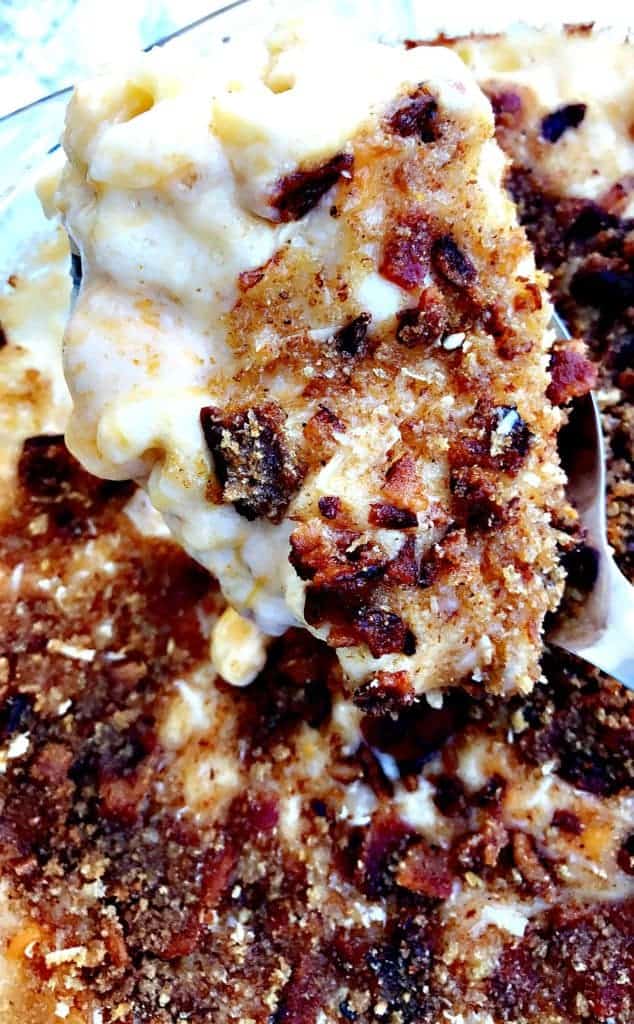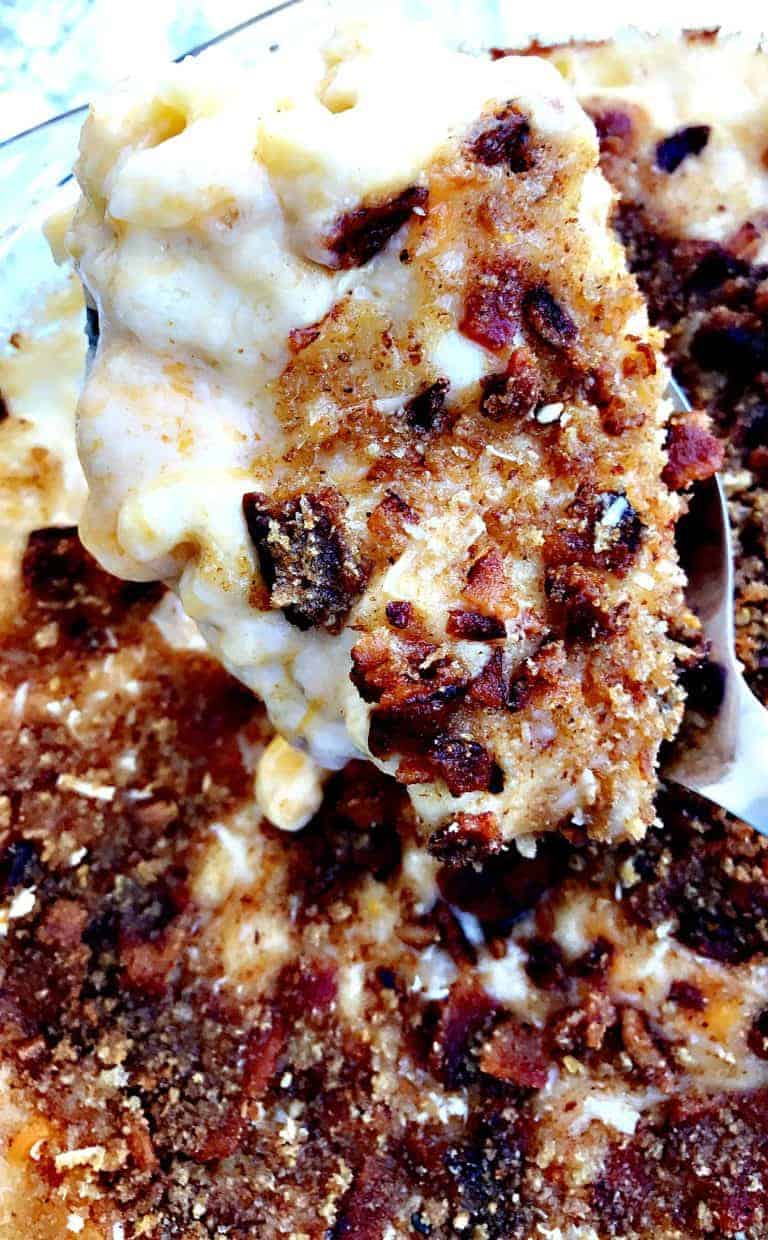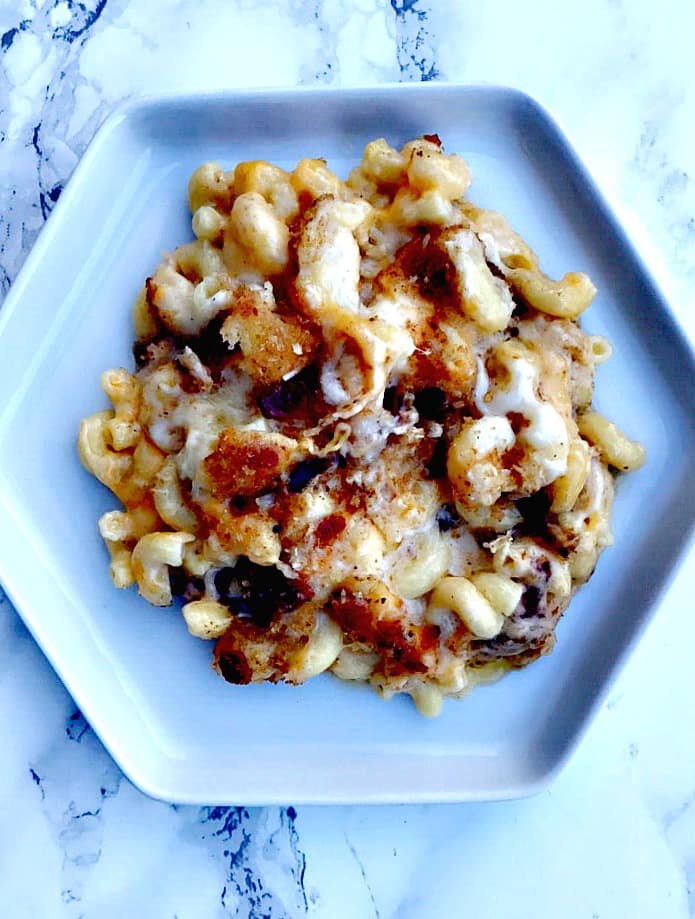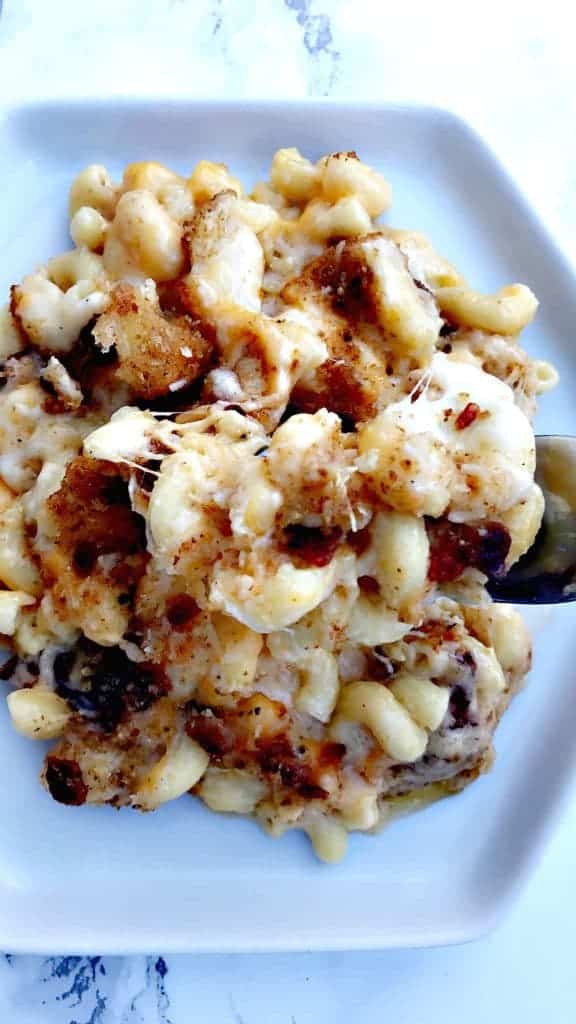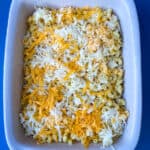 Bacon Gouda Mac and Cheese
hickory smoked bacon gouda, 5 cheese mac and cheese with crunchy bread crumbs topping
Ingredients
1

cup

sharp cheddar cheese

shredded

1

cup

parmigiano reggiano

shredded

1

cup

fontina cheese

shredded

2

cups

gouda cheese

shredded

1/2

cup

muenster cheese

cut into small chunks

1

pound

elbow macaroni

3-4

cups

of milk

use judgement here

3

tablespoons

flour

4

tablespoons

butter

4

sliced of bacon

cooked and crumbled

2

tablespoons

bread crumbs

I prefer whole wheat

salt

pepper, and onion powder to taste
Instructions
Preheat oven to 375 degrees.

Boil a large pot with salted water over high heat.

Add the macaroni and cook for about 5 minutes.

Drain the macaroni and rinse with cold water. This is important. You want the pasta to cool so that it does not continue to cook. The pasta will cook again while baking in the oven. Over-cooked pasta results in a terrible texture.

Heat a sauce pan on medium heat. Add the butter and allow it to melt.

Once melted, add the flour and whisk.

This will create a slurry. Continue to whisk until the four is fully combined.

Add the milk and stir.

Add half of the cheese and stir until the cheese is melted.

Add the seasonings and taste repeatedly.

Return the pasta to the large pot. Drizzle the liquid mixture over the pasta and stir until fully combined.

Spray a baking pan with cooking spray.

Begin to layer in the pasta. Start with the pasta, then add a layer of all of the shredded cheese and muenster chunks.

Add another layer of pasta, and then another layer of cheese.

Ensure there is adequate liquid throughout these steps (additional milk or reserved pasta water work well). This can be tricky. You do not want the dish to appear like soup, but you do not want it to be dry.

This step is important because without adequate liquid the dish will dry out while baking.

Top with the bacon.

Sprinkle the breadcrumbs throughout.

Bake for 30-35 minutes.

Cool before serving.