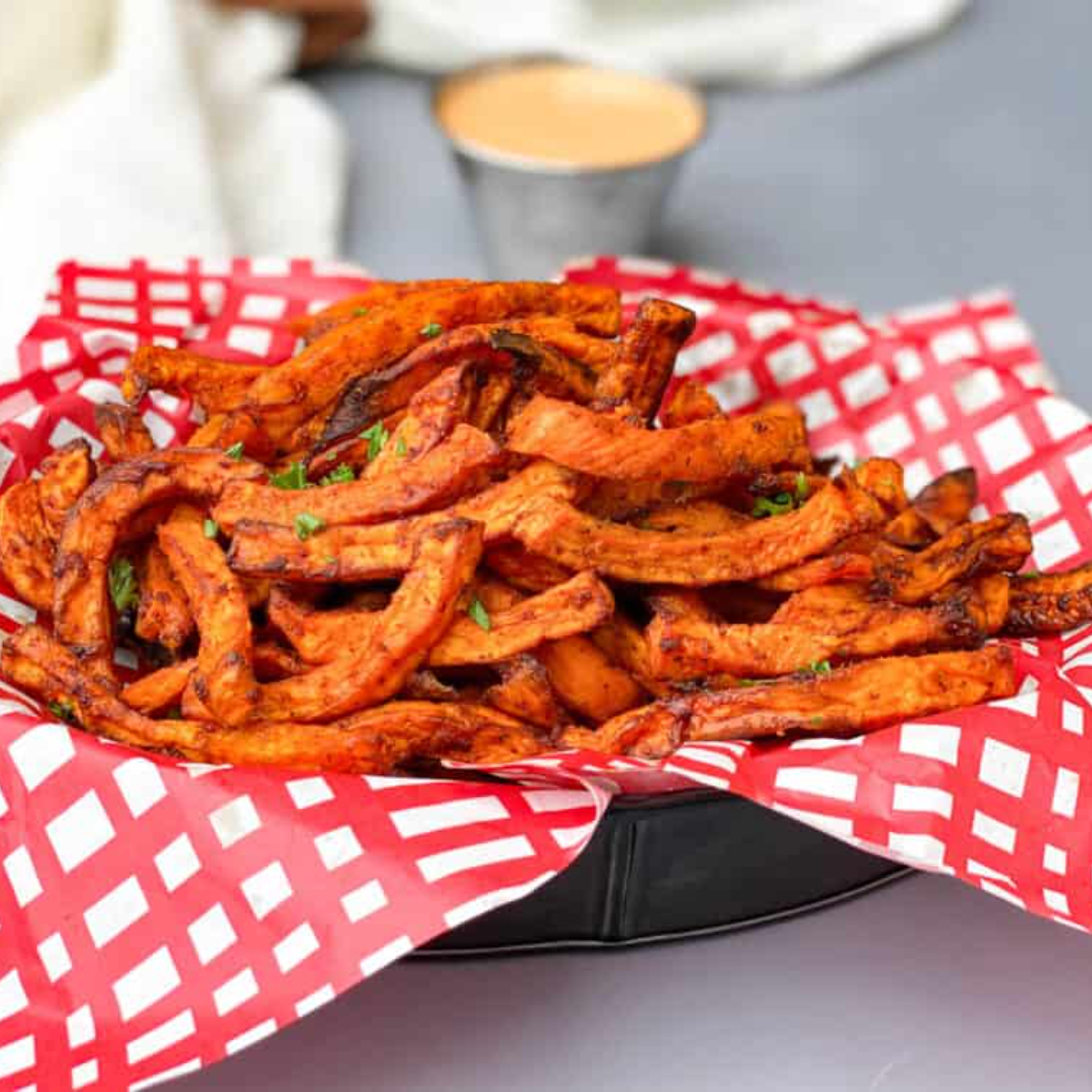 This post may contain affiliate links. Please read my full disclosure here.
Never miss an Air Fryer recipe! Follow Stay Snatched on Instagram

here

.
Like Stay Snatched on Facebook

here

.
This Air Fryer Crispy Crunchy Sweet Potatoes Fries with Low-Carb Garlic Truffle Aioli is pretty much exactly the same as my baked Sweet Potato Fries recipe. This recipe has been a hit on the site! It lies within my Top 5 posts. Last year, I felt like I cracked a code and found the perfect way to make sweet potato fries that are crispy AND crunchy, yet still HEALTHY using corn starch.
Calories: 94 Fat: 4G Net Carbs: 13G Protein: 1G
Here is a link to the Air Fryer that I use.
Well, I am pleased that my cooking skills continue to evolve and so does technology! I am obsessed with this Air Fryer. If you are a loyal Stay Snatched audience member you have witnessed this same obsession with the Instant Pot. Don't fret Instant Pot, I will be back!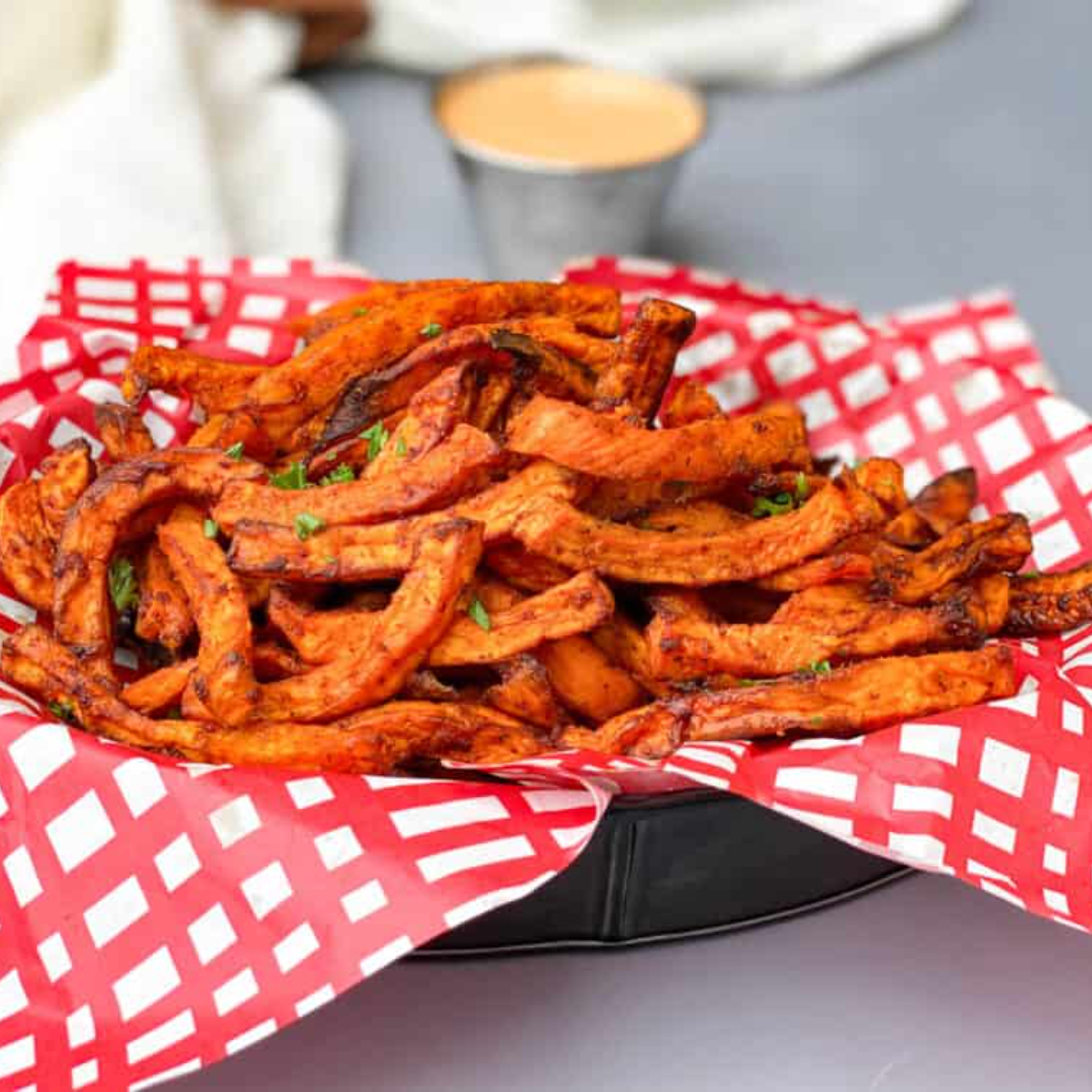 I am so thrilled the Air Fryer provides a way for us to enjoy all of our favorite foods and without any of the guilt. I can admit my baked Sweet Potato Fries recipe is really good. If you do not have an Air Fryer, continue to use this recipe! However, the Air Fryer does provide additional crunch and it saves time. This recipe truly is the ultimate win.
My Garlic Avocado Aioli recipe pairs nicely with these fries! I also whipped up another dipping sauce this go around! Make sure to visit the recipe for my Low-Carb Garlic Truffle Aioli.
Tools and Ingredients to help with this recipe:
TruffleHunter White Truffle Oil (3.38 Oz)
Bertolli Extra Virgin Olive Oil
SWEET POTATOES FRESH PRODUCE FRUIT VEGETABLES PER POUND

Pin me 🙂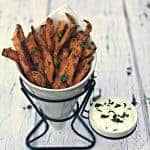 Air Fryer Crispy Crunchy Sweet Potato Fries
Air Fryer Crispy Crunchy Sweet Potato Fries are healthy fried sweet potato french fries that are low in fat and perfect for guilt-free meals.
Ingredients
2

large sweet potatoes

peeled and cut lengthwise

1 1/2

tbsp

corn starch

1

tbsp

canola oil

1

tbsp

olive oil

2

tsp

paprika

2

tsp

garlic powder

salt and pepper to taste
Instructions
Place the sliced sweet potatoes in a large bowl with cold water. Allow the sweet potatoes to soak in the water for an hour.

Place the sweet potatoes in a Ziploc bag with the corn starch.

Seal the bag and shake to evenly coat the fries.

Spread the fries onto a flat surface and coat them with the canola and olive oil and seasonings.

Add the fries to the Air Fryer basket. Adjust the temperature to 380 degrees and cook for 23-25 minutes. Set a timer for 10 minutes and stop and shake the basket at the 10-minute mark (once). Use your judgment. If you like crispy fries, cook them longer and be sure to check on them.