This post may contain affiliate links. Please read my full disclosure here.
Ok Instant Pot Tuscan Chicken thighs, let's go! I have been in the kitchen again experimenting with my Instant Pot. I often prepare recipes using chicken breasts with my Instant Pot. I decided to switch it up some and use chicken thighs. Chicken thighs can be a little more juicy, which is a major win!

Click here to pre-order now!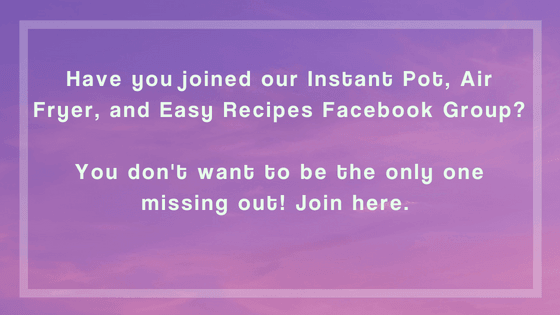 Calories: 226 Fat: 14G Net Carbs: 6G Protein: 17G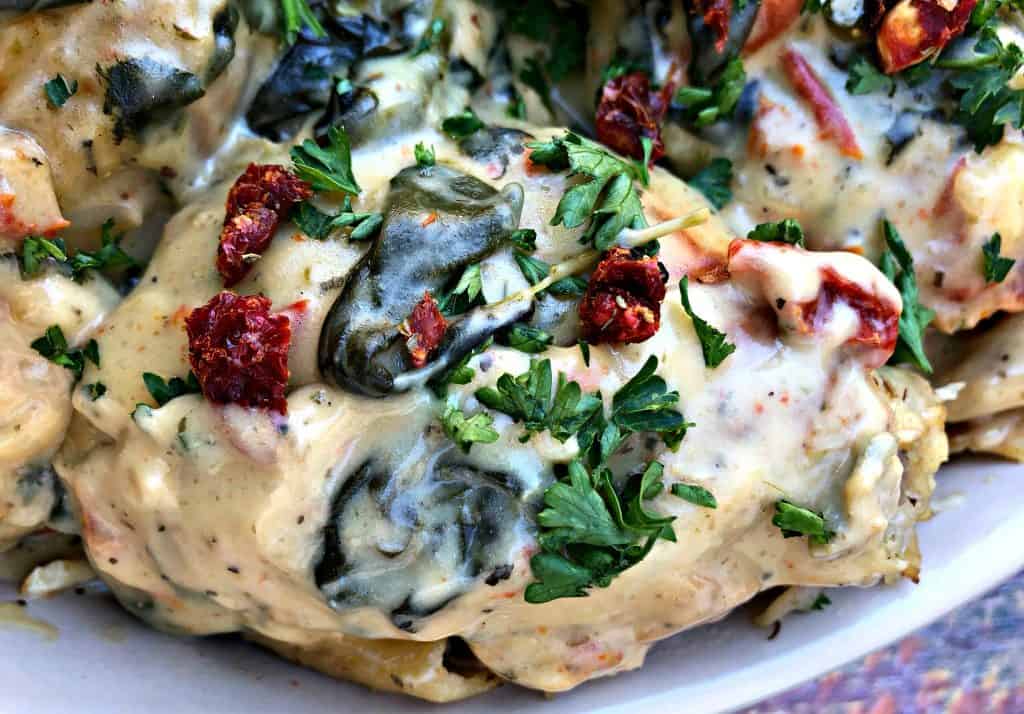 This recipe is loaded with flavor. I love to add reduced-fat cream cheese to dishes that have a cream sauce. The cream cheese yields amazing results. The Better Than Bouillon Chicken flavor used in the recipe goes a really long way, as well. Purchase it here from Amazon.
This dish is great for a quick weeknight dinner or for advanced meal prep. My favorite side dish pairings for this recipe are brown rice or quinoa for carbohydrates. Any steamed veggies will work well. Broccoli and green beans are my favorite If you are really strapped for time, I am in love with the steamable options at Costco.
Like I mentioned above, chicken thighs are JUICY! This cream sauce is so decadent and filled with flavor because it is prepared using the natural juices produced by the chicken….in addition to a few other amazing ingredients.
I am in love with my Instant Pot. I feel like I rarely use my oven anymore! I even use my instant pot for sweet breads and dessert! Be sure to check out the recipes below.
More Instant Pot Recipes:
Instant Pot Apple Pie Steel Cut Oats
Instant Pot Olive Garden Zuppa Toscana Soup
Instant Pot Spinach and Sausage Egg Bites
Instant Pot Chicken, Seafood, and Sausage Gumbo
Instant Pot Baked Creamed Cheesy Corn with Ham
Instant Pot Green Bean Casserole
Instant Pot Chicken Noodle Soup with Spinach
Instant Pot Caramel Apple Cider
Instant Pot Meatball Sliders
Instant Pot Pumpkin Spice Sweet Potato Soup
Instant Pot Homemade Cranberry Sauce
Instant Pot Starbucks Gingerbread Latte
Instant Pot Skinny Pumpkin Spice Latte
Instant Pot Low-Carb Pumpkin Spice Bread
Instant Pot Lasagna
Instant Pot Shrimp Risotto with Vegetables and Parmesan
Instant Pot BBQ Pulled Chicken Sandwiches
How to Make Hard Boiled Eggs Using the Instant Pot
Instant Pot Chicken and Spanish Rice (Arroz Con Pollo)
Instant Pot Cheesecake
Instant Pot Chicken Alfredo Spaghetti Squash
Instant Pot Mongolian Beef
Instant Pot Steak Tacos
Instant Pot Chicken Taco Bowl with Quinoa
Instant Pot Buffalo Chicken Pasta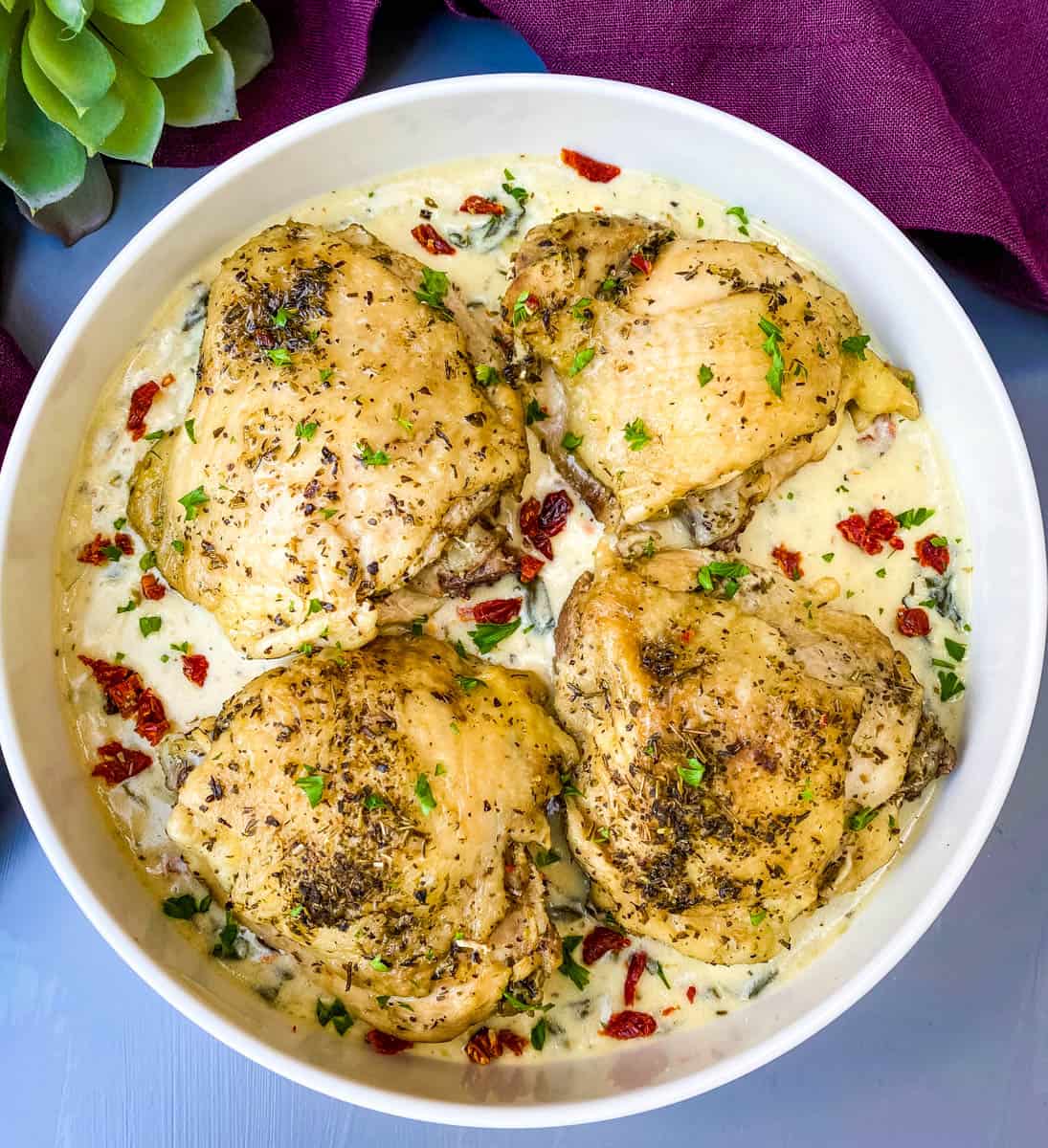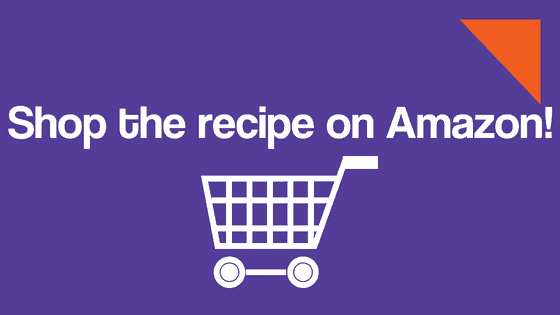 I prefer to pack up my prepped meals in glass food storage containers. I use this food storage set from Amazon. These also work great for freezing meals.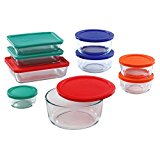 I am starting to swear by Better Than Bouillon! I have been using it in all of my soup recipes. Purchase it here from Amazon.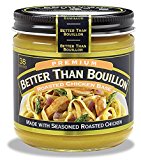 Have you tried to make hard boiled eggs using your Instant Pot? This steamer from Amazon comes in HANDY!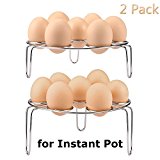 What about cheesecakes and bread? This pan is my favorite!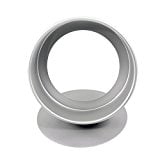 Be sure to check out step by step video instructions here!
Pin this recipe for later

here

.
Check out this deal for heritage breed bacon and pork, free-range organic chicken, and 100% grass-fed beef! I have partnered with Butcher Box to deliver exclusive deals for my audience. All of the meat from Butcher Box is certified-free from antibiotics and hormones. It's also uncured and free of added sugar and nitrates (nitrates are linked to cancer and a huge NO, NO) most importantly it has been taste tested by me, and passes with flying colors!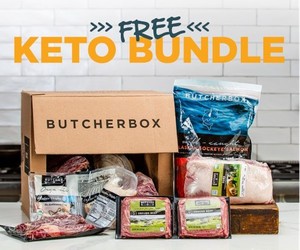 Here is the kicker, you will receive FREE bacon with every Butcher Box delivery. Yup, that's right, get FREE bacon, $10 off, and free shipping for all of 2018 when you order your first ButcherBox today! Click here to sign up and get hormone free meat delivered right to your doorstep!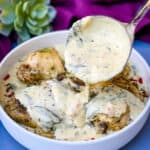 Instant Pot Low-Carb Creamy Garlic Tuscan Chicken Thighs
Instant Pot Low-Carb Creamy Garlic Tuscan Chicken Thighs is a quick and easy healthy pressure cooker recipe with sundried tomatoes, spinach, and a cream cheese and parmesan cream sauce.
Ingredients
4

chicken thighs

fat, trimmed

4

oz

reduced-fat cream cheese

2 1/2

cups

fresh spinach

1/4

cup

sundried tomatoes

1

tbsp

Better Than Bouillon Chicken Seasoning

1/4

cup

parmesan reggiano cheese

grated

3

garlic cloves

chopped

1

tsp

olive oil

1

cup

low-sodium chicken broth

1

cup

milk

I used unsweetened almond milk

2

tbsp

heavy whipping cream

2

tsp

Italian Seasoning

1

tsp

cornstarch

If your sauce isn't thick enough add an additional tsp of cornstarch with an additional tsp of water

1

tsp

water

salt and pepper to taste

parsley

optional for garnish
Instructions
Rinse the chicken and pat dry.

Pour the olive oil into the Instant Pot.

Season the chicken with 1 tsp of the Italian Seasoning, salt and pepper.

Place the Instant Pot on the Saute function. Brown both sides of the chicken for 2-3 minutes on each side.

Add the chicken broth, milk, Better Than Bouillon and remaining Italian Seasoning to the pot.

Close the Instant Pot and Seal. Cook on Manual/High-Pressure Cooking for 14 minutes.

When the pot indicates it has finished, quick release the steam.

Open the pot and remove the chicken.

Add the sundried tomatoes, cream cheese, whipping cream, parmesan reggiano, garlic, and spinach to the pot. Place the Instant Pot on the saute function.

Cook for 3-4 minutes until the cheese has melted and the spinach has wilted.

Combine the cornstarch and water in a small bowl. Stir. Add it to the pot. This will thicken up the cream sauce. If your sauce isn't thick enough add an additional tsp of cornstarch with an additional tsp of water. Allow the sauce to continue to cook until it has reached your desired thickness. Stir repeatedly to ensure the sauce does not burn.

Either add the chicken back to the pot with the cream sauce or place the chicken in a serving dish and drizzle the sauce throughout.
Recipe Video
Recipe Notes
Cook time noted above includes estimated time for the Instant Pot to come to pressure.
Please note, as I mentioned in my blog post, the majority of my meals are cooked for advanced meal prep. I purposely prepare my meals with extra sauce, in this case, cream sauce for freeze and reheat purpose. If you do not wish to have extra sauce in your recipe, you may need to reduce the amount of recommended milk in half.