This post may contain affiliate links. Please read my full disclosure here.
These Instant Pot Fall Off the Bone BBQ Baby Back Ribs (with VIDEO) are a pressure cooker recipe for grilled pork ribs. These ribs are quick and easy to make and only take 25 minutes in the Instant Pot and another 10 minutes in the oven or on the grill. These ribs are marinated with a pork rub and then drizzled in Kansas City Gates' BBQ sauce. This recipe works for spare ribs, too.
Be sure to check out my Instant Pot BBQ Pulled Chicken, too!

Click here to pre-order now!
Don't have an Instant Pot? I have you covered! Click here to purchase one from Amazon.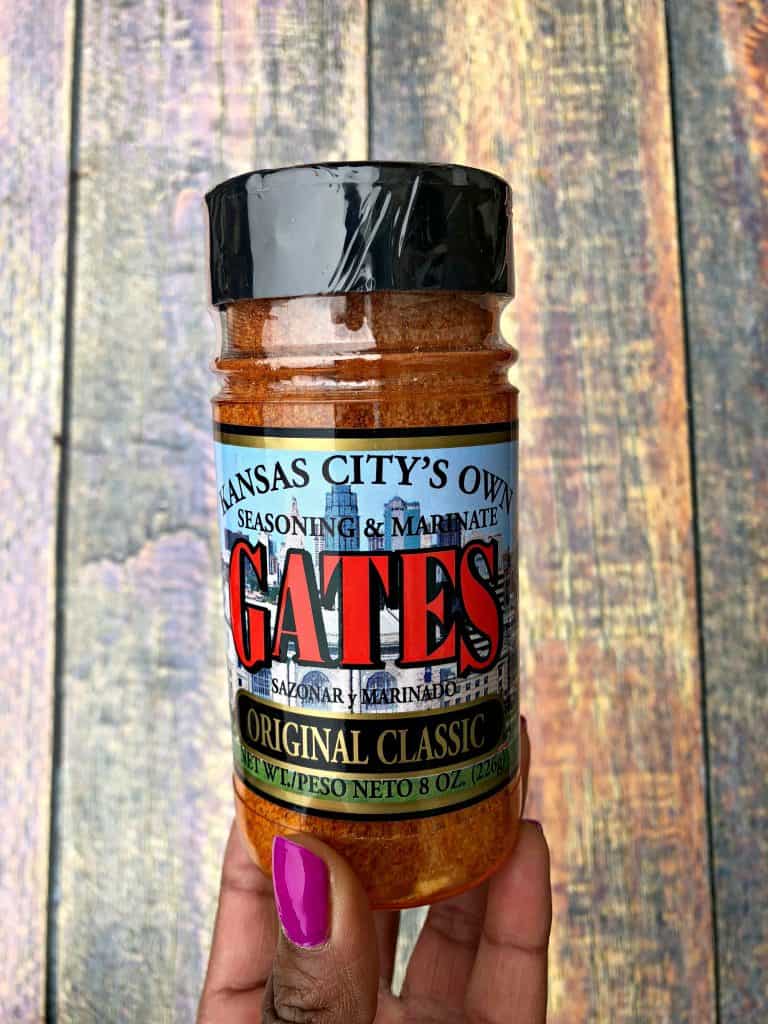 So, I am pretty fed up with Mother Nature. We are halfway through April, and I haven't seen much of spring, yet. We have had a couple of warm days, but other than those, it still feels like winter.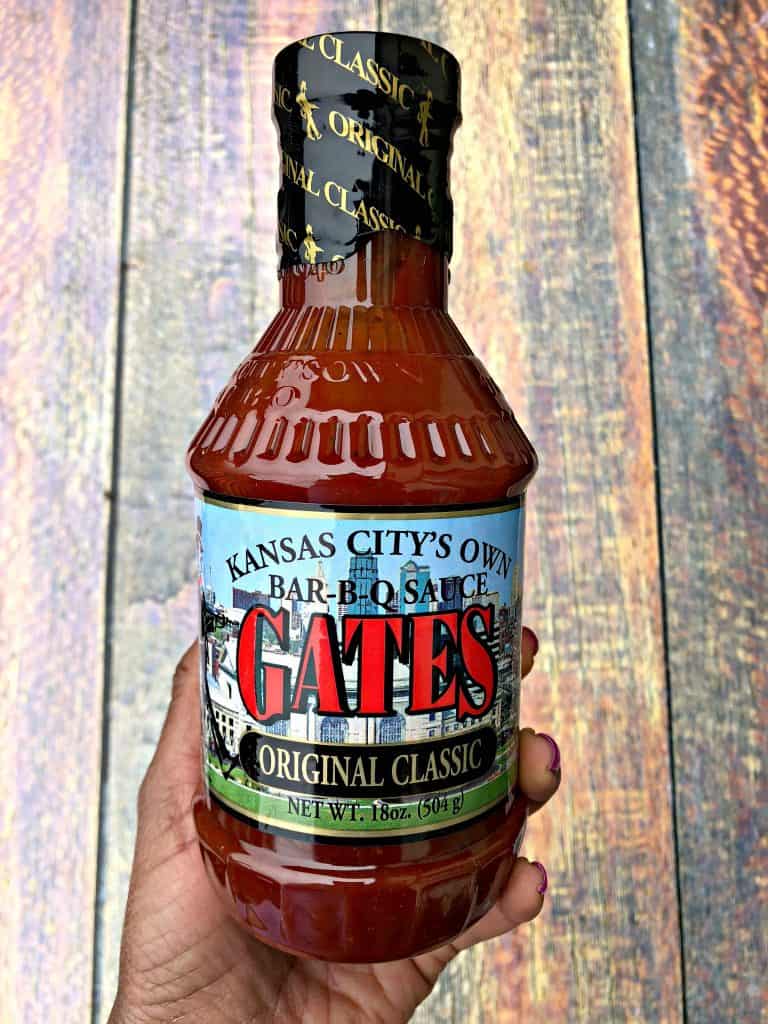 Our winter was so harsh! I really shouldn't complain because we have had a few years of really mild winters. We surely are paying for those now!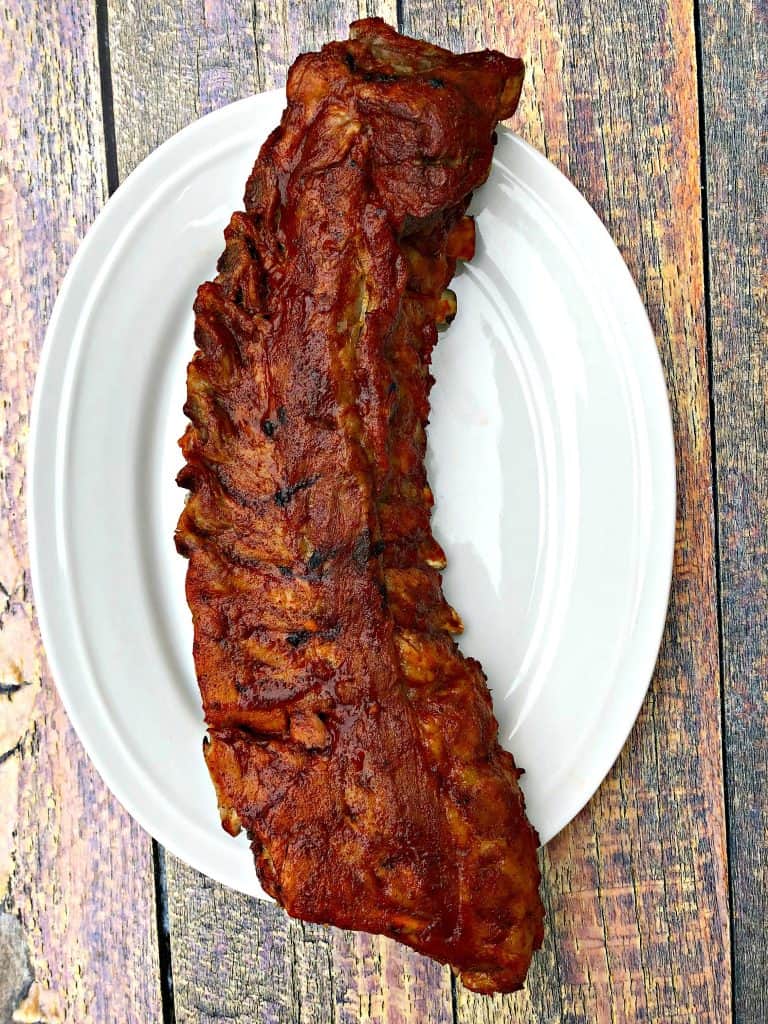 I am anxious for spring because I need warm temperatures. I need to see the sun! Once spring shows up, summer will be right around the corner! Summer means BBQ….and ribs of course!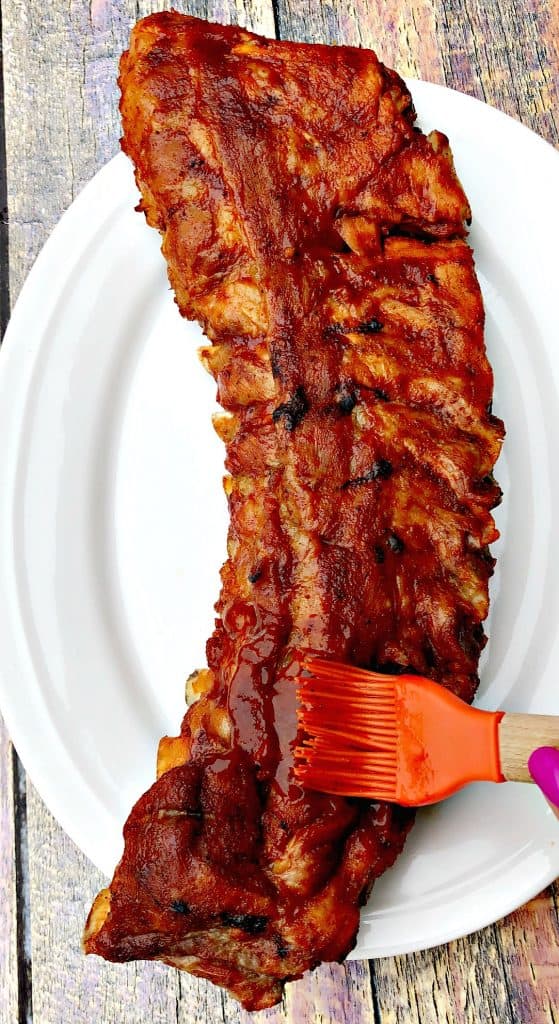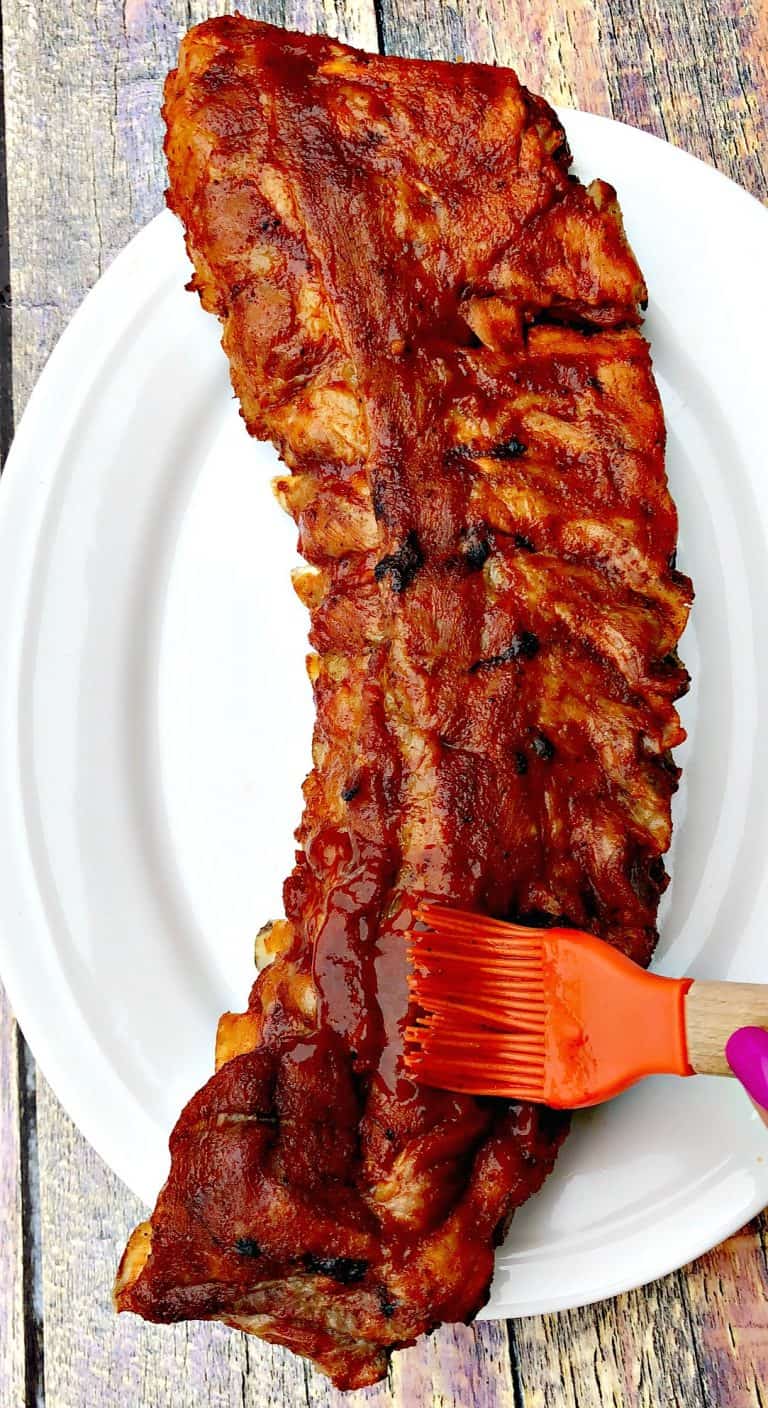 On a day like today where it's only 30 degrees out (it was 80 degrees yesterday, come on…seriously?), I would prefer not to spend a ton of time outside in front of my grill. But, I wanted a slab of ribs to serve to some friends who are coming to my house to watch Beyonce perform at Coachella tonight!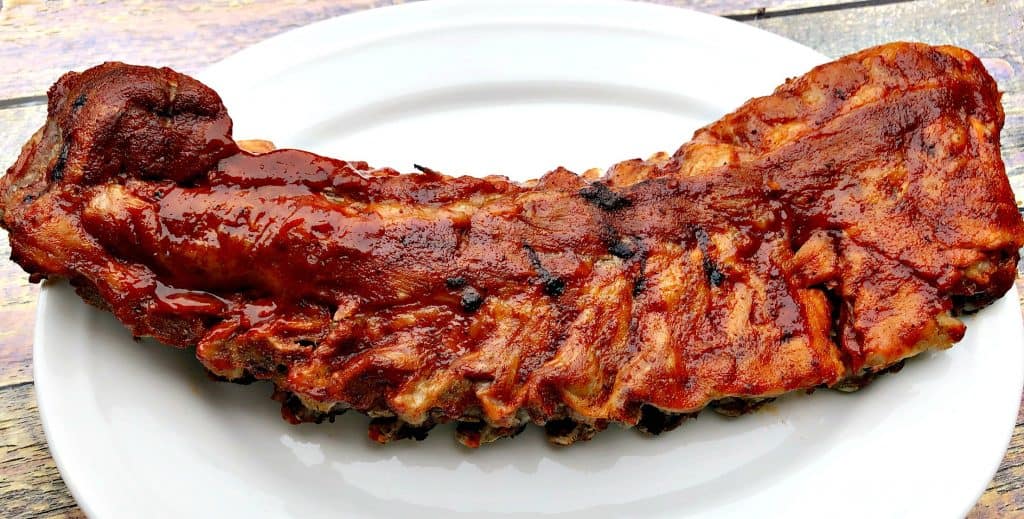 I decided to give my Instant Pot a try at baby back ribs. The Instant Pot is really the king when it comes to producing juicy, succulent meat that falls off the bone. You should definitely check out my Tuscan Chicken Thighs and Chicken and Rice Drumsticks.
Now…before you comment and yell that ribs and BBQ have to be grilled, trust me I KNOW all about BBQ. I live in Kansas City. We have the best BBQ on this earth. I even used my favorite local marinade and sauce in this recipe. See below, where I discuss cook steps after the Instant Pot.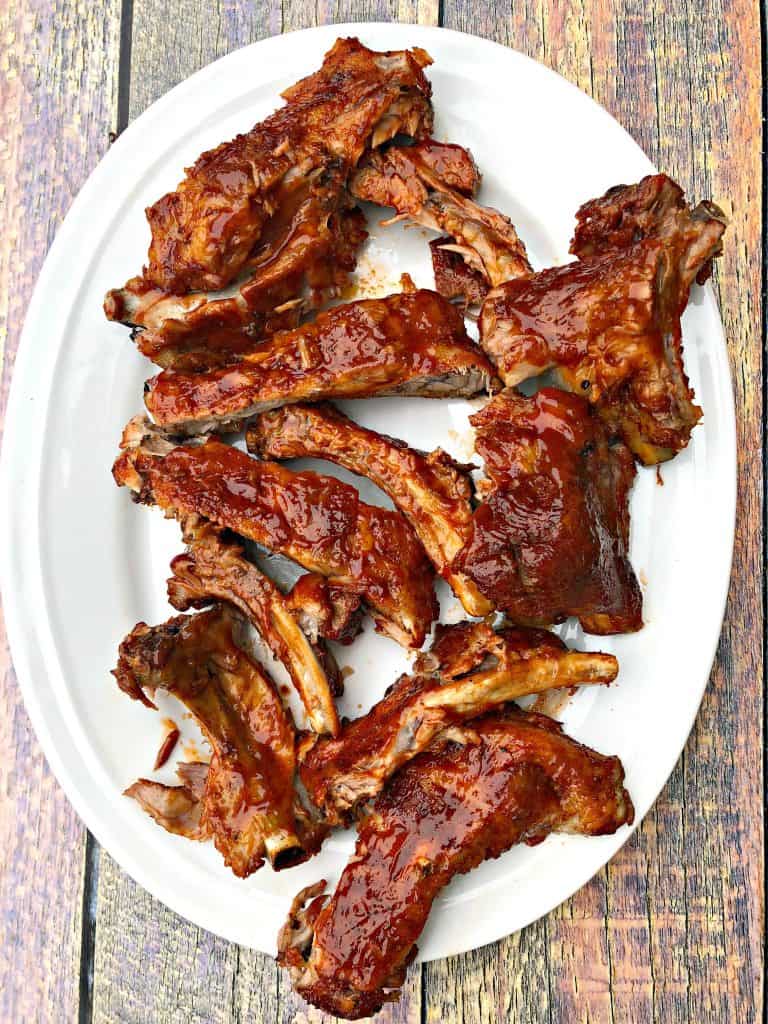 I was right! When I removed this rack of ribs from the Instant Pot the meat was literally falling off the bone.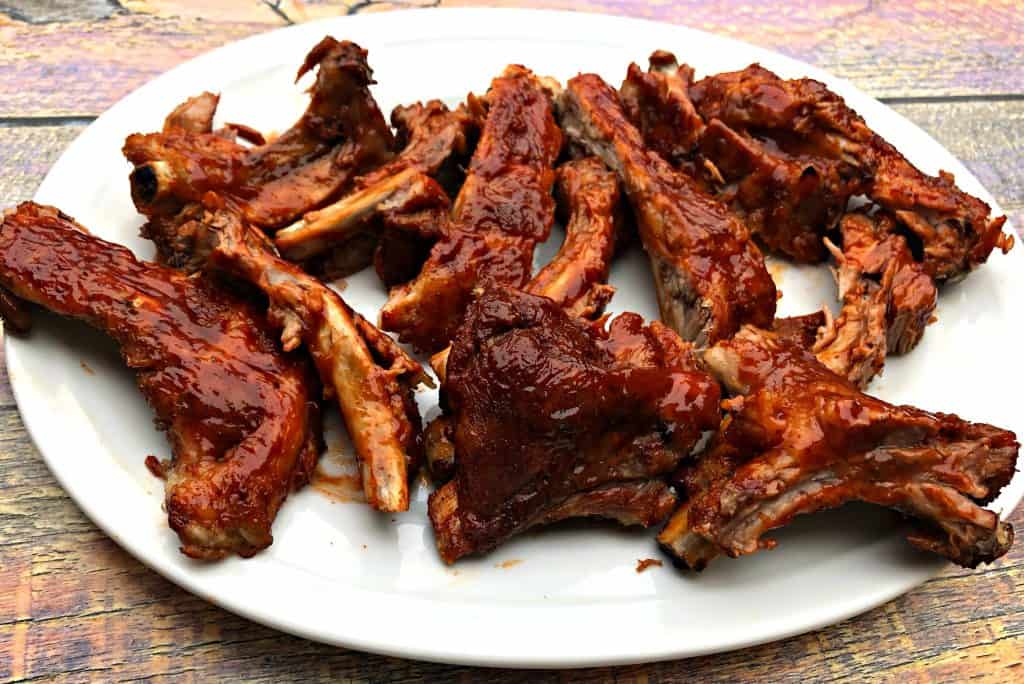 After the Instant Pot you can grill or bake the ribs. Grilling these ribs yields amazing results and will also really give them that BBQ taste, but baking works just fine too! If you use Liquid Smoke and a BBQ marinade (I love McCormick's Grill Mates BBQ Seasoning) you will get some of the BBQ flavor.
I would rather spend 10 minutes outside in 30 degree temps, than an hour!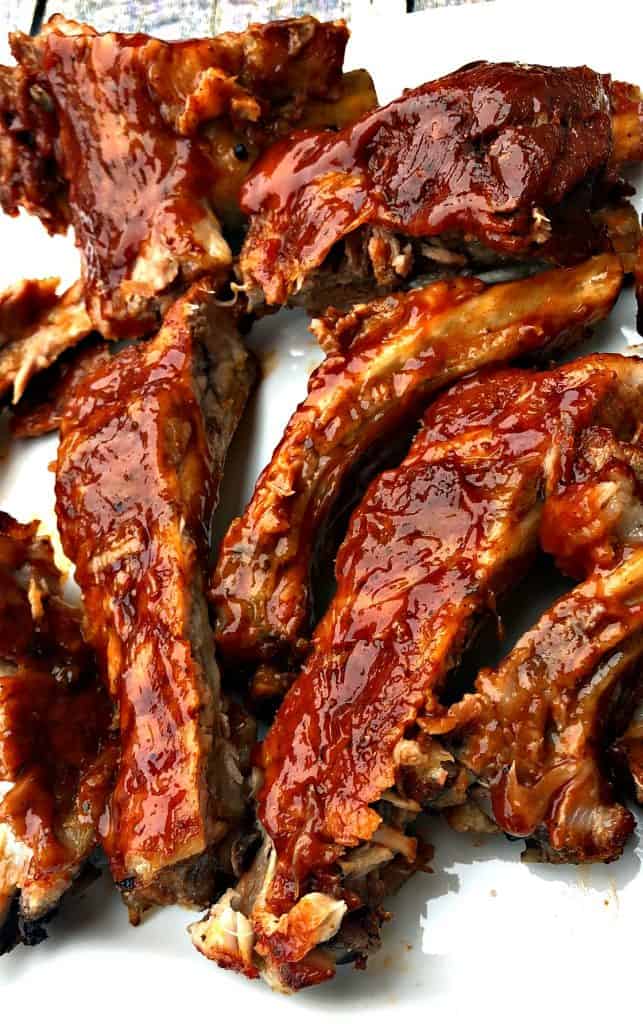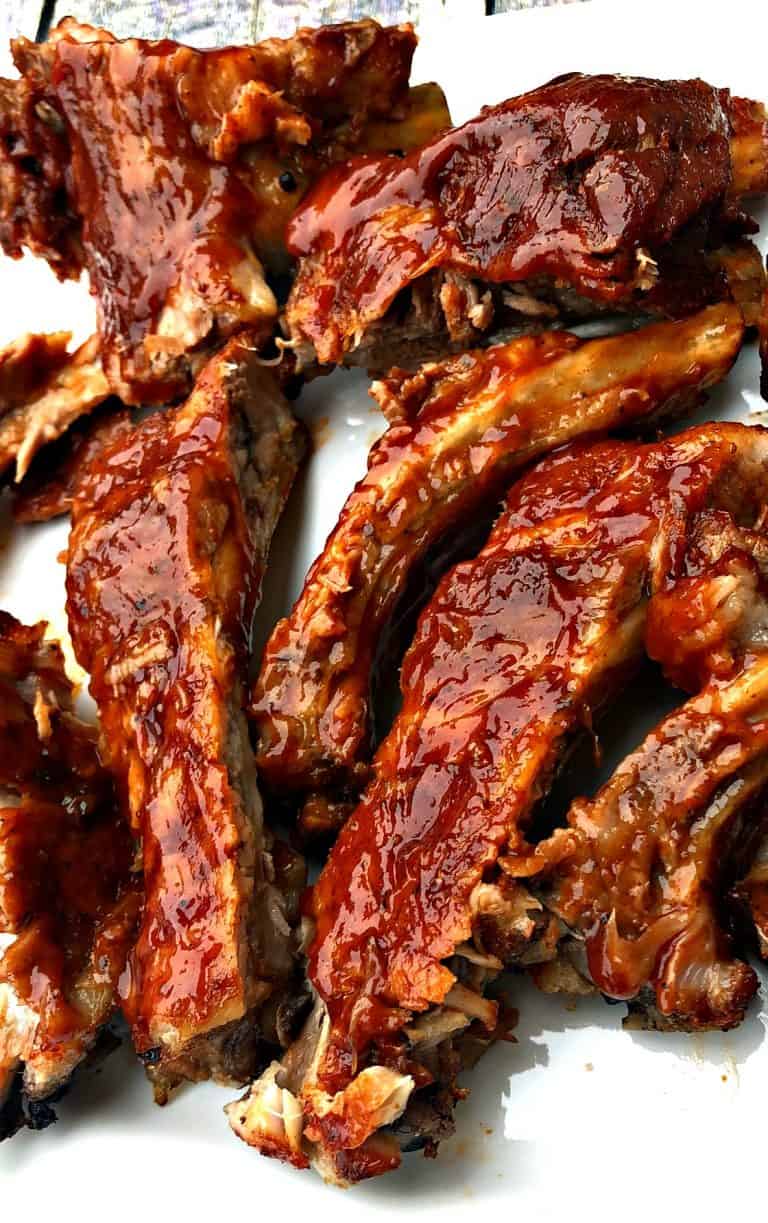 Feel free to add as much BBQ sauce as you want. Sometimes, I eat ribs without the sauce. I believe the BBQ marinade should be so good, that BBQ sauce is optional.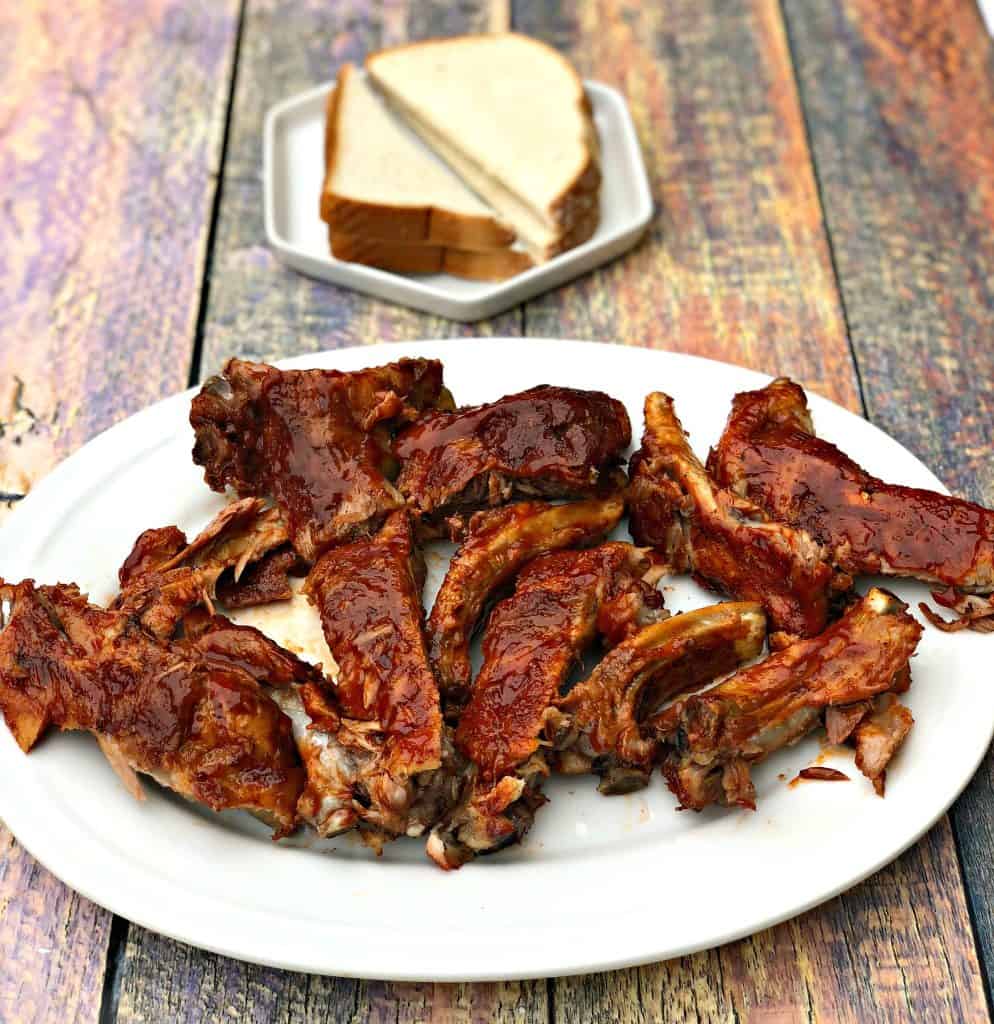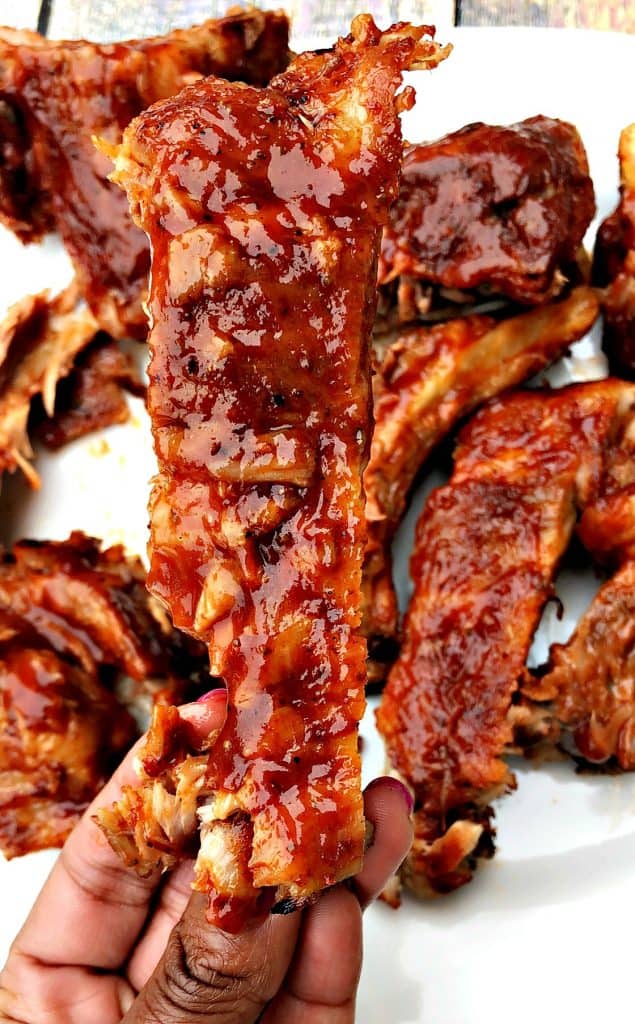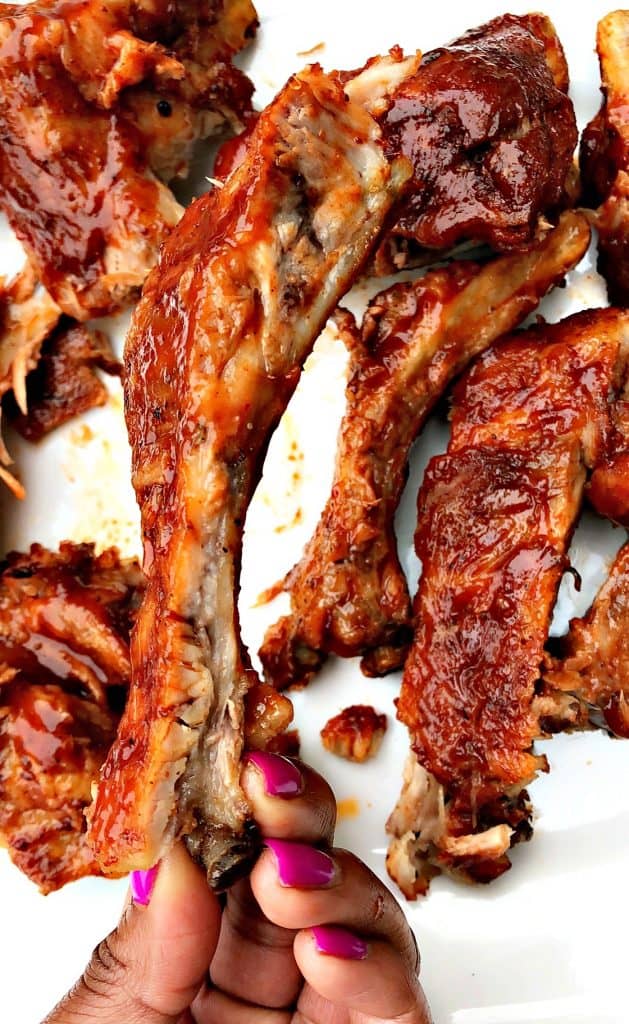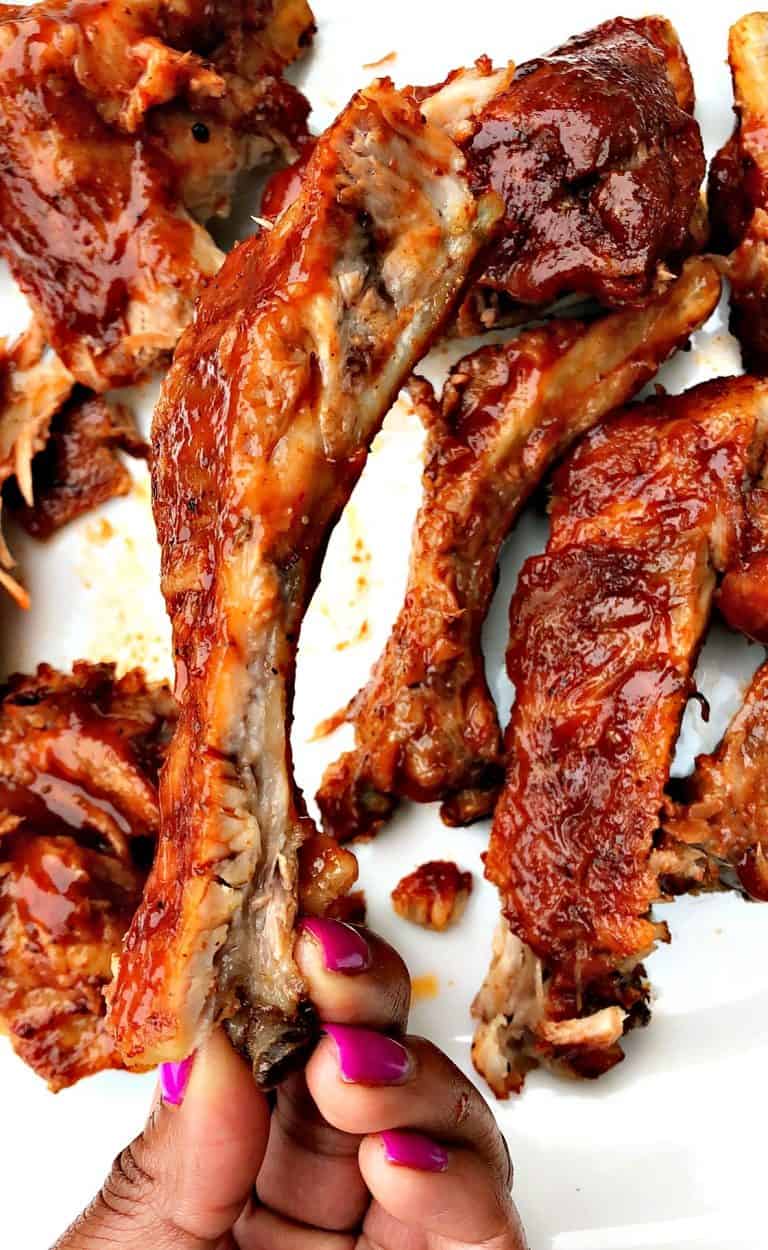 Does it look like the meat is falling off the bone to you? I paired these with white bread (a BBQ staple), potato salad, and baked beans. It was scrumptious!
More Instant Pot Recipes:
Instant Pot Apple Pie Steel Cut Oats
Instant Pot Olive Garden Zuppa Toscana Soup
Instant Pot Spinach and Sausage Egg Bites
Instant Pot Chicken, Seafood, and Sausage Gumbo
Instant Pot Baked Creamed Cheesy Corn with Ham
Instant Pot Green Bean Casserole
Instant Pot Chicken Noodle Soup with Spinach
Instant Pot Caramel Apple Cider
Instant Pot Meatball Sliders
Instant Pot Pumpkin Spice Sweet Potato Soup
Instant Pot Homemade Cranberry Sauce
Instant Pot Starbucks Gingerbread Latte
Instant Pot Skinny Pumpkin Spice Latte
Instant Pot Low-Carb Pumpkin Spice Bread
Instant Pot Lasagna
Instant Pot Shrimp Risotto with Vegetables and Parmesan
Instant Pot BBQ Pulled Chicken Sandwiches
How to Make Hard Boiled Eggs Using the Instant Pot
Instant Pot Chicken and Spanish Rice (Arroz Con Pollo)
Instant Pot Cheesecake
Instant Pot Chicken Alfredo Spaghetti Squash
Instant Pot Mongolian Beef
Instant Pot Steak Tacos
Instant Pot Chicken Taco Bowl with Quinoa
Instant Pot Buffalo Chicken Pasta
Have you tried to make hard boiled eggs using your Instant Pot? This steamer from Amazon comes in HANDY!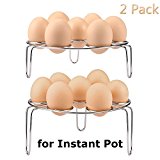 Be sure to check out step by step video instructions HERE!

Pin this recipe for later here.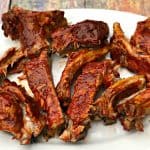 Instant Pot Fall Off the Bone BBQ Baby Back Ribs
These Instant Pot Fall Off the Bone BBQ Baby Back Ribs are a pressure cooker recipe for grilled pork ribs. These ribs are quick and easy to make and can be baked or grilled. These ribs are marinated with a pork rub and then drizzled in Kansas City Gates' BBQ sauce.
natural release steam
10
minutes
Ingredients
3

pounds

rack of baby back ribs

1

tablespoon

liquid smoke

2-3

tablespoons

pork rub

I used Kansas City Gate's classic BBQ rub or McCormick's Grill Mates Pork Rub is another option

salt and pepper

to taste

1

cup

water

1/2

onion

1

cup

BBQ sauce

Use as much sauce as you prefer
Instructions
Remove the membrane from the back of the ribs. (Refer to video). This is a thin layer that can be tough to remove. Sometimes it will peel right off. You can also cut it, and pull it off.

Drizzle the liquid smoke over both side of the ribs.


Season both sides of the ribs with the pork rub, salt, and pepper to taste.


Pour the cup of water in the Instant Pot.


Place the trivet in the Instant Pot. This is the metal basket that comes with the machine. This will keep the ribs from touching the bottom of the pot as they cook.


Place the onion and the seasoned ribs on the trivet.


Place the lid on the pot and seal. Cook for 25 minutes on Manual > High-Pressure Cooking.


When the Instant Pot indicates it has finished, allow the steam to naturally release for 10 minutes instead of quick release.


If you choose to bake the ribs, preheat oven to 450 degrees.

Remove the ribs from the pot. Brush the BBQ sauce onto the ribs.


Bake or grill the ribs for 10 minutes.

Recipe Video
Recipe Notes
You can make your own pork rub using 1 teaspoon brown sugar, 1 teaspoon BBQ seasoning (I like McCormick's Grill Mates BBQ Seasoning), 1 teaspoon garlic powder, 1/2 teaspoon cumin, 1/2 -1 teaspoon cayenne pepper, and 1 teaspoon chili powder.