This Easy Instant Pot Crab Legs recipe will show you how to steam fresh or frozen snow crab or king crab in your pressure cooker. Season this seafood with lemon, Old Bay, or my favorite Cajun rub.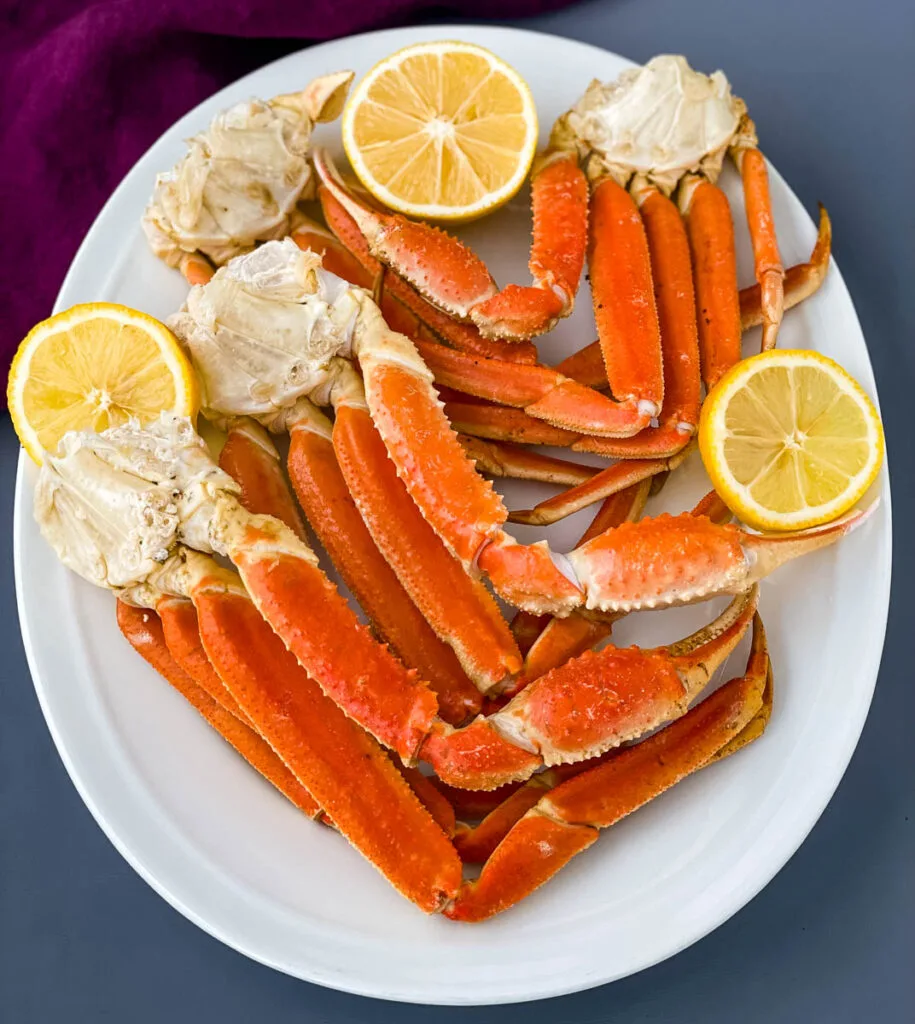 This post contains affiliate links. Please read my full disclosure here.
You can whip up your own crab boil right in the Instant Pot. Trust me, it's easy!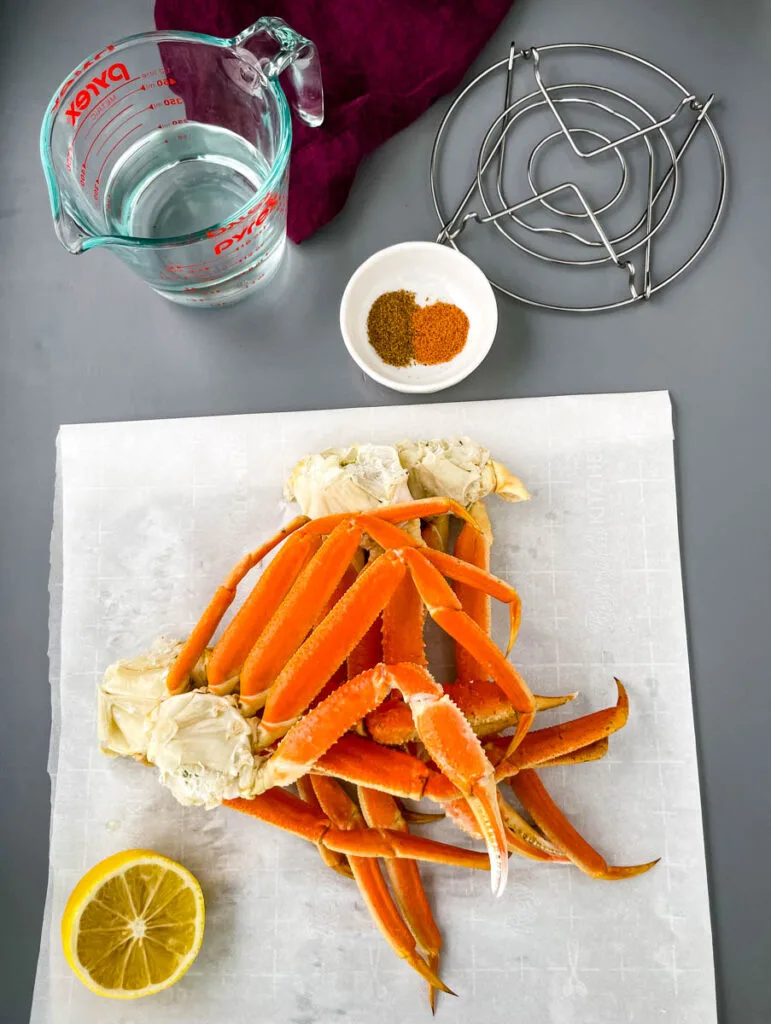 Why Use the Instant Pot
It's fast. You will have this entire process completed in under 15 minutes. That works great if you are planning to serve this dish for the holidays or for a gathering.
The crab legs are so much easier to crack. This is my favorite way to make crab legs that are extremely easy to crack. The pressure from the pot, along with the steams works wonders. When you remove the crab, you can see how much easier the legs are to navigate and how the inside meat has become tender.
What Type of Crab Legs to Use: The Difference Between Snow Crab and King Crab Legs
I'm using snow crab in this recipe, but you can also use king crab. Snow crab legs are sold in clusters and typically by the pound. They are much easier to handle and crack, in comparison to king crab legs, because they have a smooth shell. There are usually at least 4 legs in each cluster. Their flavor is mild and sweet.
King crab legs have a very prickly shell. They are large in size and are typically sold individually (by the leg) in pounds. The meat is a little more delicate and sweeter. They are a lot more expensive than snow crab. (I usually get these for New Year's!).
King crab legs will fit in my 6 quart Instant Pot. Sometimes you may have to break them in half.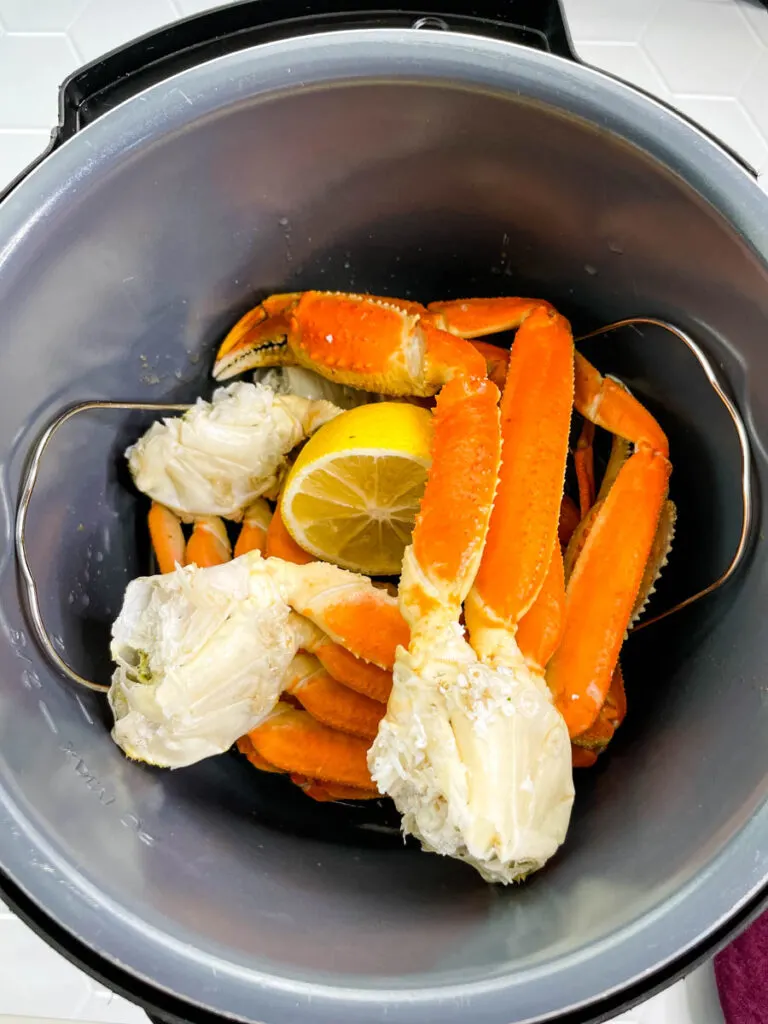 How to Buy and Shop
Most crab will come precooked and often frozen. Sometimes, if it's sold thawed, then it has been thawed from frozen. After the crabs are caught they are cooked on the boat and then flash-frozen right on the spot. If the crab legs are orange or red in color when you bought them, then they have already been cooked. This process is reheating them.
How to Thaw
The best way to thaw is to put them in the refrigerator overnight (at least 8 hours). You can also put them in a bowl and run cool water over them to thaw quickly.
Thawed crab will last in the fridge for 1-2 days.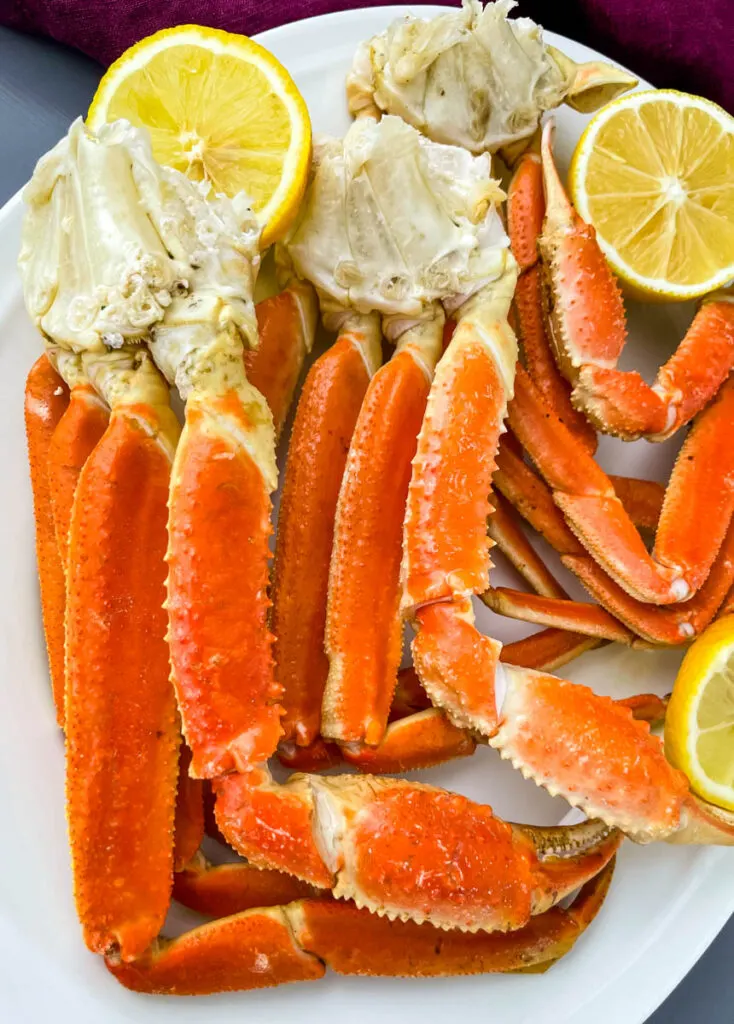 How to Cook Crab Legs in an Instant Pot
Detailed measurements and full instructions can be found in the recipe card at the bottom of this post.
Place the trivet into the bottom of the pot.
Pour in water along with the Old Bay Seasoning and Cajun Seasoning.
Add in the crab legs and lemon.
Place the lid on the pot and seal.
Pressure Cook.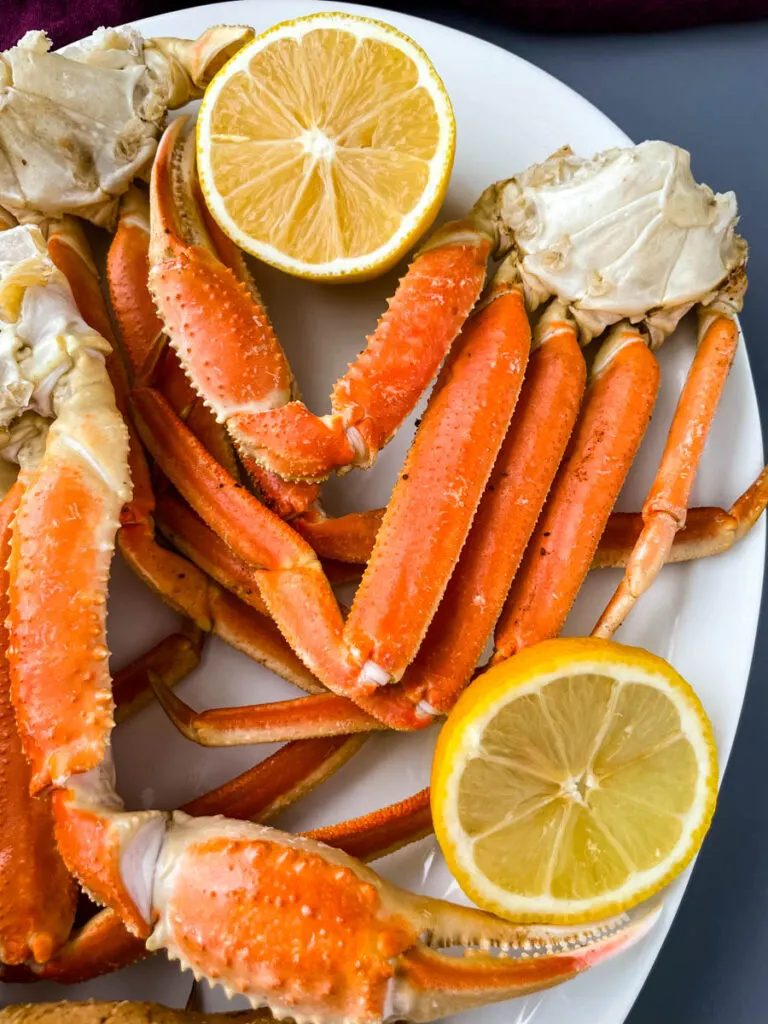 Cook Time/How Long to Cook
These only need to cook for 1 minute. It will take the pot about 5 minutes to come to pressure.
Frozen Crab Legs
You can cook these from frozen if you wish. Use the same cook time, the pot will take longer to come to pressure. I typically thaw them because in my experience, using frozen creates excess water within the crab.
How to Reheat
I don't reheat them. I love to serve these with warm butter and that provides the temperature adjustment I need. If you know you want to eat more of them later, crack them first. The longer they sit, the harder they are to crack and the meat gets trapped inside.
If you must reheat, saute them in a pan with oil or butter until warm.
Pair With These Recipes
Roasted Ranch Potatoes
Bacon Ranch Pasta Salad
Air Fryer Baked Potatoes
Southern Coleslaw
Green Goddess Cobb Salad
Zucchini Au Gratin
Air Fryer French Fries
Creamy Ranch Mashed Potatoes
Instant Pot Chicken Teriyaki
More Seafood Recipes
Air Fryer Fish Sandwich
Instant Pot Shrimp Risotto
Instant Pot Shrimp and Grits
Air Fryer Fish Sticks
Air Fryer Catfish
Air Fryer Salmon
Air Fryer Crab Cakes
Air Fryer Lobster Tails
Slow Cooker Crockpot Gumbo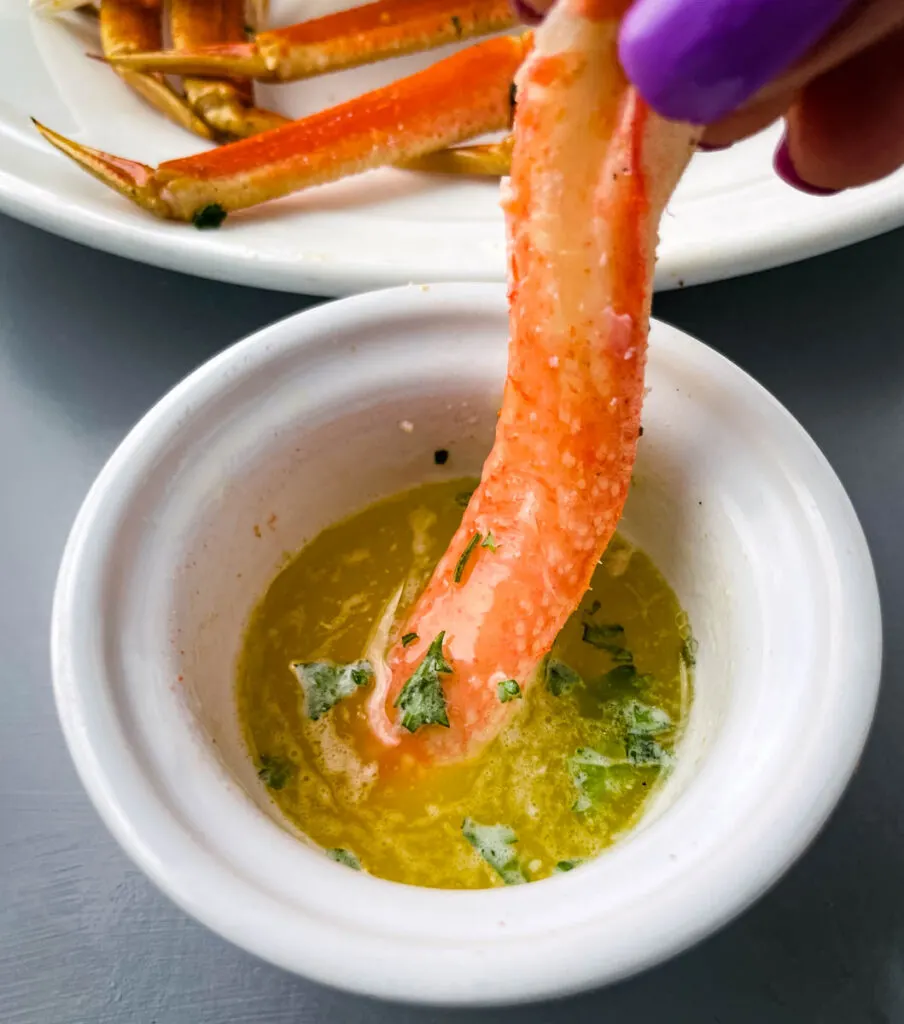 More Crab Recipes
Crab Stuffed Salmon
Crab Rangoon Dip
Hot Baked Crab Dip
Air Fryer Crab Rangoon
Baked Crab Legs
Air Fryer Crab Legs
Seafood Stuffed Pasta Shells
Easy Instant Pot Crab Legs
This Easy Instant Pot Crab Legs recipe will show you how to steam fresh or frozen snow crab or king crab in your pressure cooker. Season this seafood with lemon, Old Bay, or my favorite Cajun rub.
Save this recipe here.
Saved!
Ingredients
Optional Lemon Garlic Butter
2

tablespoons

butter

Melted

3

garlic cloves

Minced

1/2

teaspoon

Old Bay Seasoning

1/2

fresh lemon

I use the lemon after it's pressure cooked with the crab.
Instructions
Place the trivet (that comes with the Instant Pot) into the bottom of the pot.

Pour in 1 cup of water along with the spices.

Add in the crab legs and the lemon.

Place the lid on the pot and seal. Cook for 1 minute on Manual> High Pressure Cooking.

When the pot indicates it has finished, quick release the steam.

Serve the crab legs immediately.
Optional Garlic Butter
Combine the ingredients in a bowl and stir.
Notes
You can use snow crab legs or king crab legs. I use the same cook time for king crab legs. They take a little longer to come to pressure.
Adjust the spices and seasoning to suit your taste. Omit the Cajun seasoning if you want.
If your crab legs don't have much flavor, you didn't purchase quality crab or the crab is expired/has gone bad. Even without seasoning, the crab legs should have a sweet taste (if they haven't gone bad).
To crack a crab leg, I hold the leg horizontally, with the back of the leg facing me. Then press down on either the middle of the leg or about 1/4 of the way up from the bottom of the leg. I can always tell if the crab is fully cooked (reheated) and fresh because of how easily it cracks.
If when I crack the leg, it doesn't return a nice chunk of meat, and the meat is stuck on the inside, it's usually because it wasn't cracked soon enough after cooking. The longer they sit, the harder they are to crack and easily remove the meat.
Nutrition facts exclude optional garlic butter. Calculate the nutrition using your nutrition calculator of choice.
I tested these in the air fryer and in the oven. Making them in the Instant Pot is probably my favorite. The shells are the easiest crack likely due to the pressure cooking.
Recipe Tools Used in this Recipe
As an Amazon Associate I earn from qualifying purchases.
Nutrition (displayed with net carbs)
Serving:
1
pound
|
Calories:
320
kcal
|
Carbohydrates:
1
g
|
Protein:
74
g
|
Fat:
1
g
Tried this recipe?
Mention @Stay_Snatched or tag #StaySnatched! The recipe instructions noted here are the property of Stay Snatched and subject to copyright. Please do not screenshot and share this recipe on social.
Nutrition Data
Macros are provided as a courtesy and should not be construed as a guarantee. This information is calculated using MyFitnessPal.com. To obtain the most accurate nutritional information in a given recipe, you should calculate the nutritional information with the actual ingredients used in your recipe, using your preferred nutrition calculator. You are solely responsible for ensuring that any nutritional information provided is accurate, complete, and useful.