This Air Fryer Crispy Crab Rangoon recipe makes me feel like I have died and gone to heaven. My mouth is salivating as I write up this post! If I told you that you could enjoy 3 pieces of crab rangoon for less than 100 calories total, would you believe me? Well, pull up a chair. This recipe does just that! Thank you so much, Air Fryer.
Calories: 98 Fat: 3G Net Carbs: 12G Protein: 7G
This post may contain affiliate links. Please read my full disclosure here.
Here is a link to the Air Fryer used in this recipe.
If you know me well then you know I am very fond of traditional Asian cuisine. I often frequent a local Vietnamese restaurant a couple of blocks from my house. Yes, I know crab rangoon is NOT an authentic Asian appetizer, but that will not stop me from enjoying it! I make my rounds and enjoy authentic Asian meals a lot. So, I deserve to indulge in this un-authentic treat from time to time!
I have become obsessed with my Air Fryer! Growing up, my family ate fried food a lot. My mom fried chicken, pork chops, fish, and other dishes quite a bit. These meals were certainly tasty but obviously are not good for our overall health. Times have changed so much!

We now have a device that can fry food without using all of that grease. That is simply astonishing. As such, you will probably find me in the kitchen every single weekend experimenting with the Air Fryer. I feel like I owe it to my childhood!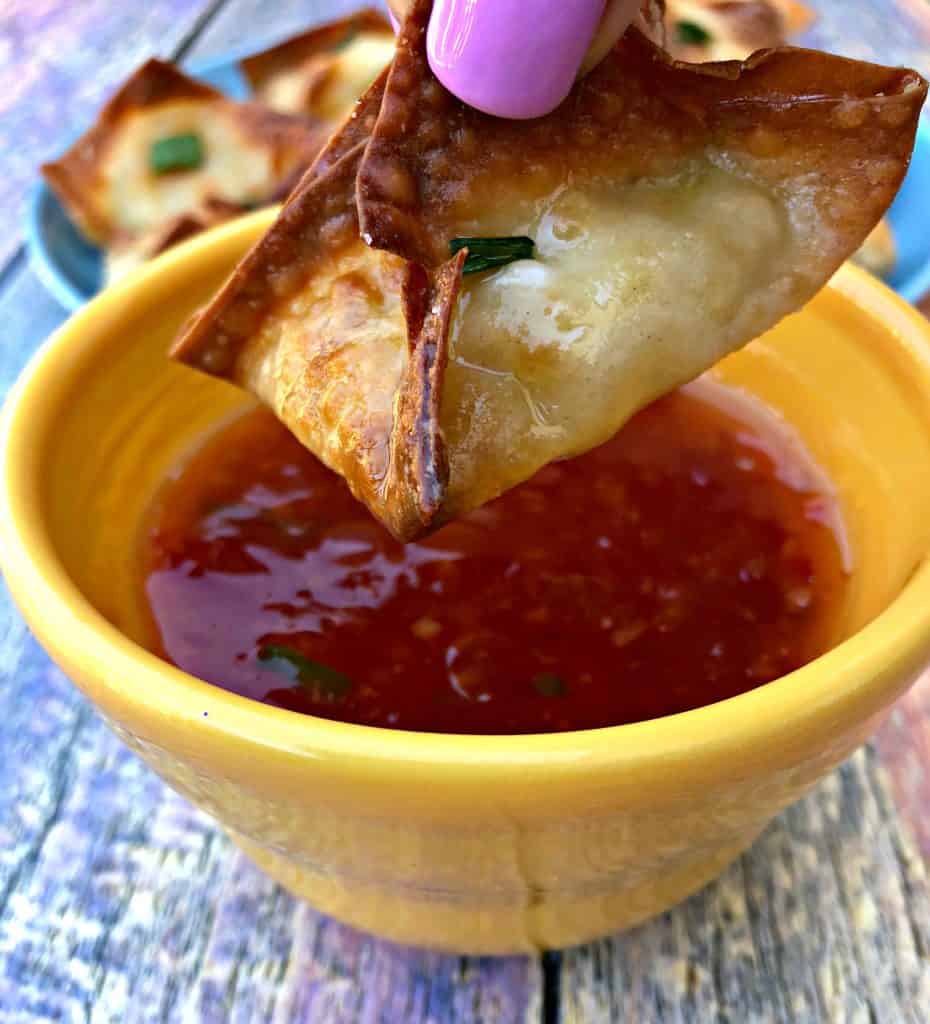 A lot of restaurants that serve crab rangoon use imitation crab meat. If you prefer imitation crab meat, substitute that for the lump crab used in this recipe. There is a difference in taste. If you are looking to replicate your favorite, that may be the best option for you.
I used the sweet and sour dipping sauce from Frank's Red Hot. You can purchase it here.
If you are looking for wonton wrappers you can find them here.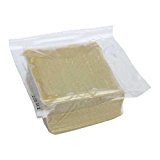 Be sure to check out step by step video instructions here!
Pin this recipe for later here.
Air Fryer Crispy Crab Rangoon
Air Fryer Crispy Crab Rangoon is a quick and easy healthy air-fried recipe using wonton wrappers, reduced-fat cream cheese, and jumbo lump crab meat. This crab rangoon is crunchy and filled with flavor.
Ingredients
4 or 6

oz

reduced-fat cream cheese

If you prefer really creamy crab rangoon use 6 oz

4 or 6

oz

lump crab meat

If you prefer your crab rangoon to have more cream cheese and less crab, use 4 oz. Seafood lovers may want to go for 6 oz

2

green onions

2

garlic cloves

chopped

1

tsp

Worcestershire sauce

salt and pepper to taste
Instructions
If your cream cheese is hard, heat it in the microwave for 20 seconds to soften.

Combine the cream cheese, green onions, crab meat, Worcestershire sauce, salt, pepper, and garlic in small bowl. Stir to mix well.

Lay out the wonton wrappers on a working surface. I used a large, bamboo cutting board. Moisten each of the wrappers with water. I use a cooking brush, and brush it along all of the edges.

Load about a teaspoon and a half of filling onto each wrapper. Be careful not to overfill.

Fold each wrapper diagonally across to form a triangle. From there bring up the two opposite corners toward each other. Don't close the wrapper yet. Bring up the other two opposite sides, pushing out any air. Squeeze each of the edges together. Be sure to check out the recipe video above for illustration.

Load the crab rangoon into the Air Fryer.

Spray with oil. I prefer to use olive oil. Coconut oil works well, too.

Place the Air Fryer on 375 degrees. Cook for 10 minutes.

If you piled the crab rangoon on top of each other, swap the rangoon that are on the bottom for the ones at the top. This will allow each to cook evenly.

I have made this recipe and have stacked in all of the crab rangoon and I have made it in two batches. I believe making it in batches works best. If you stack them, you may have a few that are really soft to touch and break apart when you go to flip them over.

Return the batch to the Air Fryer. Cook for an additional 5-8 minutes until they have reached your desired level of golden brown and crisp.

Remove the crab rangoon from the Air Fryer. If you wish, you can coat each with oil (olive, coconut, etc).
Notes
Your cook time may vary depending on the Air Fryer brand that you use. I recommend a temperature of at least 370 degrees. You should cook the crab rangoon until they have reached your desired level of crunchiness. Check in on them while they air fry to be sure the crab rangoon does not overcook.
Recipe Tools Used in this Recipe
As an Amazon Associate I earn from qualifying purchases.
Nutrition (displayed with net carbs)
Tried this recipe?
Mention @Stay_Snatched or tag #StaySnatched! The recipe instructions noted here are the property of Stay Snatched and subject to copyright. Please do not screenshot and share this recipe on social.
Nutrition Data
Macros are provided as a courtesy and should not be construed as a guarantee. This information is calculated using MyFitnessPal.com. To obtain the most accurate nutritional information in a given recipe, you should calculate the nutritional information with the actual ingredients used in your recipe, using your preferred nutrition calculator. You are solely responsible for ensuring that any nutritional information provided is accurate, complete, and useful.