Easy, Keto Low-Carb Fudge Popsicles are the best homemade, sugar-free recipe for creamy, chocolate fudgesicles. These frozen pops are nearly carb free and are the perfect treat for dessert. It isn't always all about ice cream!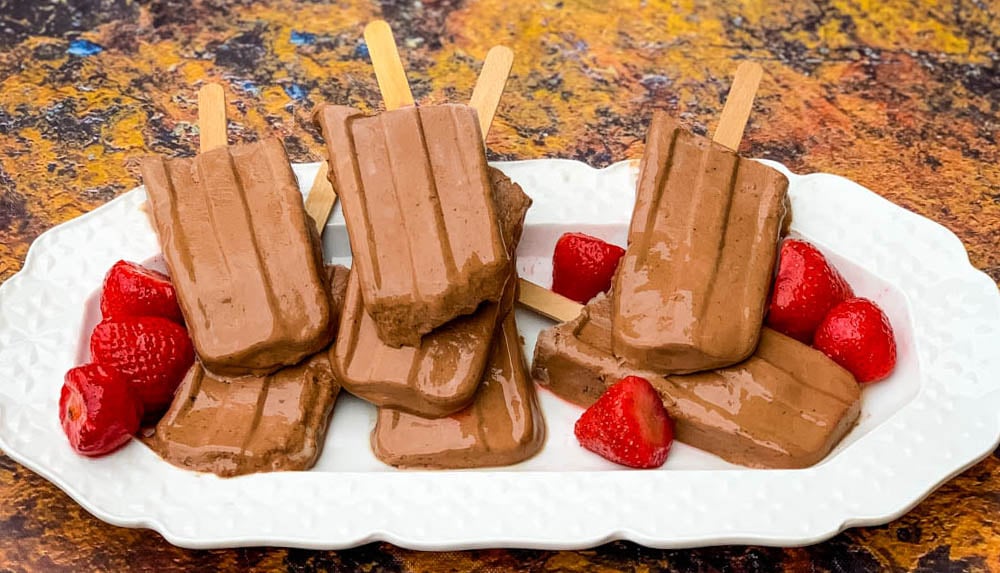 This post contains affiliate links. Please read my full disclosure here.
FOR THE FULL LIST OF INGREDIENTS AND COMPREHENSIVE INSTRUCTIONS, PLEASE SEE THE RECIPE CARD AT THE END OF THIS POST. BEFORE YOU SCROLL, THERE'S IMPORTANT INFORMATION IN THIS BLOG POST.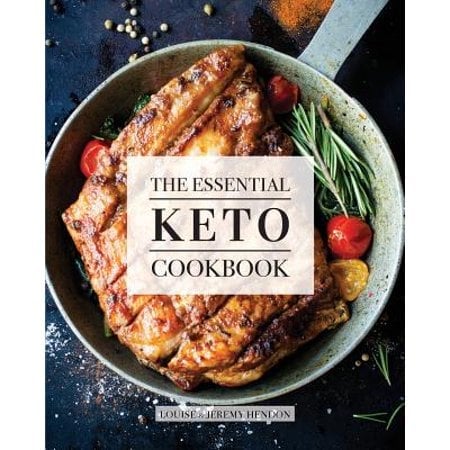 The Keto Essential Cookbook is available NOW for FREE! For a hard copy, you only pay the shipping and handling. Get over 100+ scrumptious recipes with net carb, fat, protein, and calorie count for every recipe. Click here to purchase yours today!

Summer is around the corner which means my recipes like Keto Mint Chocolate Ice Cream and Chick-fil-A Copycat Frosted Lemonade will be in heavy rotation.
I can't forget about the popsicles! They are on the agenda as well. These fudge pops are simple to make and are made with real chocolate, using unsweetened cocoa powder.
These are very kid-friendly, but trust me, adults will love them, too!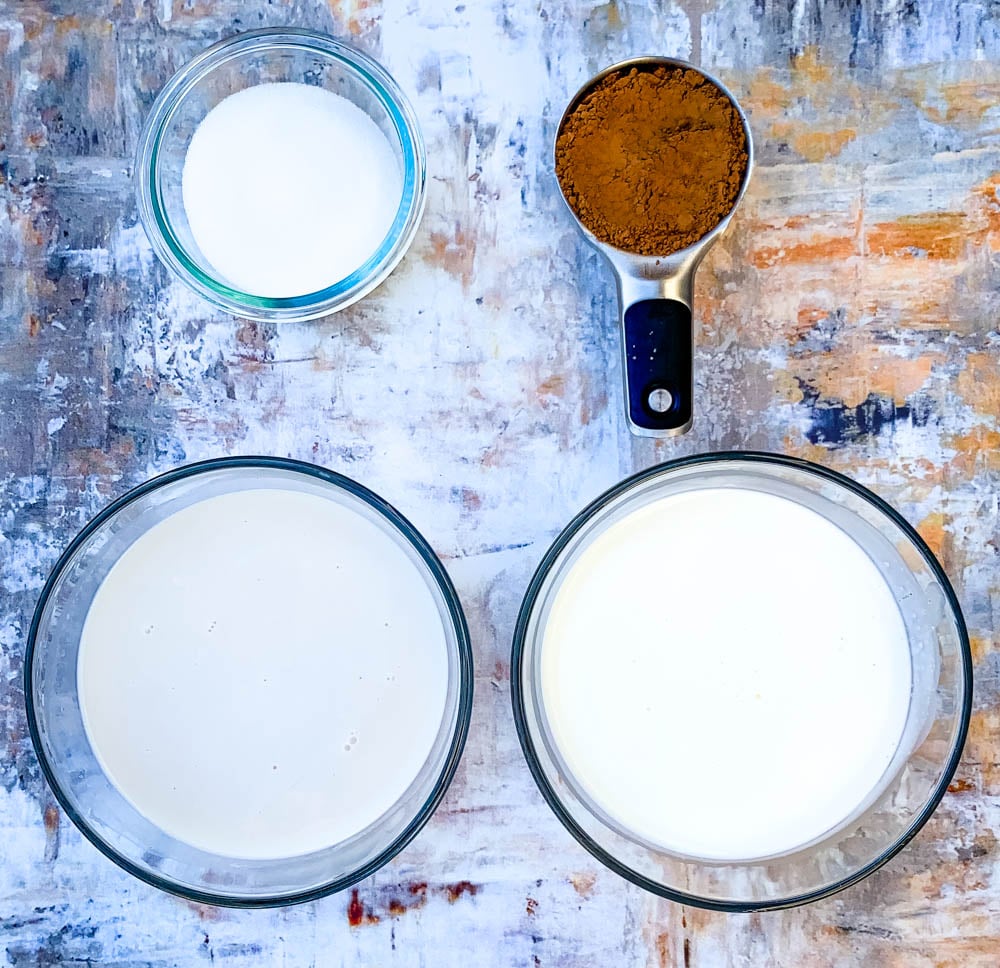 Can You Have Sugar-Free Popsicles on Keto?
You can definitely have these sugar-free fudge popsicles while sticking to a keto diet and low carb lifestyle. Beware of products in stores that are labeled as sugar-free. Many have harmful ingredients or sweeteners.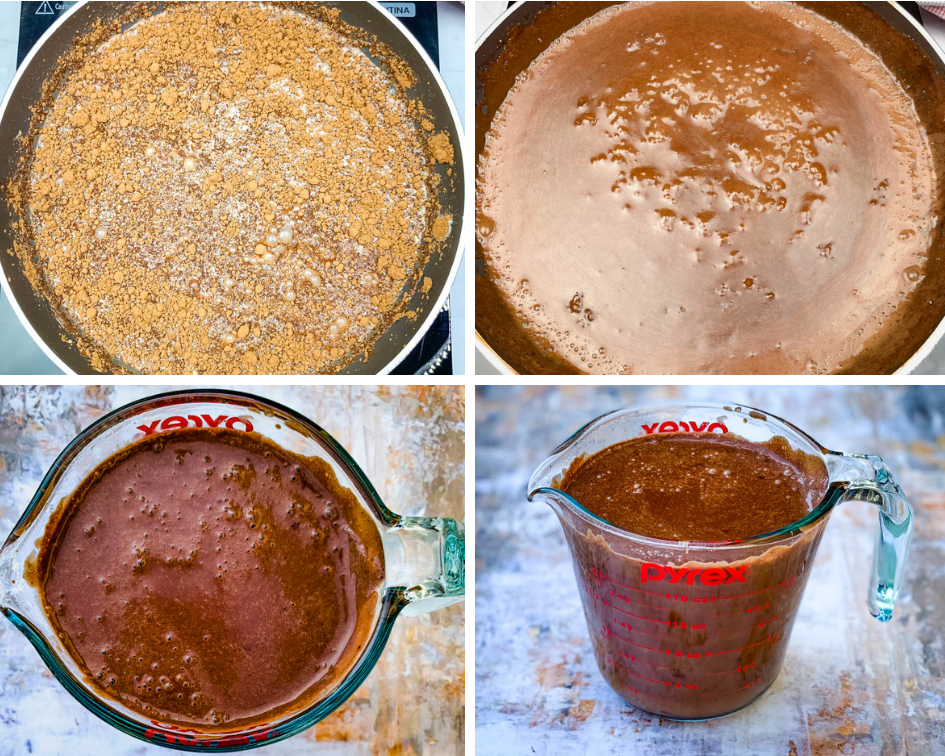 How to Make Keto Popsicles
In the past, I've made Martha Stewart's fudge pops recipe. I adapted this recipe to make it sugar-free.
You will need a popsicle mold, xanthan gum, almond milk, unsweetened cocoa powder, heavy cream, sweetener, vanilla, and salt.
First, mix together xanthan gum and 2 tablespoons of almond milk. This will create a large clump that is necessary to thicken the mixture.
Add in the remaining almond milk, heavy cream, unsweetened cocoa powder, salt, and vanilla.
Bring to a boil and whisk repeatedly until you have removed all clumps.
Pour the mixture into the molds and freeze for at least 6 hours.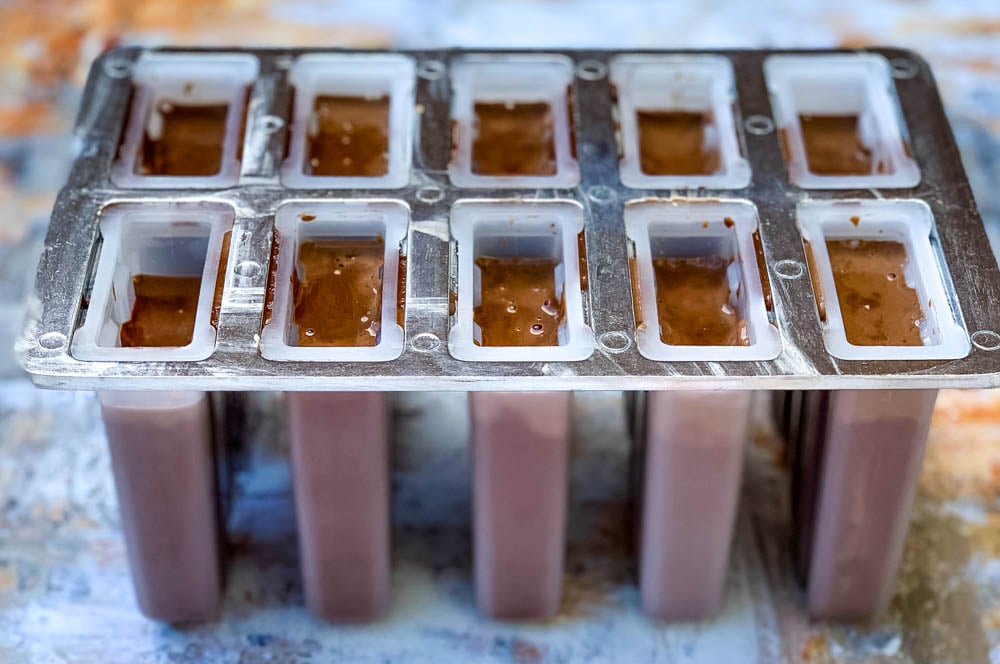 What is Xanthan Gum and Why Is it Used in this recipe.
Xanthan gum helps hold ingredients together (commonly used in baking) and is great to use as a thickening agent. You only need about a half a tablespoon for most recipes. Be sure to look for gluten-free xanthan gum as it will not contain wheat.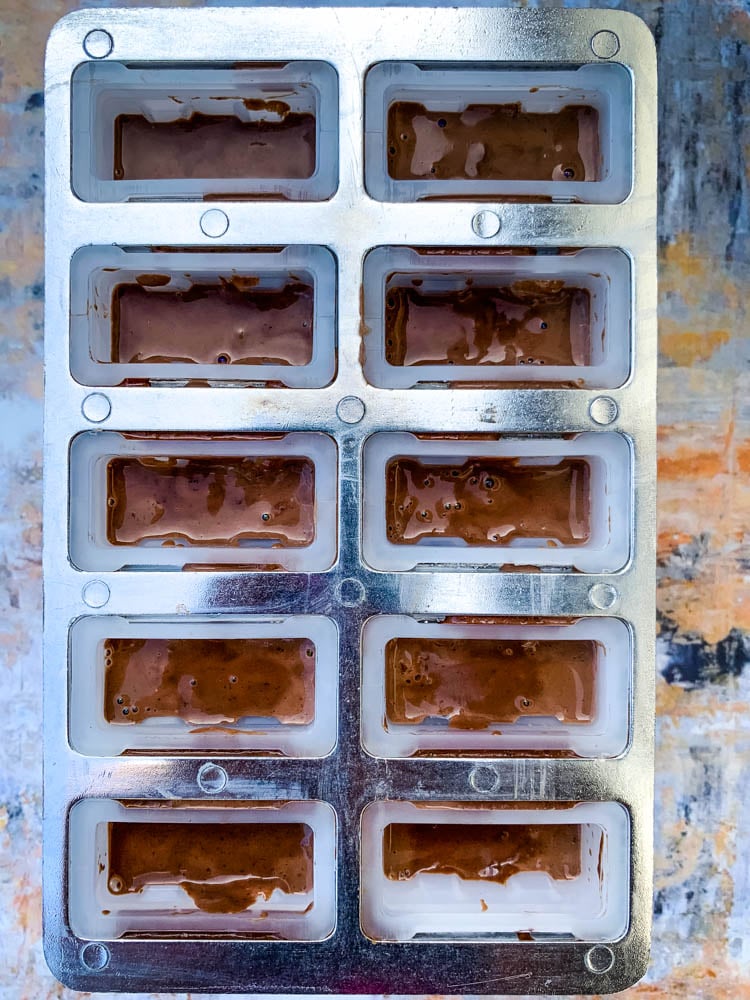 I have only tested this recipe using xanthan gum. If you require a substitute I recommend that you research other possible alternatives.
Keto Popsicles You Can Buy in Store
Most store-bought brands are loaded with glycerin, maltodextrin, and other artificial flavors. If you can find a brand that is sweetened with natural ingredients like monkfruit or erythritol, this will provide a suitable solution.
Overall, you are likely better off making your own at home.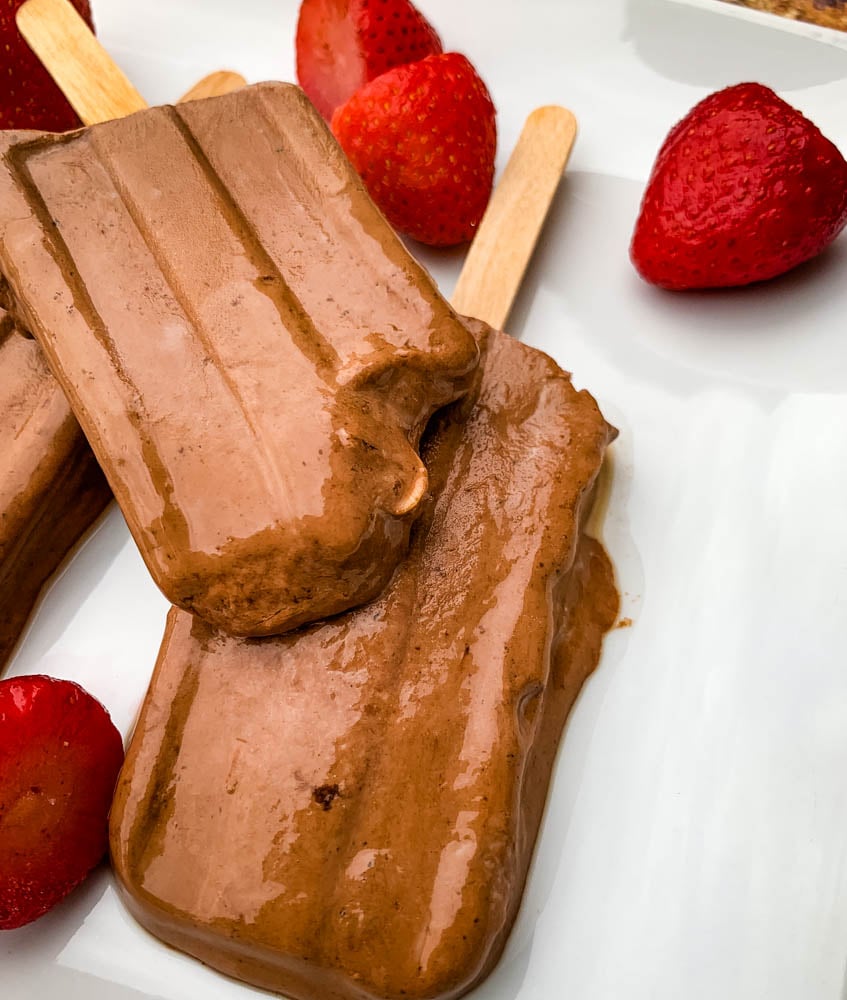 Recipe Tips
If you omit the xanthan gum, the popsicles will not have a creamy texture. They will be watery. I use it in all of my recipes that require thickening, as opposed to cornstarch.
Taste the mixture repeatedly and add additional sweetener as needed.
The longer you allow these to freeze the harder they will become. In general, fudge pops are softer and creamier, in comparison to regular popsicles.

More Keto Desserts and Ice Cream Recipes
Keto Cheesecake
Keto Chocolate Chip Cookies
Keto Peanut Butter Cookies
Keto Avocado Brownies
Keto Cream Cheese Sugar Cookies
Keto Lemon Bars
Keto Chocolate Chip Cheesecake Fat Bombs
Keto Pumpkin Spice Fat Bombs
Keto Pound Cake
Keto Strawberry Lemon Popsicles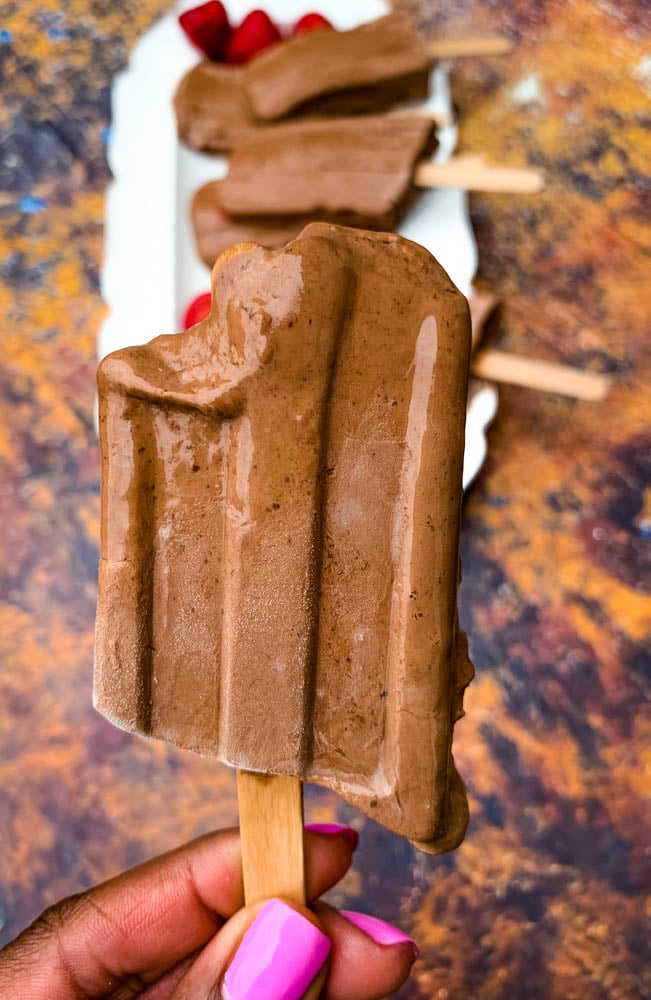 Easy, Keto Low-Carb Fudge Popsicles
Easy, Keto Low-Carb Fudge Popsicles are the best homemade, sugar-free recipe for creamy, chocolate fudgesicles. These frozen pops are nearly carb free and are the perfect treat for dessert. It isn't always all about ice cream!
Save this recipe here.
Saved!
Ingredients
2

tablespoons

unsweetened almond milk

1

teaspoon

xantham gum

1 1/2

cups

unsweetened almond milk

1 1/3

cups

heavy whipping cream

1/2

cup

unsweetened cocoa powder

1/2

cup

sweetener

(Use Discount Code STAYSNATCHED for savings) granular, taste mixture repeatedly to determine if it is sweet enough for your taste. Add more as needed.

2

teaspoons

vanilla

1/4

teaspoon

salt
Instructions
Place a saucepan on medium-high heat. Add 2 tablespoons of almond milk and the xantham gum. Whisk both together until it forms a clump.

Add the remaining ingredients and adjust the heat to medium-high. Whisk the mixture continuously. It may take some time to break down the clumps of the xanthan gum. It's used to thicken the mixture.

The mixture will begin to boil and become thick.

Once you have whisked away the clumps (be patient, it may take time), remove the mixture from heat. Pour the fudge into a measuring cup, or a cup with a spout. This will make it easier to transfer the mixture to the popsicle mold.

Pour the fudge into each of the molds. Top the mold with the cover and insert popsicle sticks into each. Ensure the stick adheres to the fudge and is properly inserted.

Freeze for a minimum of 6 hours. The longer you freeze the popsicles, the harder they will become. Overnight will work best for hard popsicles.

Run the molds under hot water to release the popsicles. It may take some depending on how long they have been frozen.
Notes
Fudge bars aren't typically overly sweet. If you prefer sweet fudge popsicles, be sure to taste the mixture repeatedly and adjust to your taste.
When recalculating your macros, be sure to REMOVE sugar alcohols from your calculation.
This recipe includes the exact amount of ingredients to fit the 10 count popsicle mold linked in the recipe. If you spill some of the fudge mixture (this has happened to me several times) you may need to re-make a small amount of the mix to compensate.
Recipe Tools Used in this Recipe
As an Amazon Associate I earn from qualifying purchases.
Nutrition (displayed with net carbs)
Serving:
1
popsicle
|
Calories:
129
kcal
|
Carbohydrates:
1
g
|
Protein:
1
g
|
Fat:
14
g
10 Ingredients or Less Keto Cookbook
Grab the Digital Cookbook here!
Get our FREE Printable Keto Grocery List here.
Click here to grab the grocery list!
Tried this recipe?
Mention @Stay_Snatched or tag #StaySnatched! The recipe instructions noted here are the property of Stay Snatched and subject to copyright. Please do not screenshot and share this recipe on social.
Nutrition Data
Macros are provided as a courtesy and should not be construed as a guarantee. This information is calculated using MyFitnessPal.com. To obtain the most accurate nutritional information in a given recipe, you should calculate the nutritional information with the actual ingredients used in your recipe, using your preferred nutrition calculator. You are solely responsible for ensuring that any nutritional information provided is accurate, complete, and useful.