This post may contain affiliate links. Please read my full disclosure here.
Never miss an Air Fryer recipe! Follow Stay Snatched on Instagram

here
.
Like Stay Snatched on Facebook

here
.
This Air Fryer Beef Taco Fried Egg Rolls recipe is pretty much identical to my Beef Taco One-Skillet recipe. I just added egg roll wrappers! I have made egg rolls a couple of times before. I usually bake them instead of frying. I am so thankful that I can change that with the Air Fryer.
One Serving = 2 egg rolls Calories: 348 Fat: 11G Net Carbs: 38G Protein: 24G
Here is a link to the Air Fryer that I use.
I usually do not cook weeknight dinners. I prep my meals on Sundays in advance so that I have more time to relax in the evenings. Now that I have an Air Fryer, that has changed. It has become so easy to whip up a quick dinner in 30 minutes to less than hour. I came up with this recipe on a weeknight with plenty of time to spare in the evening.
This recipe makes a great dish for Taco Tuesday or game days. The first game of the season is coming up tomorrow night for Thursday Night Football starring my Kansas City Chiefs! I can't wait! The egg rolls will pair nicely along side tasty wings and dips. If you are looking to serve these as an appetizer, use less filling per egg roll. I prepared these for dinner. Two egg rolls made a very tasty entree.
To roll, close the wrapper diagonally, and then close the sides in as triangles. Use a cooking brush dipped in water, or wet hands to seal the wrapper. Do not overstuff these! Use your judgment and do a couple of test rolls to gauge how much filling to use. Do you see the egg roll in the very back of the photo above? This was the first guinea pig. I overstuffed it and decided to leave it and placed a couple of toothpicks along the edge to hold it together. 🙂
These egg rolls remind me a lot of my Beef and Cheese Empanadas recipe. Be sure to check it out as well.
Don't have an Air Fryer? You can also bake the egg rolls using parchment paper on 425 degrees for 20 minutes.
Do not forget a dipping sauce for these. Salsa and guacamole work out well. Check out my recipe for homemade guac here.
Pin Me 🙂

Follow Stay Snatched on Instagram
Like Stay Snatched on Facebook
Follow Stay Snatched on Pinterest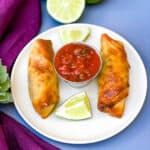 Air Fryer Beef Taco Fried Egg Rolls
Air Fryer Beef Taco Fried Egg Rolls are a quick and easy, low-fat recipe loaded with lean, ground beef and cheese perfect for game days and Taco Tuesday.
Ingredients
1

pound

93% lean ground beef

16

egg roll wrappers

I used Wing Hing brand

1/2

onion

chopped

1

can

Cilantro Lime Rotel

1/2

can

fat-free refried black beans

1/2

packet

Taco Seasoning

I used Trader Joe's

1

cup

reduced-fat shredded Mexican Cheese

1/2

cup

whole kernel corn

I used frozen

1

tbsp

olive oil

2

garlic cloves

chopped

salt and pepper to taste

1

tsp

chopped cilantro

optional
Instructions
Preheat Air Fryer to 400 degrees.

Spray a skillet with cooking spray on medium-high heat. Add the garlic and onions. Cook until fragrant.

Add the ground beef, salt, pepper, and taco seasoning. Cook until browned while breaking the beef into smaller chunks.


Add the Rotel, beans, and corn. Stir to ensure the mixture is combined.


Lay the egg roll wrappers on a flat surface. Dip a cooking brush in water. Glaze each of the egg roll wrappers with the wet brush along the edges. This will soften the crust and make it easier to roll.

Load the mixture into each of the wrappers. For egg rolls of this size, double wrap them. This is optional. If you prefer not to double wrap, you will only need a total of 8 wrappers. Sprinkle each wrapper with cheese.

Fold the wrappers diagonally to close. Press firmly on the area with the filling, cup it to secure it in place. Fold in the left and right sides as triangles. Fold the final layer over the top to close. Use the cooking brush to wet the area and secure it in place. Spray each egg roll with olive oil.

Load the egg rolls into the pan of the Air Fryer.

Cook for 8 minutes. Flip the egg rolls. Cook for an additional 4 minutes. Sprinkle with cilantro. Cool before serving.
Recipe Notes
Do not overstuff these! Use your judgment and do a couple of test rolls to gauge how much filling to use. If you overstuff, you can use toothpicks to secure.
Use your judgment to determine how long you should cook these in the Air Fryer. You will want to ensure both sides are golden brown. Cooking time may vary depending on the Air Fryer brand used.