This Rastelli's Meat and Seafood Delivery Honest Review will provide you all of the information related to what comes in a box, plans and prices with how much a box costs, where the meat comes from and provides you recipes to pair with your grass-fed meat subscription.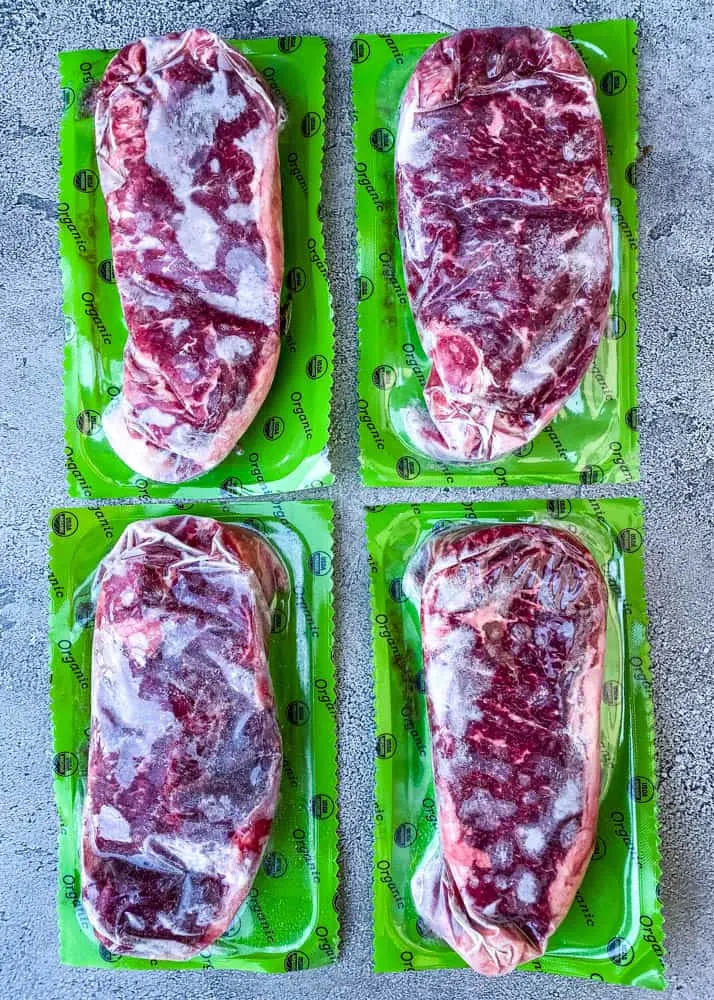 I received the products mentioned in this post for free from Rastelli. This post also contains affiliate links and I will be compensated if you make a purchase after clicking on my links.
Why Grass-Fed Beef and Wild-Caught Seafood?
What's all the fuss about with eating grass-fed, organic beef? Lately, you may have heard a lot about how grass-fed beef is healthier and that we should be eating free-range organic chicken. But, what does this all mean?
Grass-fed, organic beef is meat that comes from cows that have grazed only on grass for their entire lives. According to Nutritious Life, the meat from cows that only eat grass contains two to three times the amount of conjugated linoleic acids (CLAs) compared to grain-finished beef. CLAs are healthy fats that have been proven to reduce cancer risk, reduce cardiovascular disease risk, and improve cholesterol levels.
If you've ever heard the term "cage-free" that may be helpful in understanding free-range, organic chicken. Free-range means the chicken had access to outdoors and did not spend its life inside a cage. Organic chicken has been fed an organic feed that is free of pesticides and chemicals.
Wild-caught fish consume a natural diet and are lower in calories and fat. Farmed fish means antibiotics and food coloring (to give it a pink color) are used. This adds harmful chemical additives to the fish.
Where can you find these types of meats? Years ago, I feel like Whole Foods was our only option. Even with their merger with Amazon, I still find Whole Foods to be really pricey.
Sprouts is also another option that is available in most large cities. Sprouts is usually a little less expensive than Whole Foods.
Trader Joe's is my favorite local store for organic meats. Their price points are the lowest of the two I mentioned above.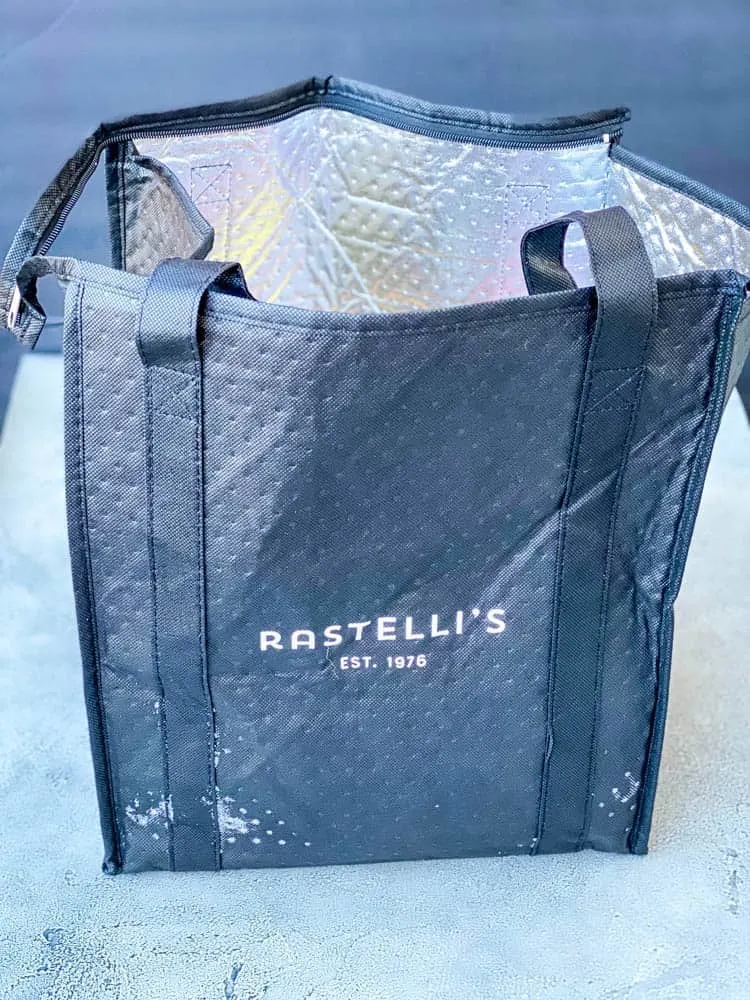 What is Rastelli's Meat and Seafood Delivery
Rastelli's is an online meat delivery service. All meat is premium and is 1) Antibiotic-free, steroid-free, and hormone-free, 2) Sustainably raised wild seafood, 3) Grass-fed beef, or 4) USDA Certified Organic Chicken.
You choose the monthly box/plan you would like to receive. You can switch it up however you like to suit your needs.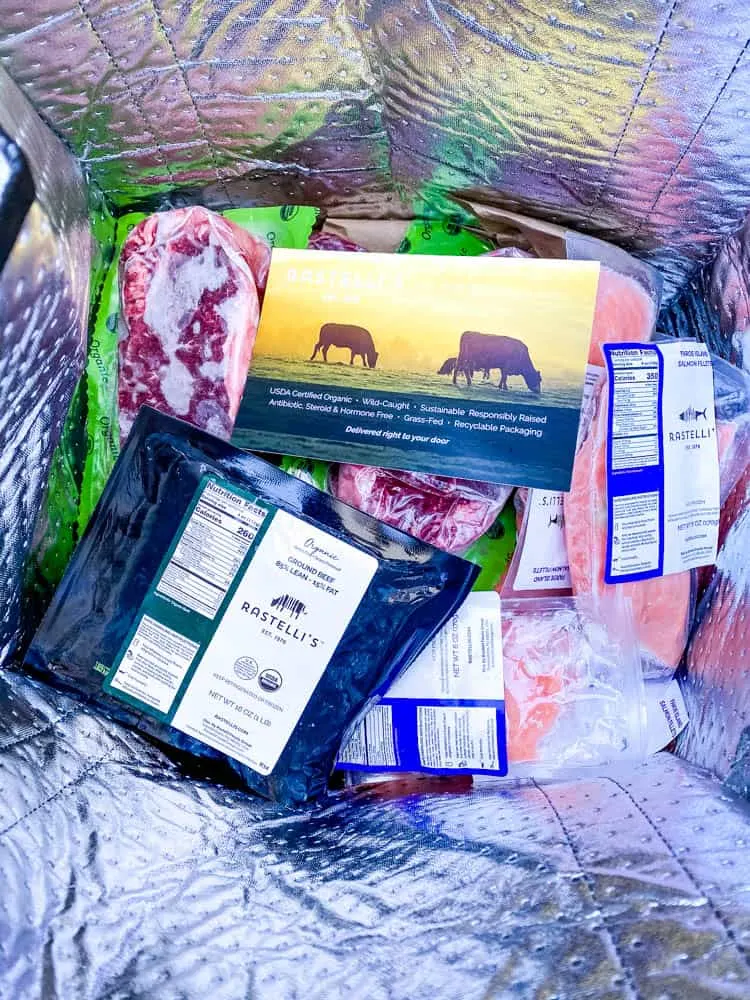 How Much Does Rastelli's Meat Delivery Cost?
They provide base plans that range anywhere from $89 to $269 which is for the Surf and Turf box.
I love beef and seafood, so I opted for the Keto Beef and Salmon Plan. It cost $129 for 16 servings, which runs $8.06 per serving.
Ultimately, pricing will vary based on the plan you select, but they always provide free shipping. Your selection is delivered to your doorstep!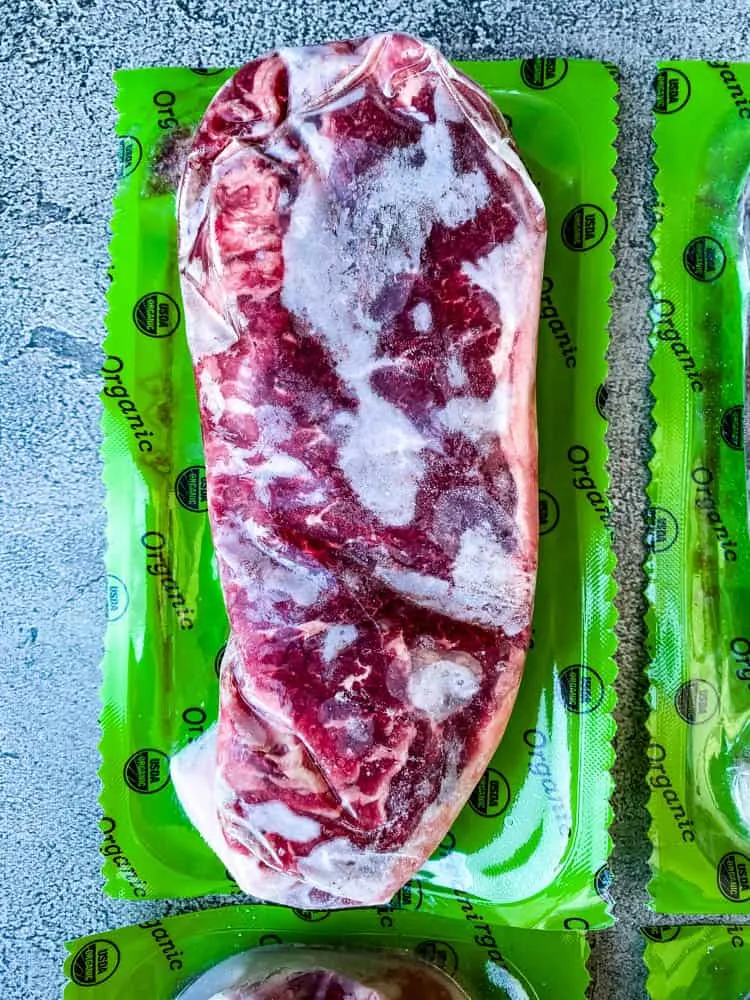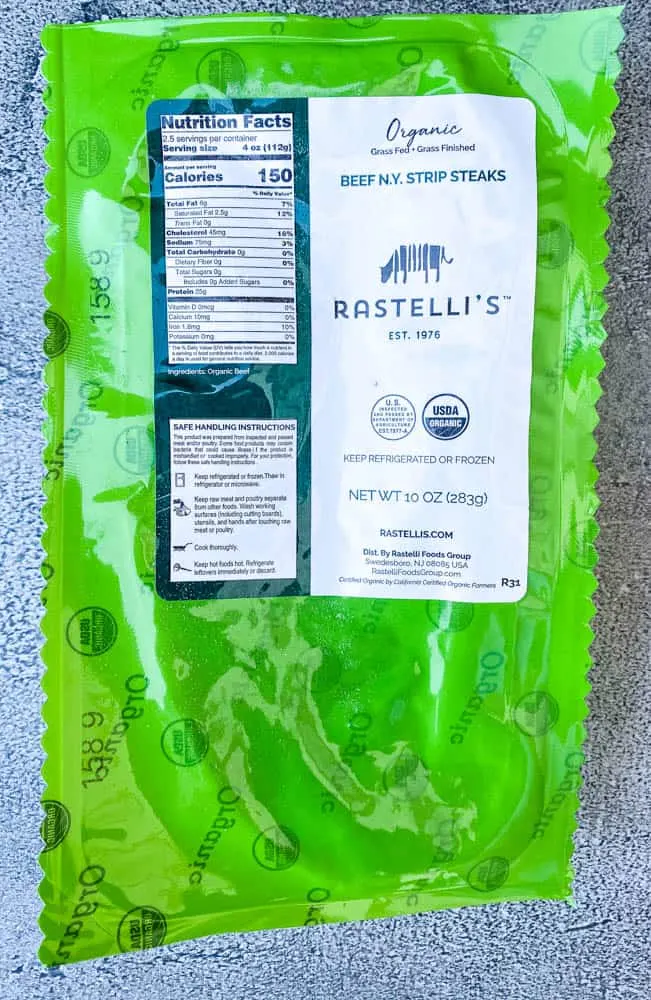 What Comes in the Delivery?
With the Keto Salmon and Beef Plan I received the following:
2 16oz of Organic Ground Beef
4 10oz New York Strip Steaks
6 6oz Salmon Filets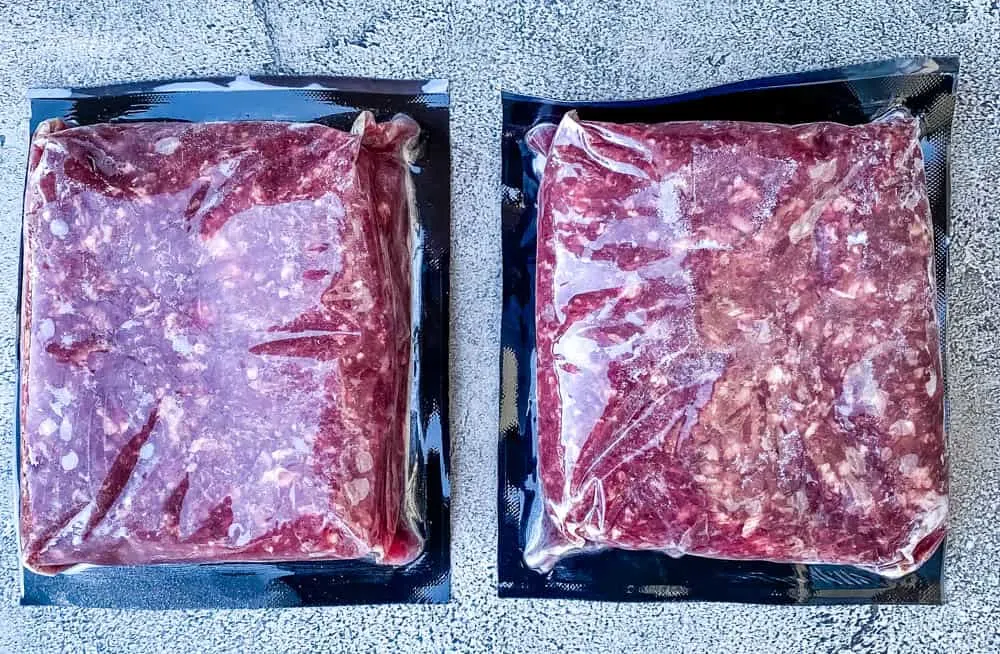 Where Does Rastelli's Meat Come From?
The company requires affidavits from their farmers certifying that there are no antibiotics, steroids or hormones used when raising the animals. They have designed, built, and operate their own facility, to have control over every step of the process.
All of the beef (except ground beef) is aged in-house. The aging process naturally breaks down enzymes in the meat and reduces exterior moisture levels, condensing more flavor inside each cut.
The wild-caught seafood is sourced from around the world, caught by fishermen in the natural environment. The Faroe Island Salmon is sustainably raised in the wild – where fish are raised in a controlled environment in the Atlantic – fed a specific diet harvested from their natural surroundings (no dye pellets here)!
The antibiotic-free beef is fed a vegetarian diet – and corn finished for 120 days for great marbling and tender, flavorful beef. All cattle are black angus and born and raised in the Midwestern USA.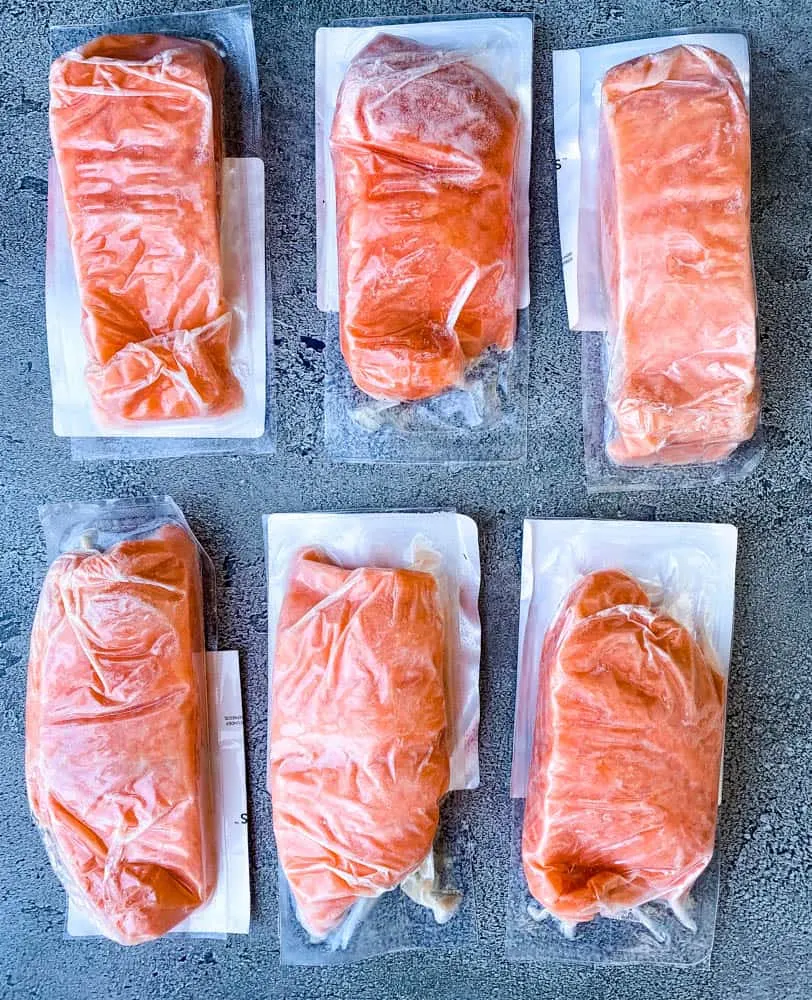 Pros
You can't beat getting organic meat delivered right to your doorstep! I'm the person who would rather take advantage of free Amazon Prime shipping and order a product right on my phone than to venture into Target. It's just easier when products come to you.
They offer SEAFOOD! A lot of organic meat deliveries don't offer seafood, and it's a huge part of my diet.
Shipping was fast! I received my order within days.
It works well for a family of any size. You have direct control of how often you would like to receive your selections.
The meat and salmon tastes amazing! There's definitely a difference in the taste of quality meat.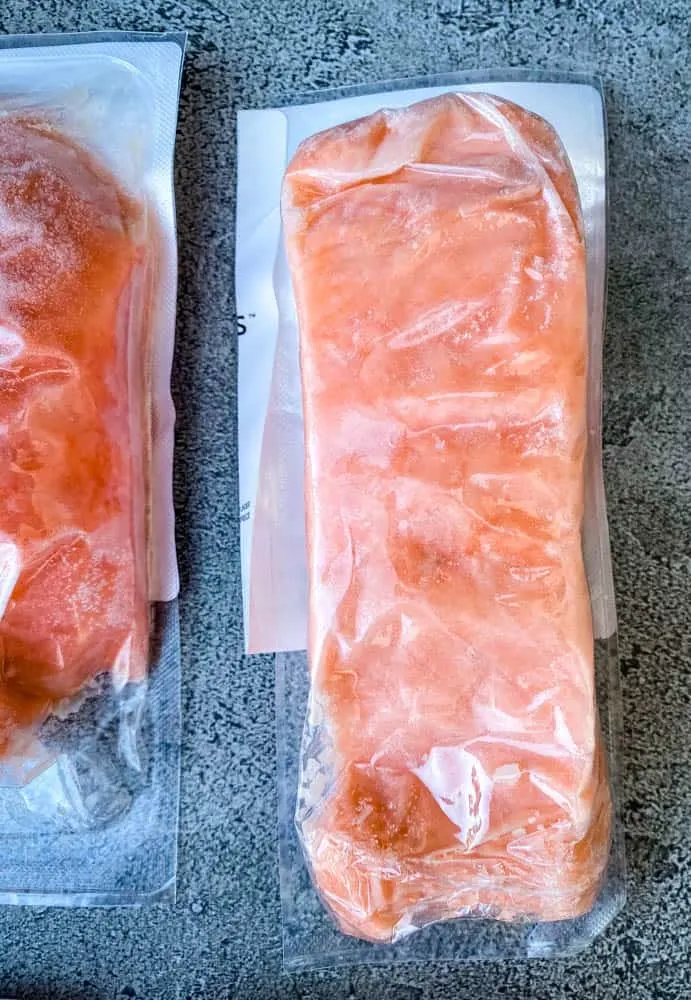 Cons
If you slack on your cooking you may not use up all of the meat. This is a disadvantage whether you use Rastelli's or not. Focus on simple and easy recipes like the ones I linked below!
The add-ons can add up in terms of cost, if you want to add additional items to a standard box/plan.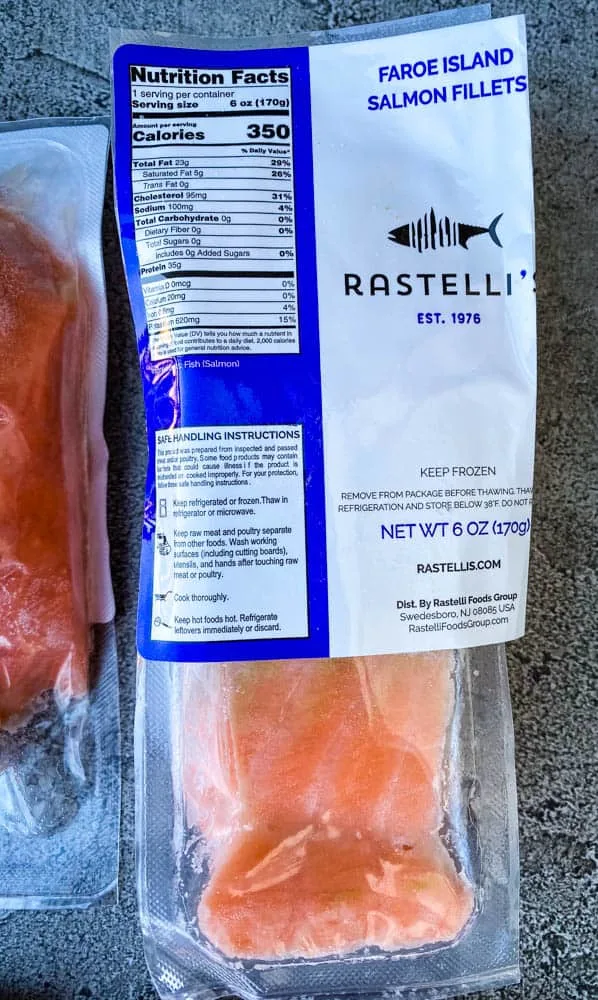 Should You Try It?
Absolutely! It's the only meat delivery service I have found that includes seafood as well. They also offer a ton of plans that mix and match food well enough to suit any family's needs.
How to Sign up
Click here to sign up and check out their plans. You can use code RASTELLIS15 for savings!
Popular Recipes to Try
Air Fryer Steak
Air Fryer Salmon
Pan Seared Salmon
Keto Low-Carb Stuffed Chicken
Keto Bacon Cheeseburger Casserole