Keto Low-Carb Smothered Pork Chops is a quick and easy pan-fried and seared recipe that uses either boneless or bone-in pork loin chops. This classic, southern dish is made using a cast-iron skillet to produce breaded chops with brown gravy. The traditional, glazed meal has been transformed into a keto-friendly dish. You can also bake or grill the pork chops, and throw in mushrooms if you wish!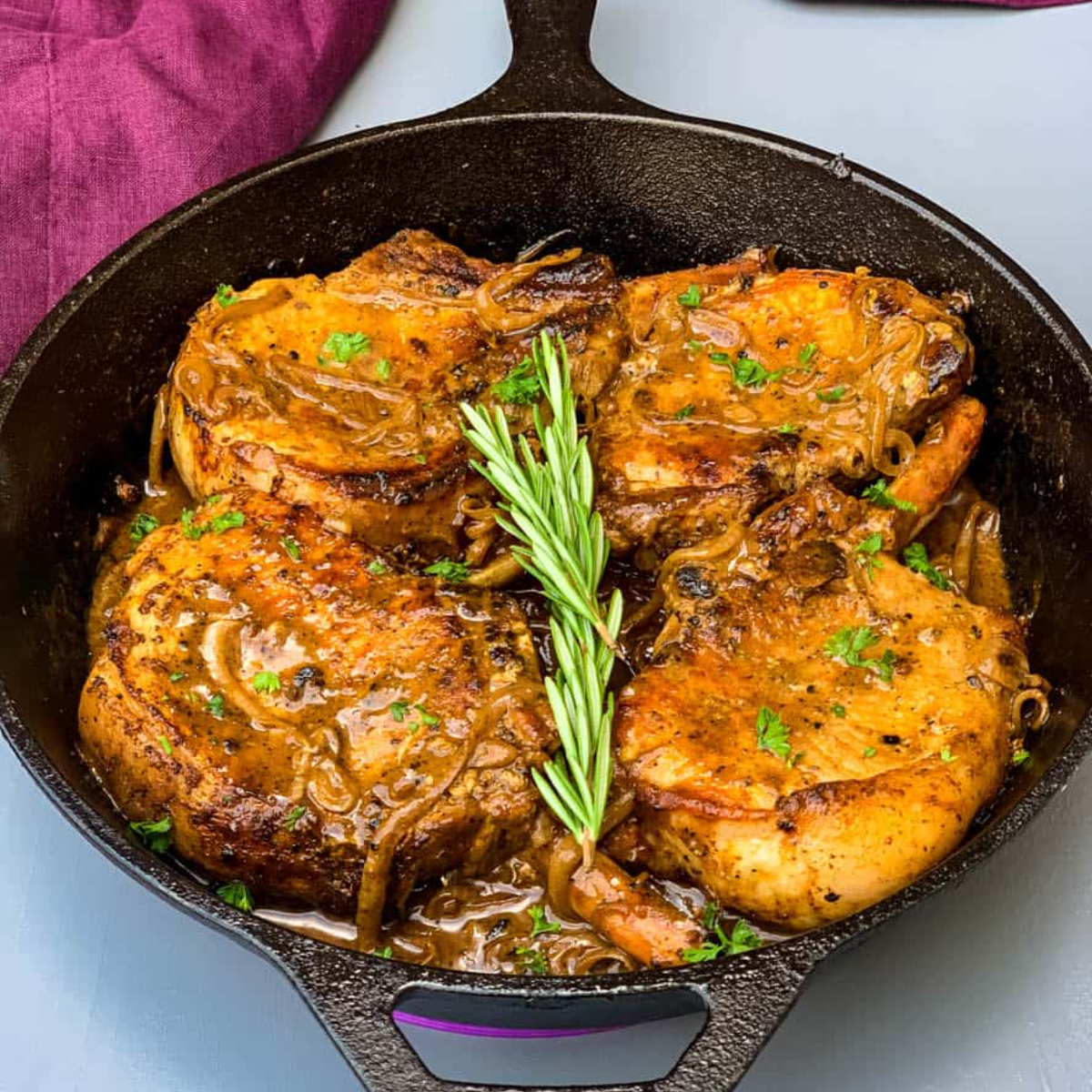 This post contains affiliate links. Please read my full disclosure here. As an Amazon Associate I earn from qualifying purchases.
FOR THE FULL LIST OF INGREDIENTS AND COMPREHENSIVE INSTRUCTIONS, PLEASE SEE THE RECIPE CARD AT THE END OF THIS POST. BEFORE YOU SCROLL, THERE'S IMPORTANT INFORMATION IN THIS BLOG POST.
The Keto Essential Cookbook is available NOW for FREE! For a hard copy, you only pay the shipping and handling. Get over 100+ scrumptious recipes with net carb, fat, protein, and calorie count for every recipe. Click here to purchase yours today!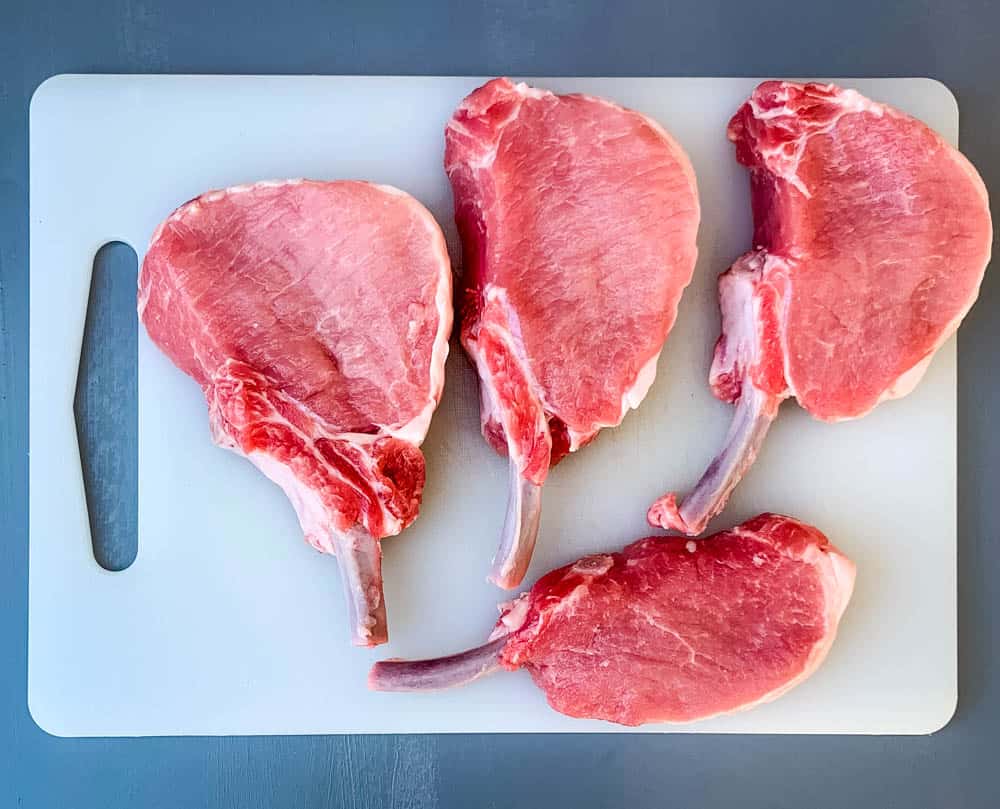 Is Pork Keto Friendly?
Is pork keto approved? Absolutely. Pork is low in carbs and filled with healthy protein. Even if you are more low-carb/Atkins Diet focused pork chops are a great option. The number of carbs in fried pork chops can remain relatively low depending on how you prepare them.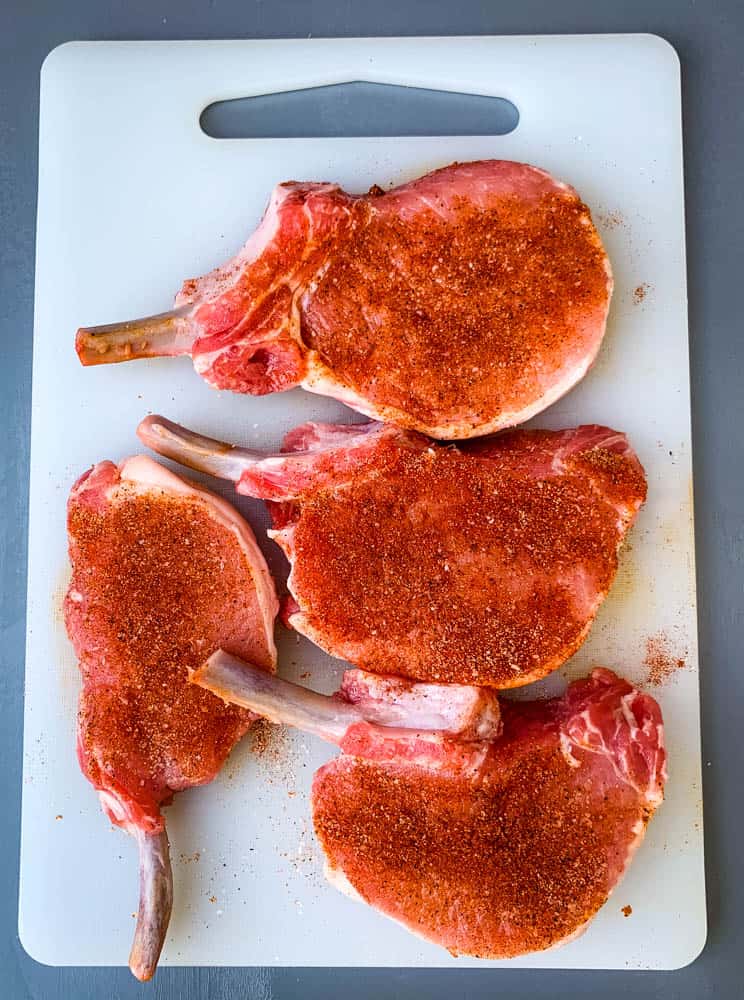 What Type of Pork Chops to Use
You can use whatever type of pork chops you wish. I prefer to use bone-in thick, center-cut pork loin chops. Note, thick cut pork chops will take longer to cook in the skillet.
Thick cut chops are great for pan-searing, grilling, and broiling. They are about an inch to an inch and a half thick.
I typically use thick-cut because thin pork chops (especially breakfast chops) will cook really fast, it's easy to overcook them. This results in dry pork chops. Thin pork chops are about 1/8 to 1/4 of an inch thick and are great for frying (because they cook so fast). Thin chops are sometimes labeled cutlets.
You can read more about Thick Cut Vs Thin Pork Chops here.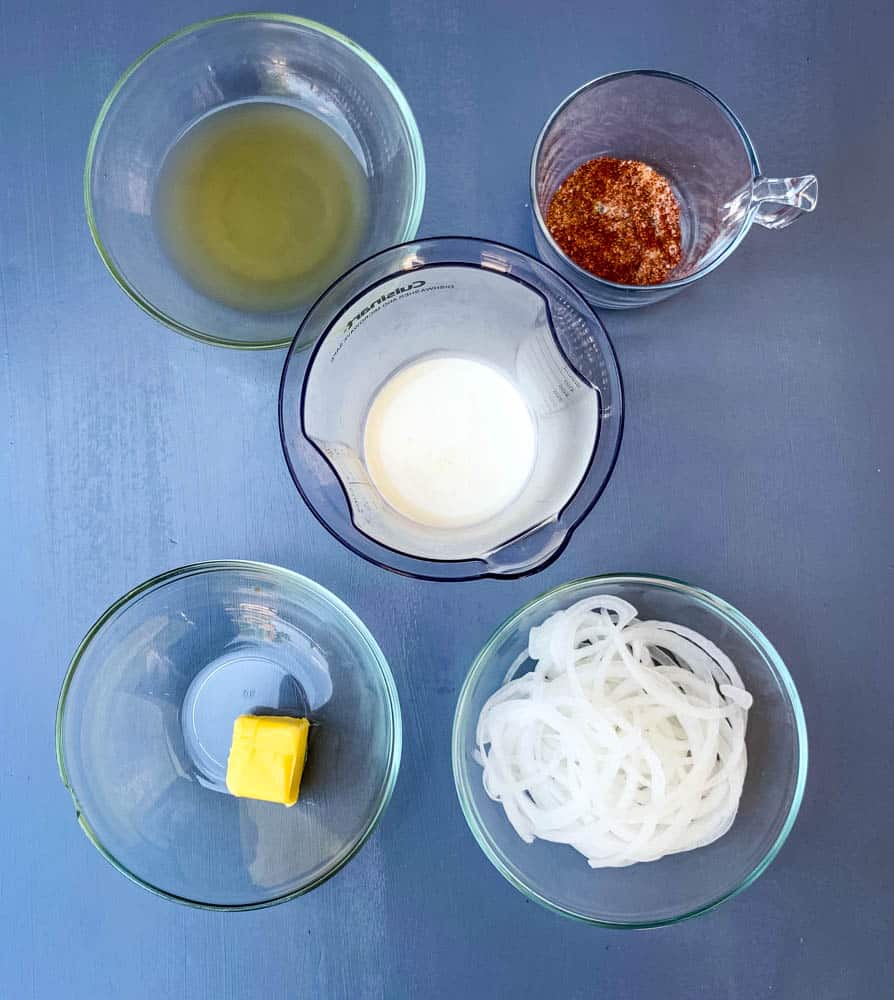 Boneless vs Bone-In Pork Chops
Boneless pork chops are a lot more convenient. Bone-in chops usually have more flavor. Boneless chops are leaner because most of the fat has been trimmed away. These will cook very quickly.
Rib chops are the most common of the bone-in chops. The chops have a curved bone. Most grocery stores will have it. Rib chops are less expensive than boneless or center cut chops. They also have the least amount of meat per chop. If you are looking for a super quick meal using bone-in chops this may be your best option.
Center cut chops are also called loin chops have a bone that resembles a "T." They are more expensive and usually larger in size. Center cut chops usually have the most meat and will yield the longest cook time.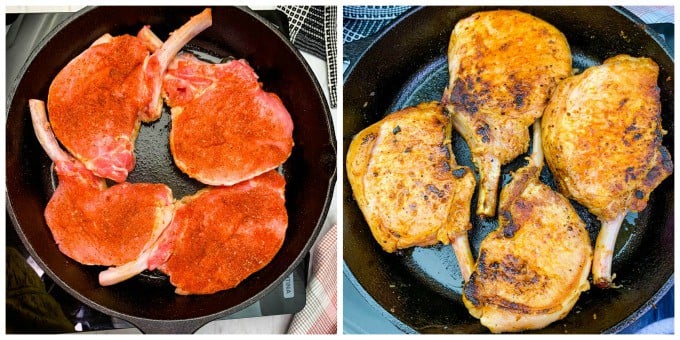 How to Cook Keto Style Bone-in or Boneless Pork Chops
Season both sides of the pork chops.
Add olive oil to a cast iron skillet on medium heat.
Add the pork chops and sear both sides. Remove the pork chops.
Add butter to the skillet with sliced onions. Cook until translucent.
Add broth and heavy cream to the skillet. Stir until the sauce thickens.
Add the pork chops back to the skillet and serve.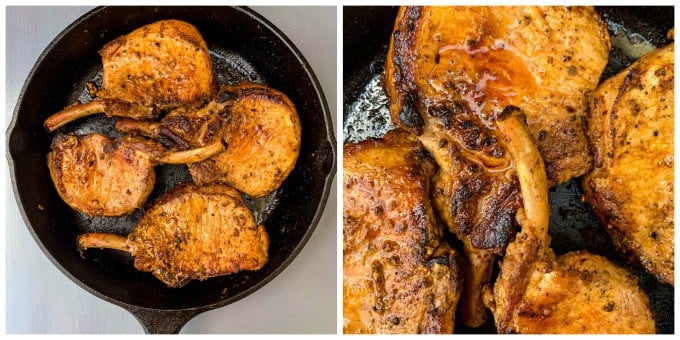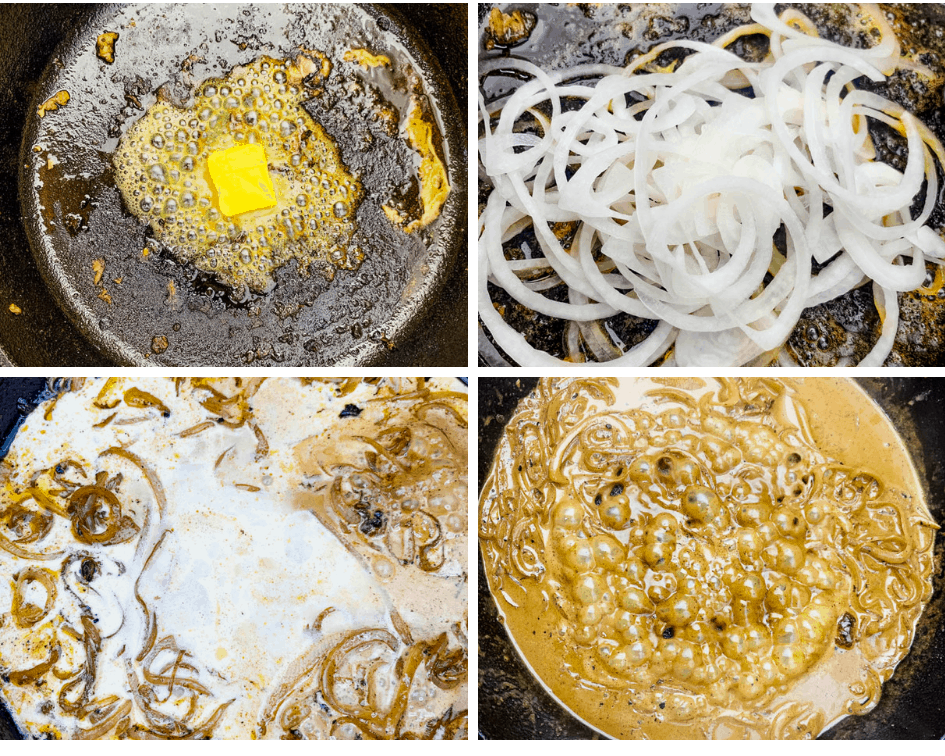 How Long Do Pork Chops Take to Cook?
Cook time will depend on how thick your chops are. As mentioned, I used thick-cut pork chops. They took about 10 minutes to cook, about 5 minutes each side. Always cook pork until it reaches at least a minimum internal temperature of at least 145 degrees. This will produce juicy pork.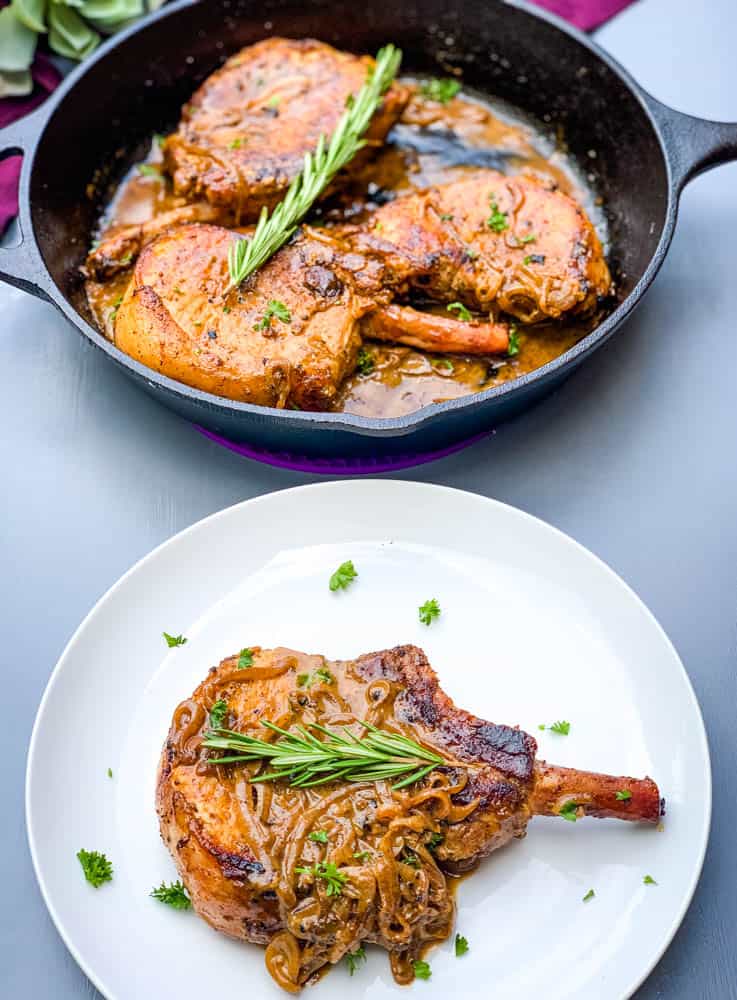 What to Pair With Smothered Pork Chops
Smothered pork chops are typically paired with mashed potatoes or white rice so Keto Cauliflower Mash or Keto Cauliflower Rice are a must!
You can also serve the dish with Air Fryer Roasted Asparagus or Air Fryer Roasted Broccoli.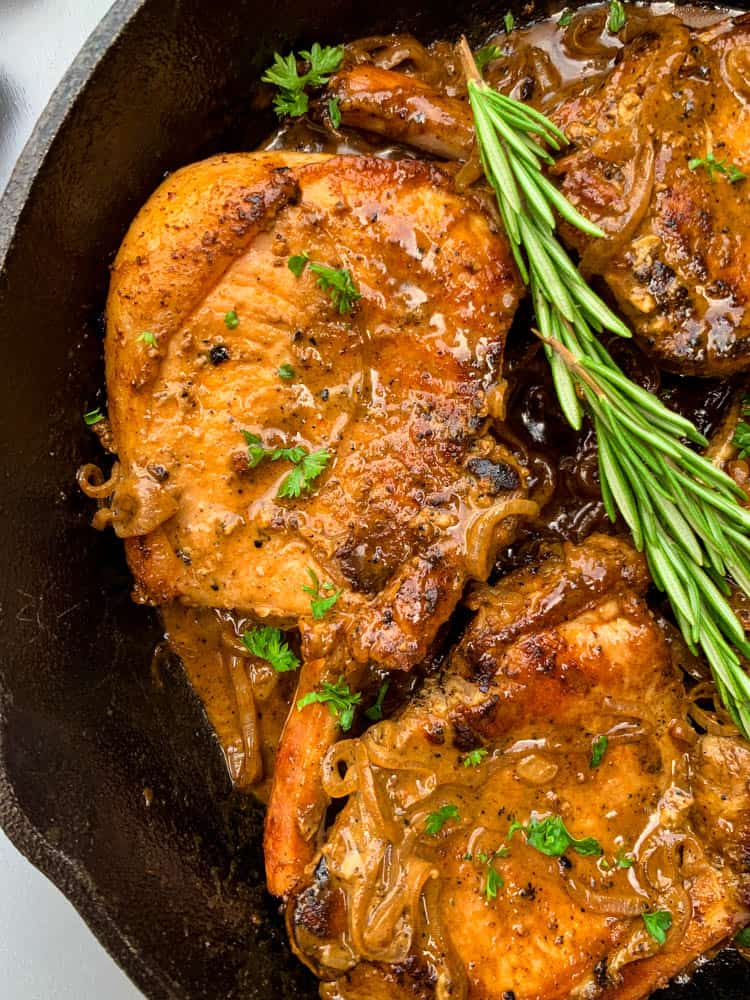 You may also enjoy my Keto Bacon Cheeseburger Casserole, Keto Low-Carb Meatloaf. and Keto Philly Cheesesteak Casserole.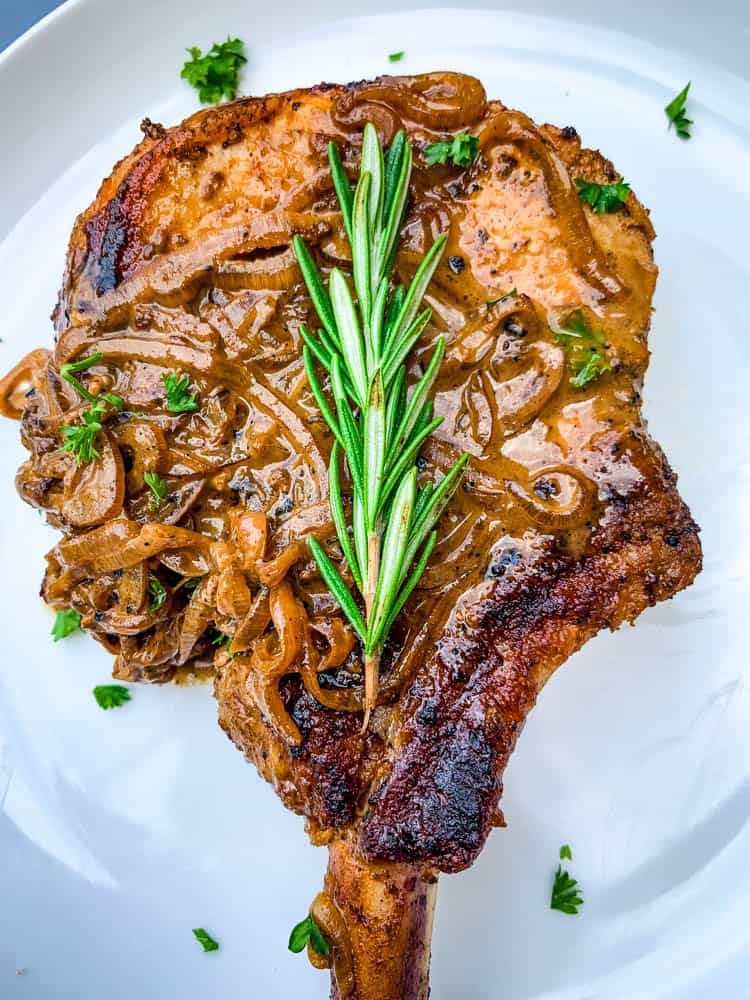 Click here for a complete listing of Keto Low-Carb Recipes.
Keto Low-Carb Smothered Pork Chops
Keto Low-Carb Smothered Pork Chops is a quick and easy pan fried recipe that uses either boneless or bone-in pork loin chops. This classic southern dish is made using a cast-iron skillet to produce breaded chops with brown gravy.
Instructions
Season the pork chops with the garlic powder, paprika, salt and pepper to taste.

Drizzle the olive oil throughout the skillet. Ensure the pan is fully coated with oil.

Add the pork chops to the pan. Cook each side for 4-5 minutes until the pork reaches an internal temperature of at least 145 degrees. Use a meat thermometer. Cook time will vary based on the size of your pork chops.

Remove the pork chops from the pan. Set aside.

Add the butter to the skillet with the onions.

Spread the butter throughout the pan. Cook for 2-3 minutes until the onions become translucent and fragrant.

Add the whipping cream and chicken broth to the pan. Stir.

Cook for 2-3 minutes or until both have become incorporated and the sauce begins to thicken.

Add the pork chops back to the skillet.
Notes
Traditional smothered pork chop recipes usually use more broth, about 1 cup. These recipes also use cornstarch or flour to thicken up the gravy. I find that by using less broth, paired with heavy cream the sauce will thicken on its own.
If you choose to use more broth to produce more gravy, you may have to use more butter or heavy cream to get the sauce to thicken. You can also consider adding a half teaspoon of xantham gum.
A cast iron is used in this recipe because it cooks the pork chops evenly and is great for searing.
A stainless steel skillet is another option for a comparable skillet to use in this recipe. I would not use a non-stick skillet as it will not produce the same results in this recipe.
Recipe Tools Used in this Recipe
As an Amazon Associate I earn from qualifying purchases.
Nutrition (displayed with net carbs)
Serving:
1
pork chop with gravy
|
Calories:
483
kcal
|
Carbohydrates:
4
g
|
Protein:
47
g
|
Fat:
33
g
10 Ingredients or Less Keto Cookbook
Grab the Digital Cookbook here!
Get our FREE Printable Keto Grocery List here.
Click here to grab the grocery list!
Tried this recipe?
Mention @Stay_Snatched or tag #StaySnatched! The recipe instructions noted here are the property of Stay Snatched and subject to copyright. Please do not screenshot and share this recipe on social.
Nutrition Data
Macros are provided as a courtesy and should not be construed as a guarantee. This information is calculated using MyFitnessPal.com. To obtain the most accurate nutritional information in a given recipe, you should calculate the nutritional information with the actual ingredients used in your recipe, using your preferred nutrition calculator. You are solely responsible for ensuring that any nutritional information provided is accurate, complete, and useful.