This post may contain affiliate links. Please read my full disclosure here.
Air Fryer Bang Bang Panko Breaded Fried Shrimp is a quick and easy, healthy, low-fat air-fried shrimp seafood recipe with bread crumbs, sweet chili and Sriracha dipping sauce. This post will outline how to fry shrimp in the air fryer. You can even try frozen shrimp! This recipe makes the perfect appetizer or weeknight dinner.

Click here to order now!
This 14 Day Meal Plan will transform the way you use your air fryer! The plan includes full recipes with calories, fat grams, and ingredients and detailed instructions for breakfast, lunch, and dinner for 14 days. The plan also includes itemized grocery lists and a guide with tips for how to clean your air fryer, how to keep breading intact while frying, and tips on how to cook with a small air fryer. Click here to grab yours today!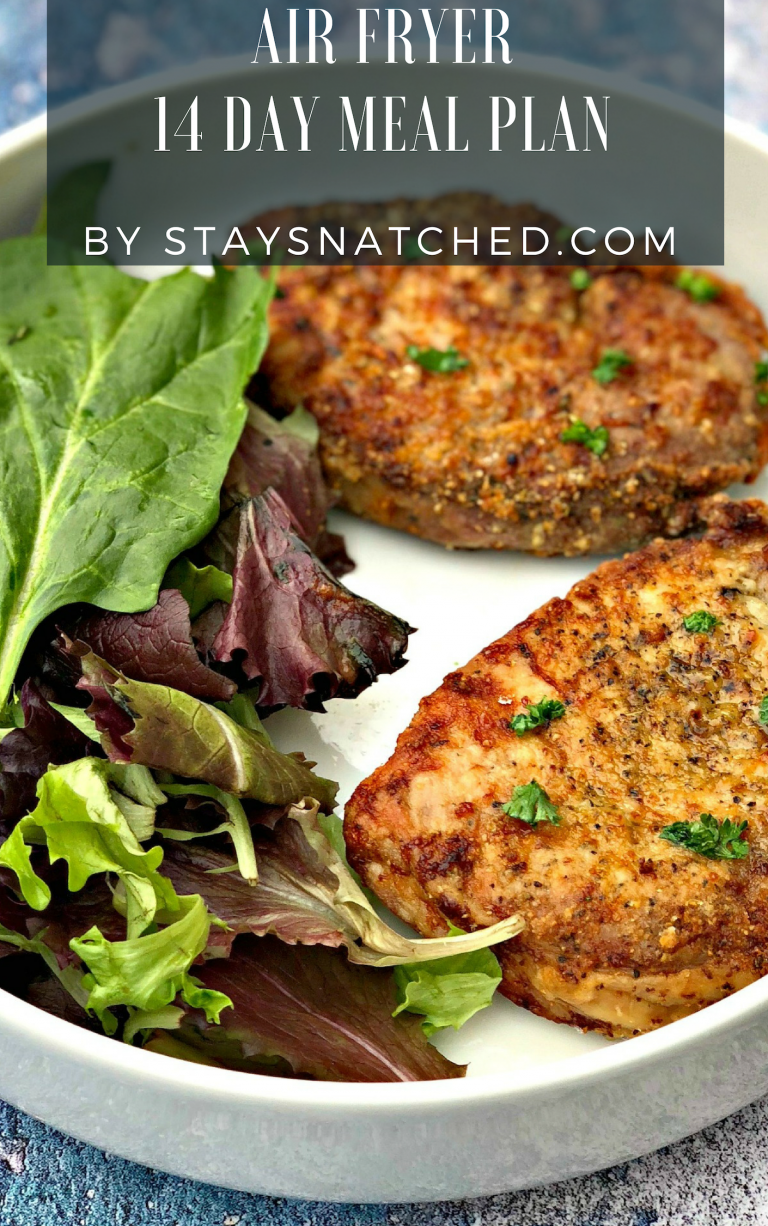 Never miss an Air Fryer recipe! Follow Stay Snatched on Instagram

here

.
Like Stay Snatched on Facebook

here

.
Hello Air Fryer BANG BANG Fried Shrimp recipe! Can you tell that I am excited? I am definitely not trying to hide it. I first had bang bang shrimp years ago at Bonefish Grill Restaraunt. I have not been to the restaurant in ages. At the time the shrimp was their most popular appetizer. This still may be the case, I am not sure.
Calories: 242 Fat: 1G Net Carbs: 32G Protein: 37G
Here is a link to the Air Fryer that I use.
After whipping up my Air Fryer 3 Ingredient Catfish I couldn't wait to test out seafood again in the Air Fryer.
Bang bang shrimp is a recipe that includes crispy fried shrimp that is usually tossed in a spicy, sweet chili sauce. Instead of tossing the shrimp in the sauce, I decided to create a separate dipping sauce. This will ensure the shrimp remains crunchy for as long as possible.
Find the biggest shrimp/prawns that you can! Big shrimp is a major win for this recipe.
Create a cooking station with all-purpose flour, egg whites, and panko breadcrumbs. Dip each of the shrimp in the flour, egg whites, and then the panko breadcrumbs.
The idea for this recipe came to me because I have already prepared chicken and fish in the Air Fryer. I had to add shrimp! Plus, shrimp is very rich in protein. One serving of shrimp for this recipe is about 40 grams of protein and only 1 gram of fat, thanks to air frying. Can you believe that?
I also added plain, non-fat Greek yogurt to the dipping sauce to substitute. Greek yogurt also provides an additional boost of protein.
If you don't have panko breadcrumbs on hand, standard breadcrumbs will work just fine.
Pin Me 🙂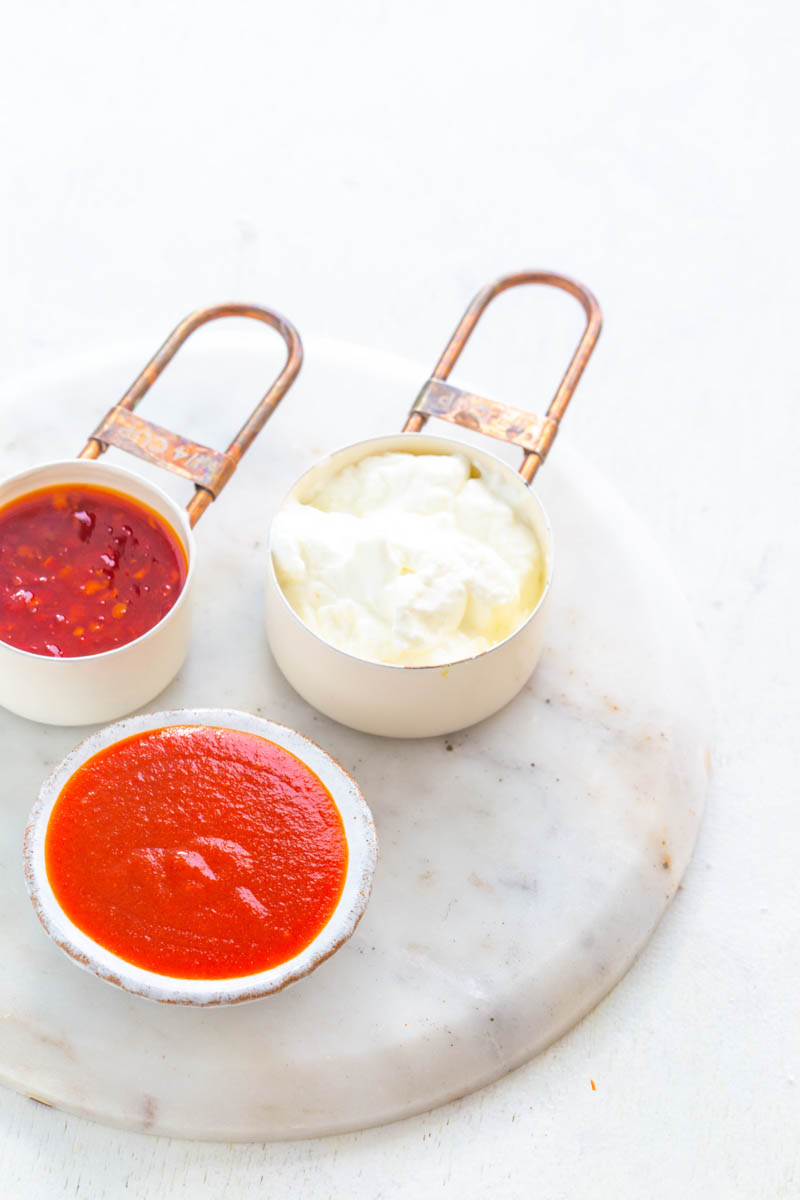 Get your Air Fryer Printable Cooking Charts and Cheat Sheets here! These are great to have on hand for reference. The charts include the cook time for fresh and frozen chicken, beef, seafood and vegetables.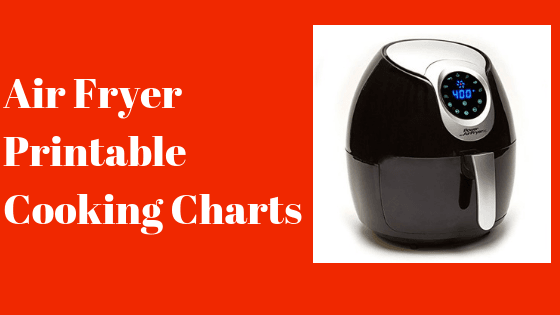 Click Here To Snag Your Printable Air Fryer Cooking Charts
Air Fryer Bang Bang Fried Shrimp
Air Fryer Bang Bang Fried Shrimp is a quick and easy, healthy, low-fat recipe with sweet chili and Sriracha dipping sauce.
Ingredients
1

pound

raw shrimp

peeled and deveined

1

egg white

3 tbsp

1/2

cup

all purpose flour

3/4

cup

panko bread crumbs

1

tsp

paprika

McCormick's Grill Mates Montreal Chicken Seasoning to taste

salt and pepper to taste

cooking spray
Bang Bang Sauce
1/3

cup

plain, non-fat Greek yogurt

2

tbsp

Sriracha

1/4

cup

sweet chili sauce
Instructions
Preheat Air Fryer to 400 degrees.

Season the shrimp with the seasonings.

Place the flour, egg whites, and panko bread crumbs in three separate bowls.

Create a cooking stations. Dip the shrimp in the flour, then the egg whites, and the panko bread crumbs last.

When dipping the shrimp in the egg whites, you do not need to submerge the shrimp. Do a light dab so that most of the flour stays on the shrimp. You want the egg white to adhere to the panko crumbs.

Spray the shrimp with cooking spray. Do not spray directly on the shrimp. The panko will go flying. Keep a nice distance.

Add the shrimp to the Air Fryer basket. Cook for 4 minutes. Open the basket and flip the shrimp to the other side. Cook for an additional 4 minutes or until crisp.
Bang Bang Sauce
Combine all of the ingredients in a small bowl. Mix thoroughly to combine.
Nutrition (displayed with net carbs)