This Tender Juicy Spatchcock Turkey recipe will show you how to cut the backbone from the bird to produce a perfectly butterflied masterpiece. This roasted turkey is ready in no time with an hour and a half of cook time. Thanksgiving and the holidays just got easier!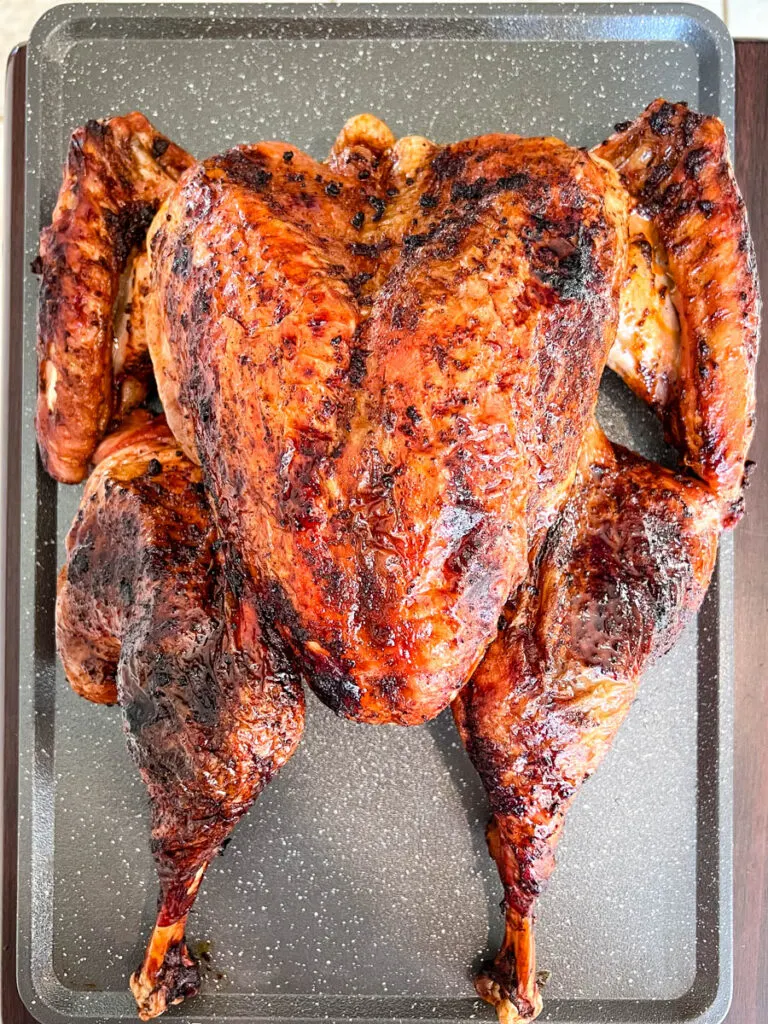 This post contains affiliate links. Please read my full disclosure here.
What is a Spatchcock Turkey?
Have you seen all of those photos of beautiful whole chickens and turkeys on social media and in magazines? The breasts are perfectly cooked and the poultry's legs look perfectly crafted. Spatchcock turkey allows the turkey to cook more evenly on a level surface.
It's a cooking method that will butterfly the turkey and allow it to cook faster. With a regular roasted turkey, you typically run the risk of burning the wings and/or legs much faster than the breasts will cook. This method will help a lot with that!
To do this, you will have to remove the backbone from the turkey. This will open it up and allow it to lay flat. I like to use these cooking shears from Amazon. You can also use a knife, be careful!
You will save at least 2-3 hours in comparison to roasting a turkey in the oven the typical way. This method is also so much better for tender meat! No overcooked turkey.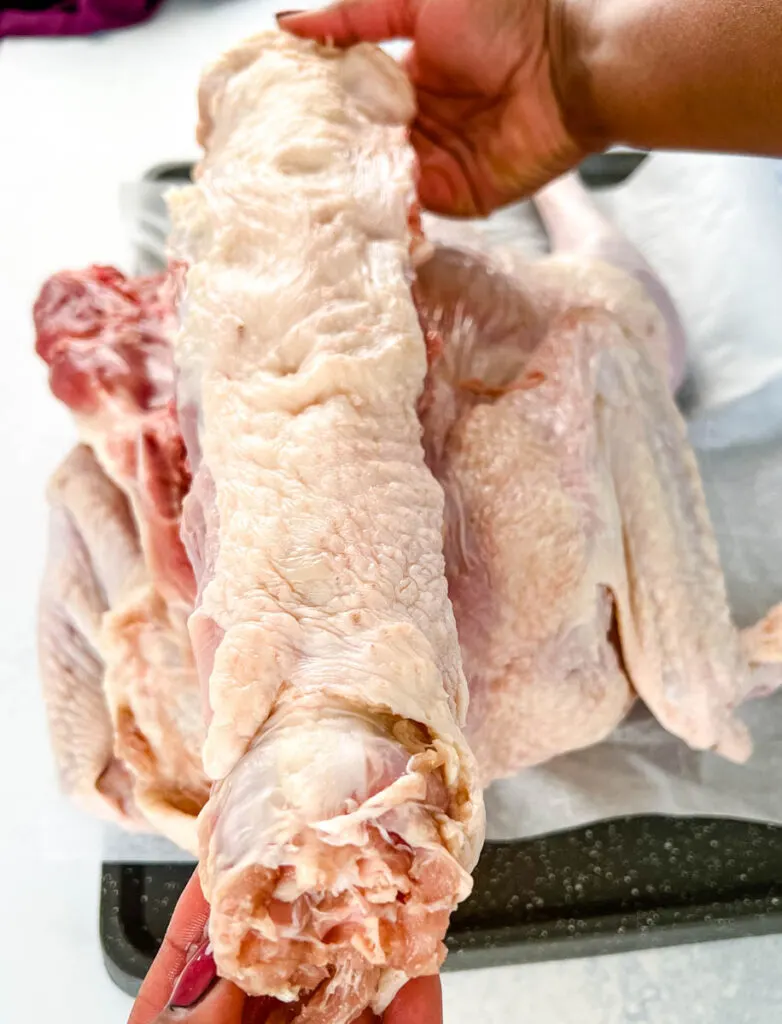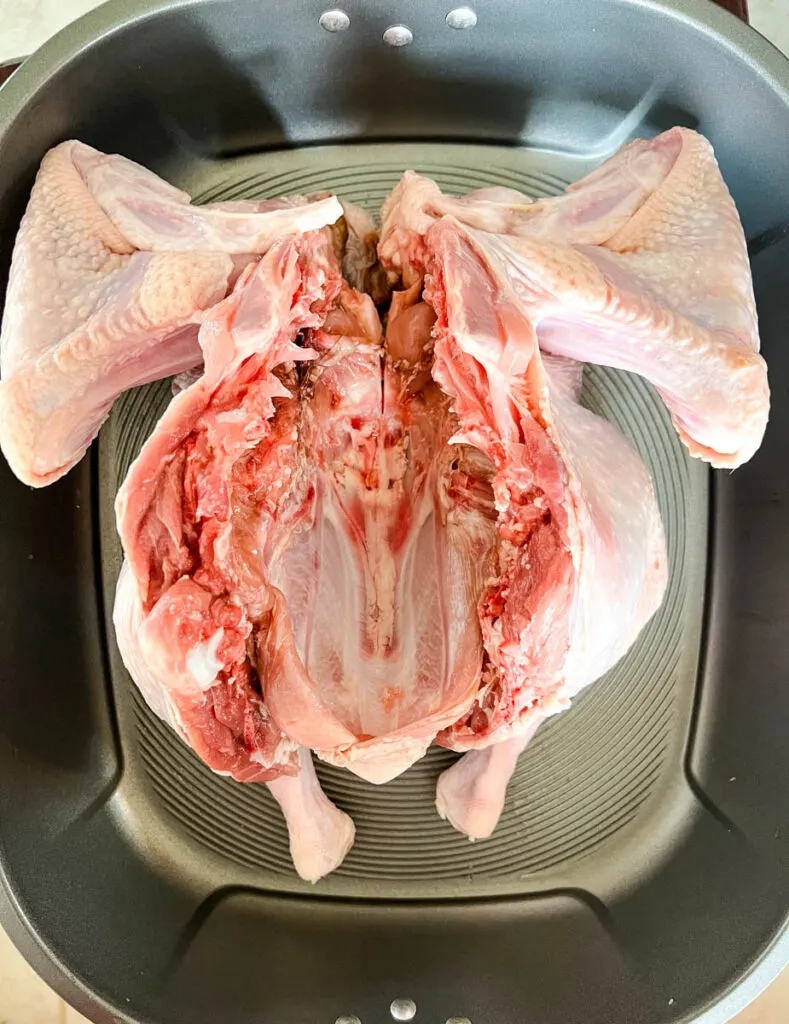 How Big a Turkey Do You Need/How to Plan
The general rule of thumb is 1 pound of turkey per guest. If you have a small party you can even consider a turkey breast. This recipe breaks down the ingredient servings based on the size and weight of the turkey, 12 pounds in this case.
That will make it easy to scale down or scale up the servings you will need of each ingredient, by taking into account the weight of the turkey you are using.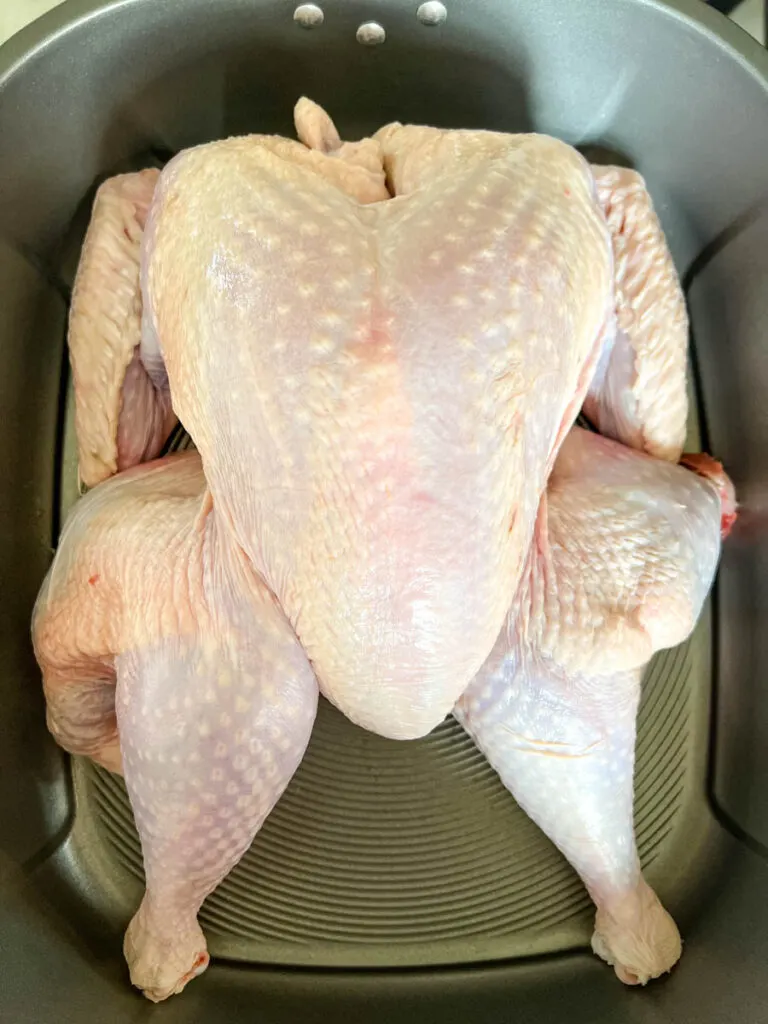 How to Thaw a Turkey
I recommend thawing in the refrigerator or in cold water.
If using the refrigerator, keep the turkey in it's original packaging and place a sheet pan underneath to catch any juices that may leak out.
Here is the safety chart for thawing in the fridge according to the USDA:
4-12 pounds: 1 to 3 days
12-16 pounds: 3 to 4 days
16-20 pounds 4 to 5 days
20-24 pounds 5 to 6 days
Here is the safety chart for thawing in cold water according to the USDA:
4-12 pounds: 2 to 6 hours
12-16 pounds: 6 to 8 hours
16-20 pounds 8 to 10 hours
20-24 pounds 10 to 12 hours
Once thawed, it can stay in the fridge, safely, up to 2 days.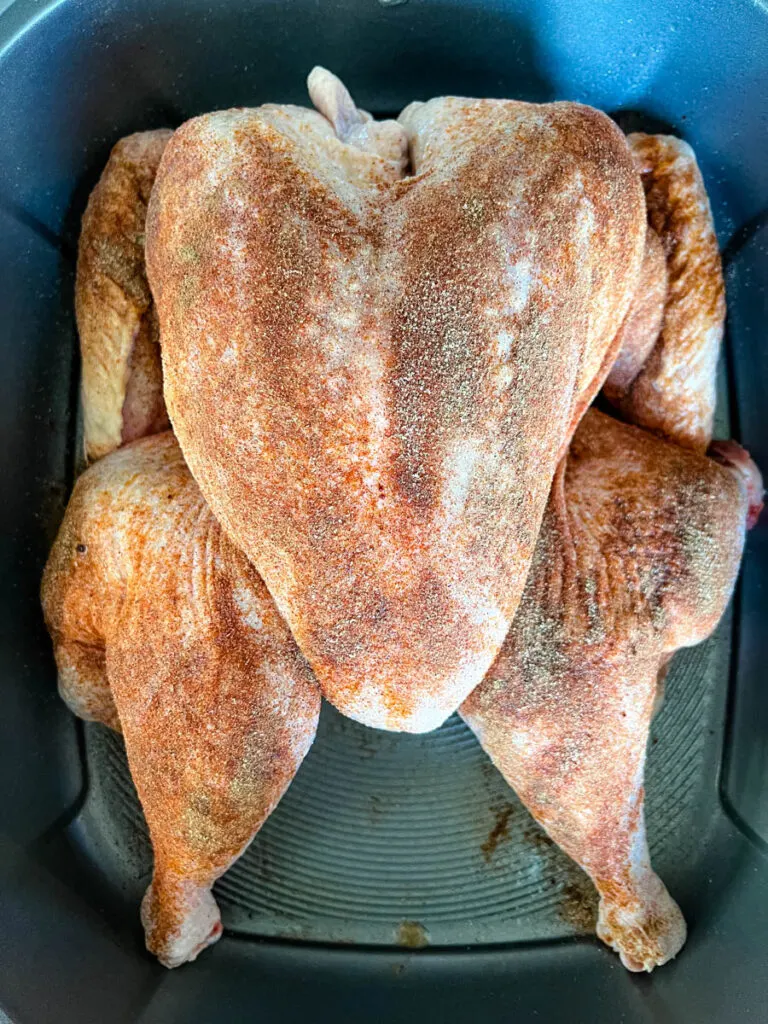 What's the Best Way to Season It
You will need to remove the contents of the inner cavity. Giblets are typically inside. Giblets are the little bundle of parts and usually includes the neck, the gizzard, which is a muscle that grinds up food before it enters the digestive system, the heart, and the liver.
Some people save these and cook them up or make gravy. You can discard if you wish.
Dry the turkey with paper towels. I like the spritz the turkey with olive oil using this spray bottle from Amazon. This will allows the spices to adhere. You can also drizzle it on and rub it in.
If you are injecting the bird with butter, you don't need a ton of olive oil, unless you want it! Getting the skin nice and moist with oil will help produce crispy skin on the turkey.
Then add your spices. I use the following:
Once you have your olive oil on the skin, combine your spices and rub them in all over the bird front and back.
Next, I inject the turkey. I like to use a combination of Tony Chachere's Butter Injection Marinade and Tony Chachere's Garlic and Herb Injection Marinade. I like to use both of them because I like the combination of the butter and herbs for flavor. The butter is necessary if you don't want a dry turkey.
Their kit comes with an injector that you press right into the bird. Per the instructions, you should inject 1 ounce of the marinade per pound of turkey you have. This turkey was 12 pounds so I used 6 ounces of the butter and 6 ounces of the garlic and herb marinade. You don't have to combine two. You can do whatever you wish.
To create your own injection, add 2 tablespoons of melted butter to broth. The amount of broth you will need is 1 ounce per pounds of turkey. From there, you can add whatever seasoning and spices you wish. You can use this injector from Amazon.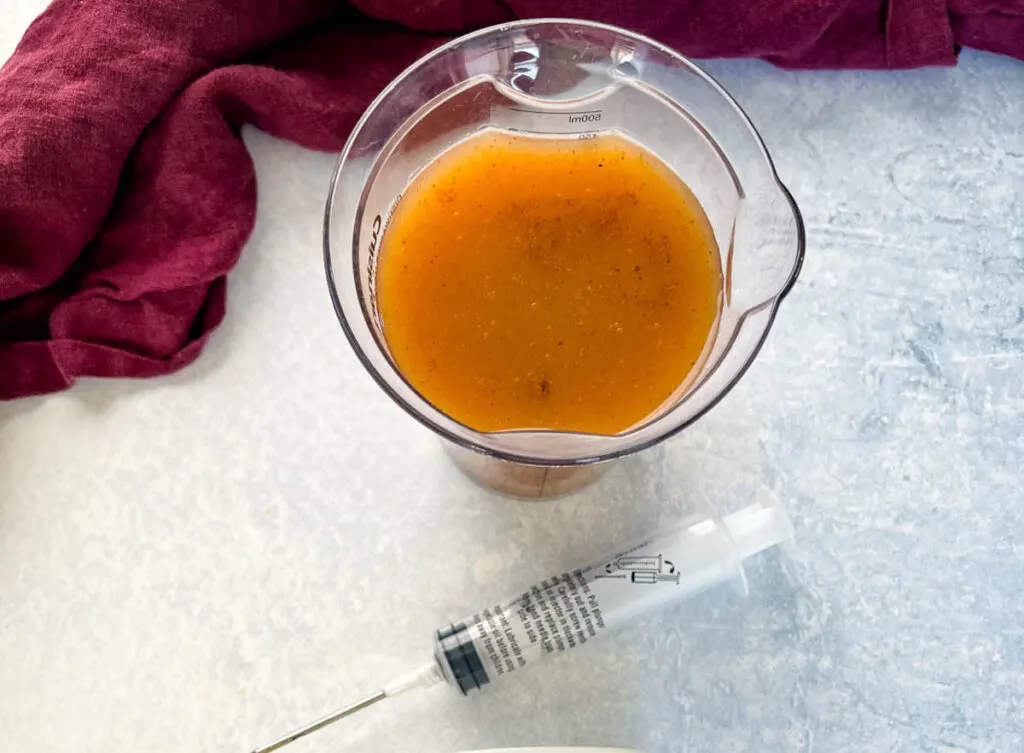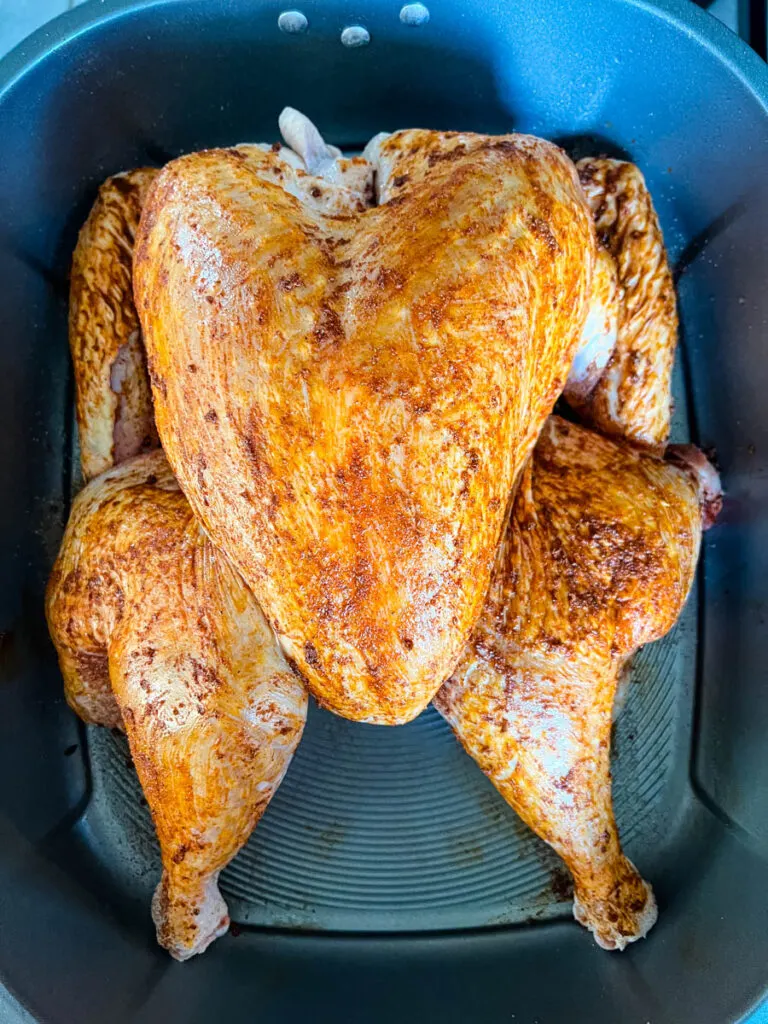 How to Get Crispy Skin
Spatchcocking will get the skin crispy on its own. If you want it even crisper, Broil the turkey for a couple of minutes once it has finished roasting.
What Type of Pan to Use
You will want to use a roaster, and be sure to check the size to ensure it will fit your turkey and the dimensions of your oven.
Here are great guidelines from Metro Kitchen:
| Turkey Size | Minimum Roasting Pan Size |
| --- | --- |
| Up to 12 pounds | 14 x 10 x 2-3/4 inches |
| Up to 16 pounds | 15-3/4 x 12 x 3 inches |
| Up to 20 pounds | 16 x 13 x 3 inches |
How Long to Cook it/How to Know When it's Done
The total time to cook will vary based on the size of your turkey. This 12 pound bird took close to 2 hours. You will need to use a meat thermometer for accuracy. It will need to reach an internal temperature of 165 degrees. A whole turkey is safe when cooked to a minimum internal temperature of 165 degrees.
Check the internal temperature in the innermost part of the thigh and wing and the thickest part of the breast.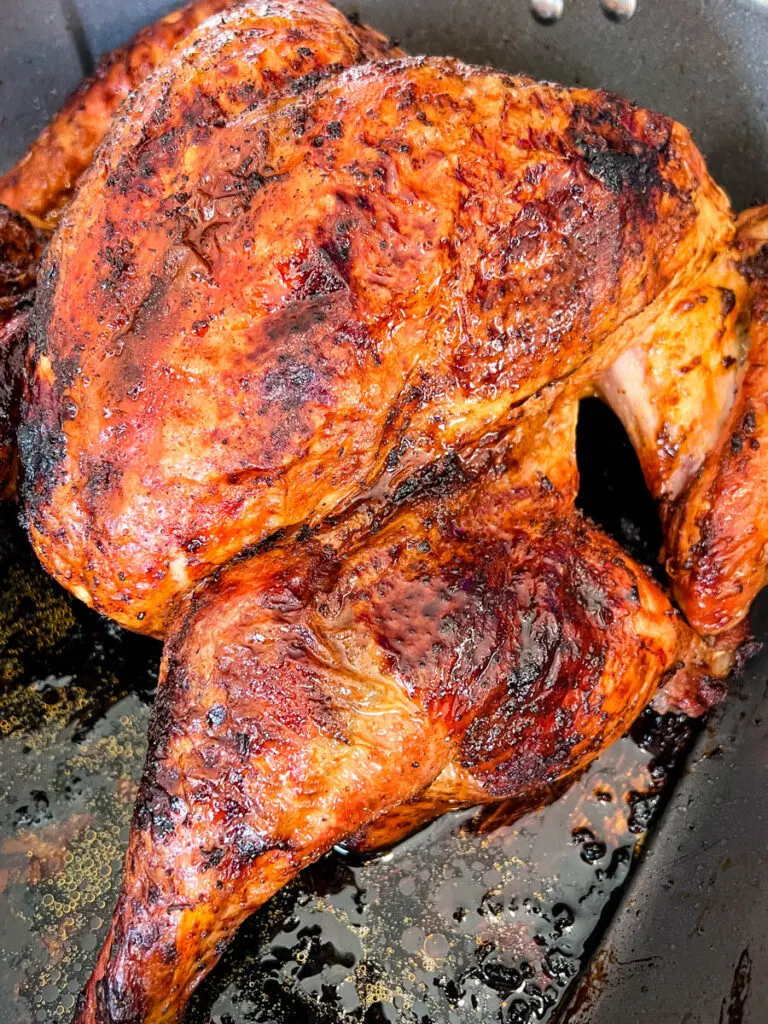 How to Prevent it From Drying Out
A few things can lead to a dry turkey. One cause is constant basting. It sounds like that should help, right? If you're constantly opening the oven door to baste the turkey, you are letting heat out the oven. This means you will need to cook it longer, which will dry it out.
If you inject the turkey with a marinade prepared with something like butter, this helps add moisture directly to the bird. Some people like to stuff butter directly under the skin of the turkey. If you use an injector, you don't need to. You can read more about How to Put Butter Under Turkey Skin here.
Sometimes turkeys are dry because they are huge. It's really difficult to cook a 20+ pound turkey evenly where the entire turkey cooks at the same speed. If you have a huge turkey, some parts may turn out drier than others.
Carving the turkey BEFORE you cook it is another solution to ensure the entire bird cooks at the same speed and temperature.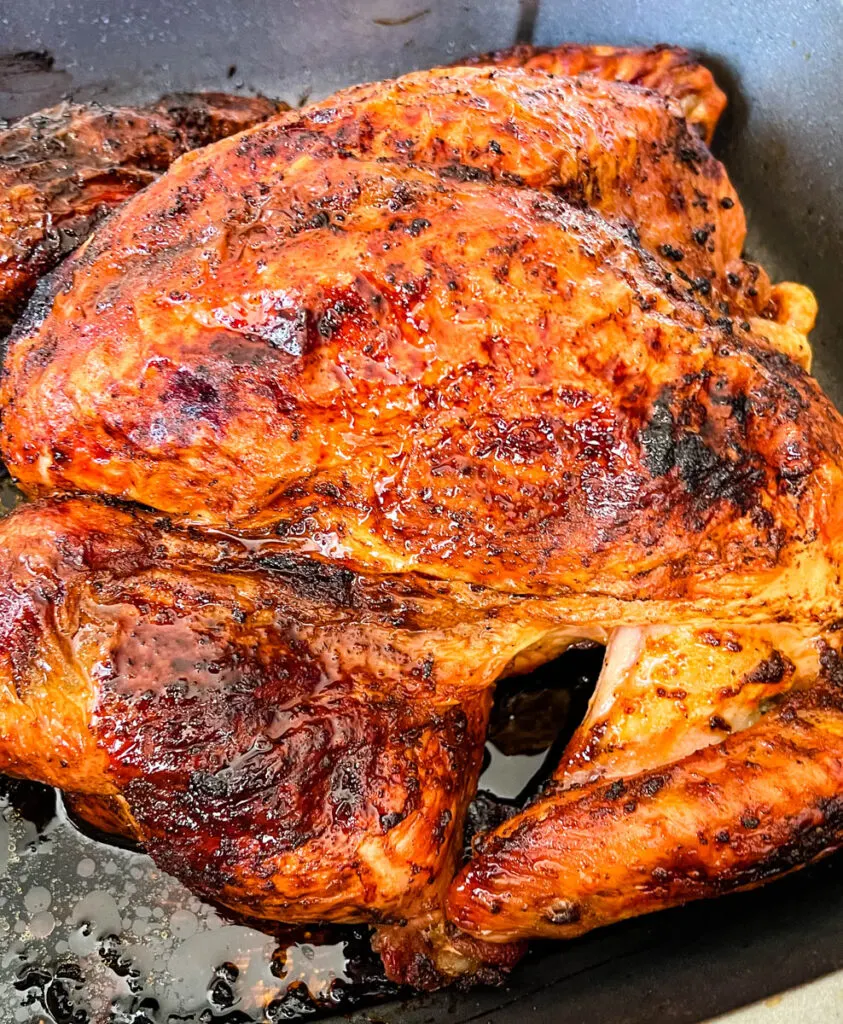 Do You Have to Stuff it?
If you spatchcock the turkey you can't stuff it. (I probably wouldn't anyway lol).
Let the Turkey Rest Before Slicing
Let the turkey stand for 20 minutes before carving to allow juices to set. The turkey will carve more easily. You will also wind up with dry turkey if you slice too soon.
Reheating
Reheat at 325 degrees in the oven until warm. You can also place it in broth to keep it juicy while it bakes.
More Turkey Recipes
Baked Turkey Wings
Slow Cooker Turkey Breast
Cajun Roasted Turkey
Slow Cooker Crockpot Turkey Wings
Crockpot Slow Cooker Bone-in Turkey Breast
Smothered Turkey Wings
Air Fryer Turkey Wings
Air Fryer Turkey Legs
Air Fryer Turkey Breast
Instant Pot Turkey Breast
Stuffed Turkey Legs
Slow Cooker Turkey Legs
More Thanksgiving Main Dishes
Air Fryer Spatchcock Chicken
Lobster Mac and Cheese
Seafood Mac and Cheese
Air Fryer Ribs
Air Fryer Baked Ham
Instant Pot Brisket
Southern Baked Ham With Pineapple
Baked Crab Legs
Thanksgiving Side Dishes to Pair
Soul Food Baked Mac and Cheese
Southern Mustard Greens
Southern Cornbread Dressing
Southern Homemade Classic Cornbread
Sweet Potato Cornbread
Homemade Creamed Corn
Scalloped Corn
Cornbread Casserole
Grand Marnier Cranberry Sauce
Southern Cooked Cabbage
Pair these with our Turkey Graving From Drippings recipe.
Tender Juicy Spatchcock Turkey
This Tender Juicy Spatchcock Turkey recipe will show you how to cut the backbone from the bird to produce a perfectly butterflied masterpiece. This roasted turkey is ready in no time with an hour and a half of cook time.
Save this recipe here.
Saved!
Instructions
Preheat oven to 425 degrees.

Pat turkey dry. Remove all of the contents from the inner cavity.

Place the turkey breast side down and locate the backbone of the turkey. It runs down the middle of the back and below the neck.

Glide your sharp cooking shears or knife along the side of the backbone and cut to remove it. Do this for both sides of the backbone to remove it completely.

Flip the turkey over and flatten the breasts of the turkey you should hear a crack. Turn the drumsticks so that they are positioned properly. I like to tuck the wings back below the breast. This helps keep them from browning quickly and is great for presentation.

Place the turkey on a rimmed baking sheet or roasting pan.

Inject the turkey with the marinade. Focus on areas throughout the entire turkey, the breasts, legs, etc.

Drizzle the turkey with olive oil or I like to use this oil spray bottle that I load with olive oil. It makes it easier to coat the turkey by spraying it on and you will likely use less oil since it's also injected with butter.

Season the entire turkey and rub the spices into the skin.

Roast the turkey for 1 1/2 – 2 hours (depending on size) to cook based on the size.

Check if the turkey has finished cooking by using a meat thermometer. You always want to test the thickest part of the turkey, which is typically between the thigh and leg. Ensure it reaches an internal temperature of at least 165 degrees. I usually test several areas of the turkey to be sure.

Allow the turkey to rest for a minimum of 20 minutes prior to slicing to allow the juicies to settle. If you slice too soon it will result in dry turkey.

Keep the turkey drippings if you plan to make gravy. I combine it with a tablespoon of butter and then start with a tablespoon of flour and add more if necessary to thicken.
Notes
Feel free to season the turkey with any of your favorite rubs.
Ensure the turkey is fully coated with spices. Add additional spices if necessary.
You can use any store-bought injectable marinade or make your own. Here are options: Tony Chachere's Butter Injection Marinade and Garlic and Herb Injection Marinade.

If using an injection marinade you should inject 1 ounce of the marinade per pound of turkey you have. This turkey was 14 pounds so I used about 14 ounces of marinade.
Recipe Tools Used in this Recipe
As an Amazon Associate I earn from qualifying purchases.
Nutrition (displayed with net carbs)
Serving:
1
servings
|
Calories:
326
kcal
|
Carbohydrates:
1
g
|
Protein:
50
g
|
Fat:
13
g
Tried this recipe?
Mention @Stay_Snatched or tag #StaySnatched! The recipe instructions noted here are the property of Stay Snatched and subject to copyright. Please do not screenshot and share this recipe on social.
Nutrition Data
Macros are provided as a courtesy and should not be construed as a guarantee. This information is calculated using MyFitnessPal.com. To obtain the most accurate nutritional information in a given recipe, you should calculate the nutritional information with the actual ingredients used in your recipe, using your preferred nutrition calculator. You are solely responsible for ensuring that any nutritional information provided is accurate, complete, and useful.