Indulge in the rich and smoky flavor of our mouthwatering Smoked Whole Duck Recipe. This tender, perfectly smoked bird is seasoned to perfection using our homemade rub and never disappoints. Serve this dish for Thanksgiving, Christmas, or whenever you need a main dish to steal the show. You can use a Traeger or any smoker or pellet grill.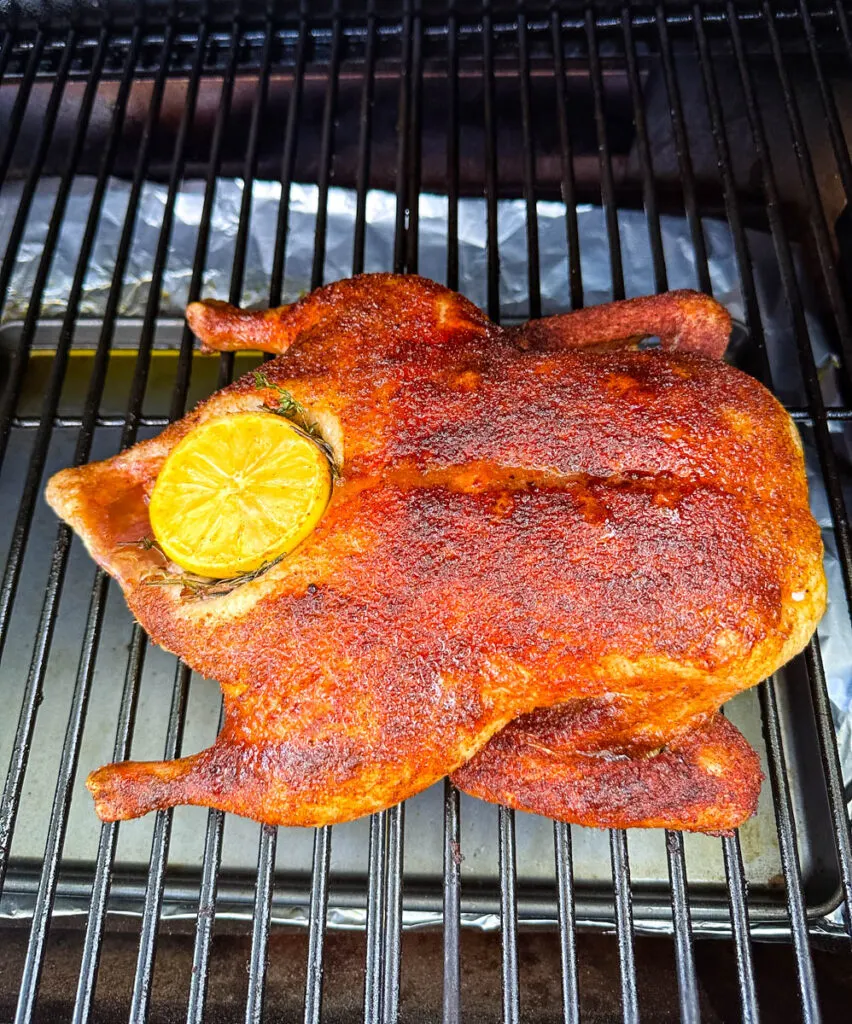 This post contains affiliate links. Please read my full disclosure here.
What Duck Tastes Like
Duck meat has a distinctive flavor. It's known for being rich, flavorful, and slightly gamey. The taste of duck can vary depending on factors such as the duck's diet and how you prepare it. Here are some things to note:
Rich and Savory: It's known for its richness and depth of flavor.
Gamey: It has a slightly gamey taste, some people appreciate this. Some don't.
Fatty: It's fattier than other poultry, like chicken or turkey. This fat content contributes to its rich flavor and juiciness.
Sweet Undertones: Some people describe duck meat as having sweet undertones, especially when prepared with complementary ingredients like fruit-based sauces or glazes.
Versatility: Duck's distinct flavor makes it versatile in the kitchen. It pairs well with both sweet and savory ingredients.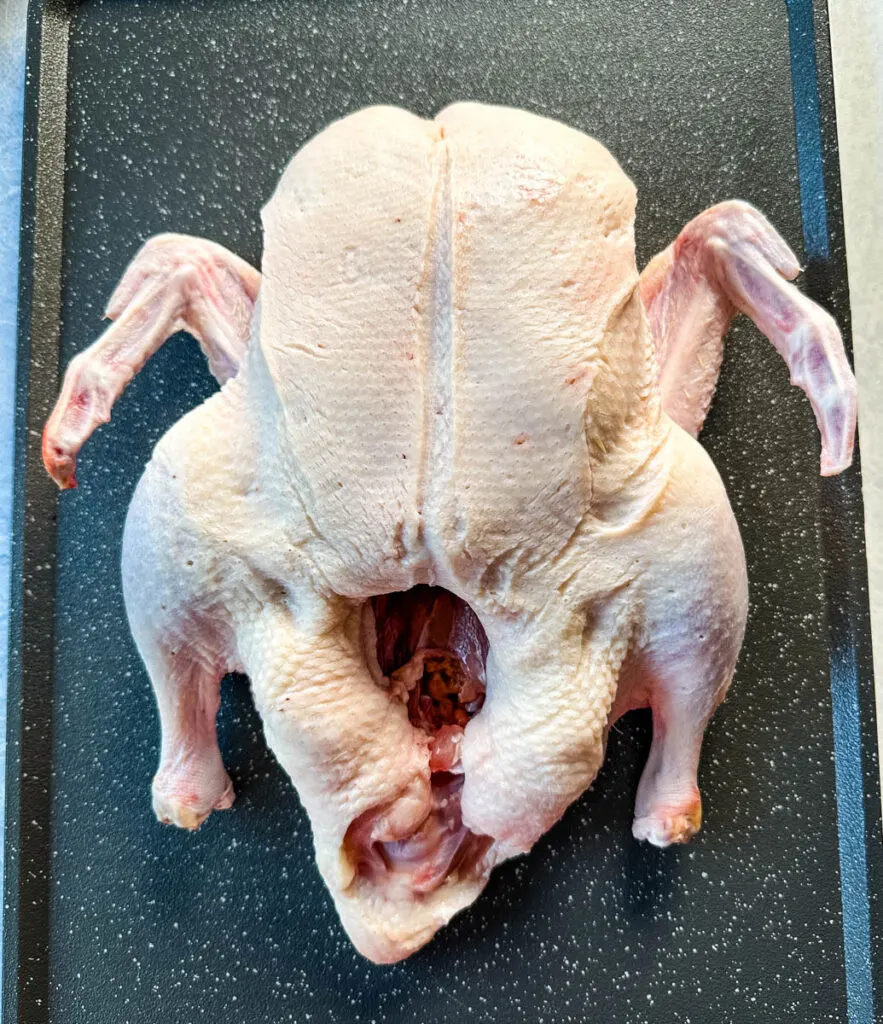 How to Shop
Look for ducks with firm, plump bodies and smooth, unblemished skin. Avoid the ones with visible cuts, bruises, or discoloration.
Check the color of the skin; it should be evenly colored, and the fat should be creamy white or pale yellow.
Choose a size of duck that suits your needs. Ducks are available in various sizes, ranging from small (around 4-5 pounds) to larger (over 6 pounds).
Ducks that are vacuum-sealed or properly wrapped in plastic will maintain freshness and prevent leaks.
Look for labels that indicate the duck's origin and whether it's been raised without antibiotics or hormones if that's something you are concerned with.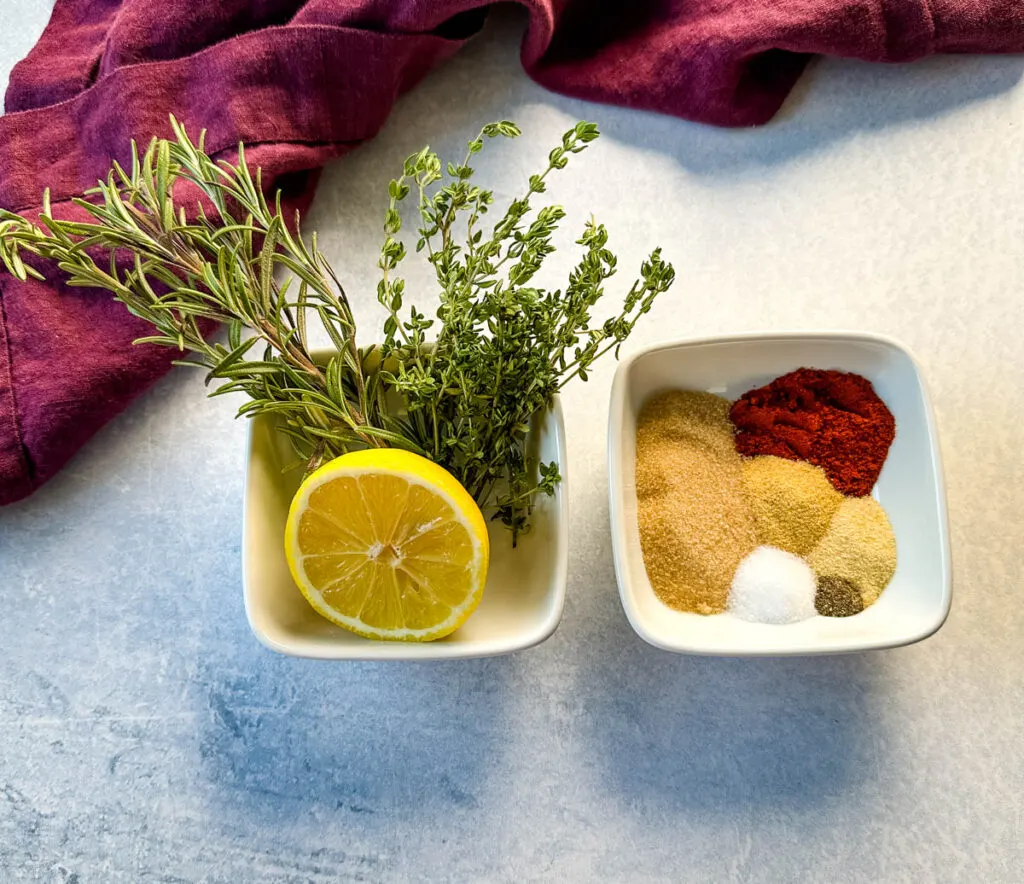 How to Season
My Dry Rub For Chicken works really well for this recipe. It consists of the following:
An optional step is to marinate the duck or inject it with butter and additional flavor. Injecting is a great way to add layers of flavor and moisture to the meat, especially for larger ducks. I use this injectable butter from Amazon. Again, this is optional.
Marinating is also not a strict requirement and involves soaking the meat in a flavorful liquid mixture, which can infuse the meat with added taste and aromas. You can marinate with liquids like soy sauce, citrus juice, or vinegar. Once marinated, place the duck in the fridge for 1 hour to overnight.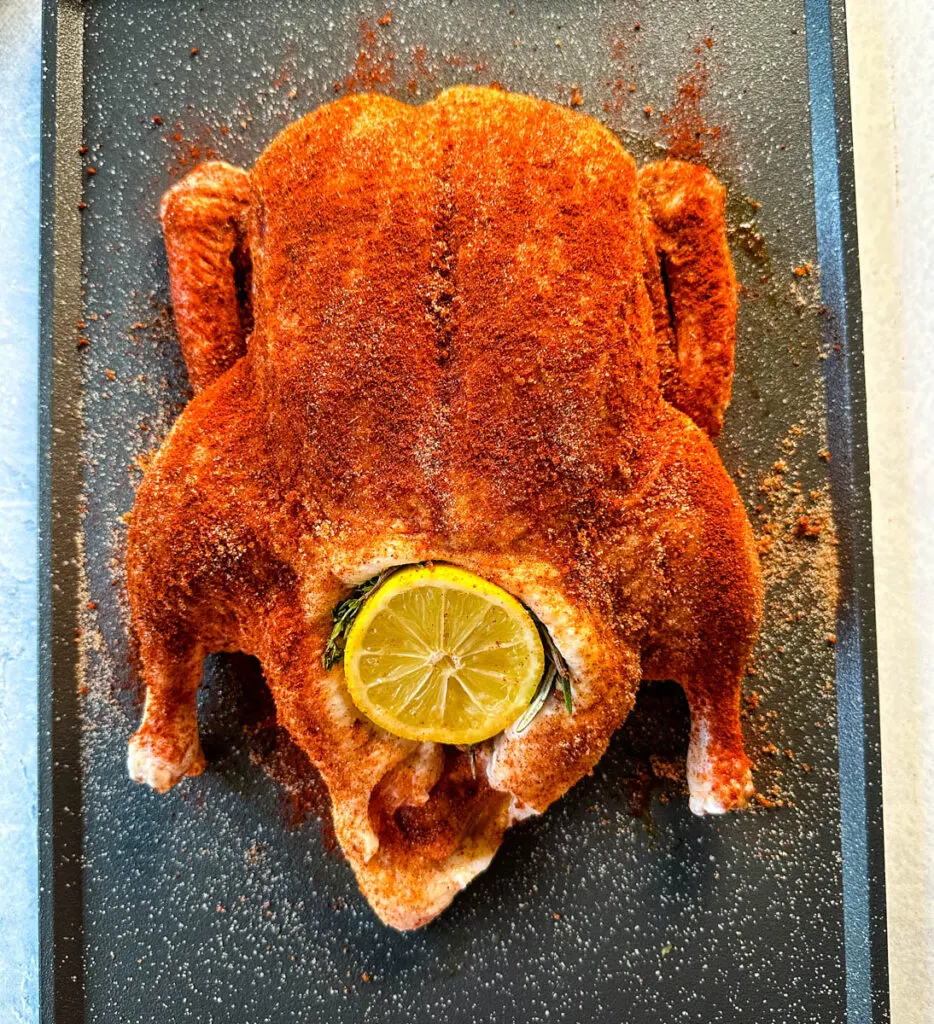 How to Smoke Duck
Detailed measurements and full instructions can be found in the recipe card at the bottom of this post.
Pat the duck dry. Remove all of the contents from the inner cavity.
Drizzle the duck with olive oil.
Season the entire duck with spices and rub the spices into the skin. Stuff fresh herbs and lemon in the inner cavity of the duck.
Place the duck in the smoker and smoke.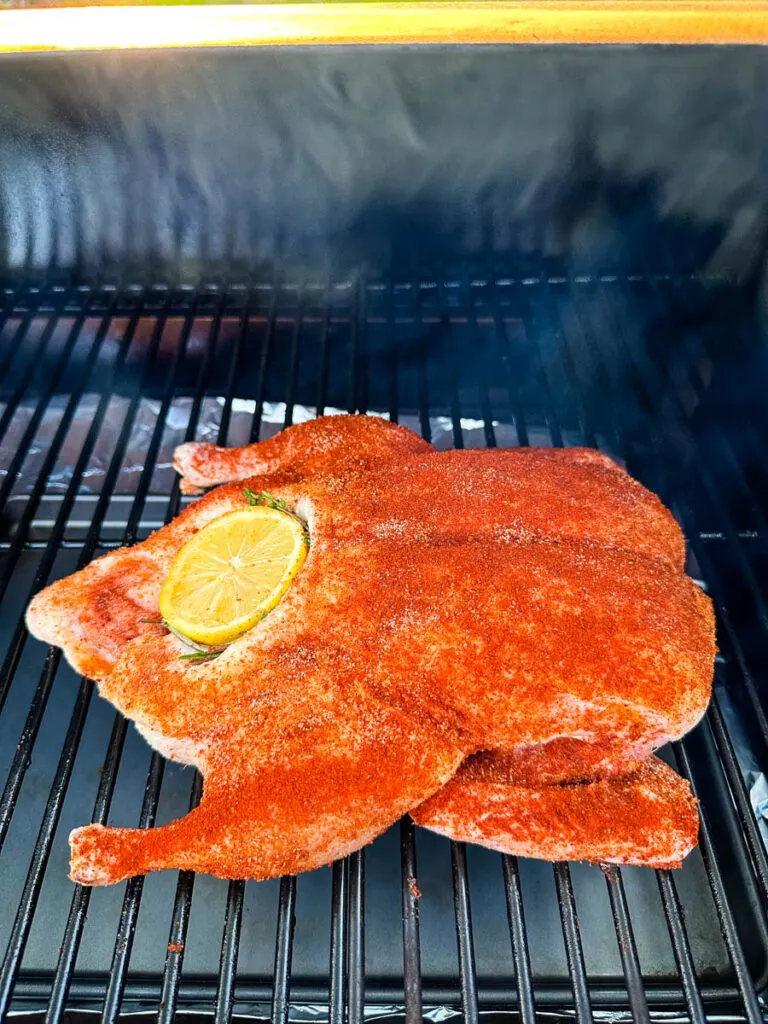 Color
When cooked duck meat is generally darker in color compared to other poultry like chicken or turkey. The color can range from deep reddish-brown to a rich, dark brown.
Ducks are waterfowl, and their muscles work more frequently than those of chickens or turkeys due to their active lifestyles. This increased muscle activity and oxygen demand contribute to the darker color of their meat.
When cooked, duck meat can retain its dark color, especially in the case of duck leg and thigh meat, which are used in many dishes. Duck breast meat, which is leaner, is often lighter in color when cooked but can still be darker than chicken breast meat.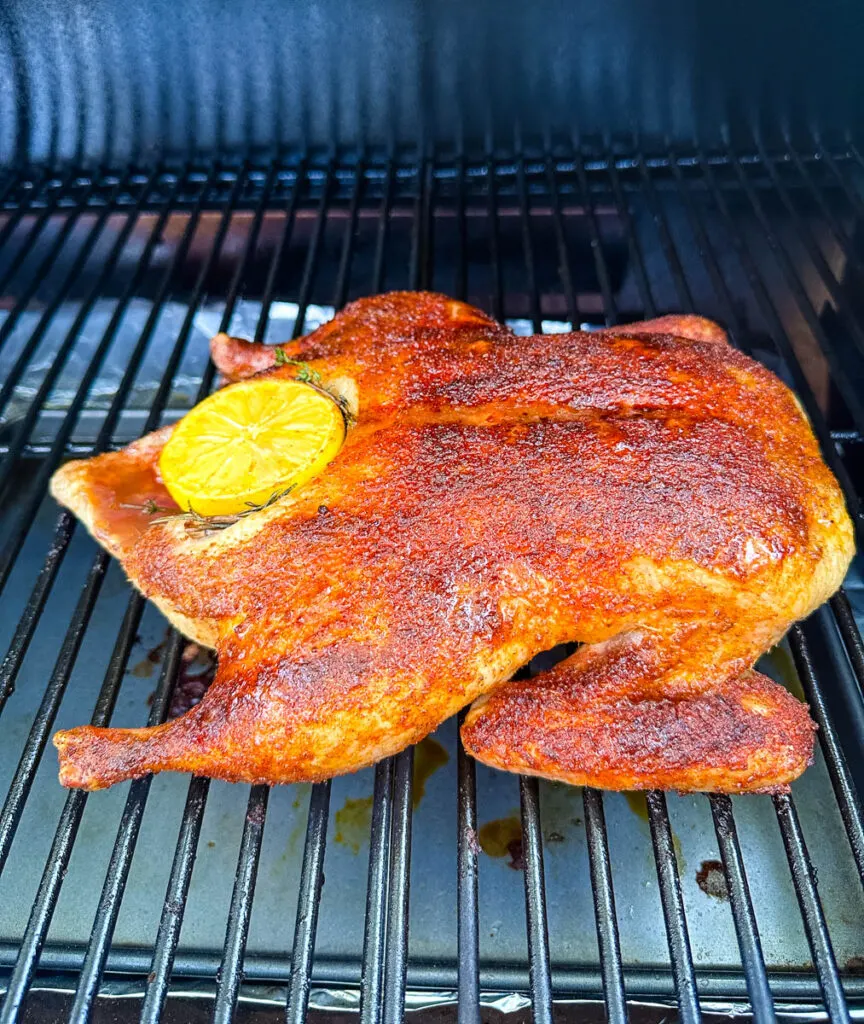 Smoker Temperature
I like to start at 225 degrees and cook the duck until it reaches an internal temp of around 120-135 degrees. From here, for crispy skin, I adjust the temperature to 350 degrees it reaches an internal temperature of 165 degrees.
What Flavor of Wood/Pellets to Use
When smoking duck, the choice of wood pellets can greatly influence the flavor of the meat. Because it has a rich and distinctive flavor, you'll want to choose wood pellets that complement and enhance its natural taste. I like to use apple or the Traeger Signature blend. Here are some options:
Fruit Flavors: Apple, cherry, and peach impart a sweet and mild smoke flavor that pairs beautifully. These flavors add a subtle fruitiness to the meat without overpowering its natural richness.
Alder: Provides a delicate and slightly sweet smoke flavor.
Pecan: Offers a balanced and mild smoke flavor with a hint of nuttiness. It complements the richness of duck without adding overly strong smokiness.
Maple: Provides a gentle and mellow smoke flavor with a touch of sweetness.
Hickory: If you prefer a slightly bolder smoky flavor, hickory can work well with duck. However, use it sparingly to avoid overpowering the meat.
I recommend you avoid using stronger and more robust woods like mesquite or oak, as they can easily overwhelm the delicate flavor.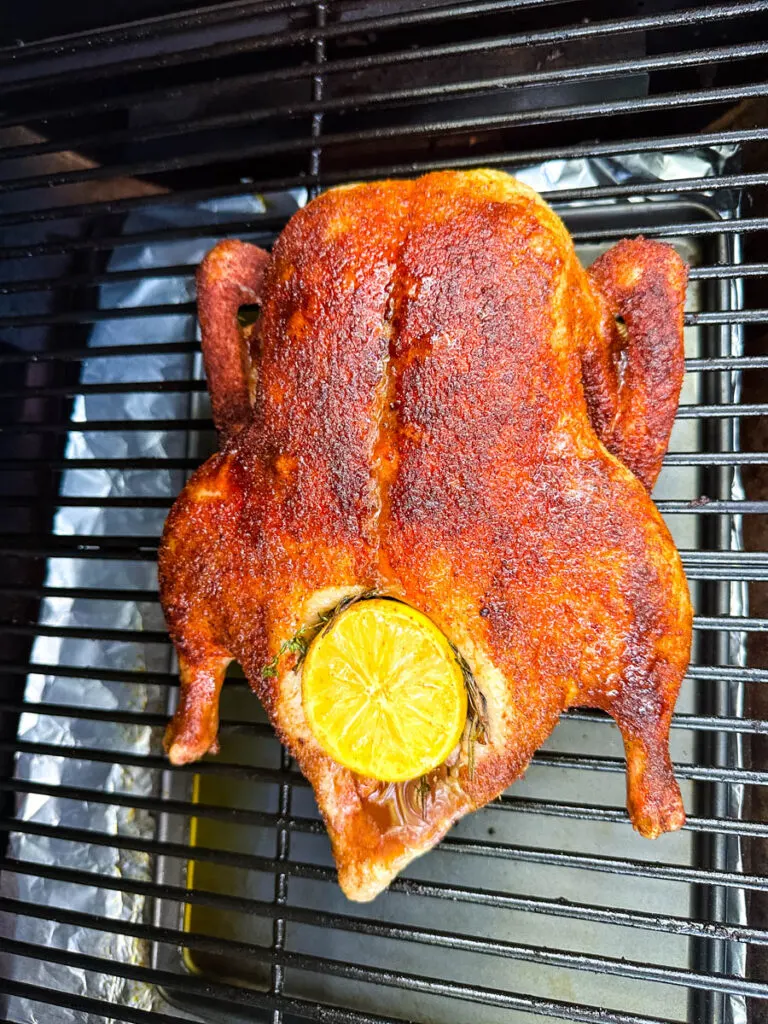 Cook Time/How Long to Cook
The duck will need to smoked for 2-3 hours depending on the size.
How to Know When it Has Finished Cooking
For whole duck, the internal temperature should reach 165 degrees in the thickest part of the meat. Use a meat thermometer.
Allow the Duck to Rest
Allowing it to rest after it's been smoked is an important step in the cooking process, just like with any cut of chicken or meat. Resting allows the juices within the meat to redistribute, ensuring that the duck remains tender and flavorful when you eventually slice and serve it. Here's why you should allow it to rest:
Juice Redistribution: During the smoking process, the heat causes the juices within the duck to move towards the center of the meat. Resting the duck allows these juices to redistribute more evenly throughout the meat, resulting in a juicier and more succulent final product.
Tenderness: Resting gives the meat fibers a chance to relax and reabsorb some of the juices that were released during cooking.
Temperature Equilibrium: The internal temperature of the meat may not be evenly distributed immediately after smoking. Resting allows the heat to even out throughout the meat, helping to prevent overly hot or cold spots when you cut into it.
Flavor Development: Resting gives the flavors in the meat a chance to settle and intensify.
Easier Slicing: Resting allows the meat's structure to firm up slightly, making it easier to slice without the meat falling apart or losing its shape.
Allow the duck to rest for about 10 to 15 minutes.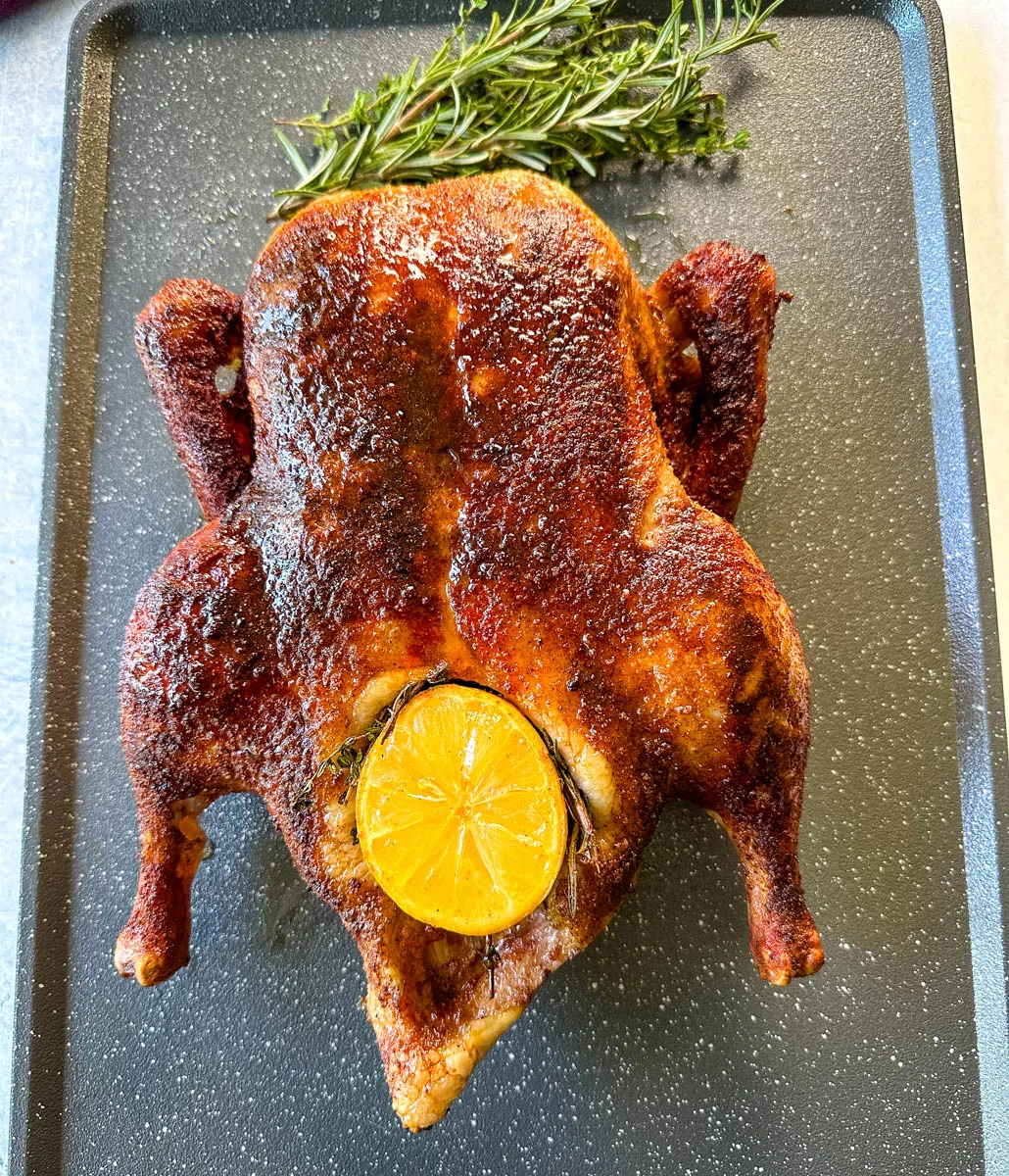 How to Carve
Remove Legs and Thighs: Begin by separating the legs and thighs from the body. Hold the leg firmly and use a sharp carving knife to cut through the joint that connects the leg to the body. Repeat this process for the other leg.
Separate the Wings: Next, gently pull the wings away from the body and use the knife to cut through the joint where the wing meets the body.
Slice the Breast: Locate the breastbone in the center of the duck. Make a horizontal cut along one side of the breastbone to create a slice of breast meat. Repeat on the other side.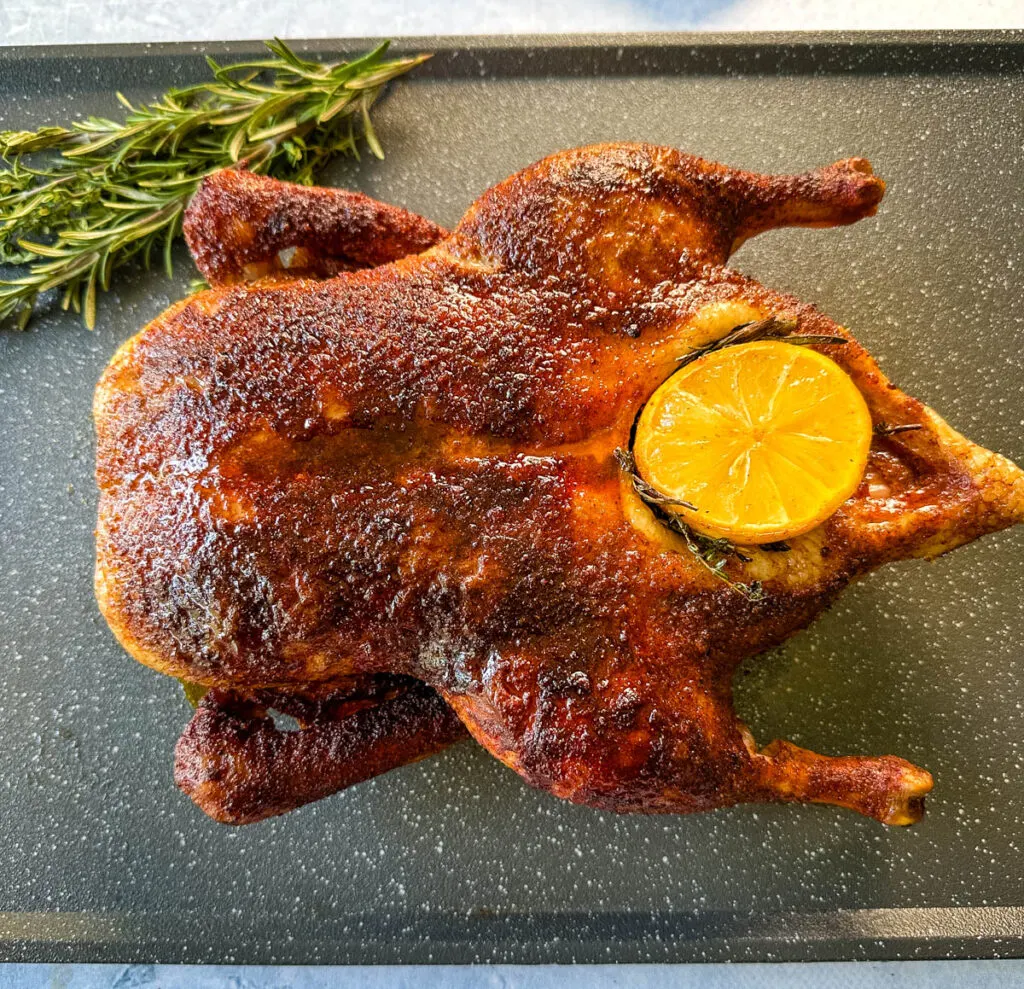 Substitutions and Other Ways to Season
Creole Seasoning
Thyme: Thyme's earthy and slightly floral notes
Rosemary: Rosemary's pine-like aroma adds a fresh and aromatic element to the meat.
Sage: Provides a warm, savory, and slightly peppery flavor.
Bay Leaves: Contribute a subtle and aromatic depth to the seasoning.
Cinnamon: A touch of cinnamon can provide a unique and warm undertone.
Allspice: Offers warm and slightly sweet flavors reminiscent of cloves, nutmeg, and cinnamon.
Orange or Citrus Zest: Grated orange or citrus zest can provide brightness and balance to the rich meat.
Chili Flakes: If you like a hint of heat, a touch of chili flakes can work well.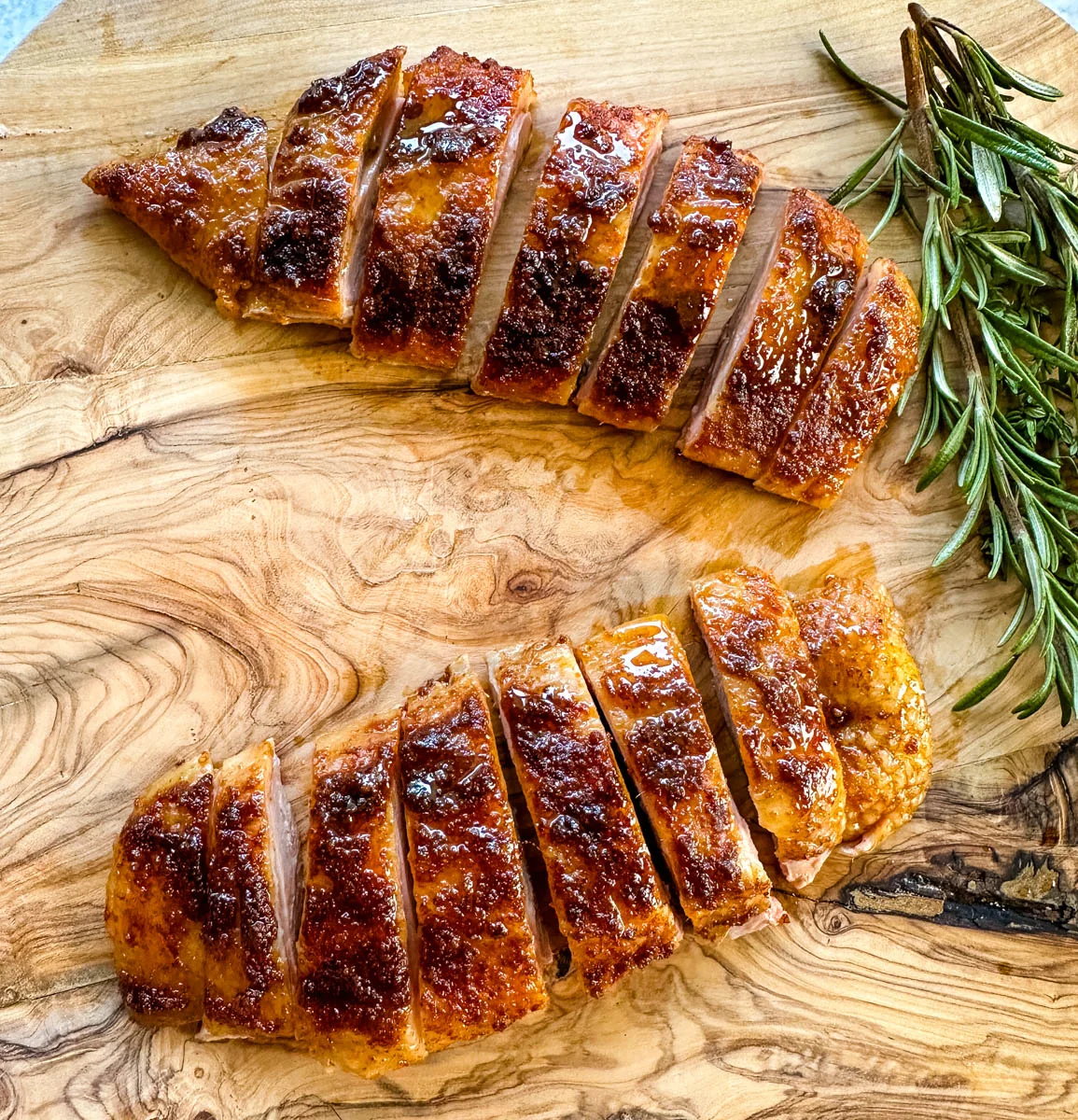 How to Store
Store leftovers tightly covered and sealed in the refrigerator for up to 3-4 days. Beyond this time, the quality of the meat may start to degrade.
How to Reheat
Reheating duck requires care to avoid overcooking and drying out the meat. Here are some methods you can use to reheat duck while preserving its flavor and tenderness:
Oven or Air Fryer: Reheat at 300 degrees until warm.
Stovetop: Place the duck in the pan on medium-low heat and cover it with a lid to retain moisture. Heat until warm.
Microwave: This method is quick but can lead to uneven reheating and potentially rubbery textures. I don't recommend it, but if you must reheat in 30 second intervals.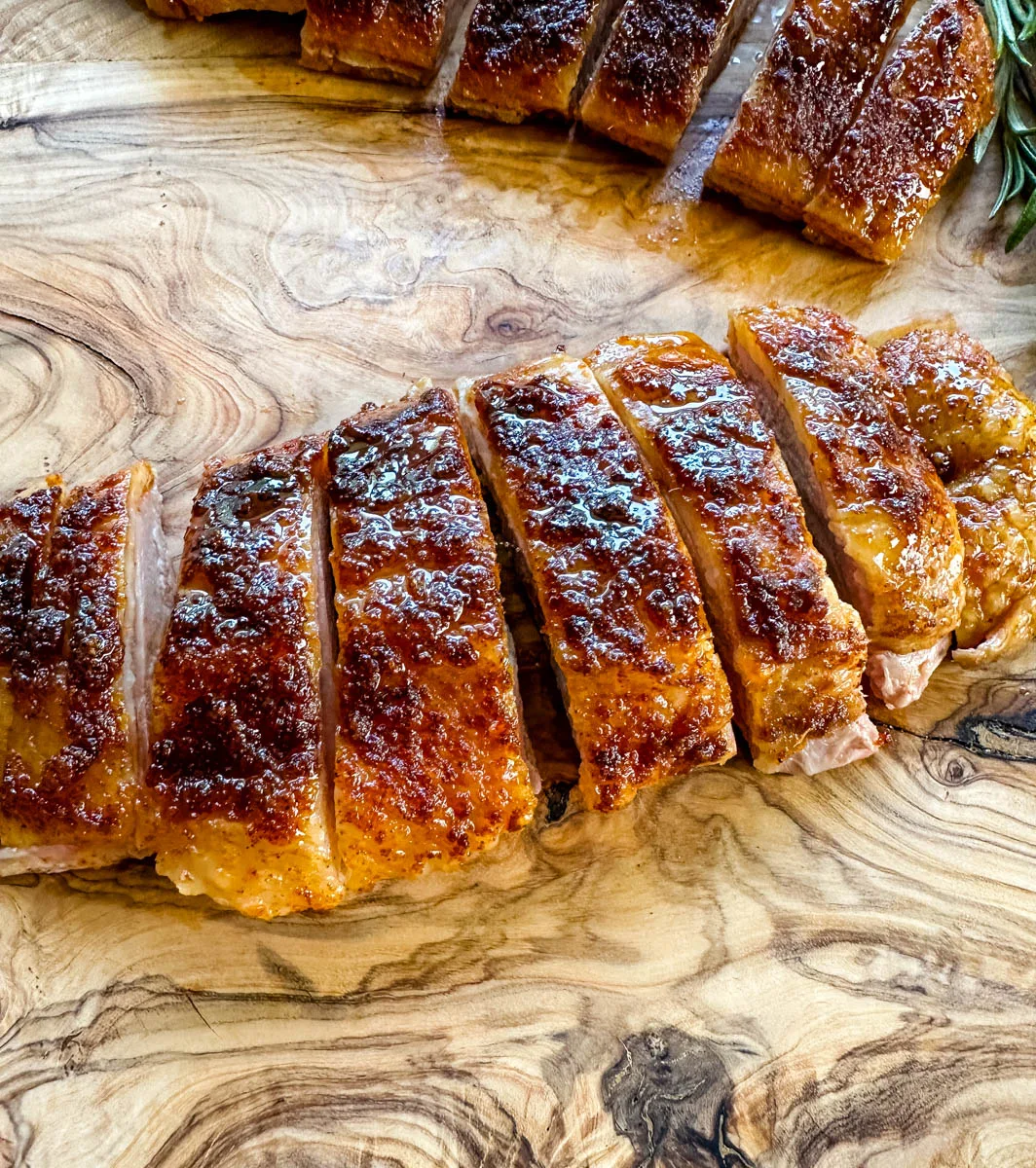 Freezer Tips
You can freeze it tightly wrapped and covered for 2-3 months. Thaw in the fridge overnight.
More Main Dish Recipes
Traeger Smoked Turkey Breast
Traeger Smoked Glazed Ham
Smoked Cornish Hens
Traeger Smoked Chicken Breast
Traeger Smoked Ribs (3-2-1 Method)
Traeger Smoked Chicken Wings
Traeger Smoked Whole Chicken
Traeger Pulled Pork (Shoulder Butt)
Thanksgiving Chicken
Braised Beef Chuck Short Ribs
Pair With These Side Dishes
Smothered Potatoes and Onions
Smoked Sweet Potatoes
Smoked Baked Beans
Smoked Asparagus
Southern Green Beans with Bacon
Smoked Baked Potatoes
Traeger Smoked Corn on the Cob
Smoked Cream Cheese
Drizzle this in Yellow Gravy or make gravy using the duck fat and drippings and this Gravy From Drippings recipe.
Smoked Duck
Indulge in the rich and smoky flavor of our mouthwatering Smoked Whole Duck Recipe. This tender, perfectly smoked bird is seasoned to perfection using our homemade rub and never disappoints. Serve this dish for Thanksgiving, Christmas, or whenever you need a main dish to steal the show. You can use a Traeger or any smoker or pellet grill.
Save this recipe here.
Saved!
Ingredients
4.5-6

pound

whole duck

Ensure the giblets have been removed.
Homemade Dry Rub or any Store-Bought Rub
Optional Fresh Herbs
3-4

thyme sprigs

2-3

rosemary sprigs

1/2

fresh lemon

Sliced in half.
Instructions
Preheat the smoker to 225 degrees.

Pat the duck dry. Remove all of the contents from the inner cavity.

Drizzle the duck with olive oil.

Season the entire duck and rub the spices into the skin. Stuff the optional fresh herbs and lemon in the inner cavity of the duck. Ensure the duck is completely covered with spices. Add additional spices if necessary.

Place the duck in the smoker. Smoke until the duck until it reaches an internal temperature of 165 degrees. Cook time will vary based on the size of your duck and can range from 2-3 hours.

If you like crispy skin, when the duck reaches 120-135 degrees of internal temperature, adjust the heat on the smoker to 350 degrees and cook the duck until it reaches an internal temperature of 165 degrees.

You will need to use a probe or meat thermometer to test. You always want to test the thickest part of the duck, which is typically between the thigh and leg or breast. Ensure it reaches an internal temperature of at least 165 degrees. I usually test several areas of the duck to be sure.

Allow the duck to rest for a minimum of 15-20 minutes prior to slicing to allow the juices to settle. If you slice too soon it will result in dry duck.
Notes
You can smoke a duck breast following the same instructions. Smoke it until it reaches an internal temperature of 165 degrees using a meat themometer.
Recipe Tools Used in this Recipe
As an Amazon Associate I earn from qualifying purchases.
Nutrition (displayed with net carbs)
Serving:
0.5
pound
|
Calories:
635
kcal
|
Carbohydrates:
1
g
|
Protein:
26
g
|
Fat:
59
g
Tried this recipe?
Mention @Stay_Snatched or tag #StaySnatched! The recipe instructions noted here are the property of Stay Snatched and subject to copyright. Please do not screenshot and share this recipe on social.
Nutrition Data
Macros are provided as a courtesy and should not be construed as a guarantee. This information is calculated using MyFitnessPal.com. To obtain the most accurate nutritional information in a given recipe, you should calculate the nutritional information with the actual ingredients used in your recipe, using your preferred nutrition calculator. You are solely responsible for ensuring that any nutritional information provided is accurate, complete, and useful.