This Hauswirt Air Fryer Oven Honest Review includes my thoughts and experience with the 10-IN-1 Countertop Kitchen Appliance With Separate Upper And Lower Heat Control.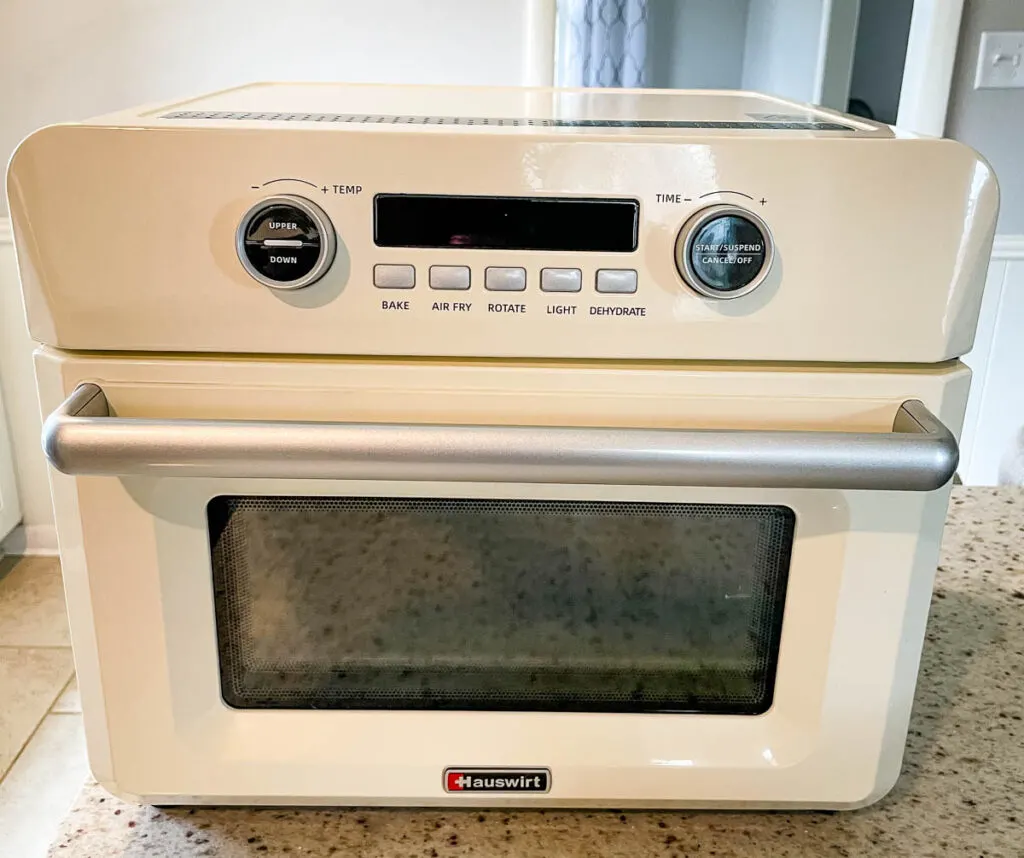 This post is sponsored by Hauswirt. All opinions are my own. Check out their Amazon Shop here.
Check out My Other Hauswirt Reviews
Hauswirt Stand Mixer Review
Hauswirt Blender Review
Air Fryer Oven Features and How Does it Work
10 Functions in 1 Appliance.
Air fryer
Toaster
Dehydrator
Pizza
Grill
Oven
Fry
Bake
Roast
Broil
Toast
Proof
Reheat
Rotisserie.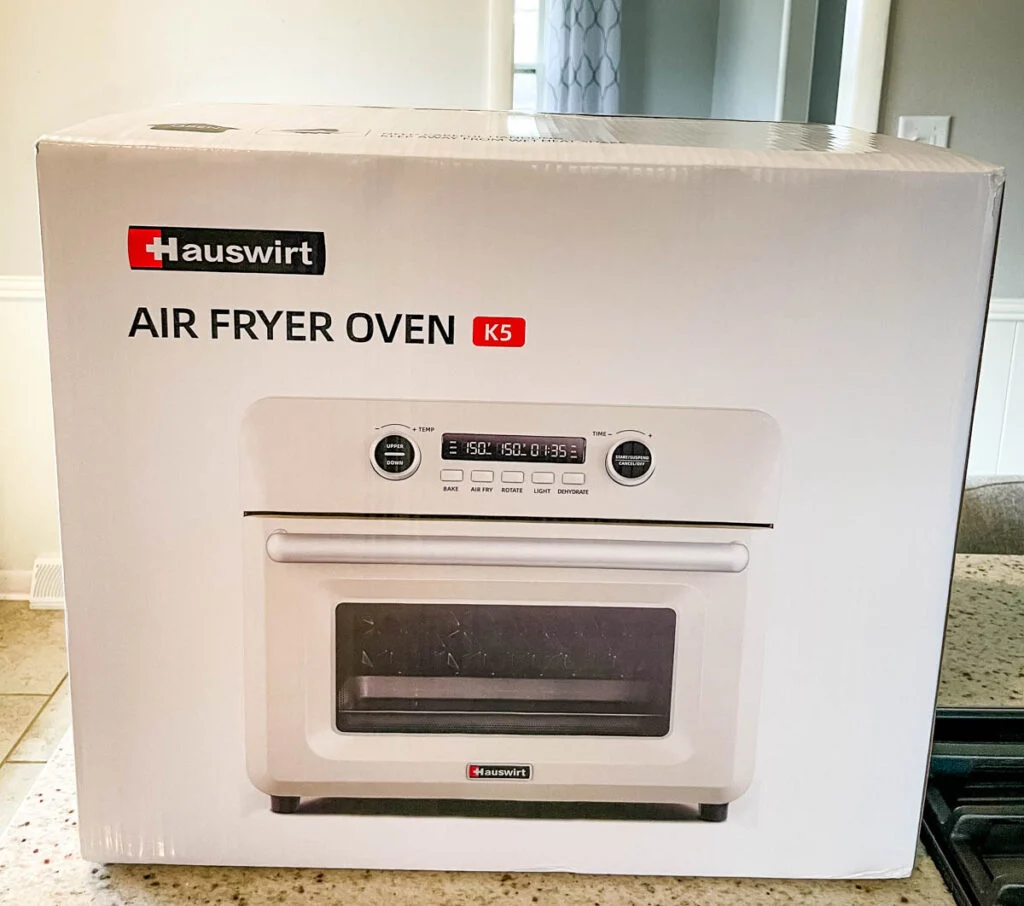 Air Fryer Oven Specifications
This is a nice-sized oven. It has 26 Qt Extra Large Capacity, which would work wonderfully for large families.
It allows you to put two trays in at once, large enough to accommodate 16 chicken wings, 18 egg tarts, and a small turkey. The interior measures 13″ length* 12″ width * 7″ height.
There's separate temperature control for top and bottom. The temperatures range from 85℉ to 450℉, and you can even set different upper and low heat for your cooking recipes.
It has a digital timer and display and built-in interior light so you can check the food status pretty easily.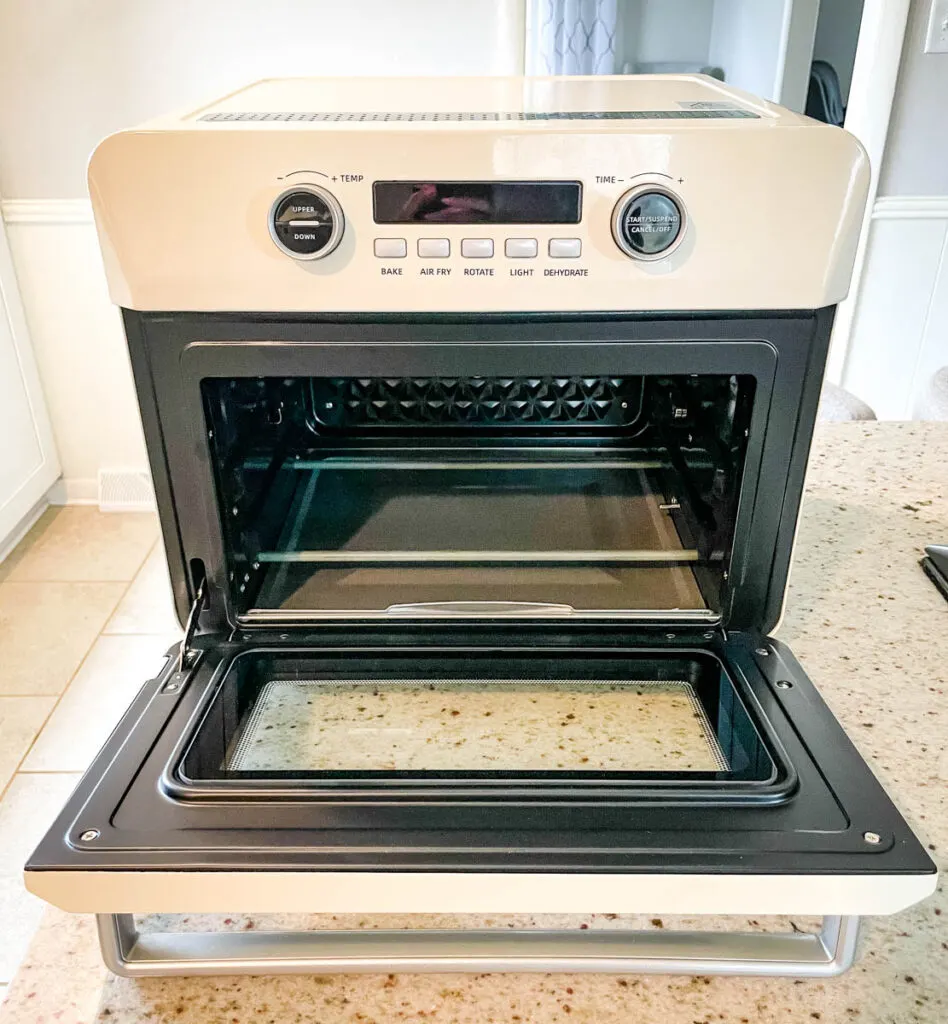 What's Included in the Box
26-Qt Air Fryer Oven
Baking Pan
Fry Rack
Crumb Tray
Tray Handle
Rotisserie Kit
Rotisserie Lifter
Fry Basket
Oven Mitt
How to Clean the Air Fryer Oven
I wipe down the interior and exterior using microfiber cloths. I hand wash the trays. They are non stick and easy to clean.
Where to Buy the Air Fryer Oven
You can buy it here on Amazon.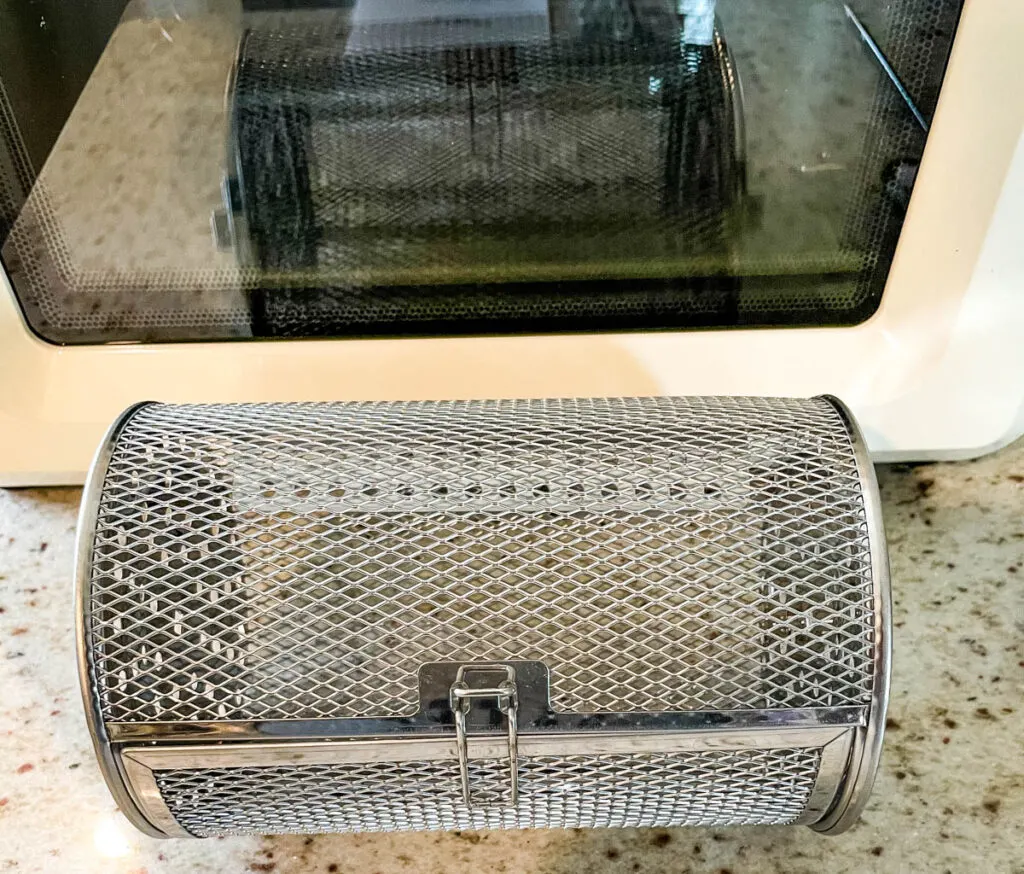 Oven Notes
You can use this oven to proof doughs for things like bread baking! You can also do this in an Instant Pot, but it's great to have the option here. Using the ferment option to proof will cut down on the time it takes dough to rise, which is pretty significant.
I tested out the fry basket to make French fries. At 375 degrees, I found the fries take longer than using my air fryer. So using the tray will probably work better than using the basket for these.
Air Fryer Oven Pros
The size is an obvious pro. My current air fryer is 5.8 quarts. 26 quarts is a huge upgrade. The most common complaint I hear about air fryers is people wish they were bigger. Well, this is that.
The ability to cook with 2 different temperatures on the bottom vs top rack is a game-changer for me. I haven't seen another air fryer oven with this feature! That doesn't mean it does not exist anywhere else, I've just never experienced it.
This will work wonderfully for me because I often prepare chicken and roasted vegetables. These both have varying temperatures, so I couldn't previously put these in the same air fryer or oven. Now I can cook this meal at once in the same machine.
Air Fryer Oven Cons
It comes in white or blue colors that are very retro style. If you have a modern kitchen, this may not vibe well with the look.
It doesn't come with a recipe book like most brands, but that's what you have this site for!
The instruction manual is very basic. If you have experience with air frying, it's pretty intuitive how to figure things out.
Final Thoughts and Recommendations
If you have a large family or love to air fryer multiple things at the same time, this will work perfectly for you.
Recipes to Make Using the Air Fryer Oven
Air Fryer Grilled Cheese
Air Fryer Chick-fil-A Chicken Sandwiches
Air Fryer Quesadillas
Air Fryer Ribs
Air Fryer Cheeseburgers
Air Fryer Chicken Tenders
Air Fryer Parmesan Breaded Chicken Wings
Air Fryer Panko Breaded Bang Bang Shrimp