Cosori Air Fryer Toaster Oven Honest Review outlines the best features and specifications of the 30L, 1800W oven. This post also outlines the differences between air frying vs convection oven vs conventional oven. Learn how to clean an air fryer oven and the best place to buy.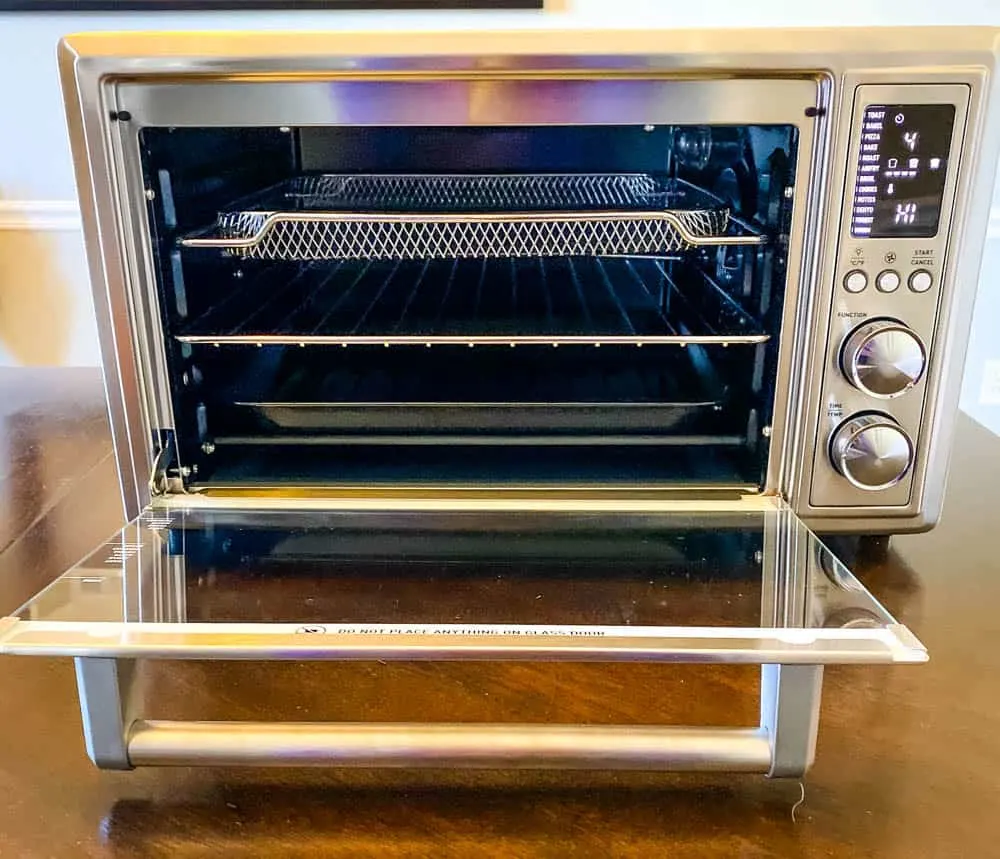 I received this air fryer oven from Cosori for free. All opinions are my own.
This post contains affiliate links. Please read my full disclosure here.
Which is the best air fryer oven? There are so many brands and models out there, that it really tough to decide which is best.
I decided to test out the Cosori Air Fryer Oven because I have had so much success with my Cosori 5.8 quart Air Fryer. You can read my Cosori Air Fryer review here.
Which is Better Air Fryer or Air Fryer Oven?
This is totally going to depend on your needs. The Cosori 5.8 quart Air Fryer works wonderfully for singles and small families. The basket is square and large enough to fit most meat. Ultimately, if you currently have an air fryer, that isn't a 5.8 quart and does not have a square shaped basket, I would upgrade. I have the Power Air Fryer XL, as well, and I prefer my Cosori, a lot more.
With the Cosori Air Fryer Oven you have a little more room and a ton more features! Check out the features list below. The oven will feed 5-7 people, a great choice for a big family or treating friends at home,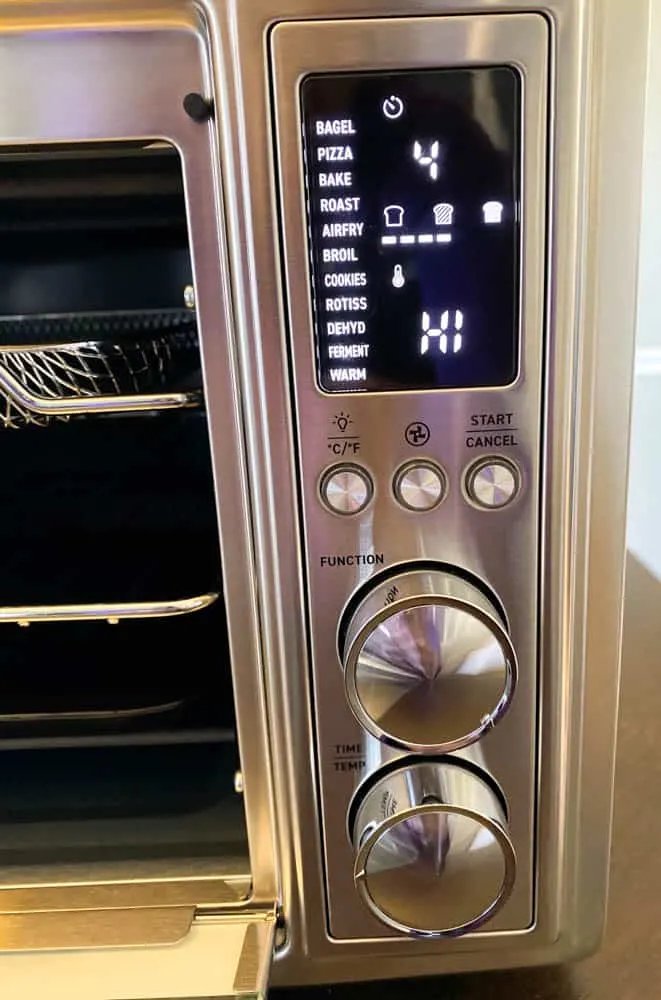 Oven Features
I'm blown away by the things this toaster oven can do. It's an all-in-one appliance for so many different things. It has 12 presets.
Toast: How to make toast in an air fryer oven, is so easy!
Bagel
Pizza
Bake
Roast
Air Fry
Broil
Cookies
Rotisserie: You can attach a whole chicken, will fit 5 pounds. Also great for loins and other cuts of meat.
Dehydrate: It has the ability to be it's own food dehydrator! Great for making beef jerky, dried fruit, fruit roll-ups, etc.
Ferment: Proofing bread, rolls, pizza, and dough and to make yogurt.
Keep Warm
How Does an Air Fryer Oven Work?
It's like a convection oven that sits on your countertop. It has an electric fan that circulates inside to help crisp food at a rapid pace. The results are very similar to deep frying. You can get things like crispy and crunchy fries in minutes.
How is an air fryer oven different from an oven? Conventional ovens work by producing heat from gas or electric. The heat is slowly dispersed through the oven over time. With an air fryer oven, that time is sped up by the use of a fan.
Air Fryer Oven Size
Item Dimension: 20.1*16.5*12.1 inch
Item Capacity: 30L large capacity fits 6-slice of toast, a 13-inch pizza, and a 5 pound chicken.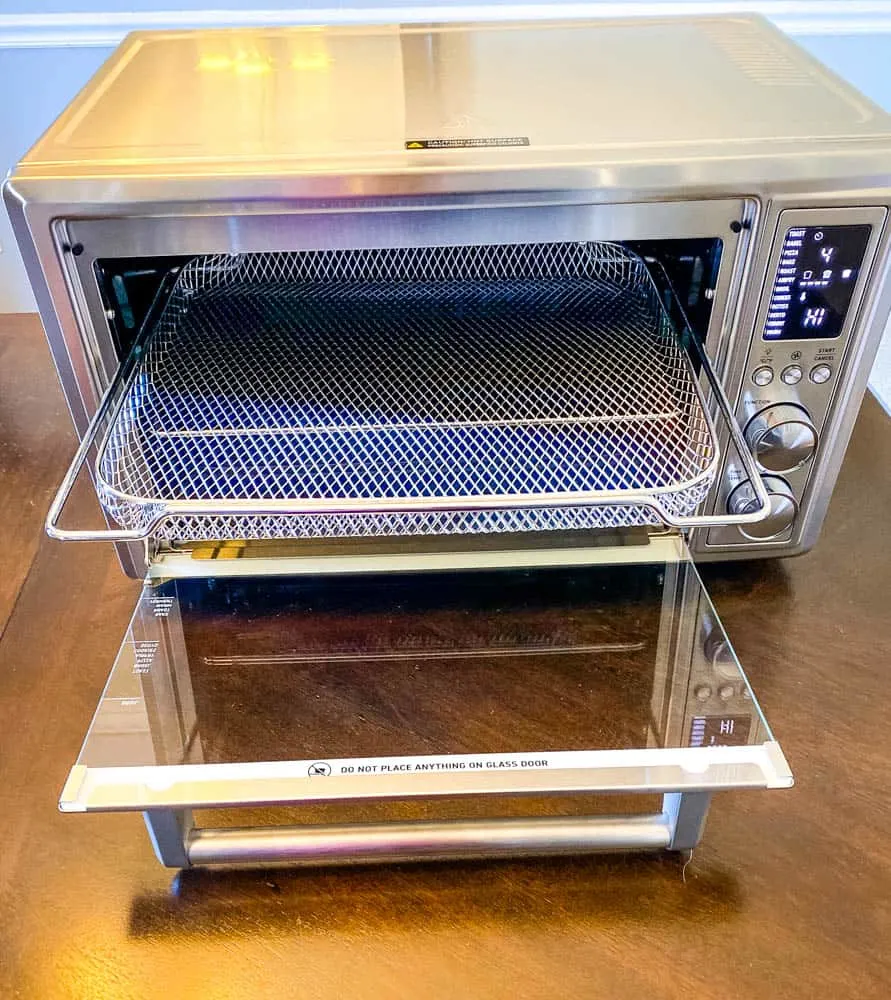 Cosori Air Fryer Oven Specifications
It's a 1800W and AC 120V, 60Hz. The temperature range is 80°-450°F. The time range is from 0 to 24 hours. It has 5 heating elements and a convection fan.
What's Included in the Box
Crumb tray
Air fryer basket
Food tray
Wire rack
Rotisserie fork set and rotisserie handle.
Recipe Book
User Manual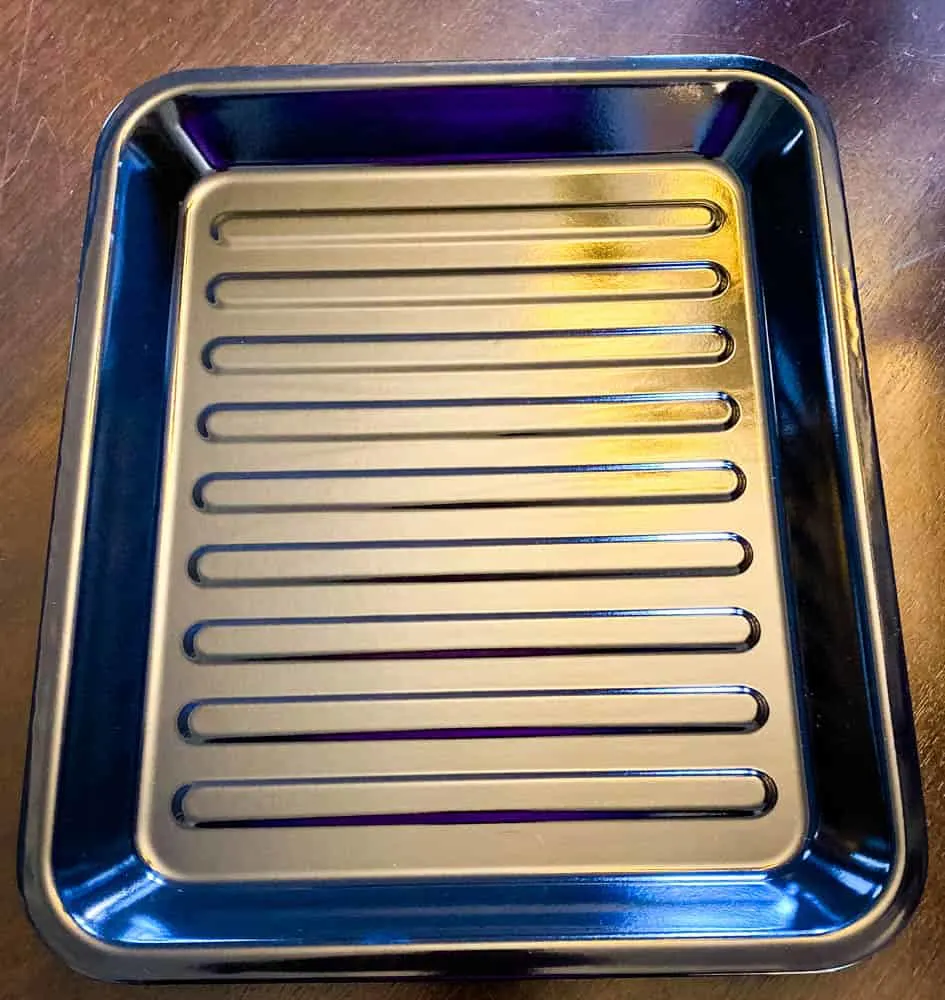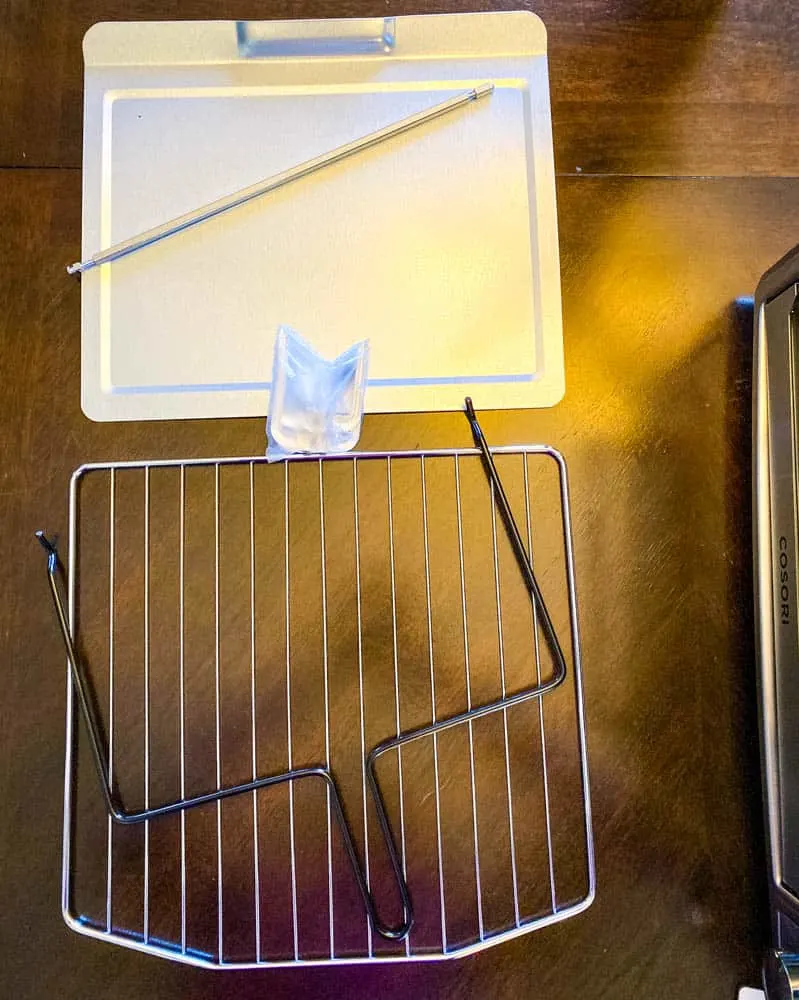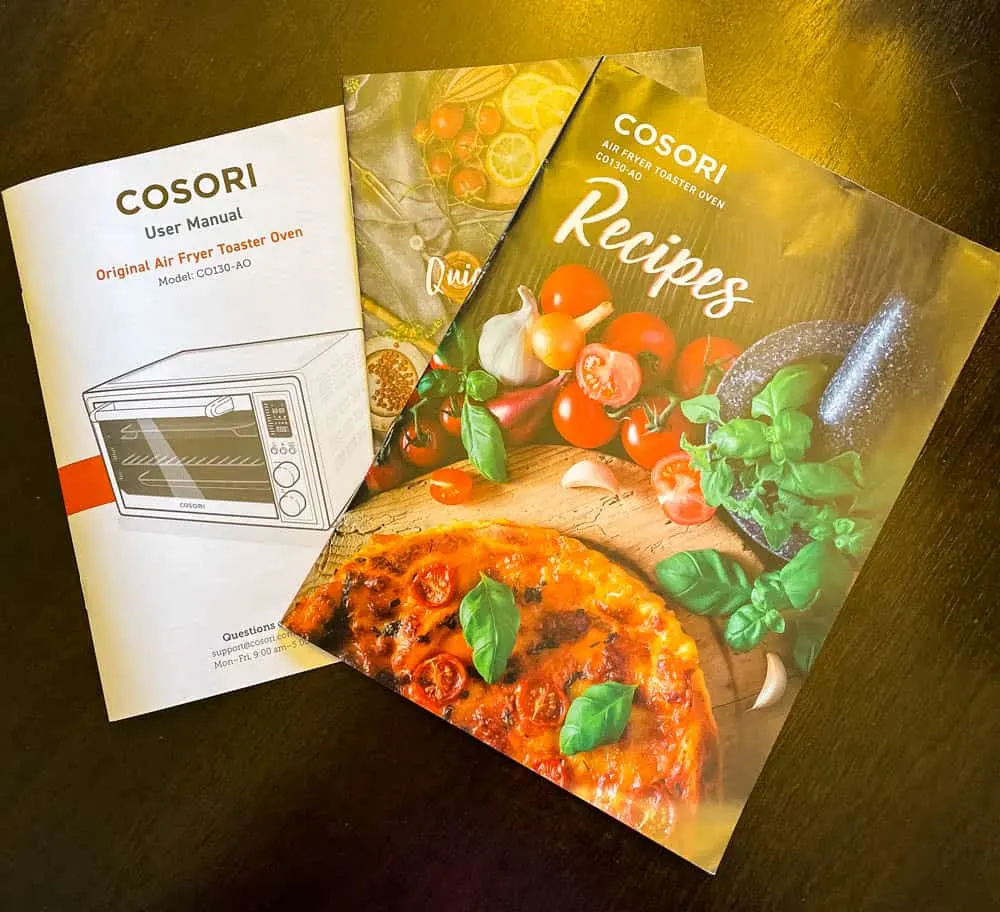 Air Fry Basket
The Cosori Air Fryer Oven includes one air fryer basket and it has to go in the middle rack of the oven. This is noted in the user manual. It does not include multiple fryer baskets.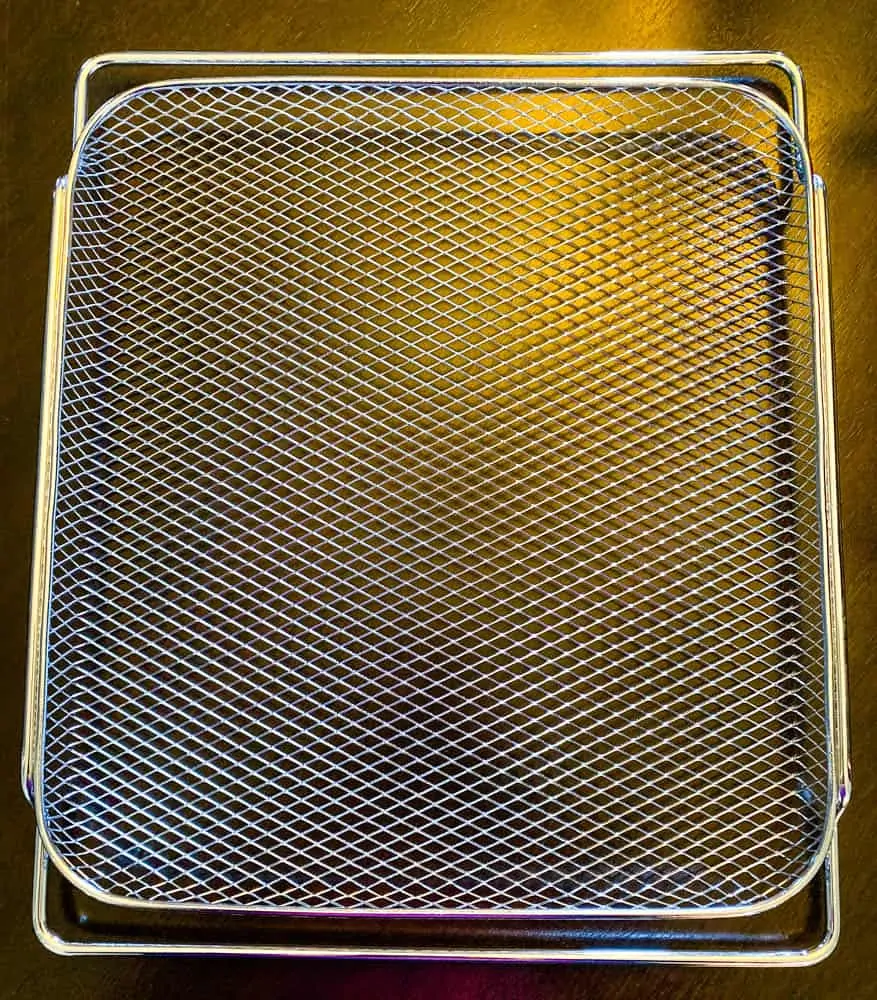 How to Clean Cosori Air Fryer Oven
Always clean the oven accessories, trays, and the interior of the oven after every use. Use a mild cleanser, nothing harsh. The manual does not state that the trays are dishwasher safe.
When making chicken I did find there was a lot of clean up, especially on the oven door. When I open the oven to flip the chicken, the air fryer basket sits directly over the door when you pull it out.
With fried chicken, there are definitely drippings. I do find that with making a recipe like chicken, there's more clean up required than with a standard air fryer. I typically use Air Fryer Parchment Paper with my normal air fryer which dramatically cuts down on the cleaning.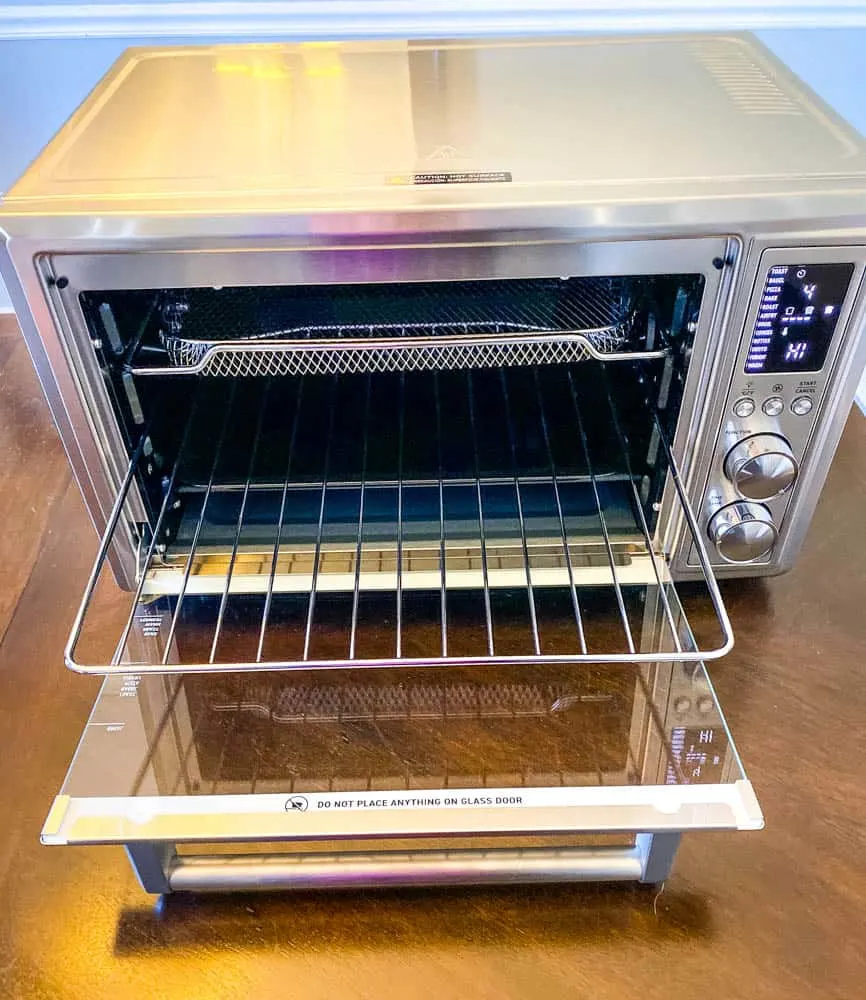 Where to Buy Cosori Air Fryer Oven
You can buy the Cosori Air Fryer Oven here on Amazon.
Cosori Air Fryer Oven Notes
The first thing I tested out was my Air Fryer Chicken Thighs. I used the middle rack and the air fryer fry basket. I fried the chicken thighs for about 28 minutes on 400 degrees. I made sure they were crispy enough for me and that they had reached an internal temperature of 165 degrees.
Here are some things I noticed during my first frying.
The oven gets hot. Always handle the oven with mitts while in use.
There is a light you can turn on so you can watch the food while it cooks, very cool!
When cooking something like chicken, it's greasy food, so expect some smoke.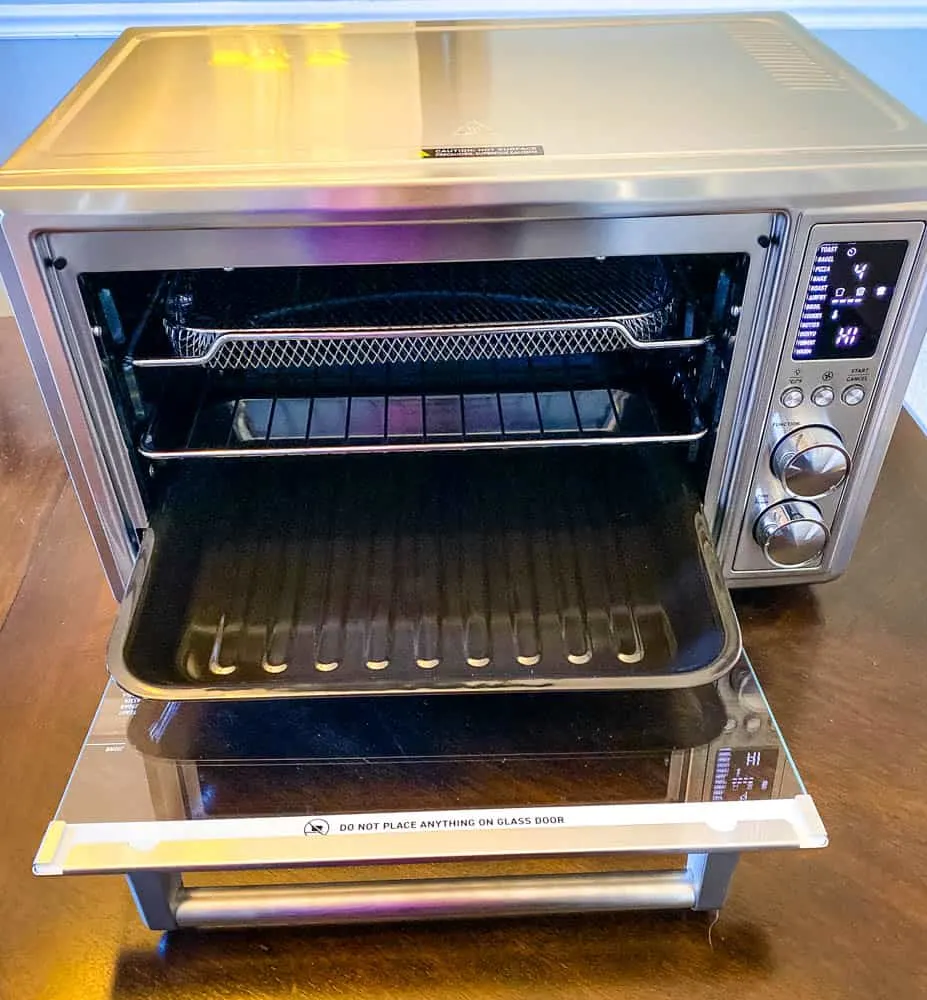 Air Fryer Oven Pros
I like being able to watch the food cook. I love that this thing comes with a lot of features. The rotisserie and dehydrator functions are definite game-changers. The ferment function is amazing too! You can use it for proofing bread, pizza, and dough. And it can also be used for making yogurt.
Cosori Air Fryer Cons
When you open the oven, the timer continues to run. I'm used to it pausing and picking up where it left off with normal air fryer.
There's a little more clean up than what I'm used to with a normal air fryer.
Final Thoughts and Recommendations
If you want an all in one machine, this is for you! There are so many things this device is capable of doing. It is much more than just an air fryer or a toaster!
If you have a large family, this is definitely the move for you! One of the most common questions I get from my readers is whether or not an air fryer will work for their family size. An oven is almost always the best solution.
If you have a small air fryer already and you are frustrated, make the move and upgrade!
You can buy the Cosori Air Fryer Oven here on Amazon.
I have multiple Cosori products, Cosori Air Fryer, Cosori Food Dehydrator, and the Cosori Vacuum Sealer. This company does not disappoint. They make products and appliances that are affordable and get the job done.
Cosori Air Fryer Accessories
You can also check out my full list of The Best Air Fryer Accessories here.
Popular Air Fryer Recipes
Air Fryer Fried Chicken
Air Fryer Cheeseburgers
Air Fryer Pork Chops
Air Fryer Appetizer Recipes
You can buy the Cosori Air Fryer Oven here on Amazon.