This Hauswirt Stand Mixer Honest Review includes my thoughts and experience with the 5.3Qt Tilt-Head Electric Kitchen Tool with Timer.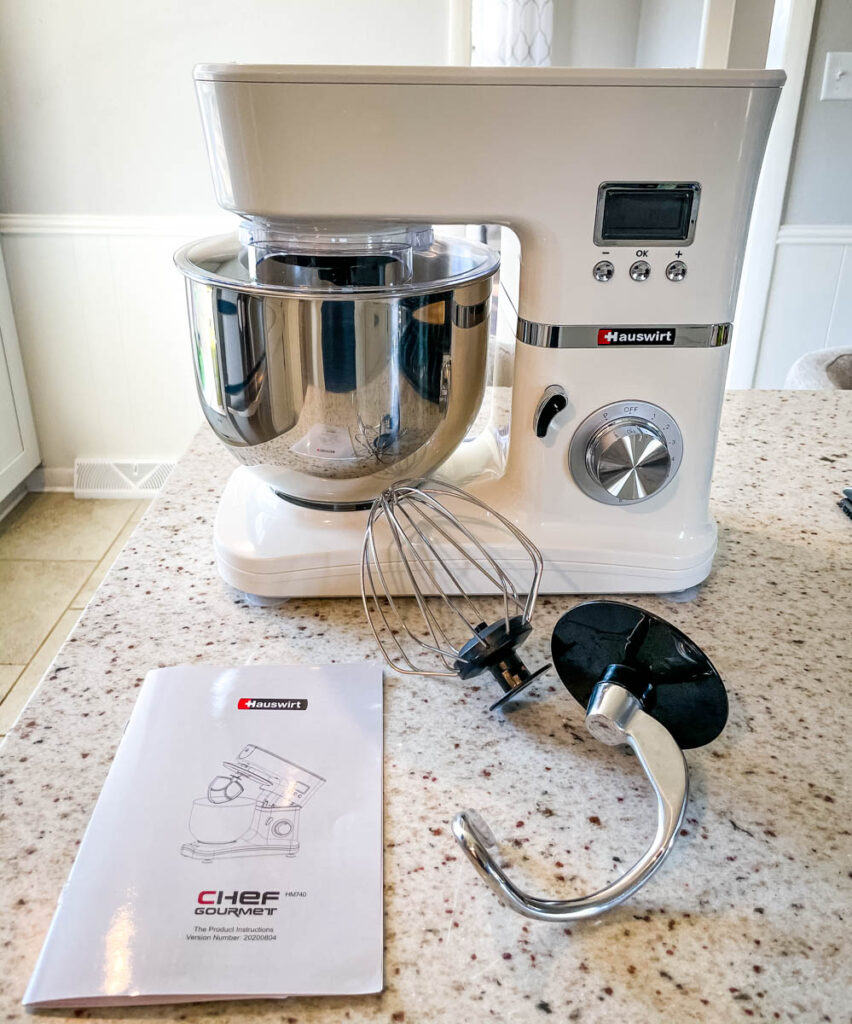 This post is sponsored by Hauswirt. All opinions are my own. Check out their Amazon Shop here.
Check out my other Hauswirt Reviews
Hauswirt Blender Review
Hauswirt Air Fryer Oven Review
Stand Mixer Features and How Does it Work
It has 8 speeds, including a pulse function. It comes with variable speed from low to high, knead and whip ingredients quickly and easily. Pulse can reach the highest speed in a second, great for beating egg whites and blending.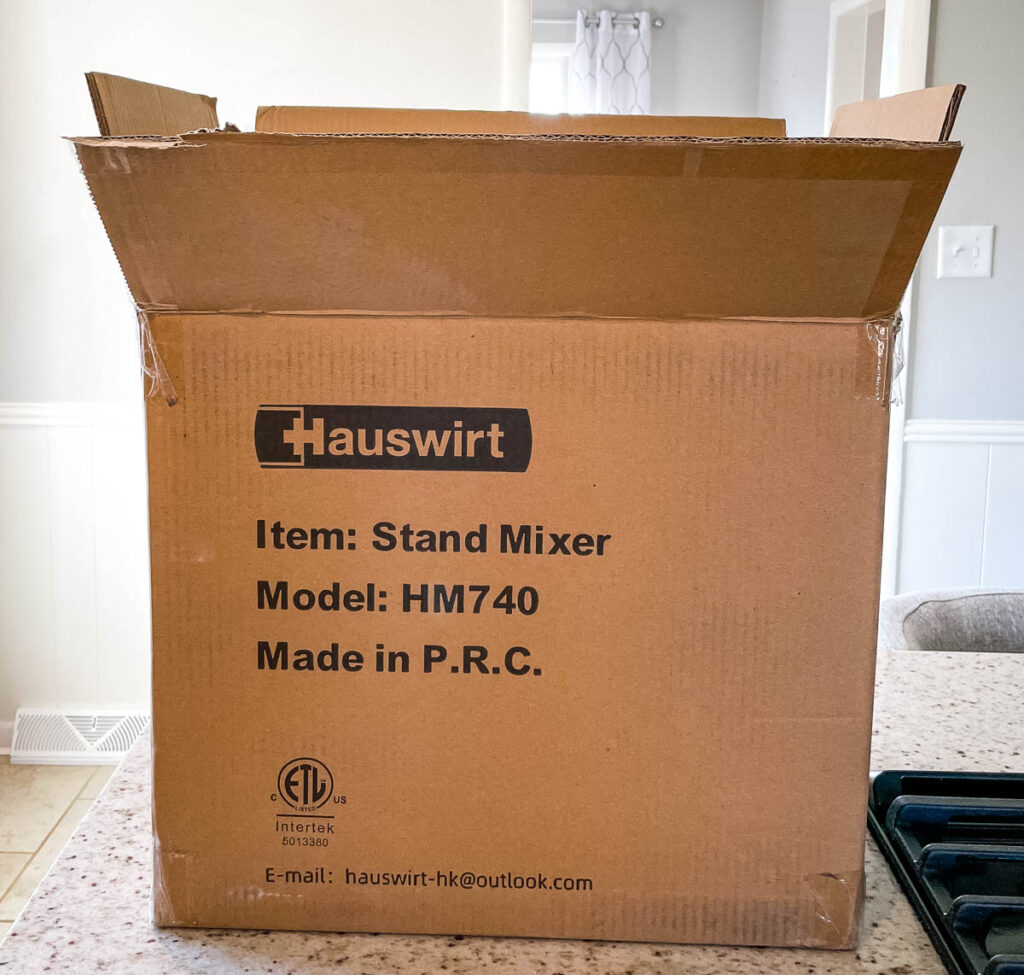 Mixer Specifications
It has a 550W motor with built-in overload protection that will automatically shut the motor off to prevent it from burning out. It also has anti-slip suction feet to prevent the electric mixer from creeping while in operation. It sticks to the countertop.
It comes with a 5.3-Qt stainless steel bowl which is enough capacity to mix dough for up to 7 dozen cookies, 2 loaves of bread, 2 8-inch cakes.
It has a 10-minute timer with alarm and-features a digital display to show the time and speed setting, automatically shutoff when time is up.
The gears are made of metal and protected with a plastic container that can reduce the damage caused by repeat wear, so the machine can be durable and used for long term.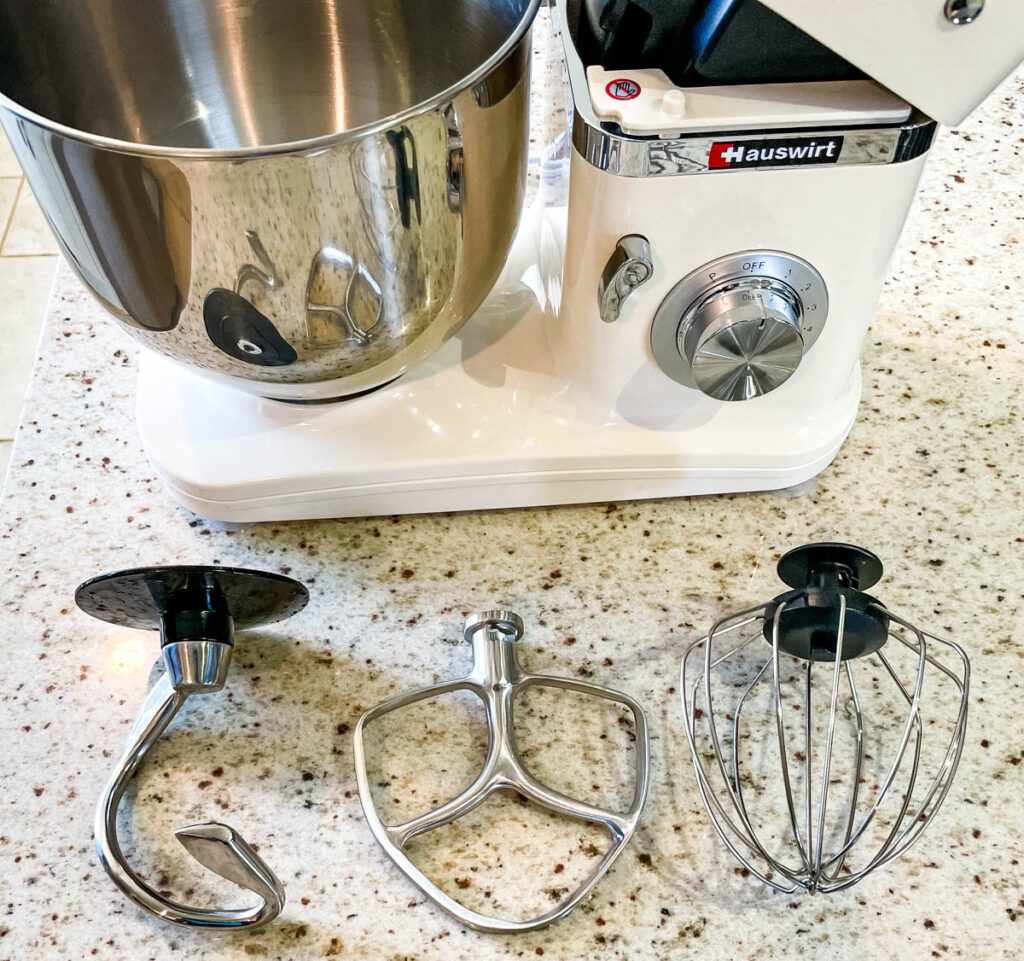 What's Included in the Box
1 Stainless Steel Bowl
1 Flat Beater
1 Dough Hook
1 Wire Whip (The above are Dishwasher Safe)
1 Splash Guard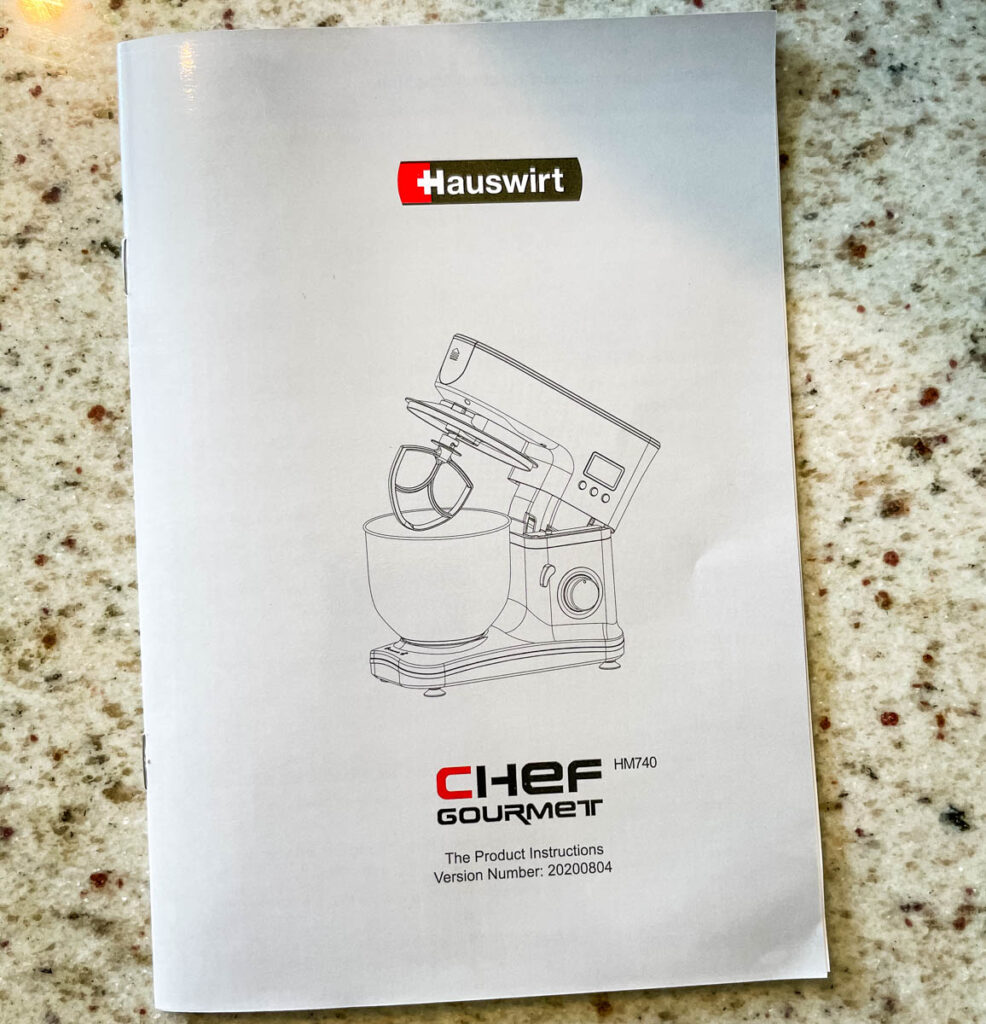 How to Clean the Mixer
The stainless steel bowl is super easy to clean. It's also dishwasher safe along with the flat beater and dough hook. I clean the exterior portions of the mixer with a damp cloth.
Where to Buy the Mixer
You can buy it here on Amazon.
Mixer Notes
I don't own a Kitchenaid Stand Mixer and I've actually never used one, so I have nothing to compare this mixer, too. I will say Kitchenaids look a little more aesthetically pleasing.
You can purchase attachments for a blender and meat grinder. Both sound and look pretty cool!
The mixer isn't super quiet, but it's also not terribly loud.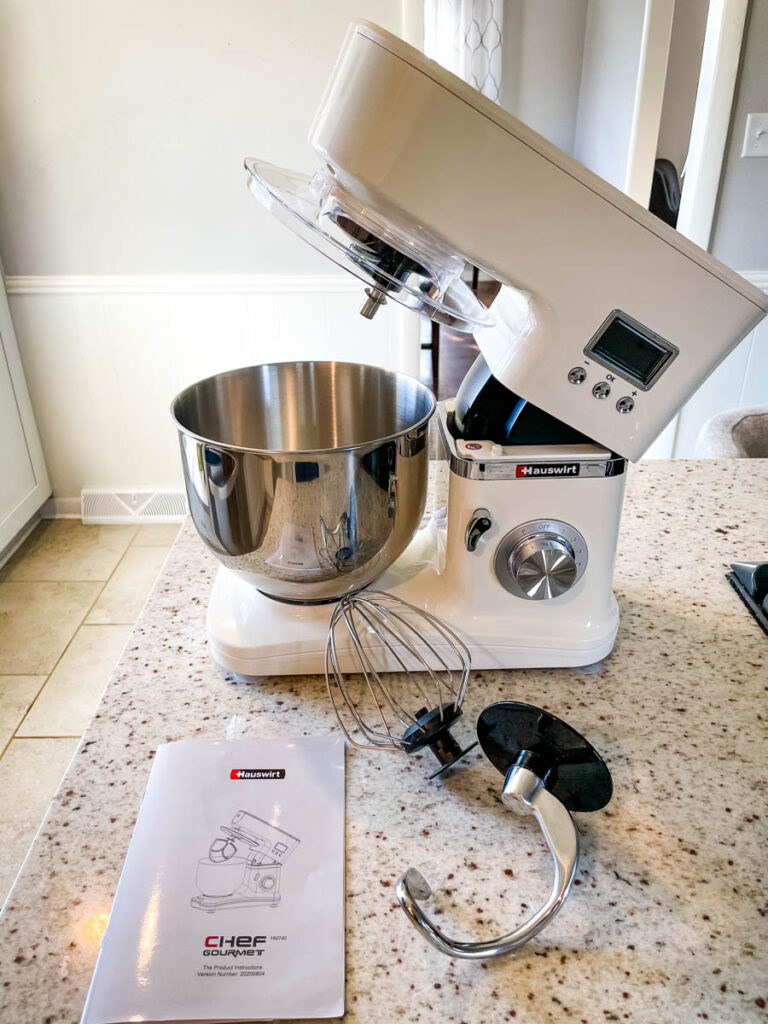 Mixer Pros
The cost is the largest pro. This stand mixer is about half of the cost of a Kitchenaid Stand Mixer.
It's super easy to unbox and assemble.
This thing is fast! It definitely puts my hand mixer to shame.
I love the suction at the bottom. It prevents it from falling over.
Mixer Cons
The mixer is ideal for making small batches of desserts, cake mixes and frosting. If you are making massive quantities of baked goods, this probably isn't the best fit.
I don't believe it comes in multiple colors.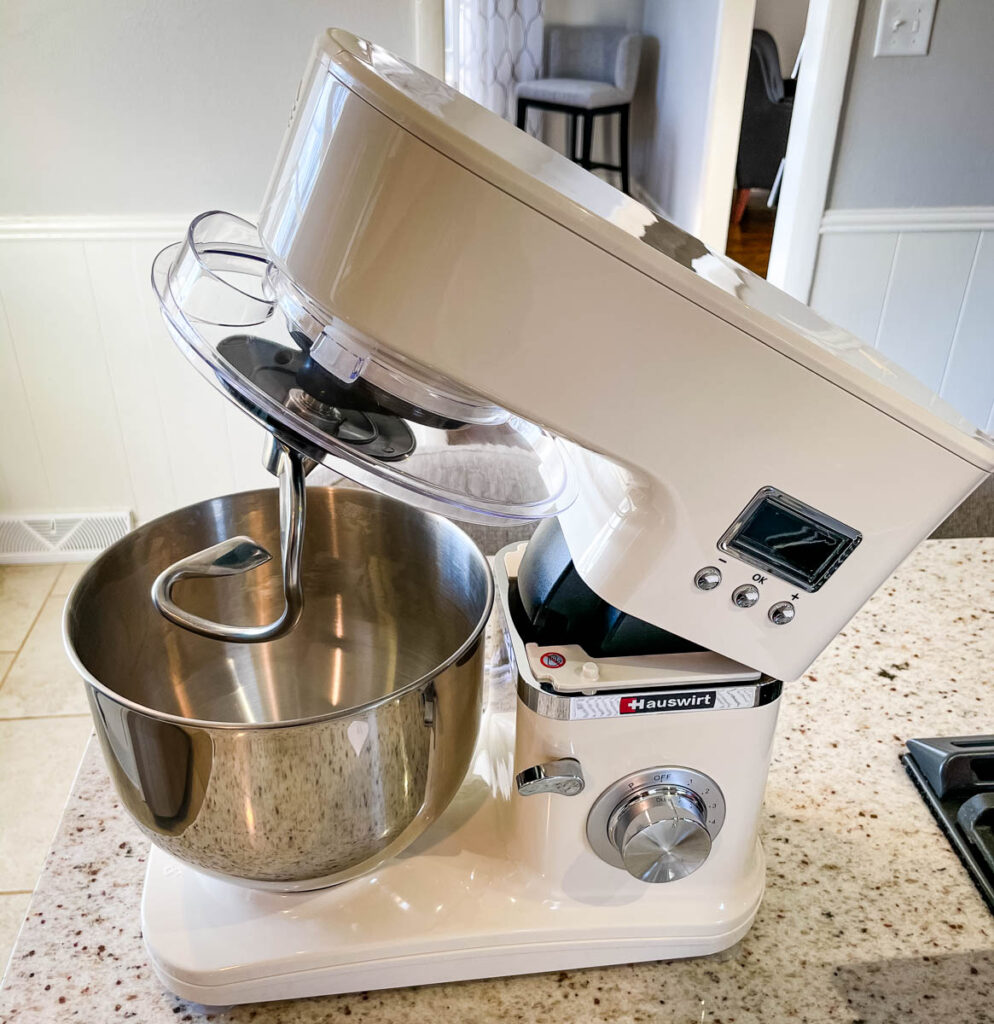 Final Thoughts and Recommendations
I made homemade bread using this mixer the first day I got it. It was seamless! I definitely recommend it if you want to upgrade your experience from using a hand mixer and if you want to save some money on your purchase.
Recipes to Make Using the Mixer
Keto Low Carb Pumpkin Cookies
Keto Low Carb Lemon Cookies
Keto Low Carb Cream Cheese Sugar Cookies
Keto Low Carb Chocolate Chip Cookies
Keto Low Carb Peanut Butter Cookies
Keto Low Carb Peanut Butter Cup Cookies
Keto Low Carb Double Chocolate Cookies
Keto Low Carb Macadamia Nut Cookies