These Cranberry Mimosas are a delightful twist on the classic mimosa. This sparkling and vibrant drink adds a burst of seasonal flavor to your gatherings. With each sip, you'll experience the crispness of sparkling wine, the tartness of cranberry juice, and the flavor that dances on your palate.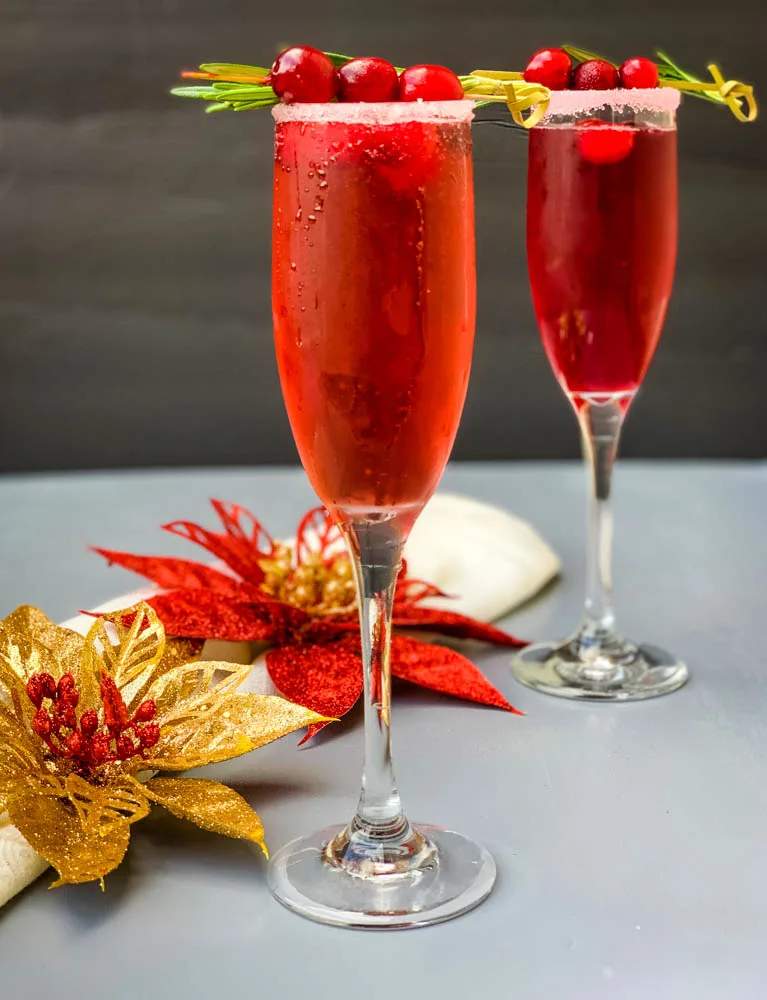 This post contains affiliate links. Please read my full disclosure here.
Why You Will Love This Recipe
Seasonal Celebration: These are perfect for celebrating the holiday season, Thanksgiving, Christmas, and New Year's. Their vibrant red color and tart cranberry flavor evoke the spirit of the holidays.
Crowd-Pleaser: This cocktail appeals to a wide range of tastes. Its sweet and tart combination is a crowd-pleaser, making it a safe choice for mixed company.
Brunch Companion: Mimosas are a popular choice for brunch, and Cranberry Mimosas are no exception. They pair beautifully with a brunch spread and complement dishes like quiches and pastries.
Balance of Flavors: Cranberry juice provides a balance to the sweetness of the sparkling wine, creating a harmonious and well-rounded flavor profile.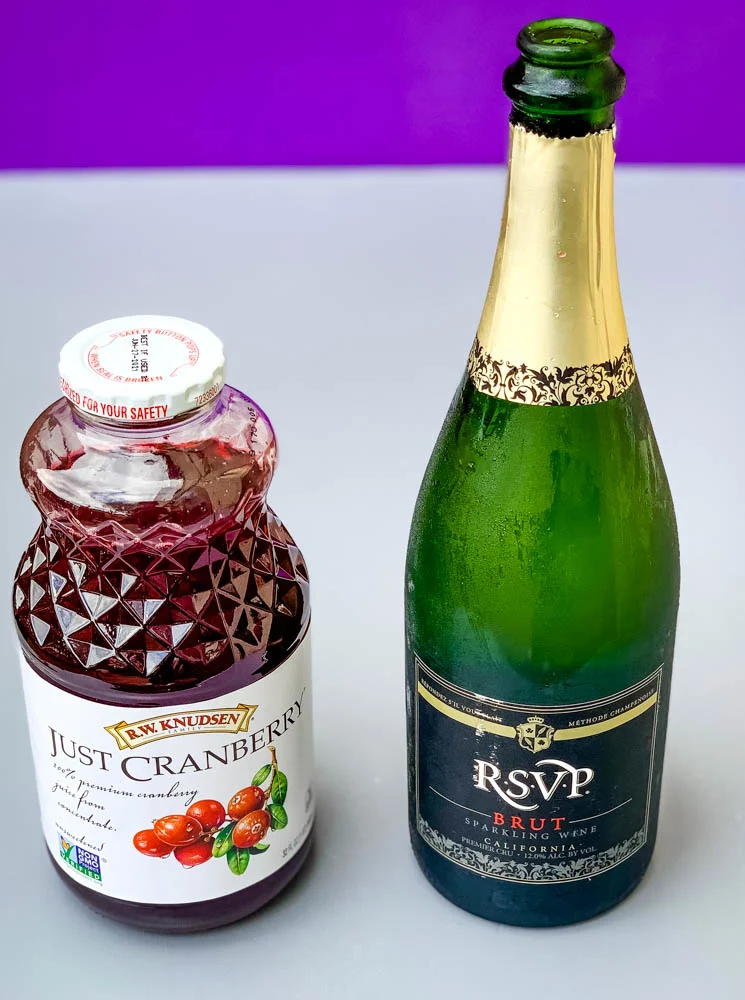 What Type of Sparkling Wine or Champagne Works Best
The choice of wine or champagne largely depends on your taste preferences and budget. Here are some options:
Brut Sparkling Wine: A classic choice for Mimosas, Brut sparkling wine or champagne is dry, crisp, and works well with the tartness of cranberry juice. It's a versatile option and widely available.
Prosecco: Prosecco is an Italian sparkling wine that's known for its fruity and floral notes. It's slightly sweeter than Brut Champagne, making it a great choice if you prefer a slightly sweeter cocktail.
Cava: Cava is a Spanish sparkling wine with a good balance of acidity and fruitiness. It can add a unique and refreshing twist to your drink.
Sparkling Rosé: If you want to add a touch of pink and a hint of berry flavor to your Cranberry Mimosas, a sparkling rosé can be a delightful choice. It's typically slightly sweet and fruity.
Budget-Friendly Options: If you're making a large batch of Cranberry Mimosas for a gathering, there's no need to break the bank. Look for reasonably priced sparkling wines or prosecco, as they can deliver quality and flavor without a high cost.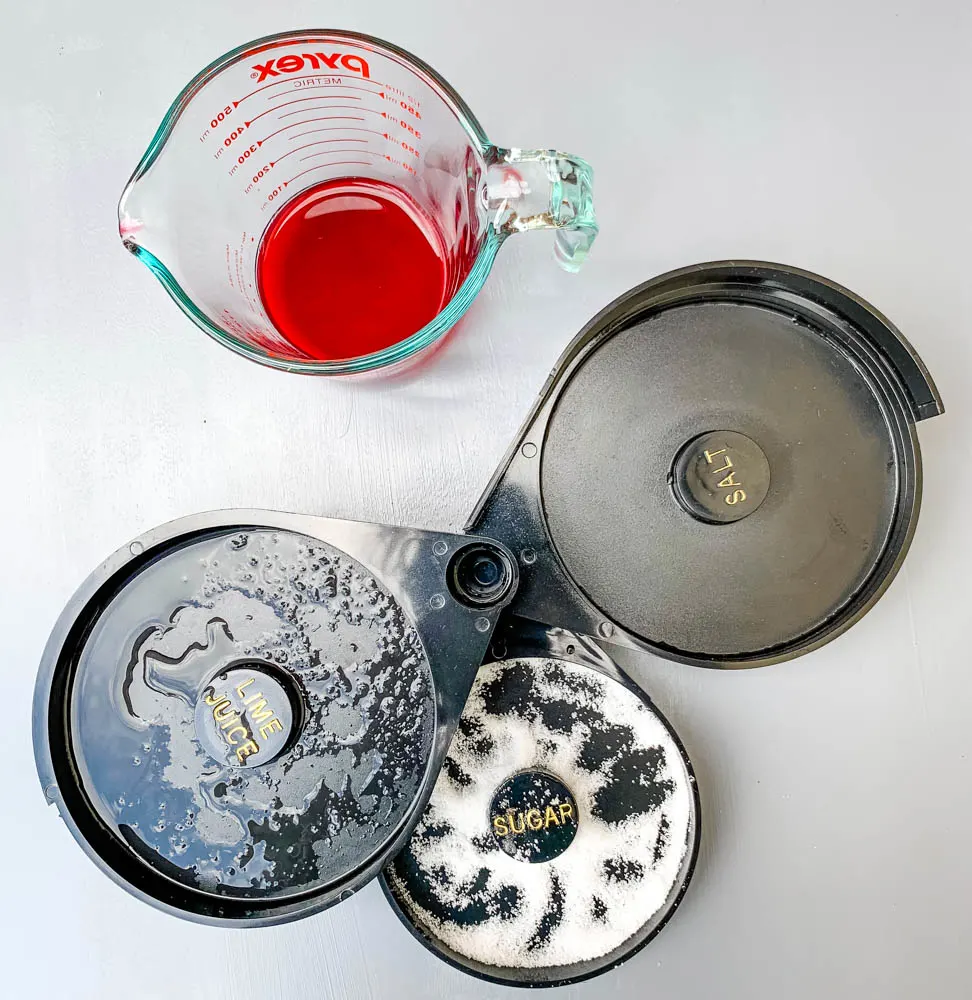 What Type of Cranberry Juice to Use
You can use either freshly squeezed cranberry juice or cranberry juice cocktail.
Freshly squeezed cranberry juice offers a pure and natural cranberry flavor with a tart and slightly astringent taste. It provides a more authentic cranberry experience. You can find store bought juice that is 100% cranberries or make your own.
Cranberry juice cocktail is readily available in pretty much any grocery store. It's typically a blend of cranberry juice with added sweeteners, such as sugar or corn syrup. It has a sweeter and less tart taste compared to freshly squeezed cranberry juice. The sweetness can vary between brands, but you can choose one that aligns with your taste preferences.
The type of cranberry juice you use depends on your taste and the flavor profile you want to achieve. If you're aiming for a cocktail with a pronounced tartness and a pure cranberry essence, freshly squeezed cranberry juice is the way to go.
However, if you prefer a sweeter and more accessible flavor, then a store-bought cranberry juice cocktail is a suitable option. You can adjust the sweetness by choosing the cranberry juice product that best fits your desired taste.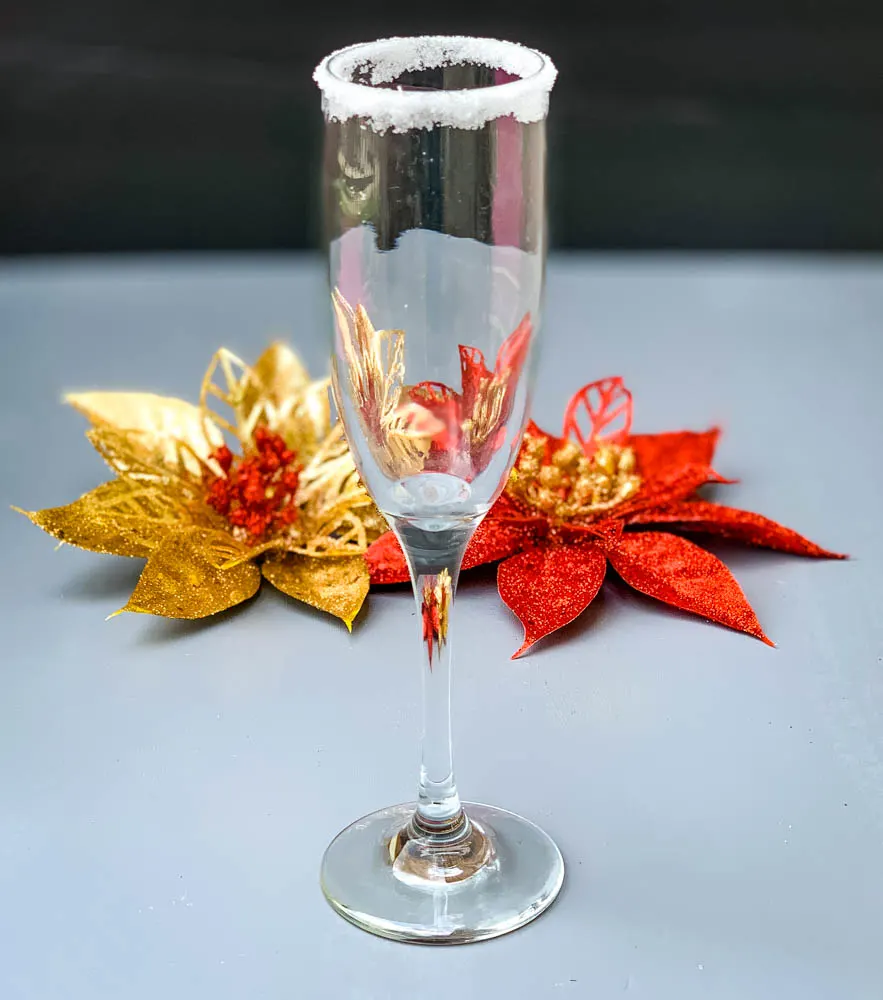 How to Make Cranberry Mimosas
Use a cocktail rimmer and line the rim of the champagne flute with sweetener.
I like to add the cranberry juice and lime juice to the champagne flute first.
Next, add the champagne or sparkling wine.
Garnish with fresh cranberries or rosemary.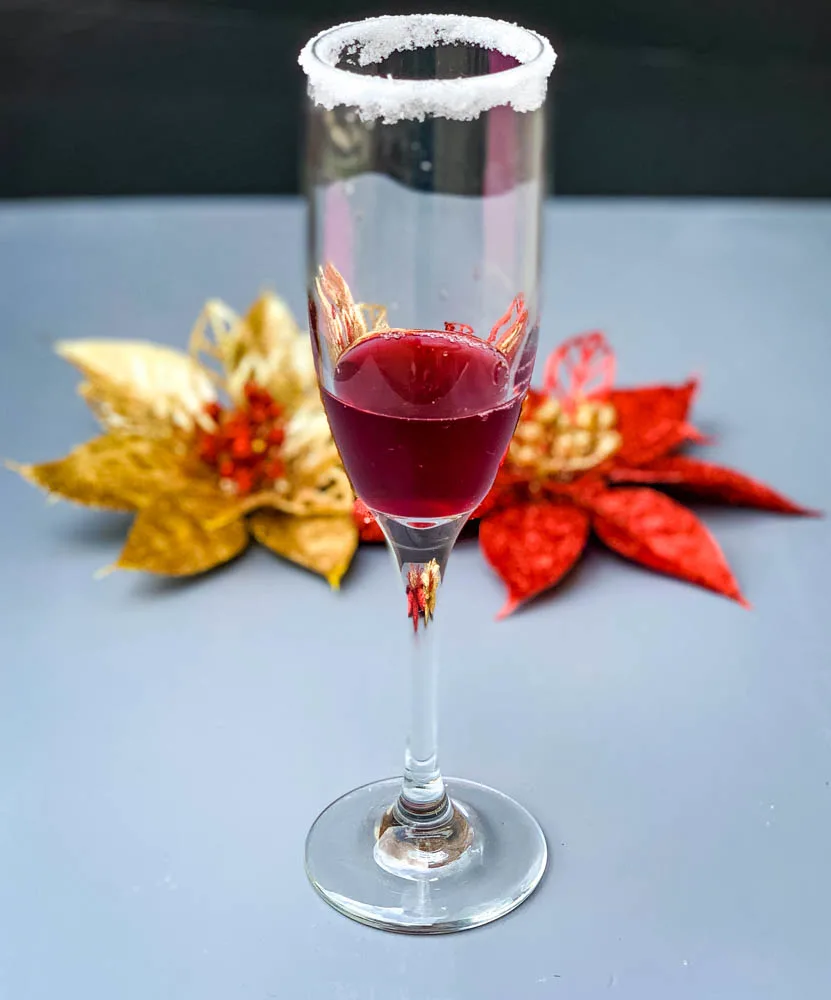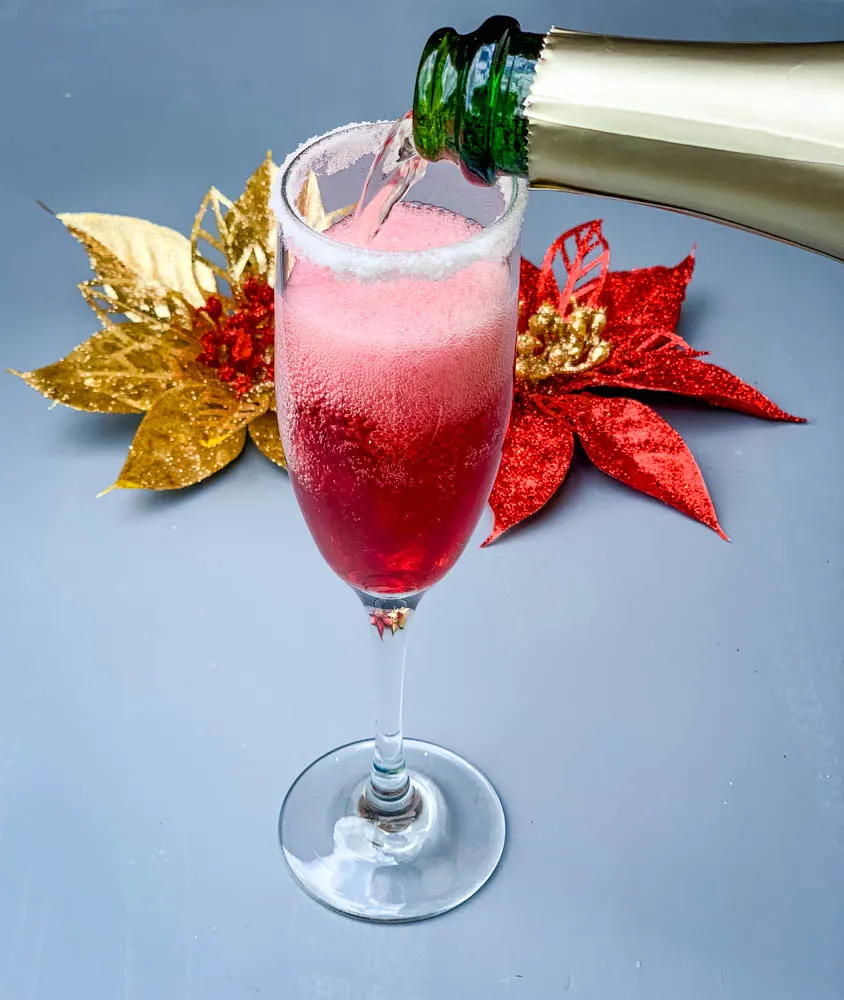 How to Serve Them
Glassware: Opt for tall, narrow glasses such as Champagne flutes or wine glasses. These glasses are designed to preserve the carbonation of the sparkling wine and showcase the vibrant color of the cocktails.
Chilled Glasses: You can also chill the glasses before serving if you want to ensure cold drinks. You can do this by placing them in the refrigerator for about 15-30 minutes or by filling them with ice and water for a brief period before pouring the cocktail.
Ingredients: Have all the ingredients ready and chilled before serving. This includes your sparkling wine or champagne, cranberry juice, and any additional liqueurs if you're using them.
Pouring: To create the layered effect and allow guests to see the beautiful combination of colors, start by pouring the cranberry juice into the glass.
Serve Immediately: These are at their best when served fresh. Avoid letting them sit for too long, as the bubbles from the sparkling wine can dissipate.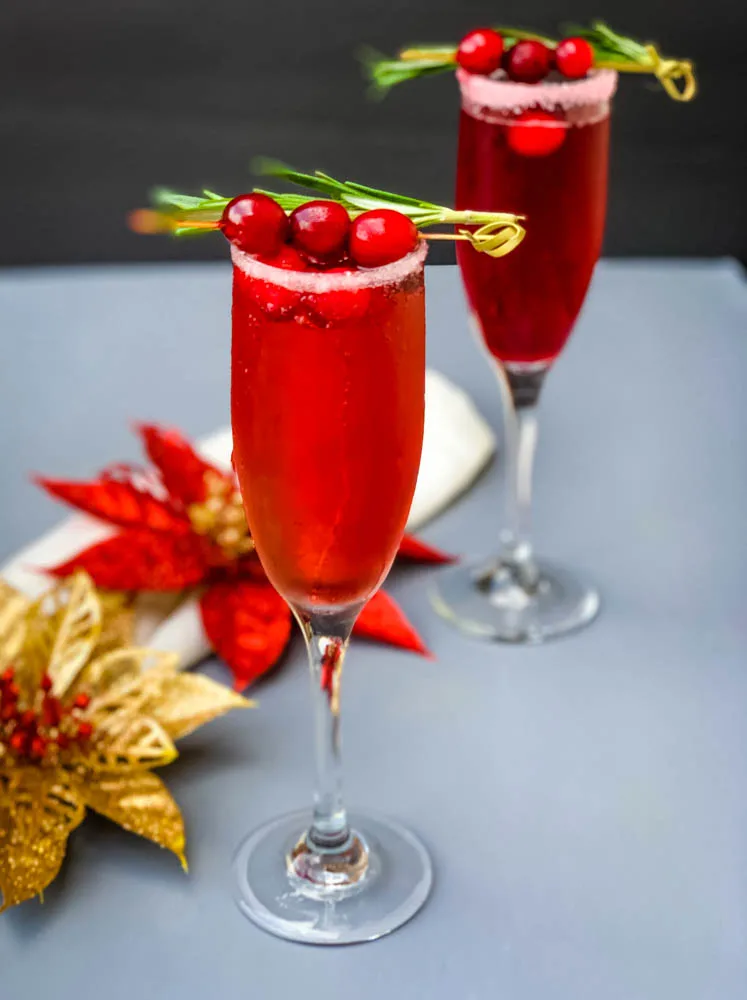 Can You Prepare Them in Advance
You will want to pour each glass when you're ready to serve, but here are some hosting tips:
Chill Ingredients: Make sure the cranberry juice and sparkling wine or champagne are thoroughly chilled. You can do this a few hours before your event.
Pre-Measure: You can pre-measure the cranberry juice and sparkling wine in separate containers or pitchers and keep them in the refrigerator until you're ready to serve.
Garnishes: Prepare any garnishes, such as citrus twists or cranberry skewers, in advance and keep them refrigerated. These can be added to each glass just before serving.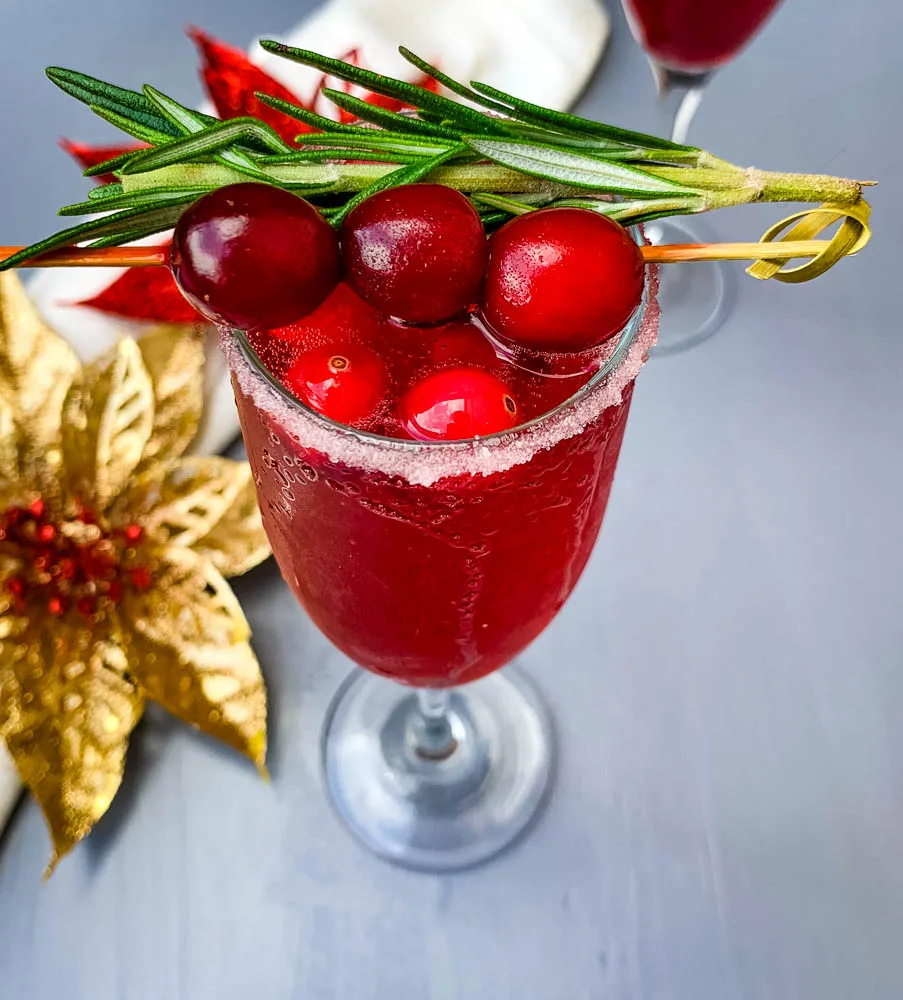 More Cocktail Recipes
Holiday Pomegranate Mimosas
Jungle Juice Recipe
Sangria Mimosas
Keto Low Carb Lemon Drop Cocktail
Keto Low Carb Mojitos
Wine Gummy Bears
Frozen Strawberry Margaritas
Raspberry Sorbet Mimosa
Bahama Mama Cocktail
Rum Punch Cocktail
More Cranberry Recipes
Grand Marnier Cranberry Sauce
Instant Pot Cranberry Sauce
Slow Cooker Crockpot Cranberry Sauce
Cranberry Sauce with Apples
Cranberry Mimosa
These Cranberry Mimosas are a delightful twist on the classic mimosa. This sparkling and vibrant drink adds a burst of seasonal flavor to your gatherings. With each sip, you'll experience the crispness of sparkling wine, the tartness of cranberry juice, and the flavor that dances on your palate.
Save this recipe here.
Saved!
Ingredients
1

teaspoon

sweetener

1/2

fresh lime

2

oz

cranberry juice

1

fresh rosemary sprig

3-5

fresh cranberries

4

ounces

champagne
Instructions
Add 1/2 of the juice from the lime one side of the rimmer and the sweetener to the other.

Dip the base of the champagne flute in the lime juice and then in the sweetener to line the glass.

Pour the cranberry juice into the glass along with the remaining half of the lime juice.

Add the champagne and cranberries.

Garnish the glass with rosemary.
Notes
If you like a sweet drink, be sure to choose Cranberry Juice Cocktail, as opposed to Just Cranberry Juice.
Recipe Tools Used in this Recipe
As an Amazon Associate I earn from qualifying purchases.
Nutrition (displayed with net carbs)
Serving:
1
cocktail
|
Calories:
105
kcal
|
Carbohydrates:
19
g
|
Fat:
4
g
Tried this recipe?
Mention @Stay_Snatched or tag #StaySnatched! The recipe instructions noted here are the property of Stay Snatched and subject to copyright. Please do not screenshot and share this recipe on social.
Nutrition Data
Macros are provided as a courtesy and should not be construed as a guarantee. This information is calculated using MyFitnessPal.com. To obtain the most accurate nutritional information in a given recipe, you should calculate the nutritional information with the actual ingredients used in your recipe, using your preferred nutrition calculator. You are solely responsible for ensuring that any nutritional information provided is accurate, complete, and useful.