Cosori Dual Blaze Air Fryer Honest Review includes an unboxing of the 12 in 1, 6.8 quart air fryer. The post includes recipes and tips on how to use and clean the air fryer.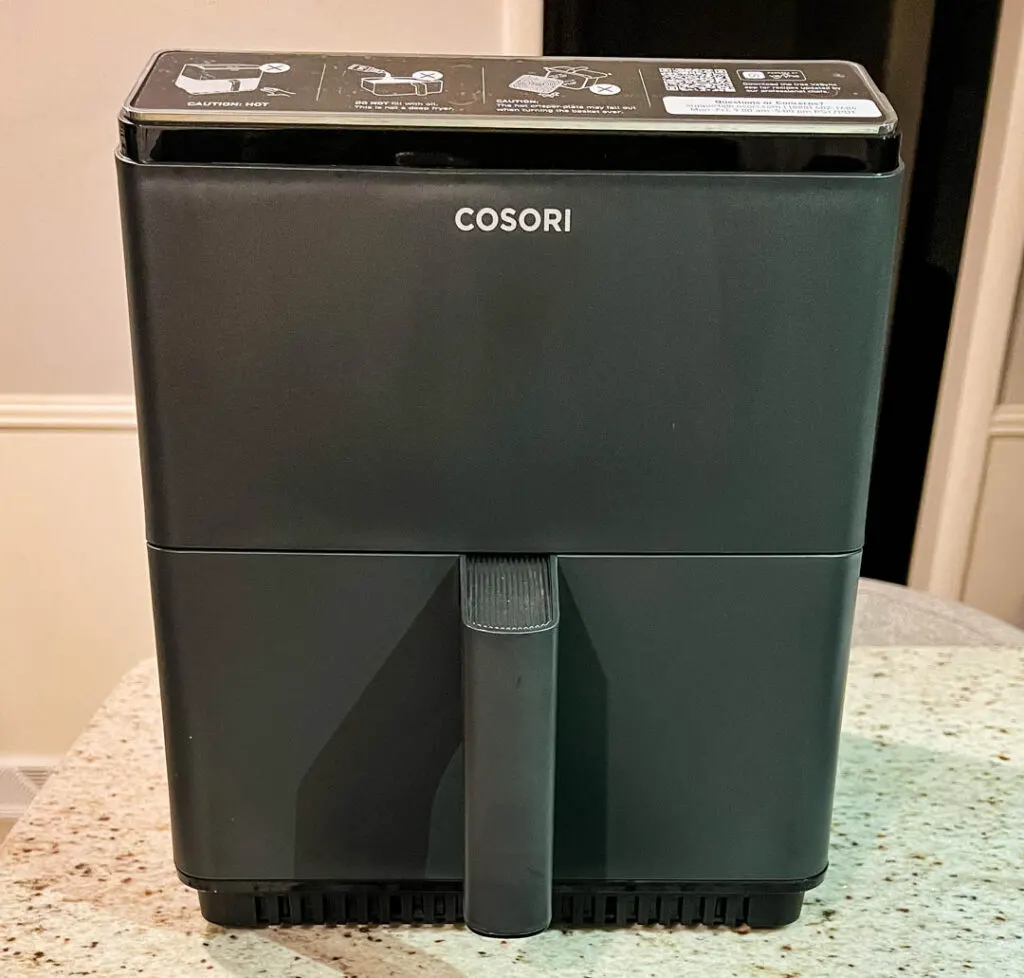 I received this air fryer from Cosori for free. All opinions are my own.
This post contains affiliate links. Please read my full disclosure here.
Cosori Specifications
No more preheating.
No more flipping food and shaking.
Dual heating elements with patented automatic temperature control cook both sides of your food evenly without needing to shake or flip.
6.8 quart (vs 5.8 quart previous model) and fits more food, larger whole chickens, etc.
Cosori's most spacious air fryer ever released.
Smart Control allows you to control it from the app and also works with Alexa.
Included Crisper Plate: Comes with a BPA-free crisper plate, which filters excess oil and improves crispiness.
Dishwasher Safe: The non-stick basket and crisper plate are dishwasher safe.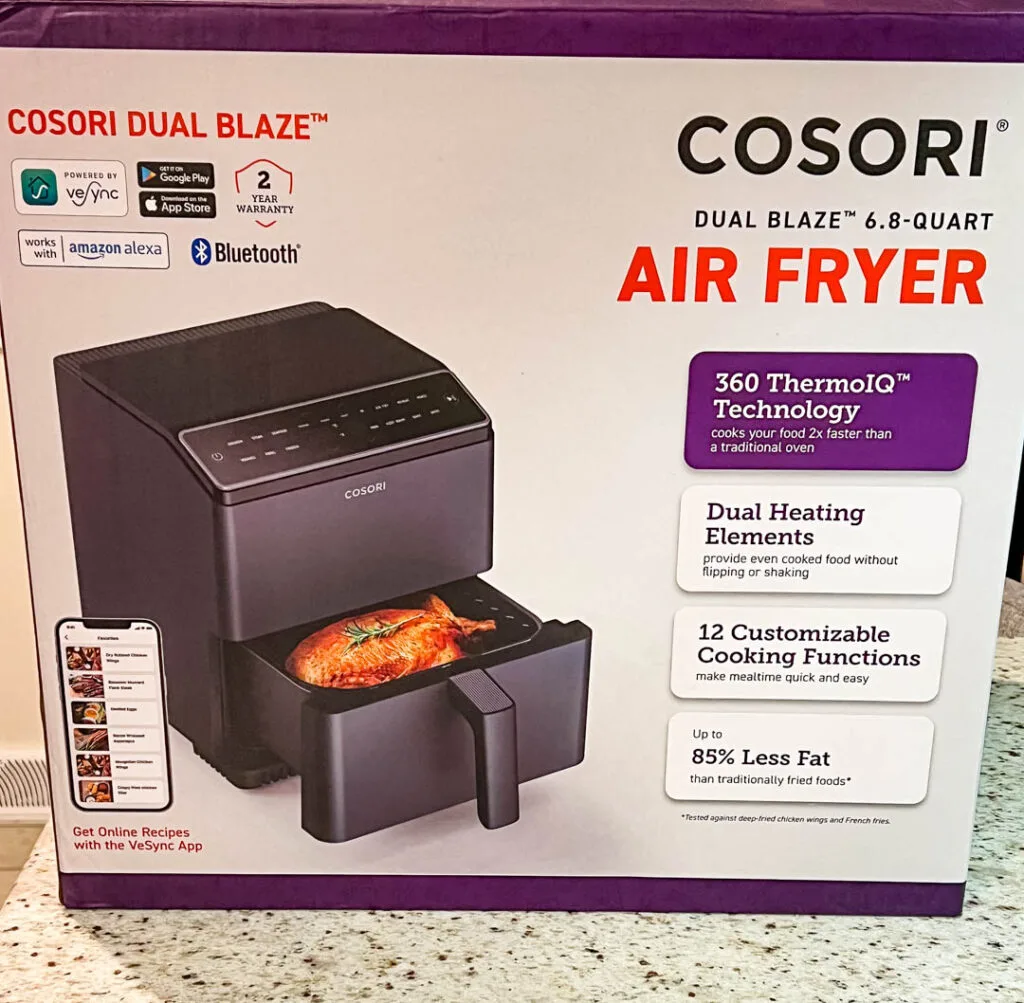 Functions and Controls
Air Fry
Bake
Broil
Roast
Reheat
Keep Warm
Chicken
Steak
Seafood
Vegetables
Fries
Frozen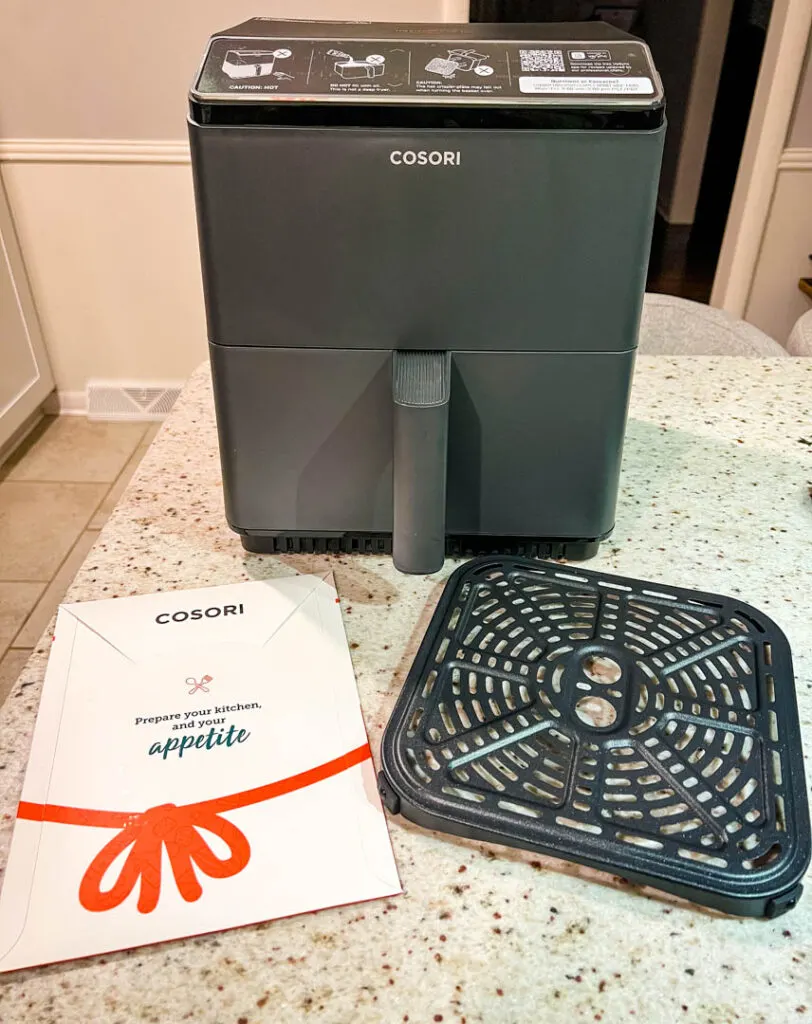 What's Included in the Box
The air fryer comes with the following:
Dual Blaze 6.8 quart
Crisper Plate
User Manual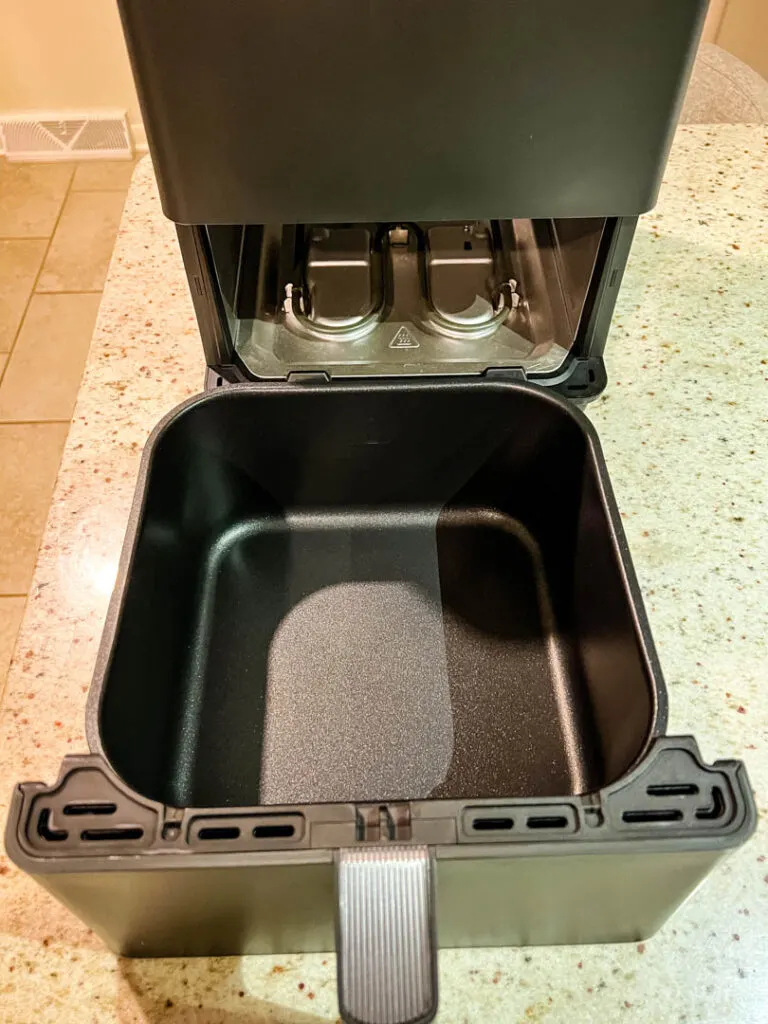 Air Fryer Basket Shape
The basket is square-shaped which I LOVE. I'm not a fan of air fryers with the round shape. It makes it difficult to fit certain foods and you typically have to cook less. For example, long steaks and cuts of fish were harder to fit within the air fryers with rounded edges on the basket, but that's not a problem with this model.
Cosori Air Fryer Power and Cook Times
The Power Supply is (US/CA Only): AC 120V, 60Hz with Rated Power: 1750W.
The temperature ranges from 175-400 degrees F. What I love most is you can adjust the temperature in 5 degree increments, this will be very helpful for selecting the perfect cook time for certain foods, which can also speed up the cooking process.
So far, I have tested the air fryer with fried chicken wings. The wings cooked (and crisped perfectly) within 12-14 minutes. I usually cook my wings for at least 20-22 minutes to get them extra crispy. I also loved that they didn't need to be flipped. No more checking in halfway. You can just let it cook and do other things in the mean time.
Not having to flip is going to save a lot of time.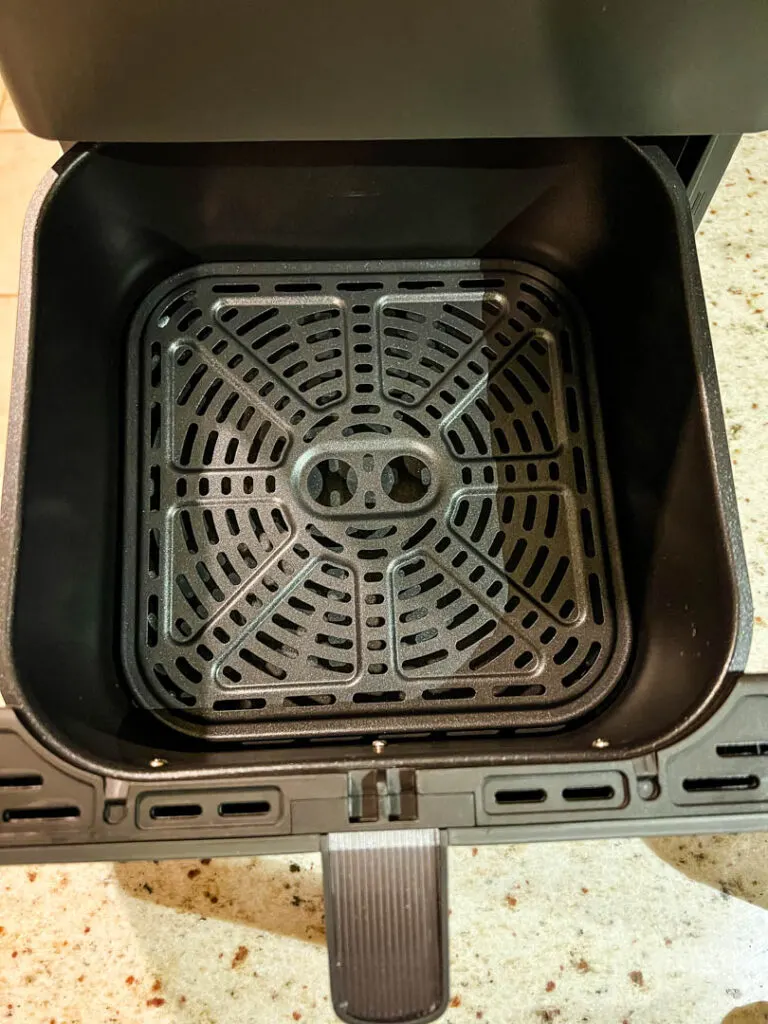 How to Clean Cosori Air Fryer
Both baskets are dishwasher safe. I usually give them both a little scrub down prior.
The crisping tray provided with this model makes the air fryer much easier to clean. The previous models (and most air fryers) have a basket that is placed inside a try that goes in the air fryer. Now you only have to clean this crisping tray and the outside tray.
On previous air fryer models that basket would get caked with residue along top edges. This is much easier to clean.
Check out my How to Clean Your Air Fryer Post here.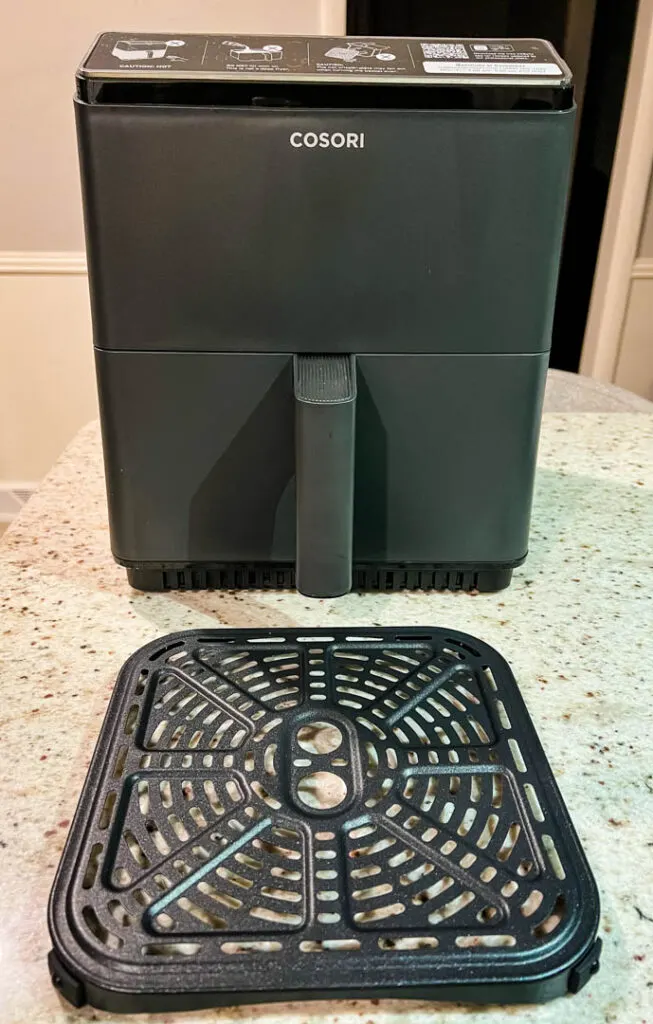 Sound/Is it Loud?
This air fryer is the quietest air fryer I have owned. You don't even really hear that it's on.
Remote Use and the App
I'm not sure a lot of people will benefit from this feature. It really depends on what your goals are. I use this feature the most while working out in the evening before dinner. I like to use it for roasted vegetable side dishes, air fryer baked potatoes, and air fryer baked sweet potatoes.
Since these aren't the kind of things that will spoil while sitting out (and in an air fryer), I load them into the air fryer prior to my workout. That way, I can time it to cook while I'm working out and it's finished when I'm done. I can start the cooking middway through my workout.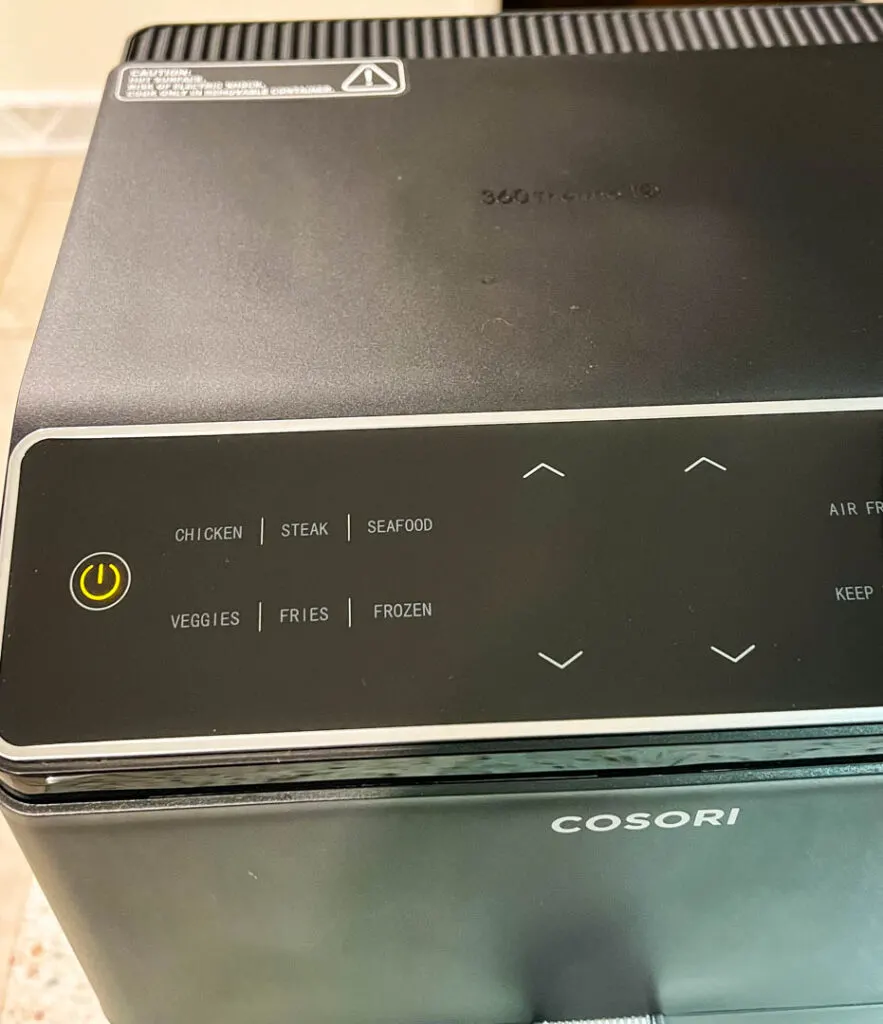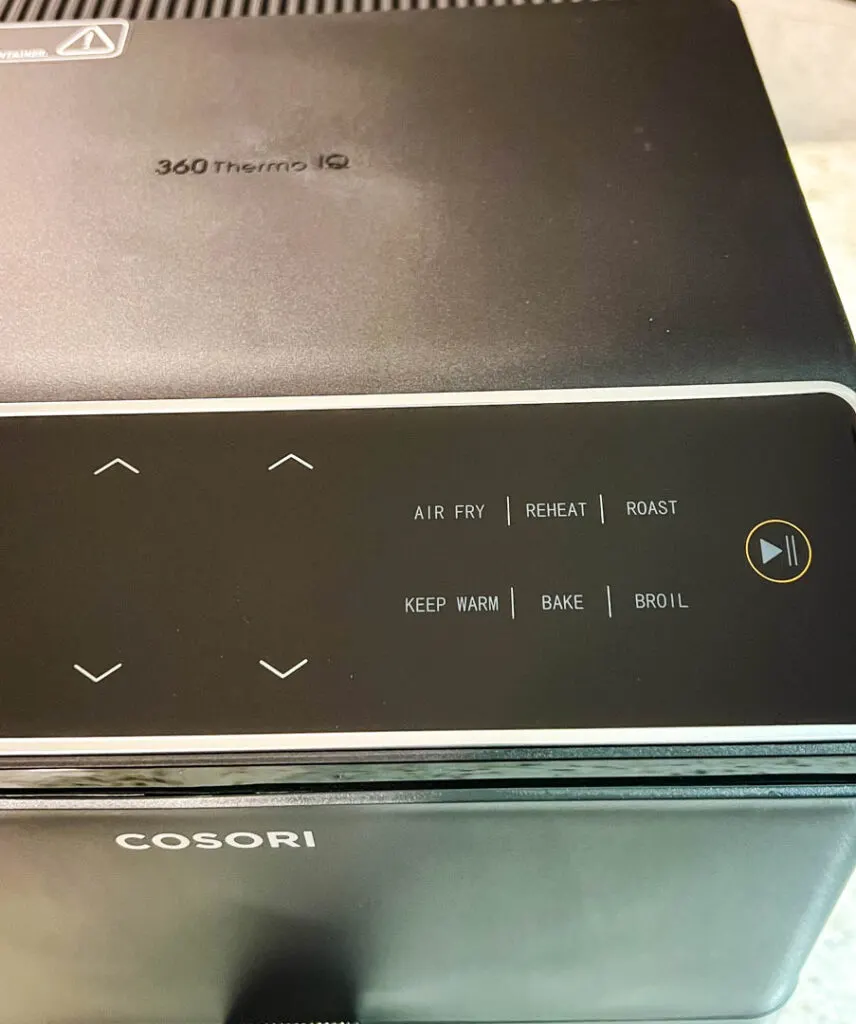 Where to Buy Cosori Air Fryer
You can buy the air fryer here on Amazon.
Are Air Fryers Healthy?
The air fryer cuts the fat tremendously in comparison to deep frying. With air frying you only need a spritz of oil in order for food to crisp. This beats submerging food in a deep fryer with oil any day!
Cosori Air Fryer Accessories
Here are my favorite accessories:
You can also check out my full list of The Best Air Fryer Accessories here.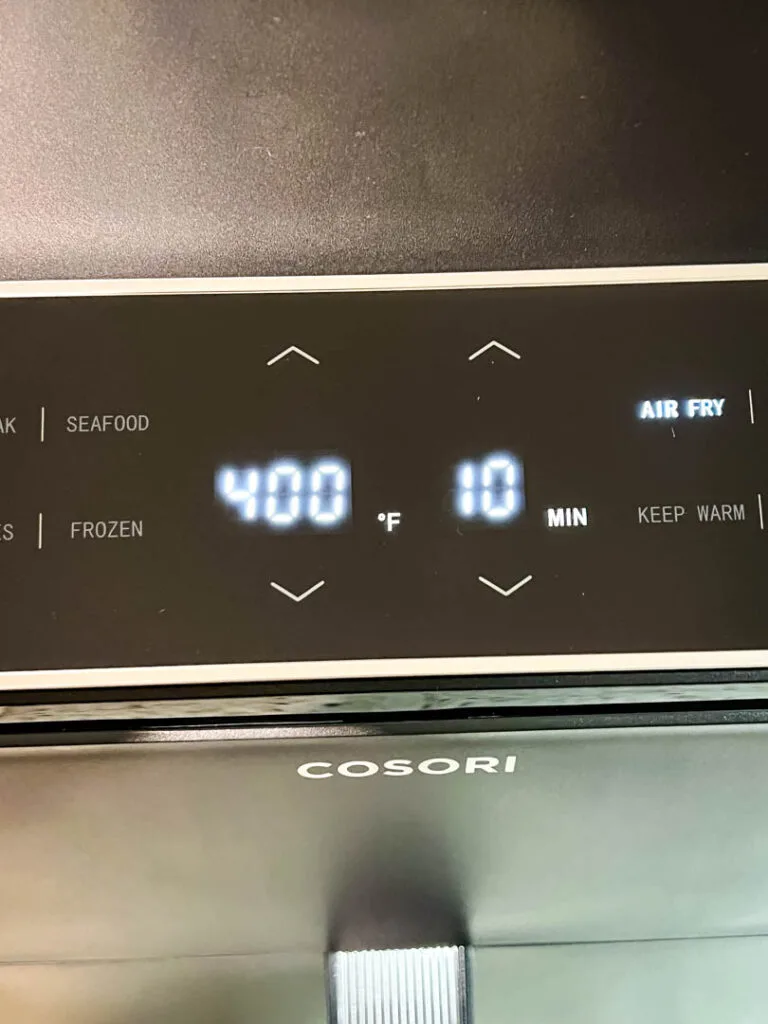 Final Thoughts and Recommendation
This air fryer is a game changer. It handles most of the gripes people have about air frying. If you are looking for something larger that may minimize the amount of batches you are cooking, this will work well.
If you hate stopping to fip and shake your food, this is for you.
If you found previous air fryers difficult to clean, this one is much easier.
Popular Air Fryer Recipes
Air Fryer Fried Chicken
Air Fryer Crab Rangoon
Air Fryer Green Beans
Air Fryer Cheeseburgers
Air Fryer Pork Chops