This guide will provide you all of the tips and tricks on how to clean an air fryer, remove baked-on grease using baking soda, and show you how easy it is to clean the heating element on the appliance.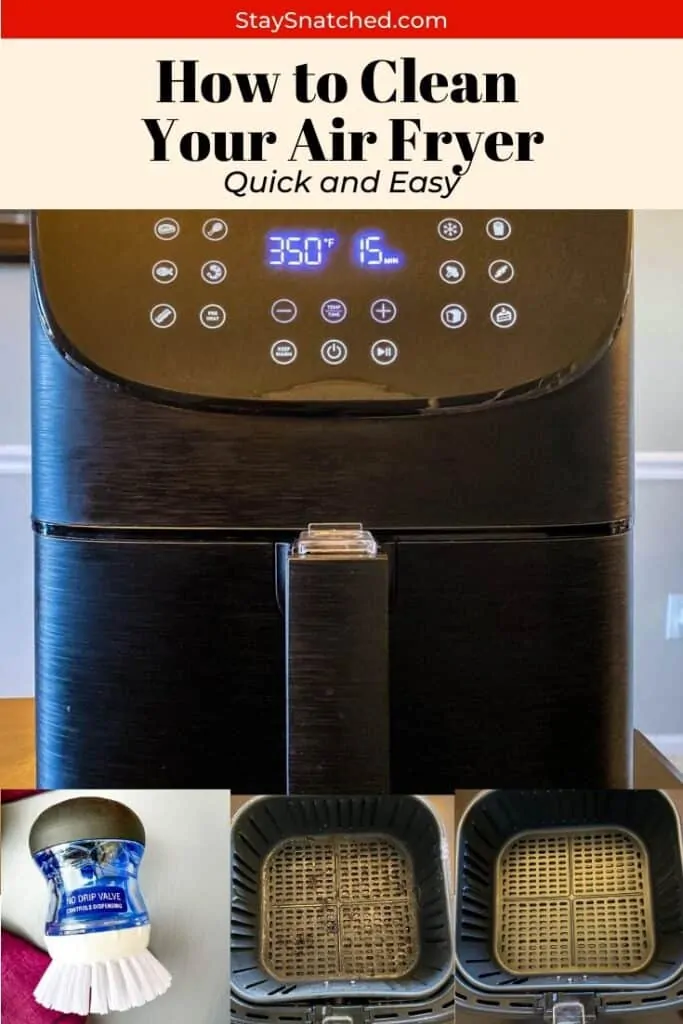 This post contains affiliate links. Please read my full disclosure here.
So you just got an air fryer and you're wondering how do I clean this thing? Or maybe you have had one for a long time and you just can't figure out the best way to clean it clean.
I get it. It's tough! These tricks will solve all of your worries!
Do's
Unplug the air fryer when not in use, and before cleaning.
Allow the air fryer to cool before putting on or taking off parts.
Read your user manual. Every air fryer brand will have their own set of rules.
Dont's
Do not submerge the entire appliance in water.
Do not use aerosol sprays or Pam in the air fryer. This isn't really a cleaning tip, it's a general thing you should not do. It will lead to chips in your air fryer basket. I use this oil spray bottle from Amazon.
Do not use abrasive sponges or SOS pads. This will remove the nonstick coating of your air fryer and lead to chips.
Do not clean with metal pads. Metal fragments can break off the pad and touch electrical parts, creating a risk of electric shock.
How Often Should You Clean Your Air Fryer?
You should clean your air fryer, especially the basket, after every use. Trust me, if you don't you will regret it later because it will be much harder to remove stuck-on grease.
The amount of effort you put into each clean will vary, based on what you cooked in the air fryer that day. I have found that meats like chicken or anything with skin are the hardest to clean. These types of meats are naturally greasy and will leave residue in the air fryer. I love to use this air fryer parchment paper from Amazon for that reason. I have moved to silicone parchment liners made for air frying and that has been a gamechanger.
If you make something like steamed broccoli or any vegetables, your air fryer basket will be much easier to clean and it will only take a few minutes.
UPDATE A New Way to Clean the Air Fryer USING THE AIR FRYER
I can't take the credit for this tip! I watched a video on Instagram and it was life-changing. Yup, you can use your air fryer to clean the air fryer. As always, this method will work best if you do it immediately after using your air fryer. I did test this method on day-old built up grease and residue, and it still works, but it required a little more physical cleaning on my part, and I would rather just have the air fryer do most of it.
So here's what you do! After you use the air fryer, it will often look like this, especially if you air fried meat.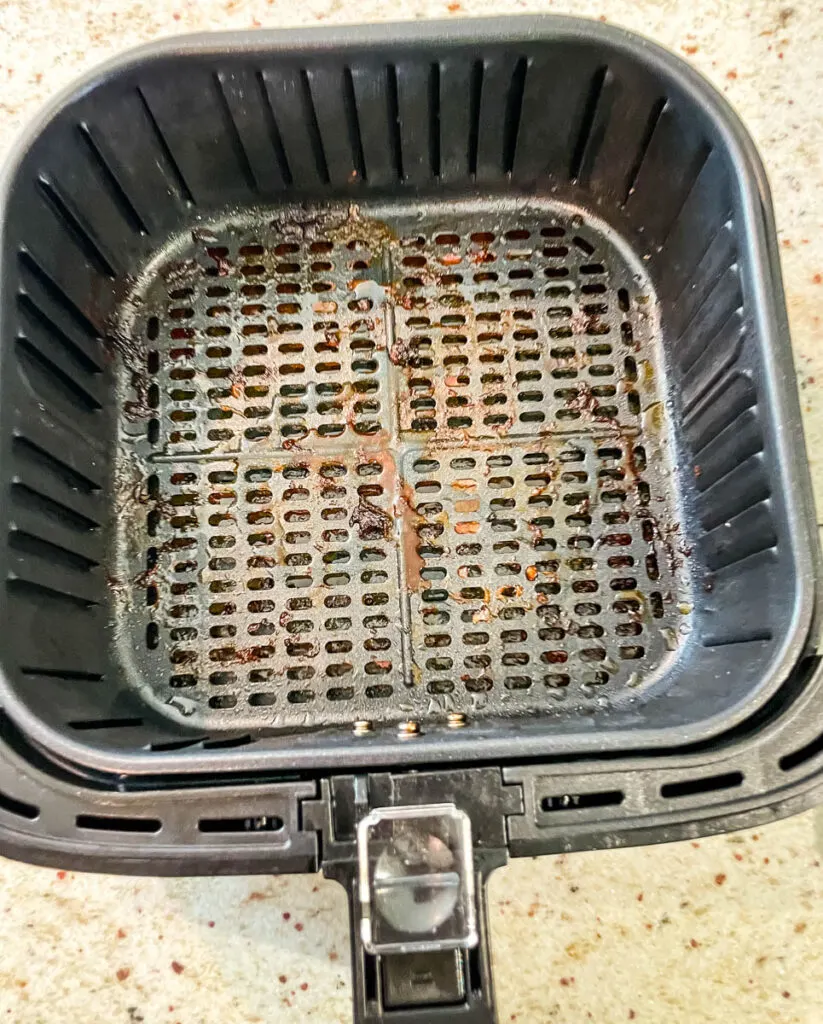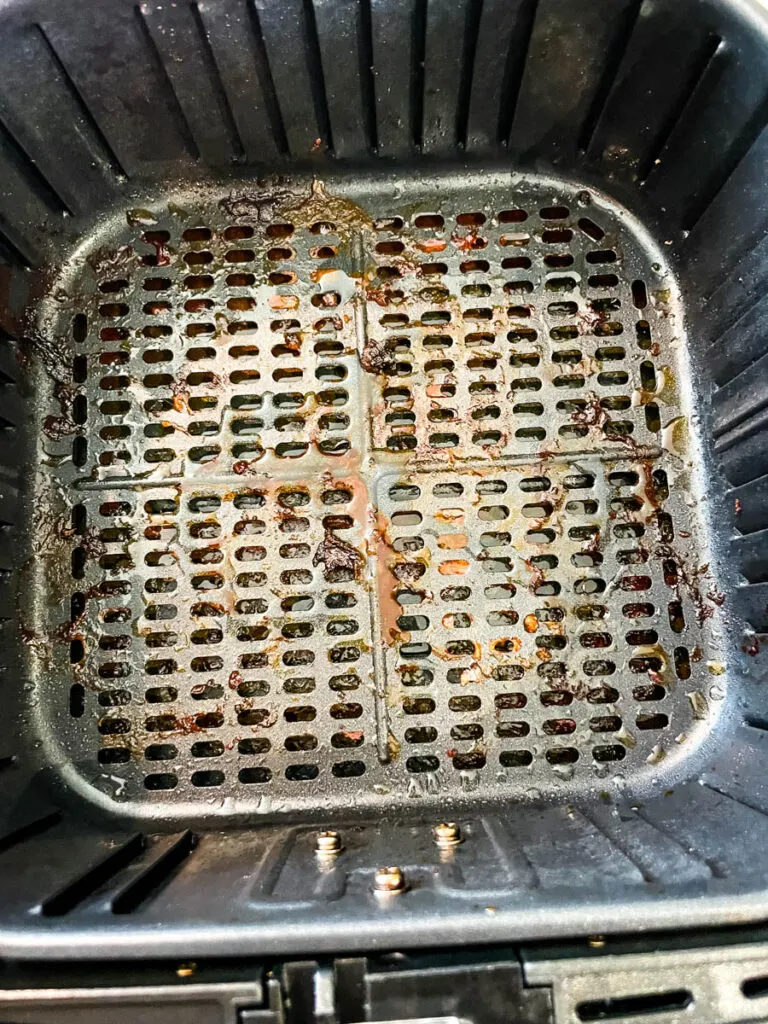 After you have used it add one cup of water to the air fryer along with a couple of squirts of dish soap. Use whatever you like.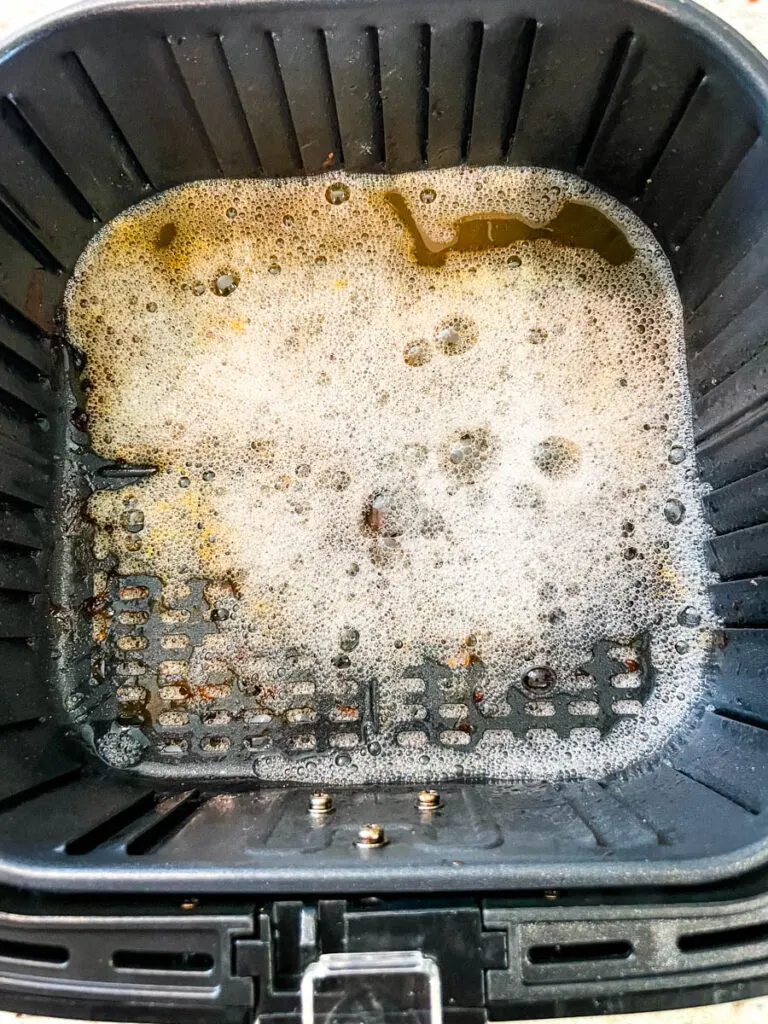 Place the basket with the water and soap back into the air fryer. Air fry for 5 minutes on 350 degrees.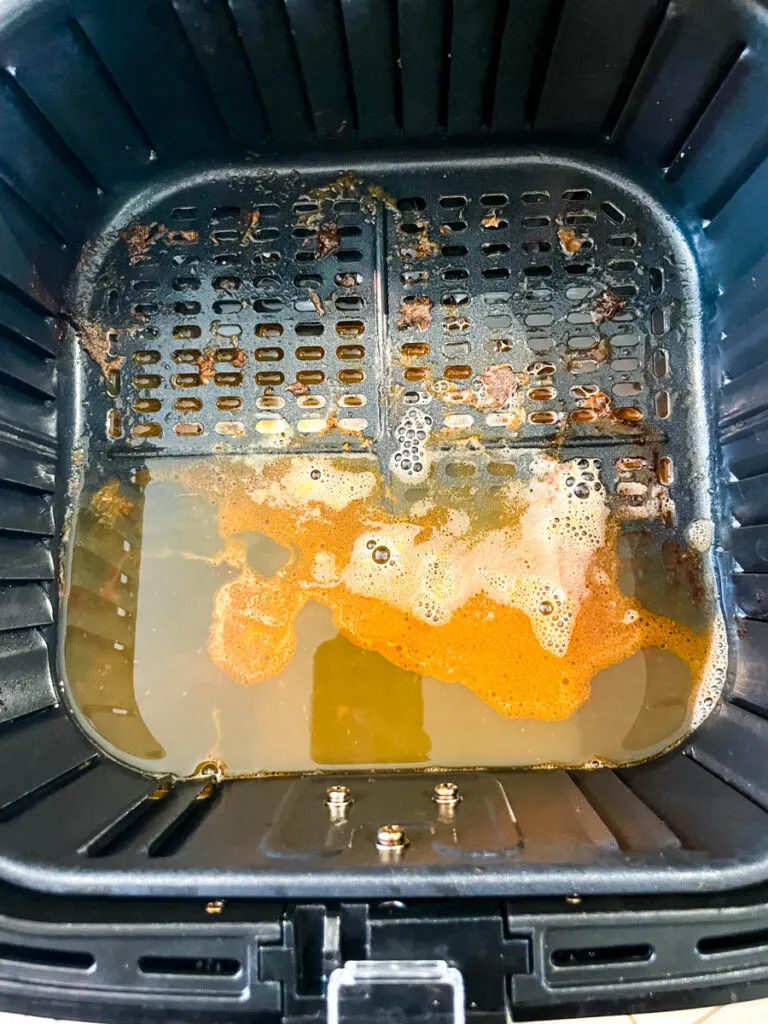 From there rinse out the air fryer and wipe it down.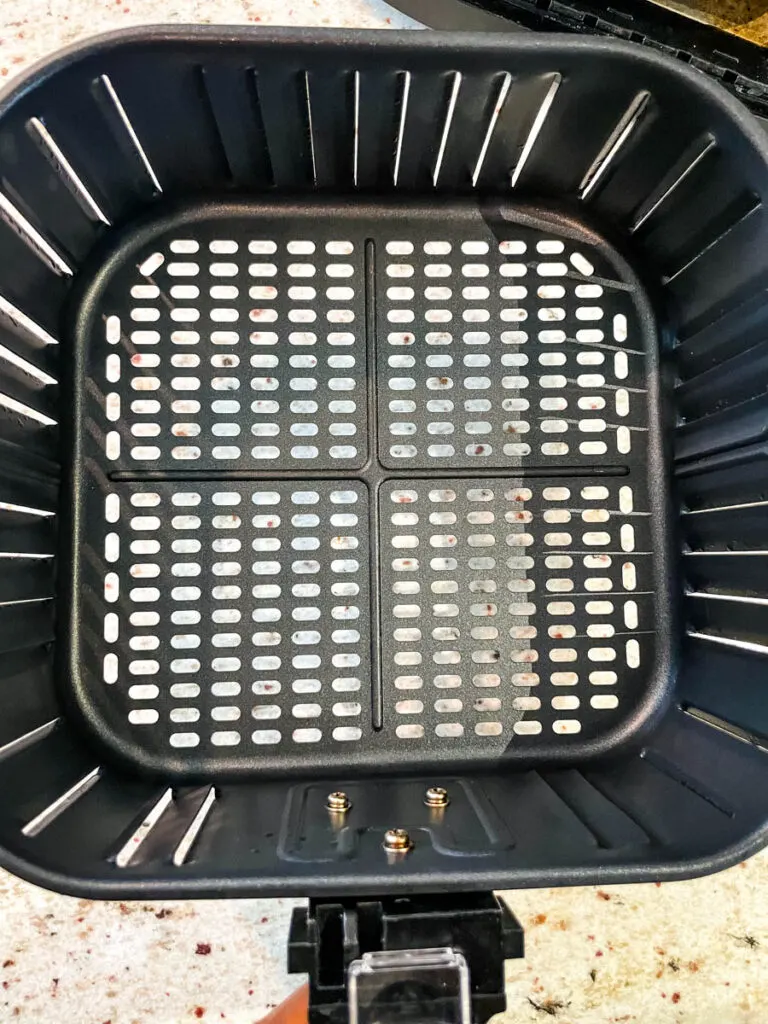 Viola! Very minimal effort and I didn't need to do any scrubbing. This worked better than my dishwasher in my opinion. If you try this, be sure to leave a comment below with your thoughs.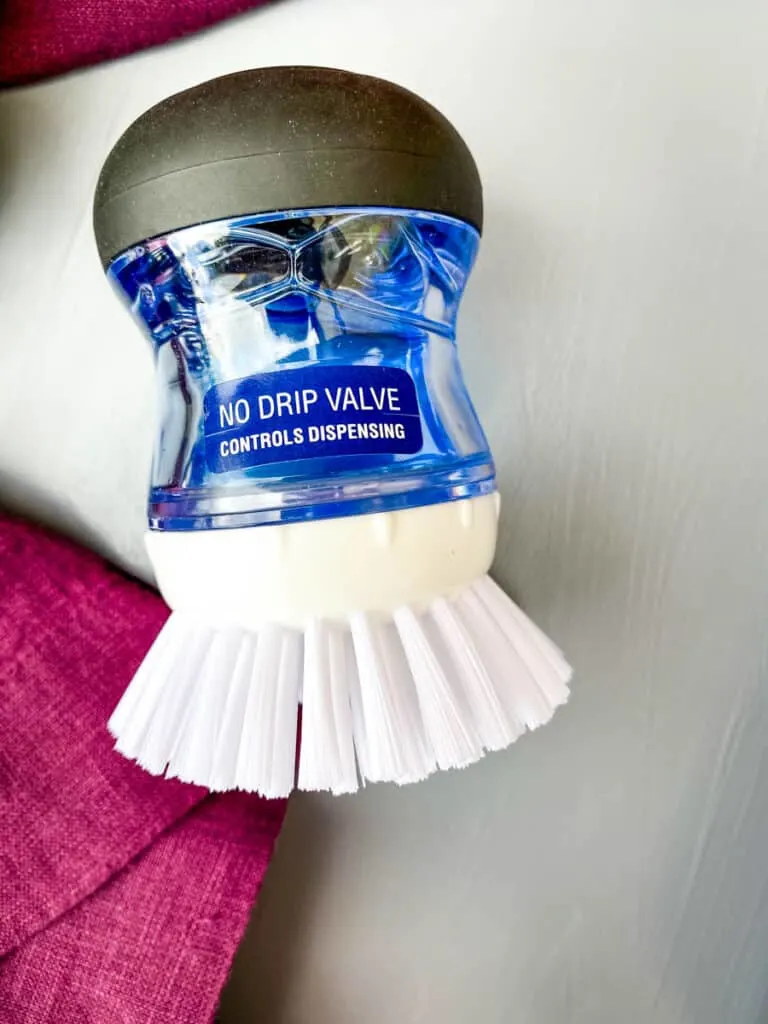 Cleaning Tools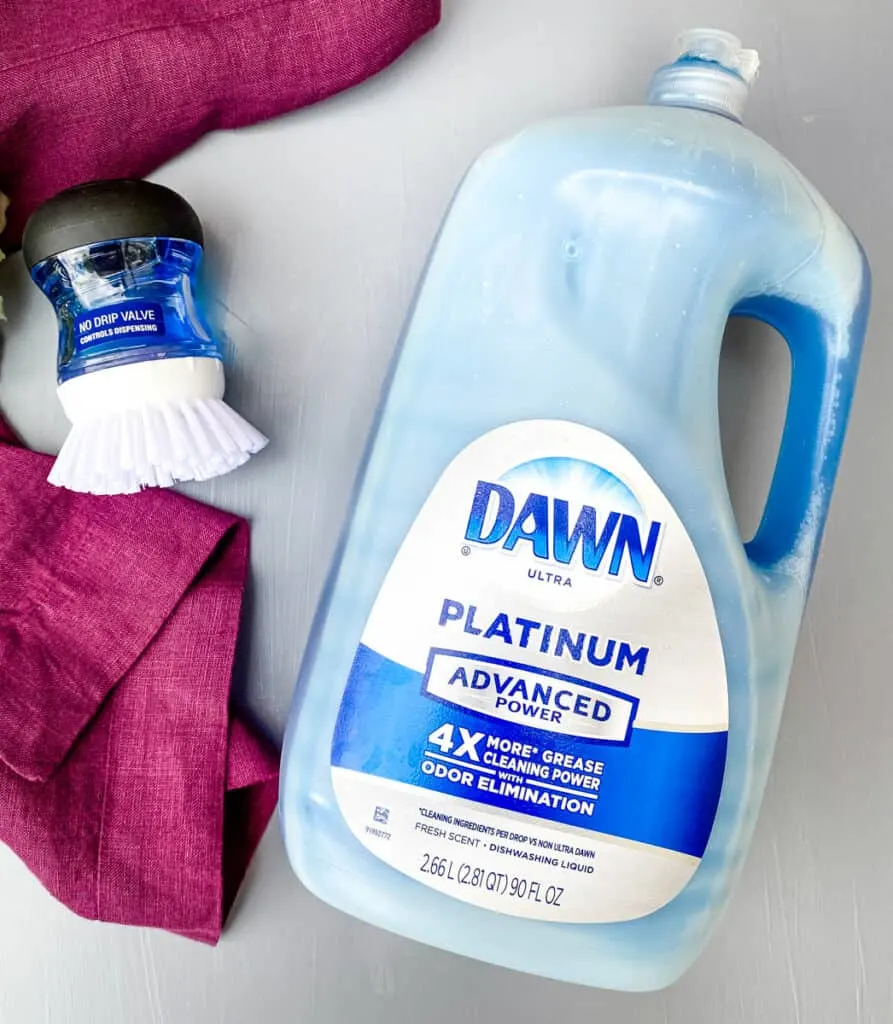 Baked On Grease and Stuck-On Food
Baked on grease and residue can be hard to get off. The first thing you want to do is soak the basket in warm water with dish soap for at least 10 minutes. This will loosen up the residue and make it easier to scrub off using a brush.
If the residue is still difficult to remove, combine baking soda (2 tablespoons) with water (one tablespoon) to form a paste. Use the paste on trouble areas. Let it sit for 15 minutes and work on the removing the reside again.
Removing stuck-on food from the sides of the air fryer is usually the hardest. Food can easily get trapped there! Using the baking soda paste along with a bristle brush and microfiber cloths will work wonders for cleaning the sides of the basket.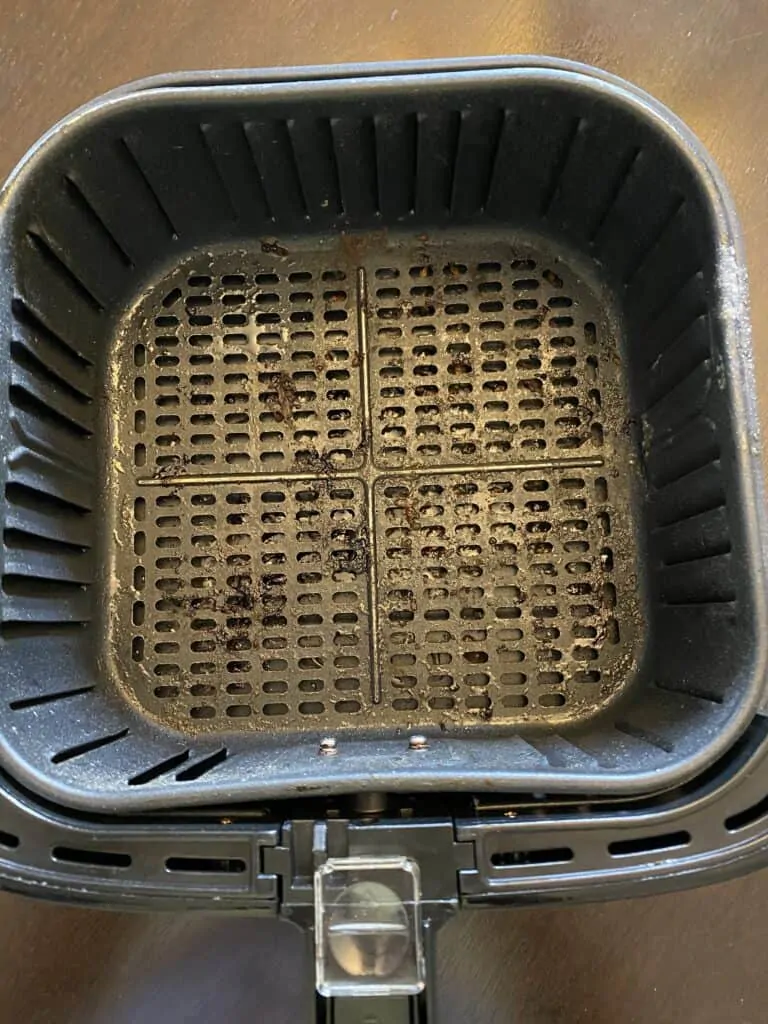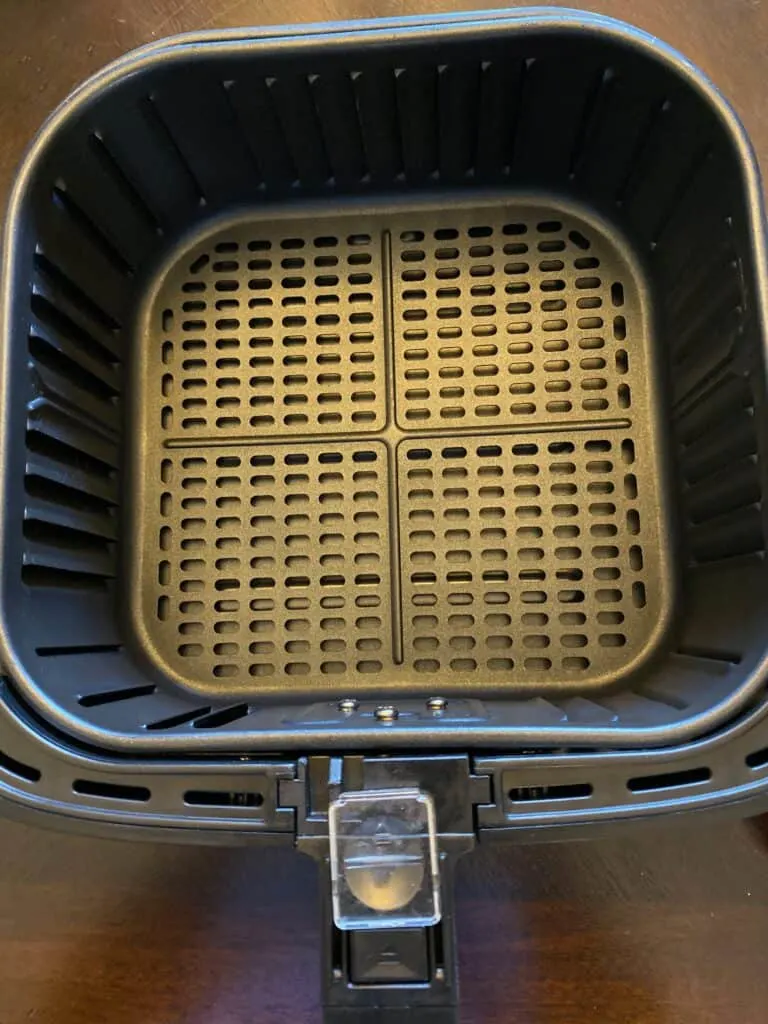 Using the Dishwasher
Check out your user manual to see if the air fryer basket and drawer are dishwasher safe. The Cosori 5.8 quart air fryer is dishwasher safe, but some brands are not. Do what works for your air fryer.
How to Clean the Heating Element
The inside heating element can be cleaned using a sponge or towel.
Air Fryer Parchment Paper
This air fryer parchment paper has been the saving grace for my air frying! It comes in different sizes, so be sure to check for the one that will fit your air fryer.
I use it when I'm making Air Fryer Bacon, Air Fryer Sausage, Air Fryer Chicken Wings, Air Fryer Chicken Thighs, Air Fryer Pork Chops, most breaded foods, etc. This will save you a lot of time during your clean up process.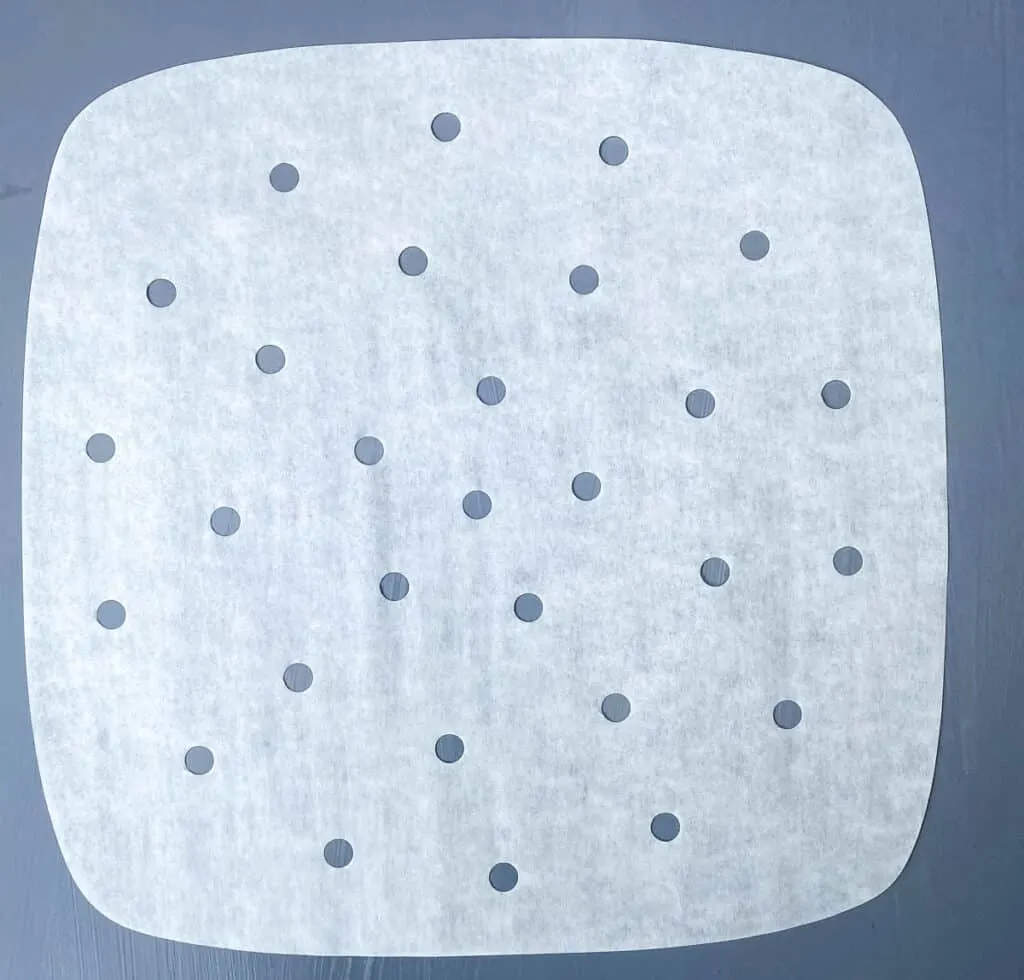 Use the parchment paper responsibly. You have to have enough food on the paper to anchor it. For example, do not place parchment paper in the basket with one sausage link. The entire sheet needs to be anchored, otherwise, it will go flying around in the air fryer.
Do not use regular baking parchment paper. The air fryer parchment paper has breathable holes in the sheets and are made specifically for air frying.
Air Fryer I Use and Recommend
I use the Cosori 5.8 quart air fryer. Over the years I have tried a bunch of brands! This is my favorite in terms of cook speed, the basket has never chipped on me, and their service is great.
If you are looking for new ways to use your air fryer, check out our Air Fryer Accessories Guide.