This Cosori Vesync Aeroblaze Indoor Grill Honest Review includes an unboxing of the 100 square inch grill. The post includes recipes and tips on how to use and clean the indoor grill.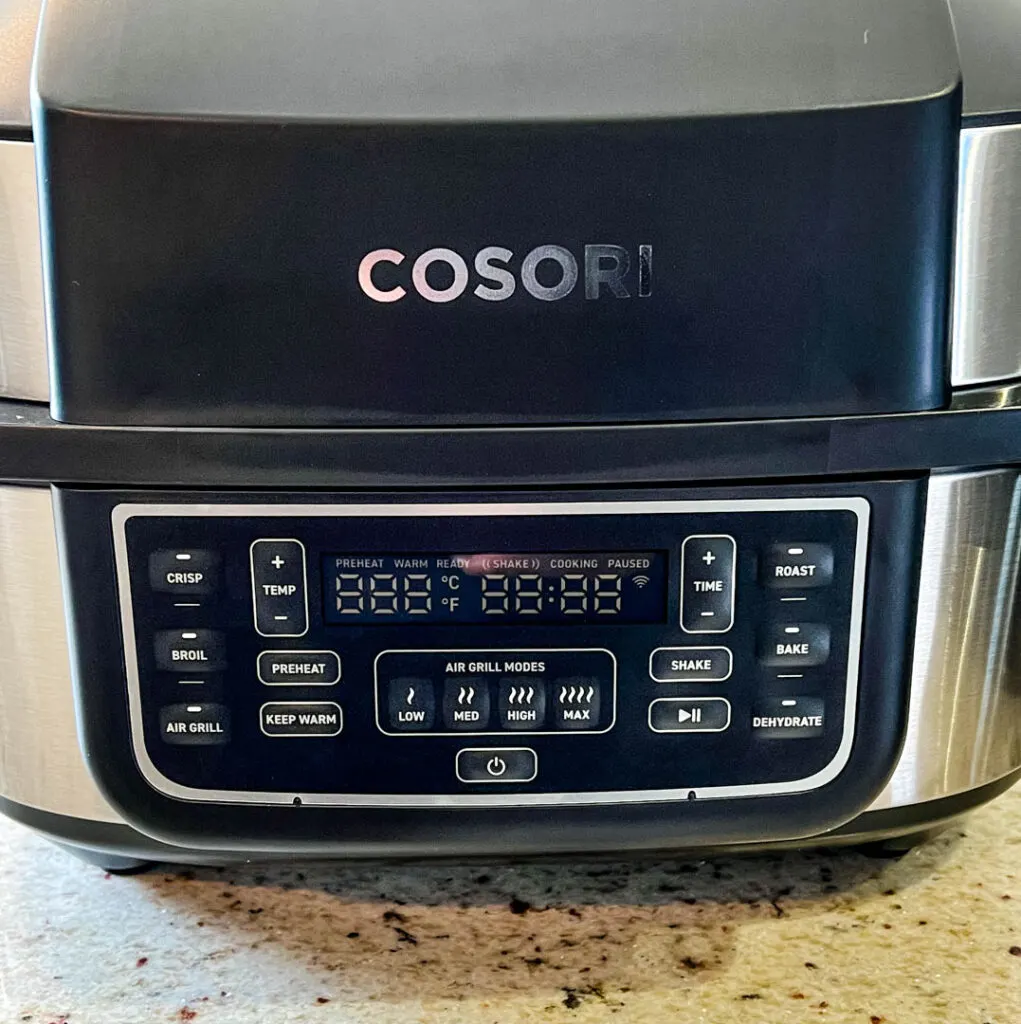 I received this air fryer from Cosori for free. All opinions are my own.
This post contains affiliate links. Please read my full disclosure here.
Cosori Specifications
Cooks enough food for 3–5 people.
It fits up to 4 steaks, 4 sandwiches, 4 hamburgers, and 22 hot dogs.
Smoke Control: The grill can reduce unwanted smoke and odors during the cooking process with the pre-installed smoke filter and the included splatter guard.
Smart Control: Works with the VeSync app, and allows you to adjust the temperature and cooking time through your phone, and receive notifications on your smartphone when your food is ready.
4 Grilling Temps: Choose from a wide temperature range of 105°–510°F.
Range of temperatures: Low, Medium, High, and Max.
Functions and Controls
Air Grill (Sandwiches, bacon, fish, chicken, sausages, and veggies)
Crisp (French fries and chicken wings)
Roast (Tough cuts of meat)
Broil (Used when wanting to broil the tops of foods)
Bake (Making bread, cakes, muffins, pies, and cookies)
Dehydrate (Drying herbs, fruit, or making beef jerky)
Preheat
Keep Warm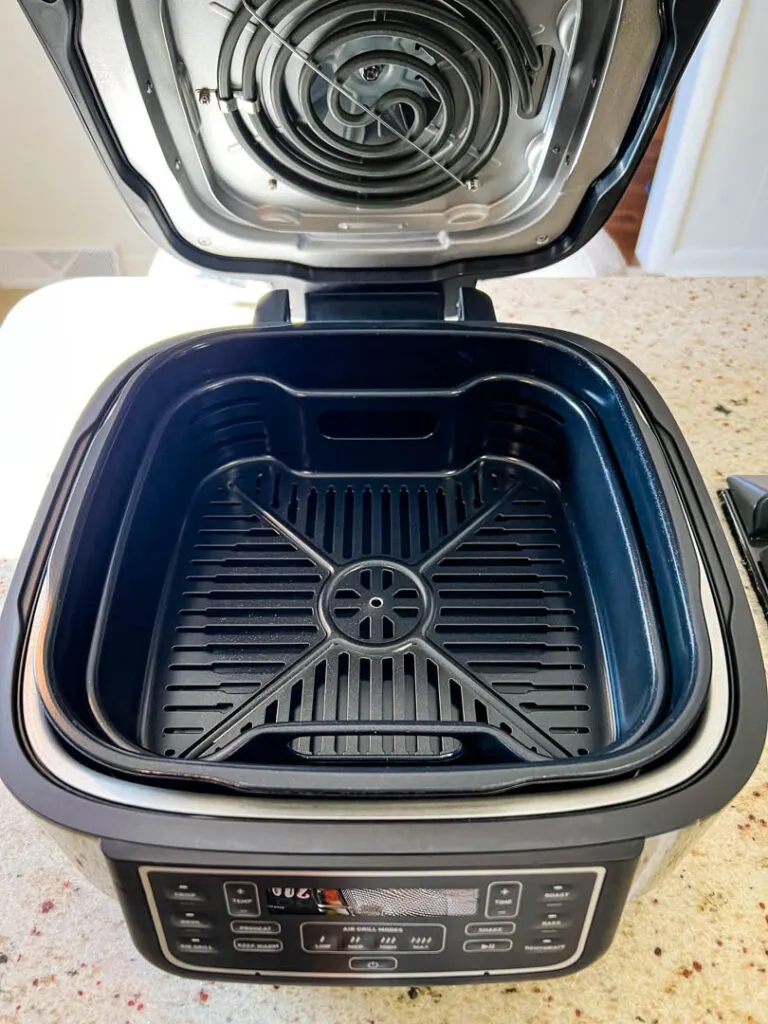 What's Included in the Box
Smoke Filter (Pre-Installed)
Cooking Pot
Grill Grate
Basket
Cleaning Brush
Recipe Book
Quick Reference Guide
User Manual
Cosori Power and Cook Times
4 Grilling Temperatures to choose from. Range of 105°–510°F and settings of Low, Medium, High, and Max grill temperatures.
How to Clean Cosori Grill
You should clean the splatter guard after every use to prevent grease or food residue build up. You an use the cleaning brush that comes with the indoor grill, it works well.
I typically clean all of the components (cooking pot, splatter guard, and grill interior) using Dawn dish soap.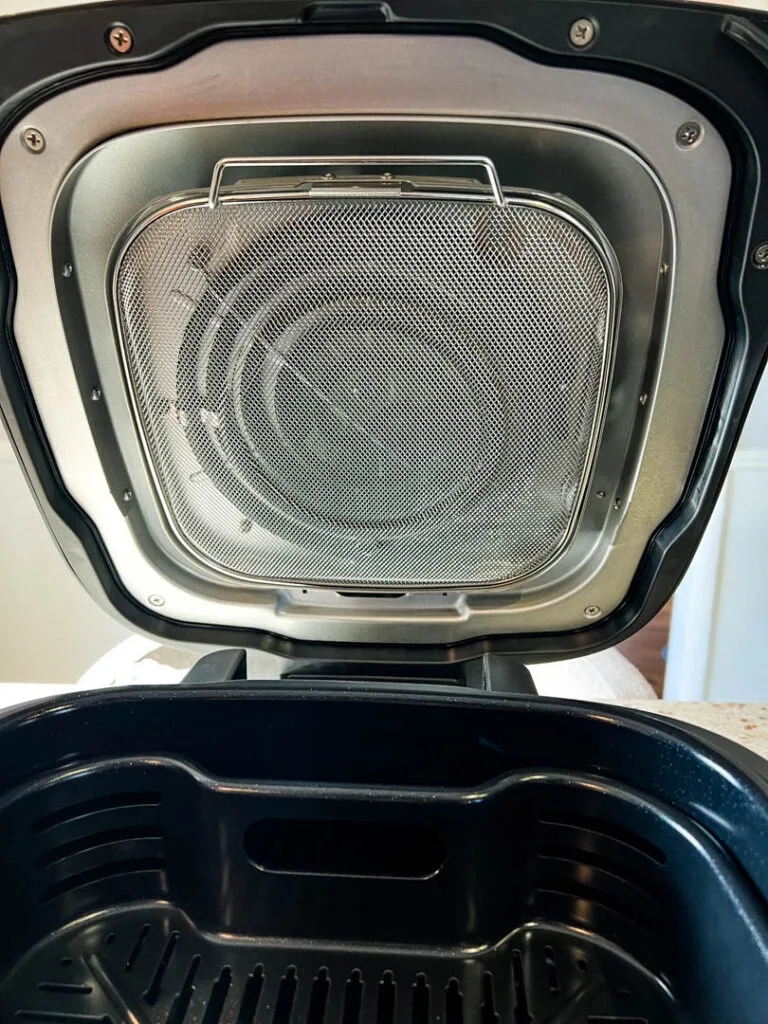 Sound/Is it Loud?
The sound is comparable to running a standard air fryer (not the latest air fryer model I reviewed, though). You will definitely hear it running, it is not quiet.
Remote Use and the App
The grill can be used with the Vesync app on your phone and paired with Alexa. This will work great if you want to step away and do other things. Your phone can alert you when your grill is finished.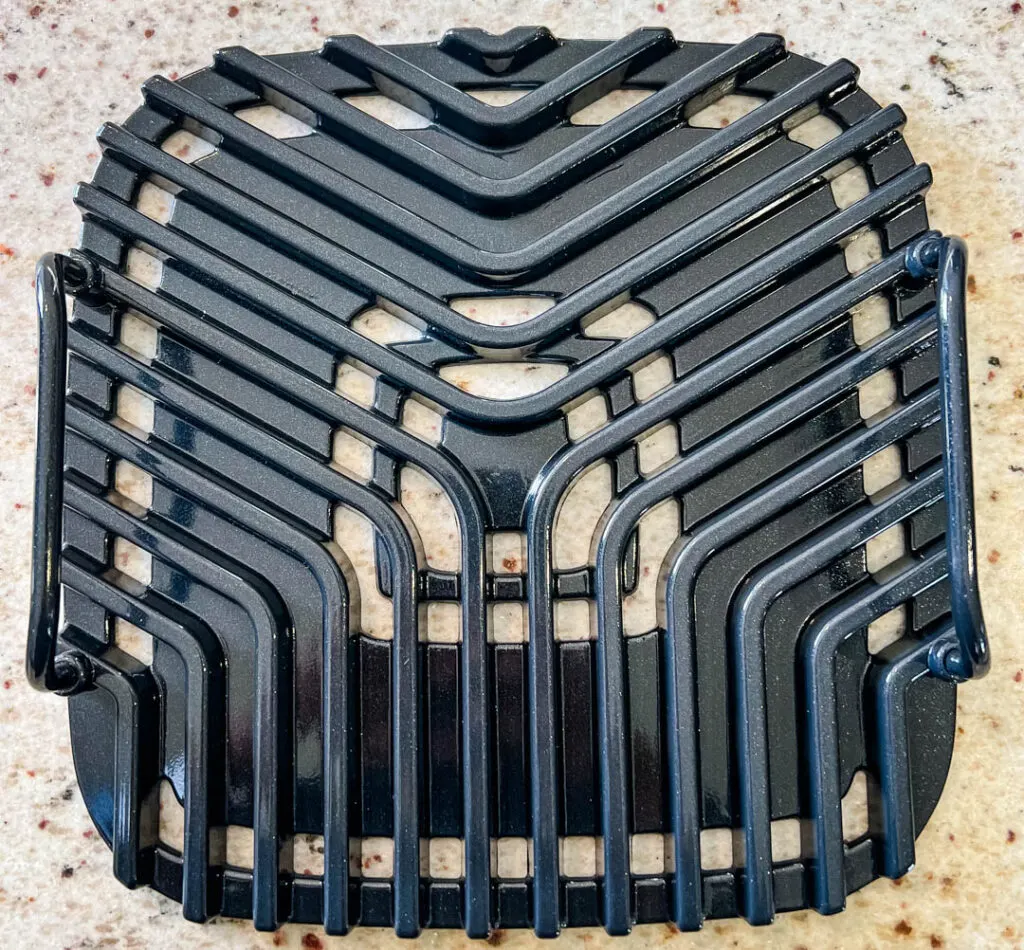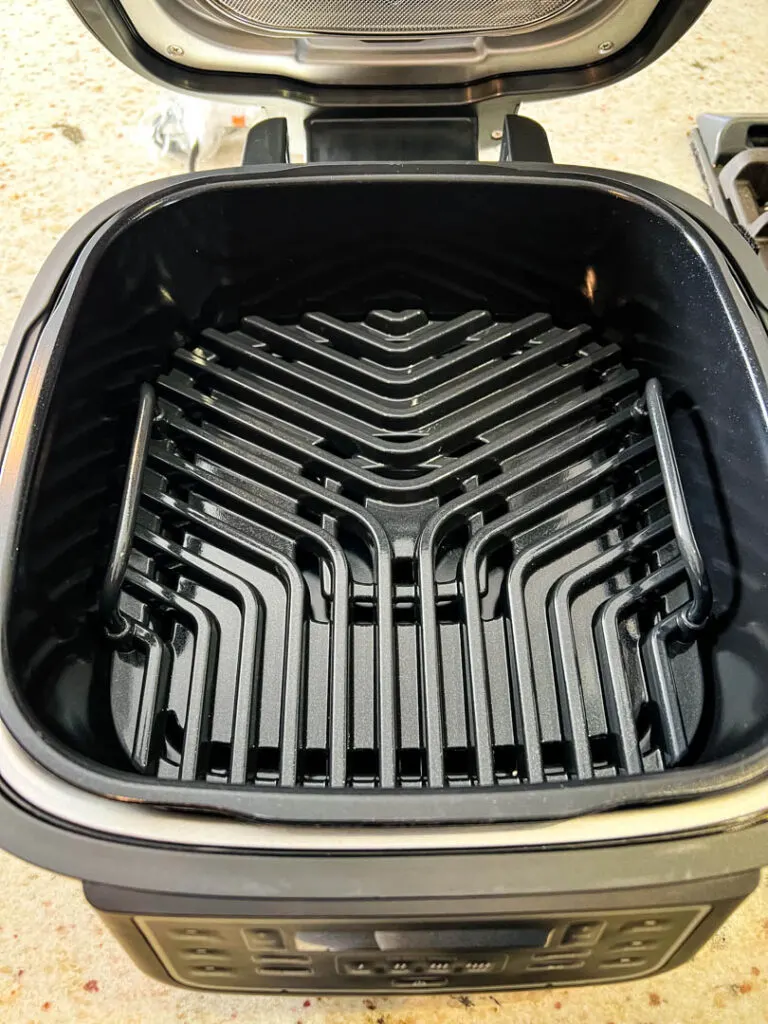 Where to Buy Cosori Indoor Grill
You can buy the grill here on Amazon.
Using the Grill
Similar to a standard outdoor grill, you have to preheat it first. You want to make sure the grill is at the temperature you plan to cook your food, prior to use. Definitely follow the instructions and give it a test run first. This will help remove the smell of burnt plastic.
Prior to using the grill you input the cook time of the food you plan to prepare. The grill will then begin to preheat on it's own and alert you when you need to add the food.
So far I have tested salmon and fresh fruit on the grill. For the fruit I used pineapples because I wanted grilled pineapples to pair with my Jerk Shrimp recipe. They were excellent!
It took 8 minutes for the grill to preheat when I made salmon. I ended up cooking it on Medium, 400 degrees and for 4-5 minutes total. It cooked really fast! I rubbed the salmon in avocado oil and spices and placed it face down for a few minutes. Then I flipped it.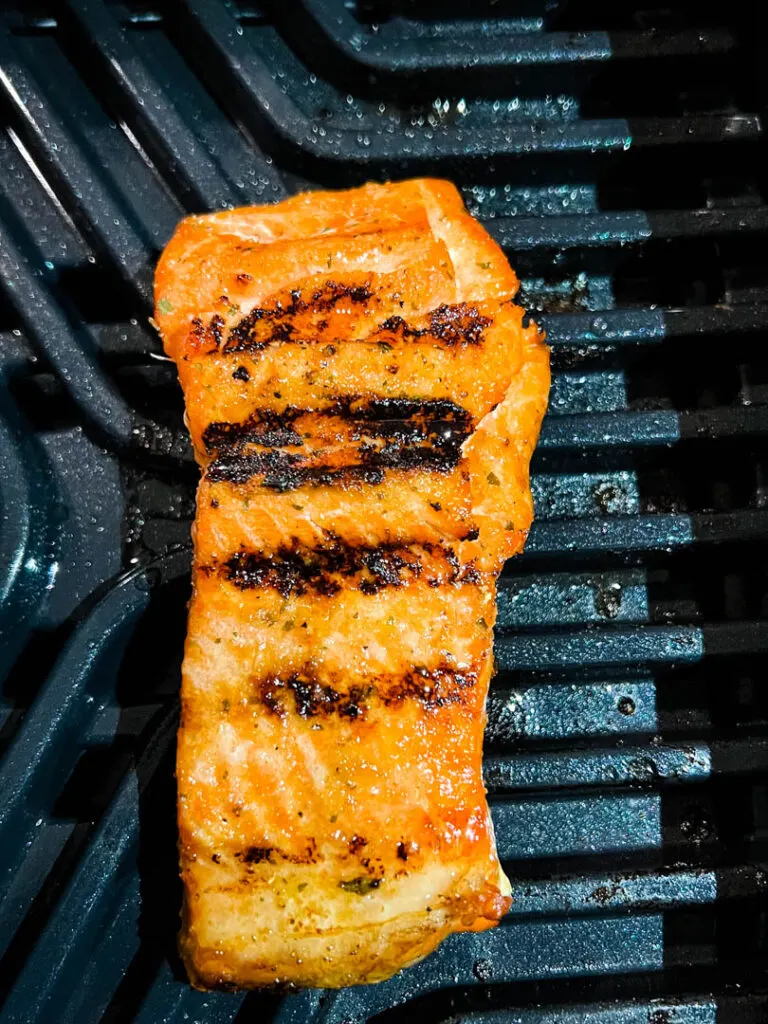 I didn't spray the pineapple with any oil. I likely could have gotten darker grill marks if I had.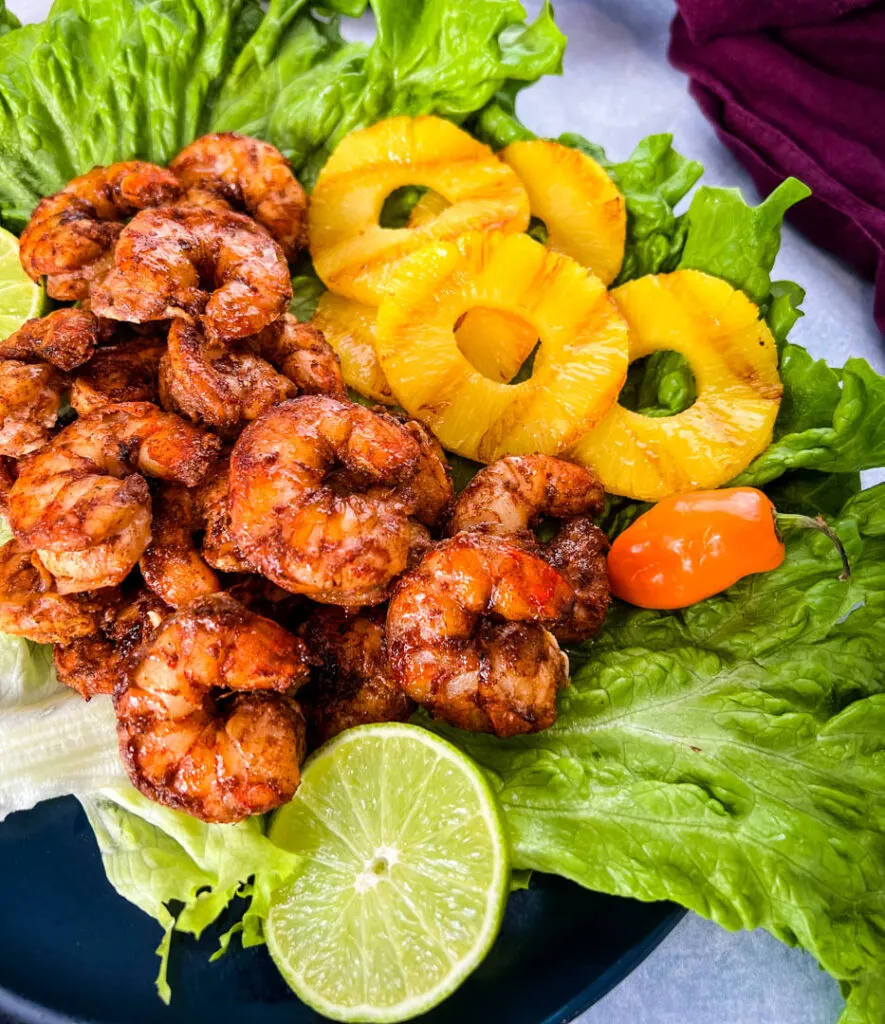 Final Thoughts and Recommendation
I was shocked by how well this sears like a normal grill. Your food will definitely have grill marks. An obvious pro is it's smokeless and odorless. I live by using my cast iron skillet and cast iron grill pan for quick weeknight meals like this. But you will have smoke while using a cast iron.
Other pros are this is much easier to clean than a standard grill and you can grill year-round without worrying about cold temperatures, rain, and snow.
This grill goes up to 500+ degrees. I don't need to cook anything above that temperature.
Cons are you will get less "grill flavor" in your foods. I love to use liquid smoke to help with that. An indoor grill may also be smaller than what you're used to if you use a large one.
If you live in an apartment or somewhere you can't store a large grill, this is definitely for you. If you are looking for a convenient way to whip up easy meals and dinners, this is definitely for you. I can see myself using this in place of my cast iron for quite a few different meals, just to avoid the smoke.
Indoor Grill Recipes
Ninja Foodi Grill Salmon
Ninja Foodi Indoor Grill Chicken Breast
Ninja Foodi Indoor Grill Chicken Wings
More Cosori Reviews
Cosori Dual Blaze Air Fryer Review
Cosori Air Fryer Toaster Oven Review
Cosori Air Fryer Review