Keto Low-Carb Fathead Three Cheese Pepperoni Pizza is the best quick and easy healthy recipe that uses almond flour, cream cheese, and mozzarella for the pizza base and crust. Load this practically carb-free pizza with your favorite toppings like marinara pizza sauce and pepperoni. This recipe also includes nutrition macros, calories, and relevant information.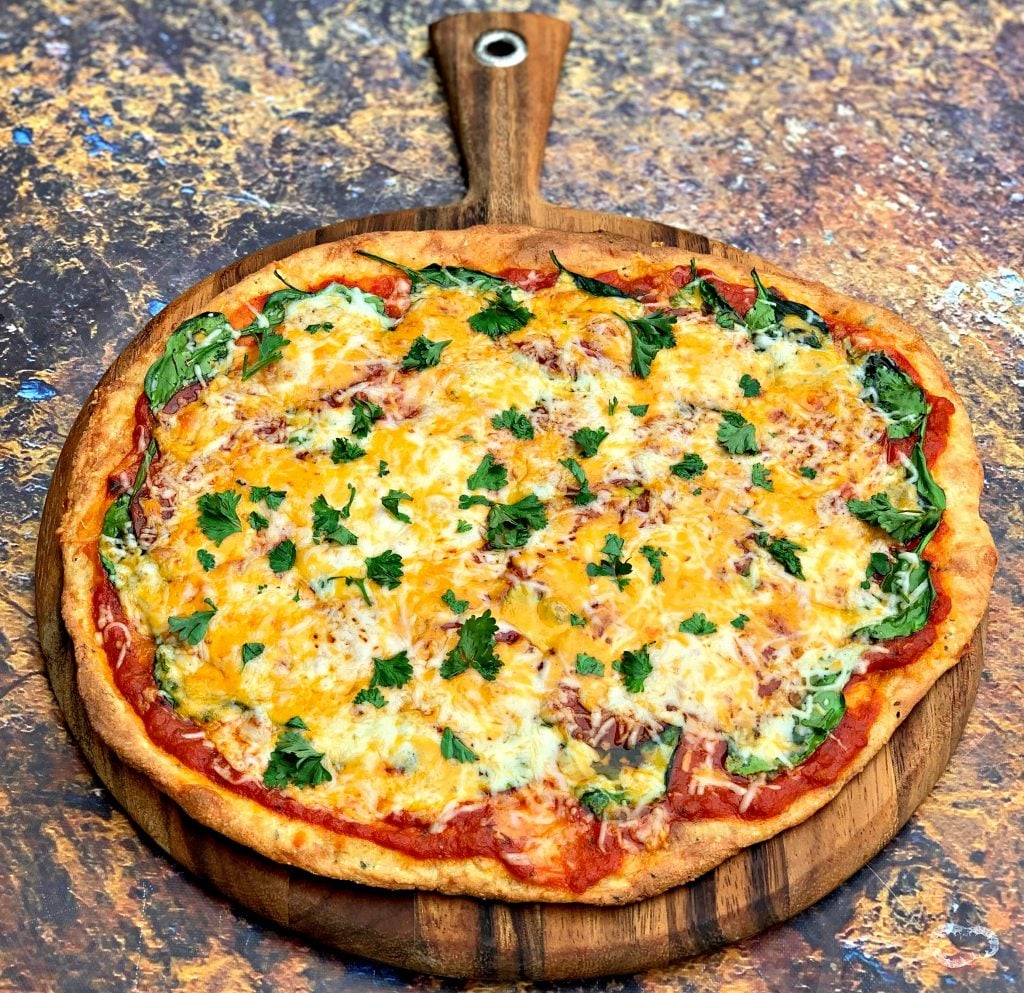 This post may contain affiliate links. Please read my full disclosure here.
FOR THE FULL LIST OF INGREDIENTS AND COMPREHENSIVE INSTRUCTIONS, PLEASE SEE THE RECIPE CARD AT THE END OF THIS POST. BEFORE YOU SCROLL, THERE'S IMPORTANT INFORMATION IN THIS BLOG POST.
The Keto Essential Cookbook is available NOW! Get over 100+ scrumptious recipes with net carb, fat, protein, and calorie count for every recipe. Click here to purchase yours today!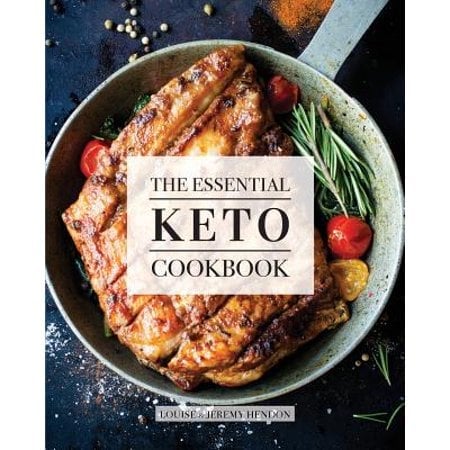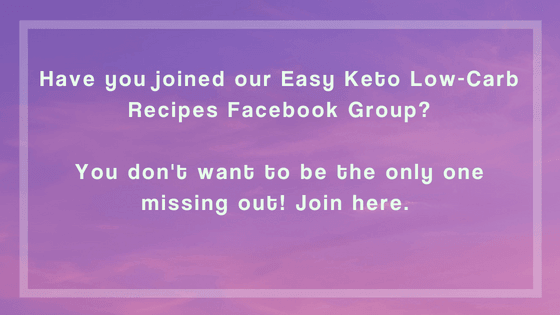 Calories: 368 Fat: 29G Net Carbs: 4G Protein: 23G
Macros are provided as a courtesy and calculated using MyFitnessPal. Calculate your specific macros using the exact brand ingredients you use and the macros calculator of your choice.
Several months ago I prepared a Fathead Bacon Chicken Alfredo Pizza recipe. This recipe is very similar and is actually a lot easier to make!
Can I Eat Pizza in Keto Diet? Is Thin Crust Pizza Keto?
Yes! An easy way to enjoy pizza on a ketosis lifestyle is to make fathead pizza crust. You make fathead pizza dough as thick or as thin as you like.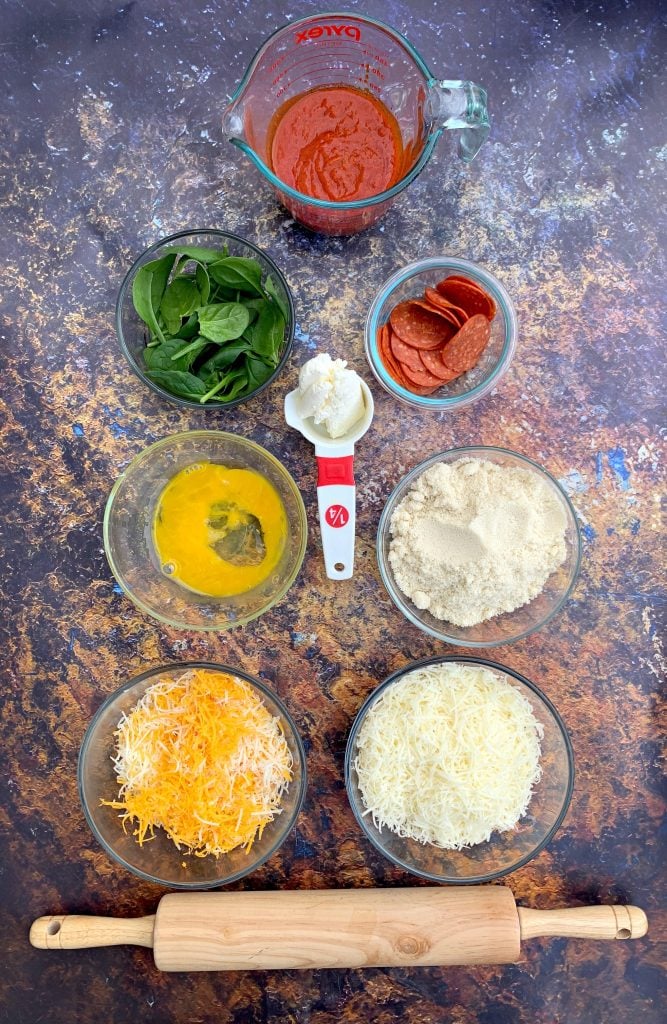 What is Fathead Keto?
Fat Head is a documentary. It's from 2009 and is a direct response to the controversial Super Size Me documentary. The narrator does a couple of experiments. One experiment is to eat a lot of food from McDonald's in order to disprove the result of the Super Size Me documentary. His second experiment centers around a lipid hypothesis. He goes on a low-sugar, low-starch diet for a month. At the end of the month, he has lowered his cholesterol.
The documentary mentions a pizza that is made using almond flour. This recipe was adapted from the film.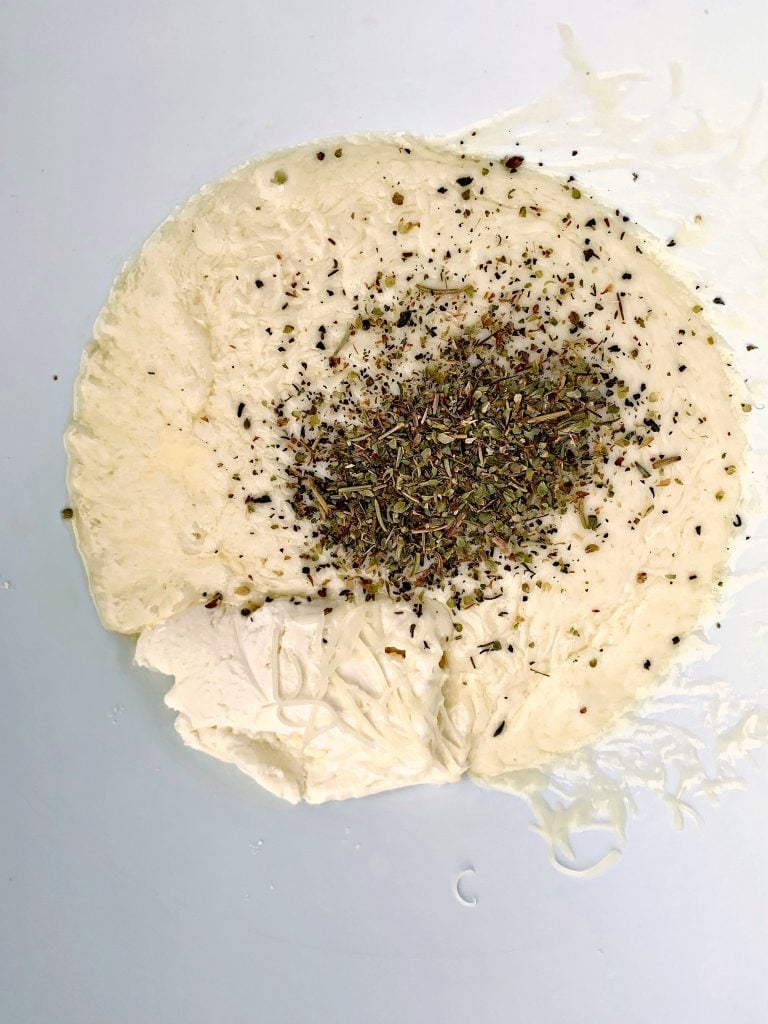 How Do You Make Fathead Dough?
You will need to microwave mozzarella cheese and cream cheese. Next, add almond flour and eggs.
Stir and combine to form a crust.
Roll out the crust on a pizza pan using parchment paper.
Fathead Pizza Recipe Tips
The dough will be really sticky to roll out. Use parchment paper to bake. You can either use really clean hands or a second sheet of parchment paper to roll out the dough. If you roll the dough with your hands, wet them first. This will keep the dough from sticking to your hands and fingers as you roll it out.
If the batter becomes too thick and hard to stir, microwave for another 15 seconds. This will allow the almond flour to moisten some with the cream cheese and mozzarella.
Applying melted butter to the pizza crust is awesome, and trust me it tastes amazing.
For a thinner crust pizza use 3/4 cup almond flour, one egg, and 1 tablespoon of cream cheese as a modification.
Here are more Low Carb Pizza tips.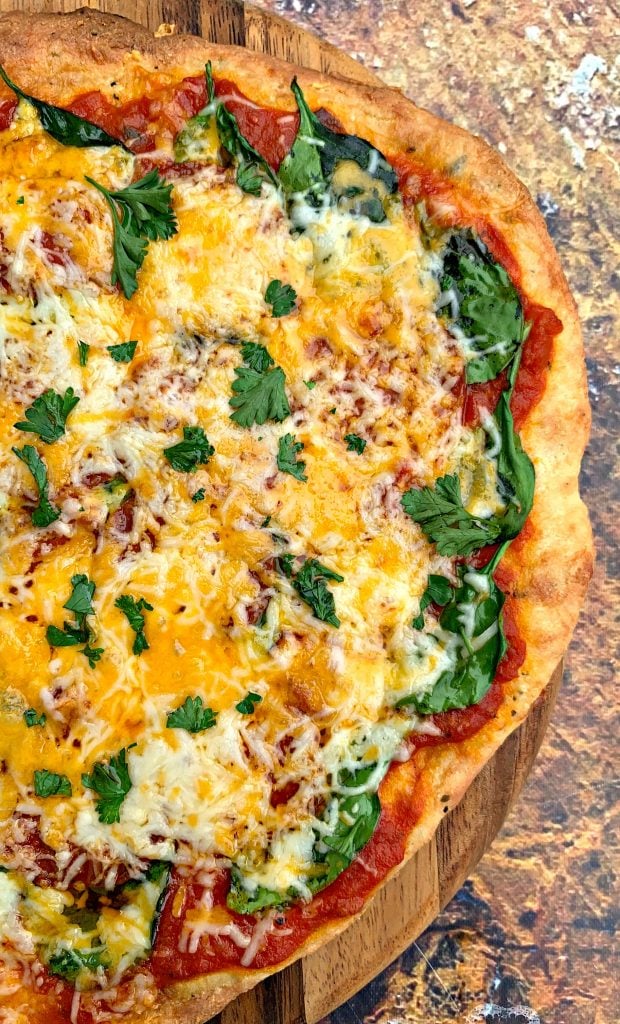 Feel free to add any of your favorite toppings to this recipe. I added spinach, cheddar parmesan, and mozzarella cheese. There are so many keto-friendly toppings to choose from!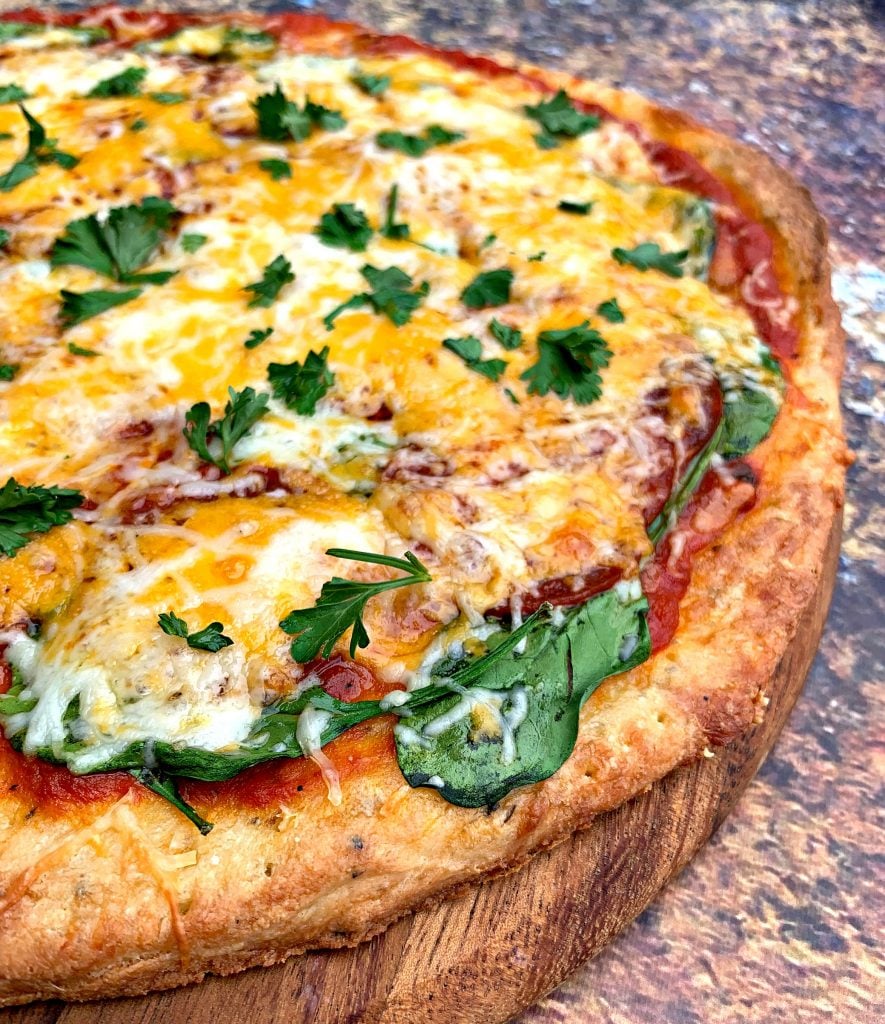 You can add ground beef, sausage, or even make it vegetarian pizza and load it up with veggies!
For storage, I wrapped my pizza tightly in foil and stored it in the fridge. I used the oven to reheat.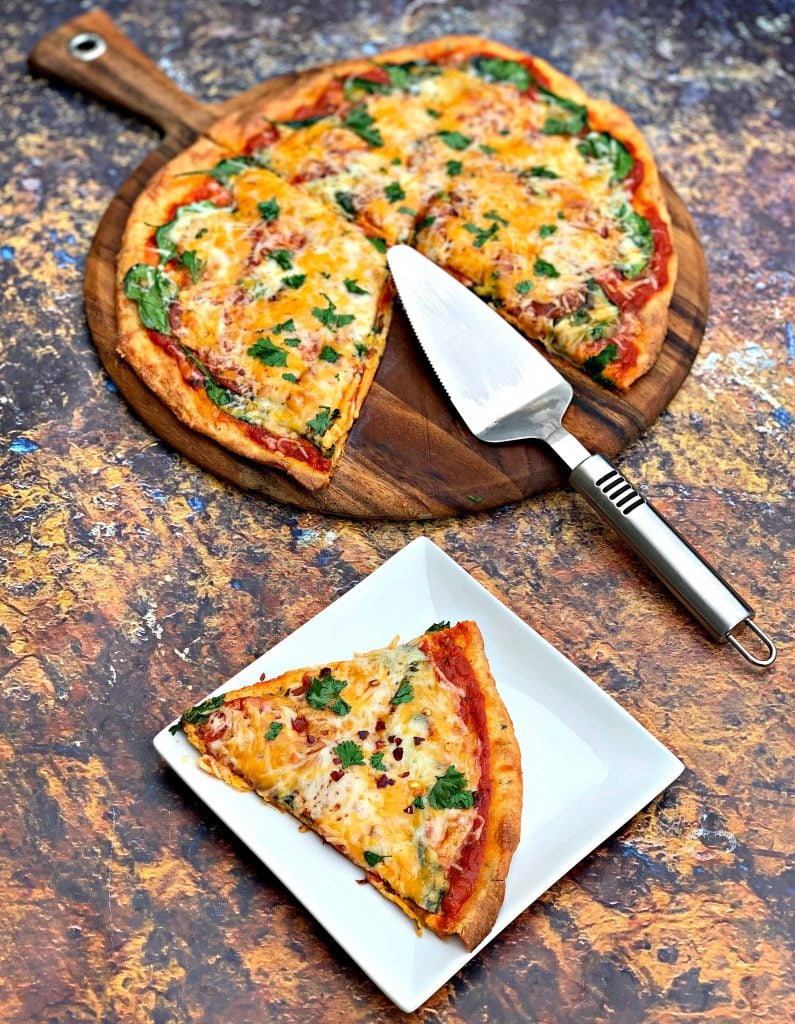 You may also enjoy my Bacon Cheeseburger Casserole recipe.
The Cure For the Keto Flu is Bone Broth and MCT Oil
The keto lifestyle can sometimes cause me to get dizzy and have brain fog. It can be really hard to focus. Each night before bed I like to drink bone broth. Kettle and Fire is my favorite brand. Click here to use my discount on bone broth.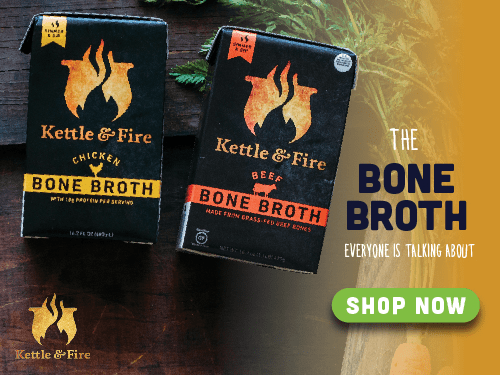 I add 1 tablespoon of MCT oil to my coffee in the morning. This helps add additional fat to support keto macros and also helps with keto flu. Click here to use my discount on Perfect Keto products.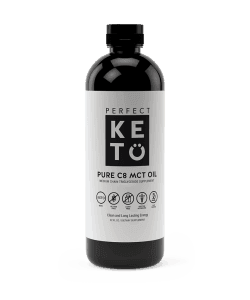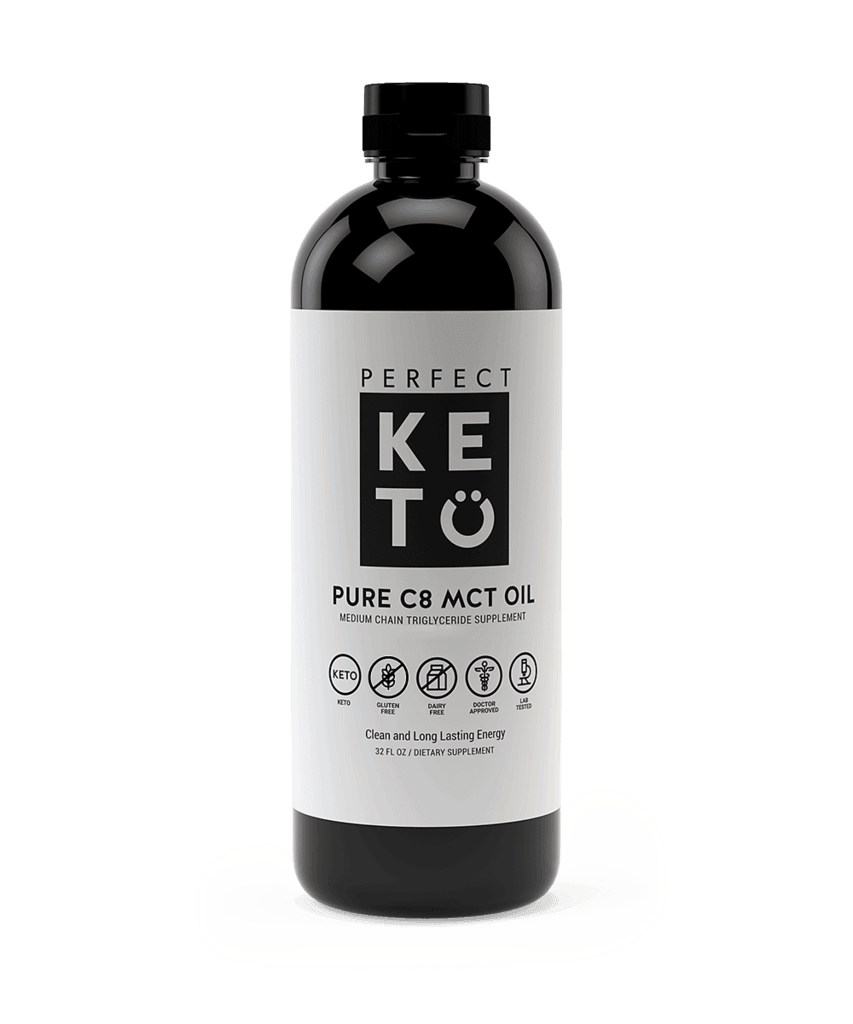 Get 8+ new keto-friendly snacks delivered to your door each month with KetoKrate. No contracts and you can cancel at any time. Be sure to follow me on Instagram to check out my unboxings.
I love the convenience of using Butcher Box's subscription service. They don't just provide ground beef. They also provide heritage breed pork, uncured nitrate-free bacon, free-range organic chicken, and 100% grass-fed steak!
Here is the kicker, you will receive $25 off your order and FREE bacon with your Butcher Box delivery. Click here to sign up and get hormone free meat delivered right to your doorstep!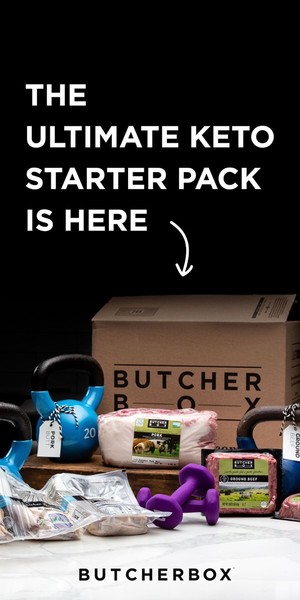 WATCH THE VIDEO!