Cosori Professional Blender Honest Review outlines the best features and specifications of the C-900 pro. This post also outlines the differences between a Blendtec or Vitamix.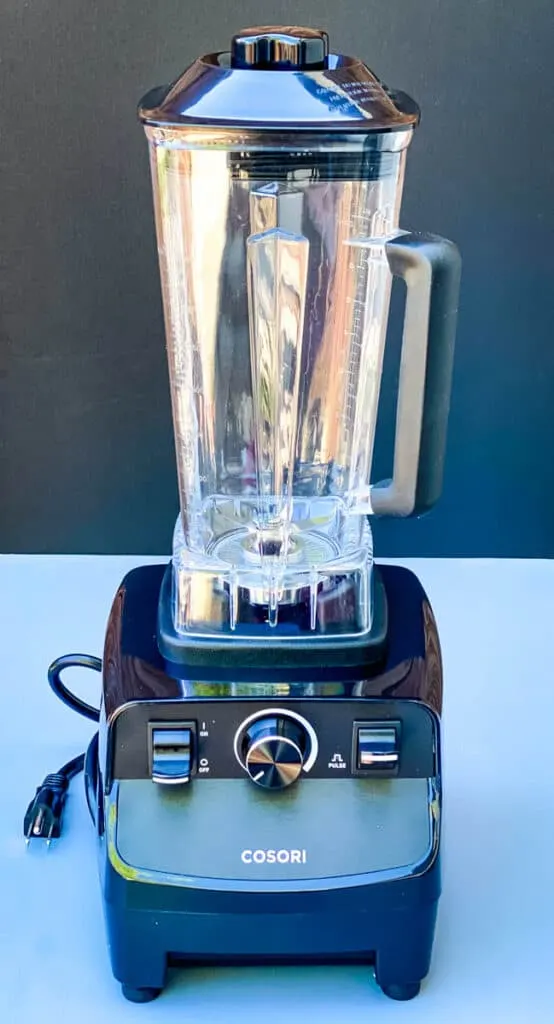 I was gifted this blender by Cosori. All thoughts and opinions are my own.
I often use a high powered blender for collagen green smoothies, frozen cocktails or nut butters. I have used and own a Blendtec blender, so testing out this Cosori and comparing the two has been fun.
I'm a huge fan of Cosori products. The quality is always amazing and their customer service is top tier. I also own their Cosori Air Fryer Toaster Oven and Cosori 5.8 quart air fryer. Both of these have withheld the test of time. They have become my go-to brand for all things air frying.
You can buy the blender here on Amazon.
Blender Features and How Does it Work
Blades are designed to crush ice.
Includes variable speeds for different items
The blender will work great for making things like smoothies, sauces, dips, purées, nut milks, nut butters, and milkshakes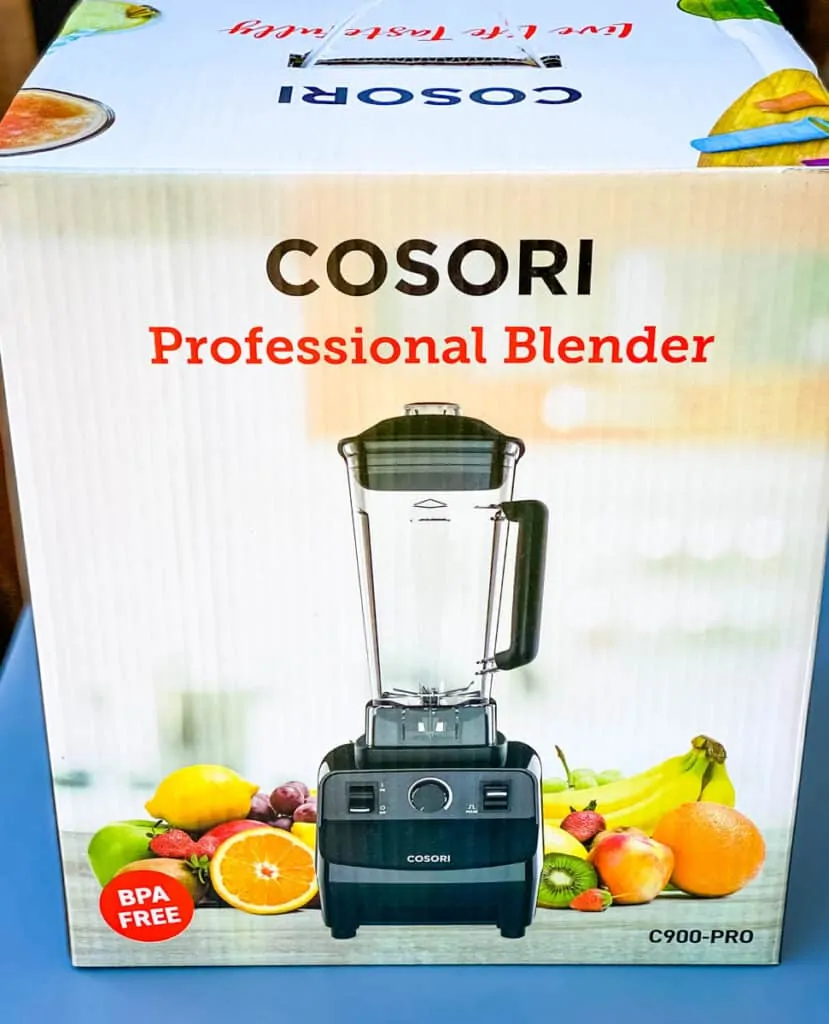 Blender Specifications
The model is C900-PRO and it comes with AC 120V, 60HZ power supply, 1400W rated power, and 25000 RPM motor speed.
The blender jar capacity if 1.9 US quarts or 1.8L.
The travel bottle it comes with has a 20oz/600 ML capacity.
What's Included in the Box
Professional Blender
Tamper (to move things around in the blender)
Travel Bottle
Recipe Book
User Manual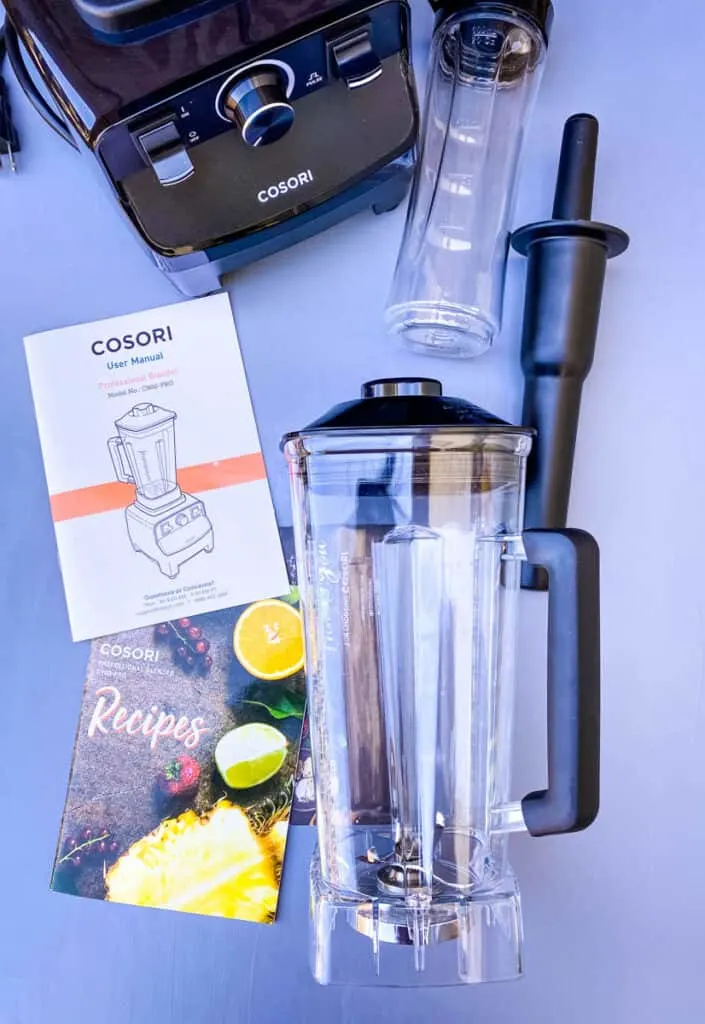 How to Clean the Blender
You can add 2-3 drops of dish soap to the blender pitcher and fill it halfway with water. Turn on the blender, low to high speed to blend away stuck-on food.
Do not immerse the blender base in water or liquids.
The lid, measuring cup, base, and tamper are all dishwasher safe.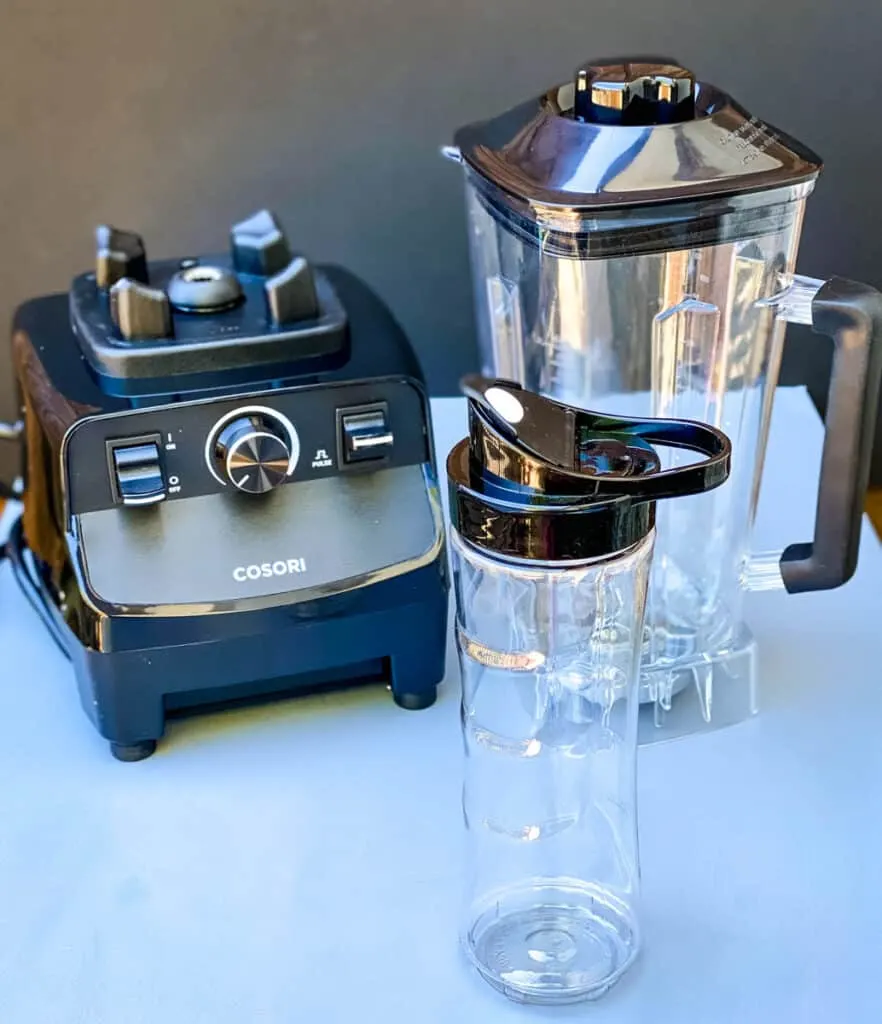 Where to Buy the Blender
You can buy the blender here on Amazon.
Cosori Blender Notes
The order in which you add ingredients matters. Start with the lightest to heaviest ingredients. Liquids should go first. 1 cup of liquid is a good rule of thumb.
Round fruits like apples or hard fruits like carrots will need to be chopped up. You can't add them whole.
Blender Pros
The price is the largest pro. It costs a lot less than most high powered blenders.
Noise reduction pad makes it quieter than most blenders.
The design looks a lot like a Vitamix.
Blender Cons
There's no digital screen or presets.
You have to allow hot foods to cool prior to blending. So you can't make hot soups with the blender.
Final Thoughts and Recommendations
This blender is a great bang for your buck! I constantly hear people complain about the quality of the blender they use….just to make things like spinach smoothies! This one will get the job done, and costs a fraction of what you would pay for a Blendtec or Vitamix.
You can't go wrong with Cosori products. AT ALL. They are made to last.
If you want to make hot soups, you should consider a different blender that has that functionality.
Recipes to Make in the Blender
Sugar-Free Strawberry Lemon Popsicles
Peach Bellinis
Keto Low Carb Frozen Margaritas
Keto Low Carb Cauliflower Mash
Chipotle Mayo Recipe
More Cosori Product Reviews
Cosori Toaster Air Fryer Oven Honest Review
Cosori Air Fryer Honest Review