These Crispy Air Fryer Fried Chicken Wings can be made using fresh or frozen wings! This dish is seasoned with a dry rub and tossed in baking powder to get them nice and crunchy!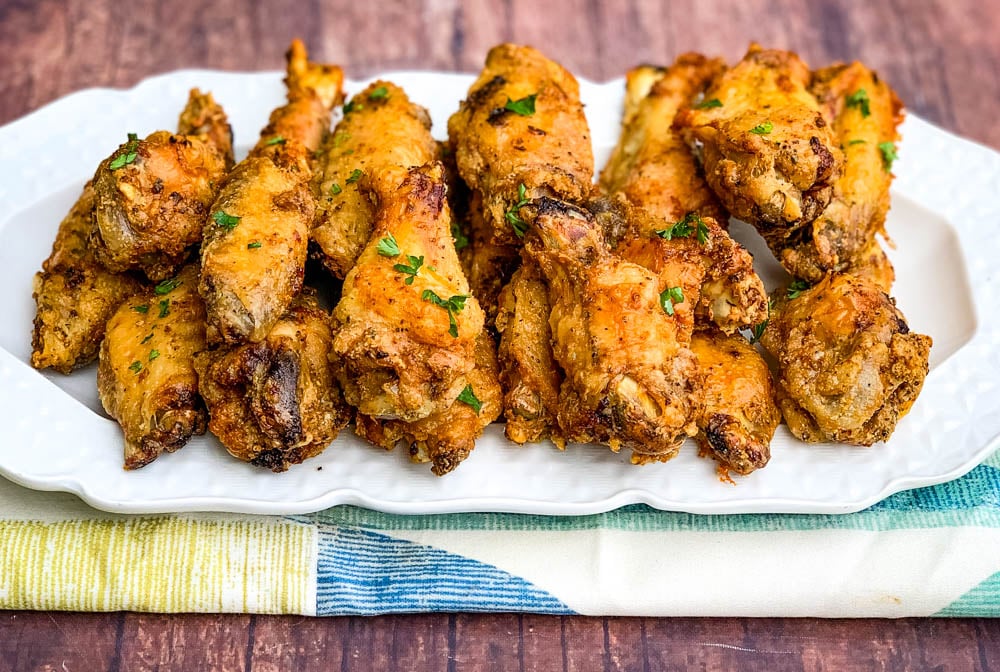 This post contains affiliate links. Please read my full disclosure here.
FOR THE FULL LIST OF INGREDIENTS AND COMPREHENSIVE INSTRUCTIONS, PLEASE SEE THE RECIPE CARD AT THE END OF THIS POST. BEFORE YOU SCROLL, THERE'S IMPORTANT INFORMATION IN THIS BLOG POST.
I absolutely love to fry chicken in my air fryer. If you love chicken as much as I do, then you will also have to check out my Air Fryer Buttermilk Fried Chicken. This recipe puts a spin on classic southern fried chicken.
This recipe focuses on crisp and crunchy fried chicken that is low in carbs and also keto-friendly. WHAT?! You can have breaded chicken, that is crispy without using all-purpose flour or almond flour!
When I first got my air fryer I tried to fry chicken with almond and coconut flour. The wings were ok, but there was a reason those recipes never made the site. They weren't good enough. Keep scrolling and check out these babies.
If you are looking for chicken with no breading, then definitely whip up my Keto Low Carb Buffalo Chicken Wings. These are great for dinner or events.
My Breaded and Fried Chicken Tenders are a family favorite! Kids and adults will love them.
For holidays, special occasions, or even a normal dinner, I recommend my Air Fryer Whole Chicken. You won't believe how easy it is to roast your own!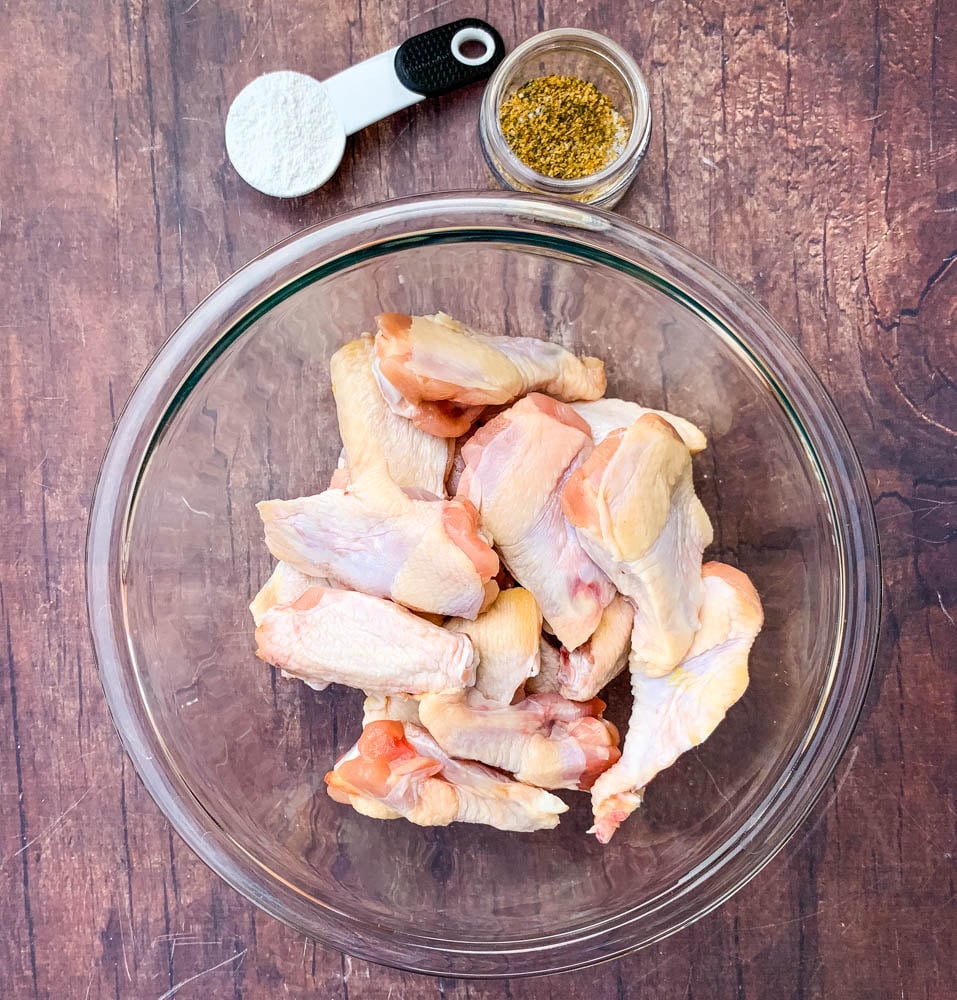 How to Make Fried Chicken Wings in the Air Fryer
Tasty chicken will need good seasoning. I like to use McCormick's Grill Mates Montreal Chicken Seasoning, salt, and pepper. Season the chicken and toss it in baking powder.
Place the chicken in the air fryer basket. Do not stack. Cook in batches.
Air fry for 15 minutes and flip.
Air fry an additional 10 minutes. Use a meat thermometer to ensure the chicken has reached an internal temperature of 165 degrees.
Cool before serving.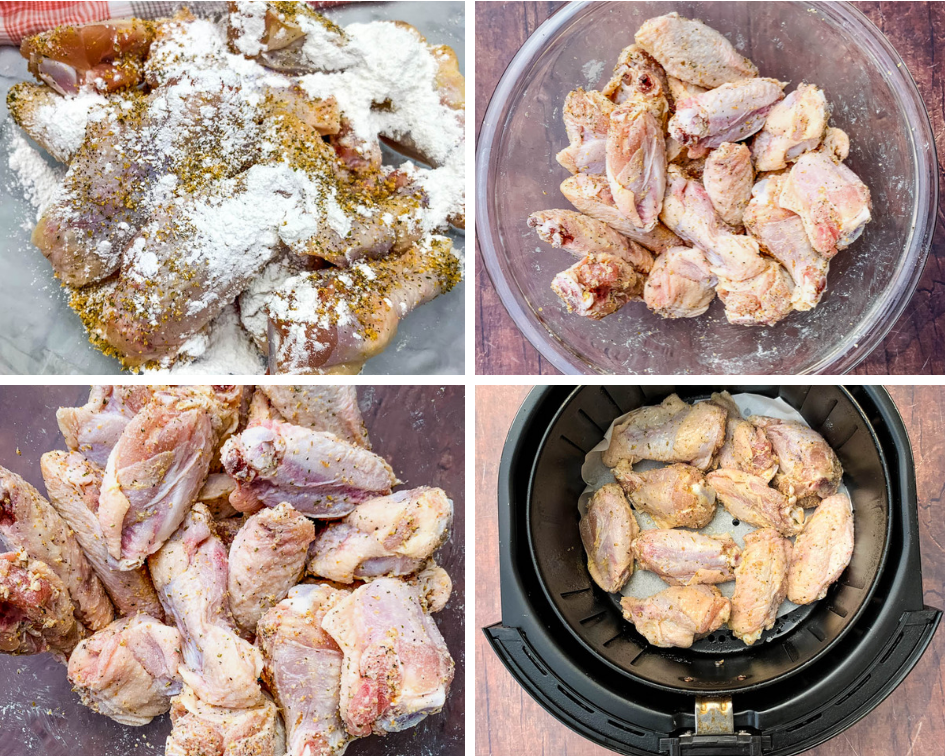 How Long to Cook
There are some basics to follow in order to make chicken that is perfectly crisp on the outside, done on the inside, and isn't burnt. Overall, cook time will vary depending on your air fryer brand. I use the Power Air Fryer XL.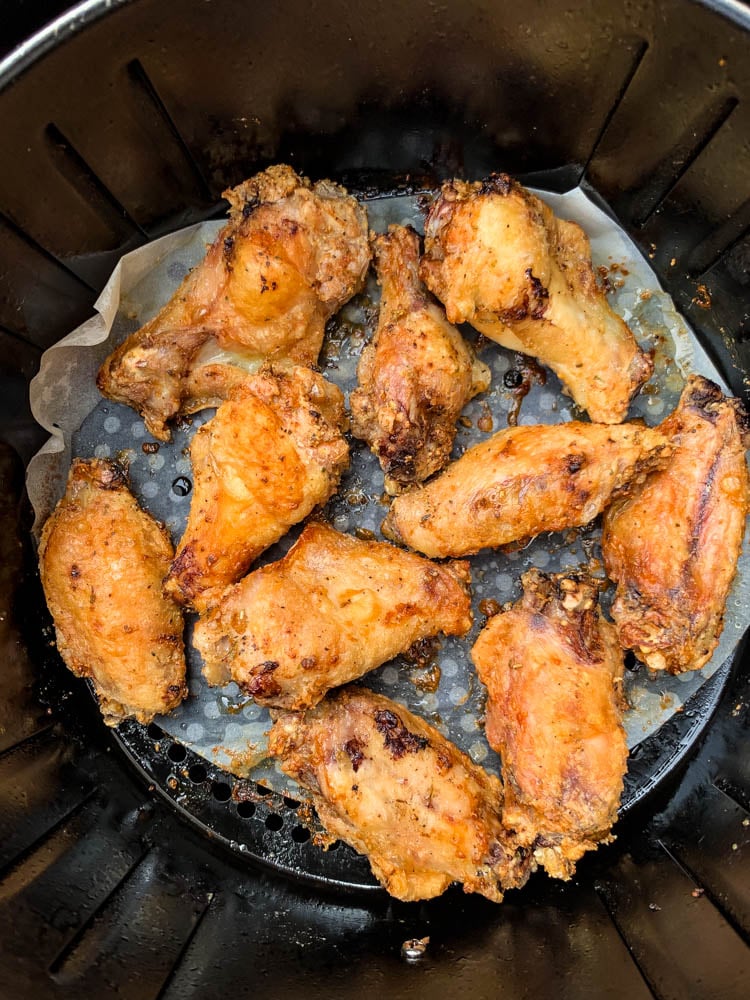 I cooked the wings for 15 minutes at a lower temperature, then I increased the temperature for another 10 minutes. The lower temperature allows the chicken to cook at the appropriate rate on the inside. When you turn up the temperature, the chicken will become crisper on the outside.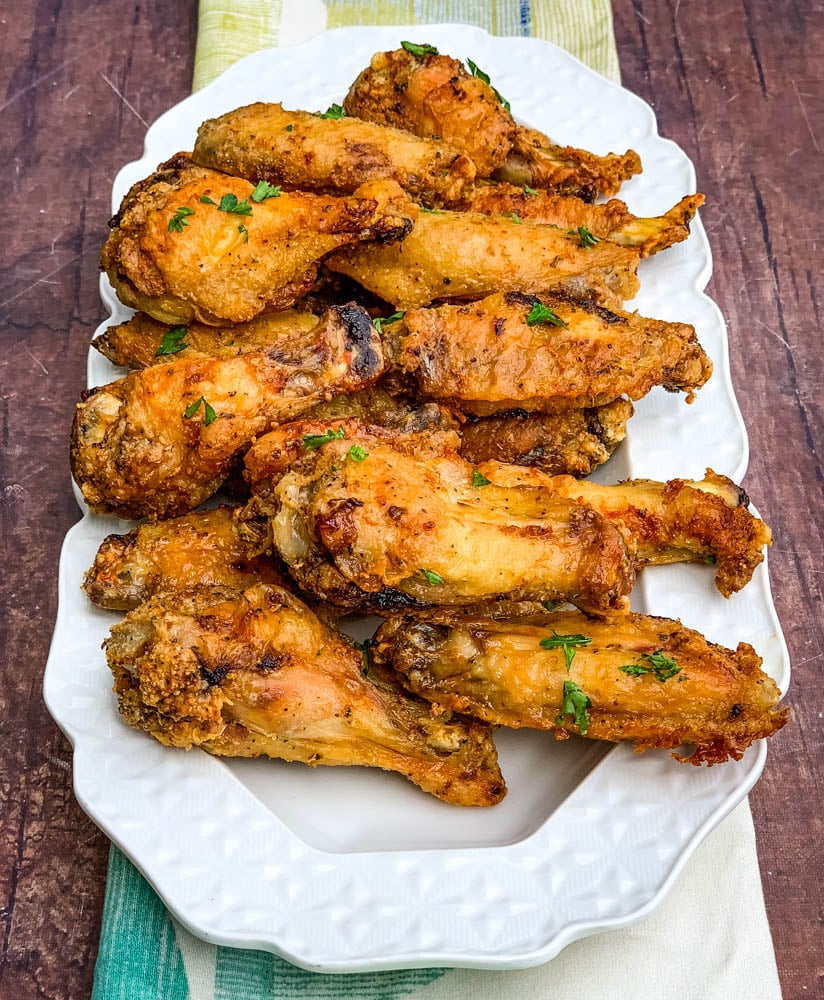 Air Fryer Temperature
I start out with 320 degrees and then move up to 400 degrees.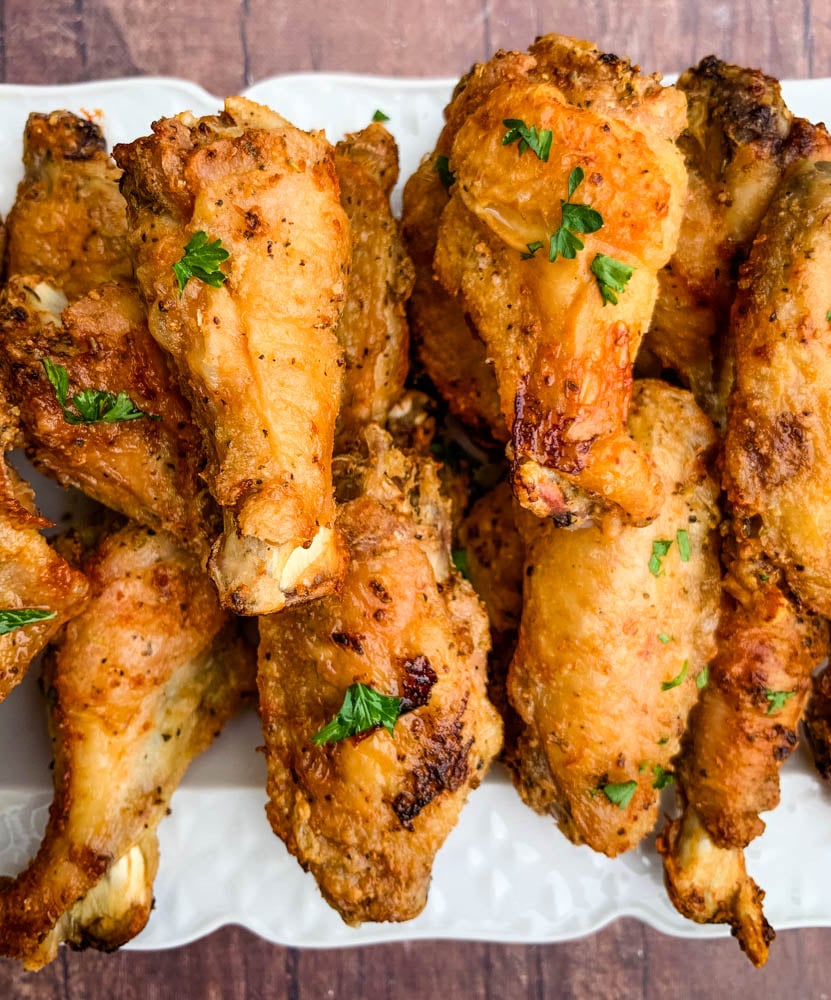 Can You Stack the Chicken?
I do not recommend you stack chicken wings in the air fryer. When I first got an air fryer, I would stack the chicken in the air fryer and shake the basket every 5 minutes while it cooked. This was effective, but it is not optimal.
When you shake the chicken, you may lose some of the breading. That's the most important part, you don't want that! I've found the best results come when you cook the chicken in batches if needed. This will vary based on the size of your air fryer.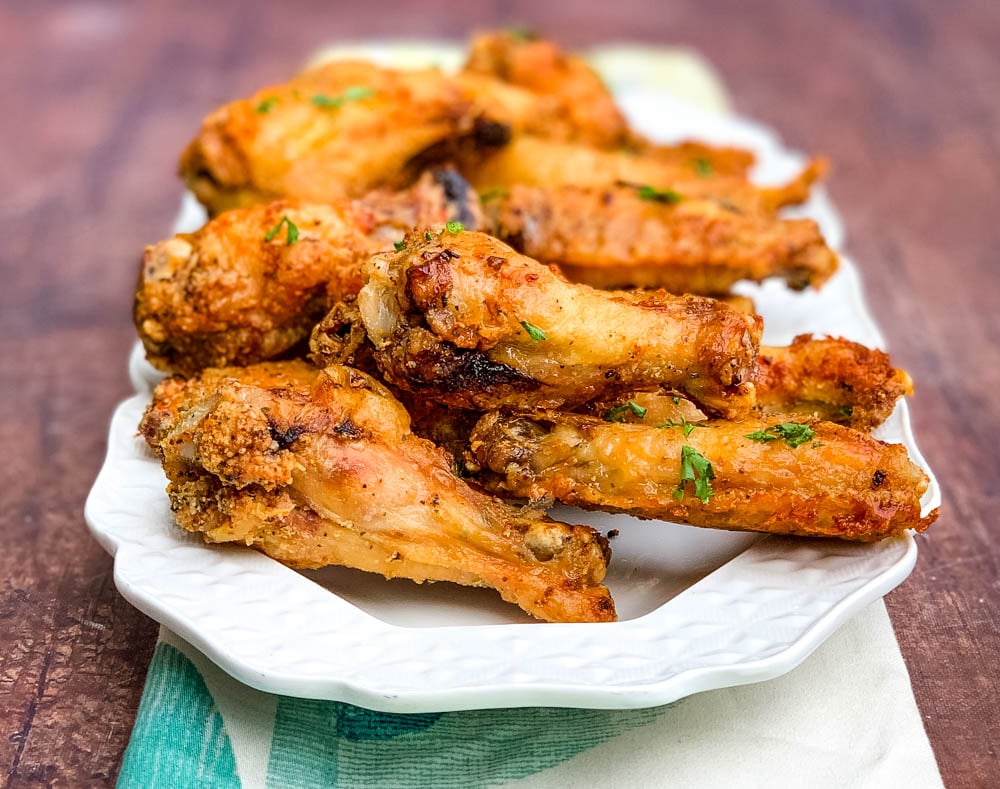 The chicken wings will cook more evenly and you won't lose any of the crunchy breading.
How Long to Cook Using Frozen
Add an additional 5 minutes of cook time for frozen wings. Do you have to thaw the wings first? No, you can add them frozen.

How to Reheat
I reheated these chicken wings over the next couple of days in the air fryer for 4 minutes on 400 degrees. Test to see that the chicken is warm in order to determine the optimal time that will work for you.

Is Air Fried Chicken Healthy?
Air frying cuts up to 80% of the fat of traditional frying, making it a much healthier alternative. Most deep-fried recipes require 2 to 3 cups of oil. With the air fryer, you need only a tablespoon. Because air-fried meals are so much lighter, you will feel less bogged down after eating them.
This recipe also provides a healthy option because it excludes all-purpose flour, which is loaded in carbs and can sometimes leave you feeling bloated.
More Air Fryer Recipes
Keto Air Fryer Chicken Thighs
Air Fryer Grilled Cheese
Air Fryer Parmesan Fried Chicken Wings
Air Fryer Chick-fil-A Chicken Sandwich
Air Fryer Frozen Chicken Wings
Keto Low Carb Chicken Wings (Maple BBQ)
Fried Chicken Salad
Lemon Pepper Chicken Wings
Crispy Ranch Chicken Wings
Air Fryer Chicken Parmesan
Sweet Chili Chicken Wings
This recipe works great with my Homemade BBQ Seasoning and Rub and check out How to Grill Chicken Wings.
Crispy Air Fryer Fried Chicken Wings
These Crispy Air Fryer Fried Chicken Wings can be made using fresh or frozen wings! This dish is seasoned with a dry rub and tossed in baking powder to get them nice and crunchy!
Save this recipe here.
Saved!
Instructions
Dry the chicken completely with paper towels.

Place the chicken wings in a large bowl or in a sealable plastic bag.

Season the chicken with chicken seasoning, salt, and pepper to taste. Next, sprinkle the baking powder throughout and ensure each piece is evenly coated.

Air fry for 15 minutes on 320 degrees.

Open the air fryer and flip the chicken. Spray this side of the chicken with cooking oil.

Cook for an additional 8-10 minutes at 400 degrees or until the chicken has reached your desired level of crisp. Test the inside of the chicken with a meat thermometer. Ensure the chicken has an internal temperature of 165 degrees. Use a meat thermometer.
Notes
Baking powder is used in this recipe to make it keto and low-carb. You can use all-purpose flour if you do not require a low carb version. I find baking powder works its way into the chicken much easier and does not leave white spots.
Reheat the wings in the air fryer for 4-5 minutes on 400 degrees for leftovers.
Each air fryer brand cooks differently. Monitor your chicken and check in on them frequently to gauge your appropriate cook time.
Recipe Tools Used in this Recipe
As an Amazon Associate I earn from qualifying purchases.
Nutrition (displayed with net carbs)
Serving:
1
g
|
Calories:
470
kcal
|
Carbohydrates:
1
g
|
Protein:
40
g
|
Fat:
33
g
Tried this recipe?
Mention @Stay_Snatched or tag #StaySnatched! The recipe instructions noted here are the property of Stay Snatched and subject to copyright. Please do not screenshot and share this recipe on social.
Nutrition Data
Macros are provided as a courtesy and should not be construed as a guarantee. This information is calculated using MyFitnessPal.com. To obtain the most accurate nutritional information in a given recipe, you should calculate the nutritional information with the actual ingredients used in your recipe, using your preferred nutrition calculator. You are solely responsible for ensuring that any nutritional information provided is accurate, complete, and useful.