Healthy, low-carb steak lettuce wraps make the perfect quick and easy weeknight meal. A friend asked me to create a few lettuce wrap recipes for her. Somehow I came up with the idea to create steak wraps. This is somewhat surprising because she is a pescatarian and does not eat steak. I became so engaged in creating wraps for her, I wanted to make something for myself as well.
It's not a secret among my friends and family that my steak marinade is the absolute truth. I love to whip up juicy, mouth-watering steaks. My preferred method is grilled. I find it easier to obtain medium doneness that way. The grill also offers so much flavor. I grill pretty much any time of the year. I'm not afraid to put on my coat and snow boots during the winter for the sake of a great meal. If you don't have a grill, stove top or the oven will work just fine.
Per Wrap: Calories: 107 Fat: 4.5G Net Carbs: 2G Protein: 16G
Per Wrap (made with optional butter): Calories: 120 Fat: 6G Net Carbs: 2G Protein: 16G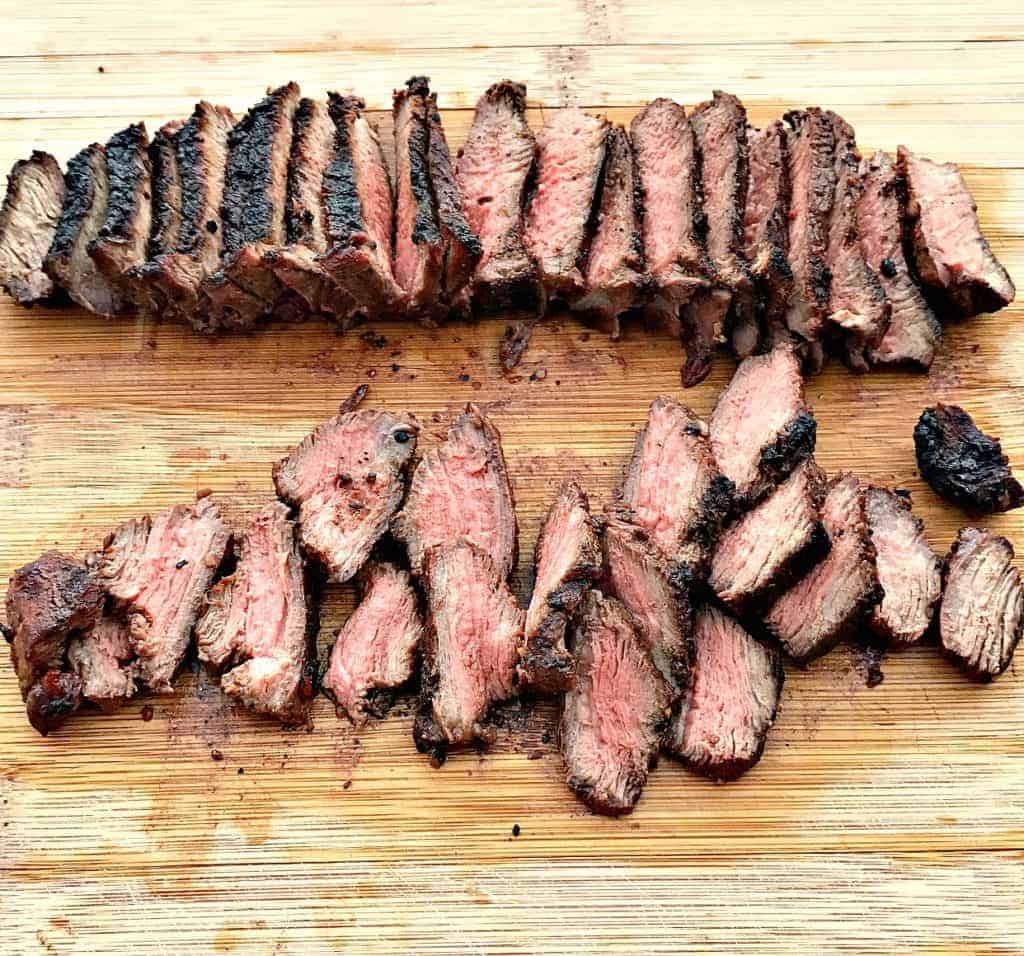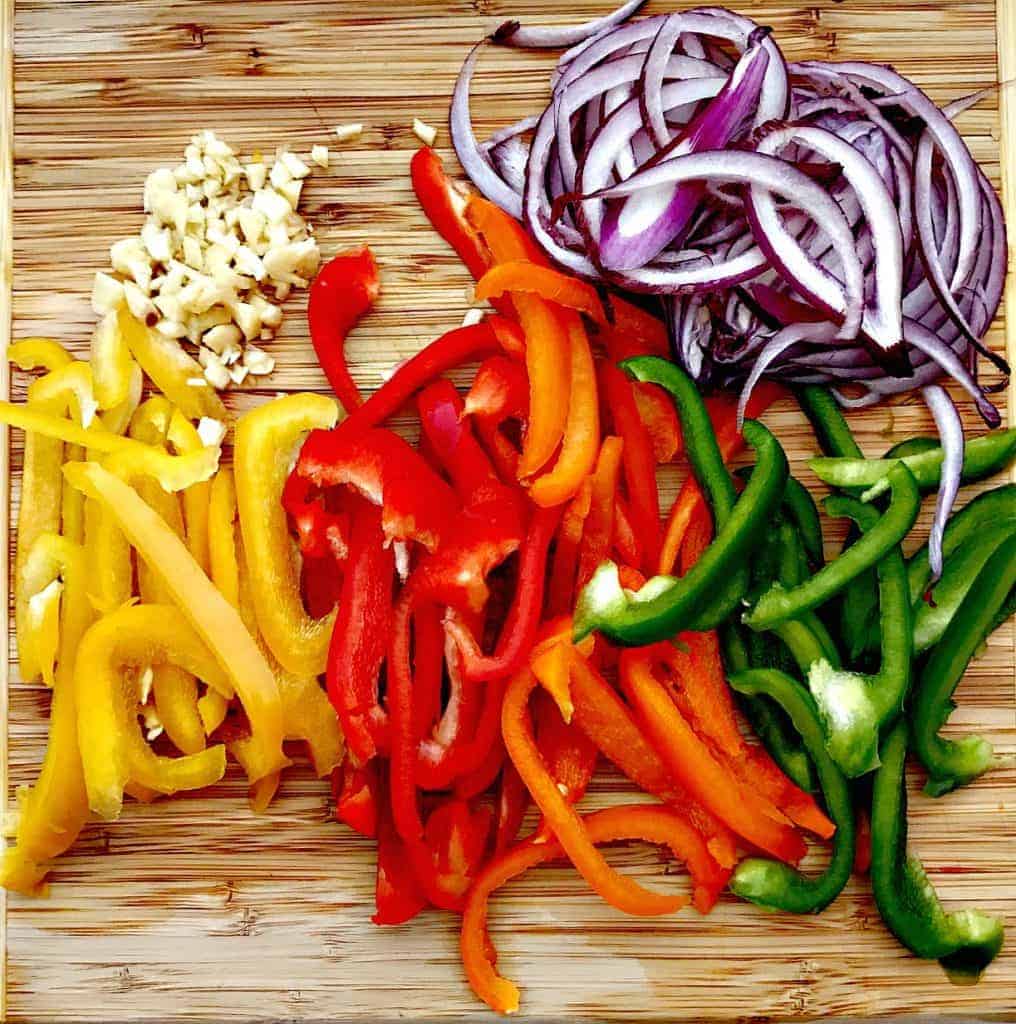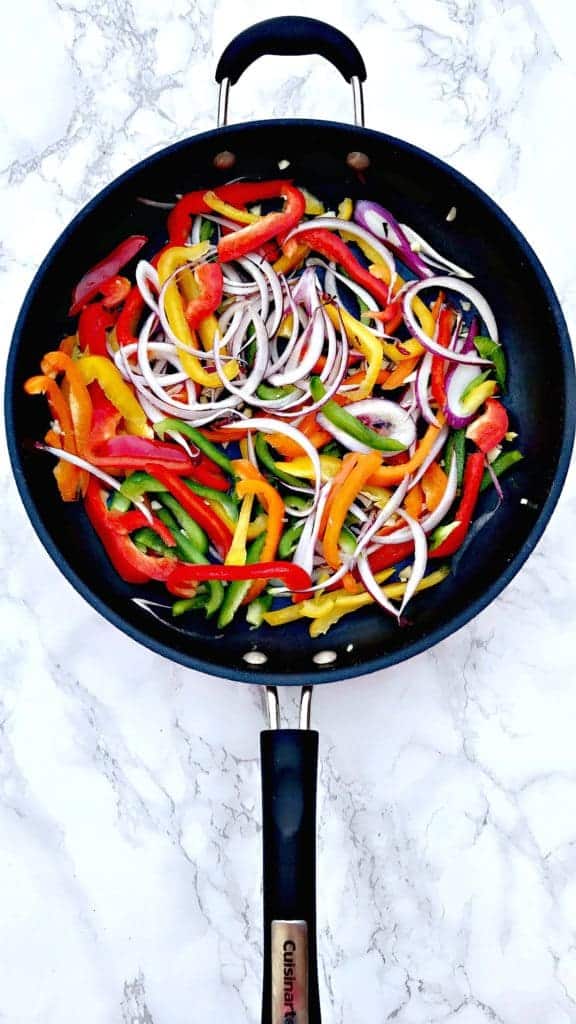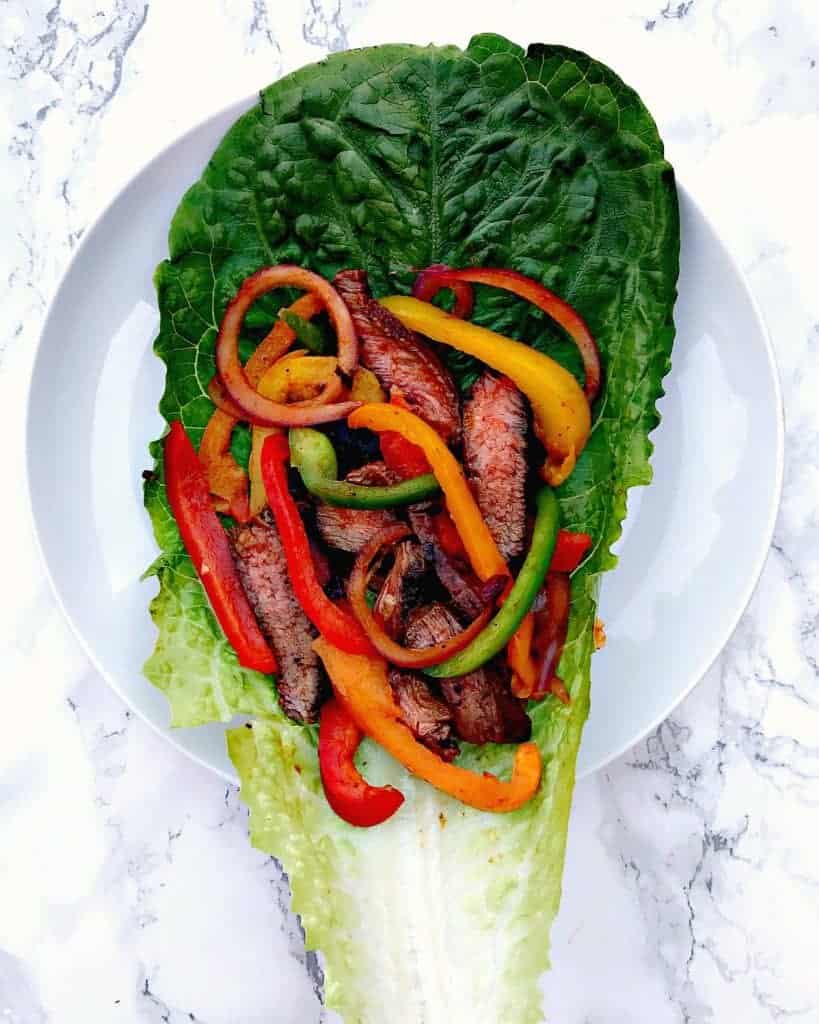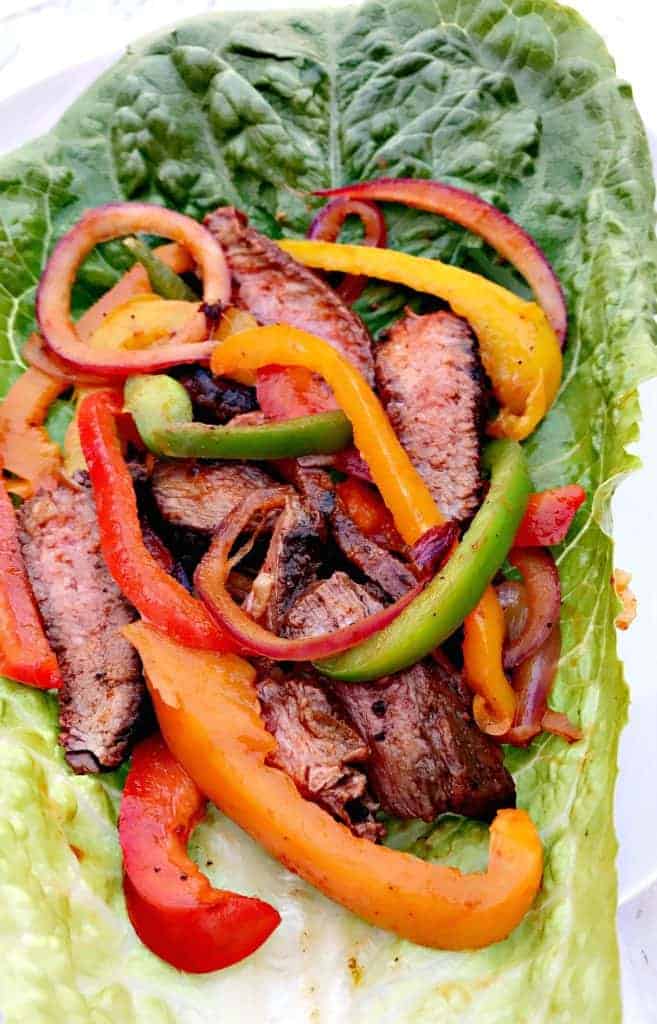 The steak marinade combined with the minced garlic and Sriracha works so well here. I was pleasantly surprised, yet impressed, when I took my first bite. I could eat these every day. They are also perfect for low-carb diets.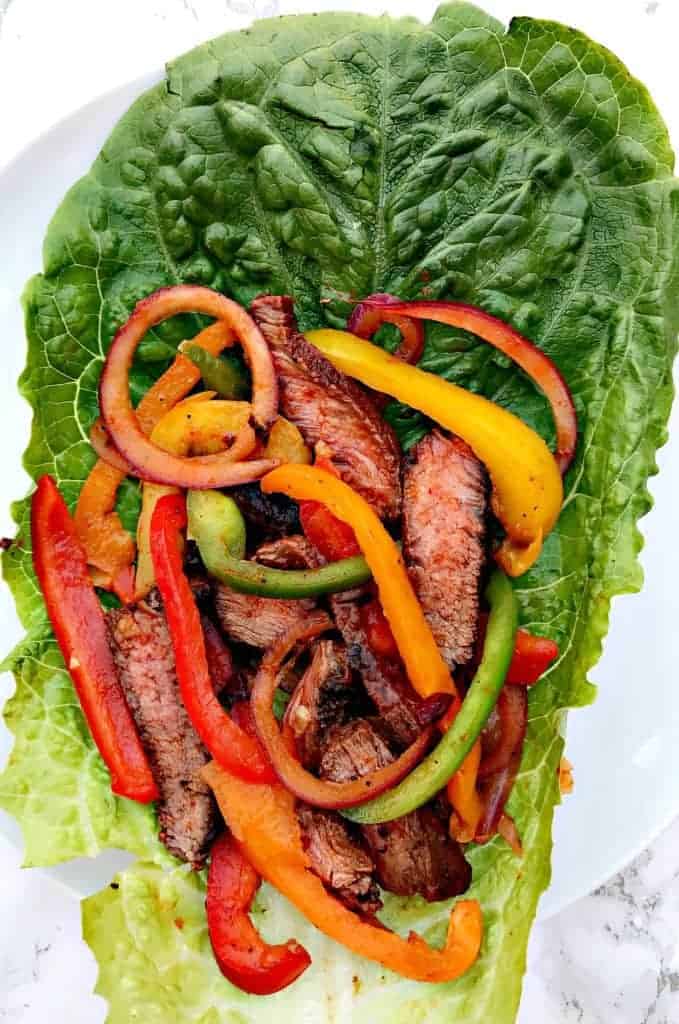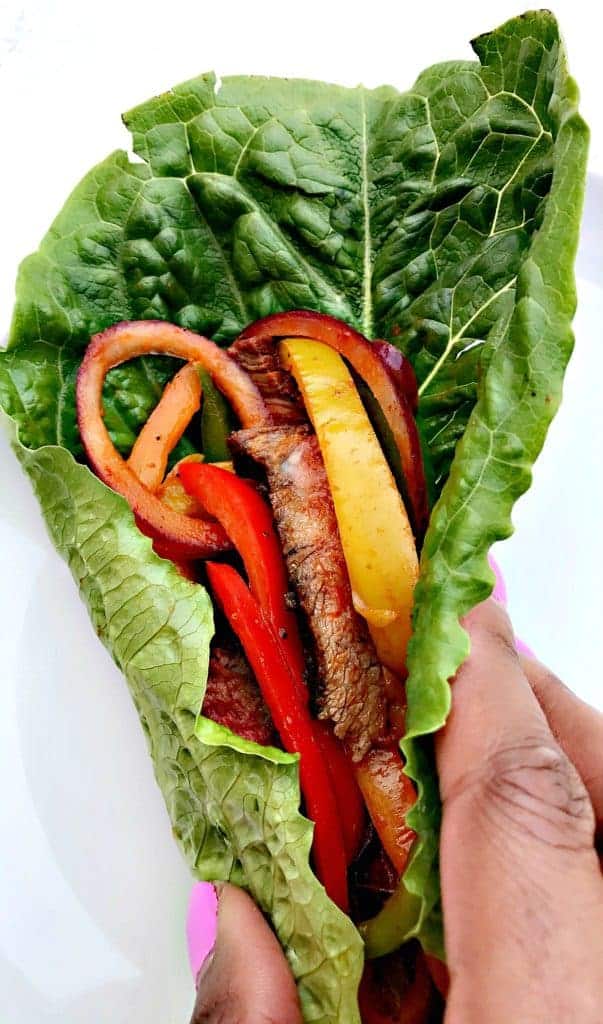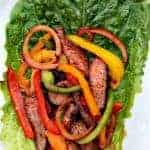 Low Carb Steak Lettuce Wraps
juicy lettuce wraps loaded with veggies and drizzled with Sriarcha
Ingredients
6-8

oz

of steak

sirloin or New York strip

Romaine lettuce

1/2

cup

red onion

chopped

3

garlic cloves

chopped

1/2

medium green pepper

sliced into thin pieces

1/2

medium red pepper

sliced into thin pieces

1/4

medium orange pepper

sliced into thin pieces

1/4

medium yellow pepper

sliced into thin pieces

2

tablespoons

of Sriracha
Steak Marinade
1 1/2

tablespoons

of low sodium soy sauce

2

tablespoons

dry

unsweetened Cocoa powder

2

teaspoons

McCormick's Grill Mates Montreal Steak Seasoning

2

teaspoons

McCormick's Grill Mates BBQ Seasoning

1

teaspoon

Kosher Salt

1

teaspoon

pepper
Instructions
Wash and trim the fat from the steak. Pat dry.

Pour ½ tablespoon of soy sauce on each side of the steak (1 tablespoon total).

Combine the seasonings in a bowl.

Sprinkle the seasonings on both sides of the steak. Place the steak in a Ziploc bag.

Add 1/2 tablespoon of soy sauce to the Ziploc bag. Seal the bag, removing all air.

Pat the outside of the bag to ensure added soy sauce saturates the meat.

Place in fridge to marinate 4-6 hours.

Grill steak to preferred doneness (i.e. medium).

OPTIONAL: To ensure a tender, juicy steak, melt 1 tablespoon of unsalted butter in the microwave for 30 seconds and stir. After the steak has reached the desired doneness, using a cooking brush, brush the butter onto both sides of the steak while it's on the grill.

Remove the steak from the grill and allow it to cool for 5 minutes.

Place the steak horizontally on a cutting board, and slice steak into pieces.

Chop red onion, garlic, and peppers.

Spray a pan with cooking oil and add the veggies on medium heat. Allow to cook until garlic becomes fragrant. Add the Sriracha and allow it to cook for another 2 minutes.

Remove from heat and allow to cool for 2 minutes. Use your judgment here. If you add the steak too soon it will continue to cook the steak.

Add the steak slices and stir to combine all of the ingredients.

Spoon the mixture into the center of a lettuce leaf.

Serve!