The Mealthy Crisp Lid is a total game changer for Instant Pot or pressure cooker owners. This device will turn your machine into an air fryer!
This post contains affiliate links. Please read my full disclosure here.
I received a free Crisp Lid in exchange for this review. All opinions are my own.
If you haven't heard of or seen the Mealthy Crisp Lid, pull up a chair and let me tell you about it. This Crisp Lid is a must-have item for Instant Pot owners who want to transform their Instant Pots into an air fryer, too!
Maybe you've heard of the Ninja Foodi. The Ninji Foodi is a pressure cooker and Instant Pot all in-one appliance. When I first heard of the Ninja Foodi, I was super intrigued. I didn't give much thought to it because I didn't want to have to buy ANOTHER kitchen appliance, and I already owned a couple of air fryers.
The Mealthy Crisp Lid actually solves this dilemma I had. The Crisp Lid will fit on top of any 6quart or 8quart pressure cooker. It won't take up any space on countertops!
What is the Mealthy Crisp Lid?
According to Mealthy's website here is how they define the device, "Mealthy's newest and most innovative product converts any electric pressure cooker into an air fryer. Broil, crisp, and air fry directly in the steel pot of your electric pressure cooker. Compatible with both 6 and 8 quart electric pressure cookers."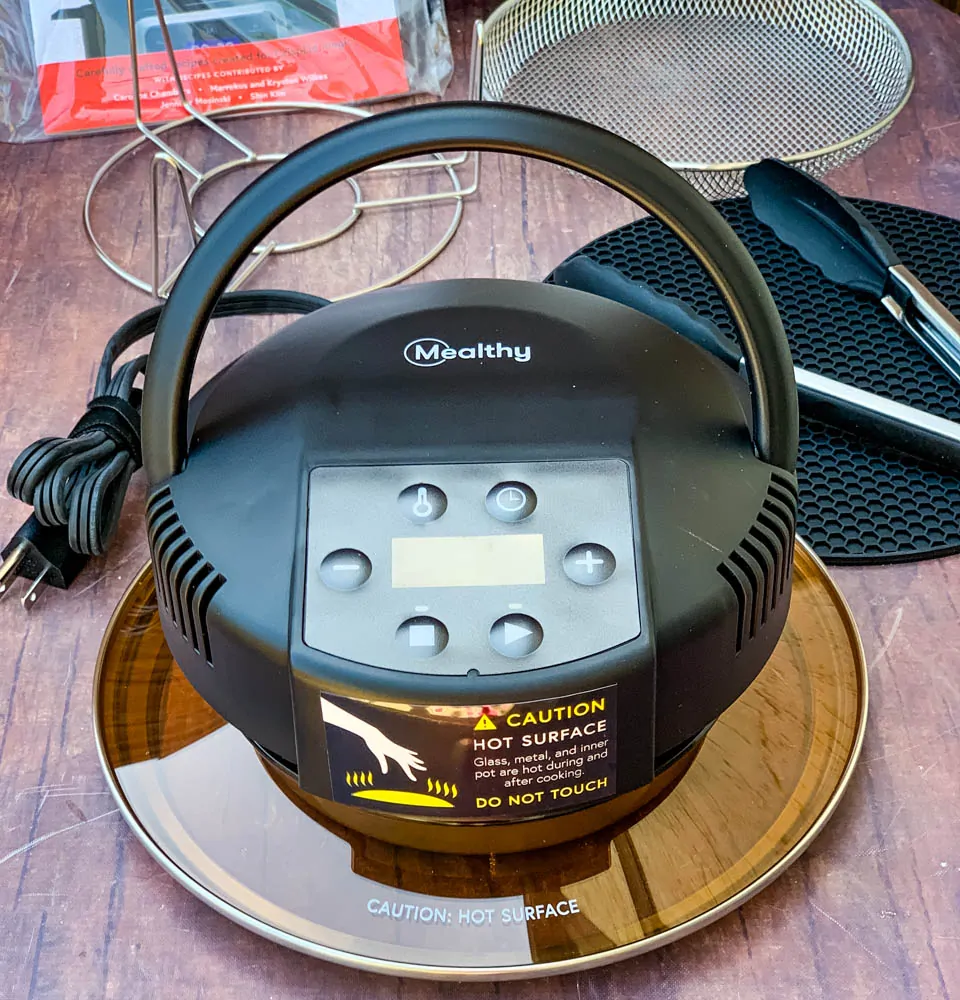 What Comes in the Crisp Lid Box
Trivet
Fryer Basket
Tongs
Heat Resistant Mat (to protect your countertops for placement when the lid is hot)
Recipe Book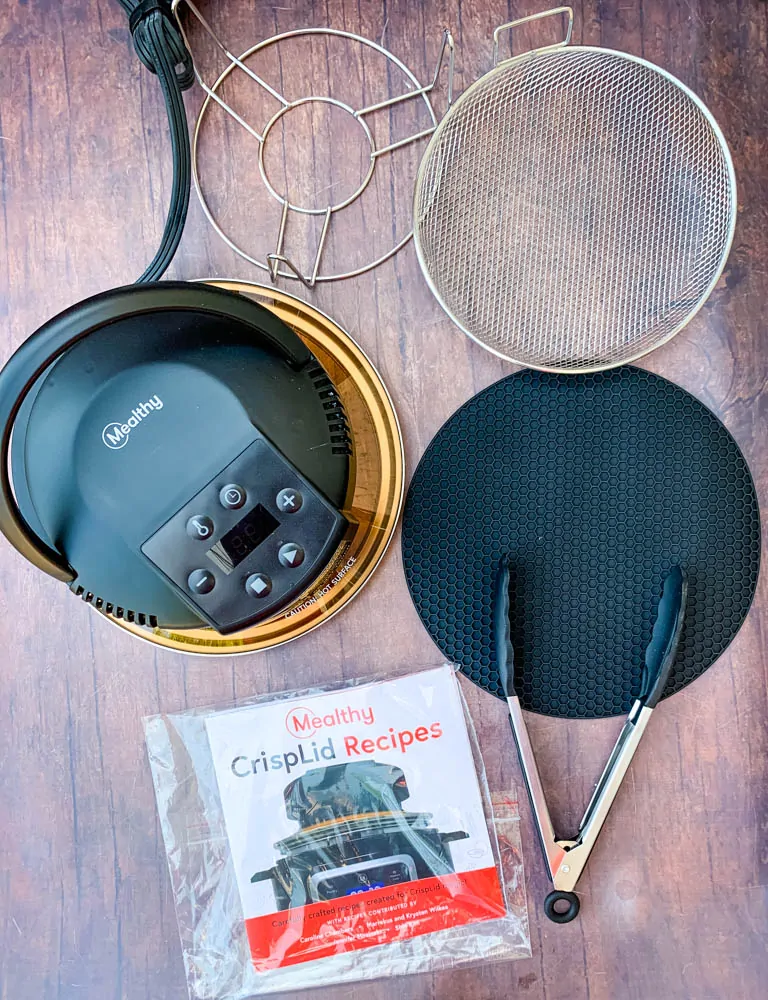 How Does the Crisp Lid Work?
You place the raised trivet and fry basket into your pressure cooker stainless steel pot. Note, you have to use a stainless steel inner pot. You can't use a ceramic inner pot.
From there, you load in your food. For my first experiment, I tried out my Air Fryer Fried Chicken Wings. I loaded seasoned, uncooked wings into the fry basket. The lid includes buttons to adjust the temperature and cook time.
I followed the recipe instructions included for fried chicken and cooked them at 425 degrees. I like my chicken to be really crispy, so I fried them for 28 minutes. They definitely turned out crisp!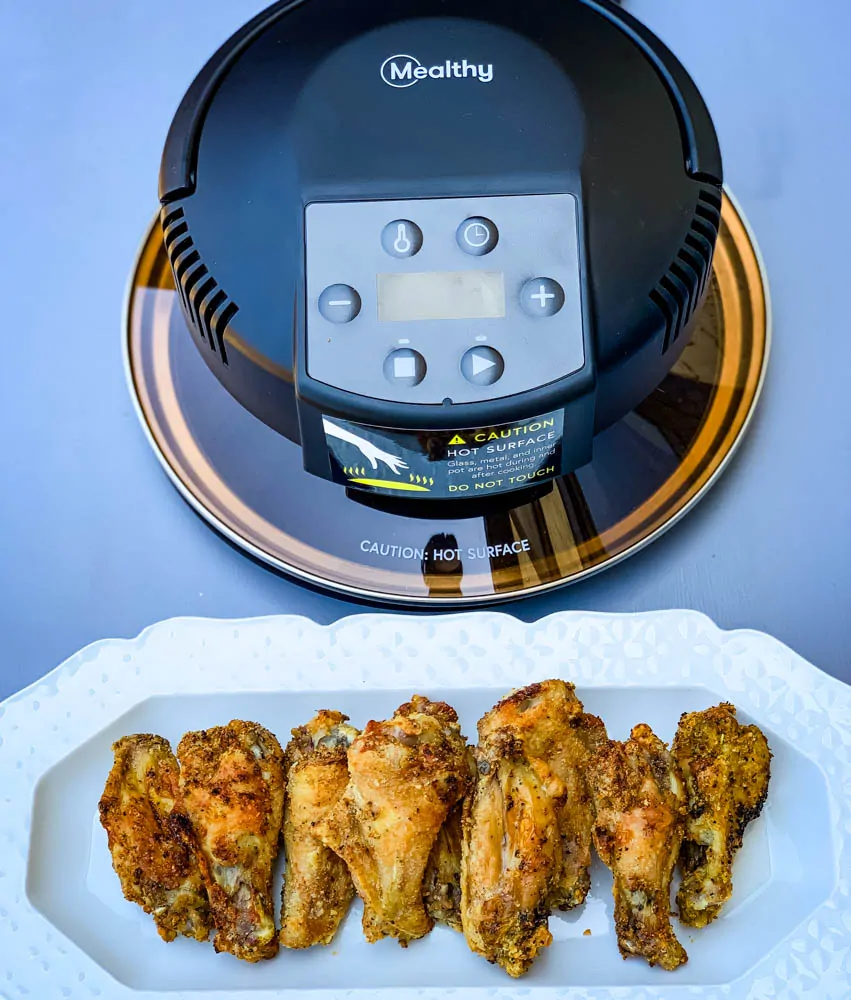 Will the Crisp Lid Replace the Air Fryer for Air Fryer Owners?
For me, the lid will not replace my air fryer. I just got a larger 5.8-quart air fryer from Cosori. I LOVE the size. The Crisp Lid isn't as spacious.
An actual air fryer also just cooks a little differently. While making my Air Fryer Fried Chicken and following the recipe instructions in the provided recipe book, I felt like the chicken got really brown fast (almost burnt in areas). When I adjusted the temperature down some, this did improve.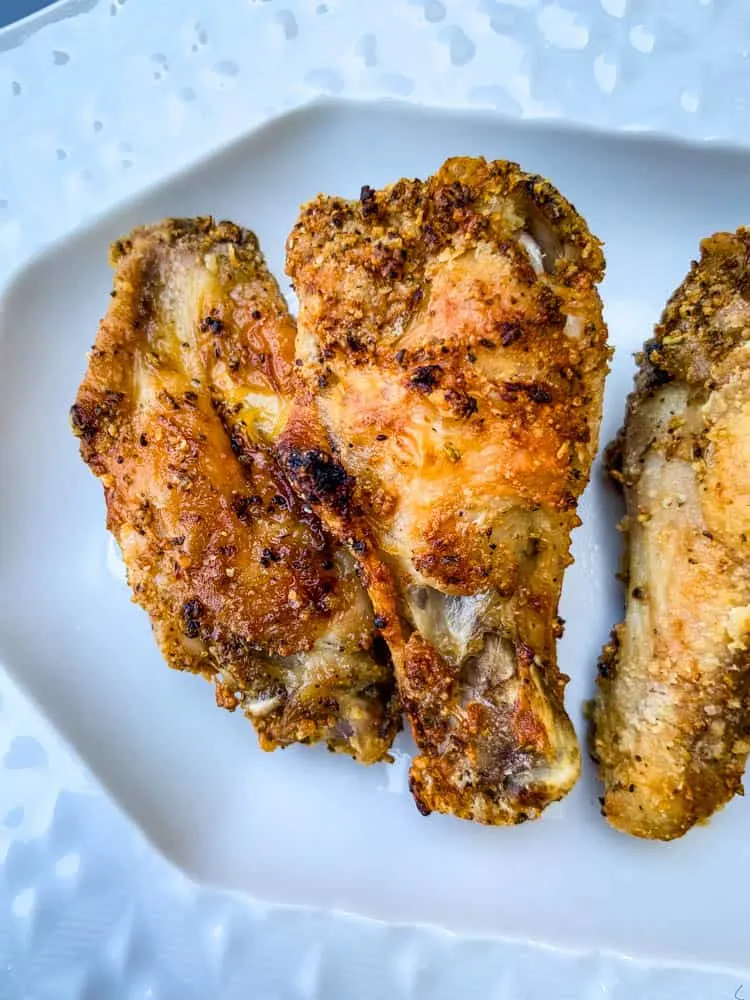 Mealthy Crisp Lid Pros
It will save you a ton of money if you don't want to purchase another appliance, especially if you already have an Instant Pot.
The Crisp Lid is small and will not take up much room for storage.
Cooking Whole Chicken and Instant Pot Ribs will be a LOT easier. No need to transfer these to the broiler.
Mealthy Crisp Lid Cons
Size may be smaller than you want, if you are looking for a large air fryer or oven.
The unit cannot be used with ceramic inner pots (which is what I primarily use now as I find them easier to clean).
Cook times and temperatures will differ for some recipes in comparison to an air fryer.
Is the Crisp Lid Worth the Money
Absolutely! If you have an Instant Pot, you need one of these! Mealthy provides an amazing value with the included accessories. You can purchase the Crisp Lid here.