This post may contain affiliate links. Please read my full disclosure here.
I pretty much gave up oatmeal years ago. I was eating that pre-packaged stuff that is loaded with tons of sugar. I refer to it as "stuff" because it provides very little nutritional value. I sought out other alternatives for oatmeal, but now I am back. This is my first time trying steel cut oats in my Instant Pot. What better way to eat steel cut oats than to make them taste like apple pie?
Calories: 210 Fat: 5G Net Carbs: 37G Protein: 3G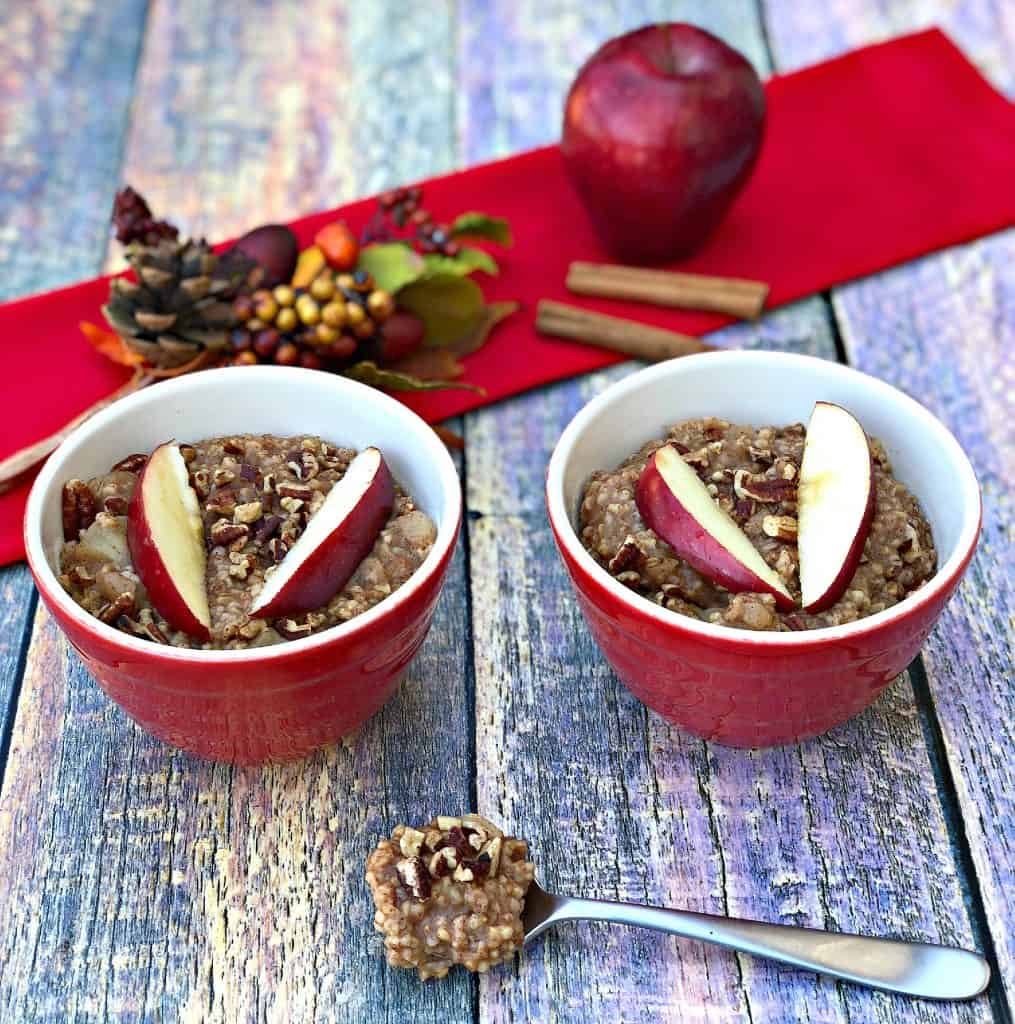 I love to make my own oatmeal because I can control the amount of sugar that is used. Using fresh fruit and raw honey helps create a recipe that is naturally sweetened. You can totally still accomplish the same homemade baked apple pie taste in this recipe without going overboard with refined sugar.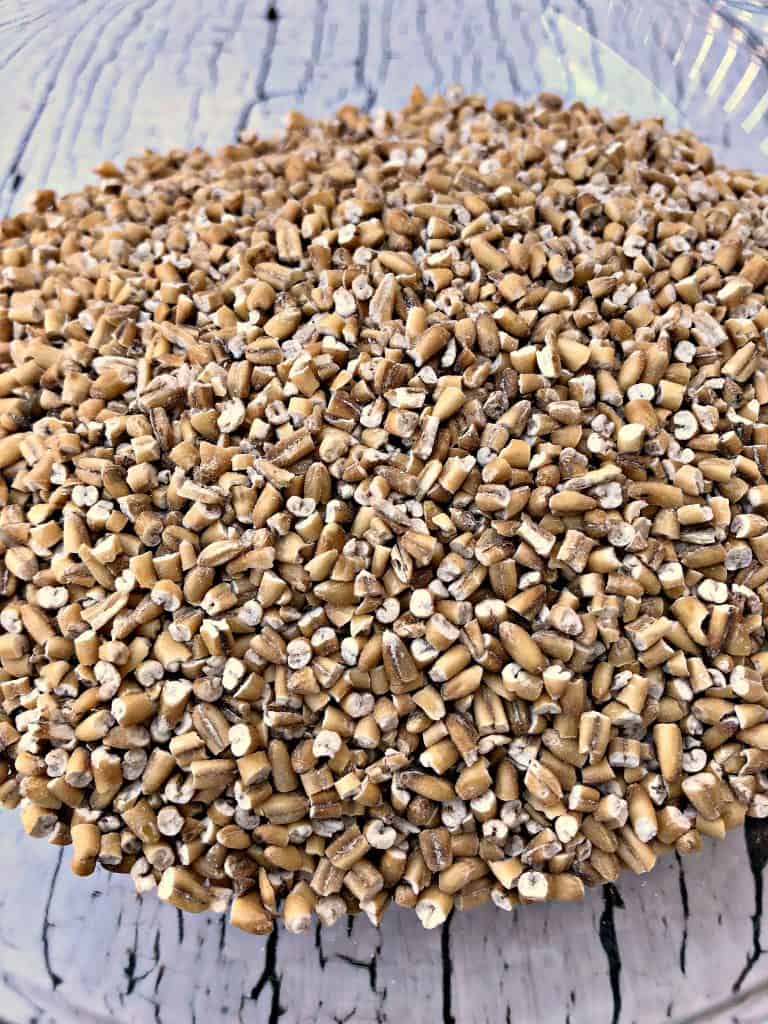 I used Bob's Red Mill Steel Cut Oats. Here is a link to the exact oats used in this recipe. It is important that you use regular steel cut oats, and not instant or quick steel cut oats.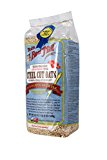 Now, why steel cut oats and not regular oats. Most of us are used to rolled oats. I am sure you have fond and/or vivid memories of Quaker oatmeal.If you compare the macro/nutritional value of rolled oats vs steel cut oats, you will find they are very comparable. Calories, fat, etc. are pretty much the same.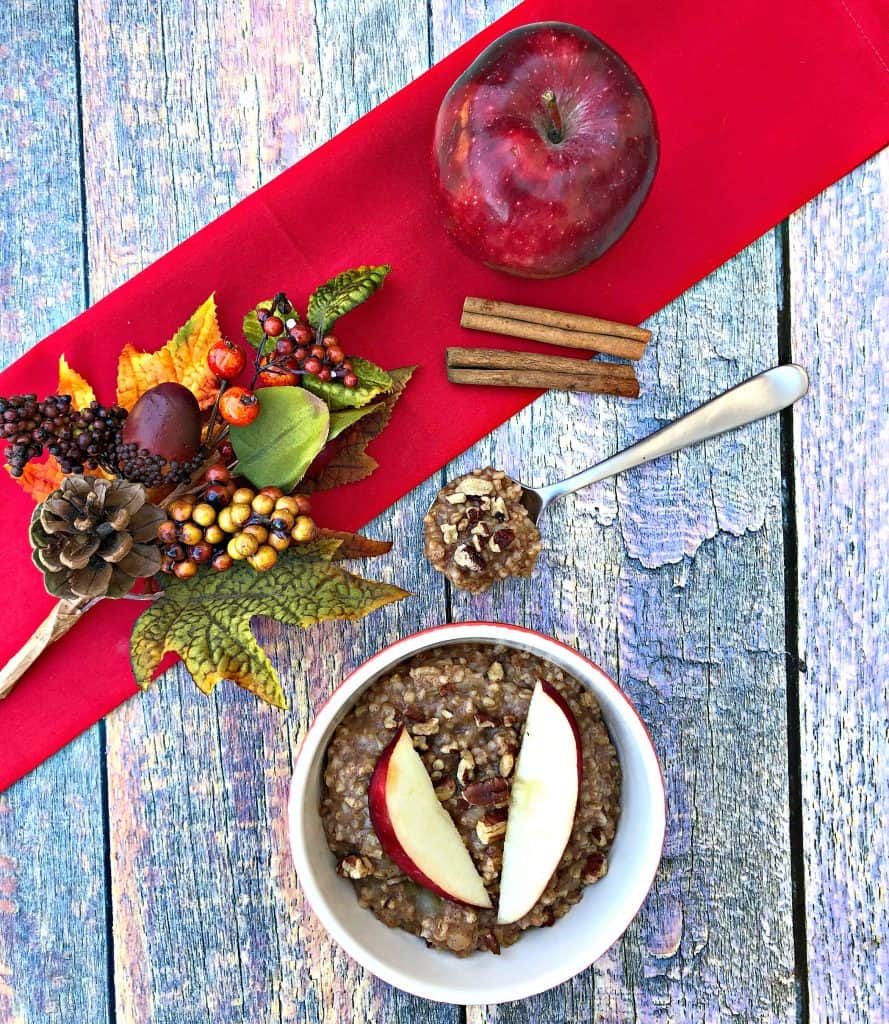 The biggest difference in steel cut vs rolled is the amount of processing and how the oats are processed. Rolled oats are rolled out and flattened. Steel cut oats are cut into thin slices by steel blades. This process retains fiber and protein. Steel cut oats help your fill fuller after eating them.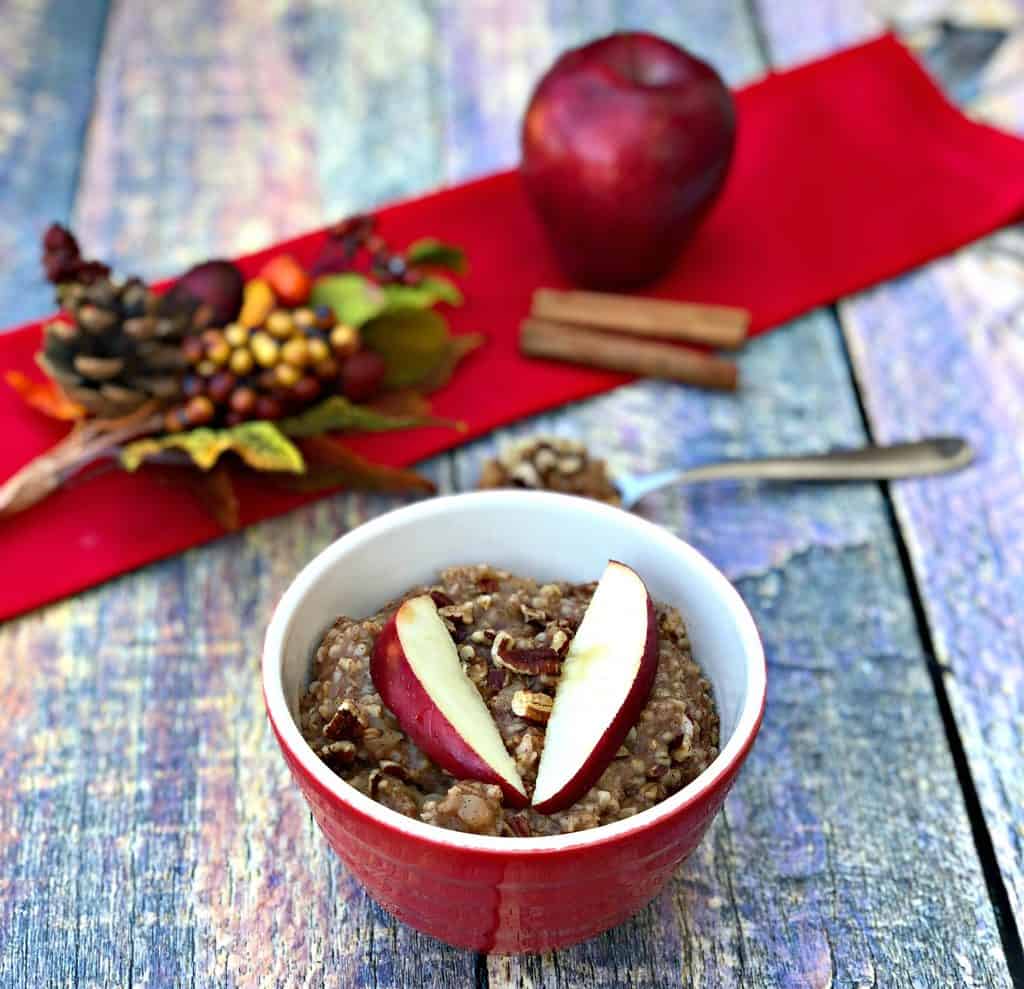 Steel cut oats take up to 20 minutes to cook on the stove. With the Instant Pot, you cut that time in half. You also have the freedom to walk away and do whatever you need around the house. No need to babysit a pot on the stove!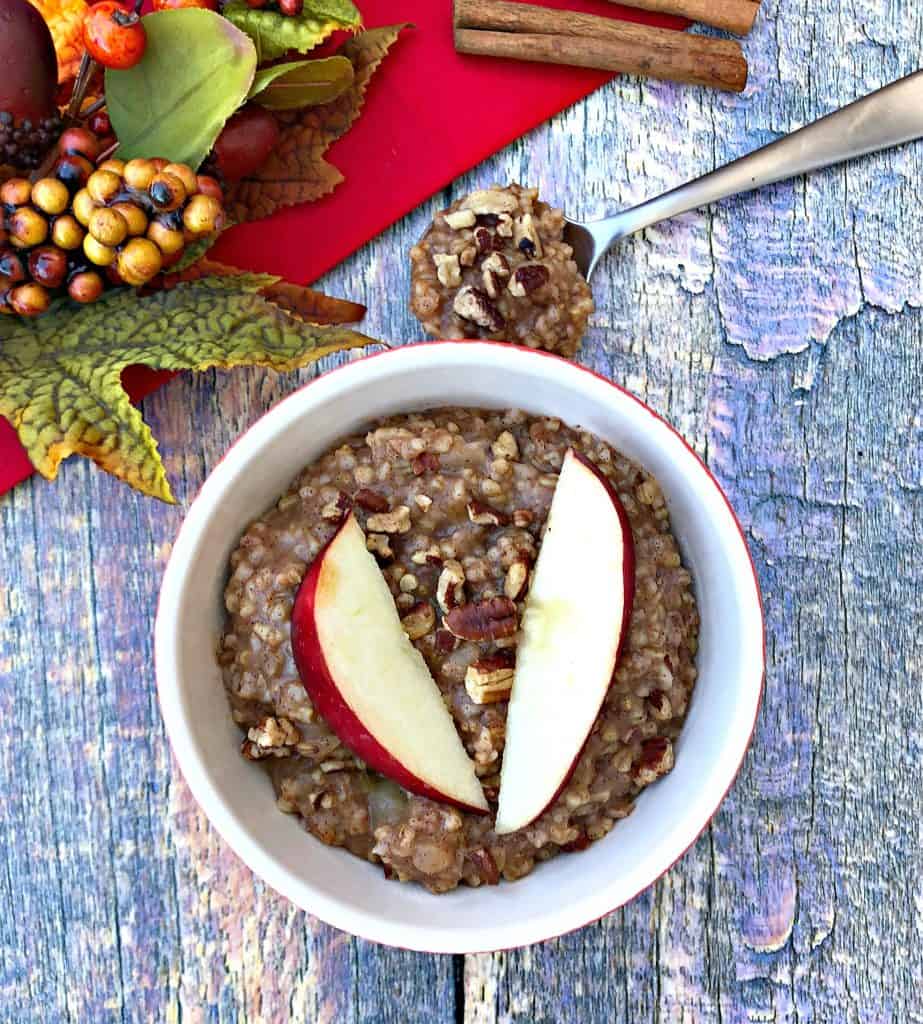 This recipe is perfect for make-ahead breakfast or meal prep. You can throw all of your items in the Instant Pot overnight and let it sit in the fridge and then turn on the pressure cooker in the morning.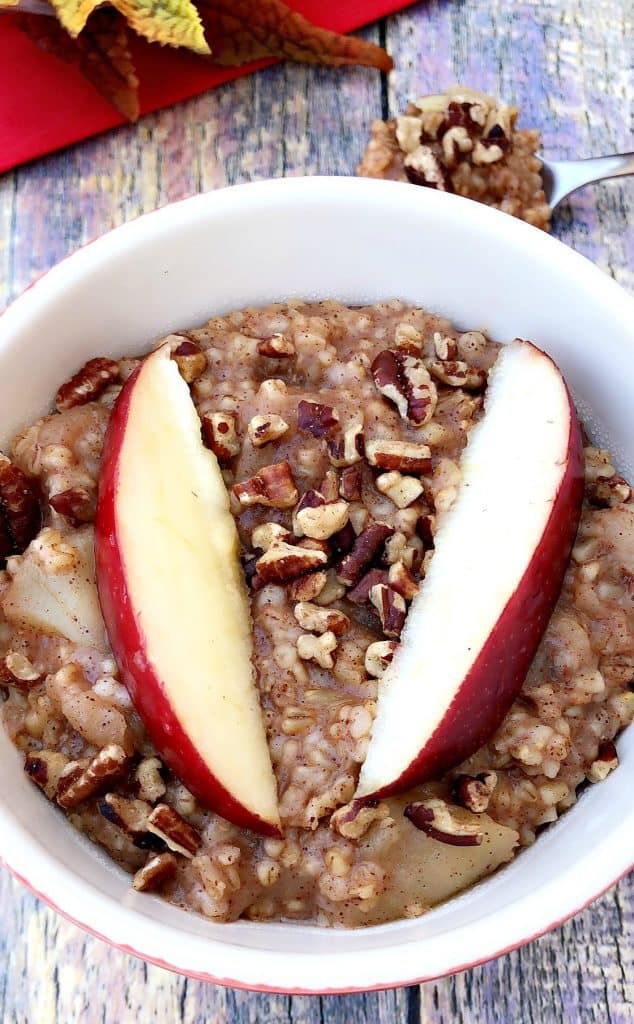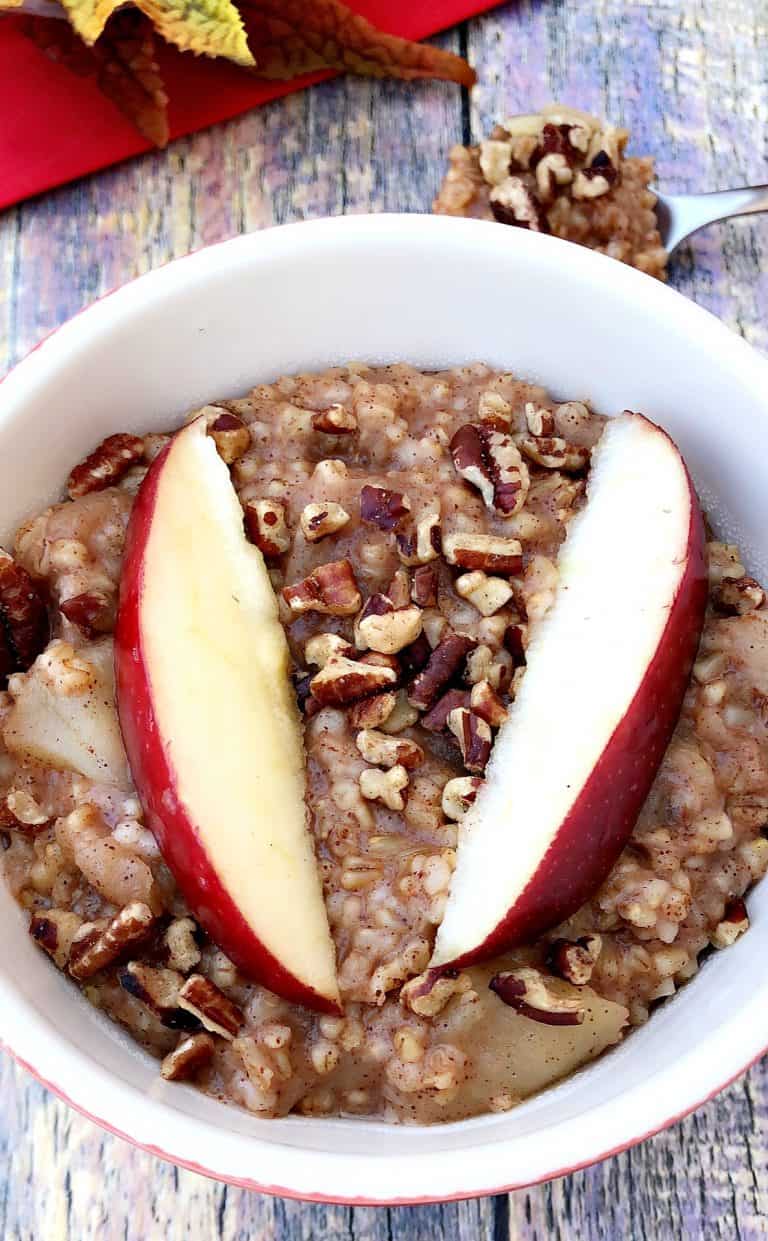 More Instant Pot Recipes:
Instant Pot Olive Garden Zuppa Toscana Soup
Instant Pot Spinach and Sausage Egg Bites
Instant Pot Chicken, Seafood, and Sausage Gumbo
Instant Pot Baked Creamed Cheesy Corn with Ham
Instant Pot Green Bean Casserole
Instant Pot Chicken Noodle Soup with Spinach
Instant Pot Caramel Apple Cider
Instant Pot Meatball Sliders
Instant Pot Pumpkin Spice Sweet Potato Soup
Instant Pot Homemade Cranberry Sauce
Instant Pot Starbucks Gingerbread Latte
Instant Pot Skinny Pumpkin Spice Latte
Instant Pot Low-Carb Pumpkin Spice Bread
Instant Pot Lasagna
Instant Pot Shrimp Risotto with Vegetables and Parmesan
Instant Pot BBQ Pulled Chicken Sandwiches
How to Make Hard Boiled Eggs Using the Instant Pot
Instant Pot Chicken and Spanish Rice (Arroz Con Pollo)
Instant Pot Cheesecake
Instant Pot Chicken Alfredo Spaghetti Squash
Instant Pot Mongolian Beef
Instant Pot Steak Tacos
Instant Pot Chicken Taco Bowl with Quinoa
Instant Pot Buffalo Chicken Pasta
I prefer to pack up my prepped meals in glass food storage containers. I use this food storage set from Amazon.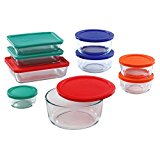 Be sure to check out step by step video instructions here!
Pin this recipe for later here.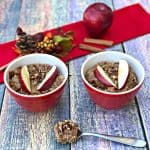 Instant Pot Apple Pie Steel Cut Oats
Instant Pot Apple Pie Steel Cut Oats is a vegan, dairy-free, refined-sugar free pressure cooker recipe that is perfect for overnight, make-ahead breakfast, and meal prep. This healthy dish is quick and easy to make.
Ingredients
1

cup

steel cut oats

2

apples

peeled and diced, I used Honey Crisp

2

tbsp

raw honey

1

cup

unsweetened vanilla almond milk

1

tsp

vanilla extract

1

tsp

cinnamon

1/4

tsp

nutmeg

1/4

tsp

ground ginger

I used ginger sold in a jar

2

cups

water

2

tsbp

chopped pecans

for topping

cooking spray or oil to grease the Instant Pot

I used avocado oil, you can also use coconut oil
Instructions
Grease the sides and bottom of the Instant Pot with oil. You can also use cooking spray. This step is important because you don't want the oats to stick to the pot.

Add all of the ingredients to the pot (with the exception of the pecans) and stir.

Close the pot and seal. Place the Instant Pot on Manual High-Pressure Cooking for 10 minutes.

When the timer beeps DO NOT perform a quick release. Press cancel, to turn the pot off. You do not want the Instant Pot on "Keep Warm." The oats may burn.

Allow the steam release naturally for 10 minutes before opening the pot.

Serve the oatmeal in bowls topped with chopped pecans or desired toppings.
Recipe Video
Recipe Notes
Cooking time noted above includes the time for the Instant Pot to come to pressure and naturally release steam and pressure. Overall timing may vary depending on how long it takes your pot to come to pressure.
If you prefer oats that are chewy and less creamy, decrease the cooking time. You can use 3-5 minutes.
If you like sweet oatmeal try adding a little stevia organic sweetener.
Additional topping ideas: Greek yogurt, chia seeds, granola, and almonds.