This Roasted Bone-In Turkey Breast is the perfect centerpiece for your holiday meal. With crispy golden skin and tender juicy meat that falls off the bone, this is sure to be a crowd-pleaser. Infused with a savory blend of herbs and spices, this recipe delivers the perfect balance of flavor and texture, making it a delicious and impressive addition to any meal.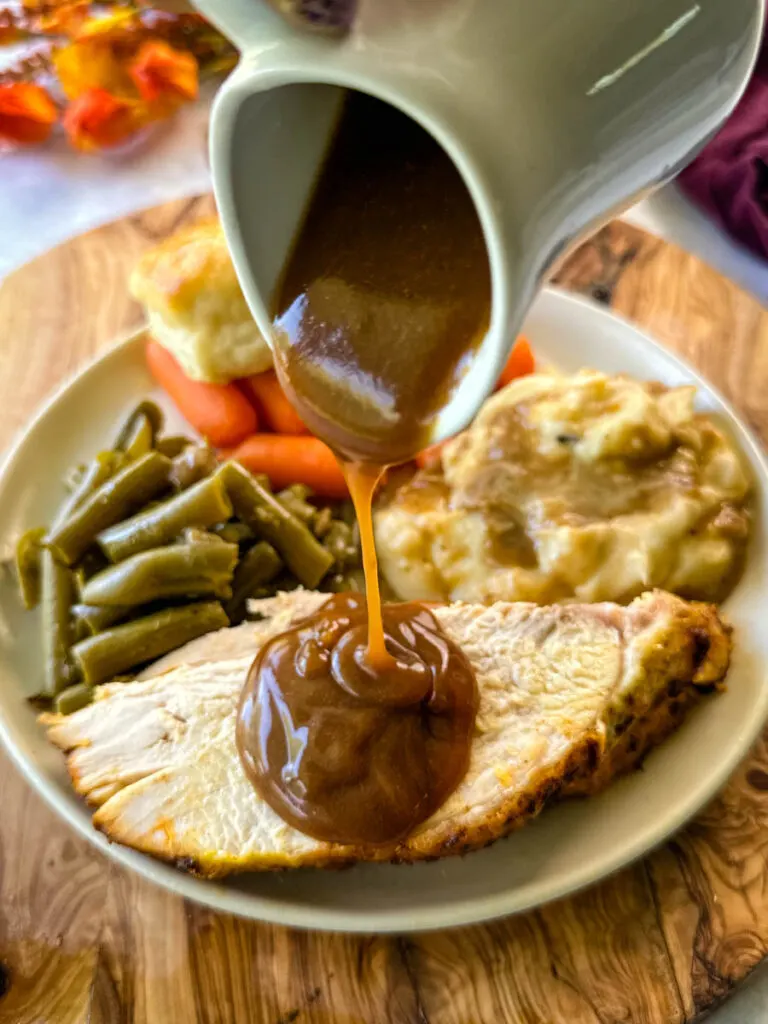 This post contains affiliate links. Please read my full disclosure here.
Bone-in vs Boneless Turkey
Bone-in turkey is generally more juicy and flavorful than boneless turkey because the bones help to retain moisture and add flavor during cooking. The bones also help to insulate the meat, which slows down the cooking process and allows the turkey to cook more evenly.
With proper preparation and cooking techniques noted in this recipe, boneless turkey can also be moist and delicious.
Here are more key differences:
Cooking Time: Boneless turkey cooks faster than bone-in turkey because bones take longer to heat up than meat.
Carving: Carving a bone-in turkey can be more challenging because bones can make it harder to remove meat cleanly. A boneless turkey is easier to carve because it is a uniform shape.
Cost: Boneless turkey tends to be more expensive because it requires more processing to remove the bones.
Nutritional Value: Boneless is generally lower in calories and fat because it has most have had the skin removed.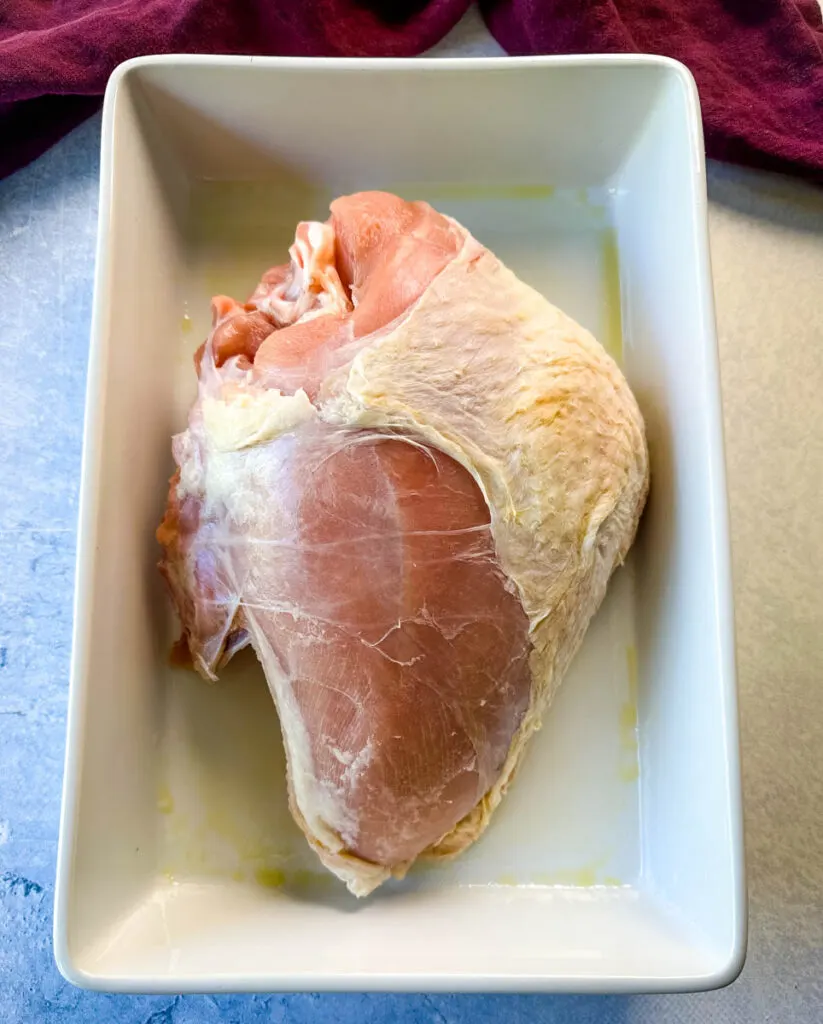 Where to Buy It and Half Breast vs Full
Bone-in turkey breast can typically be found at most grocery stores and supermarkets during the Thanksgiving season, and most stores will carry it year-round.
When purchasing, you will need to decide between a half breast or a whole.
A half breast is typically one side of a whole turkey breast, with the breastbone and rib bones removed. It usually weighs between 3 to 5 pounds and can feed around 4 to 6 people. This cut is ideal for smaller gatherings or if you don't want to have a lot of leftovers. I love to grab the half-breast from Trader Joe's because they are great quality.
A full bone-in turkey breast is the whole breast with the breastbone and rib bones intact. It's typically much larger than a half breast, weighing between 6 to 10 pounds, and can feed up to 12 people. This cut is perfect for larger gatherings or if you want to have plenty of leftovers for sandwiches or other dishes.
When choosing, consider the size of your gathering, how many people you need to feed, and how much leftover turkey you want.
Spices and Seasoning
I use a combination of poultry seasoning, smoked paprika (regular paprika is fine), onion powder, salt, and pepper.
Here are some additional options:
Sage: This is a classic herb for turkey that adds a warm, earthy flavor. You can use fresh or dried sage.
Rosemary: Rosemary has a strong, piney flavor that can be used sparingly to add depth.
Cumin: Has a warm, earthy flavor that can add a slightly spicy kick.
Cayenne pepper: Adds a spicy kick to the turkey that can be adjusted to your preference.
Cajun Seasoning
Creole Seasoning
Lemon Pepper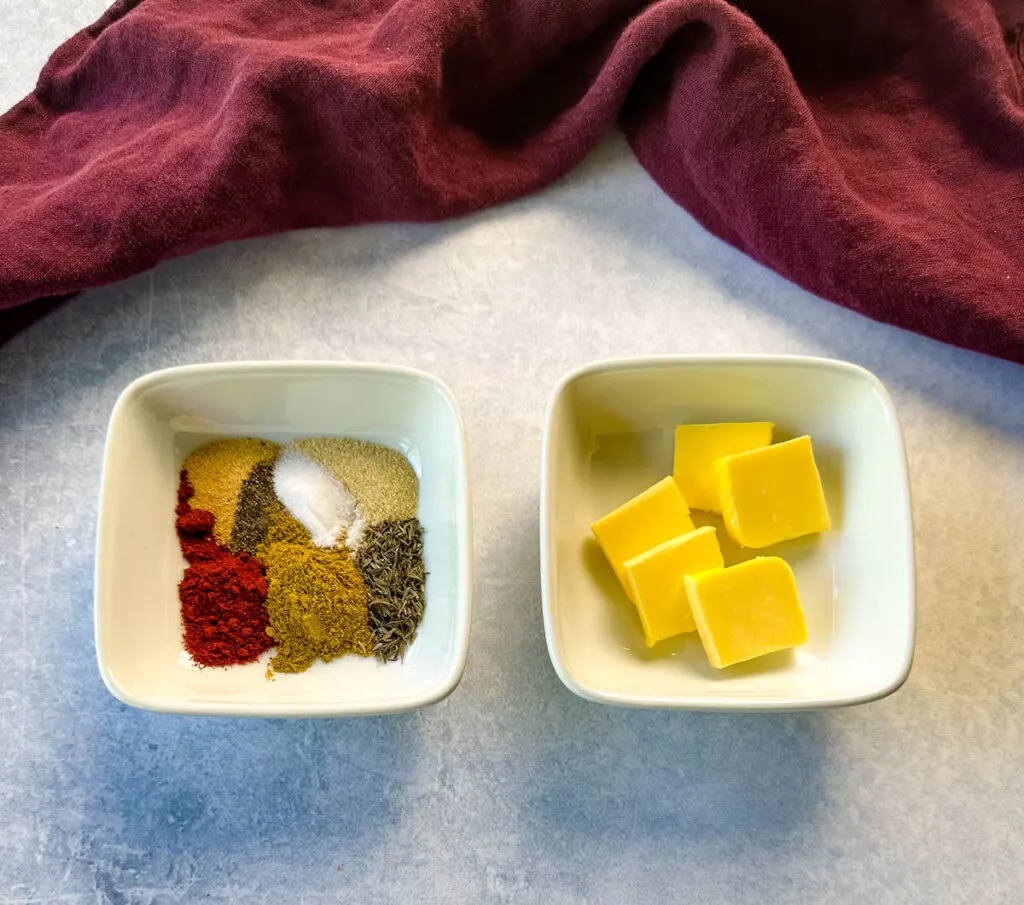 Do You Have to Brine it Before Cooking
Brining involves soaking the turkey in a saltwater solution for several hours, which helps to break down the proteins and allow the meat to absorb more moisture and flavor. if you prefer a juicier and more flavorful turkey, brining can be a great option.
If you don't have the time or space to brine you can still achieve a delicious turkey by roasting it without brining. I like to use butter. The butter penetrates the meat while it cooks and keeps it tender and juicy.
Check out this post on How to Brine Turkey if you are interested.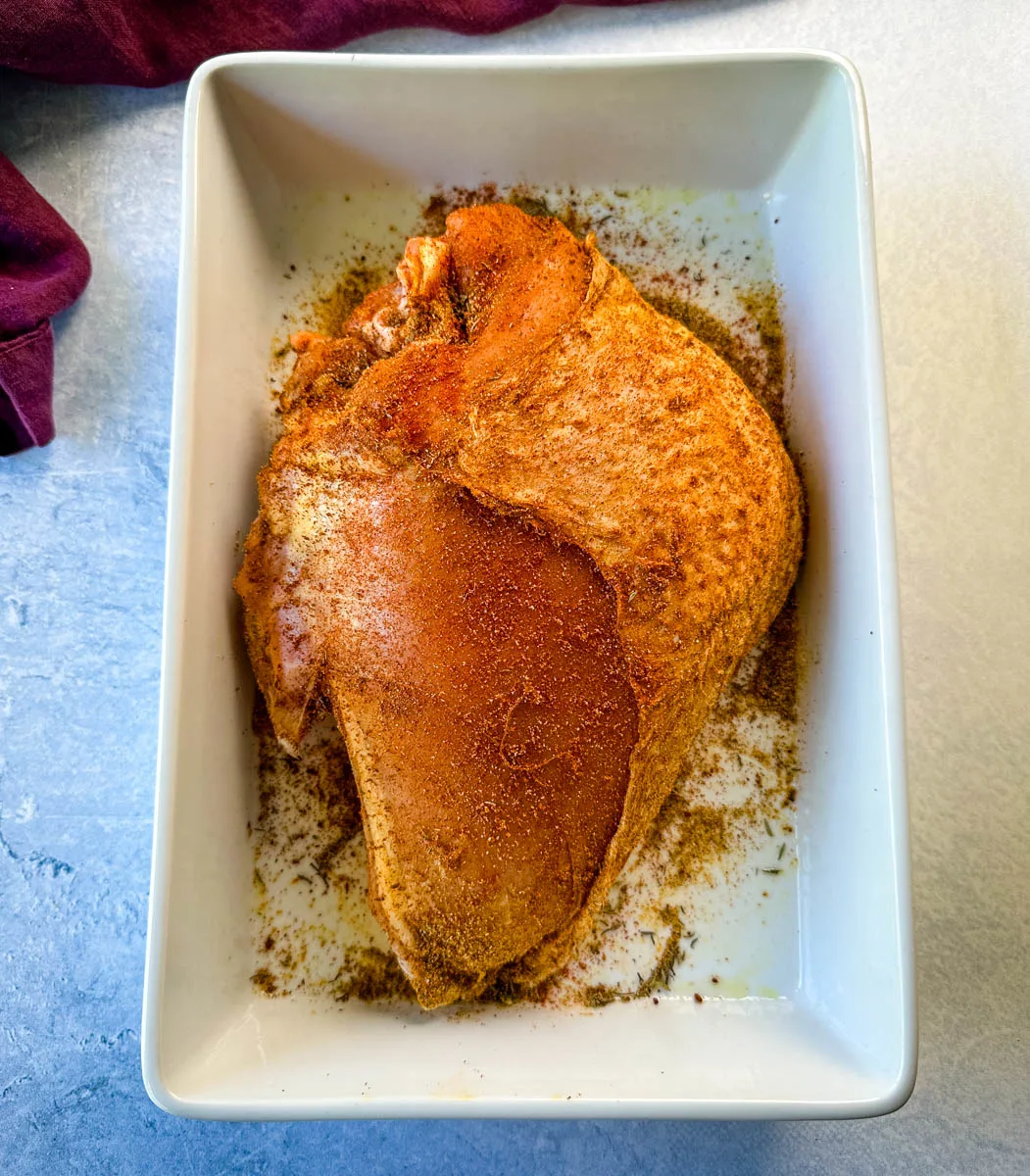 Cook Time/How Long to Cook
The cook time will depend on several factors, especially the size of the breast. As a general rule, you should plan to roast the turkey for about 20 minutes per pound of turkey.
3-4 pounds: 1 to 2 hours
4-6 pounds: 2 to 2.5 hours
6-8 pounds: 2.5 to 3 hours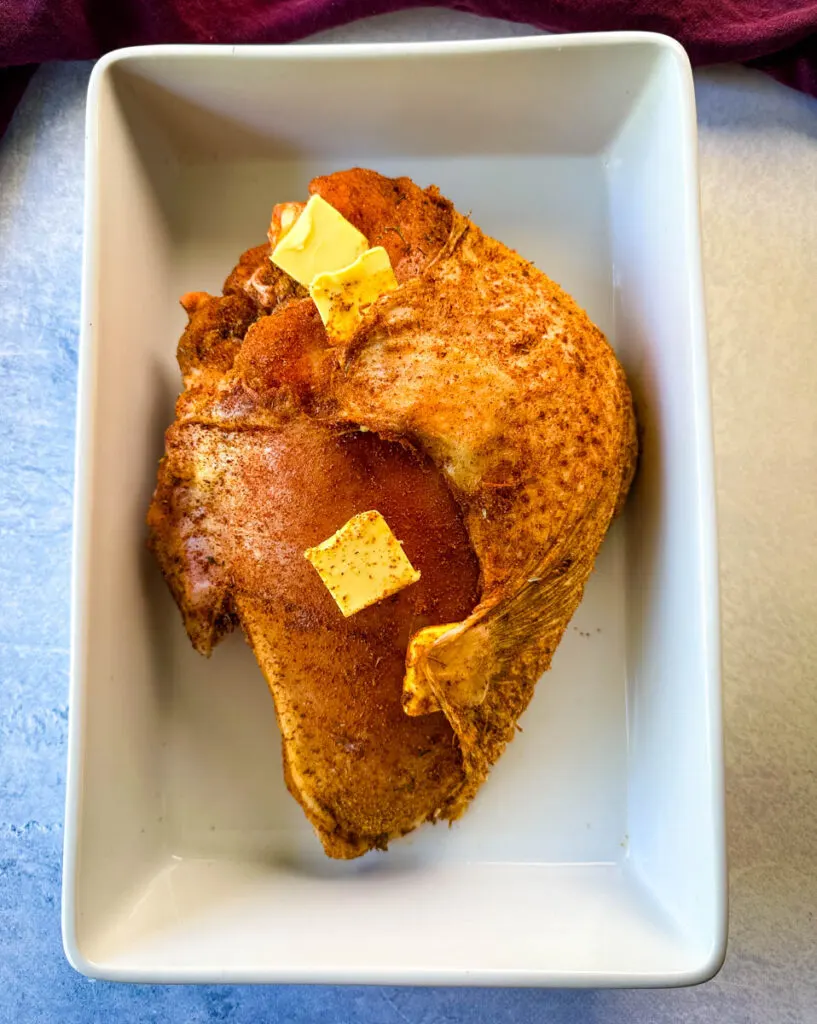 How to Tell When it's Done
You will need to use a meat thermometer. Cook the turkey until it reaches an internal temperature of 165 degrees. Insert the thermometer into the thickest part of the roast.
Crispy Skin
This recipe produces amazing skin. If you want it more crisp, once the turkey has finished roasting, adjust the oven to broil and broil the turkey for a few minutes until the skin crisps to your liking.
Resting
When a turkey breast is cooked, the heat causes the juices inside the meat to move away from the center of the roast towards the outside. This can result in a dry, tough piece of meat if it is cut immediately after being taken out of the oven.
By letting it rest for at least 10-15 minutes after cooking, you allow the juices to redistribute back into the meat, resulting in a more evenly moist and tender roast. This also allows the temperature to even out, so the meat is not too hot when you start carving it.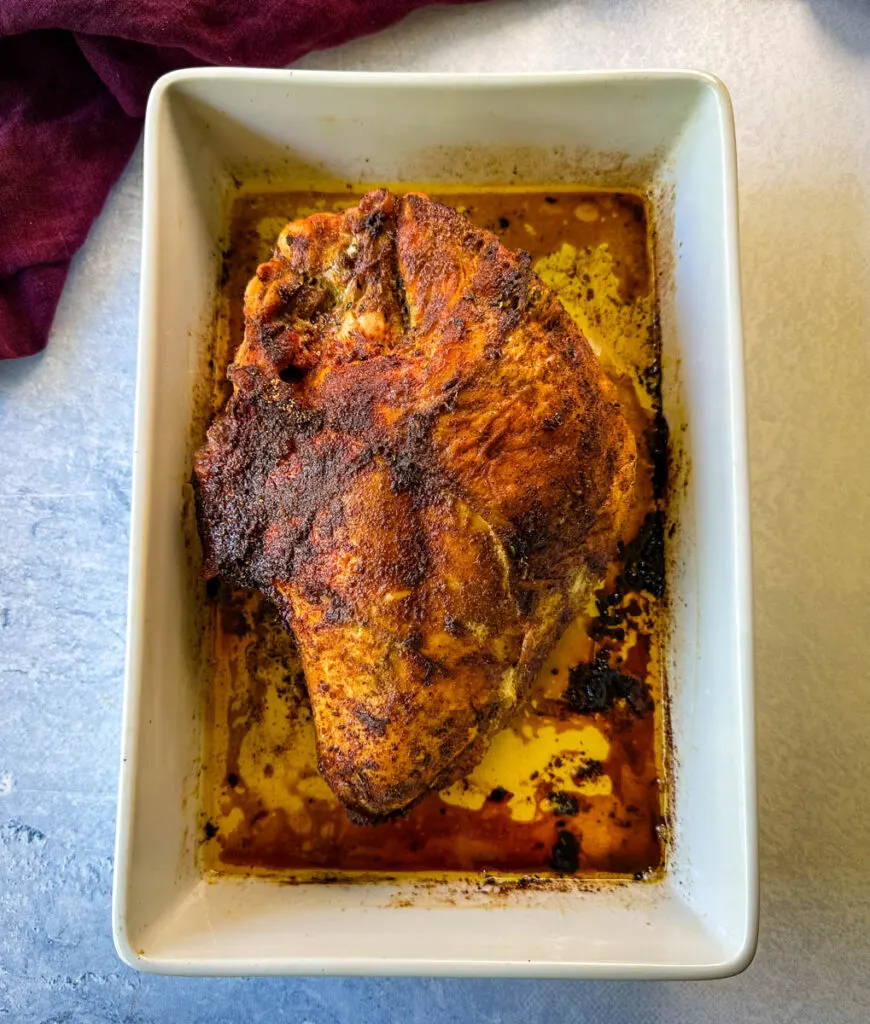 How to Carve It
Decide if you're leaving the skin on or off. We like the skin and leave it on. Keep in mind if you do leave it, when you go to slice the turkey some areas of the skin may peel back.
Locate the bone that runs through the center of the breast. Use a knife to cut alongside the bone, working the blade as close to the bone as possible to separate the breast meat from the bone.
Once you have separated the breast meat from the bone, slice the meat across the grain into even, thin pieces.
Arrange the sliced turkey breast on a platter and serve.
Carving turkey takes practice, so don't be discouraged if your first attempt isn't perfect.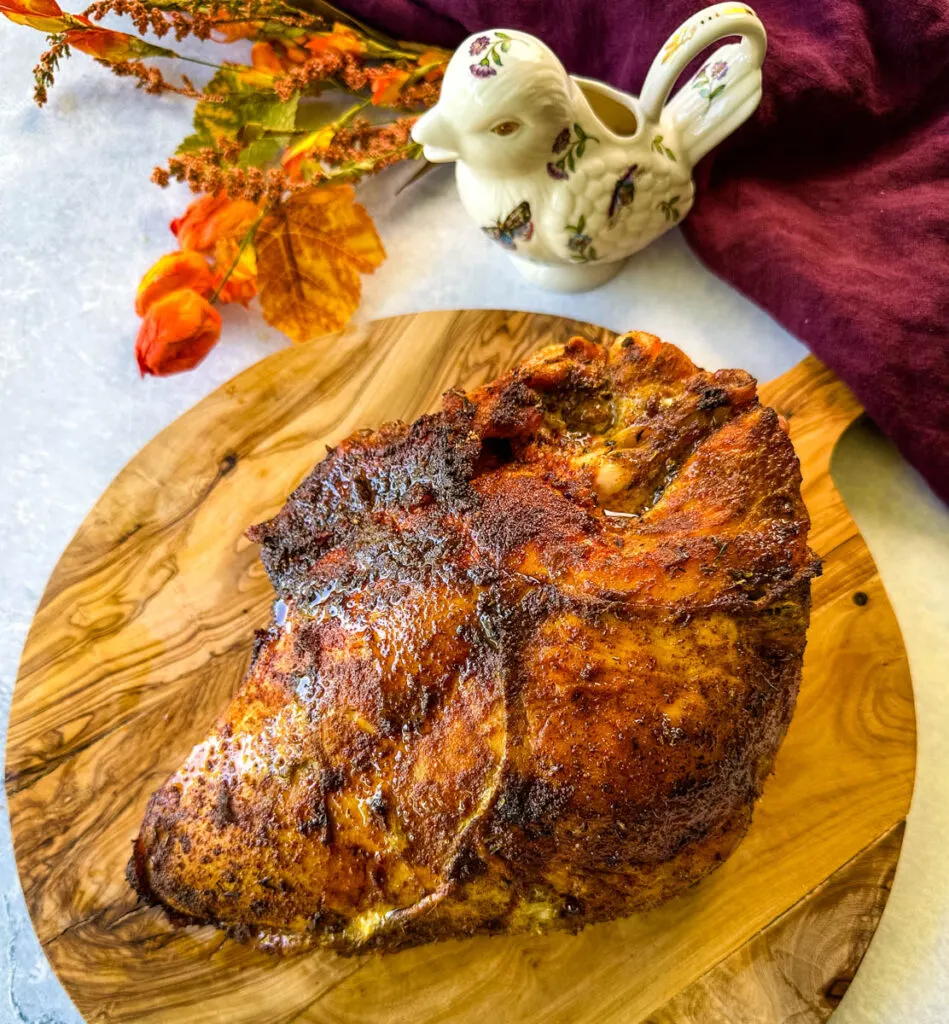 Gravy
While the turkey breast is resting, it's a good time to make the gravy. You can use the juices that have collected in the bottom of the roasting pan to make a flavorful gravy to accompany the turkey. Check out my Turkey Gravy From Drippings and Yellow Gravy recipes.
Use the Leftover Bones to Make Stock
Check out our Turkey Bone Broth recipe to use leftover bones to make stock.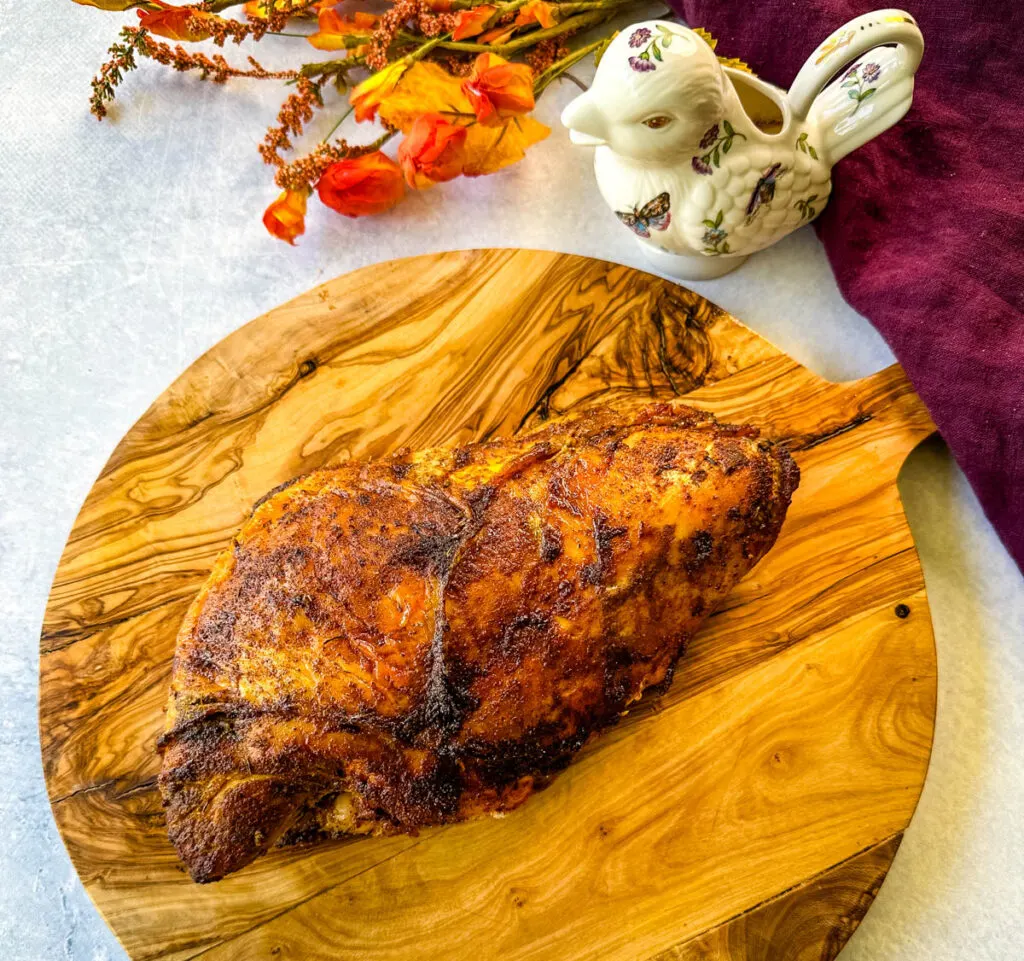 Freezer Tips
Cut the turkey into smaller pieces or portions that are the appropriate size for your needs. This will make it easier to store and defrost later on.
Wrap the turkey in plastic wrap or aluminum foil to prevent freezer burn and moisture loss. You can also place it in freezer-safe plastic bags or containers.
You can freeze it for up to 6 months.
Thaw overnight in the fridge.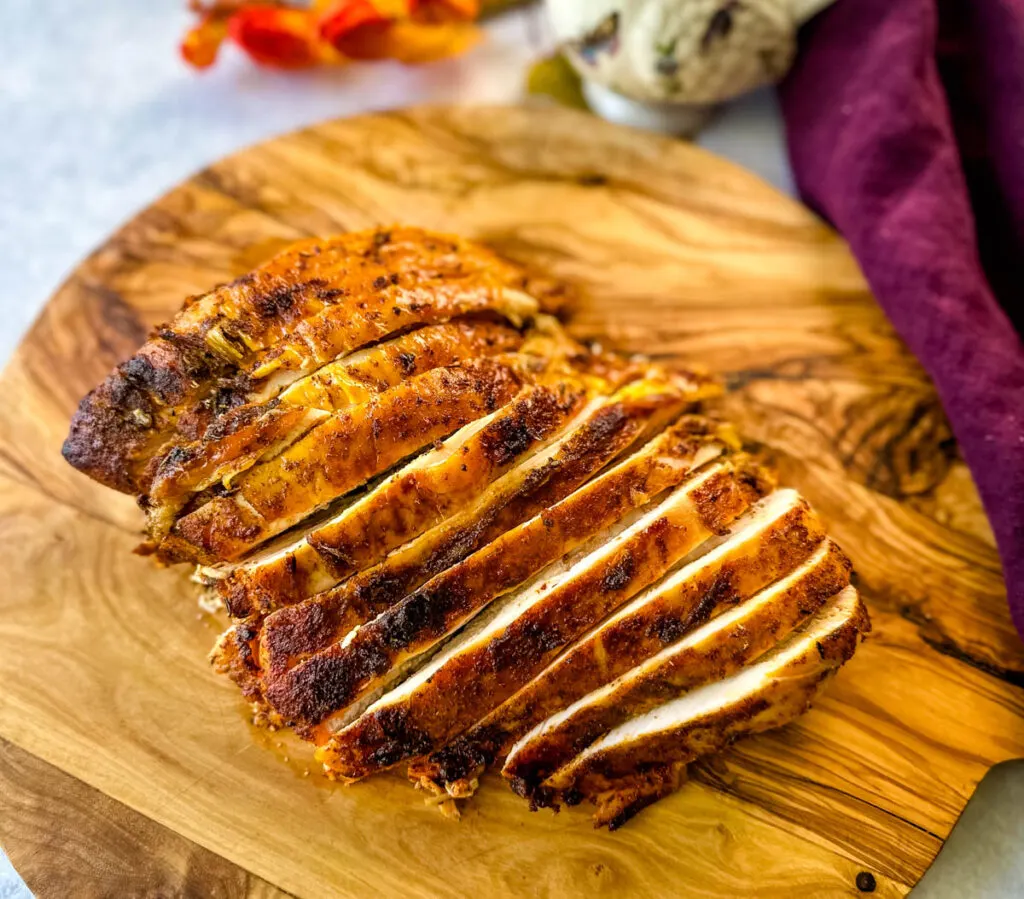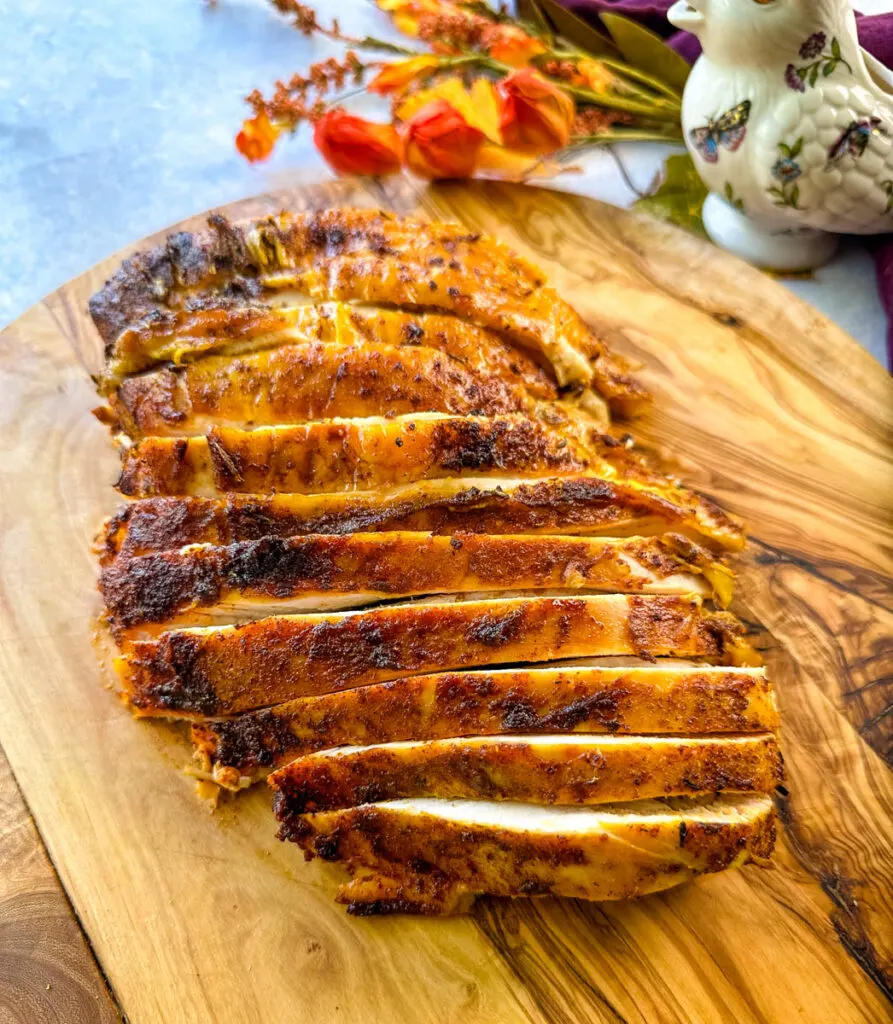 Pair With These Recipes
Southern Soul Food Mac and Cheese
Southern Cornbread Dressing
Collard Greens with Smoked Turkey
Southern Mashed Potatoes
Slow Cooker Crockpot Cranberry Sauce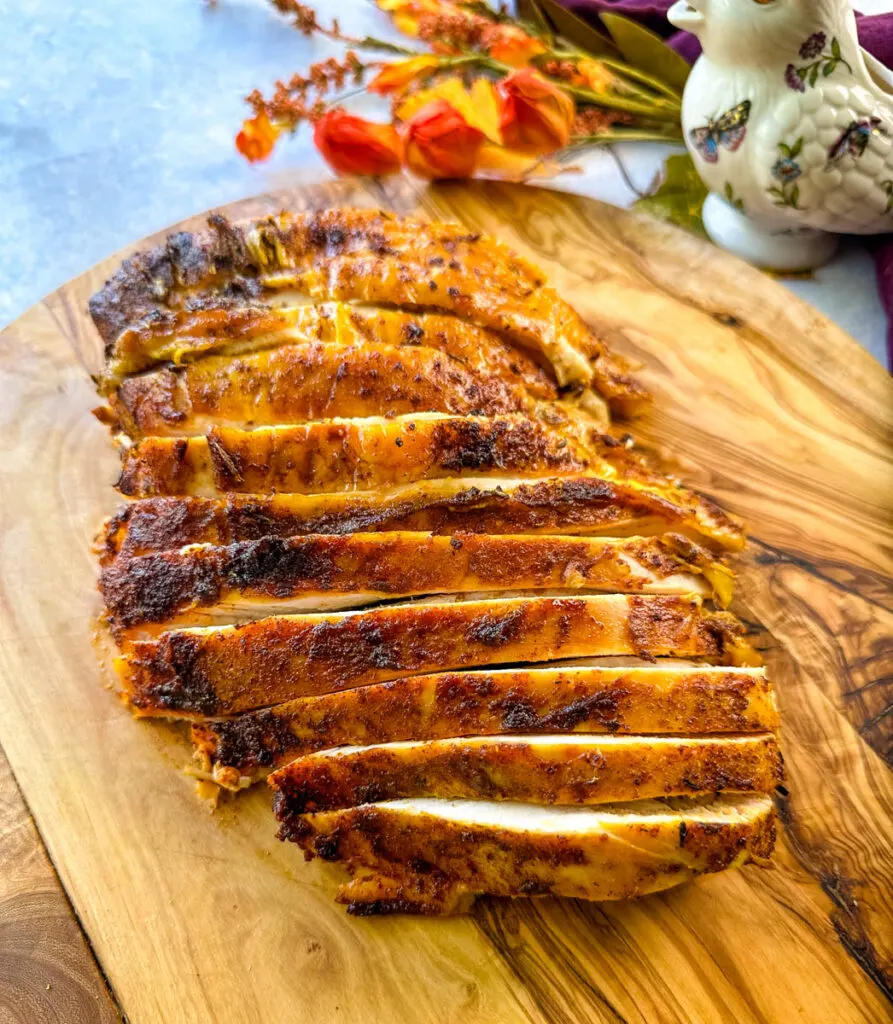 More Turkey Breast Recipes
Air Fryer Turkey Breast
Slow Cooker Crockpot Boneless Turkey Breast
Traeger Smoked Turkey Breast
Instant Pot Turkey Breast
Boneless Turkey Breast Roast
If you're looking to make this in a Crockpot slow cooker, check out our Crockpot Slow Cooker Bone-in Turkey Breast recipe.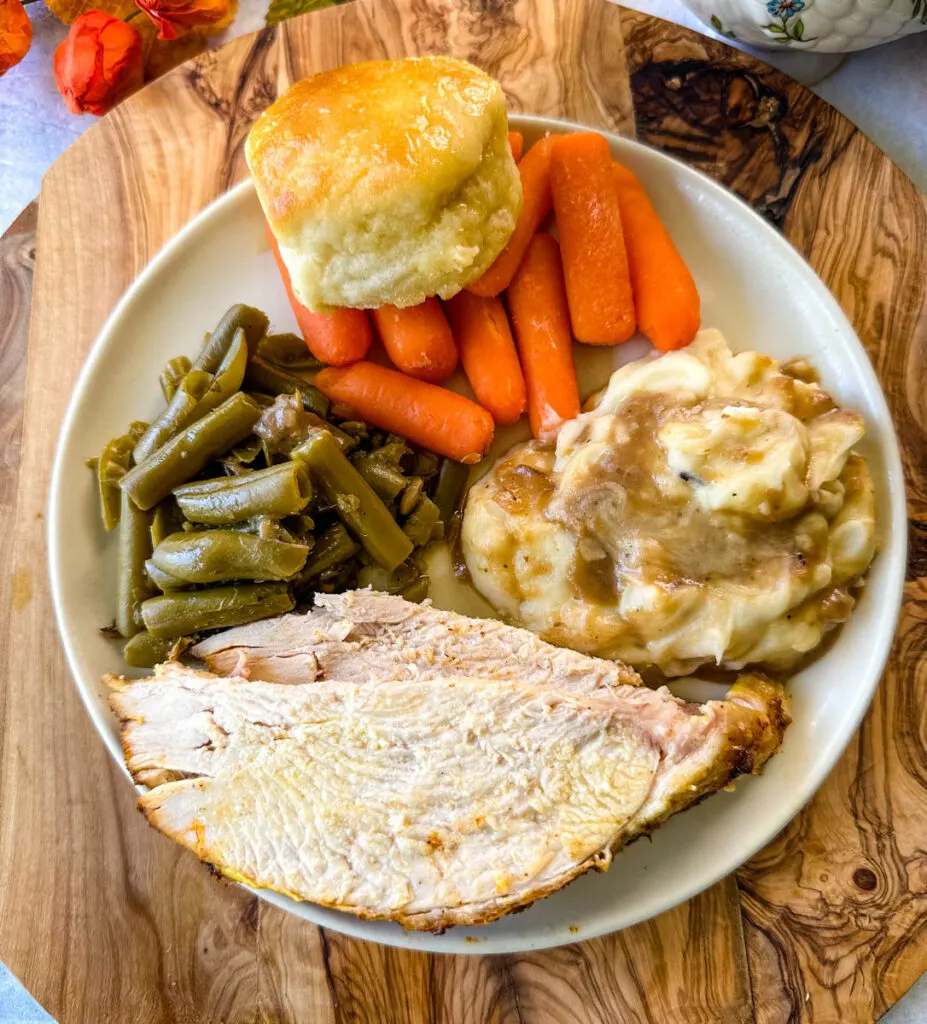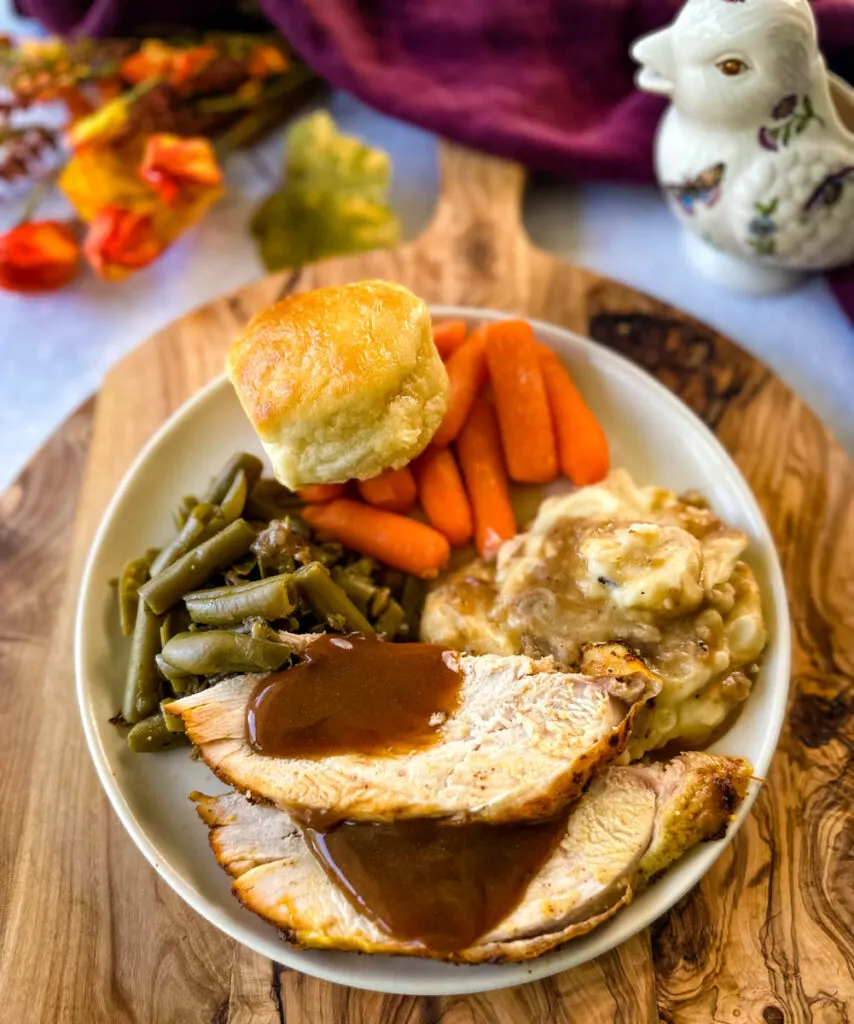 Roasted Bone-In Turkey Breast
This Roasted Bone-In Turkey Breast is the perfect centerpiece for your holiday meal. With crispy golden skin and tender juicy meat that falls off the bone, this is sure to be a crowd-pleaser. Infused with a savory blend of herbs and spices, this recipe delivers the perfect balance of flavor and texture, making it a delicious and impressive addition to any meal.
Save this recipe here.
Saved!
Instructions
Preheat oven to 375 degrees.

Pat the turkey breast dry.

Place the turkey breast in a roasting pan or 9x 13 inch baking dish with the skin side up.

Rub the spices into the turkey and season all sides. Cut the butter into small slices and place the slices over the seasoned turkey.

Alternatively, you can place the butter under the skin of the turkey if you wish. You can use your fingers to gently separate the skin from the meat, being careful not to tear the skin (I find this sometimes difficult to accomplish so I don't do it). Once you've created a pocket, you can place small pieces of butter or a seasoned butter mixture under the skin, spreading it out evenly over the surface of the breast.

Place the pan in the oven and bake until the turkey reaches an internal temperature of 165 degrees. Test the thickest part of the turkey with a meat thermometer. You should plan for it to cook for about 20 minutes per pound of turkey. Ultimately, it's done when it's done which will vary based on the size you are using.

Remove the turkey breast from the oven and let it rest for 10-15 minutes before slicing and serving.

Slice the turkey breast and serve.
Notes
You can use a whole or split turkey breast, whatever size you prefer.
Thaw the turkey breast before using.
Season the turkey however you wish. Feel free to use your favorite rubs!
You don't have to place butter under the skin of a turkey breast, but it can help to add flavor and moisture to the meat. Placing butter or another fat under the skin creates a barrier between the meat and the dry heat of the oven, which helps to keep the meat juicy and tender. I find that placing butter on the breast and allowing it to penetrate while it bakes accomplishes the same thing.
Recipe Tools Used in this Recipe
As an Amazon Associate I earn from qualifying purchases.
Nutrition (displayed with net carbs)
Serving:
0.5
pound
|
Calories:
266
kcal
|
Carbohydrates:
5
g
|
Protein:
42
g
|
Fat:
10
g
Tried this recipe?
Mention @Stay_Snatched or tag #StaySnatched! The recipe instructions noted here are the property of Stay Snatched and subject to copyright. Please do not screenshot and share this recipe on social.
Nutrition Data
Macros are provided as a courtesy and should not be construed as a guarantee. This information is calculated using MyFitnessPal.com. To obtain the most accurate nutritional information in a given recipe, you should calculate the nutritional information with the actual ingredients used in your recipe, using your preferred nutrition calculator. You are solely responsible for ensuring that any nutritional information provided is accurate, complete, and useful.