This homemade Jamaican Jerk Seasoning Dry Rub Recipe is made from scratch using ingredients like allspice, cinnamon, ginger, and more. Use it on Caribbean dishes for chicken, seafood, fish and shrimp.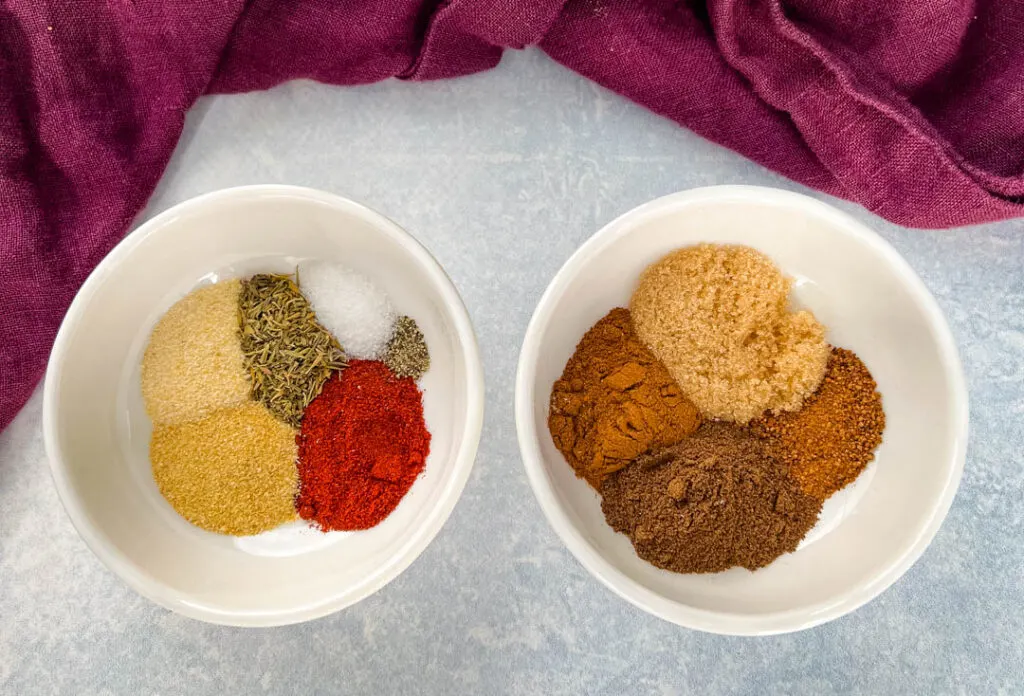 This post contains affiliate links. Please read my full disclosure here.
Jamaican Jerk Cooking
Jerk cooking is native to Jamaica. Meat is either dry-rubbed or marinated with wet ingredients (or a combination of both as I prefer in this recipe) in jerk spices. The style of cooking is popular throughout the Caribbean and West Indies. The meat is typically cooked over coals in a pit.
The main ingredients usually include scotch bonnet peppers and allspice. Scotch bonnet peppers can be really hard to find in the US, so you typically have to use a substitute. Other common ingredients include cinnamon, nutmeg, sugar or sweetener, thyme, garlic, and ginger.
Why You Should Make Your Own Homemade Blend
Typically I say you should make your own blends because a lot of store-bought brands have added preservatives you can avoid. When it comes to jerk rubs, I also recommend making your own because you can dictate the flavor and the amount of each spice you use.
Every jerk rub is different. I have eaten lots of jerk chicken and seafood in my life. Every single time, I could taste the rub was prepared differently. Some are sweeter than others, some spicier, and some I could taste more allspice. Decide what you like and make tweaks to the spice blend as necessary.
The Spices You Will Need
Detailed measurements and full instructions can be found in the recipe card at the bottom of this post.
How to Store the Seasoning/How Long Will it Last
If you are making a large batch of the Jerk Seasoning, store it in an airtight container. I love to use these glass jars for storage. Ground spices usually last for 6 months. After that they will start to lose their flavor. I check this by giving the jar a whiff. If the smell is still potent it's probably still good.
Whole spices will last up to 5 years.
Is the Blend Spicy?
Jerk does have a kick to it. The spicy flavor actually comes from the marinade, as opposed to this spice blend. This blend isn't spicy unless you choose to add cayenne pepper.
The dish is traditionally prepared using fresh scotch bonnet peppers (often called Caribbean red peppers). They are almost impossible to find in the United States. Scotch bonnets have a heat rating of 100,000–350,000 Scoville heat units (the measurement of the heat of chili peppers), which is similar to habanero peppers, making it a close substitute.
These peppers are hotter than poblano, serrano, and cayenne peppers. If you don't like spicy dishes, feel free to modify the servings used or substitute for a pepper that is less hot. The recipe calls for 1 habanero, you can always use half, 1/4th, etc.
Use the Rub on These Recipes
Jerk Shrimp
Jerk Chicken Thighs
Air Fryer Frozen Wings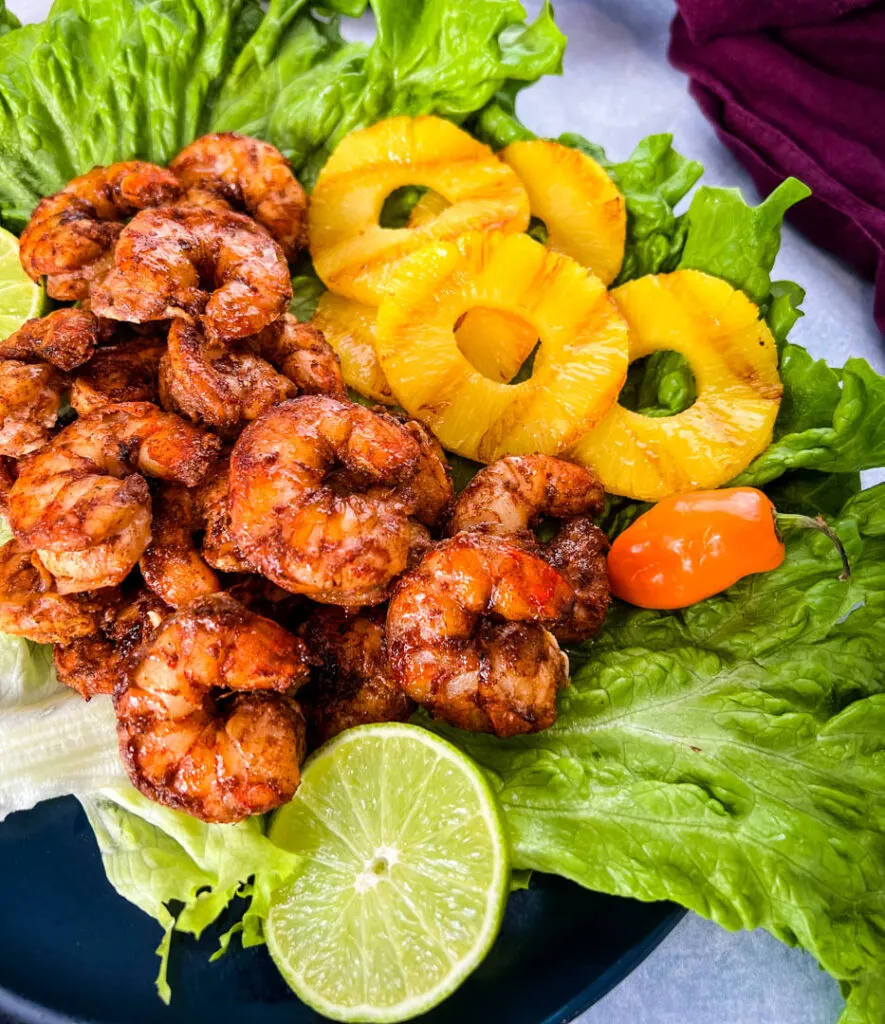 More Homemade Seasoning and Spice Blend Recipes
Homemade Steak Rub Seasoning
Homemade Blackened Seasoning
Homemade Chili Seasoning
Homemade Ranch Seasoning
Homemade BBQ Seasoning and Rub
Homemade Taco Seasoning
Homemade Burger Rub and Seasoning
Jamaican Jerk Seasoning Dry Rub Recipe
This homemade Jamaican Jerk Seasoning Dry Rub Recipe is made from scratch using ingredients like allspice, cinnamon, ginger, and more. Use it on Caribbean dishes for chicken, seafood, fish and shrimp.
Save this recipe here.
Saved!
Instructions
Combine the ingredients and stir. Store sealed.
Notes
Makes about 1 1/2 tablespoons.
1 1/2 tablespoons is enough to season 1 pound of meat or seafood.
Recipe Tools Used in this Recipe
As an Amazon Associate I earn from qualifying purchases.
Nutrition (displayed with net carbs)
Serving:
1
serving
|
Calories:
8
kcal
|
Carbohydrates:
1
g
Tried this recipe?
Mention @Stay_Snatched or tag #StaySnatched! The recipe instructions noted here are the property of Stay Snatched and subject to copyright. Please do not screenshot and share this recipe on social.
Nutrition Data
Macros are provided as a courtesy and should not be construed as a guarantee. This information is calculated using MyFitnessPal.com. To obtain the most accurate nutritional information in a given recipe, you should calculate the nutritional information with the actual ingredients used in your recipe, using your preferred nutrition calculator. You are solely responsible for ensuring that any nutritional information provided is accurate, complete, and useful.