This Cranberry Margarita is a delightful concoction that combines the classic appeal of a margarita with the seasonal allure of cranberries, creating a drink that's as visually stunning as it is delicious. This drink is the perfect balance of tart fruit, zesty citrus, and the smooth warmth of tequila.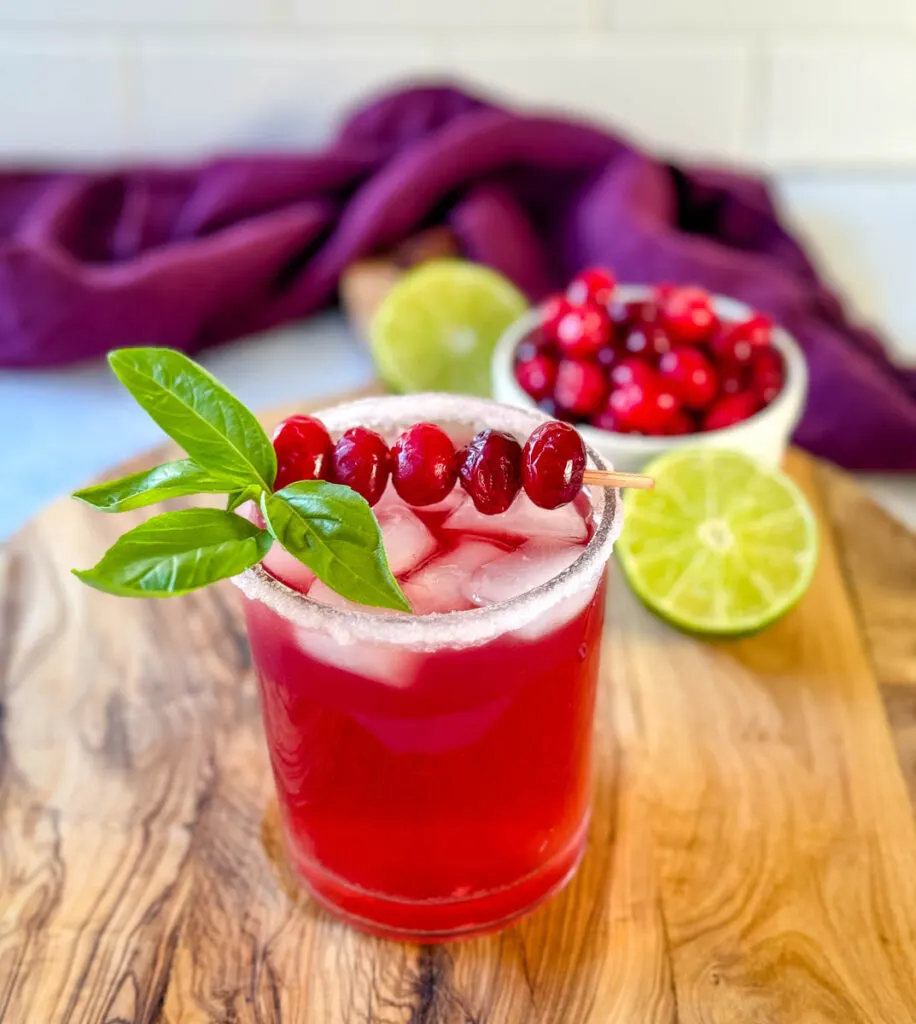 This post contains affiliate links. Please read my full disclosure here.
What Type of Cranberry Juice to Use
Personal taste preferences play a significant role, so feel free to experiment with different types of cranberry juice until you find the one that best suits your palate and complements the other flavors in your margarita. Here are some types to consider:
100% Cranberry Juice: 100% pure cranberry juice with no added sugars or artificial sweeteners. This type of juice provides a robust and tart cranberry flavor, contributing to the signature tartness of the drink.
Cranberry Juice Cocktail: If you prefer a slightly sweeter and milder flavor, you can use a cranberry juice cocktail. Keep in mind that cranberry juice cocktails often contain added sugars or other fruit juices for sweetness.
Freshly Squeezed Cranberry Juice: For an extra touch of freshness, consider squeezing your own cranberry juice using fresh cranberries. This option allows you to control the sweetness and tailor the juice to your taste.
Unsweetened Cranberry Juice: If you want more control over the sweetness of the cocktails, choose unsweetened cranberry juice and adjust the sweetness with sweetener or sugar.
Before purchasing cranberry juice, check the label to ensure it aligns with your preferences, especially regarding added sugars and other additives.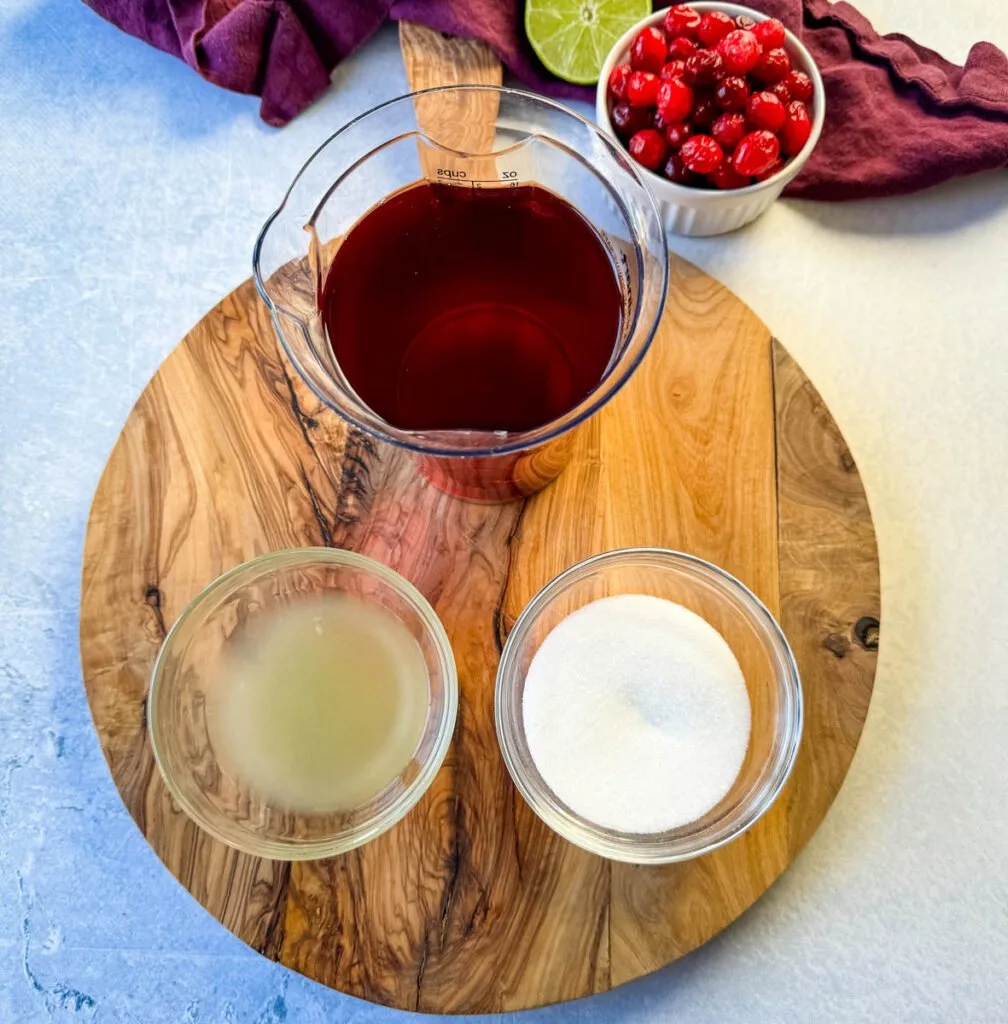 What Type of Tequila to Use
For a classic and refreshing profile, blanco tequila is a popular choice. If you enjoy the nuanced flavors of aged tequilas, reposado or añejo may be more to your liking.
Blanco (Silver) Tequila: Blanco tequila is unaged and typically has a crisp, clean, and agave-forward flavor. It works well in cocktails where you want the tequila's natural character to shine. This is a good choice if you prefer a lighter and more refreshing margarita.
Reposado Tequila: Reposado tequila is aged in oak barrels for a few months, imparting a smoother and slightly more complex flavor with hints of vanilla and oak. If you want a margarita with a touch of warmth and additional depth, reposado tequila is a great option.
Añejo Tequila: Añejo tequila undergoes more extended aging in oak barrels, resulting in a rich and smooth spirit with pronounced oak, caramel, and vanilla notes. While añejo tequila is often sipped neat, it can add a luxurious and sophisticated touch.
Gold Tequila: Gold tequila is often a mix of blanco and reposado tequilas with added coloring and flavorings. It can work well in cocktails where a more neutral tequila flavor is desired. However, it's essential to choose a high-quality gold tequila to avoid artificial additives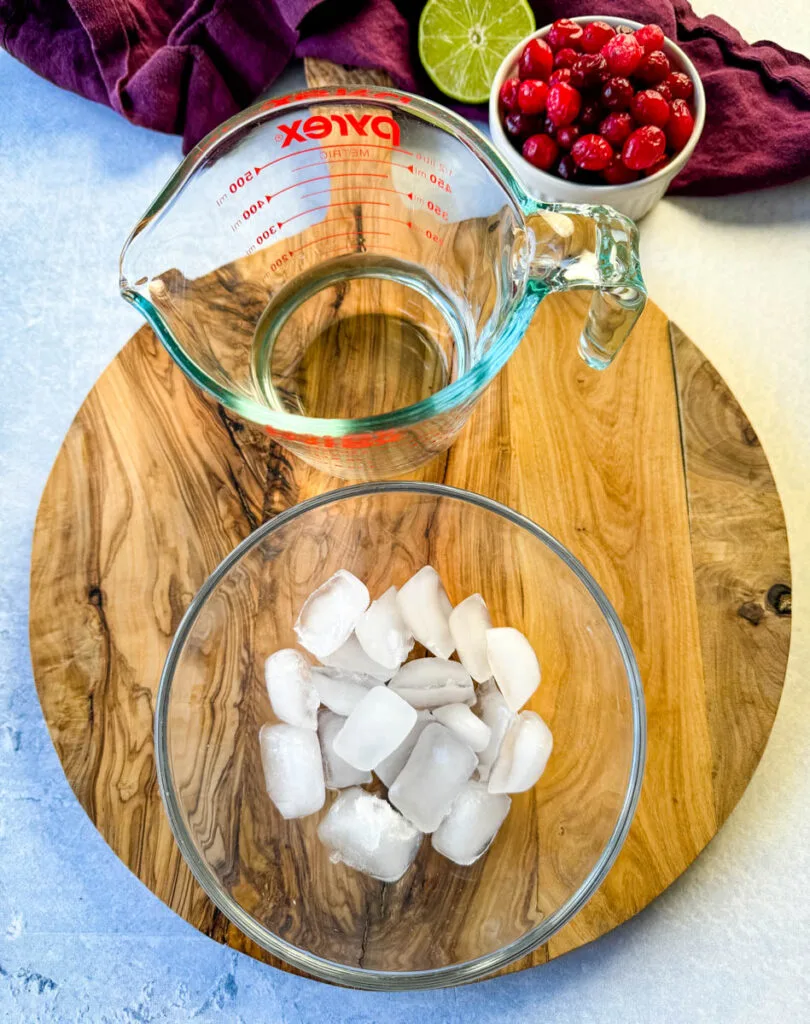 How to Make a Cranberry Margarita
Detailed measurements and full instructions can be found in the recipe card at the bottom of this post.
Add ice, cranberry juice, tequila, sweetener, and lime juice to a cocktail shaker or pitcher.
Shake or stir.
Serve the drink over ice.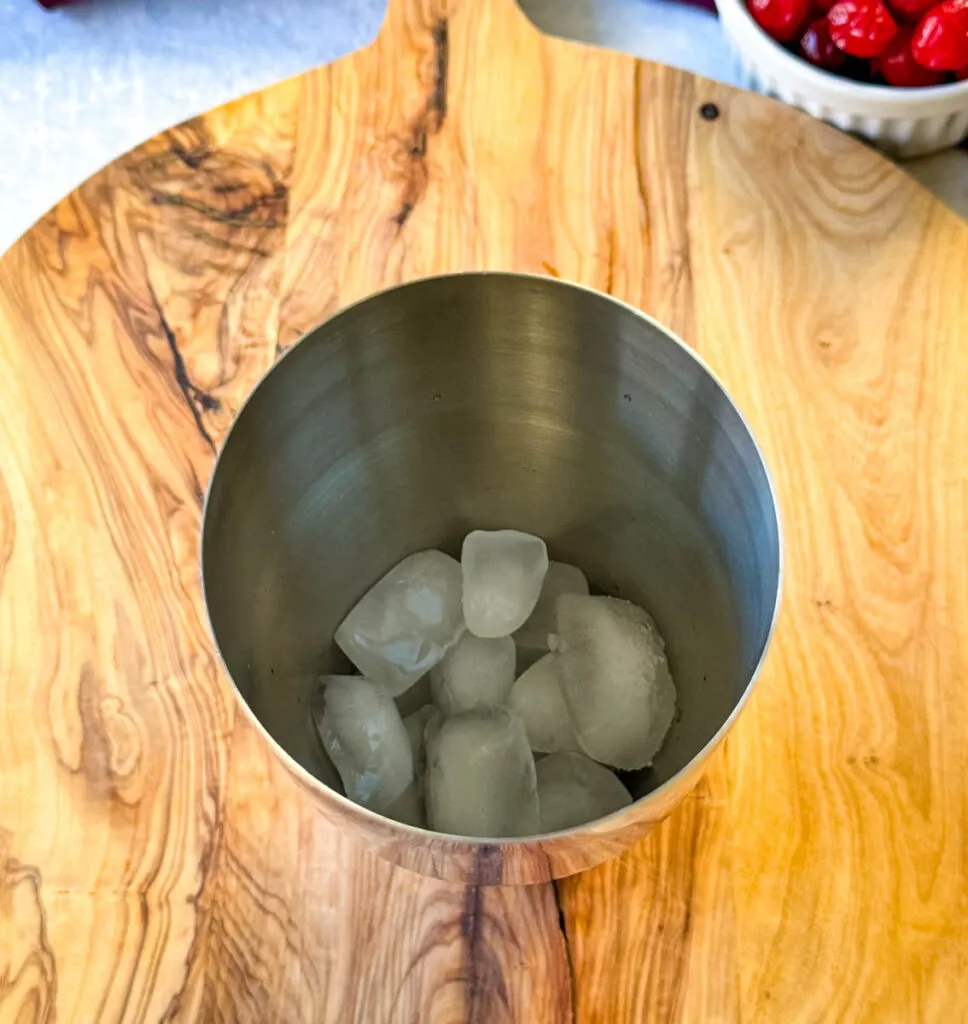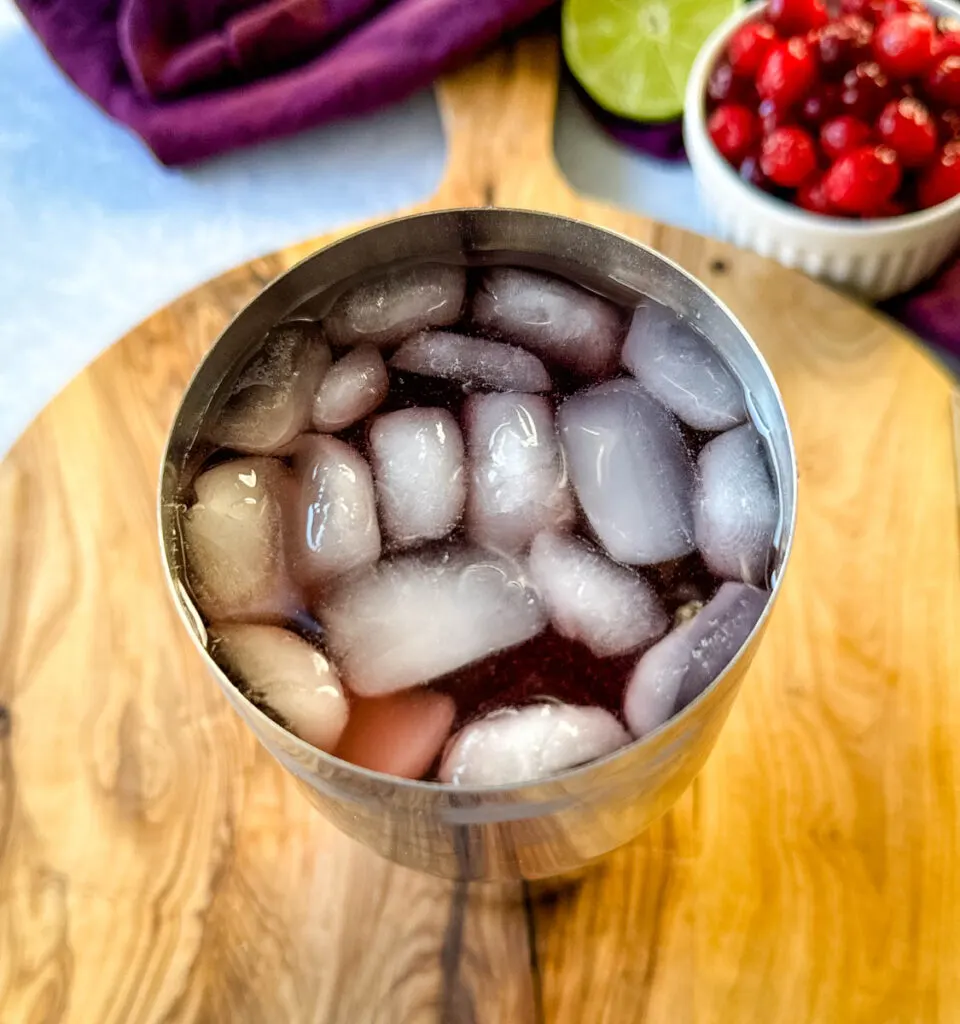 How it Tastes/Tart or Sweet
The great thing about making your own cocktail is you control the flavor. You can make it as sweet or tart as you like.
Cranberry Juice Type: The type of cranberry juice used plays a significant role. 100% pure cranberry juice tends to be quite tart, while cranberry juice cocktail is sweeter due to added sugars or other fruit juices.
Sweetener: Adding sugar or sweetener will help reduce the tartness. The more you add the sweeter the drink. You can also use honey or agave nectar.
Triple Sec or Orange Liqueur: Triple sec or orange liqueur is a common ingredient in margaritas and can contribute to sweetness. Adjusting the amount of triple sec can impact the overall sweetness of the cocktail.
Tequila Type: The type of tequila used can also influence the flavor profile. Blanco tequila tends to be crisp and clean, while aged tequilas like reposado or añejo may bring additional sweetness and complexity.
Lime Juice: Freshly squeezed lime juice adds acidity to the margarita, contributing to its tartness. The balance between lime juice and sweet elements can be adjusted to achieve the desired sweet-tart balance.
Garnishes: Garnishes, such as sugared cranberries or a salted rim, can influence the overall perception of sweetness or tartness. A sugared rim can enhance sweetness, while a salted rim complements tartness.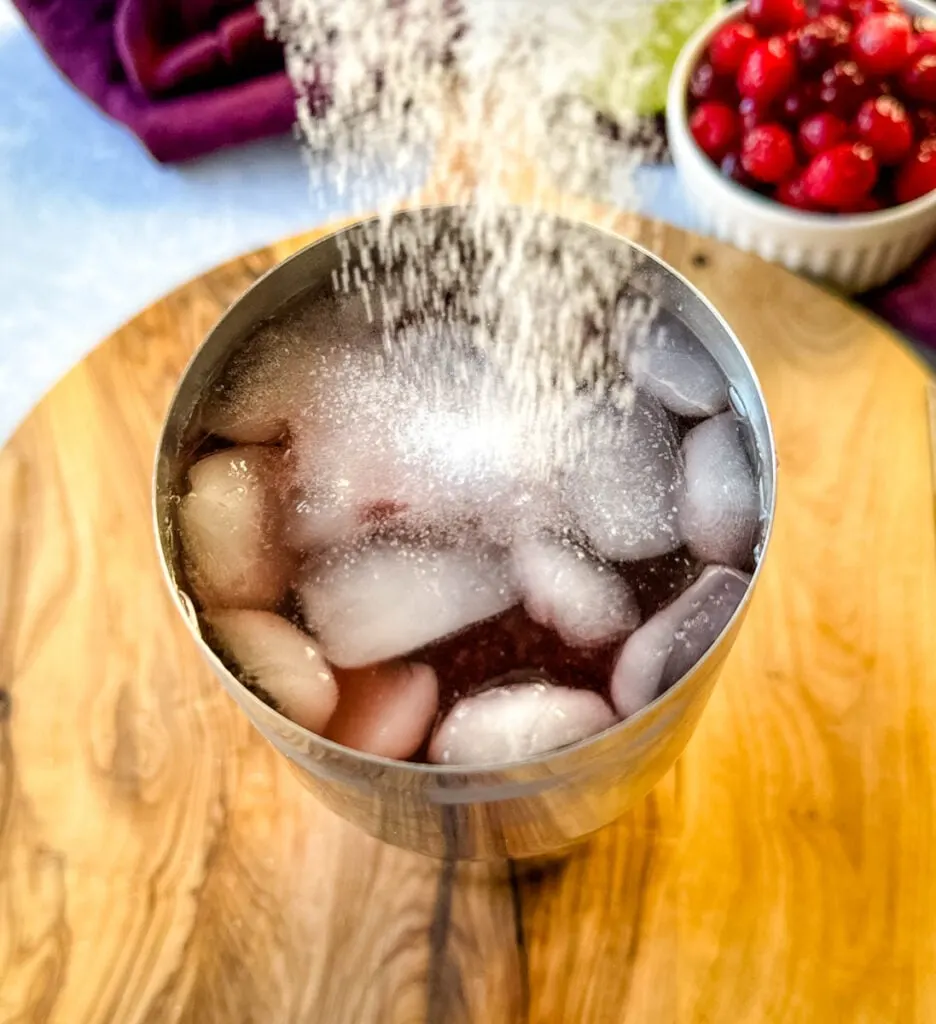 How to Garnish
Fresh Cranberries: Float a few fresh cranberries in the margarita for a festive and seasonal touch. You can also skewer them on a cocktail pick.
Lime Wedges: Rim the glass with sugar or salt, and then add a lime wedge to the rim for a classic and citrusy garnish.
Sugared Cranberries: Dip fresh cranberries in simple syrup and then roll them in sugar to create sugared cranberries. These can be placed on the rim of the glass or floated in the drink.
Orange Zest: Express the oils from an orange zest over the drink by giving it a twist. Drop the twist into the margarita for a hint of citrus aroma.
Cranberry Skewers: Skewer fresh cranberries and alternate them with lime wedges on a cocktail pick. Lay the skewer across the rim of the glass or place it inside the drink.
Rosemary, Mint, or Basil Sprigs: Fresh herbs not only add an herbal aroma but also contribute to the overall presentation. It's a particularly elegant garnish for holiday-themed drinks.
Frozen Cranberry Ice Cubes: Freeze cranberries in ice cubes to add a decorative and functional touch. These cranberry ice cubes can chill the drink without diluting it too quickly.
Cinnamon Stick: A garnish that will add a warm, spicy aroma to the drink.
Salt or Sugar Rim: Rim the glass with either salt or sugar for an extra layer of flavor.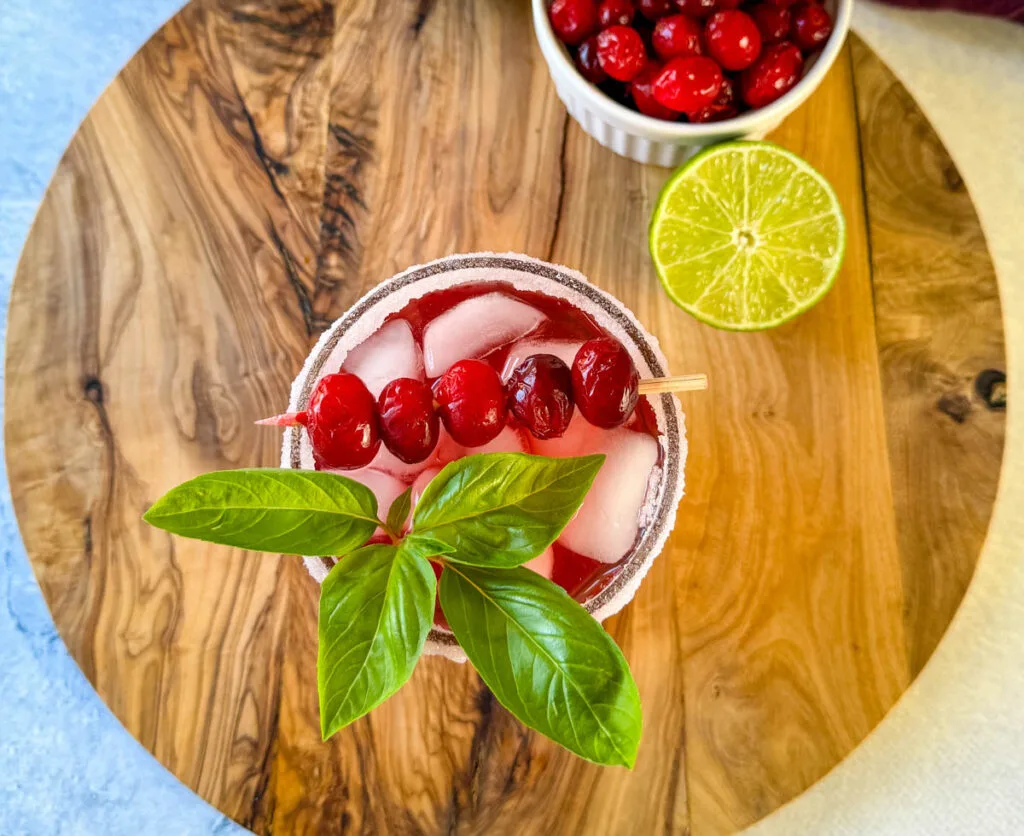 Can You Make Them in Advance
Mix the alcoholic and non-alcoholic components just before serving to maintain the freshness of the drink. You can prepare garnishes like sugared cranberries, lime wedges, or rosemary sprigs in advance. Keep them refrigerated or set them up in a garnish station for easy access.
How to Make Them For a Crowd
You can use triple, quadruple, etc. the amount of ingredients you need to serve a large group.
How to Store
You can store leftovers tightly covered and sealed in the fridge for 2-3 days.
The quality of the margaritas will change over time, especially if they contain fresh ingredients. It's a good idea to taste a small amount before serving to ensure that the flavors are still balanced and enjoyable. If the mixture has separated, give it a thorough mix to restore its original consistency.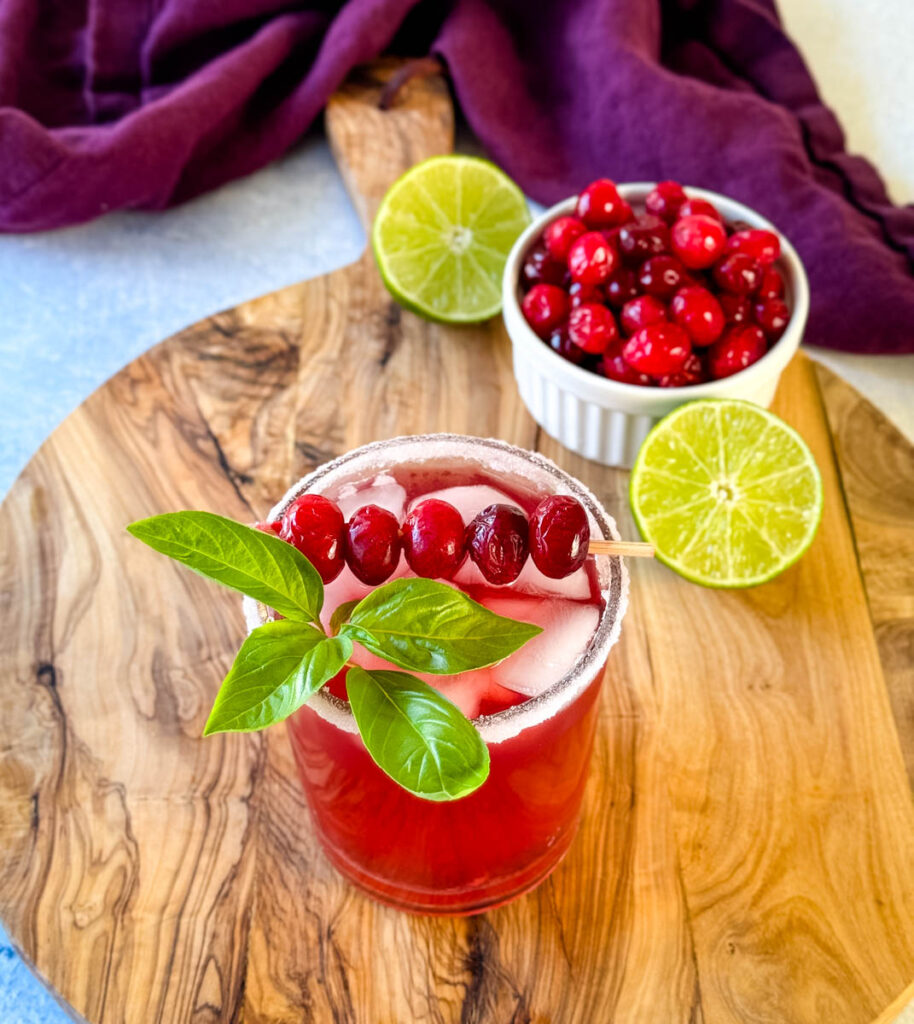 More Margarita and Cocktail Recipes
Watermelon Margarita on the Rocks
Frozen Watermelon Margarita
Bacardi Rum Punch
Hennessy Margarita
Vodka Gimlet
Cranberry Mimosa
Jungle Juice
Cranberry Margarita
This Cranberry Margarita is a delightful concoction that combines the classic appeal of a margarita with the seasonal allure of cranberries, creating a drink that's as visually stunning as it is delicious. This drink is the perfect balance of tart fruit, zesty citrus, and the smooth warmth of tequila.
Save this recipe here.
Saved!
Ingredients
1/2

cup

ice

2-4

cups

cranberry juice

Adjust to suit your taste

1/2-1

cup

tequila

Adjust to suit your taste

1/4

cup

sweetener or sugar

Adjust to suit your taste

1/4

cup

lime juice

I use fresh limes, this was 1 1/2 small limes for me.
Instructions
Add all of the ingredients to a cocktail shaker or pitcher. Shake or stir.

Taste repeatedly and make adjustments to suit your taste as needed.

Serve the drink chilled and over ice if preferred.
Recipe Tools Used in this Recipe
As an Amazon Associate I earn from qualifying purchases.
Nutrition (displayed with net carbs)
Serving:
1
drink
|
Calories:
275
kcal
|
Carbohydrates:
39
g
Tried this recipe?
Mention @Stay_Snatched or tag #StaySnatched! The recipe instructions noted here are the property of Stay Snatched and subject to copyright. Please do not screenshot and share this recipe on social.
Nutrition Data
Macros are provided as a courtesy and should not be construed as a guarantee. This information is calculated using MyFitnessPal.com. To obtain the most accurate nutritional information in a given recipe, you should calculate the nutritional information with the actual ingredients used in your recipe, using your preferred nutrition calculator. You are solely responsible for ensuring that any nutritional information provided is accurate, complete, and useful.