This homemade French Dip Sandwich is served with tender slices of perfectly seasoned roast beef and a toasted French bread roll. The crunchy baguette is topped with gooey melted cheese and then dipped into a rich and savory au jus made right from the drippings of the roast.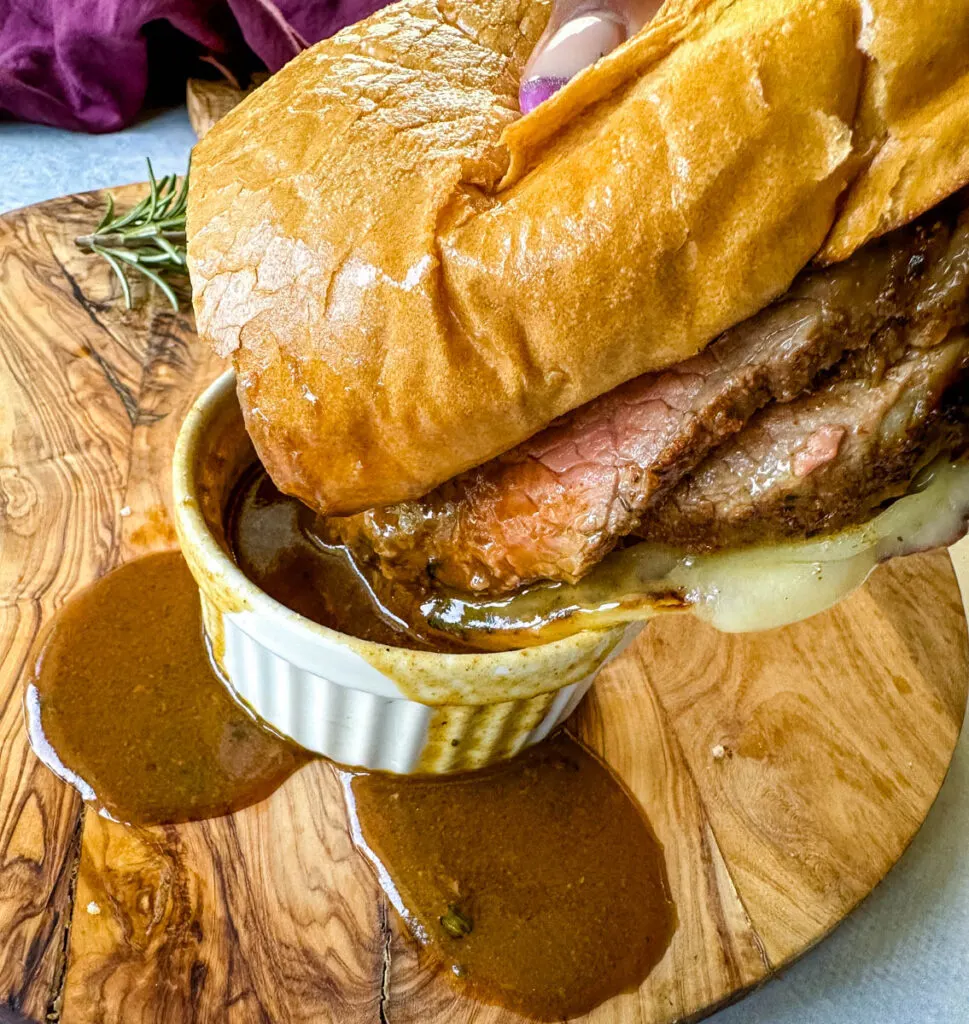 This post contains affiliate links. Please read my full disclosure here.
What is a French Dip
A French dip, also known as a French dip sandwich, is a classic American sandwich consisting of thinly sliced roast beef served on a French roll or baguette. What makes the French dip unique and distinctive is that the sandwich is typically served with a side of hot beef au jus (a flavorful beef broth) for dipping.
To enjoy it, you dip each bite of the sandwich into the hot au jus just before taking a bite. The au jus adds moisture, flavor, and a delightful savory quality to the roast beef, making it a delicious and comforting combination.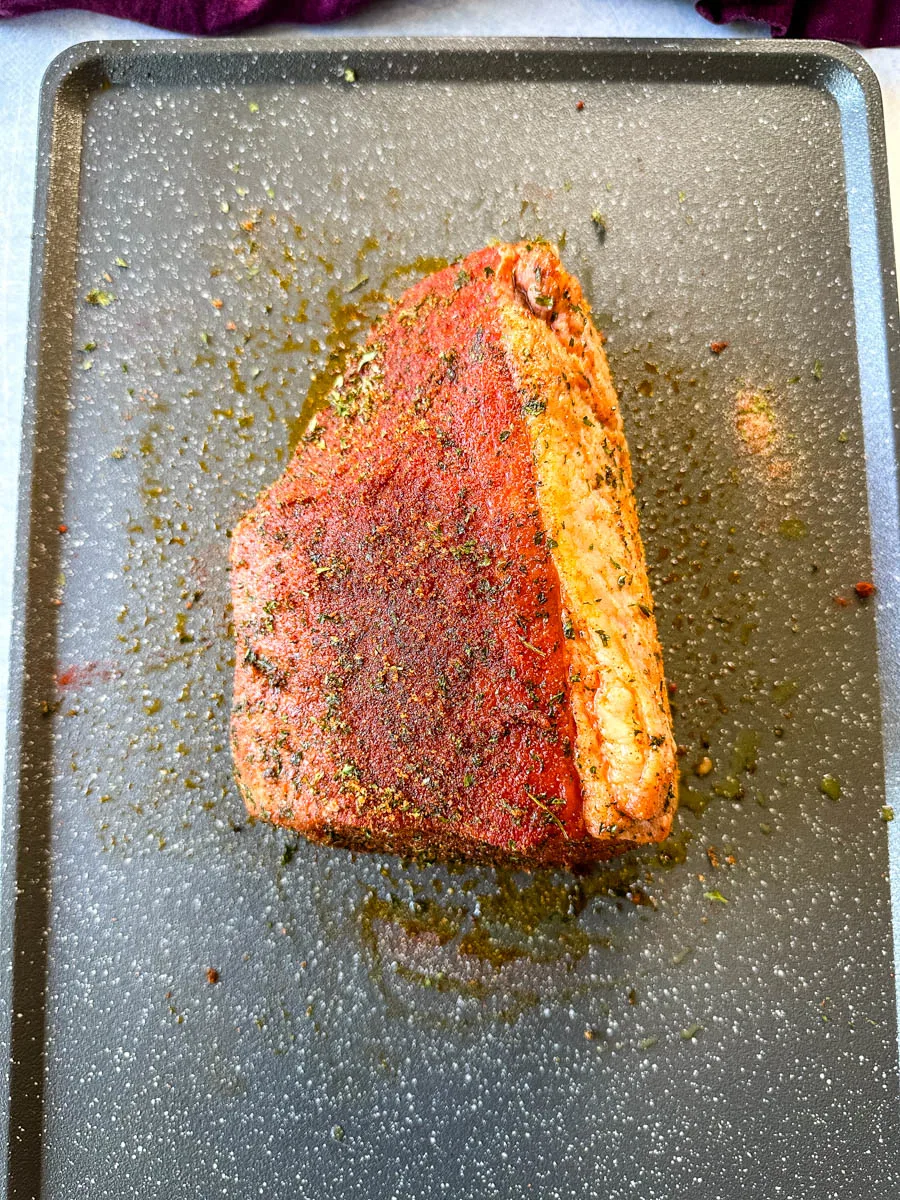 What Type of Meat to Use
My Air Fryer Roast Beef and Eye of Round Roast Beef recipes have tons of tips on how to make foolproof roast beef. Be sure to check out those posts.
When selecting your beef, consider the level of marbling and the desired flavor and tenderness you want in your sandwiches. The classic choice for making French dip sandwiches is thinly sliced roast beef. However, you can use various cuts of beef depending on your preferences and availability. Here are some common options:
Top Round Roast: It's relatively lean, which makes it easy to slice thinly, and it has good beefy flavor. You can roast a whole top round roast and then slice it thinly against the grain.
Sirloin Roast: Sirloin roast is another lean option. It can produce tender and flavorful slices when cooked to the right level of doneness.
Prime Rib Roast: If you want an extra decadent and flavorful sandwich, prime rib roast is a luxurious choice. It's marbled with fat, which adds richness and juiciness to the meat. Check out my Garlic Herb Butter Roasted Prime Rib recipe.
Eye of Round Roast: Lean, but when cooked properly can be juicy and tender.
Store-Bought Deli Roast Beef: If you're looking for convenience, many delis offer pre-sliced roast beef that's suitable for sandwiches. Just be sure to get thinly sliced meat.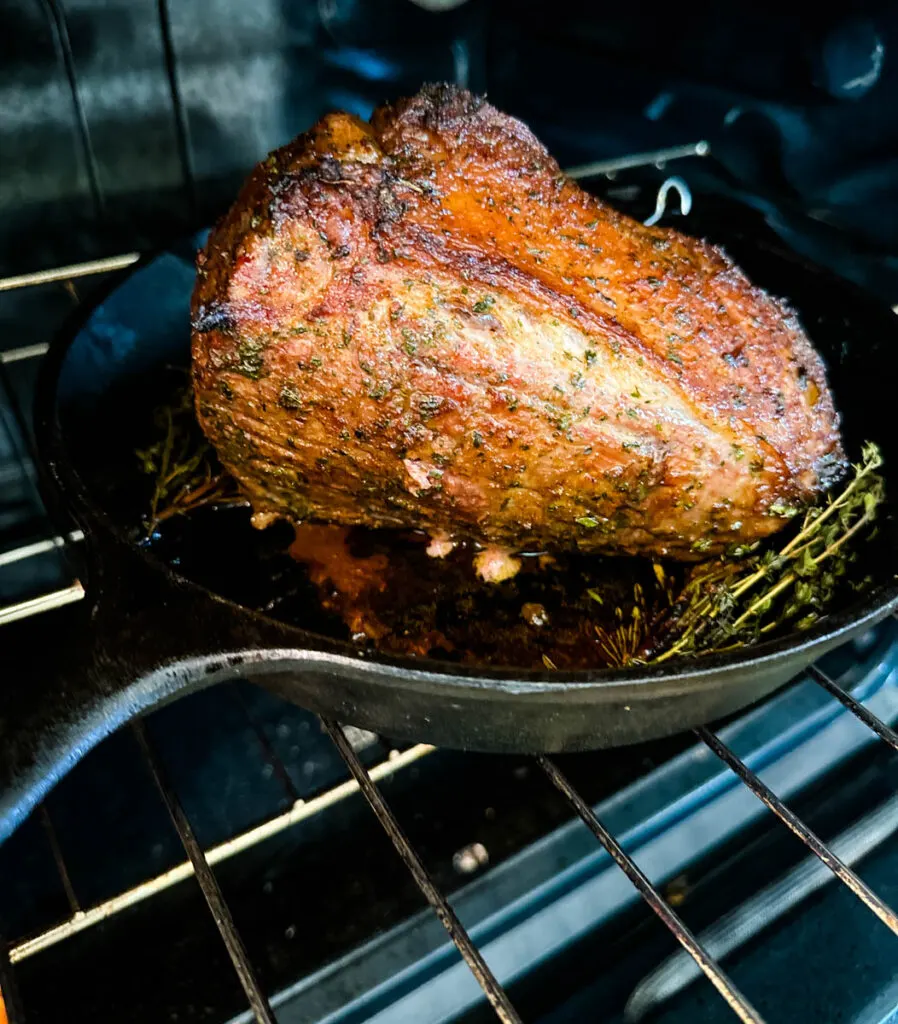 What Kind of Cheese to Use
Some cheeses work particularly well with the flavors of roast beef and au jus. Here are some common cheese options:
Provolone: It has a mild, slightly tangy flavor and a smooth, creamy texture that complements the savory roast beef and the rich au jus. It melts beautifully when placed on the warm roast beef.
Swiss: Swiss cheese, with its nutty and slightly sweet flavor, pairs nicely. It will add a subtle creaminess to the sandwich.
Cheddar: Provides a sharper, more pronounced flavor compared to Provolone or Swiss. It can add a bold and tangy element to the sandwich.
Mozzarella: Mozzarella cheese, with its mild and slightly sweet taste, is a versatile option that can work well. It melts smoothly and adds creaminess without overpowering the other flavors.
Pepper Jack: For those who enjoy a bit of heat, Pepper Jack cheese is a spicy choice. It's Monterey Jack cheese with added jalapeño peppers, providing a pleasant kick that can complement the richness of the au jus and roast beef.
Gruyère: Gruyère cheese has a nutty and slightly sweet flavor, making it a sophisticated option for sandwiches. It melts beautifully and can add a subtle richness to the sandwich.
What Type of Bread to Use
The type of bread traditionally used for French dip sandwiches is a French roll or a baguette. These bread options work well because they have a crispy crust and a soft interior, providing a pleasing textural contrast for the sandwich.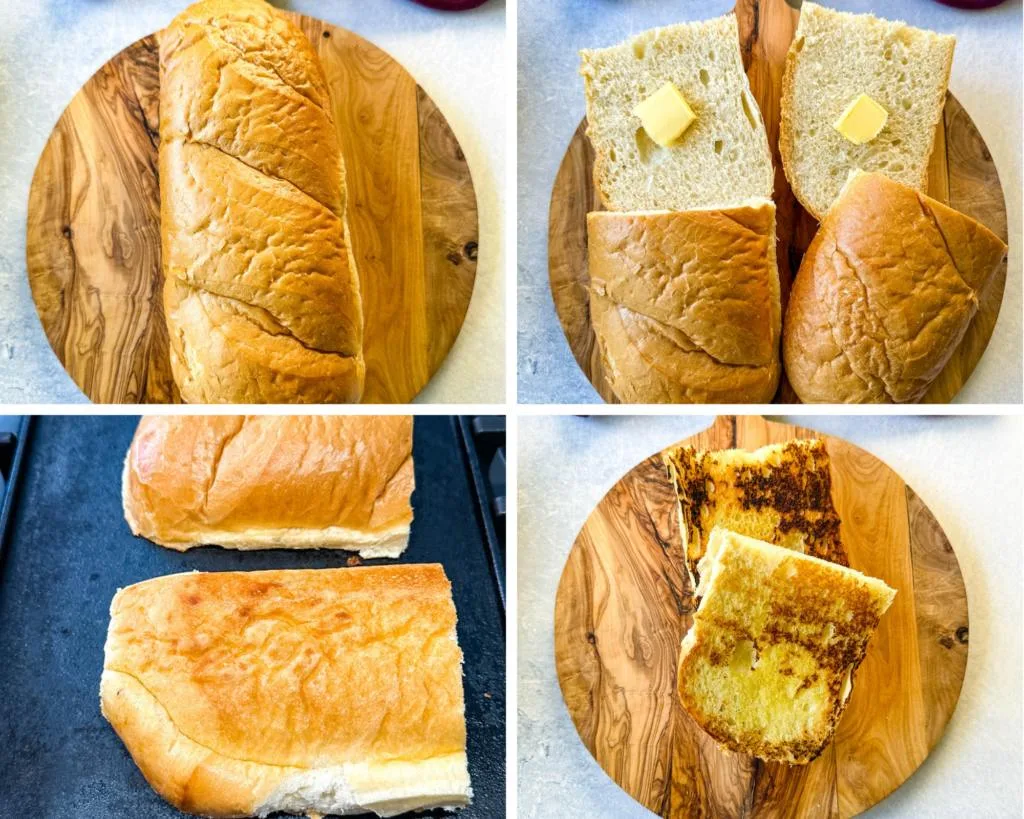 What is Au Jus
It's a flavorful and savory sauce that is traditionally served with prime rib or standing rib roast. The term "au jus" is a French culinary phrase that translates to "with juice" or "with its own juices." It's made from the natural juices that are released by the meat as it cooks, from there you can add additional seasoning, broth, and wine.
How to Thicken the Sauce
Flour is the key to thickening the sauce. Typically au jus, is thinner than standard homemade gravy, but I still use flour to keep it from being runny.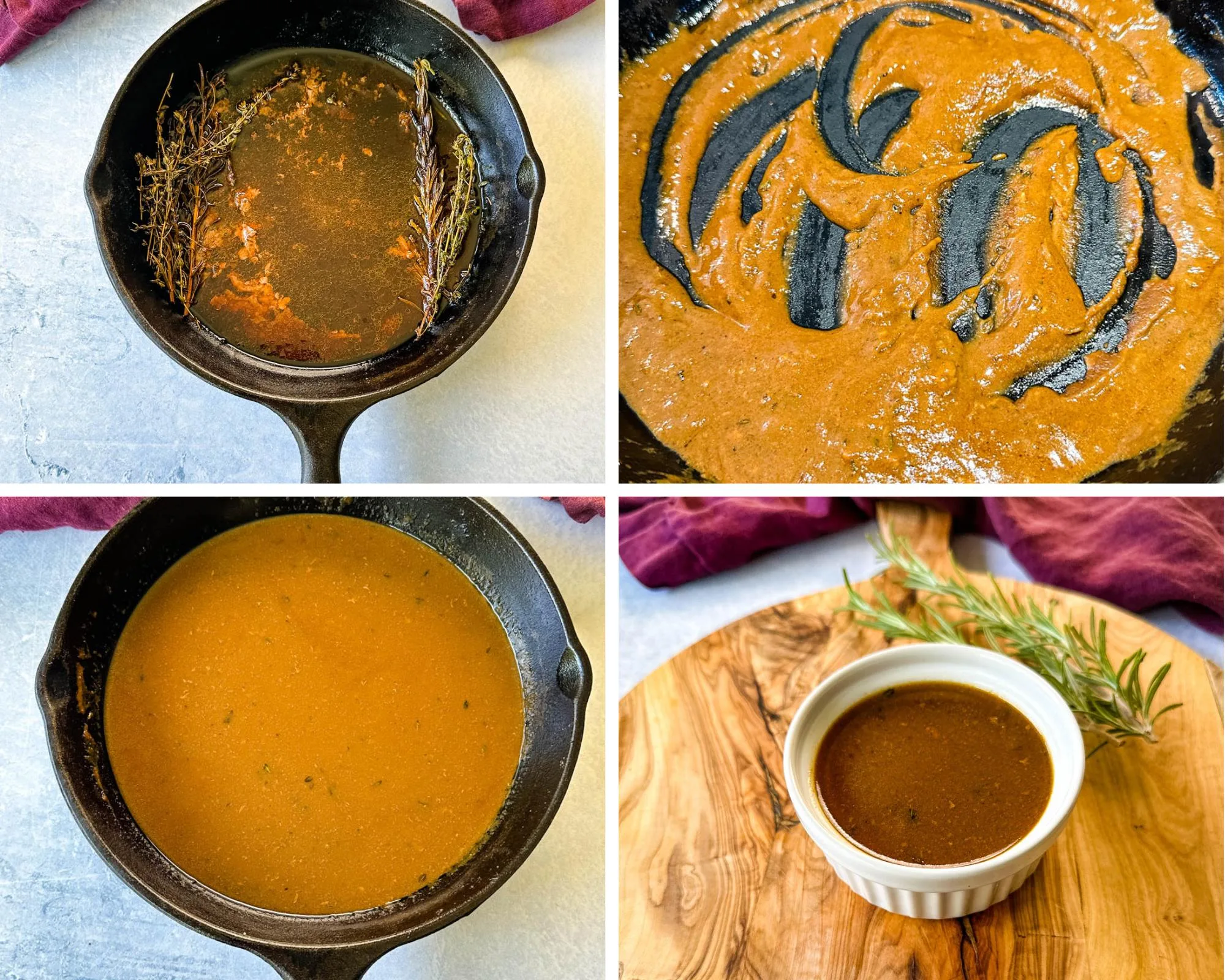 Soggy Sandwiches/Toasted Bread
Once you start to dip the bread it's going to become a little soggy no matter what. But, the goal is to maximize a little crunch in every bite. Toasting the bread will help a lot. And who doesn't love toasted bread for sandwiches??
Toast or lightly grill the bread before assembling the sandwiches. This creates a protective barrier that helps keep the bread from absorbing too much au jus. Spread a thin layer of butter or a condiment like mayonnaise on the inside of the bread. This can create a moisture-resistant barrier, helping to keep the bread from getting overly soggy.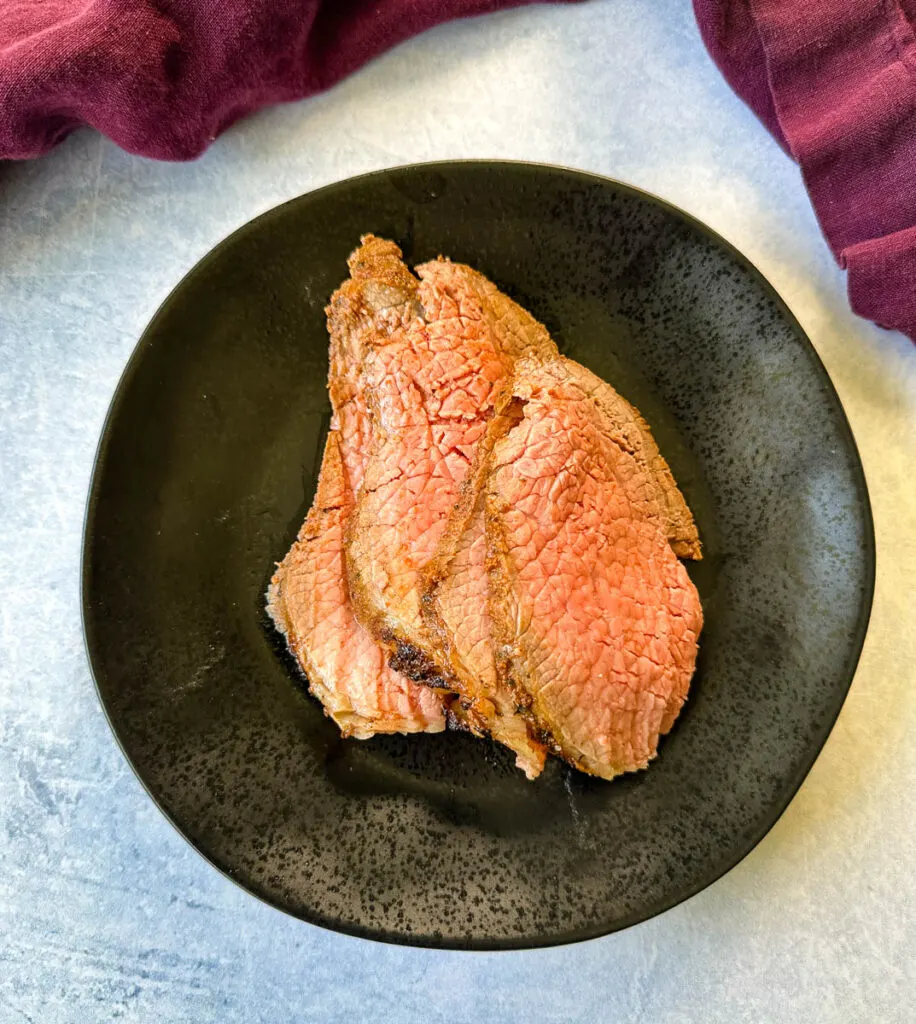 Best Toppings and Condiments
Sautéed Onions: Thinly sliced onions that have been caramelized or sautéed until they're soft and slightly sweet can add a delicious contrast to the savory roast beef.
Mushrooms: Sautéed mushrooms, especially varieties like cremini or shiitake, can bring a rich, earthy flavor and a pleasant texture to the sandwich.
Horseradish Sauce: A dollop of horseradish sauce, either creamy or prepared (which is more pungent), can provide a zesty and slightly spicy kick.
Mustard: Dijon mustard or whole-grain mustard can add tanginess and depth to the sandwich. It pairs well with the savory roast beef and au jus.
Mayonnaise: A smear of mayonnaise can add creaminess and richness to the sandwich. It's especially nice when balanced with other tangy or spicy elements.
Pickles: Sliced dill pickles or pickled jalapeños can provide a contrasting crunch and a hint of acidity.
Lettuce and Tomato: For a bit of freshness and a contrasting texture, you can add some lettuce leaves and tomato slices to the sandwich.
Garlic Aioli: A garlic-infused mayonnaise-based sauce can add a burst of flavor and creaminess to the sandwich.
Sauerkraut: If you enjoy the combination of roast beef with tangy flavors, sauerkraut can be a unique and tasty addition.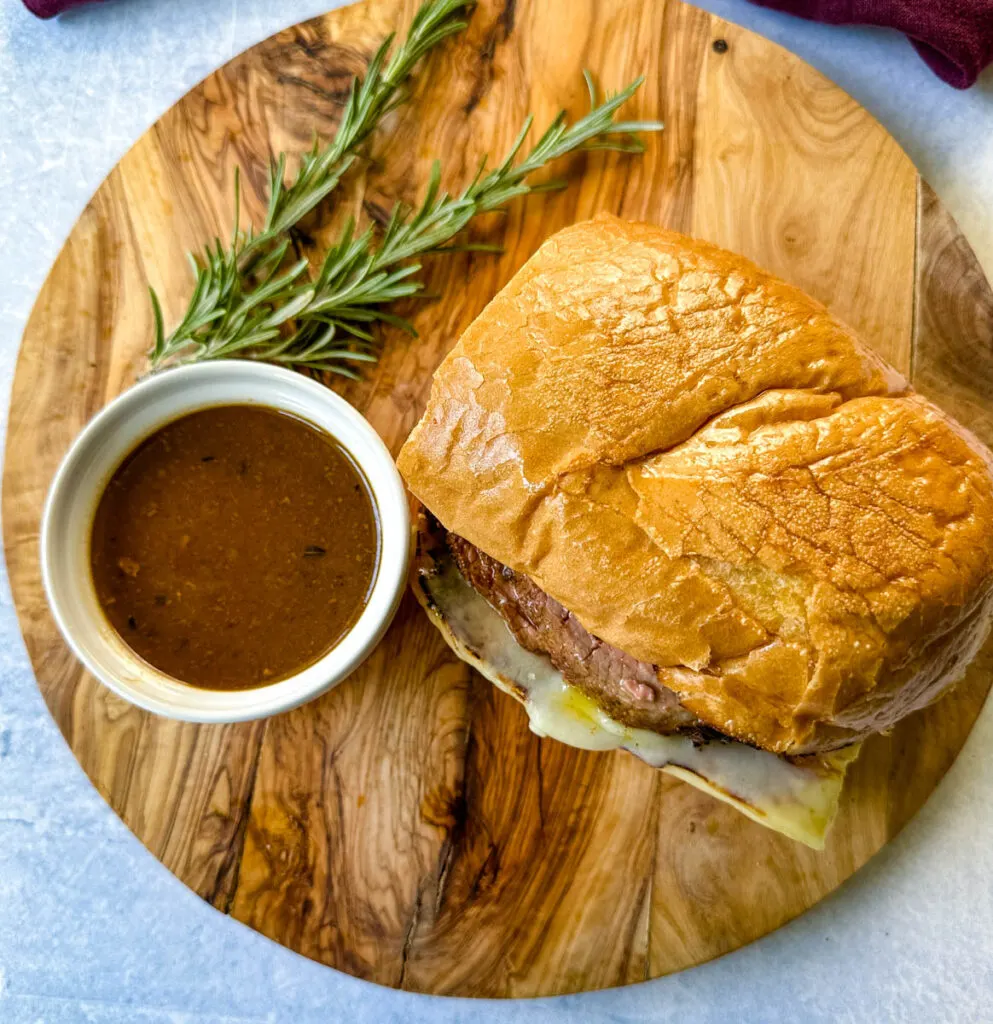 Store Bought Au Jus
You can use store-bought sauce for dipping, if you wish. Store-bought au jus is readily available in many grocery stores and is typically found in the soup or broth aisle.
How to Store
Wrap the leftover meat tightly in plastic wrap, or aluminum foil, or use an airtight container. Ensure that it's well-sealed to prevent exposure to air, which can cause the meat to dry out and absorb odors from the fridge. Leftover roast beef is best consumed within 3-4 days.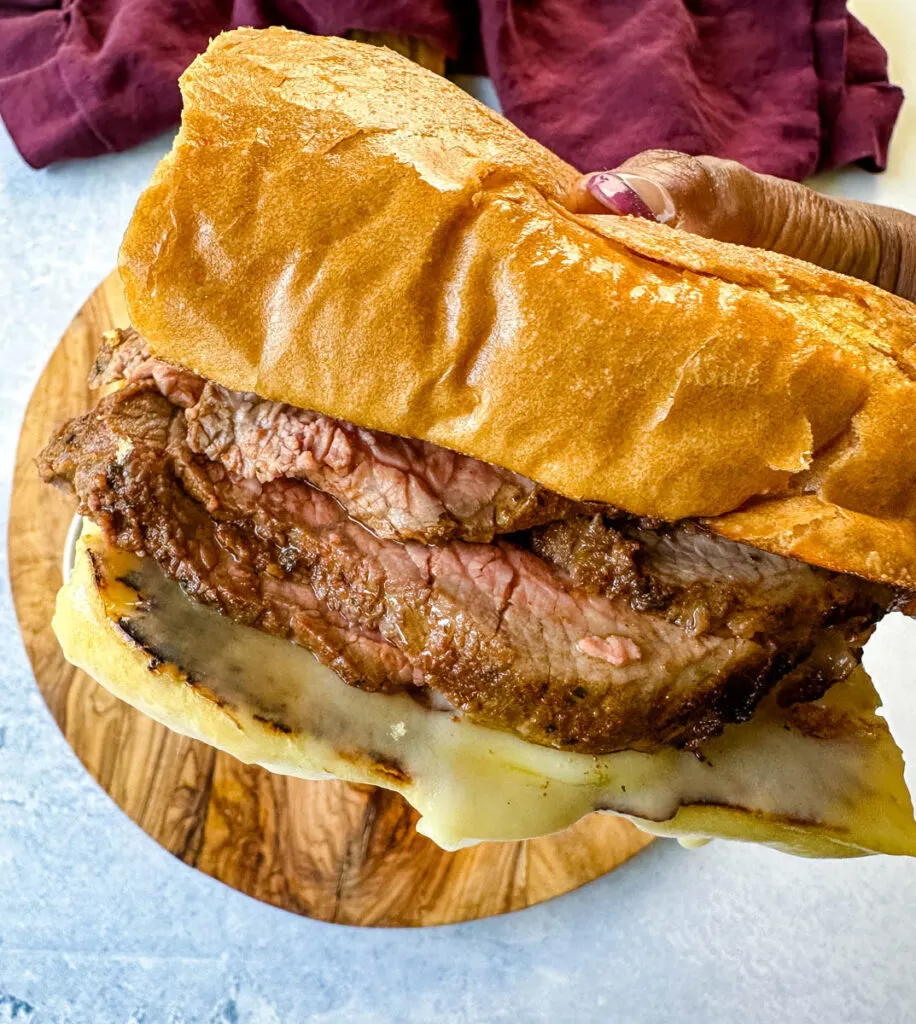 How to Reheat
My favorite way to reheat the roast beef is in the air fryer at 350 degrees until warm. The stove also works well. Add butter, oil, or sauce/au just to the pan to keep the meat moist while you heat it up.
I don't recommend the microwave. It can cause the prime rib to become unevenly reheated and potentially dry out. This method is best for small portions and should be used cautiously.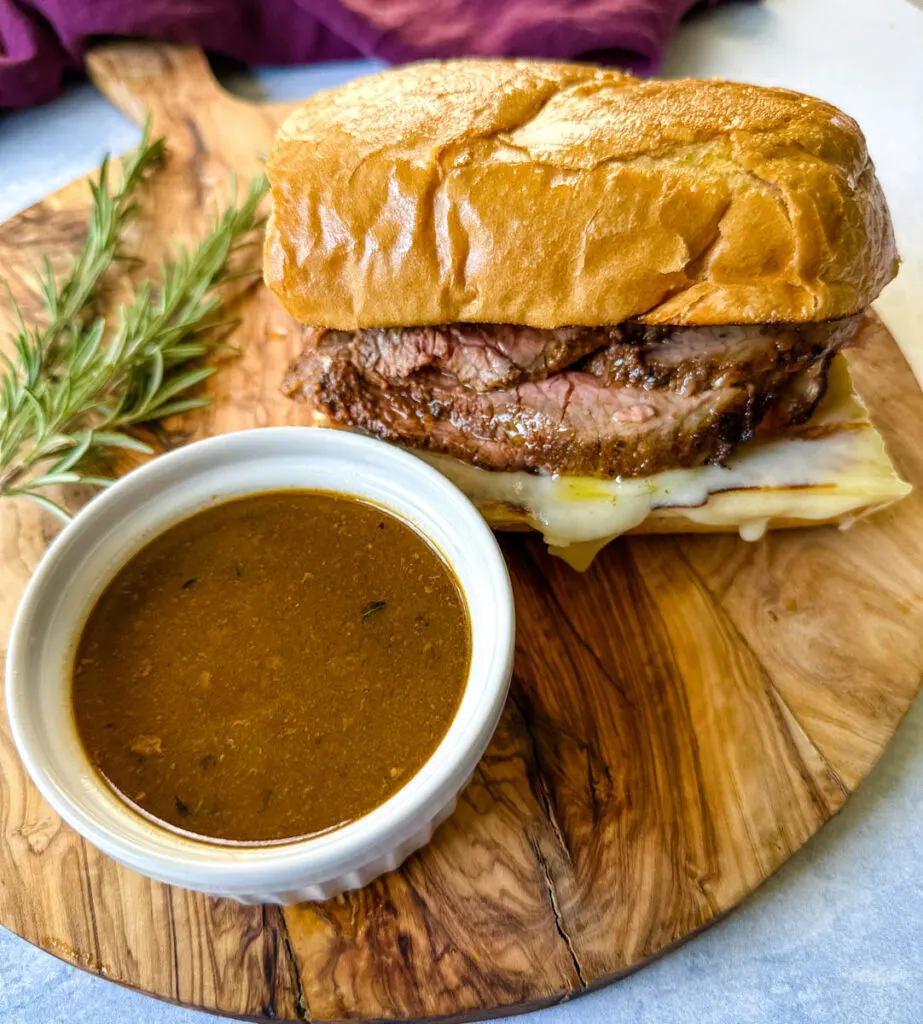 Freezer Tips
You can freeze the dish tightly covered and sealed up for to several months. Defrost overnight in the fridge.
Pair With These Recipes
Air Fryer Fries
Southern Coleslaw
Ranch Potatoes with Seasoning
Smothered Okra
Broccoli Au Gratin
More Sandwich Recipes
Blackened Chicken Sandwich
BLT Wrap
Breakfast Crunchwrap
Lobster Grilled Cheese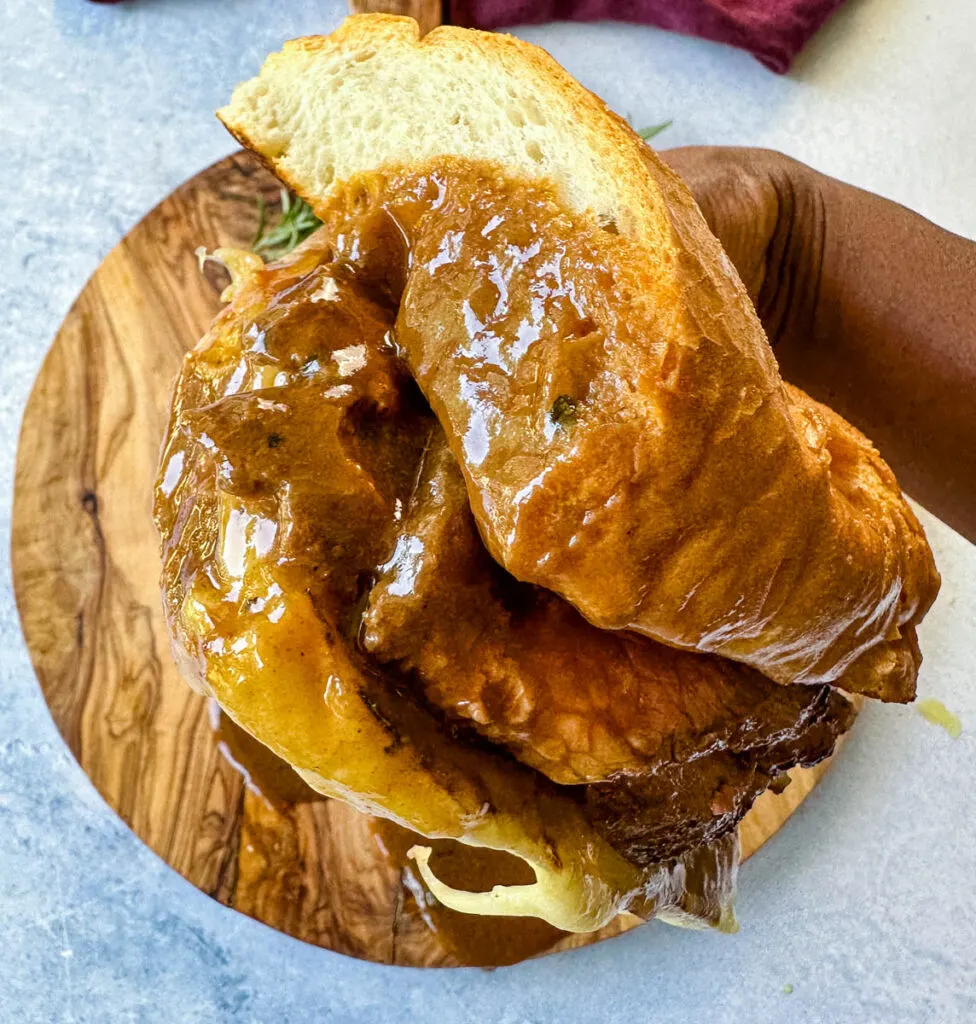 French Dip with Au Jus
This homemade French Dip Sandwich is served with tender slices of perfectly seasoned roast beef and a toasted French bread roll. The crunchy baguette is topped with gooey melted cheese and then dipped into a rich and savory au jus made right from the drippings of the roast.
Save this recipe here.
Saved!
Ingredients
Optional
2

fresh rosemary sprigs

3-6 3-6

fresh thyme sprigs
Au Jus Sauce
Roast Beef drippings

2

tablespoons

all-purpose flour

1-2

cups

beef broth

Any broth or water will work.

1/2

cup

red wine

I use dry. Typically Cabernet Sauvignon.
Sandwich
butter

Enough to spread butter onto both sides of the bread for toasting.

French bread or baguettes

slices of cheese
Instructions
Oven Roast Beef
Remove the roast from the fridge and allow it to come to room temperature. This can take 2-3 hours depending on the size of the roast you have.

Preheat the oven to 450 degrees.

Pat the roast dry and drizzle all sides of the roast with olive oil. Sprinkle the spices throughout and rub the spices into the meat. Ensure the entire roast is seasoned and add additional spices if necessary.

Add the optional rosemary and thyme to the pan.

Place the roast fat cap-side up in a cast iron skillet or roasting pan with rack. Having the fat cap side (the thick layer of fat on the outside of the meat) on top allows the fat to melt down into the roast as cooks for extra flavor.

Place the pan in the oven for 15 minutes or for however long it takes for the exterior meat to form a crust. It may take a few minutes longer.

Adjust the heat on the oven to 325 degrees. Continue to cook the roast beef until it reaches your desired level of doneness. I cook mine until it reaches about 125 degrees, which is around an hour or a little more of cook time.

Use a meat thermometer and remove the roast from the oven when it reaches the following:

Rare: 113-120 degrees

Medium Rare: 123-127 degrees

Medium: 128-135 degrees

Medium Well: 138-145 degrees

Well Done: 148-155 degrees

When you remove the roast from the oven, its internal temperature will continue to rise by a few degrees due to the residual heat within the meat.

Allow the roast beef rest for at least 20 minutes prior to slicing. During this time, the internal temperature will continue to rise, and the juices within the meat will redistribute, resulting in a juicier and more flavorful roast. If you slice too soon you will likely end up with dry meat.
Air Fryer Roast Beef
Place the seasoned roast in the air fryer basket with the fresh herbs. I use a 7 quart air fryer. It fits a 3 1/2 pound roast. Use the size roast that will fit your air fryer or trim it to fit.

Air fry at 400 degrees for 15 minutes to sear the meat and create a crust on the outside of the meat.

Flip the roast and adjust the heat on the air fryer to 325 degrees. Continue to cook the roast beef until it reaches your desired level of doneness using a meat thermometer. See above for reference.

I cook mine until it reaches about 125 degrees, which is around an additional 30 minutes of cook time.

Cook time will vary based on the size of your roast. Do not use time as a reference guide, you need to use a meat thermometer to check the internal temperature.

If your roast starts to brown quickly, place a piece of foil over the roast to tint and keep the roast from over-browning.
Au Jus Sauce
If you cooked your meat with fresh herbs, remove the cooked herbs and any large pieces of fat or other chunks of food from the drippings.

Heat the drippings in a pan on the stove at medium heat. I use the same cast iron skillet I cooked the roast in.

Add in the flour and stir. Continuously stir the mixture to avoid clumping until the flour is incorporated.

Reduce the meat to medium-low. Pour in the broth and wine. I start with 1 cup of broth and add more if needed to thin out the sauce. Stir and continue to cook for several minutes until the sauce thickens.

Taste repeatedly to ensure the sauce meets your taste. Add salt, pepper, or other spices as needed.
Sandwich Assembly
Spread the butter onto the bread and toast the bread in a hot skillet.

Load up the sandwiches with sliced beef, cheese, and dip them in Au Jus.
Notes
If you don't allow the roast to come to room temperature before cooking, the roast will cook unevenly which will impact flavor and texture.
Feel free to season the meat with any of your favorite beef or steak store bought rubs.
The measurements noted for the spices are a guide. Every piece of meat is different. The size you purchase will likely be different from mine so you will need to use your judgment. Ensure the roast is fully coated with spices for optimal flavor. You don't want bland meat.
Keep a close eye and monitor the roast while it cooks. You don't want to overcook it. Overcooked meat will have an interior that is uniformly cooked but lacks the desired level of juiciness. The meat might have a pale color rather than the pinkish hue associated with medium-rare or rare doneness.
If you don't want to use wine in your Au Jus then omit it. You may need more broth to thin out the sauce.
Recipe Tools Used in this Recipe
As an Amazon Associate I earn from qualifying purchases.
Nutrition (displayed with net carbs)
Serving:
1
sandwich
|
Calories:
740
kcal
|
Carbohydrates:
65
g
|
Protein:
59
g
|
Fat:
25
g
Tried this recipe?
Mention @Stay_Snatched or tag #StaySnatched! The recipe instructions noted here are the property of Stay Snatched and subject to copyright. Please do not screenshot and share this recipe on social.
Nutrition Data
Macros are provided as a courtesy and should not be construed as a guarantee. This information is calculated using MyFitnessPal.com. To obtain the most accurate nutritional information in a given recipe, you should calculate the nutritional information with the actual ingredients used in your recipe, using your preferred nutrition calculator. You are solely responsible for ensuring that any nutritional information provided is accurate, complete, and useful.