This bacon mushroom chicken in cream sauce recipe makes a wonderful meal prep option. Who wants to meal prep the same, boring chicken breast week after week? I certainly do not. This is the perfect way to jazz up your standard chicken breasts and is low in carbs! When I cook food in advance for the week I usually try to stick with chicken dishes that are paired with a cream sauce, stuffed with yummy ingredients, or includes a separate salsa type topping. This helps to keep the leftover chicken from drying out. Cream sauces work great. I often find that when I reheat a dish with a cream sauce, it tastes better than it did the first day.
Bonus: Bacon makes everything better. 🙂
Calories: 278 Fat: 17G Net Carbs: 2G Protein: 28G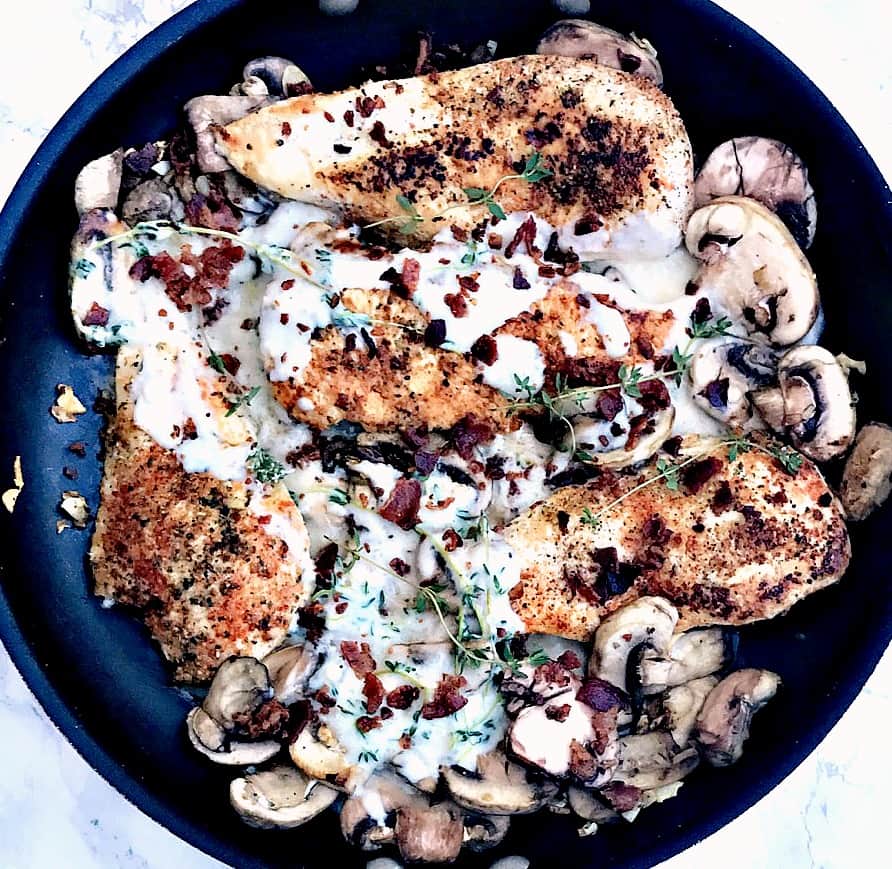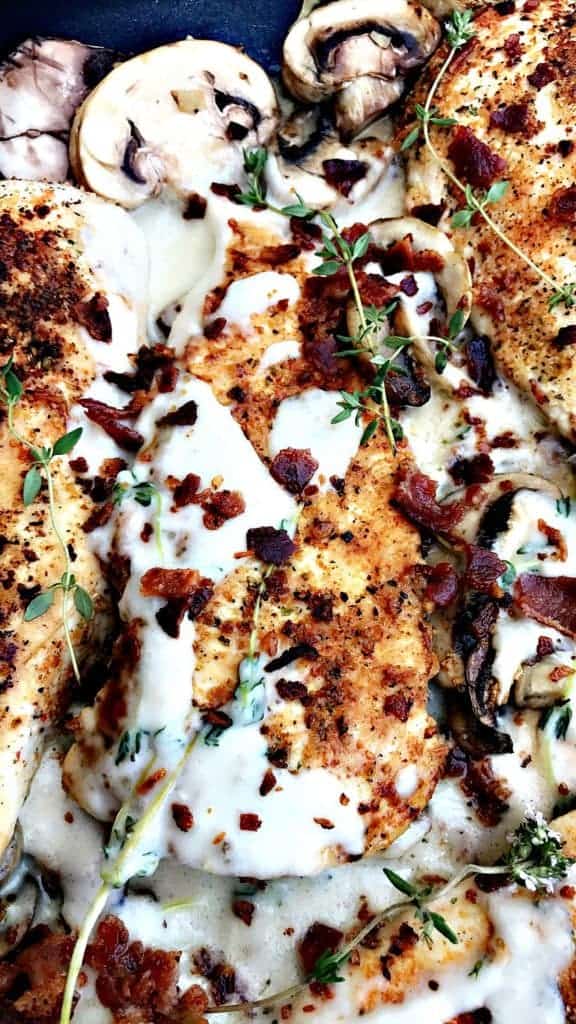 You could substitute nitrate-free bacon for turkey bacon. You would save 15 calories and 1 gram of fat per serving. One serving = 4 ounces of chicken with cream sauce and bacon. For me, this trade-off is negligible. I am often asked why I do not use turkey bacon. This is why!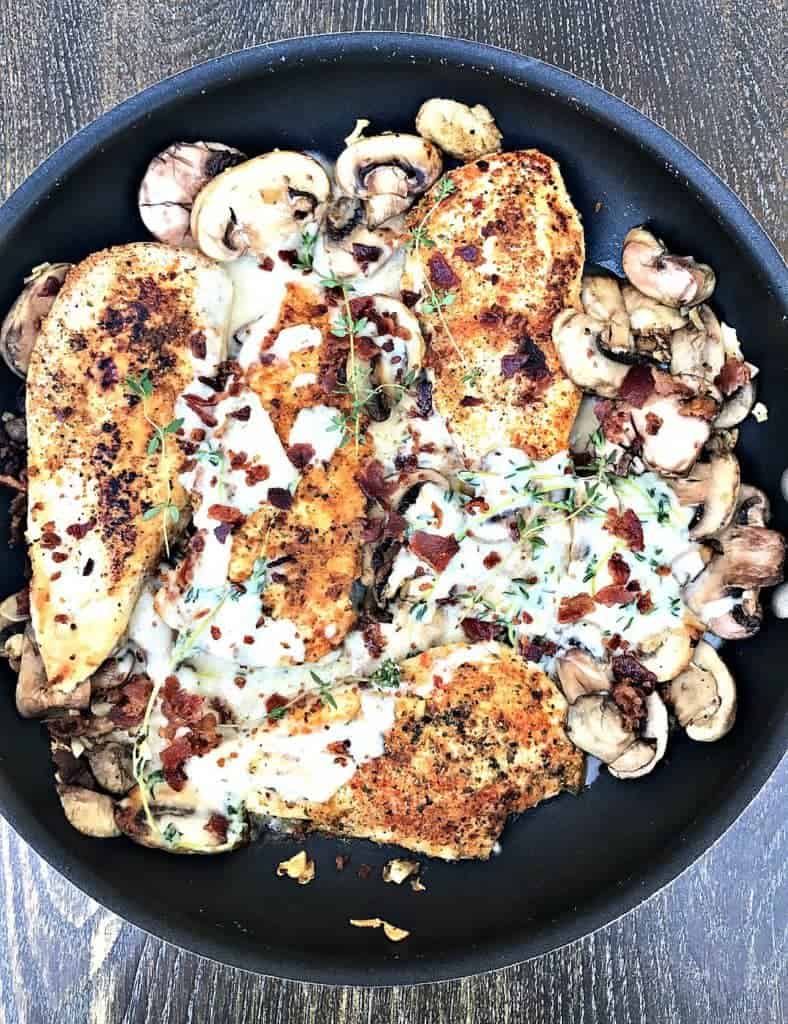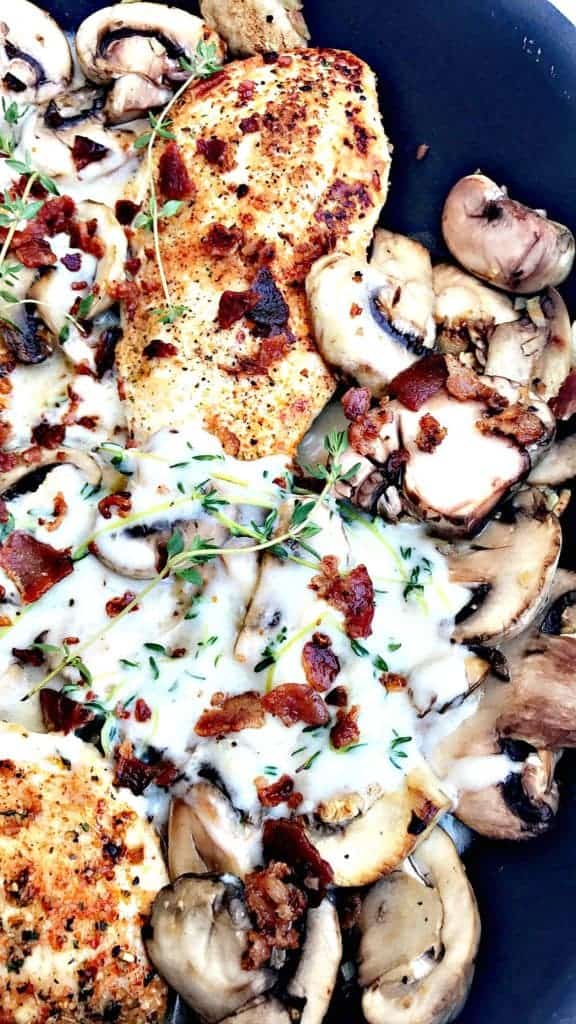 Pin me! 🙂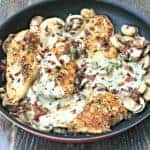 Low-Carb Bacon Mushroom Chicken in Cream Sauce with Thyme
Low-Carb Bacon Mushroom Chicken in Cream Sauce with Thyme is a savory low-carb dish drenched in cream sauce with crunchy bacon that is quick and easy to make and perfect for weeknight dinners.
Ingredients
16

oz

chicken breasts

1

tbsp

olive oil

3/4

cup

unsweetened almond milk

8

oz

mushrooms

1/4

cup

heavy whipping cream

4

garlic cloves

chopped

6

slices

Trader Joe's Uncured Nitrate Free Bacon

cooked and crumbled

1

tbsp

flour

1

tsp

butter

1

tbsp

fresh thyme

Italian Seasoning to taste

McCormick's Grill Mates Montreal Chicken Seasoning to taste

salt and pepper to taste
Instructions
Heat a large skillet on medium-high heat.

Season the chicken breasts with the seasonings.

Add one tablespoon of the oil to a skillet over medium-high heat.

Pan sear each side of the chicken for 3-4 minutes until brown.

Set the chicken aside on a plate.

Add the mushrooms and garlic to the skillet and saute until soft.

Add the butter to a saucepan. Stir and allow it to melt. When melted add the flour and stir until fully combined.

Add the almond milk and heavy cream and stir.

Add the cream sauce to the skillet with the bacon and thyme. Salt and pepper to taste.

Bring to a simmer until the sauce starts to thicken.

Add the chicken back to the skillet and heat for another minute.

Allow to cool before serving.