This post may contain affiliate links. Please read my full disclosure here.
Whole 30, Paleo Crispy Air Fryer Sweet Potato Hash Browns is a quick and easy recipe that only uses five ingredients. This is a great plant-based vegan and vegetarian, low-calorie, and low-fat recipe and each serving has around 100 calories! Move over sweet potato fries!
Calories: 134 Fat: 1G Net Carbs: 23G Protein: 2G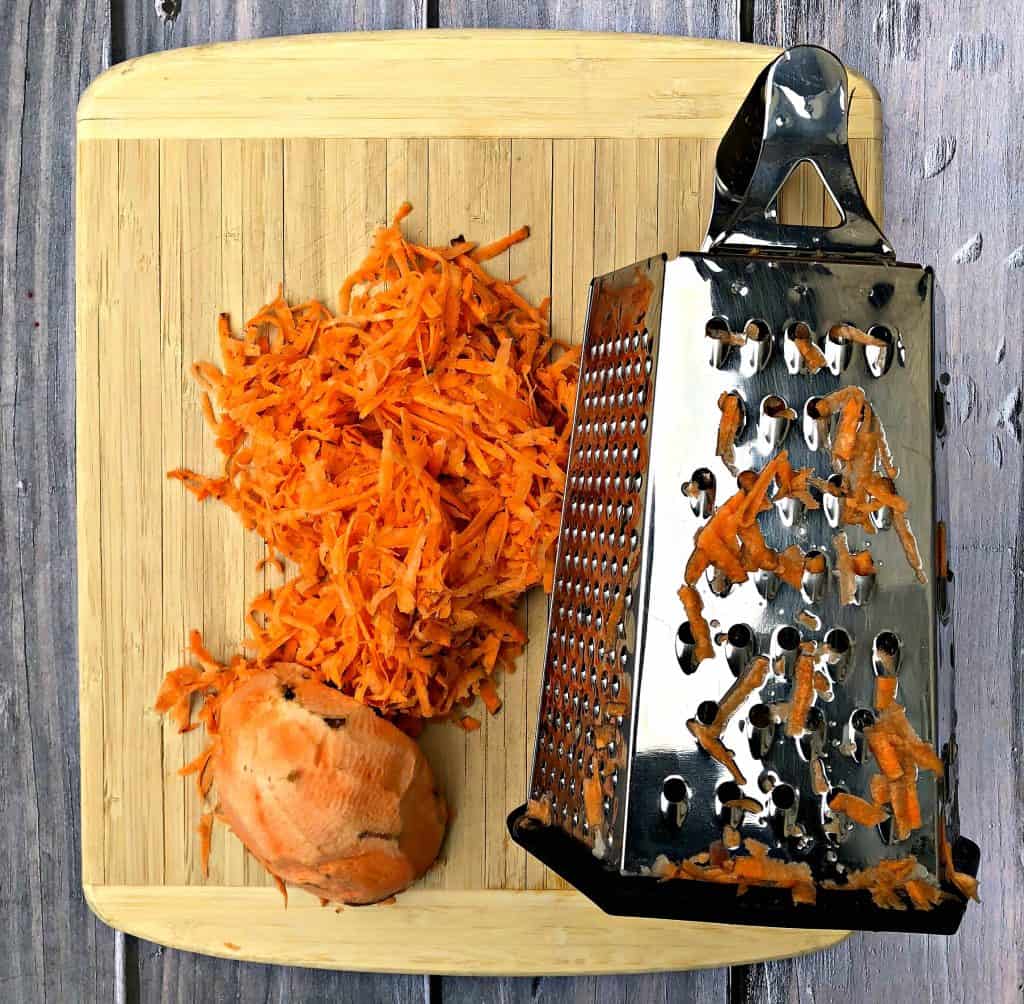 Throughout the week I am in such a hurry in the mornings. I usually have a grab and go breakfast. I want to make a goal to have a sit-down breakfast on the weekend.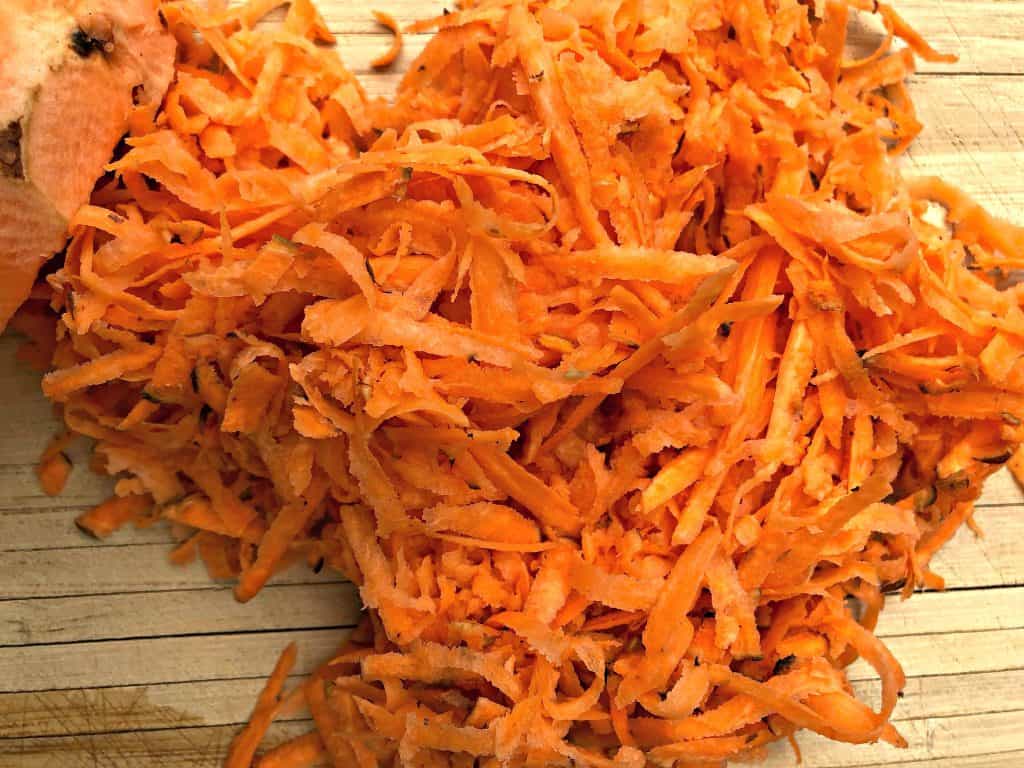 The air fryer helps to make that a pretty easy task. I love the ingredients in this recipe. I only used a handful, and they are all natural/real-food/plant-based ingredients. This recipe is sure to fit in with your Whole 30 or Paleo regimen….or if you are like me just your plain ole' healthy lifestyle regimen.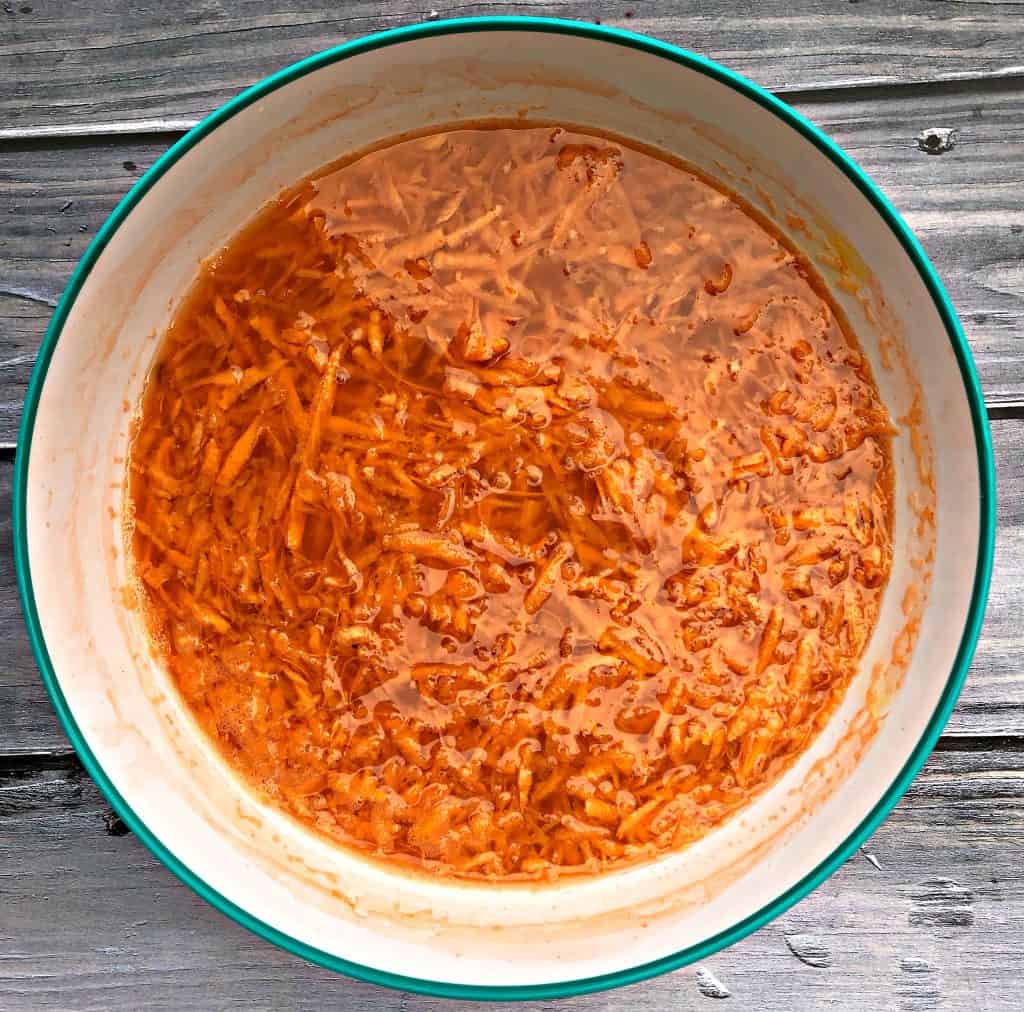 I have a few friends who have done Whole 30 and Paleo. They have all loved it for weight loss reasons.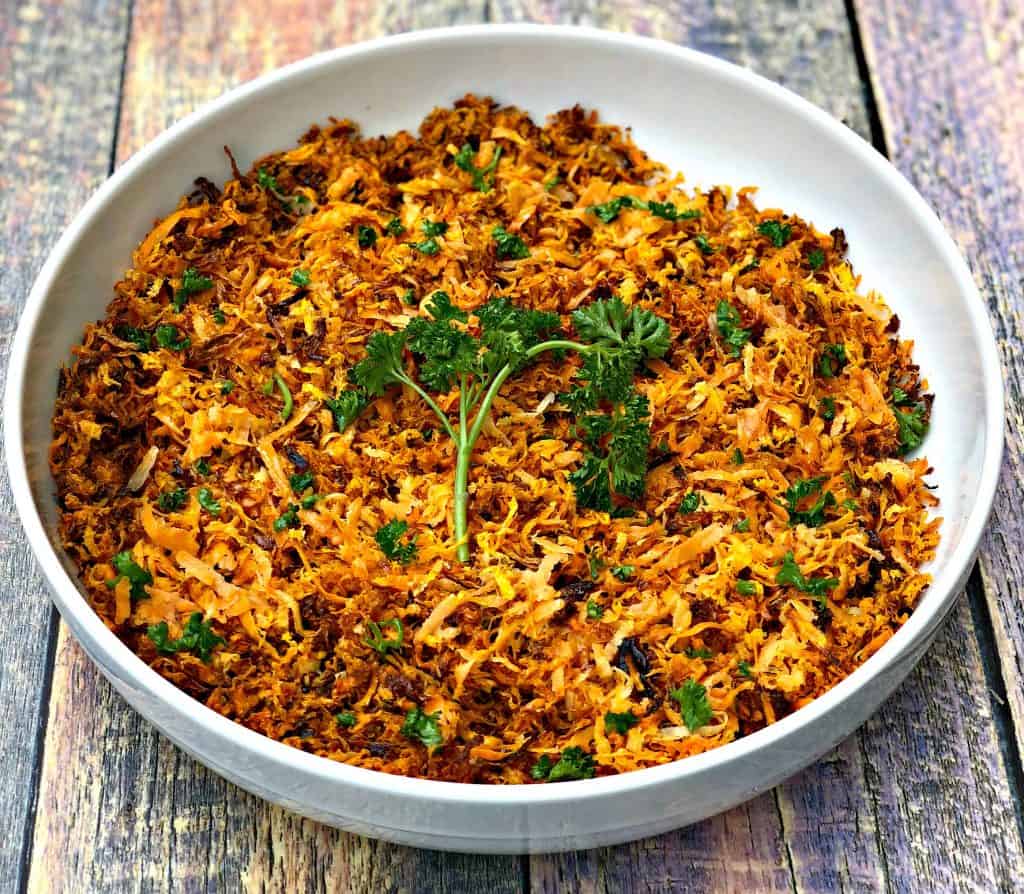 Whole 30 operates under the notion that certain food groups with sugar, dairy, grains, and legumes could have a negative impact on your health. Things like chronic pain, fatigue, skin issues, and a host of others are cited as potential side effects.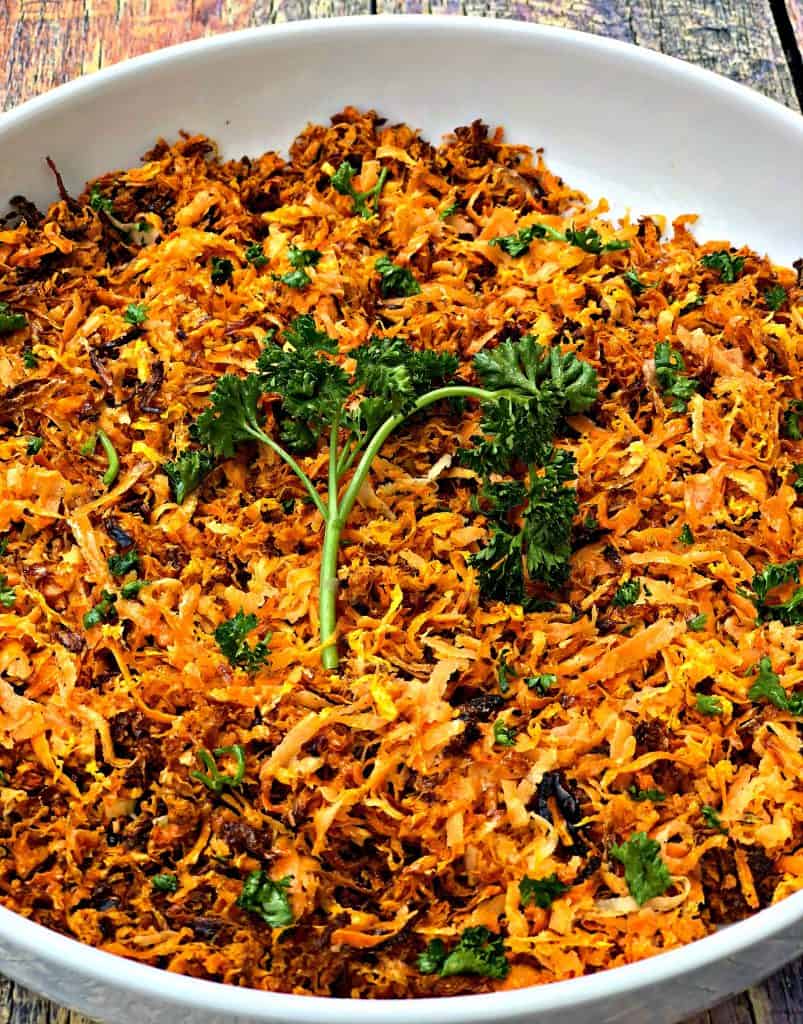 The foods noted above are completely stripped from your diet for 30 days. This allows your body to heal from whatever effects these foods may have caused.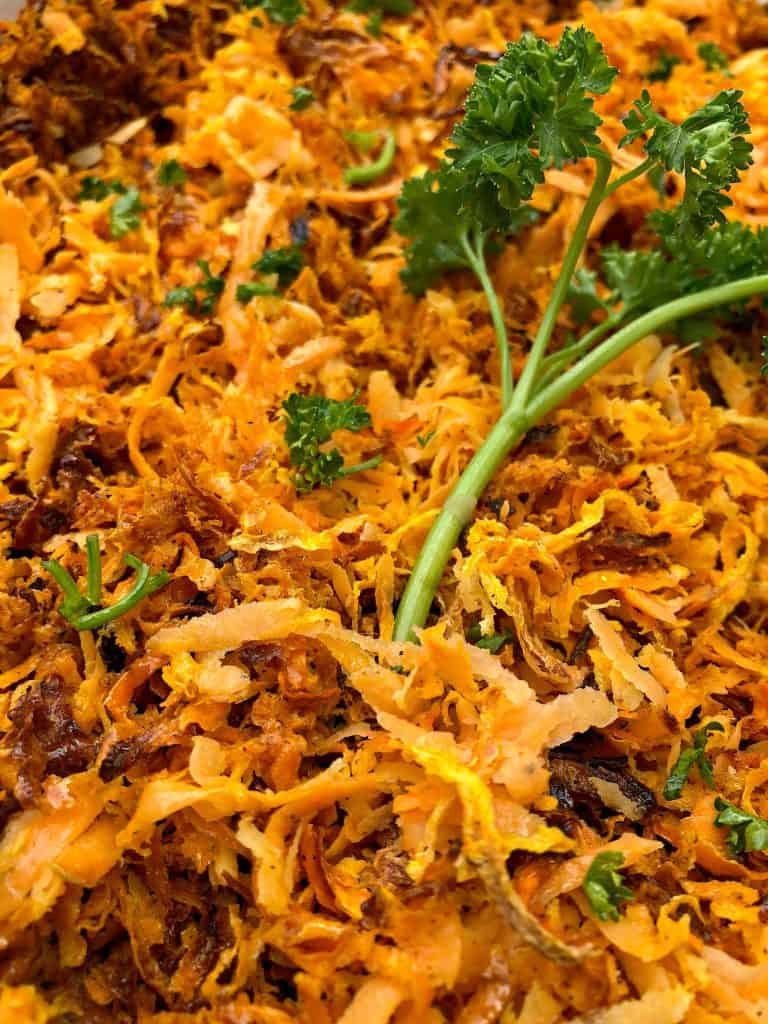 The paleo diet follows the principle of eating similar to cavemen. You can eat anything that could be hunt and gathered.
Paleo excludes dairy, legumes, grains, and processed food.
While I do not have experience with these diets, I have done a lot of research over the years about food.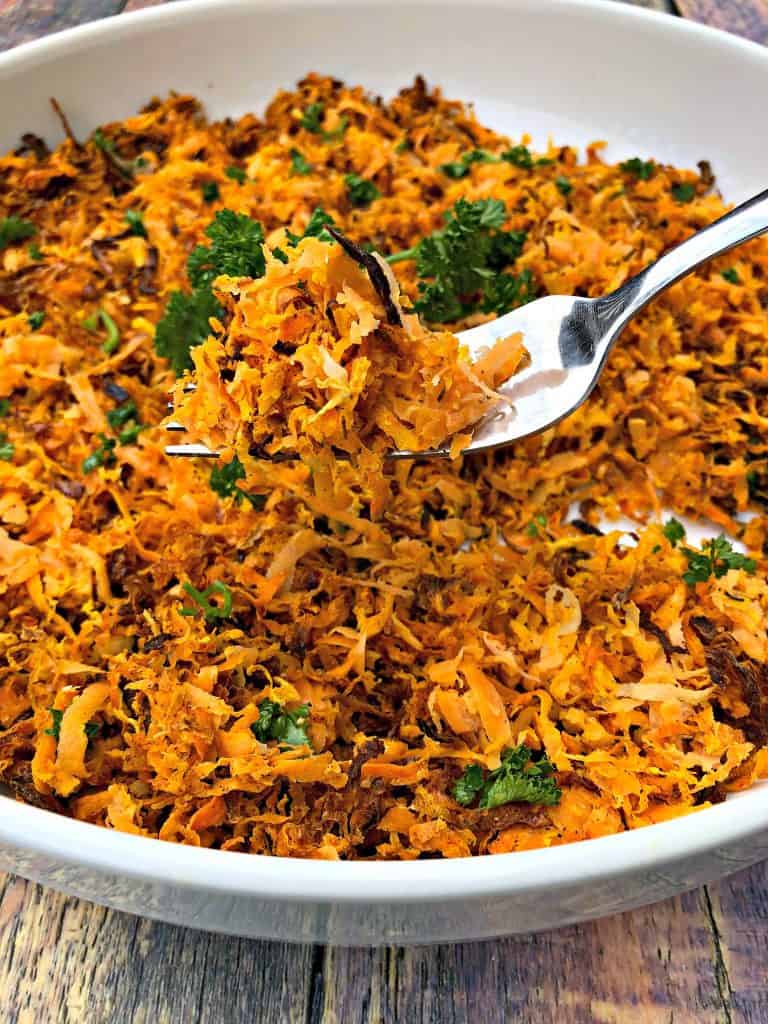 It has been almost four years since the last time I was on an official diet. This is also the last time I was heavily focused on weight loss. Since then, I have adopted a more holistic approach to my lifestyle. I focus more on the health benefits of food and I exercise regularly.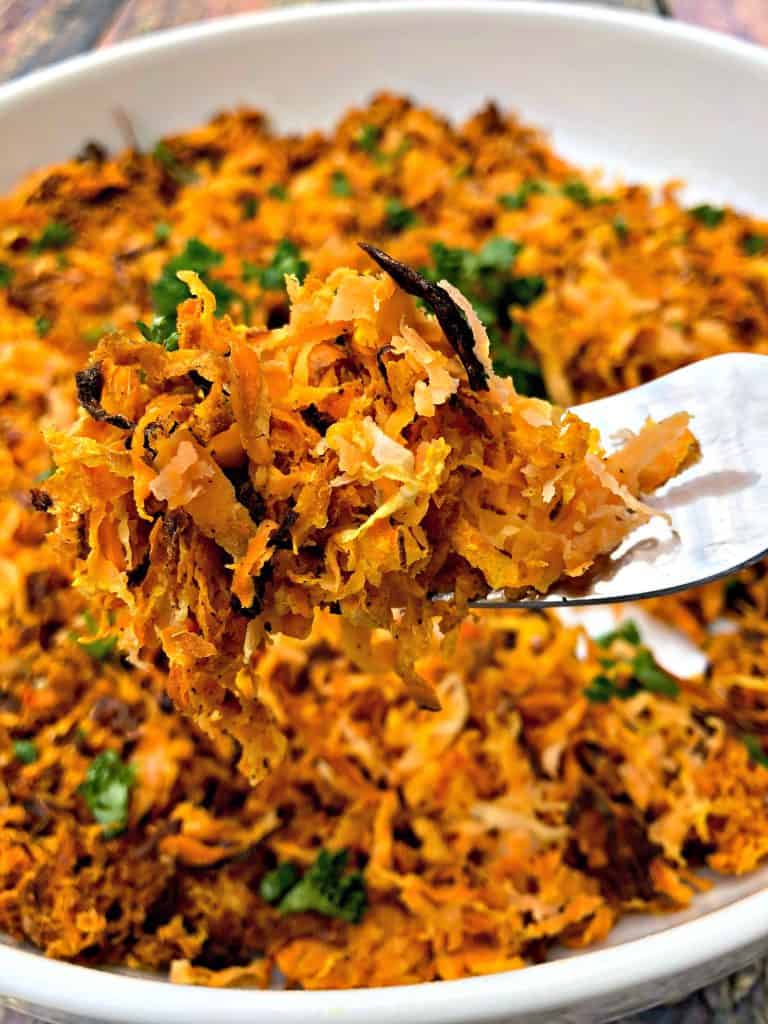 Sweet potatoes pack a lot of health benefits. Sweet potatoes are high in antioxidants, can help stabilize blood sugar, enhances immunity, and assists with weight loss.
Did I forget to mention, sweet potatoes are delicious? These hashbrowns are the perfect sweet and savory treat! If sweet and savory isn't your thing, feel free to exclude the garlic and seasonings. The spice of the cinnamon alone tastes great.
There is so much you can do with the Air Fryer with additional accessories. Check these out!
Pin this recipe for later here.
Whole 30, Paleo Crispy Air Fryer Sweet Potato Hash Browns
Whole 30, Paleo Crispy Air Fryer Sweet Potato Hash Browns is a quick and easy recipe that only uses five ingredients. This is a great plant-based, low-calorie, and low-fat recipe.

Ingredients
Instructions
Grate the sweet potatoes using the largest holes of a cheese grater.

Place the sweet potatoes in a bowl of cold water. Allow the sweet potatoes to soak for 20-25 minutes. Soaking the sweet potatoes in cold water will help remove the starch from the potatoes. This makes them crunchy.

Drain the water from the potatoes and dry them completely using a paper towel.

Place the potatoes in a dry bowl. Add the olive oil, garlic, paprika, and salt and pepper to taste. Stir to combine the ingredients.

Add the potatoes to the air fryer.

Cook for ten minutes on 400 degrees.

Open the air fryer and shake the potatoes. Cook for an additional ten minutes.
Notes
Cook time may vary depending on the air fryer brand that you use. Check in on your hashbrowns after they have cooked for 15 minutes. This will allow you gauge how much additional time (if any) you will need. I like to check this by tasting a small portion to see if the hash browns are crunchy enough, or if they will need additional cook time.
Recipe Tools Used in this Recipe
As an Amazon Associate I earn from qualifying purchases.
Nutrition (displayed with net carbs)
Tried this recipe?
Mention @Stay_Snatched or tag #StaySnatched! The recipe instructions noted here are the property of Stay Snatched and subject to copyright. Please do not screenshot and share this recipe on social.
Nutrition Data
Macros are provided as a courtesy and should not be construed as a guarantee. This information is calculated using MyFitnessPal.com. To obtain the most accurate nutritional information in a given recipe, you should calculate the nutritional information with the actual ingredients used in your recipe, using your preferred nutrition calculator. You are solely responsible for ensuring that any nutritional information provided is accurate, complete, and useful.