This post is sponsored by Big Red, but the content and opinions expressed here are my own.
The Best Side Dish Ideas to Pair with Kansas City BBQ include soul food macaroni and cheese, potato salad, baked beans, white bread, pickles, coleslaw. These dishes pair nicely with smoked meats like pork ribs, brisket, burnt ends, chicken, and sausage.
April is here. I cannot believe how fast time is moving in 2018. I have done all my spring cleaning. I cleaned out my garage (that was such a large task, by the way), removed the clutter from all the closets, and donated a bunch of clothing to charity. I even brought out my spring linen tablecloths in the dining room. There's just one problem. Kansas City has not embraced spring. The weather has been so uncooperative!
We have had a few days where the sun has come out and temperatures were above 60 degrees. On one of those days, I decided to take full advantage! I sat outside with a small slab of ribs, my famous Baked Macaroni and Cheese, and an ice cold Big Red.
Baked mac and cheese is a southern tradition. My family has southern roots, so naturally, it has always been a staple for my family. We serve a large dish of mac and cheese every holiday, and at most barbecues. I usually use elbow macaroni or cellentani pasta. I create a roux using flour and butter. From there, I doctor it up with seasonings, milk, and a lot of cheese. I layer it in a baking dish. Be sure to check out the recipe here.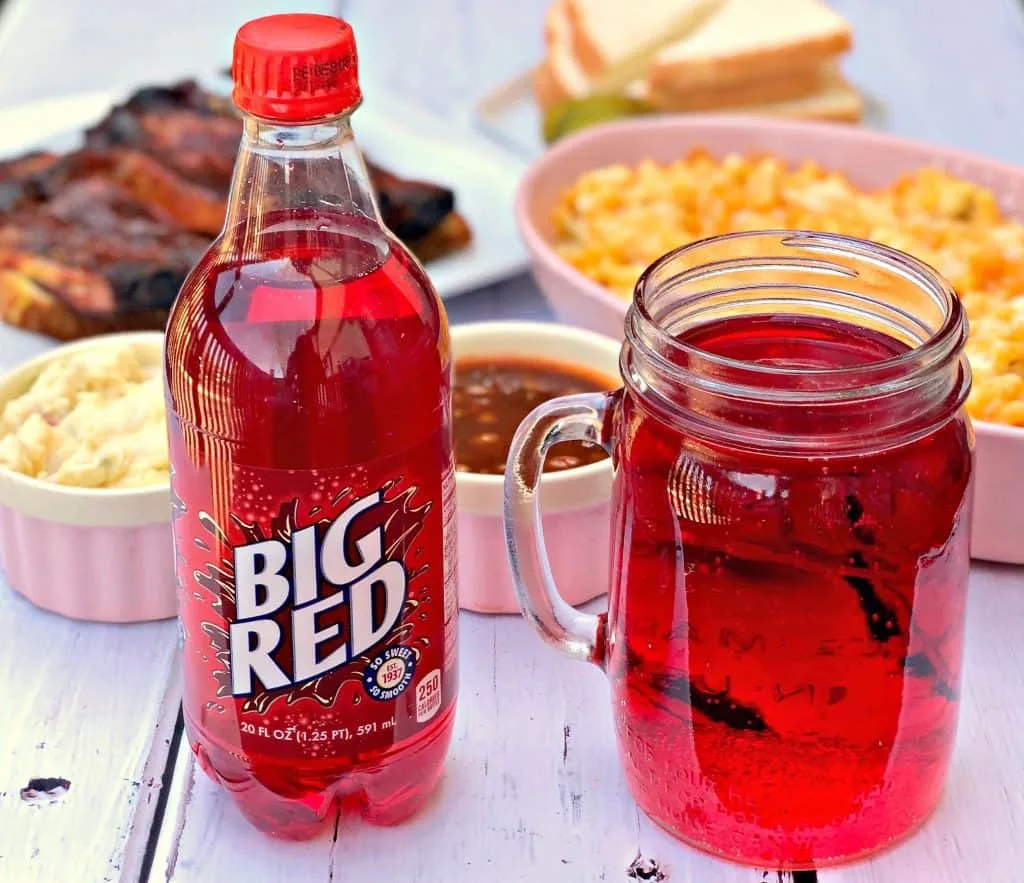 Baked beans are another staple. Most baked beans have a sweet flavor. I love recipes that have a hint of sweetness and a bit of tang.
Potato salad is served chilled and does a great job of balancing out the warm food.
Every cookout must have a tray of white bread and pickles. I usually use a slice of bread to dip into my BBQ sauce.
We are passionate about BBQ in Kansas City. No one makes their BBQ the way we do. We will argue that our BBQ is far superior to anything else out there. KC-style BBQ consists of meat that has been slowly smoked in a pit. Ribs, burnt ends, pulled pork, and brisket are a few of my favorite meats.
While I love the barbecued meats, a plate would not be complete without amazing side dishes. Red soda is also a staple. I must have a cold glass of Big Red Soda with my BBQ.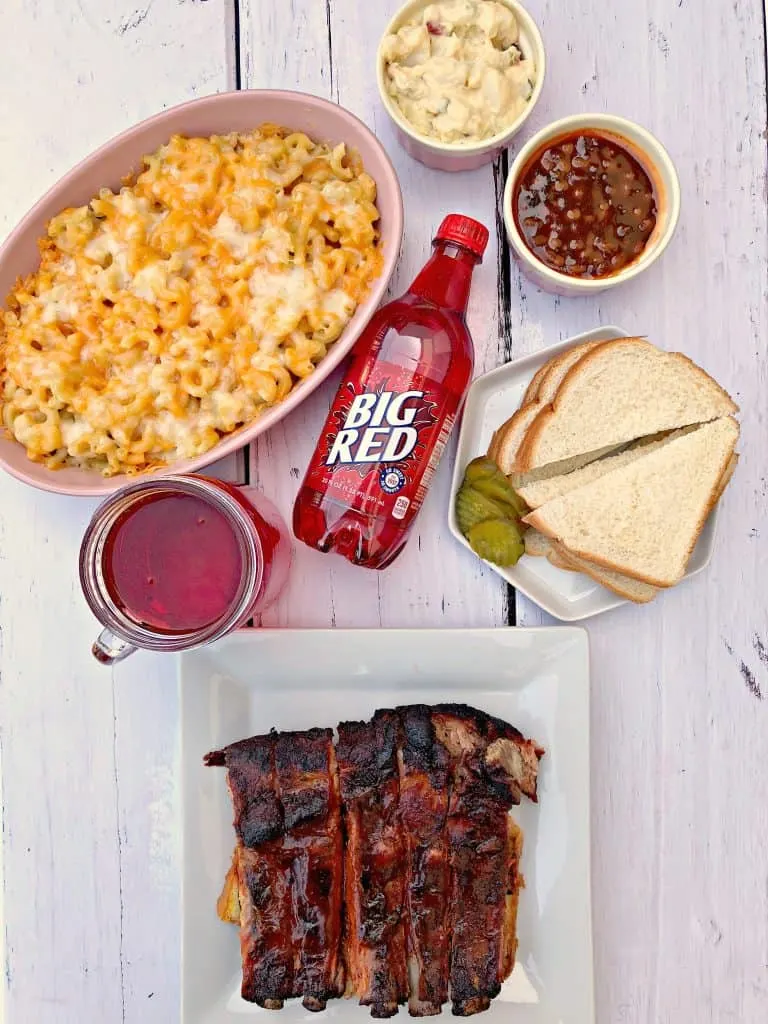 A spread like this is what spring and summer were made for!
Southern-Style Soul Food Baked Macaroni and Cheese
Southern-Style Soul Food Baked Macaroni and Cheese is a homemade, recipe with 5 creamy types of cheese. Perfect for Thanksgiving, Christmas, and holidays.

Save this recipe here.
Saved!
Ingredients
1

pound

elbow macaroni

or cellentani pasta

4

tablespoons

butter

3

tablespoons

flour

2-3

cups

milk

I often use 2 cups. Use your judgement. Start with 2 and add more if needed.

1

cup

heavy whipping cream

salt and pepper to taste

onion powder to taste

Start with 1/2 teaspoon. Taste and adjust.

2

cups

shredded sharp cheddar cheese

1

cup

shredded parmigiano reggiano

1

cup

shredded fontina cheese

1

cup

shredded pecorino romano cheese

1/2

cup

muenster cheese

cut into small chunks
Instructions
Preheat oven to 375 degrees.

Cook the pasta in accordance with the instructions on the package.

Drain the macaroni and rinse with cold water. This is important. You want the pasta to cool so that it does not continue to cook. The pasta will cook again while baking in the oven. Over-cooked pasta results in a terrible texture.

Heat a sauce pan on medium heat. Add the butter and allow it to melt.

Once melted, add the flour and whisk.

This will create a roux. Continue to whisk until the four is fully combined.

Add the milk and heavy whipping cream and stir.

Add half of the shredded cheese and stir until the cheese is melted.

Add the seasonings and taste repeatedly. This step is important because you don't want bland mac and cheese.

Return the pasta to the large pot. Drizzle the liquid mixture over the pasta and stir until fully combined.

Spray a 9 x 13 inch baking pan with cooking spray.

Begin to layer in the pasta. Start with the pasta, then add a layer of all of the shredded cheese and muenster chunks.

Add another layer of pasta, and then another layer of cheese.

Ensure there is adequate liquid throughout these steps (additional milk works well). This can be tricky. You do not want the dish to appear like soup, but you do not want it to be dry.

This step is important because without adequate liquid the dish will dry out while baking.

Bake for 25-45 minutes until the cheese has melted and is bubbly. I like for the crust on top to turn a deep golden brown, which takes more time. Use your judgment based on what works for you.

Cool before serving.
Notes
You can substitute any cheese in this recipe for whatever cheese you like.
If you're making this for a crowd, I wouldn't make it ahead. This is a dish that's best served fresh while the cheese is still soft and gooey. After making it, I leave it in the oven on warm and covered in foil.
I also wouldn't prep it in advance. This will ruin the texture of the cheese.
Recipe Tools Used in this Recipe
As an Amazon Associate I earn from qualifying purchases.
Nutrition (displayed with net carbs)
Tried this recipe?
Mention @Stay_Snatched or tag #StaySnatched! The recipe instructions noted here are the property of Stay Snatched and subject to copyright. Please do not screenshot and share this recipe on social.
Nutrition Data
Macros are provided as a courtesy and should not be construed as a guarantee. This information is calculated using MyFitnessPal.com. To obtain the most accurate nutritional information in a given recipe, you should calculate the nutritional information with the actual ingredients used in your recipe, using your preferred nutrition calculator. You are solely responsible for ensuring that any nutritional information provided is accurate, complete, and useful.