I received this air fryer from Cosori for free. All opinions are my own.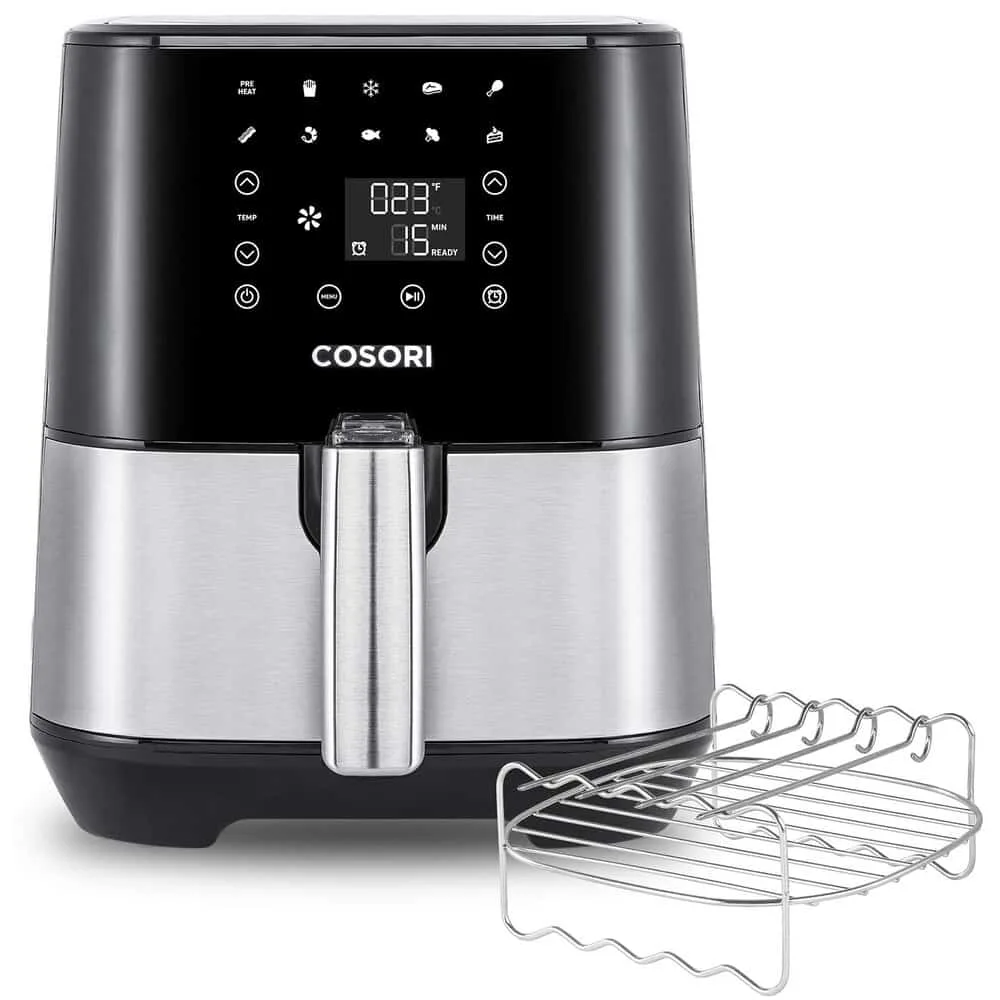 This post contains affiliate links. Please read my full disclosure here.
What's Included in the Box
The air fryer comes with the following:
5.8 quart basket that can fit up to 5-6 pounds of whole chicken (round baskets usually can't fit one this big)
Recipe Book with 100 different recipes
Air Fryer Basket Shape
The basket is square-shaped which I LOVE. All of my other air fryers have a round shape, which makes it difficult to fit certain foods. I could usually get the food to fit, but I would have to cook less at once. For example, long steaks and cuts of fish were harder to fit within the rounded edges.
Cosori Air Fryer Power and Cook Times
It cooks food pretty quickly. It browns and crisps food so nicely! I did a side by side comparison and cooked chicken wings using the Cosori Air Fryer and a Power XL Air Fryer. The Cosori cooked faster and I liked the breading on the chicken wings much better.
How to Clean Cosori Air Fryer
Both baskets are dishwasher safe. I usually give them both a little scrub down prior. What I LOVE is that it's been a few months and I have not experienced any peeling on my baskets.
With my Power Air Fryer XL peeling started to occur pretty quickly and I handle the air fryer exactly the same.
Where to Buy Cosori Air Fryer
You can buy the air fryer here on Amazon.
Final Thoughts and Recommendation
I highly recommend the Cosori air fryer. I also previously owned the Power Air Fryer XL, Black + Decker, and the Oster Ceramic Air Fryer. They all work well and get the job done, but the Cosori will do it faster and with no peeling on the air fryer basket.
They also have an Cosori Air Fryer Toaster Oven now, too. If you have a large family, or want to cook multiple dishes at once, its great to have. Check out the Air Fryer Oven here.