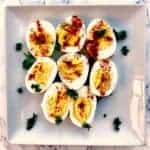 Print
How to Make Easy Hard Boiled Eggs Using the Instant Pot
How to Make Easy Hard Boiled Eggs Using the Instant Pot is a quick pressure cooker recipe that creates eggs that are easy to peel. This recipe uses the cold water method and a steamer basket only takes minutes to complete.
Insert the metal rack that came with the Instant Pot inside the base.

Add 1 cup of water to the pot.

Place your eggs in the pot. I did 4 eggs. You can do around 12.

Place the lid on the Instant Pot and seal.

Manually adjust the timer to 7 minutes.

When the Instant Pot beeps indicating it is finished, quick release the steam by moving the valve on top to the left or right. Steam will appear from the valve.

Remove the eggs from the pot with tongs.

Place the eggs in a bowl of cold water until cool.

Peel!