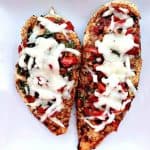 Print
Low-Carb Bruschetta Stuffed Grilled Chicken
Low Carb Dish: juicy, grilled chicken breasts filled with bruschetta topping
Make cuts/slices into each of the chicken breasts, without cutting through the entire breast.

Season the chicken with chicken seasoning, 1 teaspoon of Italian seasoning, salt, and pepper.

Add the chicken to a grill. Turn the chicken so that it cooks on both sides until the chicken is no longer pink.

Remove the chicken from the grill.

Preheat oven to 375 degrees

Combine the olive oil, 2 tablespoons balsamic vinegar, garlic, tomatoes, 1 teaspoon Italian seasoning, and basil in a medium sized bowl.

Stuff the bruschetta mixture into each of the slits.

Sprinkle the cheese on top of each of the breasts.

Shake paprika over the top.

Spray a baking sheet with cooking spray.

Place the chicken on the baking sheet.

Bake for 5 minutes or until the cheese is melted.

Remove from the oven and allow to cool.

Cut each breast in half.

Serve!