How to make spaghetti squash using the Instant Pot…it's actually quite simple. I have had spaghetti squash on a few different occasions. I loved it from the first time I tried it. After researching recipes on how to prepare it on my own, I learned that spaghetti squash takes 45-60 minutes to make. That does not sound like a terribly long time, but when you are strapped for time, an hour can feel like an eternity!
An hour is also a long time because baking the spaghetti squash isn't usually the only part of prepping the meal. You aren't going to eat spaghetti squash without pairing it with something else! I am thankful the Instant Pot has arrived in my life to save the day. Now spaghetti squash only takes 7 minutes!
I had my eye on the Instant Pot for about 9 months before I finally gave in and purchased one. To be honest, I initially had no idea how it worked and how it could benefit me. I kept seeing amazing videos on Snapchat and Instagram. I became so intrigued I had to do some research on my own.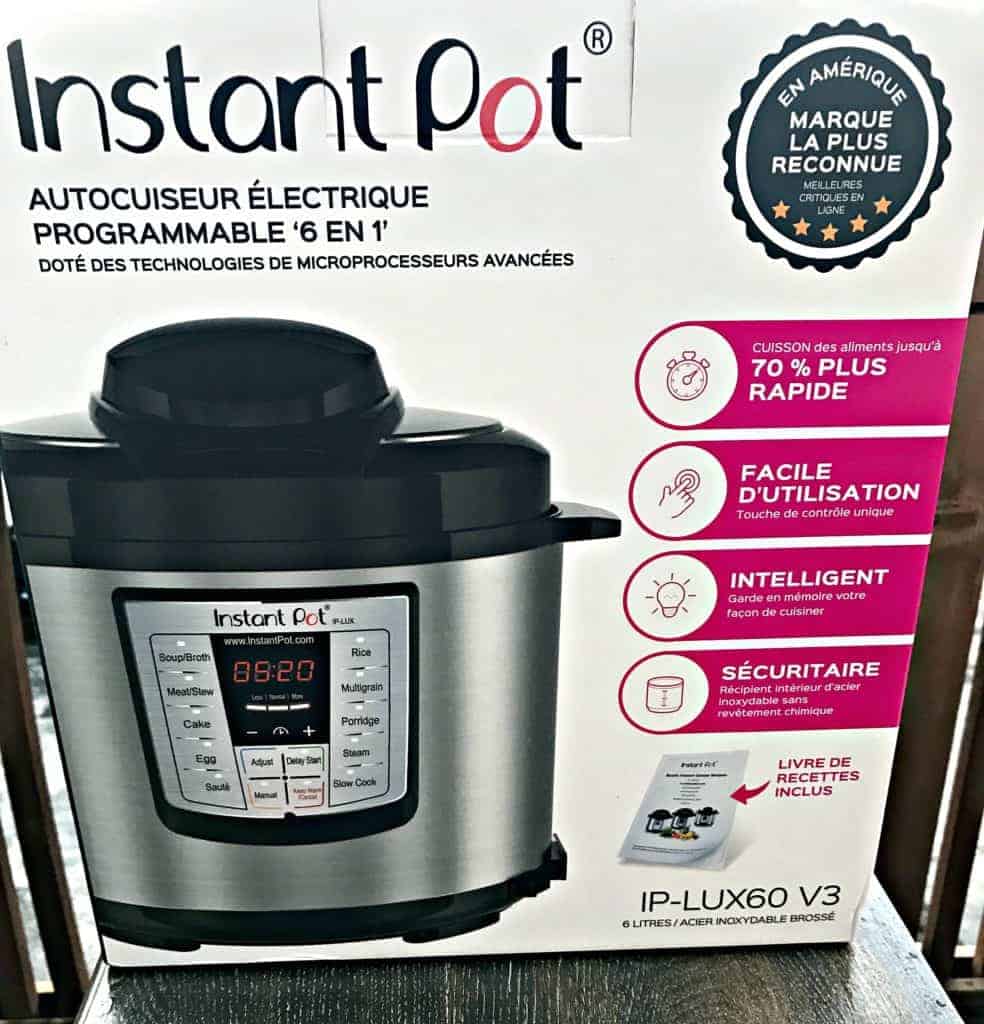 What is an Instant Pot?
It is a multi-cooker that does the job of a slow cooker, electric pressure cooker, rice cooker, steamer, yogurt maker, sauté/browning pan, and warming pot. It's a single appliance that does the job of seven different kitchen appliances or tools.
The Instant Pot website says you can reduce your cooking time by 70% because of the following:
12 pre-programmed operation buttons (Rice, Multigrain rice, Congee/Porridge, Sauté/Browning, Soup, Poultry, Meat & Stew, Beans & Chili, Steaming and Slow Cook, Keep warm, and Yogurt).
The pre-programmed buttons automate the cooking process. No more standing around watching and waiting for meals to cook.
You can delay cooking (up to 24 hours) to plan ahead of time. You can use all of the pre-programmed operations, with the exception of saute' and yogurt.
Sounds pretty awesome right? There are so many features I am dying to try out, specifically the cake (for cheesecake 🙂 ) and yogurt settings.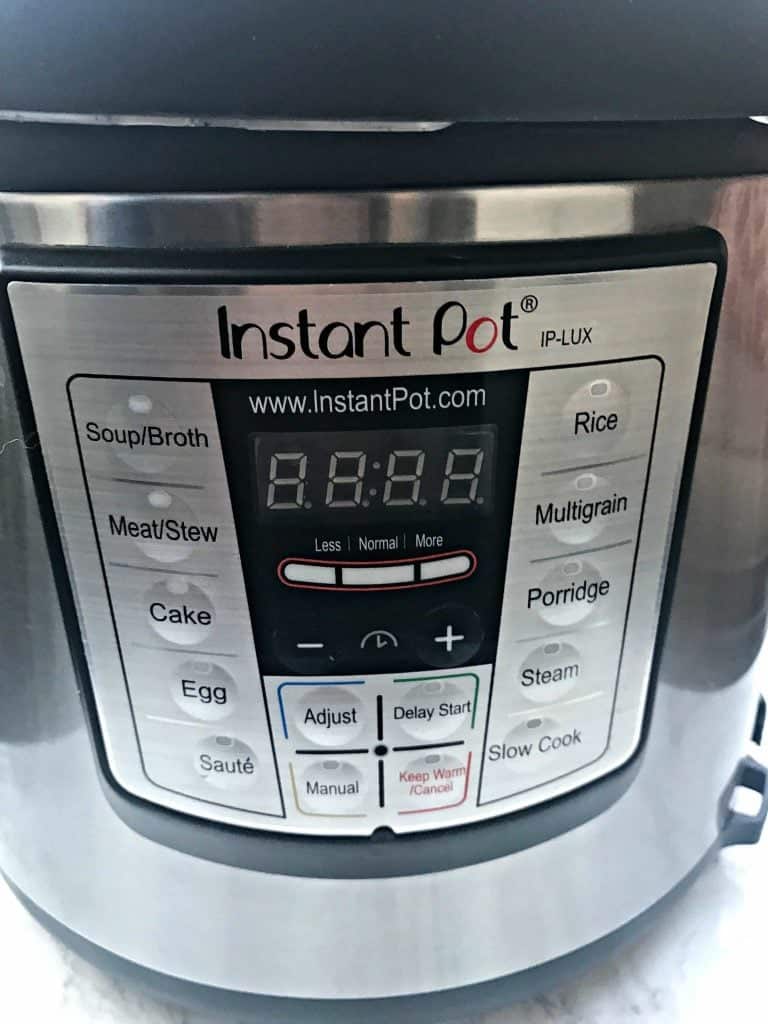 Why Spaghetti Squash?
Spaghetti squash looks similar to typical squash but it's larger and more round. In its raw state, if sliced, it will also look similar to regular squash. When cooked, strands form on the inside flesh creating angel hair-like strands, that resemble pasta. Spaghetti squash can be used in a lot of dishes to cut down on carbs and also boost nutritional value. It's packed with nutrients. It's perfect for vegan, gluten-free, paleo, and just plain old healthy recipes! One cup of spaghetti squash has about 42 calories and 8 grams of net carbs. One cup of white spaghetti pasta has about 220 calories and 40 grams net carbs. There is a huge difference when comparing the variance in net carbs! Carbohydrates are the body's first defense for fuel. Your body burns carbs FIRST for energy. When carbs are depleted, it moves on to burning fat. I pay less attention to the calories variance here because the fewer carbs you consume, the more room your body has to burn fat.
Now for the burning question……does it taste like pasta?!
No. Not to me. For me, it does not have to taste like pasta in order to be considered delicious. I LOVE veggies. I love vegetables, even more, when I can dress them up using an amazing recipe! And I have done just that. Check out my Instant Pot Spaghetti Squash Chicken Alfredo recipe. The cream sauce and juicy, savory chicken paired PERFECTLY with the spaghetti squash. I always say consistent healthy eating does not have to be a curse. You really just have to get creative.
How to Cook Spaghetti Squash
Cut the spaghetti squash in half, crosswise (not the long way).

Scoop out the seeds and discard.

Add 1 cup of water to the pot. Place the spaghetti squash halves in the instant pot, with the cut sides facing up.

Place the lid on the pressure cooker and cook on high pressure for 7 minutes.

After the 7 minutes, release the valve at the top of the pressure cooker to lower the pressure.

Remove the lid and the squash. Poke the squash to ensure it's tender. Shred the squash with a fork to create "spaghetti."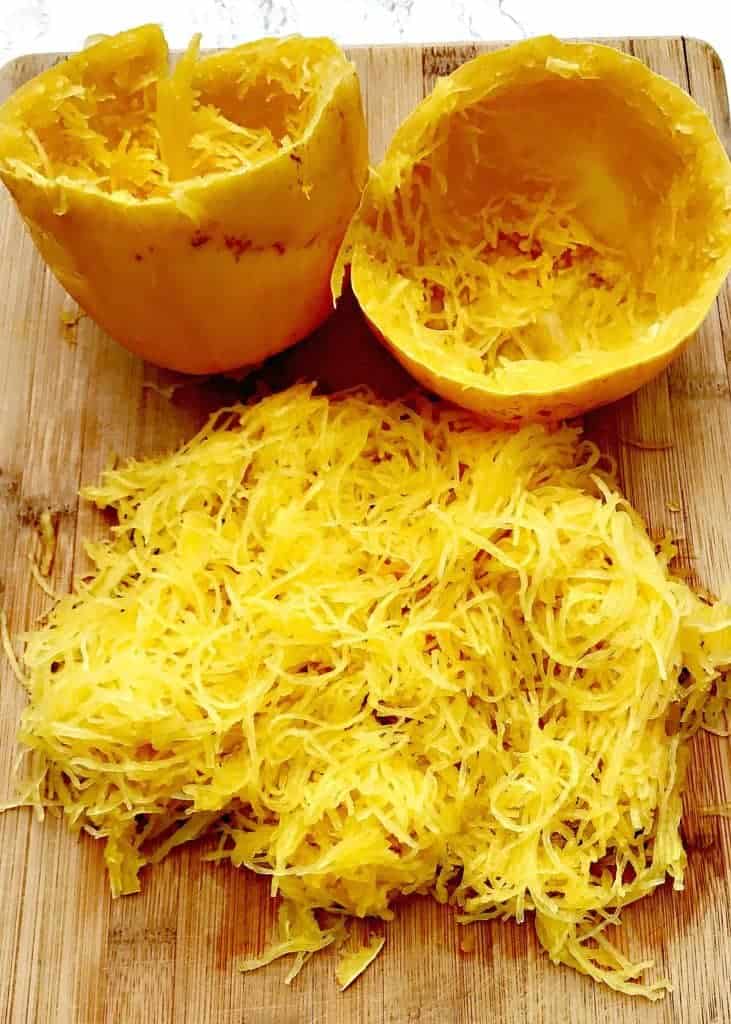 Pin Me 🙂


Have you tried to make hard boiled eggs using your Instant Pot? This steamer comes in HANDY!
What about cheesecakes and bread? This is my favorite!
More Instant Pot Recipes: