This post is in partnership with Smile Brilliant. All opinions are my own.
I'm so excited to share my experience with teeth whitening and Smile Brilliant. Like most people, I always want my smile to look it's best. I drink hot tea often and I'm also a red wine drinker. Over the years, these have put stains on my teeth. Smile Brilliant was able to take care of that for me.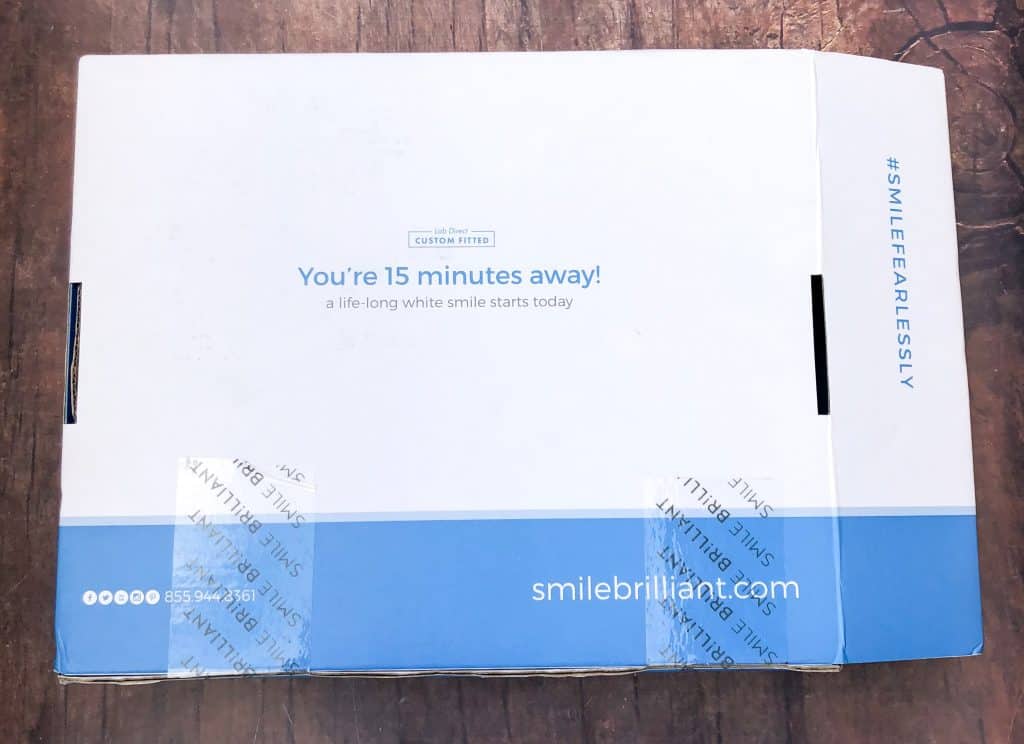 After ordering, you will receive a kit. The kit includes the necessary tools and trays you will need to make impressions of your teeth. These are essentially a molding that will form around your teeth so that Smile Brilliant can create an exact replica. See detailed instructions below. After you create your impressions, you will send those back to Smile Brilliant in a postage paid envelope. They will check out your impressions and create teeth whitening trays for you.
When you receive the whitening trays you will first load them with whitening gel. After you have whitened you will use de-sensitizing gel with them. See detailed instructions below.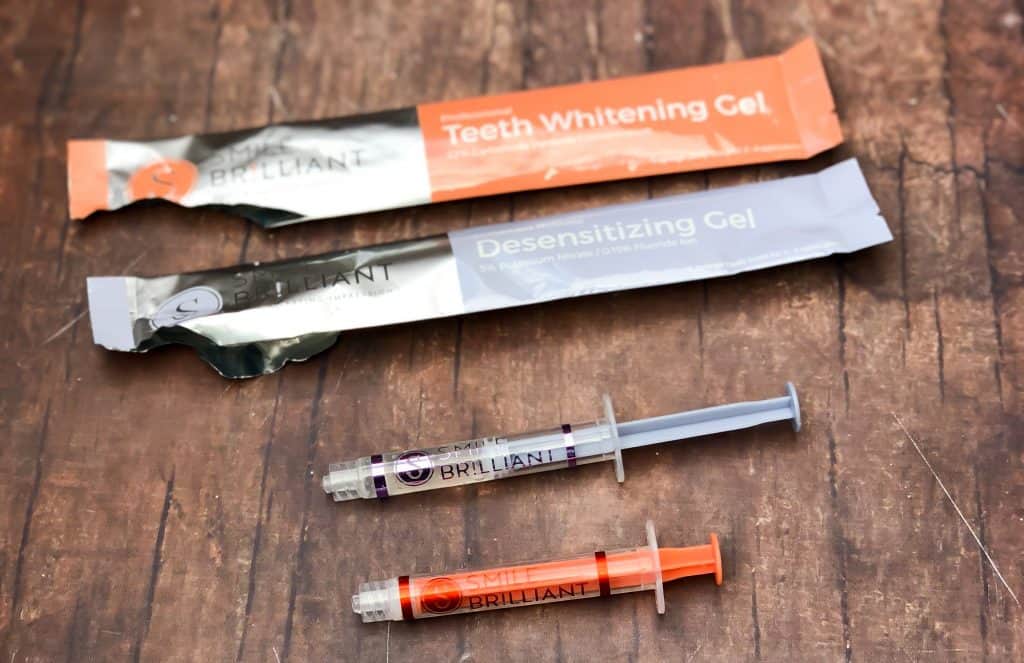 How to Create Your Teeth Whitening Impressions
Within 60 seconds, mix the putty together into one solid color and into a "hot dog" shape.

Lightly place the "hot dog" into the blue tray without pressing down too hard. You do not need to pack the putty into the blue tray.

Place the blue tray into your mouth, making sure that your teeth ar in the middle of the putty. In one motion, press evenly with your thumbs to ensure that each tooth is covered.

As some of the putty oozes out of the blue tray in the front of your mouth, push it into your gum line. The most important thing is that we can see where your tooth stops and your gums start!

Leave the tray in your mouth for 3 minutes.

Use your index and middle fingers to VERY CAREFULLY remove the tray from your teeth. Do this in one motion.

How to Whiten Your Teeth
Use 1⁄3 of a whitening gel syringe, before bed, for 45 minutes!
1. Brush teeth with water, not toothpaste, fluoride slows down the whitening process
2. Whiten for 45 minutes – 3 hours Do not whiten overnight; it can cause extreme tooth sensitivity
3. Brush teeth with a non-whitening toothpaste
4. Rinse trays out with water
5. Desensitize for 20 minutes. Do not drink or eat for 1 hour after each session
6. Remove trays, but do not rinse your mouth or brush your teeth. Leave a thin layer of desensitizing gel on your teeth
7. Sleep! It is the best to whiten before bed so you are not introducing any staining food or drinks.
Following these steps are absolutely critical to your whitening success. My evening routine before bed is pretty simple. It usually only takes me about 10 minutes to get to bed. So while whitening my teeth I made sure to set an alarm alert so that I would remember to do it each night. I TRY (emphasis on try here) to go to bed around 10 each night. The minimum suggested time to whiten is 45 minutes, but once you have adjusted to the gel some, you can go up to 3 hours. During this period, I set my alarm for 7pm so that I would remember.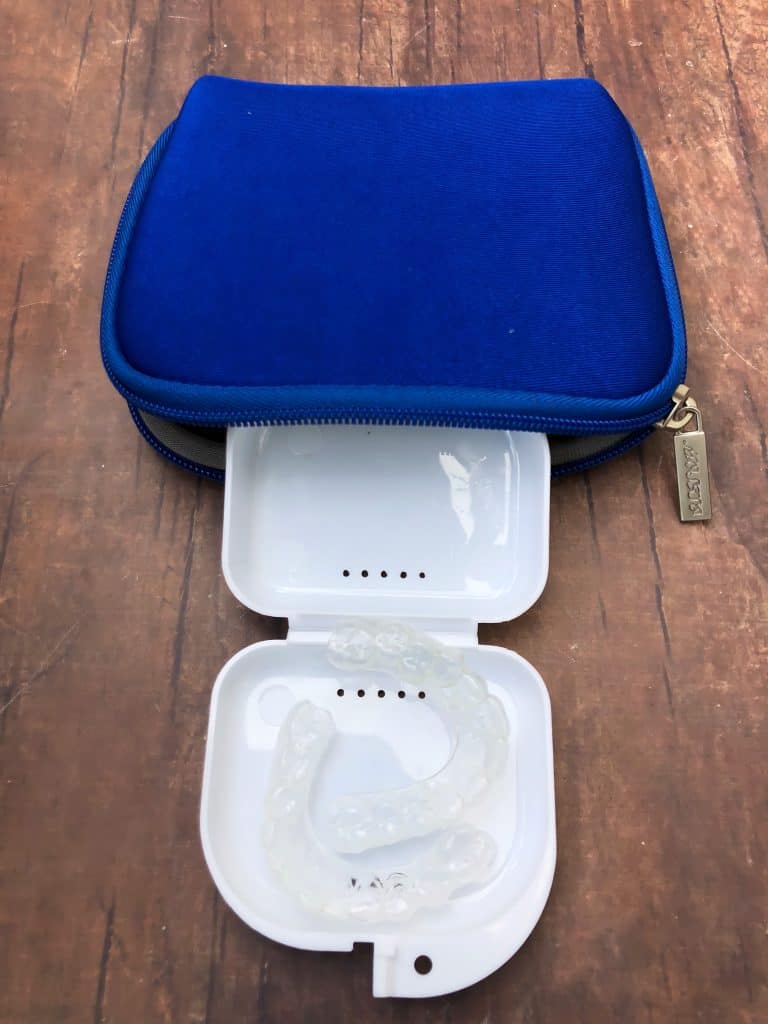 I am so pleased with the results! After my first whitening session, I could see the removal of some stains right away. Because only some stains were removed during this first round, there were areas of the teeth that appeared whiter than others. Don't worry about that! The gel will continue to work it's magic as you continue to use it.
I've used whitening strips in the past. I will never go back to those after using Smile Brilliant. The whitening strips are not made to fit your teeth perfectly. Smile Brilliant creates custom whitening trays for you using YOUR actual teeth impressions. This helps ensure complete stain coverage.
I didn't experience any teeth sensitivity with Smile Brilliant. With whitening strips I would not only experience sensitivity right after a treatment, but it would also surface at random times. This desensitizing gel appears to work really well!
I am hosting a giveaway for the Smile Brilliant teeth whitening system. Be sure to follow me on Instagram @stay_snatched for more details!
Giveaway link:
1 Want to purchase today? Use my 15% coupon code: staysnatched